It's almost Black Friday 2018. Although Black Friday is an American Holiday, as we don't celebrate Thanksgiving in Europe, travel booking sites, airlines, hotels chains etc are still offering Black Friday Deals. Some of these deals can save up to 55% off flights, hotels, tours etc. Some offers may require you to use a discount code, remember to enter them when asked.
Disclosure: This post may contain affiliate links that earn me a small commission, at no additional cost to you. . 
Black Friday Flight Deals
Skyscanner will be sharing deals on this page on 23rd November.
Priceline is offering up to 99% off hotels, flights etc when you subscribe to their newsletters. They also have contents and other holiday related deals available.
Ryanair is offering different deals from 19th November through to 23rd November. Their first deal is £30 return flights across Europe. Just be aware of hidden costs, make sure your boarding passes are printed before going to the airport or that you can use their app, that all your luggage is paid for upfront etc. Take your own food and drink to save money on the overpriced in-flight snacks and food. Otherwise, you'll spend more than the flight cost you.
TUI  is offering a £20 discount per person, for flights booked between 19th – 26th November 2018 on their website.
Use discount code: BFFLIGHTS to receive your £20 discount.
Vueling is offering flights within Spain & The Canary Islands for £17.99 for the run up to Black Friday.
Crystal Travel US is offering a $30 (About £23) discount off flights booked until 23rd November. While this is a US site, UK and EU customers can still use it.
Air New Zealand will be offering a £175 discount on flights between London and Los Angeles at 10am on 23rd November. Only 100 flights are available, so you'll need to be quick. To receive the discount, you need to book a flight with the following travel dates: Outbound travel dates: 4/5/6/7/11/12/24/25/27/28 Feb 2019 and Inbound travel dates: 11/12/13/19/20/21 Feb & 3/4/5/6 Mar 2019. They'll also be offering other discounts, which will be revealed on 23rd November.
British Airways will be offering a Black Friday sale from 22nd November, for flights booked through their website www.ba.com. Discounts will be available on holidays, and flights, with the option to place a deposit and pay later available.
Black Friday Holidays and Hotel Deals
Virgin Holidays is offering £100 off Economy-class holidays (flights and accomodation) and £150 off Premium or Upper Class holidays using discount code 2018BF for holidays booked between 00:01 Friday 23rd November to 23:59 Monday 26th November 2018. There is a minimum spend of £2,000 and the holiday must be departing between 1st December 2018 and 31st October 2019. This code can only be used on the Virgin Holidays website and cannot be used for holidays booked over the phone.
Virgin Holidays is also offering £100 off per booking for holidays departing between 1st December '18 to 31st March '19, when you select Premium cabin seats for your outbound flight. There's a minimum spend of £1200 per booking required to receive the discount. Use Discount code BF2018  when booking via their website to qualify.
EasyHotel has confirmed they will be doing a Black Friday deal this year. Last year's included rooms from £10 per night, so hopefully this year's will be as good.
TUI is offering three discounts Black Friday discounts of up to £150 for their holidays and will also be offering deals on Black Friday, on their Black Friday page here.
For short and medium-haul holidays, they're offering a £100 with travel dates between 19th November 2018 to 31st October 2019. There's a minimum spend of £800. The discount is available for holidays booked between 19th – 26th November 2018. Use discount code BF100 to receive the £100 discount.
There's a £150 discount on TUI's long-haul holidays, including cities, multi-centres and tours.  Minimum spend £1000. Travel dates must be between 19th November 2018 to 31st October 2019. The discount is available for holidays booked between 19th – 26th November 2018. Use discount code: BF150 when booking to receive the £150 discount.
TUI is also doing a flash sale, offering a £150 discount available on 14-night stays, that are booked between 23rd – 26th November. Travel dates between 19th November 2018 to 31st October 2019. Minimum spend £1000. Use discount code: FLASH14 when booking to receive your £150 discount.
EasyJet has Black Friday deals on their holidays starting from November 20th. This include's holidays to Amsterdam, Barcelona, Lisbon, Paris and more.
Hotels.com is offering up to 60% off during their 4 day sale. Book by 11/27; for travel through March 31, 2019.
Skyscanner will be sharing hotel deals on Black Friday, on this page.
Booking.com has tons of deals available, and you can get £15 cashback on your first booking here.
Black Friday Tour Deals
Intreprid Travel has a few deals available on their site such as this buy one get one free on Asia Cruising Tours, and hopefully will release more on Black Friday as they did last year.
Tour Radar is offering up to 75% off tours during their Black Friday sale that runs 23rd to 27th November. You can get early access to these deals, by entering your name and e-mail address into their site. Their tour discounts cover tours from Intrepreid, Top Deck, and other top tour operators.
Black Friday Cruise Deals Deals
TUI have two discount codes available for cruises booked during their Black Friday sale. There's a £100 discount on cruises with travel dates between 19th November 2018 to 30th April 2019 that are booked between 19th – 26th November 2018. No minimum spend required. Use discount code: BFCRUISE100 to receive your £100 discount when booking.
There's a £150 discount off TUI's cruises between 1st May – 31st July 2019. You need to book between 23rd November – 26th November 2018. Use discount code: BFCRUISE150 to receive your £150 discount.
Black Friday Airport Transfers, and Car Rental Deals
Magicshuttle, an airport transfer provider for Disney Land Paris is currently offering a 10% discount on round-trip transfers on purchases until December 31st 2019. They're also offering a flat rate of €90 (about £80) for a one-way transfer, for groups of 5 to 8 people. While not specifically a Black Friday deal, these deals are worth checking out if you're heading to Disney Land Paris.
Black Friday deals on Travel Merch / Gifts for Travellers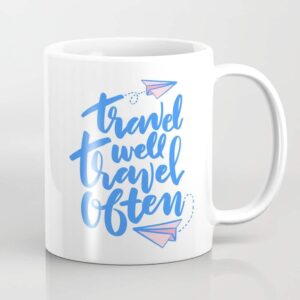 Society6, has a huge range of travel-themed products such as t-shirts, iPhone cases, pillow cases and backpacks available. They're offering a huge 30% Off + Free Shipping with discount code BFSAVE! between 22nd November to 24th November. Holiday special edition products are excluded from the discount.
Amazon Gift Cards, Amazon is offering eligible customers a £6 voucher when you buy a £30 gift card and £5 when you top up your account with £40. Check if you are eligible for the gift card offer here, and top up offer here.
Audible is a great gift for travellers, as they offer thousands of audiobooks that are great time killers on planes, buses etc. During Black Friday, they have a range of offers available which vary depending on the country.
In the UK, until 23rd November Audible is available for £3.99 per month for the first 4 months (and then £7.99 a month thereafter). In the US, there's an offer that allows you to try Audible and Get Two Free Audiobooks
 or save up to 53% on the first 3 months of a subscription during Black Friday.
Amazon Kindle Unlimited has some UK-only offers including 3 months of Kindle Unlimited for £1.99,or Kindle books for £1 each. You can also find Black Friday deals on Kindle devices, such as £30 off the new Paper White Kindle. In the US, Amazon is offering 6 months Kindle Unlimited with a new Paper White Kindle.
Packing Cubes are always handy as they can help save on luggage space, and these Amazon Basic ones have up to a 21% discount during Black Friday.
Amazon.co.uk is offering 20% off their Amazon Basic luggage & accessories. Including this carry on rolling case, and a hard-sided suitcase.

Aliexpress offer's cheap discounted items from China, if you're willing to wait a few weeks there are some really good savings to be found such as these cute passport covers. If you are a new customer, you can get a $4 discount coupon here to apply to your first order.