Until recently, Red Kites were almost extinct in the United Kingdom. By the end of the 19th Century, they had disappeared from the skies in England and Scotland, with a few still residing in Wales. Their near extinction is blamed on the "The Preservation of Grain Act", which was passed in the 16th century and listed red kites as vermin. Parish churches were paid one penny for every kite they killed, causing their numbers to drop. Combined with egg collecting, and illegal poisoning they have since struggled to thrive.
Red Kite conservation was started in 1903, with efforts increasing during the 1980s. This involved reintroduction to England and Scotland, releasing a total of 11 birds (56 in Scotland, and 5 in England). with the first successful breeding recorded in 1992. Since then, more birds have been released in both England and Scotland. In Wales, conservation involves feeding the red kites at designated feeding stations. One of these is Gigrin Farm.
Spotting Red Kites in the wild
Spotting red kites in the wild can be difficult. Despite numbers increasing, they are still quite a rare sight. Most of the red kites I have spotted in the wild were in the southern area of Snowdonia National Park, and mid-Wales.
I recommend visiting the following nature reserves:
Red kites at Gigrin Farm
Gigrin Farm is a working sheep farm in the Welsh market town of Rhayader. The farm is the official Red Kite Feeding station, and a Red Kite Rehabilitation Centre. Feeding takes place daily, with up to 400 red kites visit the farm on a daily basis, with different kites visiting each day. This makes it one of the places to see red kites in Wales.
Gigrin farm is great for both bird watching and photography. They have special photographic hides set up for photographers, which allow you to get an excellent view of the birds. They have 5 types of photographic hides available, 1 of which is wheelchair accessible. Red kites are not the only birds that appear at Gigrin Farm. You can sometimes spot cheeky buzzards and crows munching on the food intended for the kites. This may be one of the few times you'll ever see a red kit and buzzard next to each other.
You may also spot white red kites, a rare variation with lighter white feathers. Although white, they are not a true albino. As of 2004, there was said to have been 10 breeding pairs of white red kites in Wales.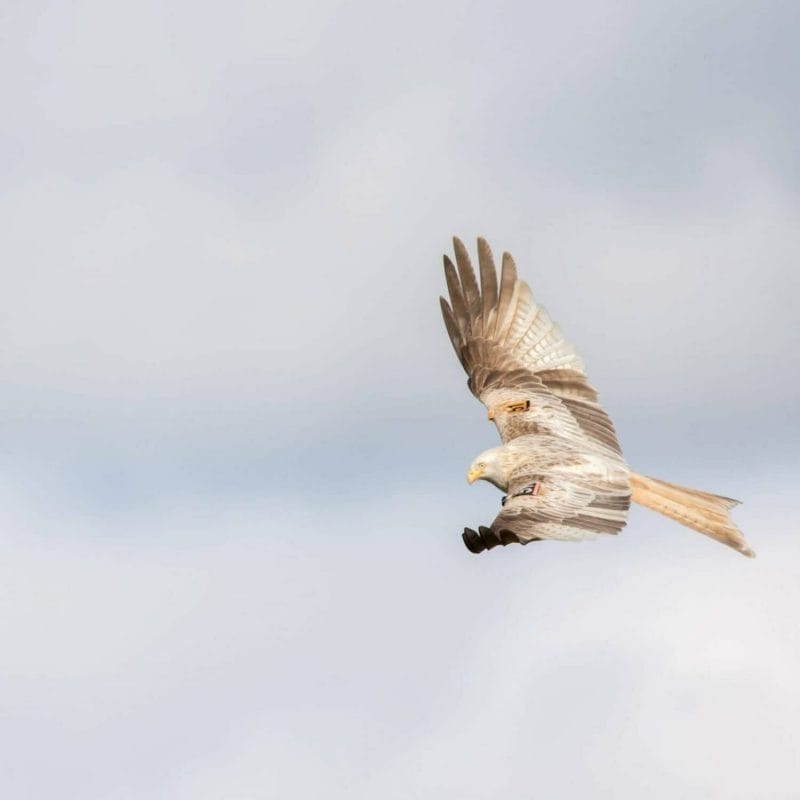 Photographing red kites
There are some basic photography gear requirements you need to meet in order to photograph the kites. Sadly, most bridge or compact cameras are not suitable due to slow focusing speeds. Most compact system cameras (Mirrorless or micro four thirds) with interchangeable lenses and DSLRs cameras are suitable as long as they have a burst mode. If you need a DSLR, then check out my guide for buying a DSLR for wildlife photography. You'll also need a focal length of at least 300mm, however, due to how close the birds come anything beyond 500mm will be too much. I use a 300mm with a 1.4x converter, which at times was far too long. The lens you use also needs to have a fast autofocus, and your camera needs a fast shutter speed, especially if you wish to catch the birds diving.
Your memory cards write speed is also important, the faster the write speed the quicker your camera can store photographs – meaning you can clear out cameras buffer faster, allowing you to take more photographs. I stick with Lexar Professional cards or San Disk Extreme Cards. Both brands are reliable and offer some of the fastest write speeds available. I also recommend using JPEG for photographing the red kites at Gigrin Farm. While I love and swear by RAW, due to the number of birds appearing using JPEG files are smaller than RAW files. The smaller file size means you can take more photos, and your camera can store each photo quicker.
My camera setup and settings
I used a Nikon D7200 paired with a Nikon 300mm f4 + Nikon 1.4x teleconverter, and I had a Nikon D7000 as a backup. I used two Lexar Professional 64 GB Class 10 UHS-II 2000x Speed SD cards.
Most of my photographs were taken with the following settings and I have found these working time and time again:
Manual mode

Shutter speed: 1/4000sec

Aperture: f6.3

ISO 500
The above settings were what I had chosen to use, based off of the available lighting and my camera's limits. I was there on a sunny day, so I had plenty of light to keep my shutter speed high without increasing my ISO. But if lighting is poor, then you will have to use an ISO higher than 500.
Manual mode is a personal choice. If you do not like using manual mode or are unsure how you can use shutter priority mode. There is also the option of auto-ISO on some newer camera which will make things even easier, allowing you to concentrate on getting the photo and not worrying about the technical side of things.
To view, more information on Gigrin Farm visit their website here.
If you found this guide helpful, then why not share on Pinterest?