Whether it be for Christmas, valentines or a birthday, finding the perfect gift for a traveller can be difficult. I've put together a list of what I believe to be some of the best travel gifts available for any traveller.
Disclosure: This post may contain affiliate links that earn me a small commission, at no additional cost to you. .
LED lighted eyeglasses
Anyone who tries reading when travelling has had to put up with the poor quality of moving around the overhead light or faffing with clip-on book lights. These LED lighted eyeglasses can resolve that issue, which makes any travellers life easier.

Nomader 22oz Collapsible Water Bottle
Collapsible water bottles are a traveller's best friend when it comes to hydration and reducing wastage. The Nomander bottles are leak-proof, suitable for hot and cold drinks, dishwasher safe and BPA free.
Travel Well Travel Often Mug
Travel-themed mugs always make a great gift for travellers. This one feature's a well known quote, "Travel Well Travel Often".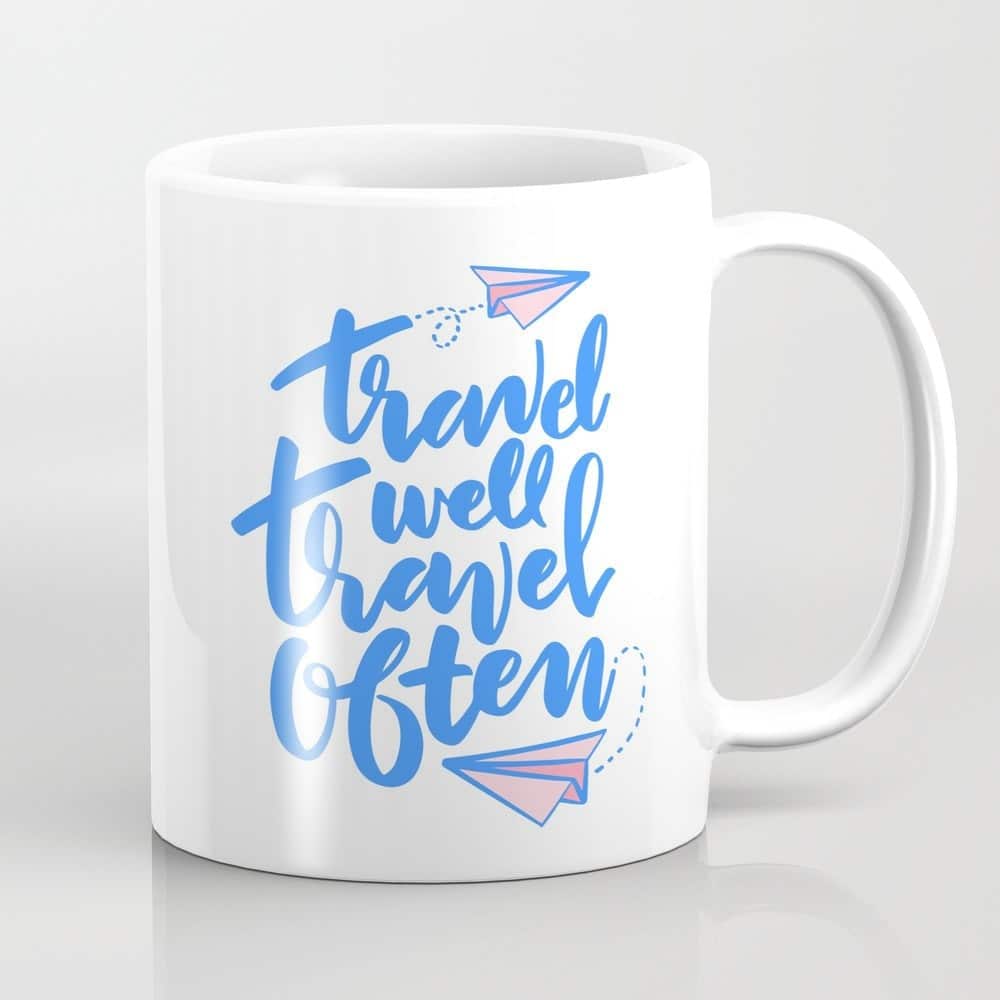 Packing Cubes
Whether using a backpack or suitcase, packing cubes allow you to save space and organize your luggage. They're perfect for those who travel with only a carry on as they allow you to fit more into your luggage. This set of 4 packing cubes is the perfect gift for any traveler.
Travelambo RFID Blocking Wallet
This wallet is perfect for the safety-conscious traveler, designed to block 13.56MHz frequency, which is used for credit cards and passports using this wallet will help keep your information secure. The wallet is available in a range of colors including but not limited to, pink, blue, green, white, or yellow.
Ethique Eco-Friendly Solid Shampoo Bar
Solid shampoo bars are a great way of saving on luggage space, and getting around the carry-on liquids limit. They're also much more eco-friendly, and this Ethique solid shampoo bar is the equivalent to 3 bottles of liquid shampoo! It's also 100% soap free, cruelty-free, pH balanced and safe for coloured hair.
Smart Luggage ID Tags with Lifetime Global Recovery Service
Luggage tags are always a great gift but these go one step further by offering a global recovery service. No matter where you are in the world if you lose the item the tag is attached to, the finder can contact ReturnMe and will be rewarded for returning the item to.
International Travel Charger and Adapter
Anyone who has traveled internationally knows's how annoying it is to figure out exactly what type of adapter you need. With this international travel charger and adapter, you only have to worry about taking the one adapter with you. Includes 4 USB ports, at different power outputs so you can charge different types of USB devices. This is perfect for any international traveler that is heading off to multiple countries and/or continents.

Kikkerland Mini Doodle Kit
This portable art set is no bigger than a passport, making it the perfect form of in-flight entertainment.
The Carry on Cocktail Kit
If the traveler you are shopping for is also a cocktail lover then this carry on a cocktail kit is perfect! The kit is used to make any in-flight vodka or gin into a delicious cocktail.
Glittery Luggage Tags
These glittery luggage tags are the perfect gift for any woman who wants to add a bit of glam to her travel luggage.

Anti Theft Business Laptop Backpack with USB Charging Port
Anti-theft backpacks are perfect for any safety-concious traveler. This particular backpack includes a USB charging port to charge deviecs on the go, as well as a 15.6″ laptop pocket.
Mini Portable Ultrasonic Vibration Washing Machine
This mini portable washing machine uses ultrasonic vibrations to move water around to clean your clothes. The perfect gift for travelers who enjoy camping, or traveling long-term without access to washing machines.
2 in 1 Coffee Press and Mug
Perfect for coffee-loving or tea-loving travelers, this gadget allows you to create delicious tasting coffee or tea using ground coffee beans or tea leaves while traveling. The coffee-maker doubles up as the mug, making it compact enough for traveling.
Travel Print Notebook
This cute note book feature's different well known attractions from around the world making it the perfect travel gift.

Handmade Traveler's Notebook
This leather-bound notebook is the perfect gift for any traveler who loves journalling.

Bucky 40 Blinks Eyemask
Unlike most eyemask, this one is ultralight, with molded cups to allow the wearer to blink freely even when wearing eyelash extensions.
Camping Hammock
This lightweight hammock is perfect for any traveler that love's the outdoors. It folds small enough to fit into a hiking backpack, making it perfect for hiking as well as camping.
If you found this list of recommended travel gifts useful then please share it on Pinterest.