Open water swimming (also known as wild swimming) can be an exhilarating and challenging activity for swimmers of all levels. However, it can also be dangerous if proper safety precautions are not taken. An open water swimming buoy is a flotation device that is designed to keep swimmers visible and safe.
Most buoys are designed to be worn around the waist. Some buoys are equipped with storage compartments for personal belongings, such as keys and phones, while others are designed to be streamlined and lightweight for maximum speed and efficiency.
When choosing an open-water swimming buoy, it is important to consider factors such as size, visibility, and durability. A larger buoy will be more visible to boats and other watercraft, while a smaller buoy may be more comfortable to wear or tow.
I have tested several open-water swimming buoys when I've been wild swimming throughout the UK and put together this list of my faveorite ones.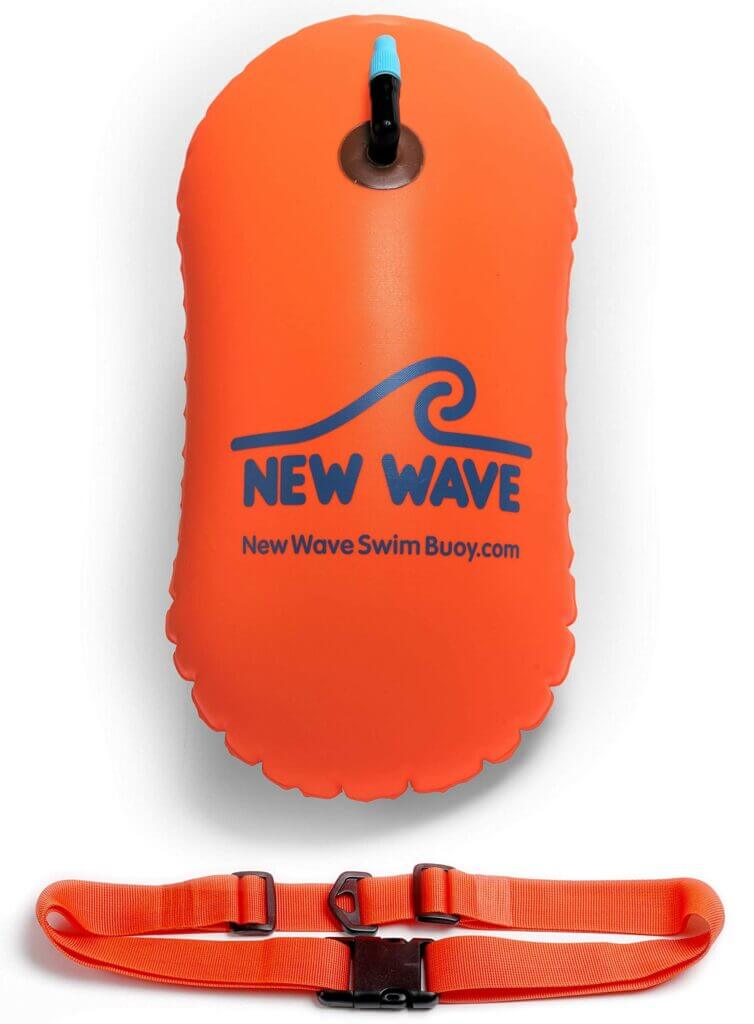 The New Wave Swim Bubble is great for wild swimming. It doesn't have a dry bag compartment so it's more lightweight than other buoys on this list. There's an adjustable waist strap that measures 27″ to 52″ Inches.
The Swim Bubble has a handle so you can easily carry it into the water during a swimming run, and it's large enough that you can use it to rest on whilst having a break from swimming. Although it doesn't replace a life vest or personal flotation device, I do find it useful to tuck under my arm to help me stay afloat when I want to just relax in the water.
The bright orange color makes it easy to stand out, especially when you're wearing a black wetsuit.
Pros
It is ultralight and provides a safe way to float and rest during your swims.
It is larger, more buoyant, and lighter than its predecessor, the New Wave Swim Buoy.
It gently tows behind you without pulling you back or adding extra drag to your swim.
Cons
It doesn't come with an attached dry bag compartment.
It doesn't replace a personal flotation device (PFD) or a life vest.
It doesn't have a strap loop or buckle.
If you're looking for a reliable open water swimming buoy, the HIEMAL32 Swim Buoy for Open Water is a great choice.
The HIEMAL32 Swim Buoy has a bright orange color that ensures maximum visibility in open water, while the reflective elements provide added safety for all conditions and seasons. The buoy has a 15L dry bag compartment that helps keep your belongings bone dry during your swim.
The buoy has a buoyancy support of 190 lbs, so you can use it to float when you need to pause and rest whilst swimming. There's a handle for you to hold onto as well if needed, although I did find this would get in the way when trying to use the buoy to rest.
Pros
Highly visible and bright Furnace Orange color with reflective elements for extra safety in open water
Waterproof interior lining to keep your belongings dry during your swim
15L capacity provides ample space for your essential gear
Cons
The buoyancy support is only 190 lbs
The handle can get in the way whilst using the buoy to rest on.
The Restube Active Swimming Safety Buoy is a must have. It is mostly designed as an emergency-use safety buoy. So instead of inflating this before you begin swimming, you attach it to your waist and if you start experiencing difficulties whilst swimming you can inflate this.
You can also inflate the buoy through the mouthpiece, making it usable as a standard buoy as well. So while the emergency inflation is more suited for those doing water sports – e.g. kayaking, paddle boarding, manually inflating the buoy makes it suited for open water swimming/wild swimming. Although personally, I wear this alongside a normal buoy so I have a backup in case I do get into a situation where I can't hold onto my standard swimming buoy.
I personally find this safety buoy is much easier to float on due to its longer, thin rectangle shape. It easily tucks under both arms or even your neck to stay afloat. The length of it makes it suitable to share with another person if needed. The one-pull mechanism makes it easy to inflate in seconds, and there's a safety whistle so you can draw attention to yourself (the standard swimming buoys don't have this).
Pros
The one-pull mechanism makes it easy to inflate in seconds, so it's great for emergency situations where you just pull and grab onto the float.
The float is reusable, by replacing the CO2 cartridge.
The buoy is highly visible in open water as it has a bright yellow color.
The Restube Active is lightweight and versatile, suitable for open water swimmers, kayakers, surfers, stand-up paddlers, and any other water sports enthusiasts.
Cons
While you can replace the CO2 cartridge, you'll need to buy another one from Restube. You can't just buy any off-brand CO2 cartridge.
The valve for inflating or deflating the buoy can come off to deflate it, so you can easily lose this.
Tips on choosing a swimming buoy
When it comes to choosing the best open water swimming buoy, there are a few factors to consider to ensure you get the most suitable product for your needs. Here are some features to look for when shopping for a buoy:
Buoy Size and Shape: The size and shape of the buoy are important considerations. The buoy should be large enough to carry your essentials, such as a water bottle, phone, and keys, but not too bulky that it hinders your swimming. A streamlined design will help reduce drag and allow for better mobility in the water.
Durability: Choose a buoy made of high-quality materials that can withstand the harsh elements of open water swimming. Look for a buoy that is puncture-resistant and has reinforced seams to prevent leaks.
Visibility: A brightly colored buoy with reflective strips will make you more visible to boats and other swimmers. This is especially important if you swim in open water with boat traffic or during low light conditions.
Dry bag compartments: A dry bag compartment lets you keep your keys, phone etc on you when swimming.
Price: Price is always a consideration when purchasing any product. While you don't want to skimp on quality, you also don't want to overspend on features you don't need. Look for a buoy that offers the features you need at a reasonable price.
Hope you found this guide helpful. If you're looking to go wild swimming in the UK, check out my guides below: