If you're planning a trip to North Wales, exploring the region's numerous castles is an absolute must. With over 100 castles still standing, Wales is home to some of the UK's best castles including many recognized as UNESCO World Heritage Sites. The country's rich history and strategic location have led to centuries of conflict and conquest, resulting in an abundance of impressive fortresses and ruins.
North Wales is home to some of the most breathtaking castles in the country. Many of these castles were built by King Edward I during his conquest of Wales in the 13th century. These imposing structures served as both military fortifications and symbols of the king's power and authority. Today, they offer visitors a glimpse into Wales' fascinating past and are a testament to the country's enduring cultural heritage.
Whether you're a history buff or simply looking for stunning views and photo opportunities, exploring North Wales' castles is an unforgettable experience. From the majestic Conwy Castle to the imposing Caernarfon Castle, there's something for everyone to discover. So why not plan a visit and explore the rich history and beauty of North Wales' castles for yourself?
History of North Wales Castles
North Wales is home to some of the most impressive and well-preserved castles in the world. The region's castles were built during the medieval period, primarily in the 13th century, as part of King Edward I's conquest of Wales. These castles were designed to showcase the power and might of the English crown, and to intimidate the Welsh population.
The castles of North Wales were built to serve a variety of purposes. Some were designed to act as administrative centers, while others were built to serve as military fortifications. Many of the castles were strategically located near important trade routes, allowing the English to control the flow of goods and people in and out of Wales.
The most famous of the North Wales castles are the "Iron Ring" castles, which were built by King Edward I. These castles include Conwy, Caernarfon, Harlech, and Beaumaris. They were designed to be impregnable fortresses, with thick walls, deep moats, and imposing gatehouses.
Despite their impressive design, the North Wales castles were not immune to attack. In fact, many of them were besieged and captured by Welsh rebels during the 14th and 15th centuries. However, the English were always able to retake these castles, thanks to their superior military technology and tactics.
Today, the North Wales castles are some of the most popular tourist attractions in the region. Visitors can explore the castles' impressive architecture and learn about their fascinating history. Whether you're a history buff or just looking for a fun day out, the North Wales castles are definitely worth a visit.
The Best North Wales Castles
Penrhyn Castle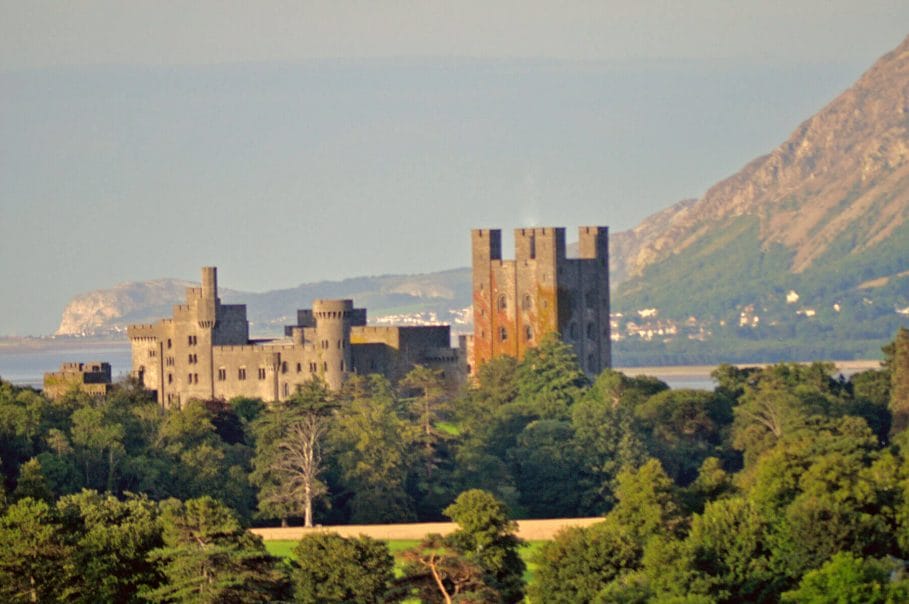 First on this list is Penrhyn Castle – a jaw-dropping masterpiece that'll make you question whether you've accidentally stumbled onto the set of a fantasy film. Penrhyn Castle is a 19th-century castle located near Bangor in Gwynedd, North Wales. This neo-Norman fortress is the real deal, though, and it's ready to transport you back to a time of grandeur and opulence.
As you approach the castle's imposing gates, prepare to be greeted by meticulously manicured gardens that wouldn't be out of place in a royal portrait. Explore the opulent interiors, where you'll find everything from art collections that'll make your jaw drop to a dining room that'll make you feel like you're attending a banquet with knights and queens.
The castle is now owned by the National Trust. National Trust members can visit the castle for free. Check the National Trust site for opening times and ticket prices.
Conwy Castle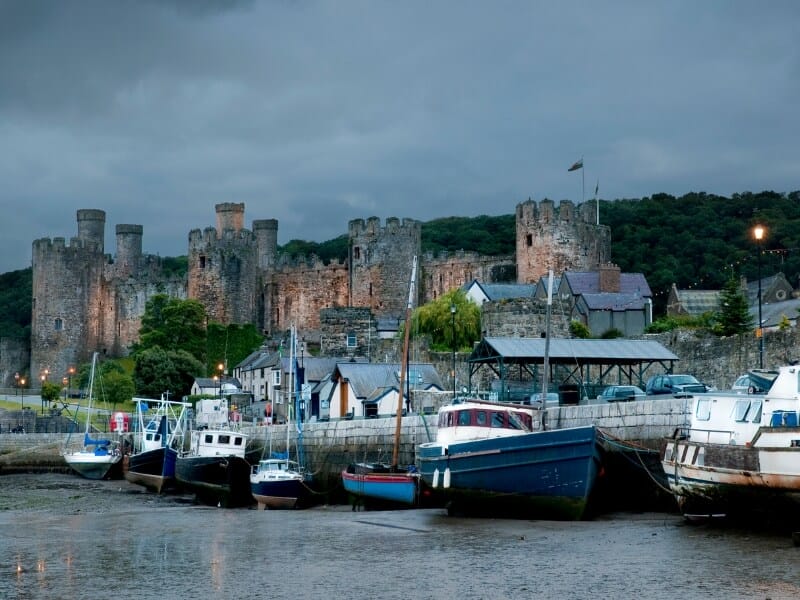 Conwy Castle is one of the most impressive castles in North Wales. It was built by King Edward I in the 13th century and is now a UNESCO World Heritage Site. It's considered to be one of the best examples of medieval military architecture alongside Beaumaris and Harlech.
This architectural masterpiece, situated on the shores of the Conwy Estuary, is a true testament to the ingenuity and artistry of its builders. As you approach the castle's looming walls, you'll be struck by its sheer magnitude and strategic position.
Step through the massive gatehouse, and you'll find yourself immersed in a world that's rich with history. Explore the towers, climb the spiral staircases, and marvel at the breathtaking views that stretch across land and sea. The castle's position as both a protector and a symbol of authority is palpable, making you feel like a knight or noble of days gone by.
Conwy Castle's blend of imposing architecture and stunning vistas creates an experience that's as immersive as it is educational. It's a journey back in time, an opportunity to walk in the footsteps of those who once called these walls home. Whether you're fascinated by medieval warfare or simply captivated by the romance of castles, Conwy Castle promises an adventure that'll leave you in awe.
Conwy Castle is owned by Cadw. Cadw members, and disabled people + a companion can enter for free. Otherwise adult tickets cost £11.70 and kid tickets are £8.20. Check the Cadw page for Conwy Castle for the latest ticket prices + opening times.
Beaumaris Castle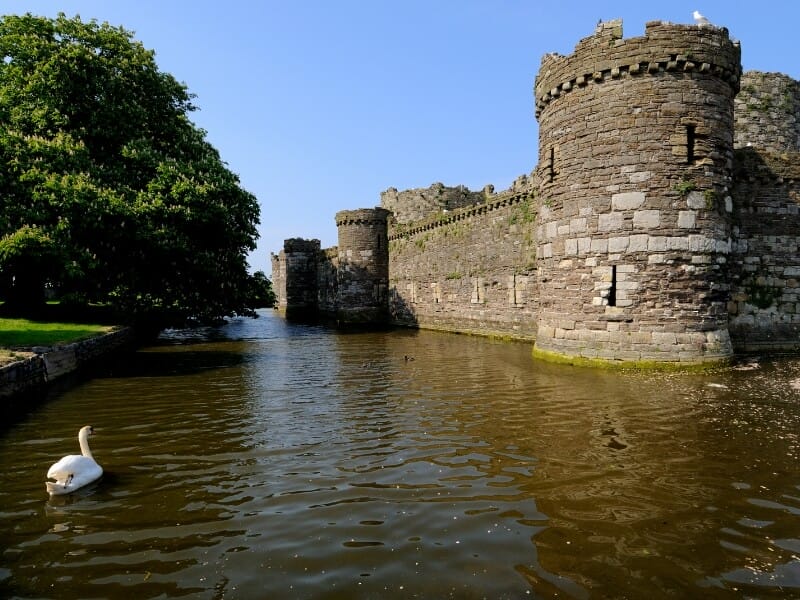 Prepare to be captivated by the allure of Beaumaris Castle, a masterpiece that stands as a testament to architectural vision and unfulfilled ambition. Set against the backdrop of the sparkling Menai Strait, this castle is a window into history and the grand plans of its creators. The castle is located on the isle of Anglesey and was built by King Edward I when he was conquering Wales.
As you approach Beaumaris Castle, you'll be struck by its symmetry and elegant design. Though it remains unfinished, its strategic layout and concentric defenses offer a glimpse into the meticulous planning that went into its construction. Step into its inner courtyard, where the echoes of medieval life seem to linger among the stone walls.
Beaumaris Castle's unfinished state adds a layer of intrigue, inviting you to ponder what might have been. Explore the well-preserved chambers, climb the towers, and admire the views that stretch across the strait. It's a reminder that even in its incomplete form, this castle stands as a testament to the ambitions of its era and the enduring beauty of its architecture.
Today the 14th-century castle is a UNESCO World Heritage Site, and alongside Harlech and Conwy is considered one of the best examples of medieval military architecture in Europe.
The castle is owned and cared for by Cadw. Cadw members can enter for free. For non-members, adult tickets are £8.70 and children tickets £6.10 Disabled people + their carer/companion can enter for free. For the latest ticket prices + opening times check the Beaumaris Castle page on the Cadw website.
Harlech Castle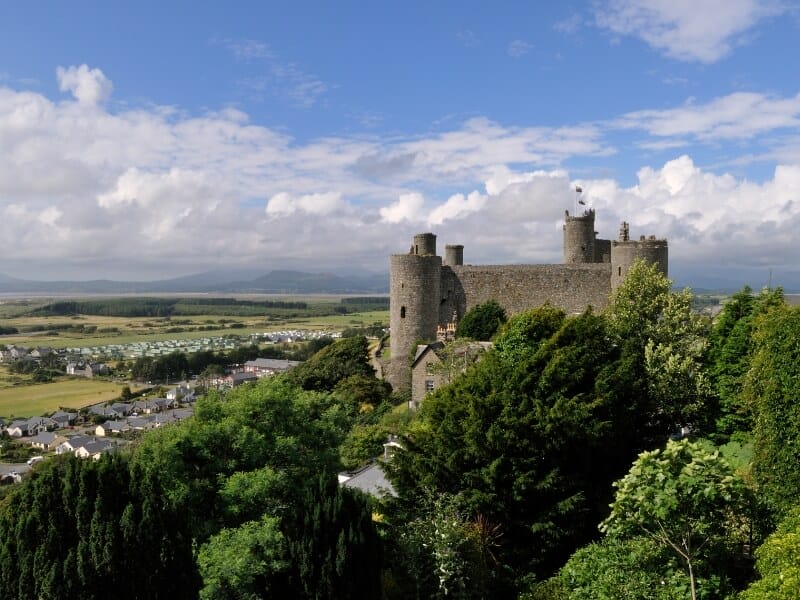 Harlech Castle is located in Harlech, on the west coast of North Wales. The castle was built by King Edward I as part of his campaign to conquer Wales. Today, it's a UNESCO World Heritage site and alongside Beaumaris and Conwy is considered to be one of the best examples of medieval military architecture in Europe.
As you approach the towering walls of Harlech Castle, you'll be struck by the panoramic views that stretch across land and sea. Explore the imposing gatehouse, traverse the cobbled courtyards, and stand in awe of the mighty towers that have witnessed centuries of history. The castle's integral role in Welsh history adds layers of significance to every corner.
But Harlech Castle isn't just a monument to the past; it's a stage for your imagination to run wild. Picture medieval tournaments, royal courts, and fierce battles that once unfolded within its walls. With its commanding presence and captivating vistas, Harlech Castle offers an experience that's both educational and awe-inspiring.
Harlech Castle is owned by Cadw, who offers free entry to Cadw members. Adult tickets cost £8.70, Kids tickets are £6.10 and disabled people plus a companion/carer can enter for free. Check the website here for the latest ticket prices + opening times.
Caernarfon Castle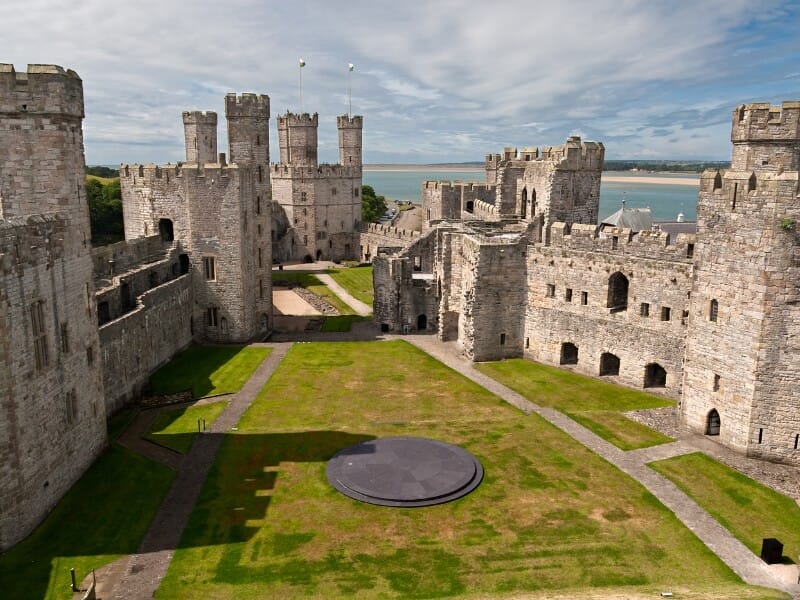 Caernarfon Castle is another famous castle in North Wales Constructed in the late 13th century by King Edward I. Its purpose was to solidify English rule over the newly conquered lands of Wales, and today the castle and town walls are a UNESCO World Heritage Site.
The castle's imposing stature was a visual declaration of dominance, a symbol that echoed across the landscape and through the annals of time. As you approach the castle, it's the twin-towered gatehouse that commands your attention. This architectural marvel is more than just an entrance – it's a gateway to a world of historical significance. Stepping through its threshold, you're transported to an era when knights in shining armor roamed these halls, and banners fluttered in the wind, bearing the sigils of noble houses. The polygonal towers, the curtain walls that encircle the inner courtyard, and the multi-faceted design reflect the sophistication of medieval engineering.
This UNESCO World Heritage Site encapsulates the rich tapestry of Welsh heritage and the stories of its past. It's easily one of the best castles in North Wales.
Caernarfon Castle is owned and cared for by Cadw. Entry is free for Cadw members, £12.50 for adults and £8.80 for a child's ticket. Entry is free for disabled people + their companion. Check the Cadw website here for the latest ticket prices + opening times.
Castell Dinas Bran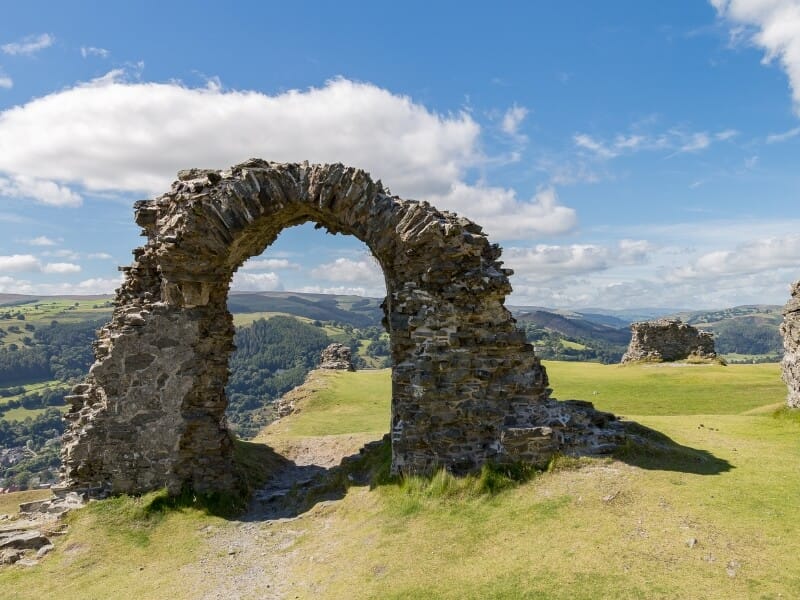 Next on our list is the enigmatic Castell Dinas Bran, located in Llangollen, Denbighshire, North Wales. This one's for adventurers and daydreamers who love a good tale of mystery and romance. Perched majestically on a hill near Llangollen, this castle ruin is like stepping into a fantasy novel – minus the fire-breathing dragons.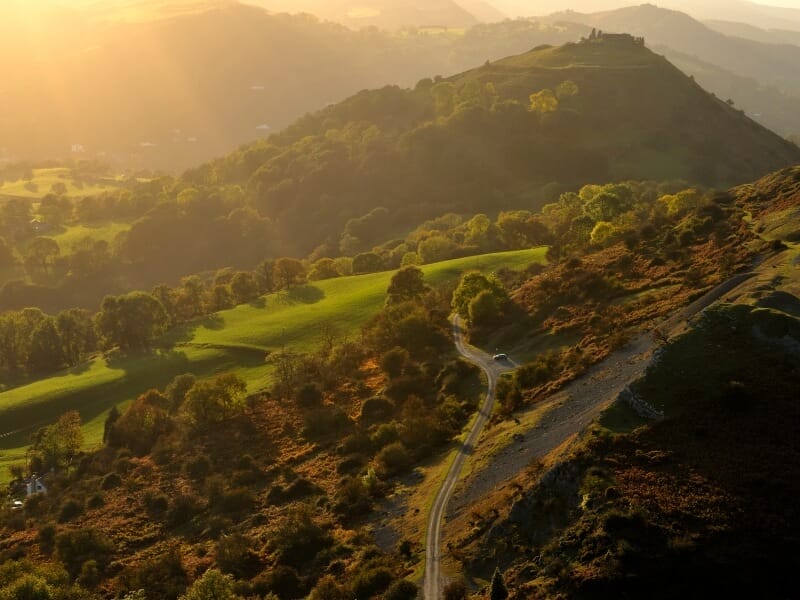 As you hike up the trail to the castle's remains, you'll find yourself wondering about the stories of knights who once tread these very steps and the sweeping views that must have inspired troubadours to pen ballads of love and courage. Make sure to bring your camera as once at the top, you'll be given amazing views over the Vale of Llangollen.
Castell Dinas Bran is free to enter but you may need to pay for parking. The nearest car park is East Street Long Stay, or the Pavilion Car Park.
Criccieth Castle
Criccieth Castle, is a medieval castle where history meets the stunning coastline in a harmonious blend of magic and nature. The castle is located in Criccieth, and was built in the 13th Century by Lylwelyn The Great, and later finished by his son Llywelyn The Last.
Later on, the castle was invaded by Edward I and was occupied by the English. Until 1404, when another Welsh Prince, Owain Gylndwr attacked and destroyed part of the castle, successfully reclaiming Criccieth for the Welsh. Today you can explore the ruins of the once magnificent castle.
Imagine standing atop the fortress walls. Perched regally on a headland overlooking the enchanting waters of Cardigan Bay, this castle is like a coastal daydream come to life. Don't miss the chance to climb the walls of this coastal fortress. The views from the ramparts are the stuff of postcards – the beach, the bay, and the surrounding Welsh beauty are all part of the breathtaking vista.
Criccieth Castle is owned by Cadw. Cadw members can enter for free. For non-members, adult tickets cost £6.80, kids tickets are £4.80. Disabled people and their carer/companion enter for free. Check their site here for the latest pricing information and opening times.
Chirk Castle
Nestled in the heart of the Welsh countryside in the town of Wrexham, Chirk Castle boasts an impressive history that's as rich as its architecture. As you approach its imposing gates, you'll feel a palpable sense of anticipation, like you're about to step into a world where knights once roamed and kings held court.
Step inside the castle, and you'll be transported back through the centuries. Wander through the lavish rooms adorned with intricate tapestries that whisper tales of times long gone. Marvel at the opulent saloon, where the echoes of grand parties and lively discussions seem to linger in the air. Don't miss the medieval tower that stands as a sentinel to the past – climb its spiral staircase for panoramic views of the lush landscape that stretches as far as the eye can see. As you explore Chirk Castle, you can't help but marvel at the craftsmanship and dedication that went into its construction.
Today, the castle is opened and cared for by the National Trust. National Trust members can visit for free, check the castles website for non-National Trust prices and opening times.
Gwrych Castle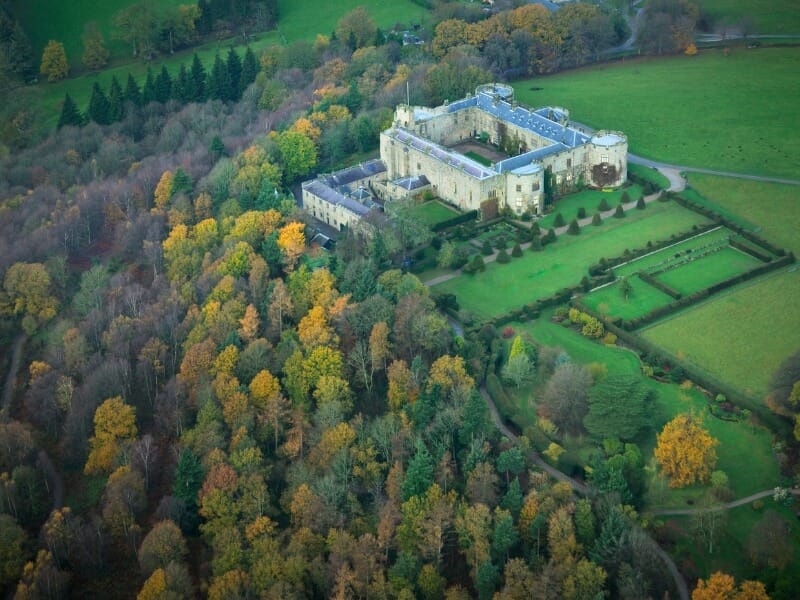 Gwyrch Castle is a Gothic masterpiece, a true hidden gem nestled amidst the Welsh hills, offering a taste of both history and the ethereal. You'll find the castle in Abergele, Conwy, North Wales. As you approach its ivy-clad walls, you'll feel like you're stepping into a fairy tale brought to life.
Perched on a hilltop, Gwrych Castle commands breathtaking views of the surrounding landscape. As you explore its grounds, you'll stumble upon hidden gardens, serene courtyards, and majestic terraces that seem straight out of a dream. Don't forget your camera – the photo opportunities here are nothing short of enchanting.
Gwrych Castle is a tapestry of stories, each corridor and turret weaving together the past and present. Wander through its labyrinthine halls, where whispers of forgotten whispers seem to linger, and you'll find yourself transported to a time of lords, ladies, and opulent parties. The faded grandeur and haunting beauty of the castle's ruins create an atmosphere that's both haunting and enchanting.
If you're a fan of "I'm a celebrity get me out of here" you may recognise Gwych Castle from the 2020 season, when the castle was used to host the TV show due to COVID regulations.
Tickets to the castle can be purchased online here as well as guided tours and ghost tours.
Gwydir Castle
Gwydir Castle is another true hidden gem of North Wales. Located in Llanrwst, Conwy this charming castle exudes an air of timeless elegance, transporting you back to a period of Tudor splendor and intrigue.
With its intricate woodwork, leaded windows, and ornate furnishings, Gwydir Castle captures the essence of the Tudor era. As you wander through its historic rooms, you'll feel like a guest at a royal gathering, surrounded by the rich tapestry of centuries past. The Great Hall, with its impressive timber ceiling, is a sight to behold, evoking the grandeur of feasts and celebrations from yesteryears.
The castle's gardens are a haven of tranquility, where you can stroll amidst fragrant blooms and manicured hedges. The walled garden, in particular, is a picturesque spot that offers a glimpse into the castle's horticultural history.
You can view the castle's opening times on their website here.
Dolbadarn Castle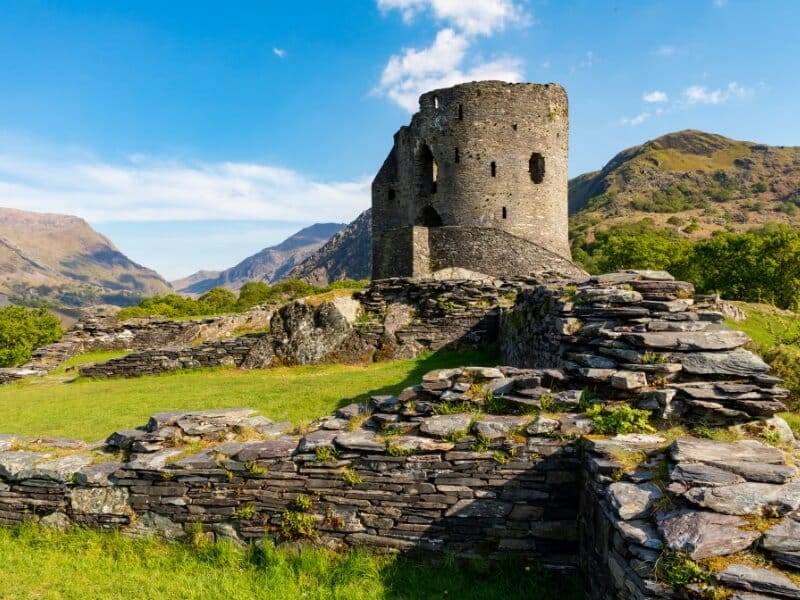 Venture into the heart of Snowdonia to Llanberis, and discover the captivating ruins of Dolbadarn Castle. Perched beside the serene Llyn Padarn lake, this medieval stronghold offers a dose of history with a side of stunning natural beauty. The moment you set eyes on the rugged stone walls against the backdrop of Snowdonia's peaks, you'll be transported to an era of chivalry and adventure.
Climb the winding staircases, explore the tower rooms, and soak in the panoramic vistas that stretch across the lake and mountains. Dolbadarn Castle's strategic location makes it a perfect starting point for hikes and adventures, reminding you that while time may have weathered its walls, its spirit remains as unyielding as the mountains that cradle it. Whether you're a history enthusiast or a nature lover, this castle offers an experience that's truly one-of-a-kind.
Today, the castles are in ruins but are still open to the public. You can also enjoy viewing the castle from afar, and it makes for a great addition to landscape photos of the Llyn Padarn Lake (which is on of the largest natural lakes in Wales).
Entrance to the castle is free. Check the Cadw Dolbadarn Castle website for more information on the latest opening times.
Rhuddlan Castle
Prepare to step into the pages of history at Rhuddlan Castle, a remarkable fortress that speaks of conquests and resilience. Nestled on the banks of the River Clwyd in Rhuddlan, this stronghold stands as a testament to the past, its weathered stone walls echoing tales of battles and triumphs.
Explore the well-preserved remains of the castle, from its formidable gatehouse to its strategic towers. The moat that once protected its residents now reflects the sky above, creating a scene that's both serene and evocative. Wander through the ruins and let your imagination roam free, envisioning knights in shining armor and royal feasts that once graced its halls.
Rhuddlan Castle's strategic position near the coast and its rich history make it a treasure trove for history buffs and adventurers alike. As you explore its nooks and crannies, you'll feel a connection to the past that's as powerful as the river that flows alongside the castle.
Entrance to Rhuddlan is £5 for adults, £3.60 for children aged 5-17. Family tickets are available at a discount. Disabled people and their carer/companion get free entry. Check the Rhuddlan Castle page on the Cadw website for more information.
Castle Tours
Taking a tour can be one of the best ways to explore these castles. Some of the castles listed offer their own guided tours.
You can also opt to book a multi-castle tour. Such as this private tour of 4 different castles.
Start your tour in the picturesque town of Llandudno, where your guide awaits to whisk you away on a captivating journey. The Great Orme Road offers a scenic route as you leave Llandudno behind, the Irish Sea stretching out before you like a canvas of endless possibilities. As you travel along, the sight of Anglesey on the horizon hints at the medieval tales waiting to be uncovered.
During the tour, you will get to visit Conwy Castle, Penrhyn Castle, Beaumaris Castle, and Caernarfon Castle. All 4 of these castles are UNESCO World Heritage sites and play an important part in Welsh history.
Another tour you should check out is this Snowdonia + 3 Castle Tour that packs the best of Snowdonia National Park and the three of it's most iconic castles – Conwy, Dolbadarn, and Caernarfon.
Departing from Llandudno Railway Station, relax in a minivan as your guide weaves tales of the park's history, its vibrant flora, and fauna. Take in the stunning Great Orme cliffs and Cardigan Bay's beauty before wandering Conwy's castle walls and exploring the village.
Traverse Snowdonia's heart, witnessing the Nant Ffrancon pass and Lake Ogwen's splendor. Dolbadarn Castle's imposing stance is a sight to behold. Then, Caernarfon Castle unveils history in its lofty walls, vibrant streets, and stylish waterfront. As your journey winds down along the North Wales coast, you'll be immersed in stunning coastal landscapes. This isn't just a tour; it's a fusion of nature's wonders and Wales' rich history, ensuring memories that'll last a lifetime.
Preservation Efforts
Preserving North Wales' castles is a priority for the Welsh government and heritage organizations like Cadw. These organizations work to maintain the castles' structures, prevent damage from weather and erosion, and ensure that visitors can safely explore the sites.
One example of preservation efforts is the ongoing conservation work at Caernarfon Castle. In recent years, the castle's walls have been stabilized and repaired, and new visitor facilities have been added. Similarly, Conwy Castle has undergone extensive restoration work to repair damage caused by weather and neglect.
Preservation efforts also extend to the castles' surrounding landscapes. For example, the UNESCO World Heritage Site that includes Conwy, Caernarfon, Beaumaris, and Harlech Castles also protects the towns and landscapes surrounding the castles. This helps to preserve the castles' historic context and ensure that visitors can experience the castles in a way that is authentic and meaningful.
When visiting the castles, please remember that these are historic medieval buildings and need to be preserved for future generations. Make sure to respect the property and do not cause any damage to the castle walls or artifacts.
Make sure to put litter in any bins provided (or take it with you if there's none). If you want to fly a drone, please check with the castle owner first. There can be restrictions on flying drones over castles, especially those owned by Cadw and the National Trust.