Dreaming of soaking up Dublin's rich history, art, and tales without the hefty price tag? Dublin, with its cobbled streets and age-old tales, is brimming with museums that won't cost you anything. Whether you're a history buff, an art enthusiast, or a nature lover, you can easily see the best of Dublin's history and art, all without breaking the bank by visiting one of it's many free museums.
Most of the free museums in Dublin are accessible via public transport, but a great way to save money while exploring the city's free museums, is to book the hop-on hop-off bus tour. Instead of juggling multiple public transport tickets, this one-stop solution lets you hop on and off at your leisure, making museum-hopping a breeze. Plus, with informative guides and panoramic views from the bus, it's like getting a mini-tour with every ride. There's two hop-on hop-off bus tour routes I recommend considering: The Red Bus Route and The Green Bus Route.
You can also save money on access to museums & other attractions that have entrance fees, with the Dublin Go City Card. It unlocks access to 40+ attractions at a discuonted price.
National Museum of Ireland
The National Museum of Ireland is a group of four different museums. Three of them (Archaeology, Natural History, Decorative Arts & History) can be found spread across Dublin while the final one – Country Life is located in County Mayo (about 3 hours from Dublin).
Entry to each museum in the National Museum of Ireland museums is free.
Archaeology Museum
This free museum offers you the chance to deep dive into the heart of Irish history and culture. The museum boasts an impressive collection of gold artifacts. From the Ardagh Chalice to the Tara Brooch, it's like a treasure hunt through time. There's also a viking exhibition, where you can discover artifacts from their settlements, and learn about how the Vikings had an impact on Ireland. There's also a selection of hands on displays so you can with history through hands-on displays, interactive screens, and immersive experiences that bring the past to life.
Natural History Museum
Ever wanted to embark on a global safari without leaving Dublin? Welcome to the "Dead Zoo". This isn't just any museum; it's a wild adventure waiting to happen. From the majestic lions of Africa to the towering bears of North America, it's a whirlwind tour of the animal kingdom. Stand face-to-face with the regal elephants, marvel at the intricate patterns of exotic reptiles, and gaze up at the soaring birds of prey.
There's also interactive displays, fun quizzes, and hands-on exhibits which are great for kids to learn about natural history.
Decorative Arts & History Museum
Another part of the National Museum of Ireland that I highly recommend visiting is the Decorative Arts & History Museum.
Nestled in the heart of Dublin, this place is a treasure trove of stories, from intricate lacework to the tales of brave soldiers. It's not just about artifacts; it's about the stories they tell and the hands that crafted them. Dive into a world where every object has a tale, every room a saga. Whether you're a history nerd or just someone with a penchant for beautiful things, this museum is like a love letter to Ireland's past. So, ready to time-travel?
National Gallery of Ireland
Picture this: strolling through the vibrant streets of Dublin and stumbling upon a treasure trove of art. Sounds dreamy, right? That's the National Gallery of Ireland for you. With masterpieces from legends like Caravaggio, Rembrandt, and Vermeer, it's like stepping into an art lover's paradise. Grab a coffee, wander the halls, and let the history of European painting sweep you off your feet.
Irish Museum of Modern Art
For all you modern art fans out there, the Irish Museum of Modern Art (or IMMA for short) is really worth a visit. Dive into a world where the lines of art blur and every piece tells a story. With iconic works from bigwigs like Francis Bacon and Damien Hirst, it's a whirlwind journey through the edgy, bold world of contemporary art.
And hey, if you're in the mood for some art chatter or hands-on fun, keep an eye out for their ever-changing exhibitions and workshops. Whether you're an art guru or just someone with an eye for the extraordinary, IMMA is a great museum to check out.
Entry to the Irish Museum of Modern Art is free, but some exhibitions cost 5-8 Euros to enter.
Chester Beatty
Ever wondered about the art that's been inspired by the world's major religions? Enter Chester Beatty. This isn't just a museum; it's a journey across continents and through time. With rare manuscripts and art from Asia to Europe, it's a melting pot of culture and faith. Whether you're a history buff or just curious, this place is a deep dive into the art and soul of world religions.
Entry to the Chester Beatty is free!
Hugh Lane Gallery
Located in the heart of Dublin, is the Hugh Lane Gallery. This art haven is where modern masterpieces rub shoulders with timeless classics. Dive deep into a world where the vibrant palettes of Irish legends like Dorothy Cross and Sean Scully come alive, and just a heartbeat away, the iconic works of Rembrandt and Vermeer await to transport you back in time.
Whether you're craving a contemporary art fix or yearning for a brush with history, The Hugh Lane Gallery promises an artistic adventure like no other. So, art enthusiast or casual admirer, are you ready to embark on this visual feast?
Entry to the Hugh Lane Gallery + Exhibitons is free
Garda Museum
Right in the heart of the Dublin Castle complex, you'll stumble upon a unique slice of Irish history. The Garda Museum shines a spotlight on the tales and triumphs of the Irish police force. From vintage uniforms to age-old weapons, every item tells a story. There's also a replica of an old police cell. You'll also get to learn about stories of notorious Irish crimes and the ever-evolving role of the police in Ireland. Whether you're a history buff or just curious, this museum offers a peek into a side of Ireland not often seen.
If you'd like to learn more about Dublin's dark and criminal history, I recommend checking out Kilmainham Gaol (pronounced "Jail"). The jail opened in 1796, and closed in 1924. Take a guided tour that let's you explore the city's criminal past. Wander through the cold, stone corridors, peek into the cells where prisoners once called home, and get a firsthand look at the inner workings of this historic prison. Entry isn't free, but at only 8 euros is well worth visiting. Tickets can sell out fast, and getting tickets on the day can be hard. So I recomend booking online well in advanced.
Dublin City Hall's Museum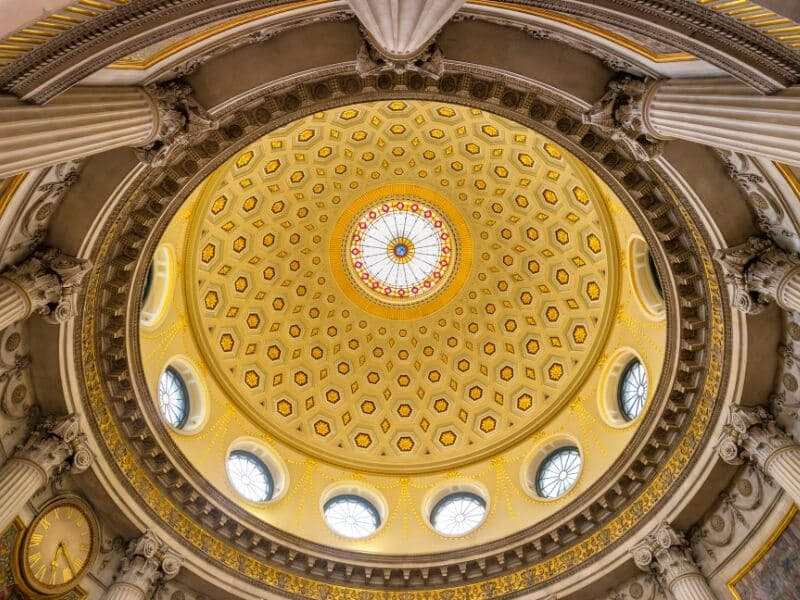 Constructed between 1769 and 1779, this architectural marvel was designed by Thomas Cooley. It originally was used as the Royal Exchange,and served as the bustling financial hub for Dublin's merchants. Then in 1851, when the Dublin Corporation purchased the building it became the Dublin City Hall.
Beneath the main halls in the basement, you'll find a true hidden gem – The Story of the Capital museum. This exhibition takes you on a journey through Dublin's history and how the city developed over the years. After the museum, I recommend continuing to explore the grand main hall with it's stunning architecture and design.
City Hall closes when there's an event on, I recommend contacting them to confirm they'll be open. If they are closed for a event, you can still admire the building;s architecture from outside.
Phoenix Park & Ashtown Castle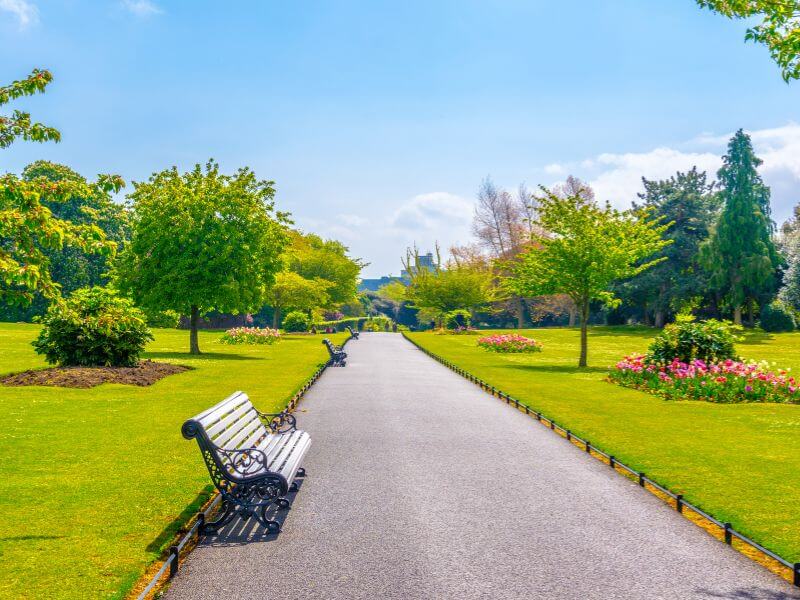 Phoenix Park is the largest park in Dublin, and a place where history comes alive. Originally created for deer hunting back in the 1660s, the park opened the public in 1747.The park is full of history. From the Magazine Fort, which was built in 1735, to the Ashtown Castle.There's even a prehistoric burial chamber that's over 5,500 years old!
You could start your visit athe Phoenix Park Visitor Centre where you'll find an exhibition on the parks history + wildlife. Afterwards, you could take a tour of the Ashtown Castle (tours must be arranged ahead of time, details on how to do that can be found here).
You could also explore some of the gardens such as The People's Garden, with its Victorian bedding schemes, ornamental lake, and children's playground. Or, The Victorian Walled Kitchen Garden which is located in the grounds of Ashtown Castle. From Sweet Pea to Chrysanthemums, this garden showcases the best of Victorian farming practices. It's educational, it's beautiful, and it's a perfect spot for those Instagram-worthy shots.
You could also enjoy exploring the parks nature & wildlife. At the western side of the park by Farmleigh and Mount Sackville you'll find mammals such as fallow deer, hedgehogs, badgers, rabbits & more. There's also plenty of birds, flora and plants found throughout the park.
Dublin Zoo is also located in Phoenix Park, and is one of the best zoo's in Ireland. The zoo isn't free but if your budget allows its well worth visiting.
Entry to Phoenix Park, the gardens and Ashtown Castle is free.
Áras an Uachtaráin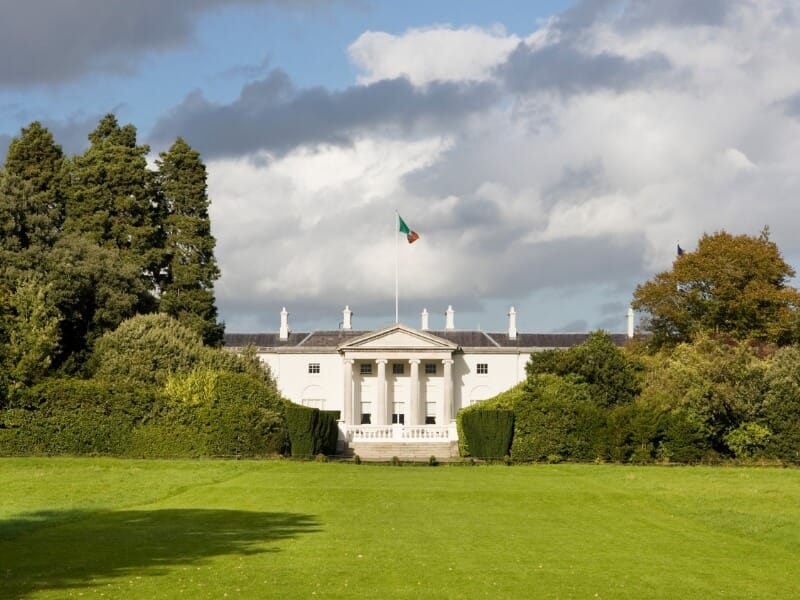 The Áras an Uachtaráin is one of Dublin's hidden gems. Located right in the heart of Phoenix Park lies a presidential residence that rivals the White House.
Originally a modest brick house from 1751, this place has evolved. Now, it's the official residence of Ireland's president. Dive into history with a free guided tour which take place every Saturday. Just make sure to book ahead, as they fill up fast! Explore grand state rooms and soak up tales of past presidents. Wrap up your royal adventure with a stroll in the gardens. Spot local wildlife and enjoy the gardens eco-friendly vibes.
After all that exploring, head over to the nearby Phoenix Café for a cuppa and some delicious Irish treats. It's the perfect way to round off your presidential adventure.
Find out how to book the tour here.
Joyce Tower Museum
Fancy a literary escape that's just a a train ride away from Dublin? Located 30 minutes by train from Dublin's city center, the Joyce Tower and Museum is a spot is a must for all you "Ulysses" fans out there.
The Sandycove Martello Tower gets its name from James Joyce, where he wrote the opening of Ulysses. Visit the tower to dive into the world of Joyce, explore artifacts, and get lost in Dublin's rich literary history. And the views from the top are pure gold for Instagram.
After soaking up all that literary goodness, I recommend heading to the nearby Sandycove Beach. Take a moment to breathe in the fresh sea air and relax on the beach. You could also enjoy going for a stroll along the seafront or visit the nearby Sandycove Castle.
Museums With Free Entry on Wednesdays
Every Wednesday, four museums in Dublin offer free entry. So you can dive into Dublin's rich history, explore its art, and even visit a castle without spending a single euro on entry fees.
Casino Marino
The Casino Marino isn't about rolling dice but rolling back in time. This 18th-century neoclassical marvel is a maze of intricate designs and hidden rooms. Every Wednesday, you can explore its architectural wonders for absolutely free. Dive into Dublin's past, wander through its ornate rooms, and let the Casino Marino transport you to a bygone era. It's a jackpot of history and beauty!
Farmleigh House and Estate
Fancy a countryside escape without leaving the city? Check out Farmleigh House. Every Wednesday, step into this Edwardian time capsule for free. Stroll through its opulent rooms, admire the art exhibitions, and wander its lush gardens. It's a blend of history, art, and nature that feels like an Irish Downton Abbey episode come to life!
Custom House Visitor Centre
Nestled by the River Liffey, the Custom House is more than just a pretty facade. Dive into Dublin's maritime and trade tales every Wednesday without spending a dime. Marvel at its architectural brilliance, uncover stories of old, and snap those Insta-worthy shots. It's a riverside gem that's a testament to Dublin's rich legacy.
Rathfarnham Castle
Who doesn't love a good castle? Rathfarnham Castle is where history meets fairy tale. And on Wednesdays? It's where you can roam for free! Explore its historic rooms, discover tales of its past residents, and feel like royalty. Whether you're wandering its interiors or its beautiful grounds, Rathfarnham Castle promises a regal experience without the royal price tag.
Save Money with the Dublin Go City Card
A great way to save money on your trip to Dublin is to get the Dublin Go City Pass which gives you access to over 40 attractions, at a discounted fixed price.
Hope this guide helped you plan your budget-friendly trip to Dublin. These free museums in Dublin aren't just about saving some euros; they also offer educational experiences, historic stories, and insight into Dublin's art culture.