Whether it's a solo adventure, a family vacation, or a business trip, traveling is about discovering new places, learning about new cultures, and escaping your normal life.​​ ​
But it also comes with its fair share of risks.​​ ​Whether it's unexpected weather changes, health issues, or even language barriers, there's a lot that could potentially throw a spanner in the works of your smooth-sailing journey.​​
But luckily there's an app for virtually everything, including your safety while traveling!​
​Whether you want to monitor air quality in your destination city, or have an emergency button at your fingertips. Need to stay up-to-date with the latest safety alerts and advisories? ​There's an app for that. I have put together a list of the best travel safety apps that can help you stay safe.​​
Smart Traveler for USA Travelers
If you're looking to stay informed and safe on your travels, you'll certainly appreciate Smart Traveler, an app that's chock-full of up-to-date, valuable information about your destination. Whether you're a frequent traveler or just going on your yearly vacation. ​Smart Traveler is a great travel safety app to keep you in the loop with real-time updates and alerts about your destination.​
Smart Traveler takes the concept of a safe travel app to a whole new level. It allows you to enroll in the Smart Traveler Enrollment Program (STEP), connecting you directly with the nearest U.S. embassy or consulate.
This way, you can receive important safety and security messages, making your journey as smooth and carefree as possible. ​With this app, your adventures will never be about worrying over safety but about immersing yourself in new cultures, experiences, and landscapes. It's not just an app; it's your passport to a world of safe and informed travel.​
Smart Traveler is free for Android and iOS.
ProtonVPN​

When you're on the move, ProtonVPN's got your back, ensuring your personal data remains private and your internet browsing is secure. This safety app is a game-changer, especially for women and solo travelers who may be more concerned about their online safety. Whether it's guarding your banking details while you're accessing public Wi-Fi in a quaint café in Paris, or preserving your anonymity when browsing in a bustling market in Bangkok. ProtonVPN is the solo traveler app you need to keep your personal information out of the hands of potential hackers.
ProtonVPN boasts an impressive array of features that make it one of the best safety apps for solo travelers:
Secure Core: This feature routes your traffic through multiple servers, making it difficult for attackers to link your activities back to you.
Strong Encryption: ProtonVPN uses AES-256, the highest-strength encryption, to protect your data from being intercepted.
No Logs Policy: ProtonVPN doesn't keep any records of your online activities, ensuring your browsing habits remain private.​
With ProtonVPN, you have the freedom to surf the web without fear, even in unfamiliar territories. It's like having a personal bodyguard for your online presence, making it one of the essential safety apps for women and solo travelers. ​
ProtonVPN has both a premium and free version. The free version has limited features and slower speeds but still offers a high level of protection. So if you're on a budget, but still concerned about safety you can still stay protected whilst online (things online will just load slower). If you're a digital nomad or frequent traveler, I do recommend investing in their premium plan.​
ProtonVPN is available for iOS and Android, and also works for your laptop/desktop.
Dashlane Password Manager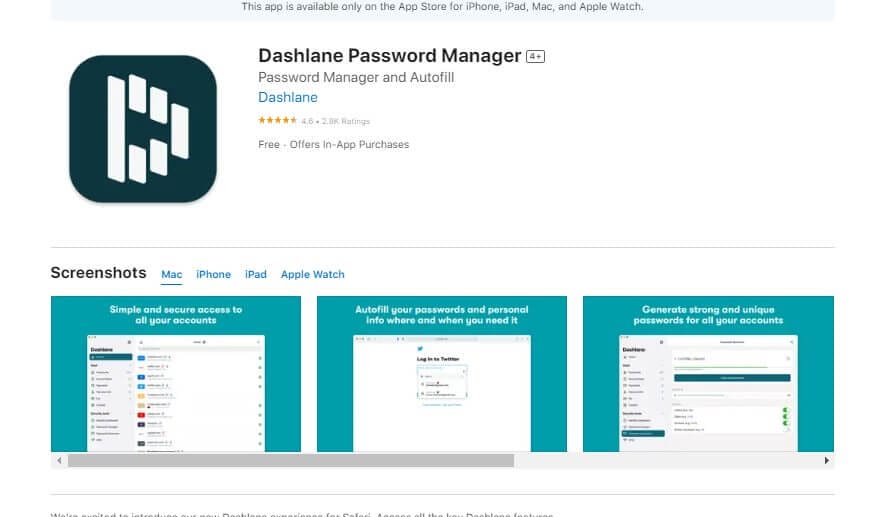 A password manager is a handy tool that keeps track of all your passwords, making it easier for you to manage your online accounts, especially while you're on the road.
Dashlane is one of the best-rated password managers, and I personally find it easiest to use plus their customer service is great.​
The app is a lifesaver, freeing you from the stress of remembering countless passwords for different accounts. It not only stores your passwords but also generates strong, unique passwords for you. ​
Dashlane Password Manager is available on multiple platforms. It provides extra security layers with its two-factor authentication feature. This means that even if someone somehow gets ahold of your password, they would still need a second form of identification to access your account. So you don't need to worry about someone finding all your passwords.​
Dashlane really helps simplify your online life, allowing you to focus on what truly matters – your adventures. So, next time you're traversing the globe, remember you've got a trusty sidekick in your pocket. With Dashlane, you can chase the horizon without a care in the world, knowing your online life is secure and perfectly managed.​
Dashlane has personal and business plans including a free personal plan. The free personal plan works on 1 device and lets you store unlimited passwords. If you want to use the app on your phone + computer you could upgrade to the personal advanced plan which lets you use the app on unlimited devices.
The advance plan also includes dark web monitoring, and if you choose to upgrade to their premium plan it also includes a VPN for WIFi protection.
Sign up here, and get 6 months of free access to Dashlane Premium (VPN not included).
TripWhistle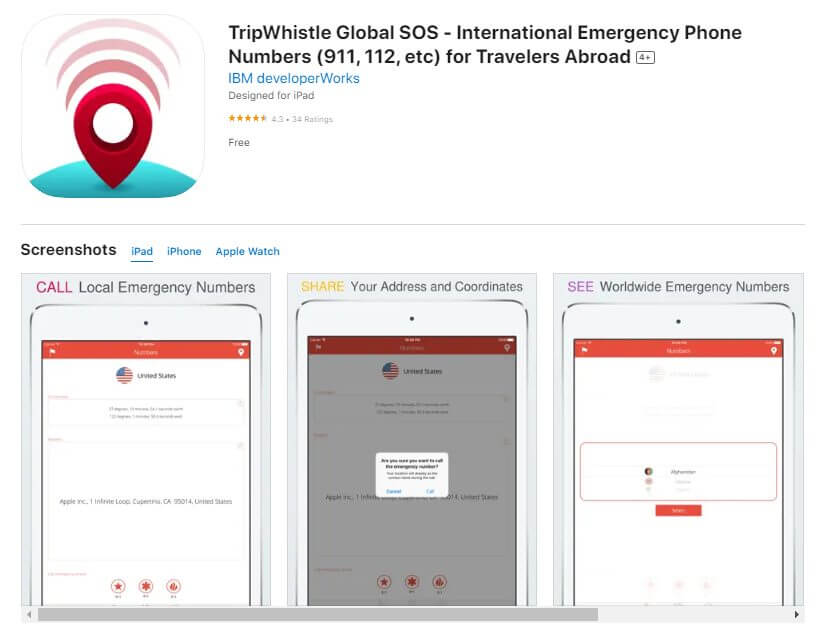 Let's shift gears and talk about TripWhistle, a global emergency service app that's an absolute must-have for any solo explorer. When you're out there on the road, miles away from home, you need to know that you're not completely alone in the face of emergencies. TripWhistle acts as your silent guardian, providing you with a quick, reliable way to reach local emergency services, no matter where you are in the world.​
TripWhistle boasts a comprehensive global database of emergency service numbers – that's over 200 countries and territories covered, so you're never left in the lurch.
A single tap allows you to dial local emergency services, saving you precious time in stressful situations.
The app will also provide your exact GPS coordinates, so help can find you even in the most remote locations.
With its user-friendly interface, even in panic mode, you'll be able to navigate the app with ease.
Your personal emergency data can be stored within the app, allowing quick access to vital information when it's needed most.​​
Embrace the freedom that comes with knowing you're covered in case of emergencies. No more time spent scrambling to find local emergency numbers or trying to explain your location to a stranger on the other end of the phone.
​With TripWhistle in your pocket, you can focus on the thrill of new experiences, the joy of meeting new people, and the pure freedom of the open road, knowing that if the unexpected happens, you're just a tap away from help.
TripWhistle is free for iOS
Red Panic Button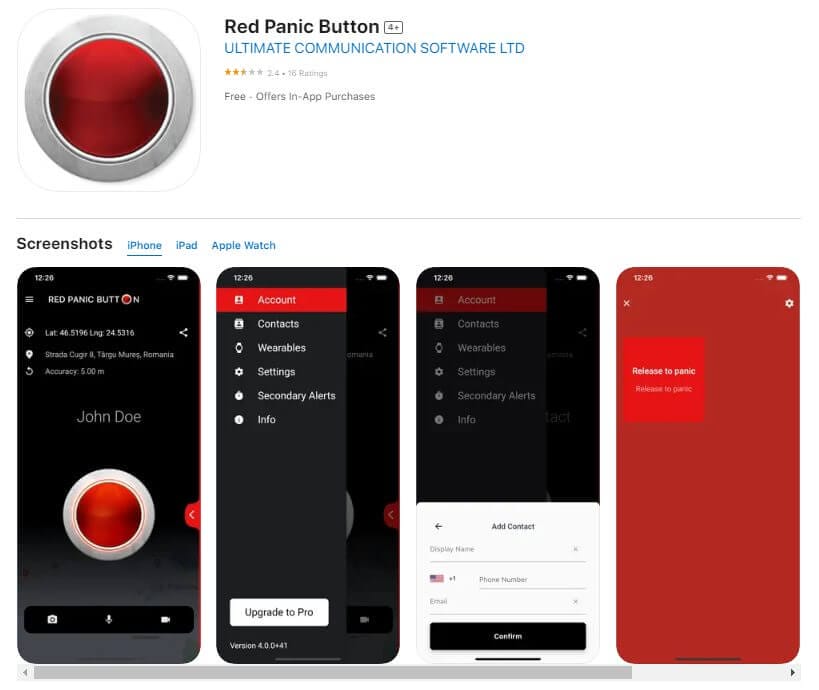 Another safety app I recommend is Red Panic Button. Picture this: you're exploring a new city, and suddenly you find yourself in a sticky situation. Maybe you've lost your way, or perhaps you're feeling threatened. What do you do? That's where the Red Panic Button comes in. This travel safety app allows you to send instant distress signals to your emergency contacts with just a tap. It's like having your personal SOS system right in your pocket.
The Red Panic Button works by sending an email or text to your pre-selected contacts with your GPS location. This way, your loved ones know exactly where you are and can take appropriate steps to help you. The app also connects to emergency services, ensuring that help is on the way even if your contacts can't provide immediate assistance. The best part? You can activate this feature without unlocking your phone, saving valuable time when every second counts.​​
Red Panic Button is free for iOS and Android.
Travel Safe – World Emergency
Imagine being able to access emergency numbers and embassy details for every country in the world right at your fingertips; that's exactly what Travel Safe – World Emergency offers.
This handy app is a must-have for any globetrotter. It provides you with crucial contact information you might need in case of an emergency during your travels. Think fire, medical, or police emergencies, and more importantly, the ability to contact your country's embassy no matter where you are.
Travel Safe is your digital companion, ensuring your safety wherever you may roam. This app is more than a simple list of emergency numbers, it is your key to peace of mind on your journey. Here are a few features that make this app a must for any traveler:
Universal Access: With this app, you can access necessary emergency services contact information for any country. No need to worry about searching for these numbers upon arrival in a new destination.
Embassy Details: If you lose your passport or find yourself in a sticky legal situation, this feature is a lifesaver. It provides you with the contact information for your home country's embassy or consulate.
User-Friendly Interface: Travel Safe ensures that navigating through the app is a breeze. Even in stressful situations, you'll find the information you need quickly and easily.
So, whether you're exploring the ancient ruins of Rome, backpacking through the Amazon rainforest, or enjoying a romantic getaway in Paris, Travel Safe – World Emergency has got your back. With this app, you're never truly alone or helpless during your adventures.
No need to let fear of the unknown hold you back; embrace your thirst for adventure and let Travel Safe handle the rest. Empower yourself with the freedom to explore the world, knowing you're just a tap away from help if you ever need it.
Travel safe – World Emergency is available for Android.​
Noonlight
I highly recommend downloading Noonlight. This app connects you to help when you need it most, whether you're exploring grandiose European castles, traversing the vibrant streets of Tokyo, or hiking the untamed rainforests of Costa Rica.
If you end up in an emergency situation, you might start panicking and be unsure of what to do. But with Noonlight, your worries can be lowered as it automatically sends your exact location to local emergency services when you trigger an alarm. The app also includes an automatic crash response feature, to ensure you're safe while enjoying your road trips in uncharted territories.​
With its robust features and seamless operation, Noonlight indeed becomes your trusty sidekick, allowing you to explore the most remote corners of the world with an eased mind. It's a perfect embodiment of the saying, "Better safe than sorry." With this app, your adventures will be about freedom, exploration, and the joy of discovering new places, not about safety concerns.
Noonlight is free for iOS and Android.
GeoSure

While Noonlight offers a great safety net for personal emergencies, another great app that puts safety first in a slightly different way is GeoSure. This app keeps you informed about the safety of your surroundings wherever you roam. It's like having a personal safety advisor in your pocket, ready to provide real-time data about your location.
GeoSure combines big data analytics, AI, and expert analysis to give you an in-depth safety score for nearly every neighborhood in the world. It factors in everything from health risks and environmental hazards to women's safety and LGBTQ+ safety. Here are a few standout features of this dynamic safety app:
Global Safety Scores: GeoSure provides you with unique safety scores for over 65,000 neighborhoods around the world, allowing you to measure the safety of your surroundings at a glance.
Location-specific Tips: The app provides personalized safety tips based on your location, helping you navigate unfamiliar territories with confidence.
User-generated Reports: GeoSure also allows users to share real-time safety experiences, providing you with firsthand information from fellow travelers.
Remember, knowledge is power. GeoSure provides you with the knowledge and insight you need to make informed decisions about your safety while traveling. It's a fantastic tool for those who crave the freedom to explore without being held back by safety concerns.
The app's user-friendly design makes it easy to interpret the information and use it to your advantage. So, go ahead and explore that bustling city, scenic countryside, or remote village. Just remember to check GeoSure first, to ensure you're stepping into a safe environment.
GeoSure is free for iOS and Android
bSafe – Never Walk Alone

bSafe is a personal safety app that ensures you never have to walk alone, no matter where your adventures take you. With the click of a button, this app allows you to share your journey and location in real time with your loved ones.
Worried about wandering into an unfamiliar neighborhood at night or getting lost in a new city? bSafe puts those fears to rest. It's your personal security guard right in your pocket, giving you the freedom to explore without feeling vulnerable.
With bSafe, you can create your own safety network of friends and family who can virtually walk you home or track your journey. The app also features an SOS alarm which when triggered, starts recording video and audio, sends your location to your chosen contacts, and even sets off a siren if you choose.
I really do recommend downloading bSafe if you are a solo traveler or meeting up with people you met online. Even if you're not traveling, and staying local – this app is super handy to have.
bSafe is available for Android.
Weather Radar: Forecast & Maps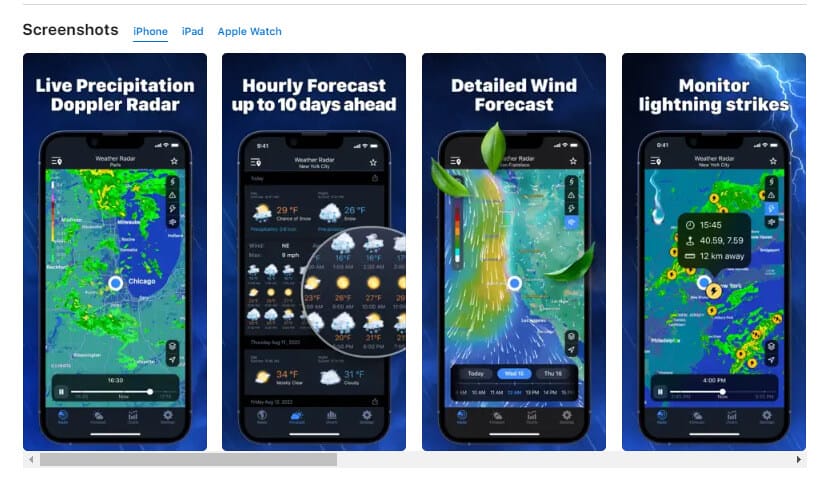 I recommend always having an app to check the weather. I personally use Weather Radar: Forecast & Maps. This versatile app acts as your personal weatherman right in your pocket, ensuring that you're prepared for any weather conditions that may come your way. No matter if you're hiking through the Swiss Alps or sunbathing in the Bahamas, this app will provide you with real-time weather updates, forecasts, and even severe weather alerts.
The app features detailed weather maps that give you a clear picture of what's happening around you, including wind speed, humidity, and temperature. I personally use this app to check the weather radar and see which areas are free from rain, thunder, etc so my plans for the day won't end up ruined. If you're traveling around Iceland, there are other weather apps I recommend getting such as Iceland Weather Guide.
Weather Radar: Forecast & Maps is available for iOS and Android.
IQAir AirVisual Air Quality
Checking air quality is important, especially in some areas that are known for having more polution such as Hong Kong or Taiwan. With IQAir AirVisual Air Quality, you can monitor air quality indices in real-time, no matter where you're heading.
This handy travel app provides you with a global air quality map, allowing you to check the air quality index (AQI) of your destination or any other place in the world. It's like having your own personal guide to the breathable world, making sure that your journey is not just exciting, but also healthy.
It even offers air quality forecasts, so you can plan your adventures in advance without having to worry about whether the air will be clean enough to breathe. It's not just about the destination, but also the journey and the air you're breathing along the way.
IQAir AirVisual Air Quality is available for iOS and Android.
Sitata Travel Safe
Navigating unfamiliar territories can indeed be thrilling, but it's equally important to stay informed and prepared for any unexpected setbacks, and that's exactly where Sitata Travel Safe comes into play.
Sitata is designed to keep you updated on potential travel disruptions, health risks, and safety concerns in your destination country. It's like having your very own personal travel assistant who constantly keeps you informed about everything that's happening around you, ensuring that your adventurous spirit isn't dampened by unexpected surprises.
Sitata Travel Safe is packed with an array of features that make it one of the best travel safety apps out there. It offers:
Real-time travel alerts:
You'll receive instant notifications about potential disruptions, from strikes and protests to severe weather conditions and health alerts. This helps you stay one step ahead and plan your activities accordingly.
Health information and clinic locator:
The app provides detailed health advice for your destination, including recommended vaccinations and potential health risks. It even helps you locate the nearest clinics and hospitals, ensuring you're never far from medical help if needed.
The beauty of Sitata Travel Safe is its simplicity and comprehensiveness. It doesn't just alert you to potential issues; it gives you actionable advice on how to deal with them. For instance, if there's a protest happening near your hotel, the app will provide you with alternative routes to avoid the area, ensuring you continue to enjoy your travel experience safely and confidently.
Sitata is designed for Android tablets and IPad & iPhone.
Frequently Asked Questions