So you're off to Iceland or planning on going. You'll definitely be needing to equip yourself with some handy mobile apps that'll make your experience in Iceland easier and safer. In this guide, I list the apps I used during my road trip around Iceland's ring road. Some apps focus on safety, as Iceland's climate and landscape can lead to dangerous situations. But don't let that scare you, as long as you are careful, and follow any safety guidelines, you'll be fine. Some apps will help you take better photos, find places to go, and others will help guide you through audio or audiovisual tours in different parts of Iceland.
All the apps are available for Android and iOS. Some are available for Windows. A few apps are premium, but most are free or have a free version available.
1. 112 Iceland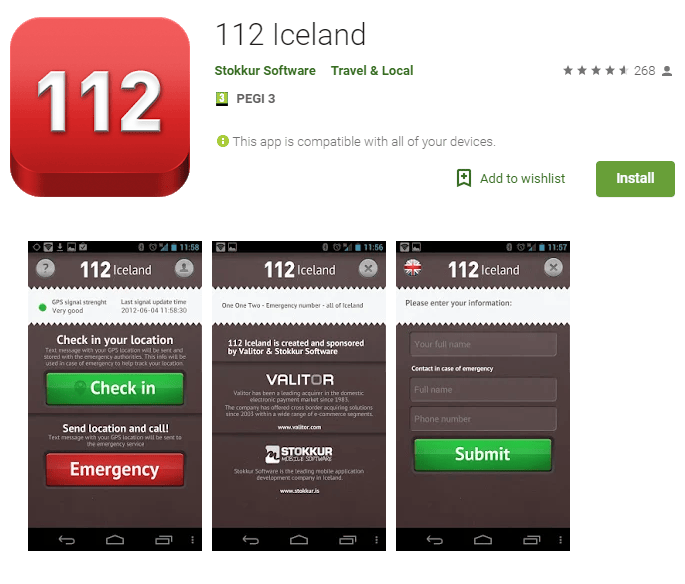 For iPhone, Android and Windows phones.
112 is Iceland's version of 911/999. The app allows you to get help in an emergency by sending a text message, along with your GPS to 112, then it'll call them. This is useful as the GPS allows them to track where you are — to a point, it's only as accurate as your phone's GPS is — and in Iceland it's not always obvious where you are. Due to how treacherous Icelandic's landscape, roads and weather can be, having this app installed is a must to ensure you can stay safe in Iceland.
The 112 Iceland app is free.
2. Wapp
Wapp is a walking app, that acts as a sort of travel and hiking guide. You can use it to find trails, and while walking the trail it will pop up with information and photos. The app supports downloading maps for offline usage and allows for searching by the length of trail, elevation, difficulty and territory. The app itself is free, but some of the trails require purchasing. But still, it's a really good app to use when travelling in Iceland.
3. Vegagerdin
Having Vegagerdin installed on your phone is a must when travelling in Iceland. The app displays information on road conditions and the weather, so you check whether it is safe to drive your chosen route. It'll let you know whether a road is clear, slippery, very slippery, covered in snow, and impassable. Vegagerdin is free to download, and I highly recommend using it to check the road conditions in Iceland before heading out each morning.
4. Iceland Weather Guide
The great thing about this weather app is that you can download the weather forecast for offline usage. Detailed weather forecasts including things like temperature, conditions, wind speed, cloud cover, and more are available for up to 6 days. With 12 to 30-day weather forecasts available, based on archive data. I find the best way to use it, to ensure accuracy is to download the day's weather forecast while on WiFi before heading out as this lets you save on data roaming.
The app's free to use.
5. Strætó.is
For iPhone, Android, and available on their website.
This app is useful if you want to use buses within Iceland. It allows you to see the bus times, stop information, and plan your journey throughout Iceland. You can also pay for your bus trip if using it within the Greater Reykjavík area. It also lets you see where the bus is in real time, so you can make sure not to miss it.
The app's free to download.
6. Appy Hour
If you are staying in Reykjavík and plan on drinking, I recommend downloading Appy Hour. Anyone who has visited Iceland will tell you how expensive alcohol is, but thanks to Appy Hour you can at least attempt to stay within budget. The app will show you when and where happy hours are taking place, plus the cost of a beer. The Appy Hour apps free, which is awesome as it means more money for drinks!
7. Waze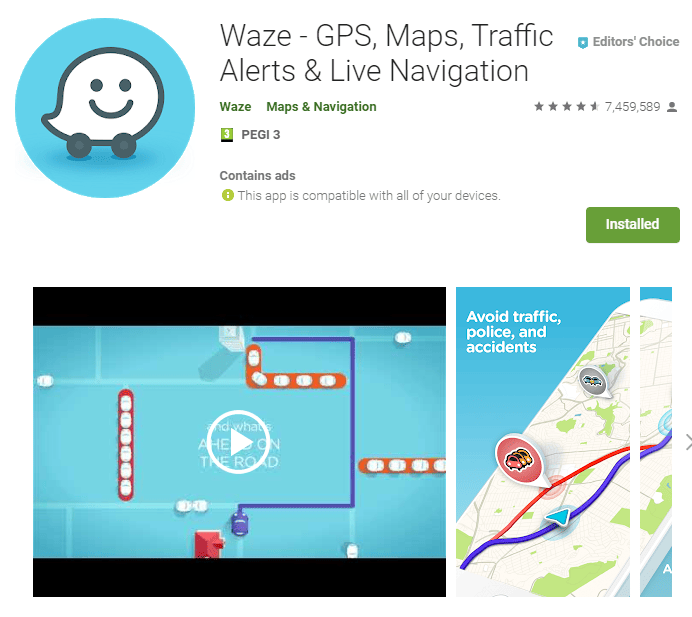 I always recommend Waze, whatever the country. Waze is a great alternative to Google Maps, if anything, it's better (there's a reason Google purchased it). The app allows people to report accidents, police, speed cameras, traffic etc. It'll detect when you or others using the app are in traffic, and accesses traffic information. It uses this + the user submitted data to calculate the best journey, and if something happens when on the route it'll figure that out, and calculate an alternative to save you time. You can also use it to find petrol/gas stations. Plus you can share your journey, so people can see when you're going to arrive or just to keep an eye on where you are if you're worried about safety. It also lets you make an account, record how far you travelled and lets you get cute little user icons which show up on the map.
Waze is free.
8. My Aurora Forecast & Alerts
When visiting Iceland, an aurora forecast app is a must. My favourite is "My Aurora Forecast". It gives information on strength, viewing probability, and cloud coverage. It also includes a map so you can see where the aurora will be strongest at. It'll also send a free push notification when auroral activity is expected to be high. I used this app in Iceland to see when the aurora was taking place, so I could plan what spot I wanted to be in, at the time it was going to happen. I attempted to see the Aurora 5 times in my 2 weeks in Iceland, and successfully saw the Aurora all 5 times thanks to this app. If you combine it with some of the location finding apps on this list, you'll be sure to get some awesome viewing points and photos.
My Aurora Forecast is free, although they do offer a paid version with extra feature's.
9. Iceland Film Locations
Iceland has become a popular place for filming movies and TV series, such as Game of Thrones and Vikings. With this app, you can you locate where your favourite movies/tv shows were filmed, and be guided when visiting them. The app includes and audio-video guide for each location, that can be downloaded via WiFi so you can learn more about the location without using up your data.
The Iceland Film Locations app is free to download.
10. Flight Aware
Due to the unpredictable weather in Iceland, you may have issues with flights being cancelled or delayed. FlightAware lets you see the status for your flight, and look up other possible flights you could take if something was to happen during your stay in Iceland.
For iPhone, Android, and available on their website.
11. Photomapper: Best photo spots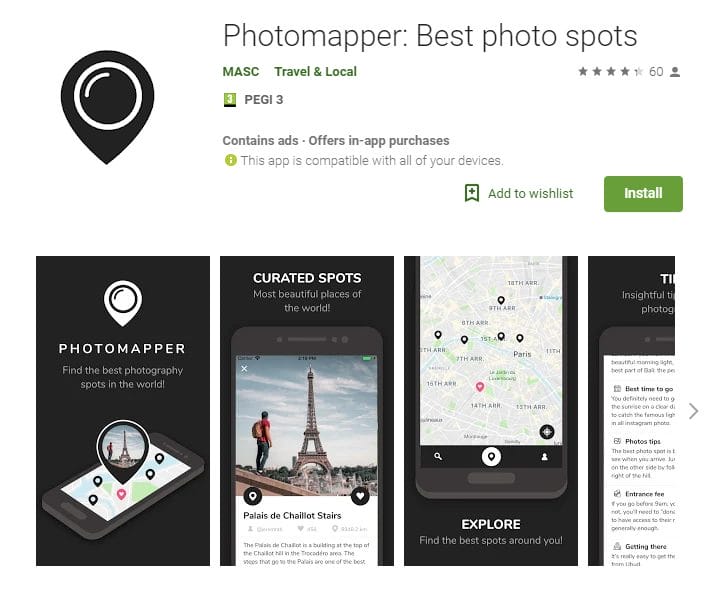 Photomapper allows you to find photo spots during your travels. Chances are, while you're in Iceland you'll want to be photographing its amazing landscape, the northern lights and waterfalls. So this app is definitely worth downloading to find where there are some good photography spots, which will allow you to spend more time taking photos and enjoying Iceland than driving around looking for places to stop.
12. SkyView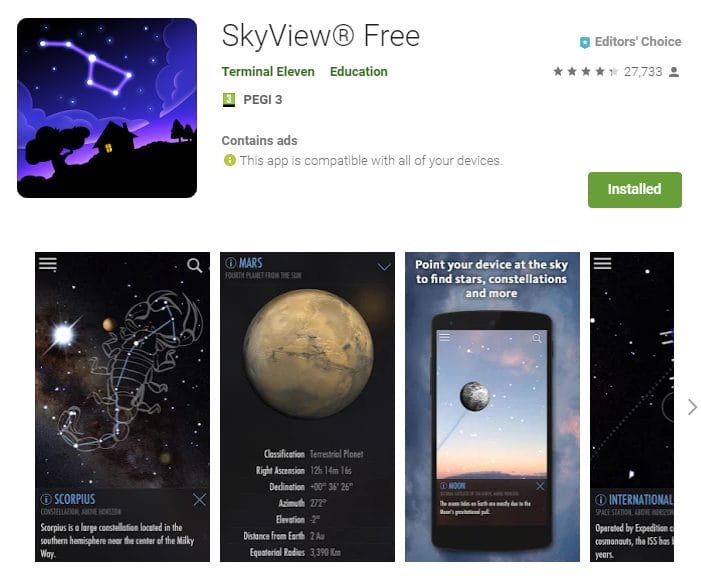 Iceland has very little light pollution, so I highly recommend doing some astrophotography or stargazing while in Iceland. Soon as you're away from the main cities, you'll be able to see millions of stars. This app will help guide you, so you know what stars or planets you're looking at. The apps free to download.
13. The Photographer's Ephemeris
For iPhone and Android, and available on their website.
This app is a must for photographers. It shows what time the sun and moon set and rise, plus the direction they'll be rising/setting in. This information is available well in advance so you can go through the dates you'll be visiting Iceland to check the times & locations for each of the locations you want to photograph. This is great for planning out the sunrise, and sunset shots to ensure you'er in the right place, at the right time.
The Photographer's Ephemeris is not free, but it's definitely worth buying. They do, however, have a web version which is free to use. I do recommend grabbing the app for your mobile though as it's much easier to use, and supporting the developer helps ensure this great app is maintained.
14. Thingvellir National Park app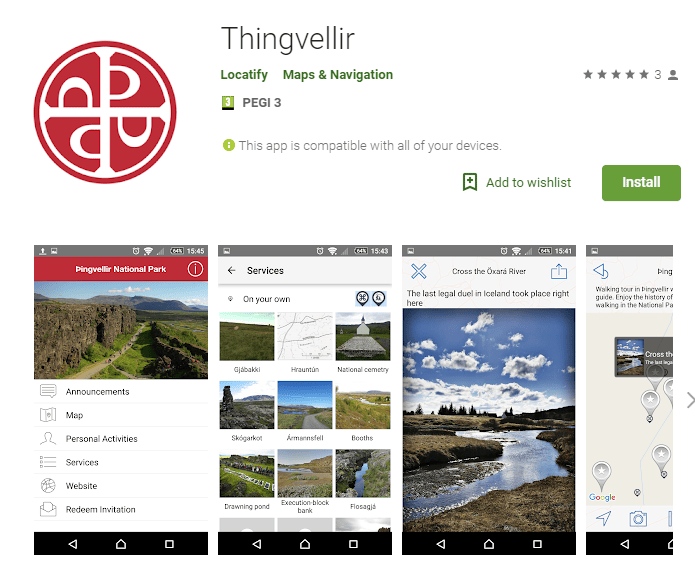 During your visit to Iceland, you'll most likely be visitin the Golden Circle. Thingvellir national park is located within the Golden Circle, and the landscape is amazing with tons of things to see. This app uses audio guides and GPS to help guide you through the national park. Plus it provides information on opening and closing times, and hiking routes. It's definitely worth grabbing this app if you're visiting Iceland's Golden Circle.
15. PeakFinder
The last app on my list is useful for helping you identify the names of different mountains and hills while you're in Iceland. Iceland has tons of mountains that look awesome, and thanks to this app, you can now quickly identify them. It isn't a free app, but it's worth buying if you like to easily look up what mountains called what. It's really useful to photographers as it can help us ID what we're taking photographs of. I like to use this app, so I know where I am, what I am photographing and can then, later on, I can name and describe my photographs properly.
If you've found this guide to the best travel apps to use during your road trip around Iceland, then why not check out my guide to Photographing Iceland's Best Waterfalls