The city of Porto is located in the north of Portugal and is home to many of the best Port wine cellars around. Porto is the second largest city in the country and is located along the Duoro River not far from the Duoro Valley.
Whilst much of the city is walkable there is also a fantastic, affordable metro service with accessibility-friendly trains. The airport is situated 9 miles to the North West of the city and is accessible by Metro for around €4 per person. The main train stations of Campanhã and São Bento are also accessible and like much of Europe, provide affordable and reliable travel across the city and country.
If you prefer there are also several bus and tuk-tuk tours that are bookable and most companies that offer a tour in Porto offer a variety of languages including English tours.
Perhaps the most famous product to come out of Porto is Port (or Oporto) Wine, a wine only made in this region. Port in Porto, a match made in heaven!
Visit the wine cellars, learn the history of port wine, and relax with a glass of old port with friends.
What is Port Wine?
Portis a Portuguese fortified wine that is produced in the Douro Valley region of Northern Portugal. Most people think of Port as being a red wine however it is also available in tawny wine, white wine, and rose wine versions. Often sweet, Port Wine is traditionally served with a dessert. The port wine industry has been alive for over 270 years and it shows no sign of slowing up!
Whilst in Portugal, make sure to visit Porto and try a glass of port wine with a pastel de nata on the waterfront for the ultimate experience on your trip to Porto!
How is Port wine made?
It doesn't matter whether you know much about port or not as you'll learn how port wine is made and the history of port when visiting one of the many wine cellars in Porto, but here's a short overview too.
Thousands of grapes are picked by hand in the Douro Valley each year, these are then taken to Lagars where they are crushed – sometimes by foot and sometimes by machine, depending on the company and its choice and traditions. Lagars are open-top wine fermenting tanks made from stone or concrete. In the Douro region, lagars are made of granite stone. Once the grapes are crushed they are transferred to fermentation tanks where they left to ferment until the optimal sugar levels are reached.
We won't give too much more away! In this guide, we will recommend where to find historic port wine and introduce you to several port lodges where you are able to gain a broader history of port and take part in guided tours and port wine tasting.
How to visit a Port Wine Cellar
There are plenty of options for all budgets in Porto if you would like to visit a Port Wine cellar to see how wines are made and also sample the delights in the tasting room! There are so many houses and wine bars to visit in Porto, especially in the Vila Nova De Gaia area which is based in the old city center of Porto.
Some tour providers will offer inclusive packages where tickets are booked for you and necessary transport is arranged. These can be booked online ahead of time, which I highly recommend doing during the summer months as they can sell out fast. During the offpeak season, it is also possible to arrive at your chosen port cellar and book a ticket for a Port tour and tasting. With tasting included in most, if not all port house's entry costs. Just be sure to leave room for eating the delicious local delicacies on offer in Porto after your tour.
If you'd like to guarantee your place on a tour by booking online, I recommend booking through Get Your Guide or Viator as they both offer free cancelation up to 24 hours before your tour.
Where possible we have listed access information for port cellars in this guide. However, it is recommended that you contact cellars ahead of time if you would like to check accessibility requirements and find the best wine cellars for you. Many of the port houses are accessible however, some cellars may be more accessible than others and this could influence your choice of Port cellar or tasting house.
So, port tastings in Porto, let's go!
The Best Port Wine Cellars and houses to visit in Porto
Taylor's Port Wine Cellar
Perhaps one of the most famous Port Wine producers is Taylor's. Taylor's has been trading since 1692 and is one of the largest port winemakers. Over three centuries of port wine history can be found in this wine cellar and each visitor is given an audio guide as part of the €15 tasting and tour package.
If you're disabled you'll be happy to hear Taylor's wine cellar is wheelchair accessible and does include a disabled toilet facility. But make sure to contact the cellar to confirm access is suitable for you if required.
If you already know which Taylor's Port you like you can also visit their shop in Clerigos and purchase your favorite beverage. They also offer Port wine tastings at the shops, but it's not quite the same experience as a visit to a port wine cellar.
Why not take a private tour of Taylor's port wine cellar, where you'll be able to enjoy the tasting of two of their famous port wines? The tour starts at 130 euros (about $143.31 USD) per adult, for a minimum of 2 adults. Check tour availability here.
Porto Augusto's Wine Cellar
The Augusto family have been producing tasty port wine since the 70s and grow their grapes across 52 hectares of land in the Duoro Valley just down the river from Porto. The grapes are handpicked and have been for three generations.
You'll find this port wine cellar in the historic area of ​​Vila Nova de Gaia the perfect place to go wine tasting!
Although Porto Augusto is the smallest wine cellar in Porto that does not mean it should be overlooked. Because this family-run business only produces between 25,000 and 30,000 bottles of port per year this could be Porto's best-kept port wine secret! Learn about port and the production of port from a smaller, independent company and enjoy a tour. A twenty-minute wine tour is available in English, Portuguese, and French and costs only €10 including the opportunity to try two port wines at the end in the dedicated tasting room.
This wine house has disabled access and also accessible toilets for visitors. If you need an accessible tour, make sure to contact Porto Agusto's beforehand to ensure your needs can be met.
Find more information on their website here.
Pocas Wine Cellar
Nestled in the Vila Nova de Gaia area of Porto, Pocas Wine Cellar offers visitors a one-hour guided tour available in 6 different languages (Portuguese, Spanish, English, French, Italian, and German) from $19.43 (USD) depending on your choice of experience. During the tour, you'll be able to try port wine. Check availability here.
Pocas has been in the port wine business for 100 years and four generations of the family have continued to carry on the traditions. Whilst the visitor center is fairly recent having only opened in 2016, this has not stopped Pocas from becoming a popular venue for port tasting in Porto.
For disabled visits, Pocas does have disabled access as well as accessible toilets but please check first to ensure this meets your accessibility needs before booking. Tours may not be accessible so if you are disabled, you might have to book direct.
Choose between 3 different tours:
If you'd like to visit multiple wine cellars, you could save money by combining a visit to Pocas Wine Cellar with a tour of Burmester Wine Cellar as well. This way you'll get to enjoy two of the best-guided tours and tastings of port wine and save some cash. Check the availability of this combo ticket here.
Tip: Save money with up to 50% off your visit & more with the Porto Card.
Cockburn's Lodge
Back in 1815 two brothers from Scotland bought their first order of grapes from the Duoro Valley and got all the other Port Wine producers talking!
John Henry Smithes – known as the Cowboy of the Douro – planted Touriga Nacional, the quintessential port grape, in the upper Douro. The region was once considered out of bounds for respectable producers, and in turn, became known as Cockburn's Country. Rebellious, we like it!
In 1969 the company launched Special Reserve which sought to bridge the gap between rarified vintage years and ruby port.
Visits to the wine cellar include a tasting of port wine and start at just €20 ($21.69) with packages varying in the types of wine and amounts included in the tastings. You can also choose to pair the wine tasting with a chocolate tasting. The tours are available in Portuguese, English, Spanish, French, and Italian. Check availability here.
If you can't visit in person you can always purchase an online tasting pack (EU Shipping only) for €130.
Formed in 1815
Prices start at 20 euros (about $21.69 USD)
Tours available in English, Portuguese, Spanish, French, and Italian
Real Companhia Velha
With over 270 years of history, Real Companhia Velha (Old Royal Company) is the oldest port wine producer around. Founded in 1756 by King D. José I and Prime Minister – Marquês de Pombal, the company still produces a selection of old Tawny Port Wines and Vintage Ports. Real Companhia Velha has become a national treasure, as it holds some of the oldest and most prestigious Port wines in the world.
This port wine lodge is based in the Vila Nova de Gaia region of Porto not far from the river.
Guided tours are available daily in English, Portuguese, French, and Spanish and start at just €15 depending on your choice of experience. These tastings provide wine enthusiasts with an opportunity to learn about the history and tradition of Port Wine production and to experience the unique flavors that have made Real Companhia Velha a household name among wine connoisseurs. For more information, check their website.
You could also opt for a tour of Porto where you'll first board a train at Sé Catedra and go on a tour around Porto city center. Then you'll arrive at the Real Companhia Velha wine cellar where you'll first watch a 15-minute film about the wine cellar.
Then you'll go on a 30-minute visit to one of the oldest parts of the Real Companhia Velha cellar and enjoy tasting 2 port wines. Afterward, you'll get back on the train and continue your tour of Porto. After the train ride, you'll go to the Ribera and hop on a boat and go on a 1-hour cruise along the Douro River. During this tour, you'll get to see many of Porto's best sights such as the Carmelitas Church, Santa Catarina Street, Batalha Square, and St. Johns Theater.
Tip: Save up to 40% off your visit with the Porto Card
Cálem Port House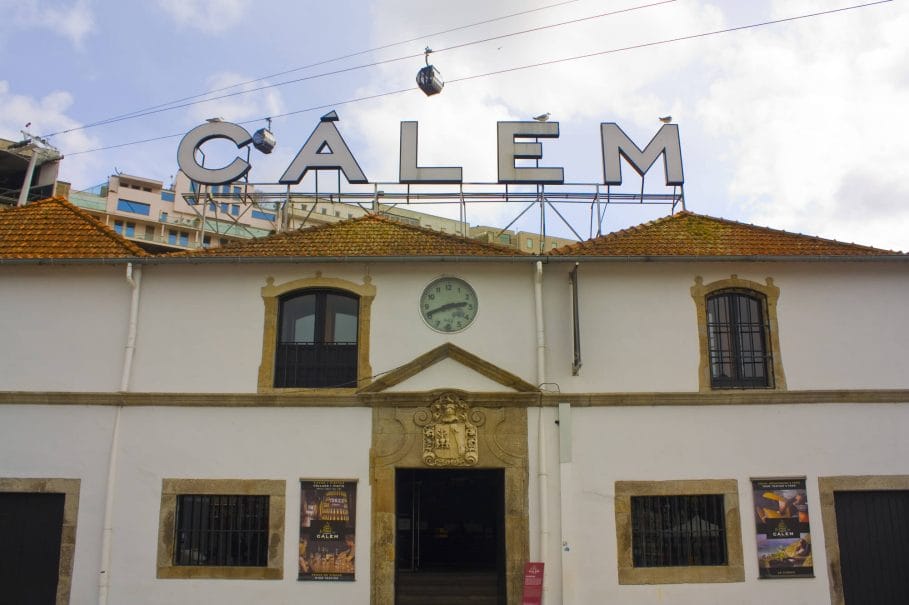 Established in 1859, Antonio Alves Cálem first set out with the aim of shipping Port Wine to Brazil. His first transactions were deep in the Brazilian woods and it turned out to be a very successful business decision indeed! This was only the start of worldwide recognition for the brand and allowed people all over the world to taste some of the best wine to leave Portugal. The menu at Calems port house includes an array of port cocktails as well as the standard port flavors. A selection of tour and taste packages are available with an exciting 5D experience set to wow visitors opening soon.
If you/someone in your group is disabled, you'll be happy to hear Cálems does have disabled access and also accessible toilets. Please do check before booking that they have suitable access for you and your travel group.
You could choose to book this guided tour, which includes access to an interactive museum and Calem's historic wine cellars. You'll also be able to enjoy 2 or 3 port wines depending on which tour type you select. The basic visit includes Fine White and Reserve Tawny, whereas the premium option includes White & Dry, LBV, and a 10-year-old Tawny wine.
This tour is available in English, French, Portuguese, and Spanish. The tour is also wheelchair accessible. Check availability here.
If you'd also like to enjoy a Fado show while visiting Porto, then you could consider this tour that includes both a Fado show, wine tasting, and a tour of the Calem Port house cellar. This tour is also wheelchair accessible but is only available in English. Check availability here.
Tip: Save up to 10% on visits to Cálem between November and March with the Porto Card.
Graham's Port Lodge
William and John Graham founded Graham's in Porto initially to trade in textiles. Established in 1820 they accepted twenty-seven barrels of Port as payment for a debt. The two brothers decided there and then to devote their time to making the best Port wines from the Douro Valley.
Grahams have been producing Port Wine for over 200 years. The brothers were one of the first Port companies to invest in their own vineyards in Portugal's Douro Valley in 1890. Today, five cousins share responsibility for every part of the company and personally make Graham's Port sold globally.
Visitors can get a guided tour and attend a tasting session of different types of ports at the port cellar starting from €35. Drinking Port in one of the world's most famous port houses, what's not to like!? If you choose this tour, you'll be able to enjoy a tour of the Port Lodge, learn about how port wine is produced, and enjoy tasting wine paired with chocolate, cheese, and Pastel de nata. This tour is also wheelchair accessible. Check availability here.
Alternatively, you could go on this tour which involves touring the Port Lodge, with a trip to the Vintage Room where you'll get to enjoy tasting wines afterward. The Vintage room is a private room, that resembles a library and offers a nice relaxing atmosphere so you can stay focused on port wines. Check availability here.
Churchill's Port Lodge
Churchill's Port Lodge is a historic wine estate located in the heart of Vila Nova de Gaia. It is known for producing some of the finest Port wine in the world. The wine company is owned by the Churchill family, a well-known British family that has been in the wine business for over 200 years.
Churchill's Port is considered to be one of the best Port wines in the market, with a rich and complex flavor profile unmatched by other brands. The Lodge offers tours and tastings of their wide selection of Ports, allowing visitors to sample the best of what they have to offer.
Tours and Tastings need to be booked via email so you'll need to contact them to ensure they have space. During the tour, guests are given an introduction to Port Wine and the Douro Valley and are then taken through the port aging process – from large vat Reserve and LBV tanks to the exclusive, private vintage cellar. Take a look at some of the tours here.
Quevedo Port Wine House
Located in the heart of Porto, the Quevedo Port Wine House is a family-owned business that has been producing some of the finest Port wines for over a century. Founded in 1991 by Oscar and Claudia Quevedo, the company prides itself on being both large enough to produce high-quality wine, and small enough to maintain a personal touch throughout the winemaking process. All of Quevedo's vineyards are located in the Douro Valley, which is considered to be one of the most prestigious and challenging wine-growing regions in the world. Quevedo cultivates 100 hectares of grapes yearly plus an additional 25 hectares of organic olives.
The Quevedo Port Wine House is committed to producing exceptional Port wines that reflect the unique terroir of the Douro Valley, whilst also using traditional winemaking techniques that have been passed down through generations.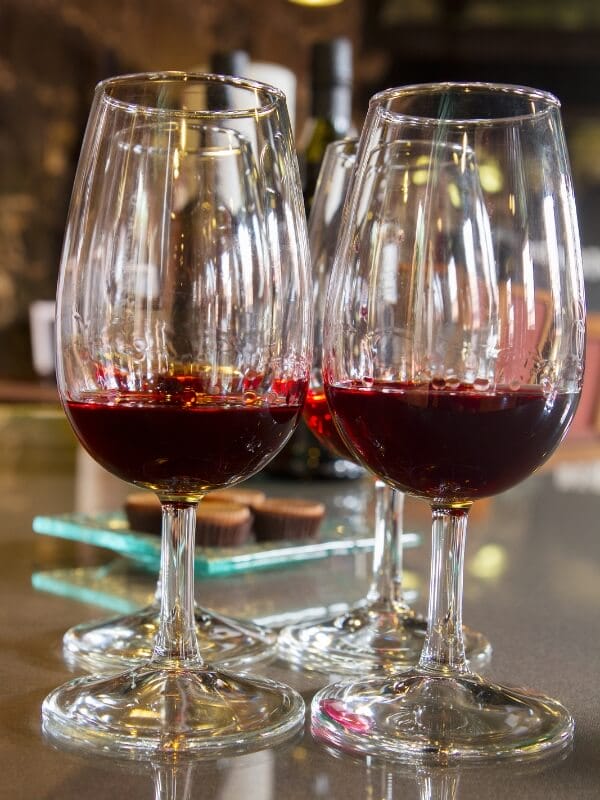 You can book your visit to the wine house online, such as this option where you'll get to taste 4 different port wines. Plus there's the option of adding a cheese pairing to the wine tasting. Check availability here.
Tours are available at the wine lodge with no prior reservation required. You'll get to taste a selection of port wine depending on your choice of tasting package. Other fun packages are also available such as cocktail workshops and blind taste testing!
Note regarding accessibility – The lodge offers tasting experiences on the ground floor and also has an accessible toilet but please do check before visiting this cellar to ensure the accessibility meets your needs.
Burmester Cellar
In 1750 in London UK, Burmester was started by two friends Henry Burmester and John Nash. In 1834, Johann Wilhelm Burmester (J. W. B.) arrived in Porto not realizing that as a direct descendant of the founder Henry Burmester, he was about to become involved in a famous, new family dynasty. A keen businessman, JWB began to purchase other businesses that would help his Port company such as a bottling factory.
You can learn more about the history of Burmester with a visit to the port wine cellar that resides next to next to the Luís I Bridge
If you're disabled and need an accessible tour, this port cellar is unsuitable for wheelchair users and possibly for those with limited mobility. I recommend contacting Burmester before visiting to ensure your needs can be met.
For just €15 (about $16.50 USD) you'll get a guided tour of the cellars plus the opportunity to taste two gorgeous Port Wines. For €19 (about $21 USD) you'll get to taste the famous dessert wines alongside some fabulous local chocolates. Other packages are also available depending on your choices, including a private tour if you prefer. You can book tours here.
To make your time in Porto even more enjoyable why not combine a visit to Burmester with a guided visit of Caves Poças? The combination ticket costs about €7 (about $8 USD) less than buying both tickets separately. Get the combo ticket here.
You can also save up to 10% on visits between November to March with the Porto Card.
Hope you found this guide to the best port wine-tasting tours in Porto helpful. Let us know in the comments below what your tour was like.
Don't forget your discount card.
Save Money with a Porto Card
Save money on your trip to Porto with a Porto Card. Get free or discounted access to 150+ attractions including:
Free access to the Port Wine Museum: Museu Do Vinho Do Porto
50% off entry into Real Companhia Velha wine cellar or 40% off a visit to Pocas wine cellar & more