Located on the English coast in Somerset, Weston-super-mare (or just Weston, as us locals call it) is a charming seaside town has tons to offer. .With sandy beaches, mini-golf, water sports, museums, charming shops, and highly-rated restaurants, there's something for everyone to do in Weston-Super Mare.
As a local, I've spent tons of time in Weston over the last 20+ years and grew up visiting the seaside town during my childhood I've experienced many of the best things to do in Weston throughout my life.
I've put together this guide, to help you plan a trip to Weston. Whether you're traveling with friends, family, as a couple or solo this town has a lot to offer. Plus there's so much more to within a short drive in nearby towns and villages, such as Burnham-on-sea and Brean.
The Grand Pier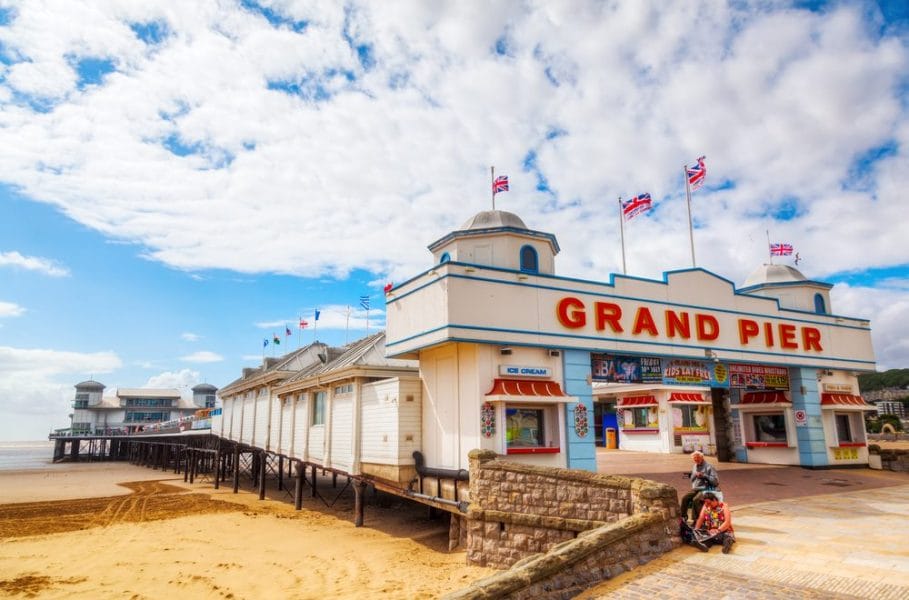 The Grand Pier, is a seaside pleasure pier in Weston. Open year round (except for Christmas Day), you could enjoy a stroll along the pier whilst enjoying the fresh sea air and views of Weston Bay. The pier has a selection of rides such as a ghost train and go-karts plus there's mini golf and a soft play. The pier also has a selection of over 250 arcade games, such as air hockey and dodgeball.
The Pier is one of the best things to do with kids in Weston super mare, and as a child I loved visiting the pier. But even as an a child-free adult, the pier is a fun place to visit. Whether I just go for a stroll and take in the views across the Bristol Channel or play on some of the arcade games, I always enjoy visiting the pier.
The pier was first built in 1904 and quickly became an iconic attraction. Sadly, it was severely damaged by a fire in 2008, which destroyed most of the original structure. Afterwards a massive renovation took place and restored the pier to its former glory.
The Pier does have a £1 entry fee (per person, carer's for disabled people go free) but it's well worth it.
If you're visiting on a weekend or during North Somerset's School Holidays, you could pick up an Unlimited Wrist Band. There's 3 types available which are suitable for different age ranges, and cost between £11.50 to £25. You can also buy a fun card, which gives you credits for the rides + amusement arcade machines. When you top up the fun card, you'll get some 1 bonus credit for every £10 topped up.
The Grand Pier is wheelchair accessible, with 1 free essential companion ticket available with a paying customer. Check their site here for instructions on how to get the essential companion ticket.
Weston Beach
Chill out on the sandy shores and soak up some sun while feeling as serene as a calm lake on a summer day. Weston beach is a long, sandy stretch that is perfect for a relaxing stroll or and building sand castles.
If you're looking for some family-friendly activities, you can take a ride on the donkeys. There are plenty of places to grab a bite to eat and drink, including cafes, restaurants, and pubs. There's plenty of places to get a Mr Whippy Ice cream such as PJ's Ice Cream Parlour.
Weston Beach is tidal, meaning the water is probably going to be out during your visit. Check the tidal times here. If you fancy going for a dip in the sea, I recommend heading to Marine Lake.
Weston Beach has ramp accessible at certain points, with 1 beach wheelchair available for hire. You can find out how to hire the beach wheelchair here. The beach itself doesn't have any raised decking areas for wheelchair users – only sand.
Marine Lake
Fancy going for a swim? Head to Marine Lake. Refurbished in 2022, this small little cove has its own sandy beach and offers sea-water bathing permanently, even when the tide is out! Besides swimming the lake is also great for other water activities such as paddleboarding. The beach is a great spot for sunbathing and relaxing.
If you forgot your beach mat or want a drink, there is a store right next to the lake selling food, drinks and beach mats.
Revo Glo Golf
Revo Glo Golf is a fun, glow in the dark mini golf course located on Weston seafront. The course has 9 holes, each with graffiti artist spray-painted walls, and a different theme.
I do recommend adding this to your iterinary if you're looking for things to do in Weston Super Mare for adults or with kids. The mini-golf is suited for all ages but it's still really fun as an adult with the added addition of a bar. So you can enjoy a beer or two whilst putting around.
It also has a more grown-up atmosphere, and even now I'm in my early 30s I enjoy coming here with friends for a round or two on the weekends.
Revo Glo Golf is on one floor, and there's no steps into the building. If you have limited mobility and can step up onto the golf holes, you should be able to play. But, the golf holes aren't wheelchair accessible. You can always contact them if you need to ask about accessibility information.
Helicopter Museum
The Helicopter Museum, has a range of over 100 different helicopters and autogyros. It's easily one of the best museums in Weston, and one of my personal faveorites. The collection covers both military and civilian helicopters, as well as autogyros and other rotorcraft.
Some of the best helicopters include two of the Queen's Royal Flight helicopters, the current world speed record holder G-LYNX (which can reach speeds of up to 400 km per hour), and a Vietnam Veteran Huey. The museum also holds open cockpit days, helicopter flights, and special events throughout the year.
The museum has a helipad which is used by the military and commercial helicopters. They also hold helicopter experience flights, where you can fly over the Somerset coast and countryside. These flights are held on certain dates, which can be found along with booking instructions on the museums website.
The museum is fully wheelchair accessible, with ramps throughout, with discounted concessionary tickets available for carers.
The Helicopter museum is open Wednesday to Sunday, 10am to 4:30pm. Check their website for prices and opening times.
Weston Museum
Weston Museum is a museum dedicated to the history of Weston-super-Mare and the surrounding areas. Housed in a beautiful historic building, the museum tells the story of the town and the surrounding area from prehistoric times up until modern times.
There's a range of exhibits including local archaeology, geology, and natural history. Plus the town's rich maritime heritage, its famous pier, and the development of the seaside resort. The museum hosts temporary exhibitions and events throughout the year. This includes talks, workshops, and family-friendly activities.
Weston Museum has a good level of accessibility, with elevators to the museum galleries, wide aisles and gallery seating. Sadly, Clara's Cottage isn't completely accessible as it was built in 1865 and has narrow corridors and stairs only access to the upper floor. For more access information, check their accessibility page.
The museum is open from 10 am to 4 pm Tuesday to Saturday, and admission is free for the permament exhibits. Temporary exhibits may have a charge. They do ask for donations to help keep the museum going.
Puxton Park
If you're visiting Weston with kids, then Puxton Park is a must. Puxton Park is a combination of a farm and an adventure park.
They have an animal zone where you'll find farm animals, reptiles, tenrecs, Marmosets (which were resuced from the pet trade) and even meerkats. They host animal talks throughout the day at The Animal Discovery Barn so kids acn learn more about the animals and interact with them.
At the adventure park area there's a high ropes course which is suitable for both adults and children. There's also a pedal car track, crazy golf, a jumping zone and loads more. The jump zone even has a wheelchair accessible trampoline. You could also take a ride on the mini railway, or go on a tractor ride. Plus there's so much more to do – it's a great family friendly day out. Puxton Park has a great restaurant and a farm shop selling locally sourced food.
The park is wheelchair accessible throughout, with wide flat paths and blue badge parking near the entrance. They offer carer tickets to disabled visitors. Check their access statement for more information.
The Big Wheel
The Big Wheel, is a 40 meter high observation wheel that offers breathtaking views over Weston Bay and Weston's seafront. The Wheel is located on the Beach Lawns near the sea front, and is open from March to September. You'll ge to spend 10-15 mintues enjoynig views over the beach, and seeing the town from a different perspective.
The beach is open March to September, 10 am to 10 pm. The wheel does sometimes close due to bad weather such as high winds.
When it comes to accessibility, the wheel does have 1 wheelchair accessible pod. But there is a small gap between the platform and ferris wheel, so wheelchairs do need to be lifted over this making it hard to access the pod especially if you use an electric wheelchair. The wheelchair accesible pods have limited spaces as well.
Weston Woods and Iron Age Hillfort
If you're looking for a peaceful and scenic place to explore in Weston-super-Mare, or are looking for a place walk your dog then I recommend heading to Weston Woods (also known as Worlebury Woods). The woods offer a variety of walking trails that connect the seafront to Worlebury golf course, Sand Bay, and Kewstoke.It's also home to a range of flora and fauna, and is a great place to go for a walk or a picnic.
There's also an Iron Age Hillfort, Worlebury Camp located in the woods. Built over 2,000 years ago by the Celtic Dobunni tribe, the Hillfort is an ancient monument of international significance. Its seven defensive walls and ditches, along with over 90 storage pits, provide a glimpse into the lives of the people who lived here centuries ago. There's also the Worlebury Water Tower which is a historical monument that's still in use today.
Weston Woods has free parking.
Attend a Festival or Event
Weston-super-Mare has plenty of festivals and events throughout the year, so there's always something going on. Here are the top festival highlights you should check out when you're in town:
The Weston Air Festival: This annual event takes place every summer and features some of the best aerial displays from around the world. You can watch planes, helicopters, and even hot air balloons take to the skies above Weston Bay.
The Weston Beach Race: This three-day event is one of the most exciting things you'll see all year. It's an off-road motorcycle race that takes place on Weston-super-Mare beach, attracting thousands of spectators each year.
The Tropicana Food & Drink Festival: If you're a foodie, then this festival is perfect for you! It takes place at The Tropicana and showcases some of the best local food and drink options available in Weston-super-Mare.
The Winter Wonderland: This festive event is perfect for families with kids who want to experience a magical winter wonderland without having to leave town. There are ice skating rinks, Christmas markets, and plenty of festive treats to enjoy.
Nearby Attractions
Whilst in Weston, I also recommend visiting some of the nearby attractions. There's tons to do in the surrounding areas and here are some of my faveorite things to do:
The Cheddar Caves: Cheddar caves have been around for millions of years and they hold a special place in history. It's believed that humans lived in these caves more than 40,000 years ago! As you explore the underground wonders, you'll come across fascinating stalactites and stalagmites that will leave you in awe.
Wookey Hole Caves: The Wookey Hole Caves are another popular attraction that draws visitors from all over. This cave system has been formed by thousands of years of water erosion, which has created unique rock formations that are unlike anything else on earth.
Brean Down: Located between Brean and Weston, you'll find a huge limestone rock called Brean Down. Walk to the top and you'll get amazing views over the surrounding areas such as Brean beach, and towards Brent Knoll. Walk to the end, and you'll come to a Palmerston Fort that was used to defend the area against invasion in the early 1800s. If you're disabled, you can hire a trampler (off road electric wheelchair) to go up to the top.
Clevedon Court – Clevedon Court is a stunning 14th-century manor house that is now owned by the National Trust. It has a rich history and is home to a range of fascinating artefacts and artworks. Take a tour of the house and explore the beautiful gardens.