March is a great time of year to visit Iceland for many reasons. The cold Icelandic winter is ending, but you can still see snow covering Iceland's beautiful landscape in most of the country. But you'll also start seeing the snow melt in places, giving you a much more diverse landscape that you don't really experience most of the year. The ice caves are also around this time of year, so you'll still be able to enjoy them before they melt and close for the season.
If you're planning on taking landscape photos in Iceland, March is perfect. There are a lot fewer people around, making it easier to get photos without crowds of people ruining them. You'll still have small crowds in the more popular areas such as The Golden Circle but once you're past Vik the crowds dwindle and chances are you'll only spot other photographers. There's also the benefit that it's easier to find cheaper flights, hotels and deals on package holidays. Plus, fewer people means you're more likely to get a spot on Iceland's most popular tours.
Whilst March is an off-season month, there's still tons to do including food and drink festivals that take place in Reyjkavik, and most activities such as glacier hiking and geothermal baths like Myvatn and the Blue Lagoon are open.
I love visiting March in Iceland, and I hope you will as well. This guide will give you some tips on what you should know before you visit Iceland in March.
Beware of Iceland's Weather In March
Although I love visiting Iceland in March, it is still winter so the weather can be tough at times. You should expect the weather to quickly change from beautiful clear skies to cold, wet, and rain or snow. Plus winds, the winds can get quite extreme in some parts of the country.
The average temperature in Iceland in March is around 0 degrees celsius (32 F), and drops as low as -2 degrees celsius (28 F). The highest temperature is 2 degrees celsius (36 F). So things are still pretty cold in March in Iceland.
Whilst you're in Iceland I recommend making sure you wrap up warm by wearing layers. This not only helps keep warm air trapped between the layers but the weather changes fast so you might find yourself getting too hot, or cold without warning. I find that during March in Iceland, despite the cold temperature if the sun's out I can get warm enough to be wearing a lightweight sweater and a t-shirt. Then the next thing I know the sun has gone and, I'm wrapped up in thermals and a windproof cold-weather coat. I really recommend packing winter clothing including a windproof coat, as Iceland's wind is quite harsh. It'll make a huge difference to how comfortable you are when the weather suddenly changes for the worst.
Also pack a reef-friendly sunscreen, as whilst it's winter the sun will still burn you. During March the snow on the ground help reflect the sunlight, and on a clear sunny day you can easily end up sunburnt. I was sunburnt whilst sitting next to the glacier lagoon, enjoying the winter sun as I enjoyed the view as I managed to forget my sunscreen that day.
Find more ideas on what to pack when visiting Iceland here.
Check the Road Conditions When Visiting Iceland in March
You should prepare for driving in rough conditions. All hire cars will have winter tyres on so that's a huge help but make sure to follow the speed limits, and drive carefully. Don't take risks, and it's better to stop at a gas station and ask for advice if unsure than to continue driving.
I highly recommend not parking on the side of the road. As cute as the horses are, car crashes happen when people are parking illegally on the roadside. I really don't say this lightly as I witnessed a car that was parked on the side of the road get hit by a bus. The bus lost control whilst driving up the hill to the church in Vik, rolled back and crushed the car. Luckily no one was hurt, but the car was wrecked. So please, be careful.
Before you start driving, always make sure to check the Iceland weather forecast app and to let the road conditions via the Vegagerdin road safety app. I recommend regularly checking the weather throughout your trip, as things do change fast.
Escape The Crowds By Visiting Iceland In March
Iceland is quietest from December through to April, as the weather tends to be less favorable. But this makes it a great time to visit as there are fewer people around. It's much easier to find accommodation and book excursions during these months – plus you're more likely to find cheaper flights or discounted package holidays or tours.
Fewer people are great if you're hoping to capture some beautiful photos of the landscape. Especially if you're doing a self-drive road trip, as once you're past Vik you'll notice there's a huge decline in the number of tourists around. There are tons of places to stop off along the ring road so visiting Iceland in march is a great idea as you can easily take advantage of not having people in your shots.
However beware, that as there are fewer people around if you do have a car accident you'll have to wait longer for help. So as I mentioned earlier, please drive safely and do not take risks. It really isn't worth it.
Visit an Ice Cave Before the Season Ends
When looking at what to do in Iceland, you'll see tons of photos of beautiful blue ice caves. These ice caves are actually, natural glacier caves and most of them are only accessible throughout the winter.
The natural glacier ice caves form in mid-October with most tours starting in November and running through until the end of March. The glacier ice caves are really worth seeing so if you are visiting in March, so make sure to book a tour and check them out.
Another option outside of March is to visit the Langjokull Ice Cave. This is a man-made glacier ice cave that is accessible all year round. Although it's still quite interesting and fun to visit as it is man-made, it doesn't really match up to visiting one of the natural caves.
How To Get to the Glacier Ice Caves
You cannot visit glacier ice caves without a tour guide. Doing so is incredibly dangerous and you could end up getting yourselves and those rescuing you killed/injured. Please visit with a tour guide, who are locals that have extensive knowledge of how the caves form and how to access them safely. The caves change daily, so even if you visited one day with a tour guide when you visit the next day you may find yourself lost, or possibly fall into a hole.
There's a few Glacier ice cave tours available that leave from different towns in Iceland. If you're staying in Vik you could book a Katla Ice Cave and glacier walk tour that departs from Vik. You can also take a tour to Katla and the south coast of Iceland which departs from Reyjkavik.
Further along the south coast you'll find Vatnajokull National Park which also has a glacier ice cave. A visit to Vatnajokull can be easily combined by joining a tour that takes you to the Jökulsárlón glacier lagoon and Iceland's Diamond Beach and Black Sand Beach. I recommend considering this 2-day tour, that covers all 3 locations and more. You can book the Vatnajokull tour here.
If you'd like to visit the Langjokull Ice Cave, you can book a walking tour that leaves Reyjkavik or from Husafell. You can also book northern lights and ice cave tour that leaves Husafell, and get to see both in one day. You can book this tour here.
Iceland also has ice caves, however, these are different to the glacier ice caves. A natural glacier ice cave forms inside a glacier, which can cause it to have that usually have beautiful blue coloring. Although glacier ice caves can also be grey, red, and copper colour.
Ice caves on the other hand are caves that aren't made of ice, but that contain ice all year. There are a few of these available to visit, and some of them are made from lava so you may see these referred to as lava caves when booking tours. One of the most popular ones is Viðgelmir Lava Cave, which is accessible all year round. So if you want to see a glacier ice cave as well as an ice cave, March is a great time to visit.
Watch The Northern Lights
Although winter is almost over, March is still a great time to visit the Northern Lights. The nights are still dark enough, and long enough to give you a chance to spot the beautiful northern lights of aurora borealis and capture stunning aurora photos.
During my road trip around Iceland in March, I saw the Northern Lights 5 times! 3 times the aurora was beautiful and I was able to watch as the green lights moved across the sky. The last 2 times were when I was doing a long drive and couldn't find anywhere safe to park. The first time, I was staying at Guesthouse Fludir – about 1 hour from Thingvellir National Park. At the time, I was trying to sleep when I heard shouting outside. When I went out to see what the commotion was about, I saw the northern lights for the first time. They kept appearing for about 2 hours before they faded.
The second time, was during my stay at Lyngás Guesthouse in Egilsstadir, which is on the ring road, as it goes around the east of Iceland. This time, I checked the app I had downloaded onto my phone to see if the aurora activity had increased, which it had. I drove up the mountain, and watched the aurora from a car park/large laybay. This let me escape the light pollution from the town and enjoy the northern lights.
The 3rd time, I was staying in the north of Iceland in the city of Akureyri at a guest house on Lónsá Guesthouse. This time, I checked the app and saw that the activity was picking up. So I drove up the road to the Hlíðarfjall skiing area and parked in the car park. This let me see the Northern Lights until it started snowing and I chose to drive back down to the guest house.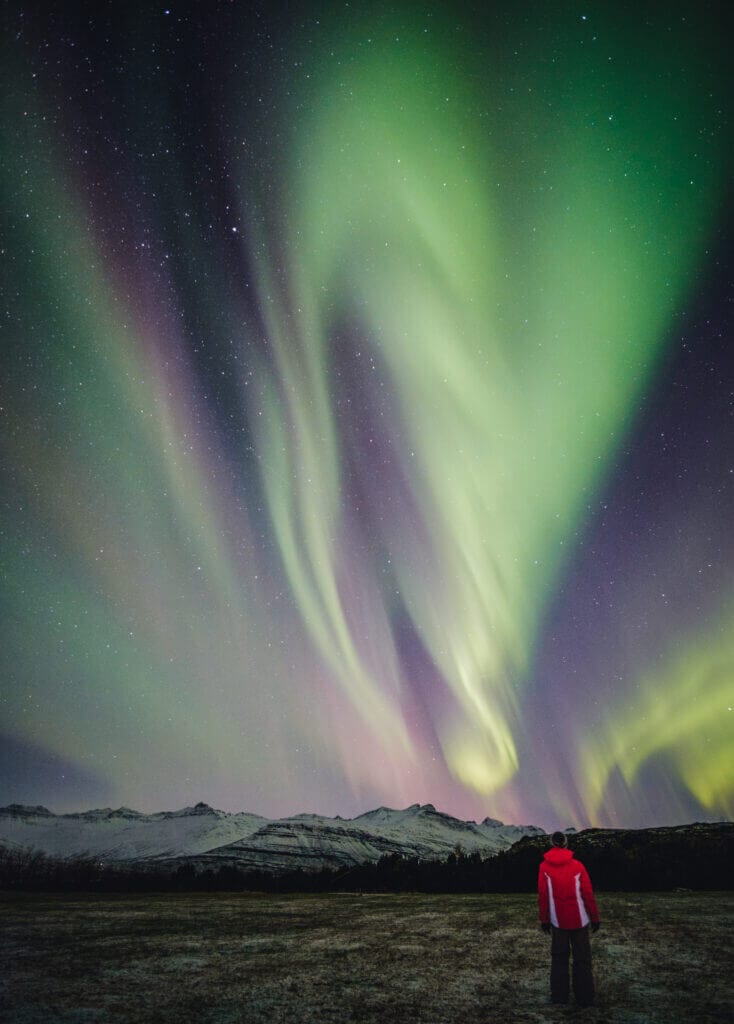 If you're not driving or would prefer to have an expert guide you, I recommend booking a Northern Lights tour. Most tours offer a guarantee, that if you don't see the Northern Lights you can rebook for another date free of charge. So I recommend booking it for the first few days you're in Iceland, as then you can make sure you have time to fit in a 2nd attempt.
If you're looking for a more unique way to see the northern lights, check out this boat tour that departs from Reyjkavik. You can also book a private northern lights tour, that departs from Reyjkavik.
Enjoy the Normal Daylight Hours
During March, Iceland's daylight hours are more normal than at other times of the year. During most of the winter, the daylight hours are short and the dark nights are long. Then in summer, the daylight hours are really long, and at some point, you'll get even almost 24 hours of daylight.
But in March, it's much more balanced with around 10 hours of daylight so you have plenty of time to enjoy Iceland during the daytime and enjoy the sun setting before looking out for the northern lights.
The Food and Fun Festival in Reykjavik
The Food and Fun Festival takes place each year, from late Feb to early March, normally around Feb 27th to March 3rd.
The festivals really popular in Iceland, and will give you a chance to taste dishes from some of Iceland's best culinary talent, as well as top chefs from the USA and Europe.
The chefs compete against each other, and team up with local restaurants to create gourmet meals using Icelandic ingredients for the main centrepieces of the dishes. These meals are available at affordable prices from local restaurants throughout the one-week competition.
This festival will give you the chance to taste some of Iceland's best food, such as their free-range lamb and fresh fish and how the international chefs have used traditional Icelandic ingredients such as Skyr in ways Icelandic people haven't seen them used before.
If you miss the festival, there's also the option of doing a foodie tour of Reyjkavik where you get to taste a selection of local drinks and dishes.
Book your foodie tour of Reykjavik
Icelandic Beer Day
Iceland Beer Day is held on March 1st and is the annual Icelandic Beer Festival. It's held in celebration of when beer became legal in Iceland. Beer was banned for 74 years from 1915 to 1989. The ban applied to beer which had over a 2.25% alcohol volume, so whilst some people did still drink beer it was illegal to drink any "strong" beers for 74 years.
Before the ban was listed, Icelanders used to mix weak beer with wine and, vodka and whisky to bring the alcohol content up. This mix was sold in Gaukurinn, which was Iceland's first pub and is still running today.
You're probably wondering why beer was banned, and it's mainly about how Iceland wanted their independence from Denmark. Alcohol in general was associated with Danish culture, hence why all alcohol was originally banned back in 1915.
But, as time went on these bans were lifted, except for beer. Beer was mostly frowned upon as the Danish people were associated with drinking a lot of beer, so it was unpatriotic to want to drink it.
Iceland received full independence from Denmark in 1944, but it took another 45 years before the beer ban was finally lifted. Since then, they've held the annual Icelandic Beer Festival on March 1st each year.
Just remember that beer in Iceland isn't cheap so if you're on a tight budget, you may want to limit yourself to one or two beers at most.
Enjoy Iceland's Beautiful Snowy Landscapes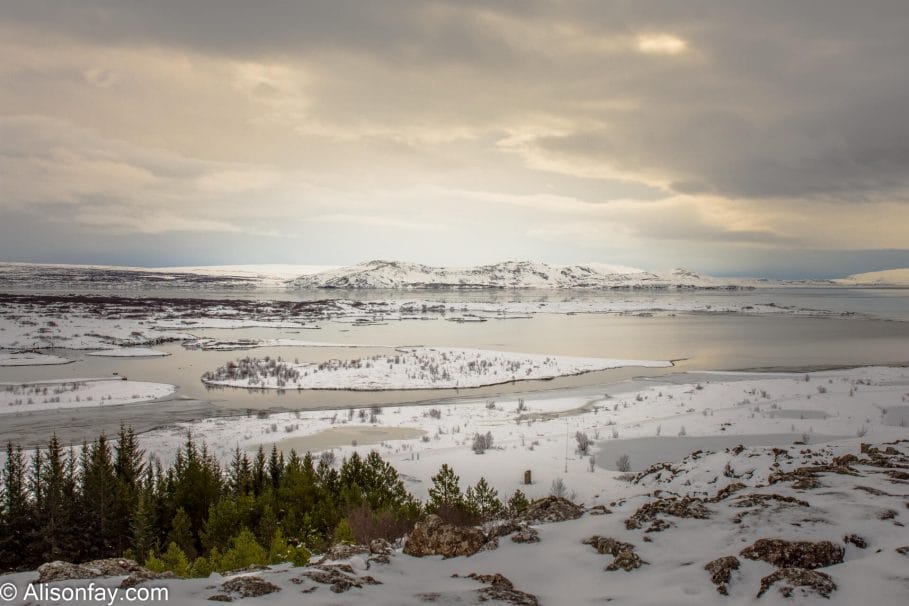 Winter in Iceland is a really beautiful time of year, and although winter is beginning to end in March you'll still see plenty of snow. Iceland's snow-covered landscape makes for some amazing photos. This, plus the fewer number of visitors you'll see makes this a great time of year to visit Iceland for photography. Especially as you get further along the south coast and the number of tourists declines, as there are some amazing places to photograph.
Although even if you're only visiting the west coast of Iceland around the golden circle through to Vik, Thingvellir national park will be covered in snow and looks amazing in winter. Plus as you get further along to Vik, places like Black Sand Beach will most likely be free from snow letting you enjoy a diverse range of Icelandic landscapes.
Just remember to pack some good hiking boots, and crampons to grip onto the ice that forms quickly as snow is walked over (and for the stairs in Thingvellir National Park as they get covered in ice, and being clumsy I almost slid off them). I also recommend a good pair of gloves that'll let you use your phone's touch screen, as otherwise, your fingers get cold quickly.
Go Whale Watching in Iceland in March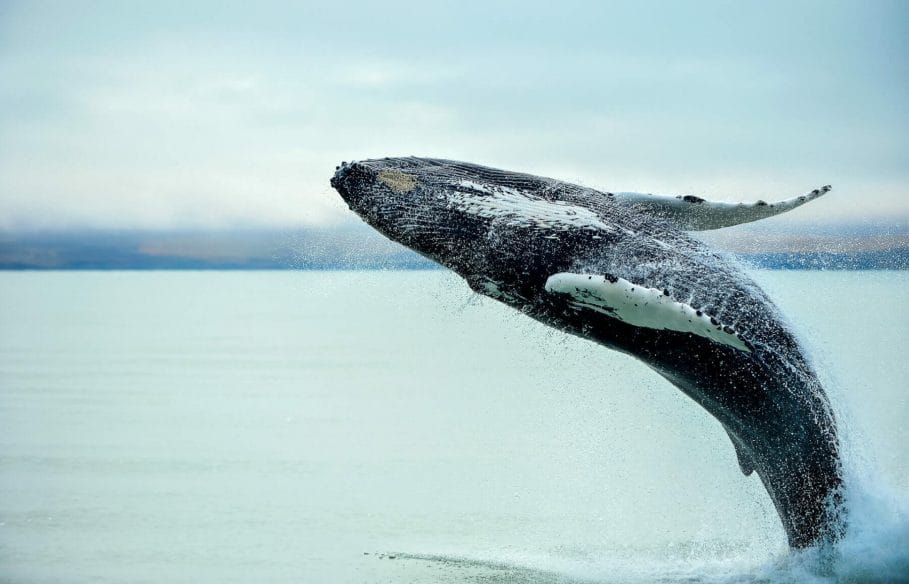 Whalewatching is possible throughout most of the year, but in March the whales start returning to their breeding ground. So if you are visiting Iceland in March, I recommend booking a whale-watching tour that leaves Reyjkavik as then you'll be able to catch the whales just as they return! You can also book whale watching tours from Husavik, which is located on the north coast of Iceland. Although there are less whale-watching tours running in March, as it's right at the start of the new season so make sure to book well in advance to ensure your place.
During an Iceland whale-watching tour, you might also see white-beaked dolphins, harbor porpoises, and a range of sea birds. So if you love wildlife you should definitely visit Iceland in March as you'll get to see such a diverse range Iceland's of marine life.
Go Glacier Hiking in March
March is a great time for Glacier Hiking. Although you can go glacier hiking any time of year, the weather in Iceland is a bit warmer in March than the rest of winter giving you a more enjoyable hike. Plus the longer daylight hours, allow for longer hikes than November-February.
Iceland is home to Europe's largest glacier, called Vatnajökull which makes for a great hike. This hike takes about 4 hours in total and includes a visit to and Ice cave. The hike is more difficult than some of the other glacier hikes available.
If you'd like something easier, you can also choose to hike Solheimajokul. The hiking tours for Solheimajokull depart from Reykjavik. You'll spend around 2 hours hiking, but with traveling the total time takes about 11.5 hours. Whilst it'll take up an entire day, it's definitely worth it.
Book the tour here, or check the hiking tour availability below.
Pack suitable clothing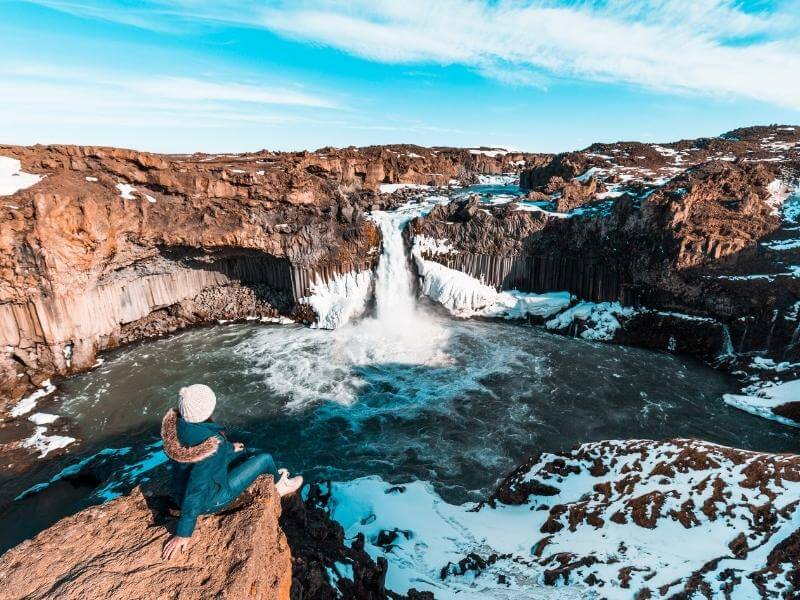 Whilst in Iceland I recommend layering your clothes as the weather can change quickly. I always find that one minute I'm warm enough to be wearing a long-sleeved t-shirt, and the next I need my thick sweater and coat on.
You should also prepare for wind, snow, or rain – or all 3 at once! I purchased a really good windproof, waterproof coat that's suitable for really cold weather before I went and it was a lifesaver. Whilst expensive, I really am glad I invested in it and I've been able to use it for trips to Scotland, Sapporo during the snow festival, and many other places. If you're traveling with camera equipment, or a backpack that isn't water resistant I recommend making sure you can protect them if it starts raining/snowing. Rain covers for your camera and backpack shouldn't cost much but could save you a lot of money.
Where possible, when you're buying thermals, socks, etc I recommend buying merino wool as it's super warm unless you're vegan then you can opt for a synthetic material.
Here's a list of what I recommend packing:
Goto the Sónar Music Festival in Reykjavik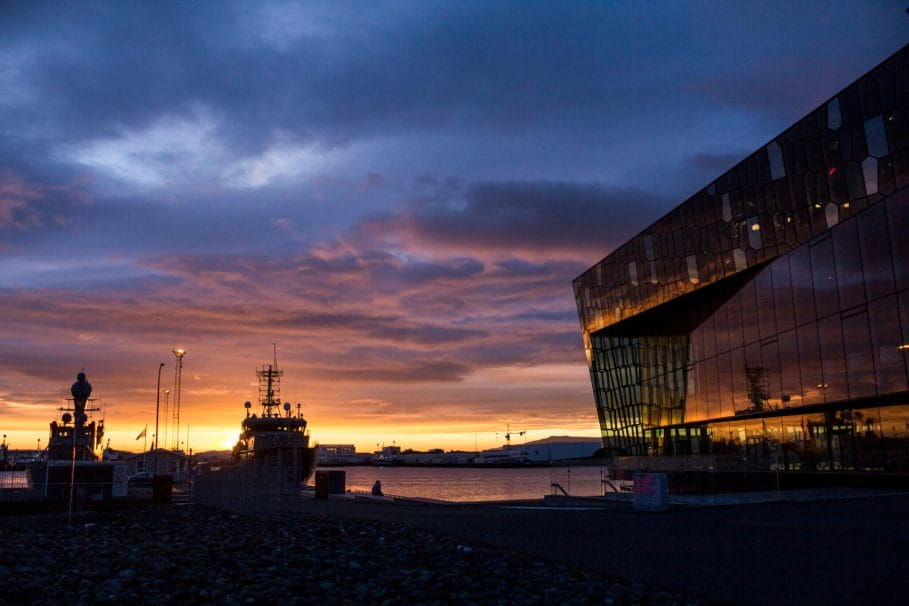 The Sónar Music Festival takes place every year in Reyjkavik. The festival has four outdoor stages and takes place at the Harpa concert venue.
The festival features electronica and hip-hop, from around the world but also local artists from Iceland. This festival is a great way to experience Iceland's local music scene, and discover both established Icelandic artists and up-and-coming artists.
For more information, visit the Sónar website.
I hope you found this Iceland travel guide helpful.
Travel Tips For Iceland
Download Apps To Help You Stay Safe – Check my list of apps here I recommend downloading, that'll help you stay safe whilst in Iceland, plus other apps for finding cheap food & drink, free audio guides and more.
Don't Forget Sunscreen – No matter where you're going, I recommend packing a good quality reef-friendly sunscreen. This will help protect you from developing skin cancer or getting sunburnt.
Airport Transfers in Iceland- If you're not hiring a car, make sure to book an airport transfer. You can book a transfer to/from KEF airport that includes a trip to the Blue Lagoon here, or a transfer from KEF to Reykjavik via bus here.
Car hire in Iceland- Book your car hire online in advance to save money and more choice. I recommend booking car hire through Discover Cars to find the cheapest prices & get free cancellation.
Get Travel Insurance – Don't leave home without travel insurance. Travel insurance can cover you in case you have an accident, get sick, lose your passport or other belongings, miss your flight, or if part or all of your trip is canceled or delayed. If you're in the UK, I recommend using Allclear, for the USA you should consider AXA and for the USA, UK + Rest of the World check out SafetyWing.
Booking budget-friendly accommodation – I book my hotels and hostels in Iceland through Booking.com as I can filter to my accomodation requirements and let me opt for free cancelation. For holiday rentals, I use VRBO.
Booking Tours – For booking tours in Iceland I like to use GetYourGuide or Viator. For tours run by locals, AirBnB Experiences has a great selections as well. For accessible tours, contact Iceland Unlimited.
Booking Flights – I always find the cheapest flights using Kiwi or Skyscanner. Both search for the cheapest flights, and let you filter by stops, times, etc so you can find the cheapest options. You can also sign up for Jack's Flight Club to be alerted to cheap deals if you're happy to travel anywhere.
Travel eSims – If your phone supports an eSim, I recommend using Airalo. They sell eSims based on country, region, and even global ones! There's one for almost every country including Iceland and they can work out cheaper than physical sim cards.
Travel Sim cards – If you don't want an eSim, then this Orange travel sim card will have you covered for Iceland, and this Global Sim Card works in over 200 countries. Make sure to check out my sim card guides for information on buying local sim cards.