If you're travelling this summer, you'll surely have heard the news about flight cancellations due to staff shortages, work being done on Amsterdam Schiphol runways etc. There have been hundreds of flights cancelled every day, luggage lost and disabled passengers (including me) being left on planes for over an hour after landing.
If you want to try to avoid these issues, your best bet is to avoid flying and instead take a ferry and/or train. Plus, by taking the ferry/train you can avoid the strict luggage limits and enjoy a much more comfortable ride. Some of the ferries covered in this guide are more likely floating hotels/mini cruiseships than the typical ferry you may have used in the past.
Ferries and trains are much more accessible than planes and can be less stressful than travelling via plane if you have a disability and/or health condition. The ferries and trains covered in this guide are wheelchair accessible, and I also cover how to book assistance.
Some of the options included in this guide give access to free WiFi, but once you're in Amsterdam you might need a prepaid sim card.
Taking a Ferry From London to Amsterdam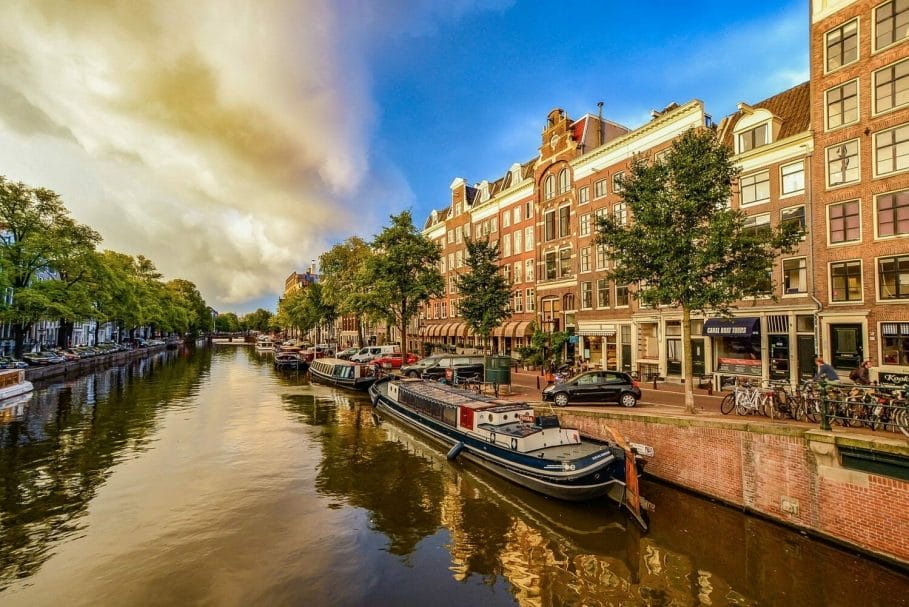 Stenaline runs a ferry from Harwich, that lands in the Hook of Holland. This ferry takes about 8 hours 30 minutes and allows you to travel in a much more relaxed fashion as you can book a private cabin, and just sleep through the journey.
Stenaline offers a Rail & Sail deal starting at £49 for day tickets, which includes travel from any Greater Anglia Station to Harwich. For overnight ferries, you have to book a cabin and prices start at £88 one way.
Note: This ticket doesn't include any train tickets within The Netherlands. It used to include travel on the metro and NS train lines within The Netherlands, but this is no longer included. You have to buy tickets when you arrive.
The Hook of Holland is about 2 hours 30 minutes from Amsterdam by train, about 1 hour from Rotterdam and The Hague. You're also under 2 hours away from Antwerp, Belgium and 4 hours from Paris by train. There's also easy access to trains that go to Germany, and other European countries. This makes it a convenient place to dock even if you're not remaining in The Netherlands.
But first, you need to get to Harwich International Port. Harwich is a town near London, about 2 hours away by train. Stenaline runs 2 ferries a day from Harwich to the Hook of Holland, one leaving at 9 am and the other at 11 pm.
If you opt for the 9 am ferry, you will either need to drive to Harwich or you can take a train. Check-in closes at 8:15 am so you'll need to head off from London really early. To get to Harwich at 9 am, you'll need to be on the 6:16 am train from Liverpool Street Station which goes for 1 hour 23 minutes to Harwich International Port. This should get you to the port around 7:45-8 am.
If you'd like to arrive a bit earlier, you can board a train at Liverpool Street Station at 6 am that goes towards Norwich. You'll need to get off this train at Manningtree, and change to the 7:01 am train from Manningtree to Harwich Town. This train gets to Harwich international Port at 7:18 am and with walking, yuo should eb at the port by about 7:30am.
If you're opting for the 11 pm ferry, you need to arrive at the port to check-in by 10:15 pm. You can take the 8 pm train from Liverpool Street Station towards Norwich, and change train at Manngingtre. At Manningtree, you board the Harwich Town train and get off at Harwich International at 9:18 pm. Here, you'll walk to the port and arrive by about 9:30 pm. There's also the option to take the direct train at 6:45 pm which arrievs at Harwich at 8:28 pm. This is a bit early but gives you chance to get food, drink etc.
Due to the risk of strike action, and just general problems with the trains I recommend taking the 11 pm ferry over the 9 am ferry. This gives you time to find a means of alternative transport to Harwich.
I Have a Disability, How Do I Book Assistance?
Booking Assistance for the Train
Assistance is available for disabled passengers on all trains within Greater Anglia. You can book assistance either by calling them or by using a new free app. The app, Passenger Assistance created by Transreport lets you book assistance on trains using your phone without the need to ring them.
Greater Anglia also has an assisted travel contact form, although this is a slower way of booking assistance so I recommend using the above options if you can.
You can find out more information on how to book passenger assistance for trains within Greater Anglia here.
Booking Assistance for the Ferry
If you have a disability or are travelling using a wheelchair or other mobility device you'll need to contact Stenaline before you travel. They limit how many passengers using wheelchairs, and mobility devices can be on board the ship so make sure you phone them to let them know you have one.
If you require assistance, you'll also need to ring them. They ask for 48 hours' notice to book this assistance. They do sometimes require you to travel with an attendant, e.g. if you can't evcauate without assistance. If you have to take an attendant, they don't charge for this.
Stenaline allows guide dogs, and assistance dogs to travel on board for free. They do state they require the necessary paperwork. So if you have an owner-trained assistance dog you might have problems travelling. I'd recommend contacting them to discuss this and whether they'd accept a doctor's letter as proof your dog is trained to assist you.
You can read more on the Stenaline assistance page, and their contact information can be found here on their contact page.
Sunflower Lanyards on Stenaline Ferries
Stenaline doesn't mention anywhere that they recognise the Sunflower Lanyard. But if you want to wear one in case you want extra help or support during your journey, you should.
Sunflower Lanyards are for those with invisibile disabilities that may require some extra help, or support (but do not necessarily want special assistance). If you'd like to get a Sunflower Lanyard you can normally pick them up for free at supermarkets such as Tesco from their customer service counter.
You can also buy them online through the Hidden Disabilities Sunflower Lanyard store. They also sell Sunflower Cards where they can print some information about your condition, so you can show this to people when needed.
You can find more information about the scheme on the Hidden Disabilities website.
Taking a Ferry From Hull to Rotterdam or Amsterdam
If you're travelling from the North of England, you might prefer to take a ferry from Hull to avoid travelling to London. This is an overnight ferry that docks in Rotterdam Europoort, and your ticket includes access to a private cabin with your own bathroom. Plus access to onboard restaurants, a cinema, live entertainment, kids' play areas and more.
Important note: In March 2022, P&O behaved in a way that may make you want to use a different route. P&O fired 800 of their staff via a video call without warning and replaced them with much cheaper agency staff. This also resulted in all ferries being suspended until they replaced all the staff, causing passengers to become stranded. You can read more on this incident here: https://news.sky.com/story/p-o-ferries-sackings-replacing-workers-with-1-80-an-hour-agency-staff-illegal-says-tuc-head-frances-ogrady-12572552
The ferry takes 12 hours, and when you have arrived in Rotterdam Europoort you can take a coach from here to Rotterdam Central Station, or to Amsterdam Centrraal Station. Warning: The coach ticket isn't included in your ferry ticket, you can buy these on the ferry or in the coach terminal. You can also pre-book online when you buy your ferry ticket.
Prices start at £159, for 2 passengers in a car (or another vehicle), foot passenger or on a bike. When booking online, you can choose to add on things like breakfast or dinner at one of the restaurants (infants eat free), and select from a range of cabins.
There's a range of cabins, at different prices and quality available. The cheapest is the inside standard cabins, which have bunk beds which are included in the basic quoted ticket price. If you're a wheelchair user, you can book a standard wheelchair-accessible cabin online. They do not have wheelchair accessible options for premier or club cabins.
Important note: In March 2022, P&O behaved in a way that may make you want to use a different route. P&O fired 800 of their staff via a video call without warning and replaced them with much cheaper agency staff who are paid below the UK minimum wage. This also resulted in all ferries being cancelled, causing passengers to become stranded. You can read more on this incident here: https://news.sky.com/story/p-o-ferries-sackings-replacing-workers-with-1-80-an-hour-agency-staff-illegal-says-tuc-head-frances-ogrady-12572552
Booking Disability Assistance for the Ferry
Assistance for the Hull to Rotterdam (and vice versa) ferry can in some situations be booked online. If you're travelling with a guide dog, or need to use the lift then you can let them know online. If you are using your own wheelchair, you have to ring them as the coach that transfers you from the port to Rotterdam central may have wheelchair access restrictions. If you require any other help, you have to contact them to discuss it further.
When you have selected the date you wish to travel, you'll be taken to a page where you select who is travelling.
On this page, there's a toggle button labelled "special assistance", if you toggle this on you can then pick what type of assistance you need. If you select others, a pop-up appears instructing you to contact them via email, at [email protected].

If you select that you're bringing your own wheelchair, you get a pop-up that tells you to ring them on (0) 1304 44 88 88 (this is a UK number).

Sunflower Lanyards on P&O Ferries
If you have an invisible disability and use a Sunflower Lanyard you'll be glad to know that P&O Ferries recognises the Sunflower Lanyard. They still ask you to let the know if you want special assistance, but even if you don't need this you can happily wear your lanyard to let people know you have a disability and might need some help/support.
If you have an invisible disability but don't have your own Sunflower Lanyard you can ask them to send one out to you. You can also pick one up at check-in or at reception onboard the ship for one. More information on how to request a Sunflower Lanyard can be found on P&O ferry's accessible travel policy page.
Sunflower lanyards can also be collected from supermarkets such as Tesco or bought online through the Hidden Disabilities Sunflower Lanyard store.
How Accessible Is the Port at Hull and Rotterdam?
The P&O Port in Hull and Rotterdam are both accessible to wheelchair users and have a wheelchair-accessible toilet and a lift. They don't however, have a hearing loop so if you or someone you're travelling with is Deaf or Hard of Hearing you might wish to contact them to discuss their assistance options.
Their assistance dog policy, states that they only accept registered assistance dogs. While there is no assistance dog registry in the UK so there is no such thing as a "registered assistance dog", from my experience most of the time this means that it has to be trained by one of the ADUK member organisations. If you have an owner-trained assistance dog, I recommend speaking to them to find out whether they will accept a doctor's letter or other documentation that explains your dog is trained.
For more information on booking assistance, and details on the levels of accessibility at P&Os ports you can check their accessibility travel policy.
Taking a Ferry From Newcastle to Amsterdam
If you're travelling from Scotland or far North of England the Newcastle to Amsterdam ferry route is probably the most convenient. The route ran by DFDS Seaways' and is an overnight ferry, that takes about 15 hours and 45 minutes to sail to IJmuiden, which is about 40 minutes from Amsterdam by car or coach.
The ferry ticket includes access to a cabin and a meal onboard. When booking online, you have the choice to select from a range of cabins at different prices based on the level of luxury. If you require a wheelchair-accessible cabin, they ask that you call their contact center.
Onboard the ferry you'll find one restaurant that serves a seasonal menu, an all-you-can-eat buffet with international cuisine and a café serving Starbucks coffee. There's also onboard entertainment, such as a cinema, a games area, and live music.
Prices start at £48 per person, for one way which includes a car and inside cabin. DFDS also includes a travel guarantee with your ticket that lets you rebook for free on travel taken before 30th September 2023.
Getting to Newcastle Ferry Terminal
The easiest way to get to the Newcastle Ferry Terminal on foot is to use the DFDS transfer bus that leaves from a stop near Newcastle Central Station. These buses are not free and have to be booked in advance. You can buy them online, through your booking page or call them.
The bus stop is a few minutes walks from the station and is located on Bewick Street, opposite St Mary's Cathedral.
The DFDS buses are easy to spot, as they have the DFDS logo on the side. The buses leave two times a day, at 2:45 PM and 3:45 PM. The journey takes about 30 minutes.
For wheelchair users, the buses are accessible and can accommodate one wheelchair user. DFDS do say that if there isn't a wheelchair user space available on the bus, they'll arrange a taxi transfer. I recommend contacting DFDS to discuss booking the wheelchair spot on the bus or taxi transfers if you're travelling with multiple wheelchair users.
You can also opt for a taxi. A taxi from Newcastle Central Station to the ferry terminal costs about £17 one way for 1-4 passengers and £26 for 4-8 passengers. This can work out cheaper than the bus transfer if you're travelling as a group.
Getting to Amsterdam From IJmuiden Ferry Terminal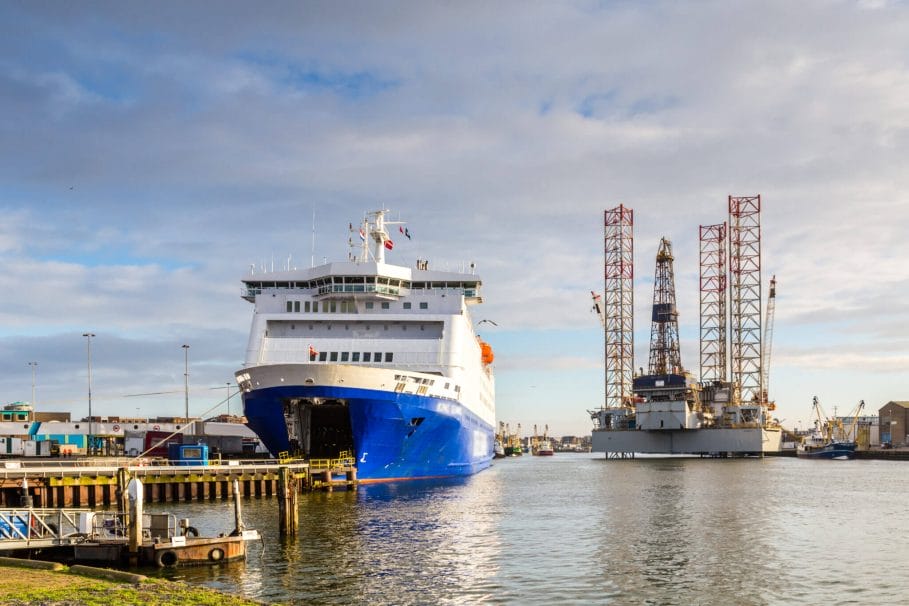 Once you've arrived at the IJmuiden Ferry terminal, if you're on foot you'll need to get a bus. The coaches start at £7 per person for a one-way trip and take about 40 minutes to get to Amsterdam city centre.
The buses drop you off at, De Ruijterkade Oost which is right outside Amsterdam centraal train station. This is also, where you can catch the bus to return to IJmuiden when returning to the ferry. At the station, you will be able to access the trains, metro, tram, and buses all within walking distance of the drop-off/collection point. Plus there are some nice places to eat, convenience stores and stores selling prepaid sim cards within walking distance of the station.
Here's a map showing De Ruijterkade Oost.
You can also take a taxi, however, this is expensive. Taxi's from the ferry terminal to Amsterdam cost about 60 euros, one way.
If you're travelling in a wheelchair, please check with DFDS whether there is a wheelchair space available on the bus. You might need to prebook this spot to guarantee it's availability or ask them about alternative transfer options.
Booking Disability Assistance for Dfds Ferries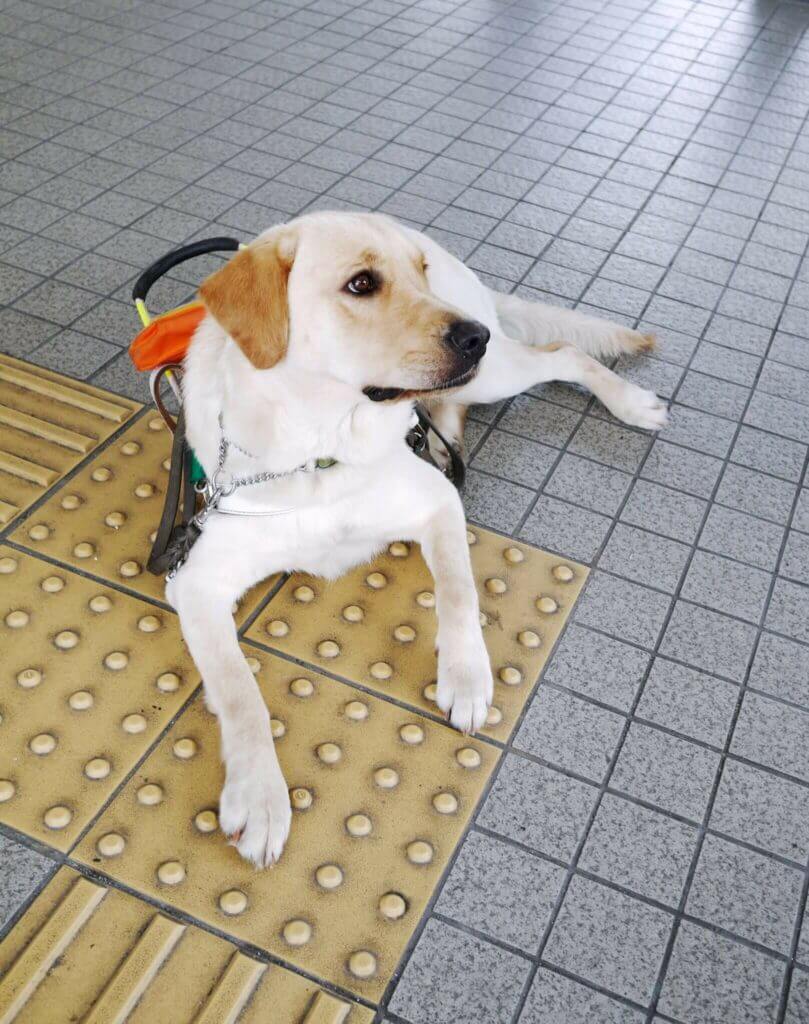 If you or someone you're travelling with has a disability and needs assistance, DFDS asks that you make your booking at least 2 working days in advance and contact them to arrange this assistance. They ask that you tell them about any medical equipment, mobility aids and the assistance you need at least 2 days in advance. They sometimes require that those of us with disabilities travel with a companion, and if they do ask for this they'll let the companion travel for free.
They will help you with boarding and leaving the ferry as well as helping you with your baggage/medical equipment and to the toilet facilities. If you're Deaf/Hard of Hearing, they can also help you and ask that you make yourself known to the Information Desk on board where they can make arrangements to help you receive any important announcements.
If you are travelling with an assistance dog, they ask you to let them know and only require that the dog complies with the Pet Travel Scheme.
The ships used for the Newcastle to Amsterdam route are mostly accessible. They have two ships available, that have accessible cabins, and to book one of these you need to contact them as there isn't an option to book this online.
On King Seaways, all the onboard shops, restaurants and bars are accessible with the exception of one that's only accessed via stairs. The ship has lifts, that give you access to most of the decks (Deck 5 and 12 are not accessible using the lift). They have accessible toilets on deck 9.
Their other boat, Princess Seaways have lifts available (except for Deck 4). They only have wheelchair-accessible toilets in accessible cabins on this ship. So if you require an accessible toilet you'll need to make sure you book a wheelchair-accessible cabin.
DFDS doesn't mention they are part of the Sunflower Lanyard scheme but if you use one, I still recommend wearing it as their staff may be aware of the scheme.
For more information on their ship and port accessibility, visit their Accessibility Onboard page.
Taking the Eurostar From London to Amsterdam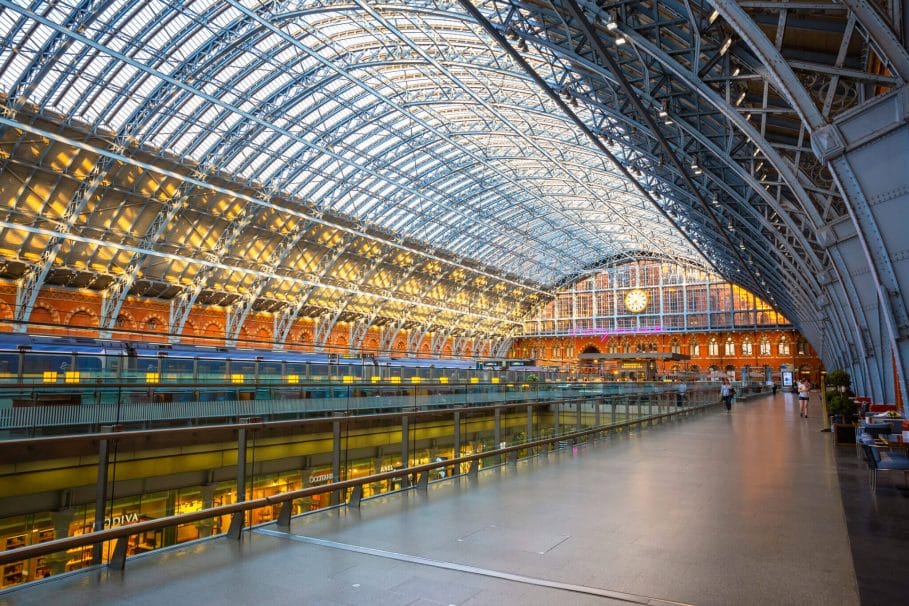 Since 2018, Eurostar has been offering direct trains from London to Amsterdam in just under 4 hours. They run up to 5 direct trains a day, which go from London St Pancreas International, direct to Amstercam Centraal Station.
Not only is this route a much more environmentally friendly option than flying, but if you choose to travel in Standard Premier or Business Premier you'll get a complimentary meal and have access to power sockets plus free WiFi.
Ticket prices start at £50.97/57 euros, although tickets at this price are hard to find. I recommend booking online so you can search for the best prices possible.
Tips on Finding Cheaper Eurostar Tickets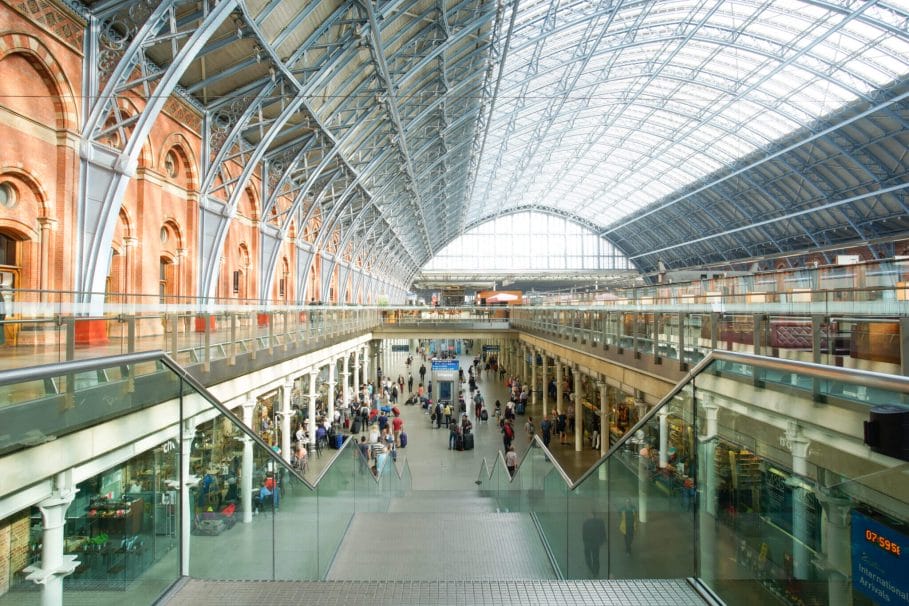 Eurostar prices vary based on many different factors such as peak periods, time of day, what day it is, how far in advance you're booking etc. This does mean that some tickets can be silly money and others, much more affordable.
The main thing you can do to save money on Eurostar tickets is to book well in advance. Eurostar releases their tickets 180 days in advance. So soon as you know when you're travelling, or soon as the tickets are online I recommend booking your train tickets.
Another option is to wait until they have their sales. They run sales throughout the year, so make sure to keep checking their site.
Monitor Train Ticket Price Changes
This might sound complicated at first but monitoring price changes is really easy thanks to the Trainline.
If you use The Trainline's price predcition app you can see when prices are due to change. You just tell the app where and when you want to go, and the app will show you the current price and predict how long it'll be before the price increases.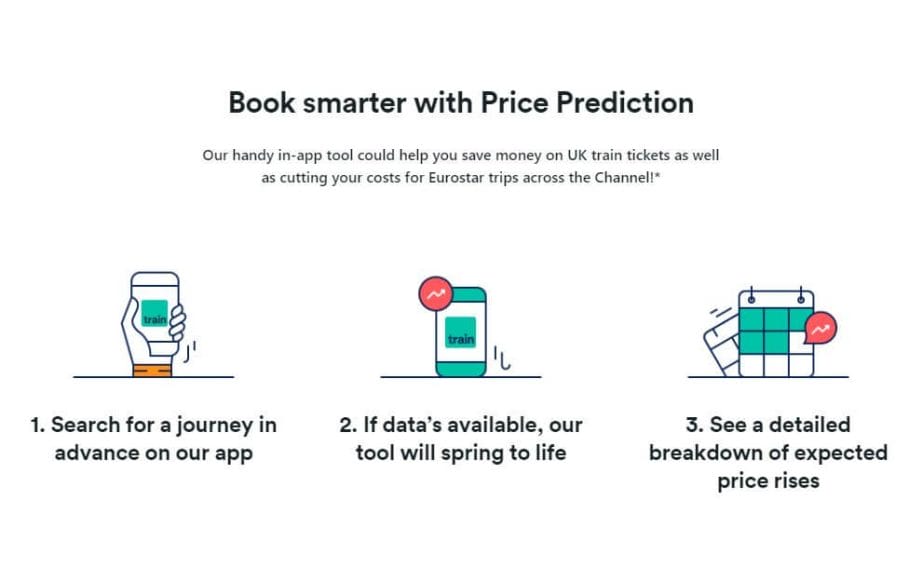 The app isn't restricted to Eurostar and works with tons of train companies so you'll be able to use it for any UK travel as well.
Join the Eurostar Loyalty Program
If you decide to become a frequent user of Eurostar, I recommend signing up for their loyalty program. It's similar to airmiles, but for trains. You get 1 point for every £1 you spend on travel, and 1 point for every £2 you spend on train and hotel packages.
Once you have 200 points, you can start using them for a discount. At 500 points you can start using them for upgrading your seats, and 1000 points for Eurostar tickets.
You can learn more on the Club Eurostar page.
Booking Wheelchair Spaces, and Special Assistance on Eurostar Trains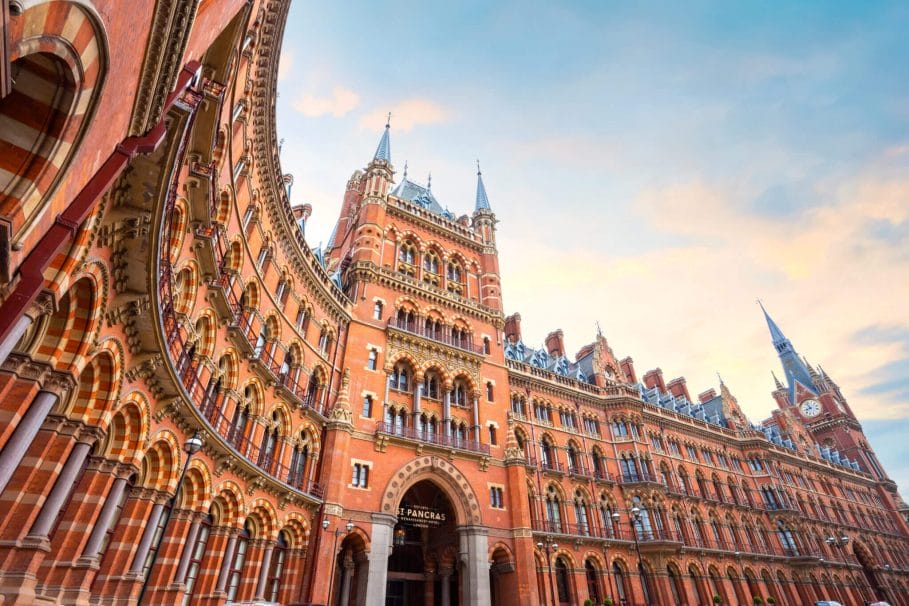 If you are disabled I recommend always booking your ticket direct with the train company, as from my own experience booking through 3rd parties can cause complications. Booking direct ensures you can get a wheelchair spot or assistance without any problems.
While Eurostar has a page dedicated to book a wheelchair space on their train although they ask if you are travelling past Brussels that you contact them via live help or telephone. So for going to/from Amsterdam you'll need to contact them. They also allow each wheelchair user to take one companion ticket.
Eurostar offers free special assistance for passengers who have a disability or reduced mobility. They recommend that you book special assistance for all routes but for their Amsterdam route you must pre-book special assistance to be able to receive help at Amsterdam Centraal or Rotterdamn Centraal.
You have to book the assistance at least 48 hours before you depart. You can add this after you've booked your tickets by ringing them on +44(0) 3432 186 186 and selecting option four.
If you need to travel with a carer/companion, they have special tickets available. To book one of these, you have to ring them to discuss your special assistance needs and they'll help you with booking this ticket. If you want help with your baggage, they ask that you ensure your bags weigh no more than 15 KG each. However, once you're in Amsterdam/The Netherlands they don't assist with any of your bags so you'll need to make sure you can manage them yourself.
If you're travelling with an assistance dog, you'll need to contact them to get this approved. The dog will have to follow the new guidance for taking a dog abroad even though it's an assistance dog so make sure you have checked up on the requirements before you travel. Eurostar recognises owner trained assistance dogs. If you have a dog trained by an accredited organisation, the approval process is easy as they will check this information. But if you're travelling with an owner trained/non-accredited assistance dog, you have to fill in a form. They ask that you do this at least 48 hours before your journey, but if you can send it in earlier than this to ensure you have time to resolve any issues.
For more information on travelling with an assistance dog visit, the Eurostar assistance dogs help page.
More Travel Tips For The Netherlands
Booking Tours – When I am booking tours, I use GetYourGuide or Viator. Both have great selections of guided tours, skip-the-line tickets and the Amsterdam city pass. For tours run by locals, AirBnB Experiences has some great selections as well.
Booking budget-friendly accommodation – I book hotels and hostels through Booking.com, as they allow me to filter for properties based on my needs. They also have a great free cancelation policy. For holiday rentals, I use VRBO.
Travel Sim cards – Stay connected whilst in The Netherlands by picking up a prepaid sim card. This Orange travel sim card will have you covered for Europe and this Global Sim Card works in over 200 countries. Make sure to check out my guide to buying a sim card in Amsterdam for information on buying a dutch prepaid sim card.
Travel eSims – If your phone supports an eSim, I recommend using Airalo. They sell eSims based on country, region, and even global ones! There's one for almost every country and they can work out cheaper than sim cards.
Booking Flights – I always find my cheapest flights using Kiwi or Skyscanner. Both search for the cheapest flights, and let you filter by stops, times, etc so you can find the cheapest options. You can also sign up for Jack's Flight Club to be alerted to cheap deals if you're happy to travel anywhere.
Alternatives to flying – Hate flying? If you're traveling from the UK, check out my guide on getting to Amsterdam without flying.
Hiring a car – I recommend booking your car hire through Discover Cars. They offer 24/7 support, and free cancellation. They help by finding the cheapest car hire available, by searching hundreds so companies so you don't have to.
Get Travel Insurance – Don't leave home without travel insurance. Travel insurance can cover you in case you have an accident, get sick, lose your passport or other belongings, miss your flight, andis canceled/delayed. If you're in the UK, I recommend using Allclear, for the USA you should consider AXA and for the USA, UK & Rest of the World check out SafetyWing.
VPN – Whilst traveling you'll normally end up using WiFi in public places or at your accommodation, which may not be fully secure. I recommend using Proton VPN, as they don't track your browsing history and are reasonably priced.