If you're looking for a fun-filled vacation, Newquay is the perfect destination for you. This coastal town in Cornwall offers a range of activities that will keep you entertained throughout your stay. Whether you're traveling with family, friends, or solo, there's something for everyone in Newquay.
If you're a fan of water sports, you'll love Newquay's beaches. The town is known for its surfing scene and has some of the best waves in the UK. You can take surfing lessons from one of the many surf schools in the area or simply enjoy a day at the beach. If you prefer calmer waters, you can try stand-up paddleboarding or kayaking. Newquay also has several tidal pools that are perfect for swimming and exploring.
If you're interested in history and culture, Newquay has plenty to offer. You can visit the Newquay Heritage Archive & Museum to learn about the town's past or explore the Huer's Hut, a historic building that was used by fishermen to spot shoals of fish. You can also take a walk along the South West Coast Path, which offers stunning views of the coastline and passes by several historic landmarks.
Outdoor Activities in Newquay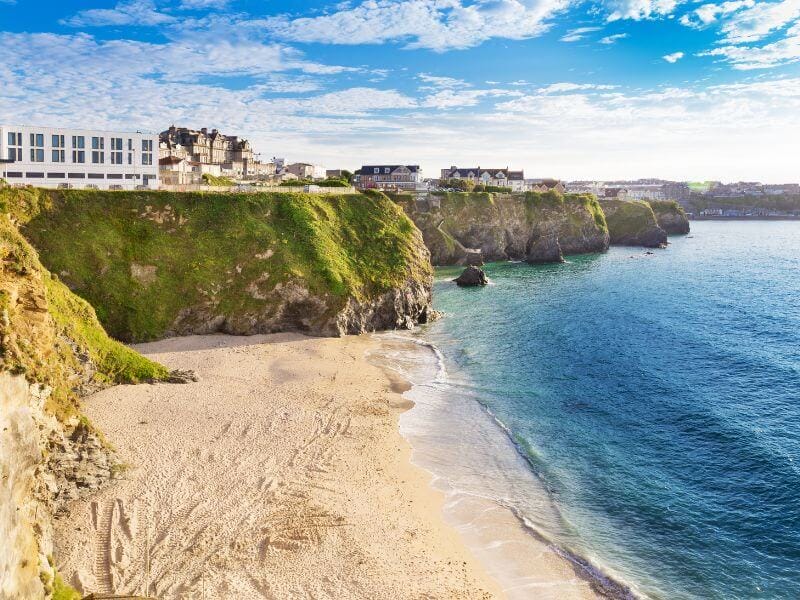 When it comes to outdoor activities in Newquay, you are spoiled for choice. With its stunning coastline and rugged countryside, there is no shortage of things to do for those who love to get outside and explore.
Here are some of the top outdoor activities to enjoy in Newquay:
Surfing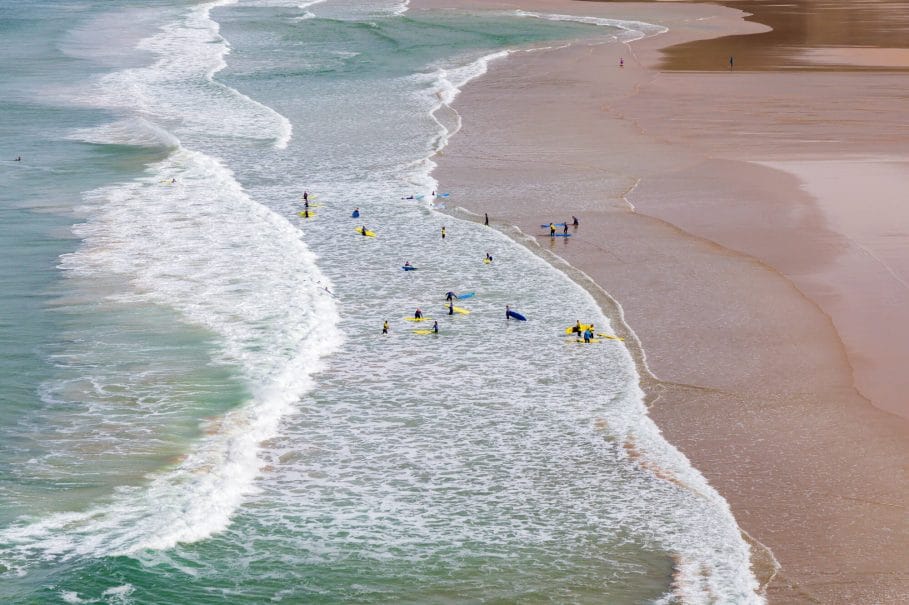 Newquay is known as the surfing capital of the UK, and for good reason. The town is home to some of the best surfing beaches in the country, with waves to suit all levels of experience. Whether you're a complete beginner or an experienced surfer, there are plenty of surf schools and rental shops in the town where you can get everything you need to hit the waves.
Some of the most popular surfing beaches in Newquay include Fistral Beach, Watergate Bay, and Towan Beach. These beaches offer consistent waves and a great atmosphere, with plenty of other surfers to share the waves with.
If you're new to surfing, I recommend taking surfing lessons as it's definitely one of the best things to do in Newquay. There are tons of schools such as Cornish Wave Surf & Adventure which is located near Fistral Beach.
Bodyboarding
Bodyboarding is a fun and exhilarating sport that involves riding waves on a small foam board, using fins to propel yourself through the water. It requires less balance and skill than surfing, making it a great activity for those who are new to water sports. There are plenty of surf schools and rental shops in Newquay that offer bodyboarding lessons and provide all the necessary equipment.

Newquay's waves are perfect for bodyboarding, with gentle swells that are ideal for beginners to learn on. If you're looking for a family-friendly activity or a new way to enjoy the beach, then bodyboarding in Newquay is a must-try!
You could consider booking this taster bodyboarding lesson. The lesson is designed to give you a taste of the exciting world of bodyboarding, regardless of your skill level or previous experience. The lesson is led by knowledgeable and experienced instructors who are not only passionate about bodyboarding but also experts in the local beach conditions, ensuring a safe and enjoyable experience for all participants. The tour provides all necessary equipment, including bodyboards, wetsuits, and fins.
As you ride the waves, your instructor will provide personalized feedback and tips to help you improve your technique, build confidence, and make the most of your bodyboarding experience. You'll be amazed at how quickly you progress and the thrill of catching a wave will leave you wanting more.
Plus the lesson takes place at one of the town's best beaches, chosen based on the day's conditions to ensure a safe and enjoyable experience. As you ride the waves, you'll be surrounded by the breathtaking beauty of Newquay's coastline, with its golden sands, turquoise waters, and dramatic cliffs.
Coasteering
If you're looking for a more adventurous way to explore the coastline around Newquay, coasteering is a great option. This activity involves climbing, scrambling, and jumping your way along the rocky coastline, with the help of a guide who will show you the best routes and keep you safe.
Coasteering is a great way to see parts of the coastline that are inaccessible by foot or by boat, and it's also a lot of fun. Some of the best coasteering spots in Newquay include the Gazzle and the Pentire Headland.
If you're new to coasteering or would like someone to guide you, you could consider booking this experience.
This coasteering experience is designed for adventure enthusiasts of all levels, offering a unique opportunity to explore the wild coastline of Cornwall in a thrilling and challenging way. You'll be accompanied by experienced and knowledgeable guides who are not only passionate about coasteering but also well-versed in the local ecology, history, and culture. With a focus on safety and fun, the tour provides all necessary equipment, including wetsuits, buoyancy aids, and helmets.
Coasteering in Newquay offers a variety of challenges and excitement, from traversing rocky outcrops to swimming through natural arches and negotiating narrow gullies. Your guide will be with you every step of the way, ensuring that you are safe and comfortable while pushing your boundaries and testing your limits.
As you traverse the rocky terrain, you will have the chance to spot much of the marine life that thrives in the tidal pools and caves along the coast. The guides will be happy to teach you about the marine life spotted during your experience.
Hiking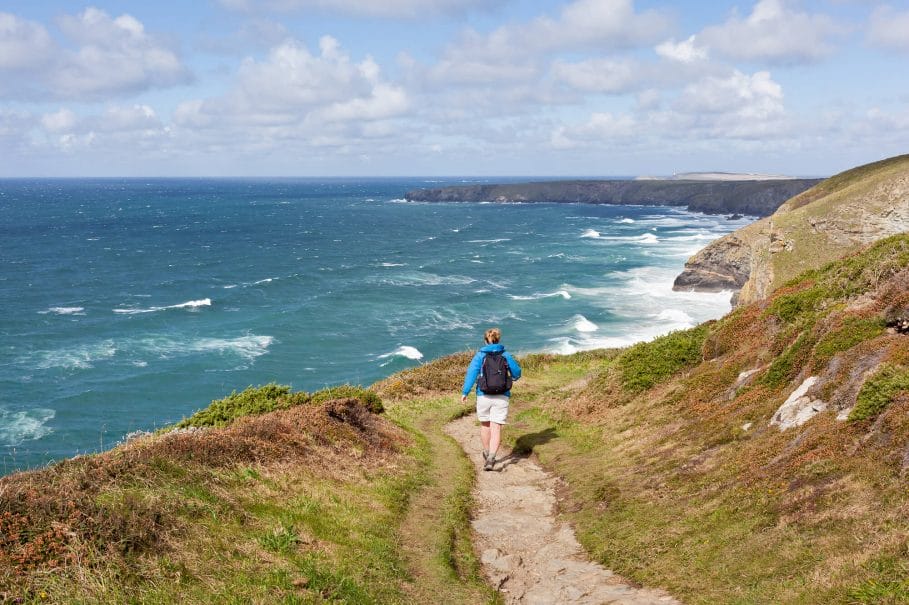 If you prefer to keep your feet on solid ground, there are plenty of great hiking trails in and around Newquay. The South West Coast Path runs right through the town, offering stunning views of the coastline and the chance to explore some of the area's hidden coves and golden sand beaches.
Other popular hiking trails in the area include the Gannel Estuary Trail and the Cubert Common Trail. These trails offer a mix of coastal and countryside scenery and are suitable for hikers of all levels of experience.
Make sure to download Alltrails to access find free hiking routes around Newquay.
Cycling
If you prefer to explore the area on two wheels, there are plenty of great cycling routes in and around Newquay.
The Camel Trail is a popular option, offering a flat and traffic-free route through the beautiful Cornish countryside. This cycle route starts in the nearby town of Padstow and covers an 18-mile-long trail from Padstow to Bodmin. The trail follows a disused railway line, following the River Camel. You'll pass through Wadebridge, Boscarne, Camel Valley, and Bodmin Moor before you finish in the Bodmin town center.
For a route that begins closer to Newquay, you could follow the Mawgan Porth – Harlyn Bay loop. This loop covers 35.4 miles. You can view this route on Komoot.
Whether you're a seasoned pro or a complete beginner, there is no shortage of outdoor activities to enjoy in Newquay. From surfing and coasteering to hiking and cycling, there is something for everyone to enjoy in this beautiful part of the world.
If you haven't got your own bike why not hire an e-bike during your visit to Newquay? This E-Bike Hire in Newquay offers a convenient and eco-friendly way to explore the beautiful surroundings of this coastal town.
E-bikes, or electric bikes, come with a small motor that provides assistance while you pedal, making it easier to tackle hills and longer distances without exhausting yourself. Renting an e-bike allows you to experience the freedom of cycling without the physical strain, making it accessible for people of all ages and fitness levels. It's an excellent option for families, groups of friends, or couples who want to explore Newquay's scenic routes together at a leisurely pace.
With an e-bike, you can venture out to discover hidden gems, quaint villages, and stunning coastal views that might be too far or too challenging on a regular bike. Plus, the e-bike hire service provides helmets, locks, and route maps, making it easy for you to plan your adventure.
Beaches
Newquay is known for its stunning beaches, and with so many to choose from, you're sure to find one that suits your needs. If you love visiting the beach, why not read my guide on the best beaches in Newquay?
Here are some of the best beaches in the area:
Fistral Beach
Fistral Beach is one of the most popular beaches in Newquay, and for good reason. This wide, sandy beach is perfect for surfers and is home to some of the best waves in the UK. If you're not a surfer, don't worry – there are plenty of other things to do here, including sunbathing, swimming, and beach volleyball. There are also several cafes and restaurants nearby, so you can grab a bite to eat or a drink after a day on the beach.
Watergate Bay
Watergate Bay is another popular beach in Newquay, and it's easy to see why. This long, sandy beach is perfect for a day out with the family, and there are plenty of activities to keep everyone entertained. You can try your hand at surfing, kiteboarding, or even horse riding on the beach. There are also several restaurants and cafes nearby, so you can grab a bite to eat or a drink while you're here.
Lusty Glaze Beach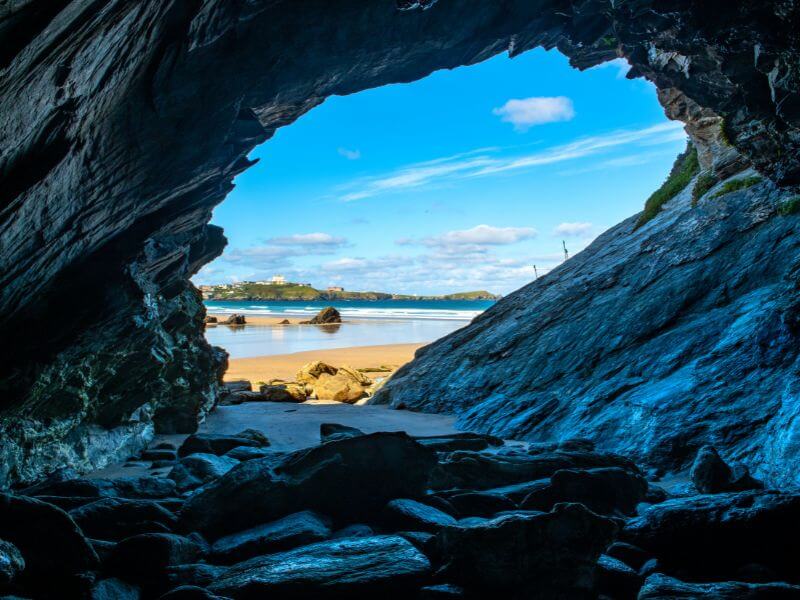 If you're looking for a quieter, more secluded beach, Lusty Glaze Beach is a great option. This small, sheltered cove is surrounded by cliffs and is perfect for swimming, sunbathing, and relaxing. There's also a restaurant and bar on the beach, so you can enjoy some food and drinks while taking in the stunning views.
Tolcarne Beach
Tolcarne Beach is another popular family-friendly beach in Newquay. This sheltered cove is perfect for swimming and sunbathing, and there are plenty of facilities nearby, including cafes, restaurants, and toilets. There's also a small tidal pool that's perfect for young children to play in.
Overall, Newquay has some of the best beaches in the UK, and there's something for everyone here. Whether you're a surfer, a family with young children, or just looking for a quiet spot to relax, you're sure to find it here.
Things to do in Newquay
Newquay is a town that offers numerous attractions for visitors to enjoy. Beyond the popular zoo and aquarium, there are several other places that are worth a visit. Here are some of the top attractions in Newquay that you should consider exploring:
Walk Around Newquay Harbour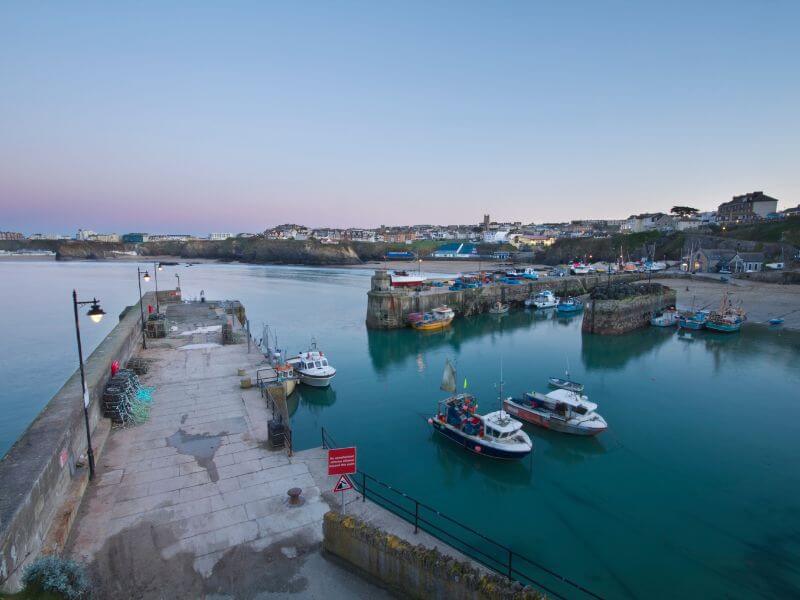 Located near the town centre, Newquay Harbour is one of the best places to visit during your vacation. A walk around Newquay Harbour will let you immerse yourself in the town's maritime history, enjoy picturesque views, and observe the daily life of the local fishing community.
Begin your walk at the historic Newquay Harbour, which history shows has been an integral part of the town since the 15th century. The current harbour was built in 1833, but evidence has shown that there was a medieval quay here as early as 1439!
Today, the harbour is home to a small fleet of fishing boats, making it a great spot to watch the comings and goings of local fishermen as they bring in their daily catch. The harbour's sheltered location also means that it's often bustling with activity, from local boats to visiting yachts and leisure craft.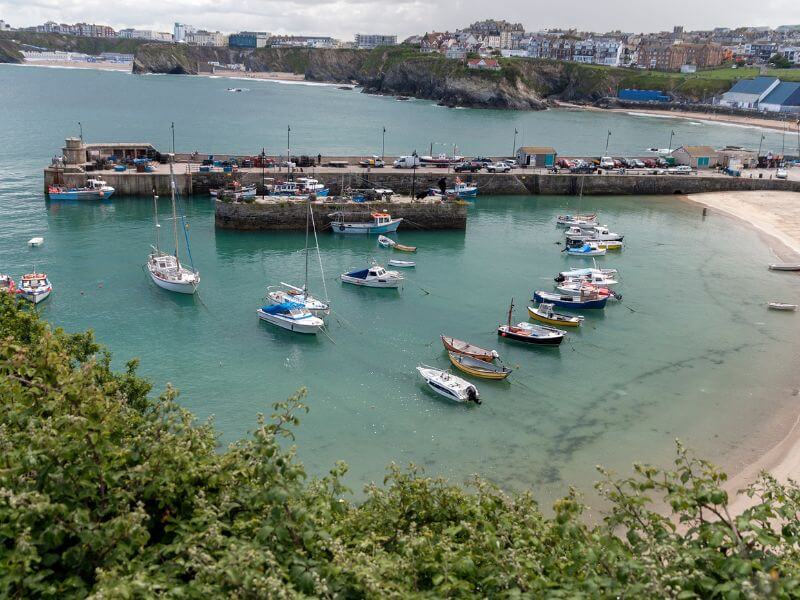 As you stroll around the harbour, you'll notice the old fishermen's cottages and buildings that line the narrow streets, providing a glimpse into Newquay's past. Take a moment to appreciate the town's maritime heritage and learn about its role in the fishing, pilchard, and mineral ore industries.
The walk around Newquay Harbour offers stunning views of the coastline, with dramatic cliffs and rock formations framing the harbour's entrance. Don't forget to bring your camera, as you'll want to capture the picturesque scenery and the colorful boats bobbing in the water. As you continue along the walk, you may even spot some of the local marine life, such as seals, dolphins, or seabirds so make sure to keep an eye out.
After exploring the harbour and its surroundings, take a break at one of the nearby cafés, pubs, or restaurants such as The Boathouse. This is also a perfect opportunity to sample some of the local seafood, freshly caught by Cornwall's fishermen.
Trenance Gardens and Leisure Park
Trenance Gardens and Leisure Park is a beautiful and peaceful park that is perfect for a relaxing stroll. The gardens feature an impressive collection of plants, flowers, and trees, providing a colourful and serene environment for the whole family to enjoy. The park is located alongside Newquay Zoo, so you can easily combine a visit to the park and zoo in a single day.
Young children will love the Trenance boating lake, where they can feed the ducks, rent pedal boats, or enjoy a leisurely ride on a rowing boat. The park also features a miniature railway, providing an enjoyable ride for both children and adults alike. There's also a miniature railway, crazy golf and play area.
You could also make use of the Waterworld Leisure Centre which has a swimming pool, or the tennis courts at the Heron Tennis Centre. Trenance Leisure Park also has a skatepark and it's one of the best places in Newquay to go skateboarding.
The park features several food and drink options, including cafés, snack bars, and ice cream stands, ensuring that the whole family can find something to satisfy their cravings.
Lappa Valley Miniature Railway
Located just outside of Newquay (about 15 minutes drive) the Lappa Valley Miniature Railway is one of Newquay's best-hidden gems. The Lappa Valley Steam Railway takes you on a scenic journey through the lush Cornish countryside, offering stunning views and a sense of nostalgia as the train chugs along the tracks. The railway has been in operation since the 1840s, and although it was originally used for mining, it now serves as a popular tourist attraction and makes for a great family day out.
The park has plenty of things to do, including additional miniature steam railway rides, a boating lake, crazy golf, and a variety of play areas for children of all ages.
Tickets are reasonably priced, with adults paying £15.95 and children aged 3 to 16 paying £13.95. Family tickets are available at a discount. Plus the park is dog friendly, but you must keep them on the lead except in a designated area. Read more about their dog policy here.
The park is open most days but be sure to check their website, as they sometimes close and the train running times vary throughout the year. Check their website here.
Blue Reef Aquarium
The Blue Reef Aquarium is home to a variety of sea creatures, including reef sharks, shoals of fish, and loggerhead sea turtles. It's a great place to visit if you want an alternative to the beach or on a rainy day.
During your visit, you'll encounter a vast range of aquatic creatures, including colorful fish, graceful rays, and inquisitive octopuses. One of the main highlights of the Blue Reef Aquarium is its stunning coral reef display which can make for some great photos. Just remember to bring a polarising filter for your camera's lens to remove reflections off the glass.
Throughout your visit, you can attend talks and feeding demonstrations, where you'll learn about the various species housed here. These informative sessions cover topics such as conservation, marine biology, and the importance of protecting our oceans for future generations.
You'll also get to walk through The Blue Reef Aquarium's underwater tunnel, which is one of the best parts of the aquarium. As you walk through you'll be surrounded by a spectacular display of marine life, providing you with an up-close and personal encounter with the creatures of the deep.
Entry tickets cost £13.25 per adult and £10.25 for children (aged 3 to 12). Family tickets (2 adults, 2 children) are £45. You can get tickets online here.
Newquay Heritage Archive and Museum
The Newquay Heritage Archive and Museum is a great place to learn about the town's history and is another place I recommend visiting on rainy days.
The museum has a collection of artifacts that date back to the Bronze Age, as well as exhibits on the town's mining and fishing industries. There is also a display of the town's surfing culture, which is an important part of Newquay's identity.
Admission is free, but donations are welcome.
Trerice House and Gardens
Trerice House and Gardens is a beautiful Elizabethan manor house that is worth a visit.
Trerice Manor house has been preserved by The National Trust. You'll be able to see how the Elizabethan house looked back in the 16th century and see rooms such as The Great Hall which has a large window featuring 576 tiles made of 16th to 19th-century glass. You'll also be able to enjoy looking at paintings by John Opie, a famous Cornish painter that was born only 15 miles away. He was known for painting people such as Lord Nelson, Dr. Johnson, and Mary Wollstonecraft. He also painted Dolly Pentreath, the last native speaker of the Cornish language and her portrait is one of the paintings on display.
The gardens are also lovely, with a knot garden, a rose garden, and a vegetable garden. You could also play a game of kayles, which is a traditional Cornish game of Skittles. The kayles available for you to play with are a replica of a 16th-century set that is on display at the manor house.
There is a cafe on-site where you can enjoy cream teas, coffee, cakes, and more.
Admission to the house and gardens is £12 for adults and £6 for children. National Trust members enter for free.
Newquay Zoo
If you're looking for a fun and educational day out, be sure to visit Newquay Zoo. This zoological garden is located just a stone's throw away from the beach, making it a perfect destination for animal lovers who want to combine aquatic adventures and land-based fauna exploration.
The zoo is home to over 1,000 animals, from rare and exotic species like red pandas and lemurs to more familiar creatures like otters and meerkats. You can also learn about the zoo's conservation efforts and explore its beautiful gardens. With something for everyone, a visit to Newquay Zoo is a must-do activity for anyone visiting the area.
Tip – Save money by buying your tickets online. Online adult ticket prices (excluding gift aid) are £14.85 vs £16.35 in person. Children's tickets cost £11.15 online and £12.30 in person, without gift aid.
If you're disabled, remember to bring along proof such as a PIP letter, blue badge or Access Card and you can get 1 carer in for free.
These are just some of the best places to visit in Newquay. Whether you are interested in history, marine life, exploring miles and miles of golden sand, or just want to have a fun beachside holiday there is something for everyone in this charming town.
Food and Drink
Fish and Chips
When you're at the seaside, you can't go wrong with a classic fish and chips. Newquay has a variety of options to choose from, but one of the best is The Harbour Fish and Grill. This family-run restaurant has been serving up fresh and delicious fish and chips for over 20 years. The portions are generous, the batter is crispy, and the fish is always cooked to perfection. Plus, the restaurant is located right on the harbour, so you can enjoy your meal with a stunning view of the sea.
Cornish Pasties
A trip to Cornwall wouldn't be complete without trying a Cornish pasty. These savory pastries are filled with meat, potatoes, and vegetables, and are perfect for a quick and filling lunch. One of the best places to try a Cornish pasty in Newquay is at The Chough Bakery. This bakery has been making pasties since 1985, and they use only the finest locally-sourced ingredients. The pasties are freshly baked every day, so you can be sure you're getting the best quality.
Seafood Restaurants
As a coastal town, Newquay is known for its fresh seafood. If you're looking for a more upscale dining experience, there are several seafood restaurants to choose from. One of the best is The Fish House Fistral. This restaurant is located right on Fistral Beach and offers stunning views of the sea. The menu features a variety of seafood dishes, including mussels, crab, and lobster. The restaurant also has an extensive wine list, so you can find the perfect pairing for your meal.
Cafes and Bars
If you're looking for a more casual dining experience, Newquay has plenty of cafes and bars to choose from. One of the best cafes is The Jam Jar. This quirky cafe has a relaxed atmosphere and serves up delicious coffee and homemade cakes. If you're looking for a drink, The Central Inn is a great choice. This traditional pub has a wide selection of beers and spirits and often has live music in the evenings.
Where to stay in Newquay
Need accommodation for your trip to Newquay? Whether you're looking for something in or around the town, close to the beach or a bit further out there's a great range of accommodations for you to pick from. Here are some ideas for places you could consider staying:
I hope you found this guide on things to do in Newquay helpful. If you'll also be visiting the beach, make sure to check out my tips below.
Tips for visiting Newquay beaches
Check the tide times: The beach landscape can change significantly depending on the tide. Make sure to check the tide times before you go, so you can plan your day accordingly and avoid being caught off guard by a rising tide. Newquay tide times can be viewed on Tideschart.com.
Remember to pack reef-friendly sunscreen and take water with you to stay hydrated.
Book kayaking lessons, a paddleboarding tour, or surfing lessons online in advance especially during the summer as they can sell out quickly.
Visiting from abroad? Make sure to pick up a UK sim card as many of the car parks require you to pay for your parking via a phone app. Check my guide for buying a UK sim card here.
Wear appropriate footwear: Some Newquay beaches have rocky areas or hidden rocks in the sand. Wear comfortable, sturdy shoes or water shoes for exploring the rock pools and navigating the cliffs.
If you want to walk along the southwest coastal path, I recommend bringing bug spray and walking boots.
Download Alltrails to access free walking routes.
Keep an eye on your belongings: Be cautious with your belongings while on the beach. Don't leave valuables unattended and consider using a waterproof pouch or dry bag for items like your phone and wallet.
Respect the environment: Help preserve the natural beauty of Newquay beaches by picking up your trash and disposing of it properly. Avoid disturbing wildlife and avoid removing shells, rocks, or plants from the beach
Bring a windbreak or beach tent: Newquay beaches can be windy, so consider bringing a windbreak or beach tent for added comfort and protection against the wind and sand.
Be mindful of rip currents: Some Newquay beaches have strong rip currents. Read the RNLI website to learn how to spot and avoid them.