Houtong Cat Mining Village (also known as Monkey Cat Village), used to be a mining town. The town was built back when Japan was ruling Taiwan, but the mining pits closed in the 90s. Back in 2008, a local cat-lover called Peggy Chien started caring for the abandoned cats in the town which has helped boost tourism to the area and help the town redevelop into an area with shops, cafes, restaurants and now has over 200 cats.
Disclosure: This post may contain affiliate links that earn me a small commission, at no additional cost to you.
What to see in Houtong Cat Mining Village?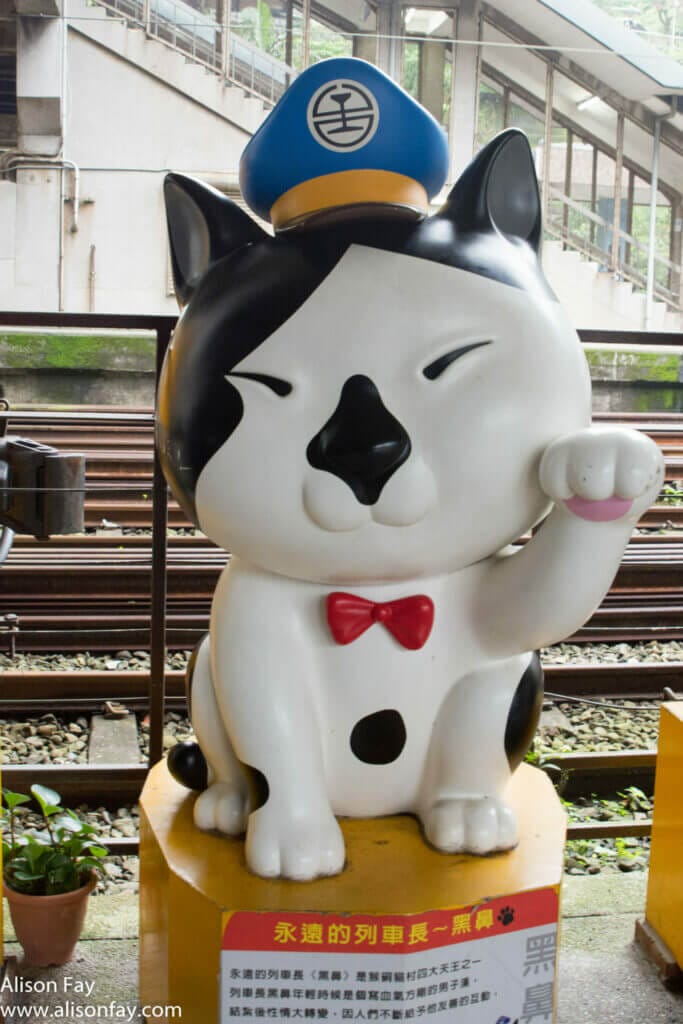 When you arrive in Houtong, if arriving by train you'll be greeted with a cat-themed train station. There's some cute cat statues, cat signs, cat hanging decorations, photos and more.
Once you have left the paid-area of the station, you'll find there are two areas for you to explore. The area in front of the station contains the visitor information centre, the old coal mining machinery, some restaurants, gift shops, a 7/11 convenience store and a view of the Keelung river – plus cats of course. If you take the bridge, signposted as a cat bridge, it'll lead you across behind the station into the cat village which contains cafes, restaurants, gift shops, and more cats. If you have time, make sure to explore both sides of the village. Sadly, I had limited time so I had to skip some of it but it's still worth stopping off even if you only have the hour between trains to spare.
Here are some photos of some of the cute cats I spotted throughout the village.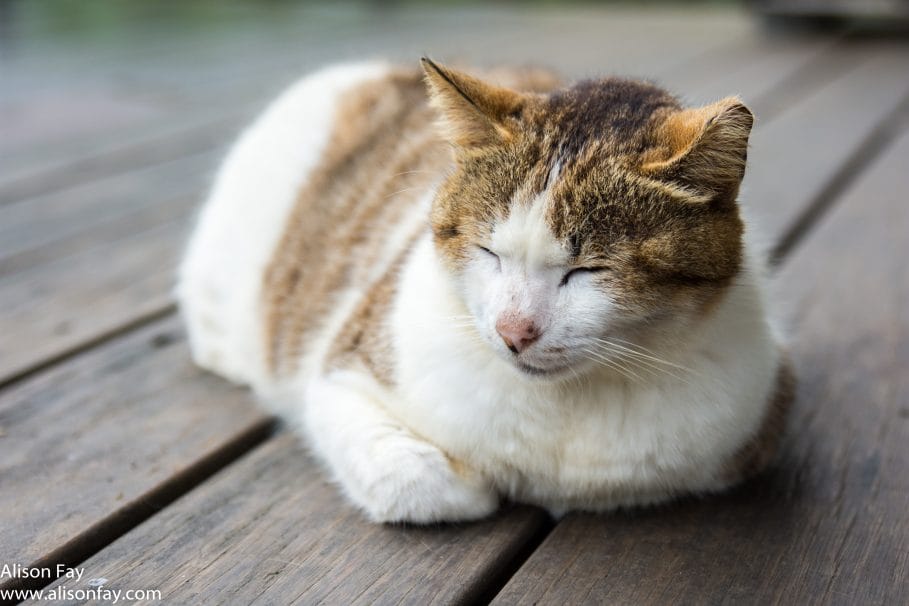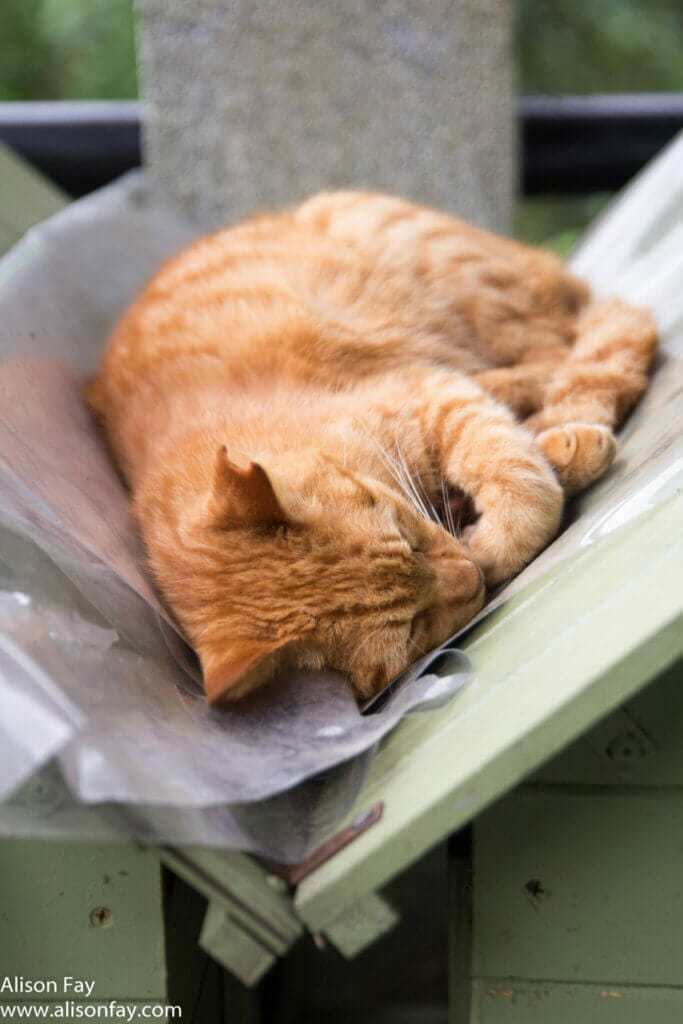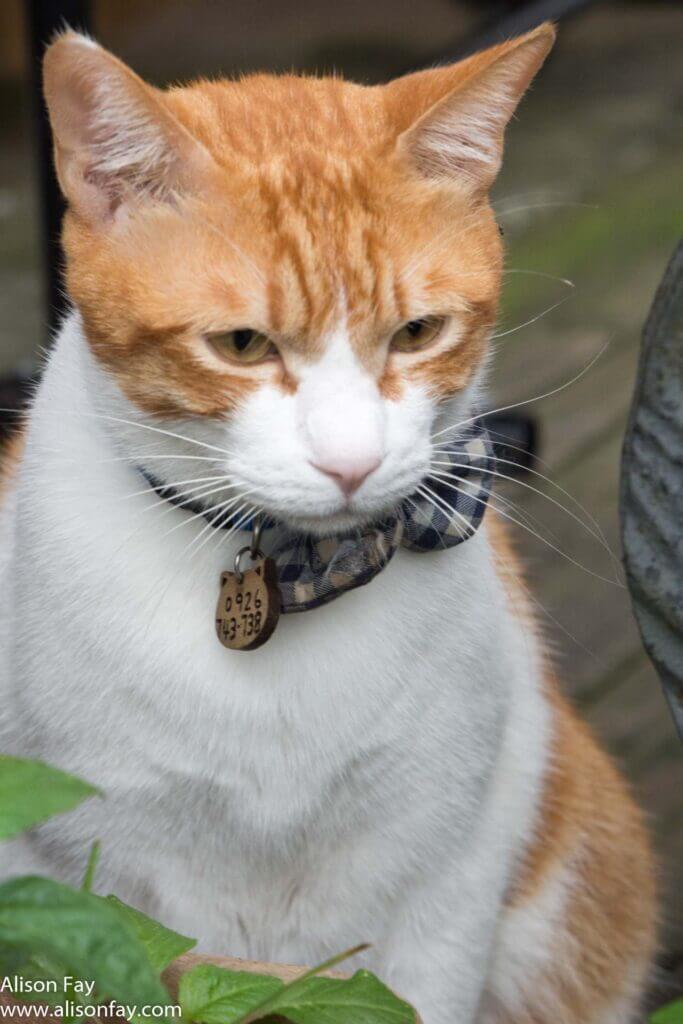 Tips on how to photograph the cats
If you are using a camera that lets you change settings, such as a mirrorless or DSLR then I recommend setting it into either manual or into an aperture priority mode. This will allow you to control the aperture to ensure your subject's in focus while being able to blur the background. To create a blurrier background, you'll want to make the aperture bigger (so a smaller F-number, e.g f1.8, f2.8, f5.6), to make your subject more in focus, make your aperture smaller (so the bigger F-number, e.g. f8, f16). If you're using an aperture priority mode, it will automatically set your shutter speed for you based off of your chosen aperture + ISO + available light. If you are using a manual mode, you'll need to control this yourself. You'll need to set the ISO based on the amount of daylight – if it's sunny, you'll probably need ISO 100 or 200, if it's cloudy, you'll need at least ISO 400, maybe 800 or higher. Then, you just need to make sure there is some distance between your subject and the background you're trying to blur out and hopefully you get the results you are after. But if in doubt, use automatic or program mode – there's nothing wrong with this while travelling if it gives you the results you're happy with.
If you are using a mobile phone, if you choose to use the phone's automatic mode it'll automatically determine how much is in focus for you based off of the distance between the subject and background, and how far your camera is from the subject itself. If your phone supports different modes such as manual focusing, or aperture (Huawei phones support this), you'll be able to control this further by changing the aperture and manually focusing on different areas of the subject. Some phones also have a bokeh mode, if you want to achieve some nice bokeh try enabling this.
Luckily most of the cats are quite friendly, which makes the main part of photographing them a lot easier. But if you do have any issues with moving subjects, you'll need to up the shutter speed you are using to help freeze them. You can also buy food from one of the cafés (only feed them this food, feeding them anything else is not allowed). This can help make sure that the cats stay in one place and make for some cute photos.
For more tips on taking photographs, check out my photography tips here. If you're in need of a camera, check out my guide to the best travel photography cameras.
How to get to the Houtong Cat Mining Village from Taipei?
Houtong is located near Taipei and can be accessed in about 1 hour by shuttle train, and 2 hours by bus from Taipei station.
If you're staying in Taipei and wish to travel by train, you will need to catch a shuttle train which travels towards either Su Ao, or Su Ao Xin. From within Taipei, these trains leave from either Taipei Station, Songshan or Nangang. The train towards Su Ao is direct, however, if you take the train towards Su Ao Xin you will need to change train at Ruifang towards the one travelling to Su Ao. As of June 2019, the train fare is 56TWD for a one-way adult ticket.
To use the bus, you can travel from Zhongxiao Fuxing Station on the 1062 bus towards Ruifang station (this is also the bus that goes to Jiufen). At Ruifang, change bus to the 808 bus. You can also catch the 965 bus from Beimen station to Ruifang station (this bus also goes to Jiufen), and then take a train towards Jingtong, disembarking at Houtong station.
If you're a wheelchair user, or unable to climb stairs on coaches, I'd recommend sticking to using trains for any of the places listed in this guide as these are more accessible. But before travelling, make sure to check each train stations accessibility and contact them to arrange ramps and assistance onto the trains beforehand. You may have to take a different route to those mentioned above if some stations have limited step-free access.
Combining Houtong Cat Mining Village with a trip to Jiufen + Shifen
During my trip to Taipei, I opted to visit Jiufen, Shifen and the Houtong Cat Mining Village in a day. The best way of doing this is to first visit Jiufen, then travel to the mining village, and then onto Shifen.
To get to Jiufen
I recommend leaving Taipei around 10 am to arrive in Jiufen at around 11:30 am. This way you'll be early enough to beat the main crowds, but late enough for the shops and restaurants to all be open. To get to Jiufen, catch either the 965 bus from Beimen or the 1062 bus from Zhongxiao Fuxing Station. The 965 bus takes around 1 hour 30 minutes, the 1062 bus around 1 hour to arrive in Jiufen. Once you've arrived in Jiufen it is a short walk from where the bus stops, to Jiufen Old Town.
From Jiufen to Houtong Cat Mining Village
After you have finished exploring Jiufen Old Town, there are two ways of getting to the cat mining village. You can either take the 965 bus back towards Taipei, making sure to get off at Ruifang Station then change to the Shuttle Train that goes towards Fulong, disembarking at Houtong Cat Mining Village. Or, take the 865 bus from the old town to Houtong Tourists Service Center, and from there, walk to the cat mining village. I personally recommend taking the 965 bus, then the train, as the train station brings you out in the main area of the cat mining village.
From Houtong Cat Mining Village to Shifen
When ready to continue onto Shifen old town, catch the shuttle train from Houtong train station towards Jingtong, disembarking at Shifen station. Shifen station is located bang in the centre of Shifen old town.
From Shifen to Taipei
From Shifen, you can be back in Taipei in about 2 hours. Take the train back to Ruifang Train Station, then from there either take the 965 bus, the 1062 bus or the train back to Taipei. In Shifen, you will spot a lot of taxi companies offering carpools for return trips to Taipei. I debated whether I did one of these, as the trains were extremely busy. However, they're a lot more expensive than the train + bus journey, so I chose to travel back via public transport. If you are disabled like me and require a seat when travelling by train, I recommend considering this taxi service. The train journey back to Ruifang is quite long, and I was unable to get a seat leaving me to sit on the floor. If I am to visit Shifen old town again, I will be taking a taxi back – at least to Ruifang.
From Shifen to Keelung City
You could also visit Keelung City on the way back to Taipei, and check out the night markets. To get to Keelung City, take the train from Shifen to Ruifang station and then change to the 788 bus to Keelung Station. If you want to stick to using trains, you can take the train to Ruifang station, then change to the train towards Shulin making sure to change train at Badu station to the train that goes to Keelung.
From Keelung City to Taipei
From Keelung City, you'll need to take the train back to Taipei. This takes for about 1 hour, and trains back to Taipei finish around 10:30 pm but make sure to check what the actual time for the last train is. Otherwise, you will be stuck in Keelung City until morning.
If you're visiting Japan as well, why not visit Japan's Cat Island – Tashirojima? If you want to find more great places to take photos during your travels in Taiwan, check out my guide to finding photography spots.