Whilst on holiday in Tenerife, if you're looking for a breathtaking place to visit with amazing scenery, look no further than Teide National Park in Tenerife. This UNESCO World Heritage Site is home to Teide-Pico Viejo volcano (also known as Mount Teide), the tallest peak in The Canary Islands and Spain!
Whenever I'm in Tenerife, I always visit the national park and enjoy the views across Tenerife on the drive up. If you're doing a self-drive holiday, there are some off-road parking areas you can safely pull over in, on the way up, and take in the amazing views. If the sky is cloudy, you'll find yourself driving through them on the way to the top and this makes for a great photo opportunity.
If you are planning on driving whilst on holiday in Tenerife, make sure to book your car rental online before you head off to Tenerife. This will ensure that your car will be ready for you on arrival, rather than taking the risk of your preferred car type not being available.
Warning: Make sure to lock your car doors when you get out to take photos. There are thieves about. During my last visit, a woman had her bag taken from her unlocked car whilst she was taking photos.
If you opt to go up the mountain on a tour, then you can always ask if they'd be able to pull over for you to take some photos. Some tours will be happy to accommodate. Otherwise, you can still enjoy the amazing views from the tour bus/car.
Exploring The National Park By Car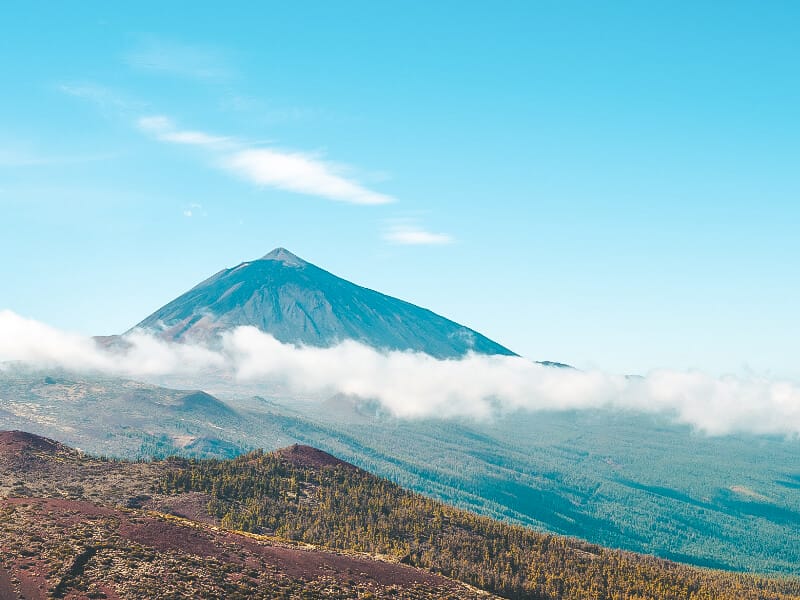 Once you're in the national park, if you're self-driving then you'll be able to park in some of the observation areas that allow you to enjoy the scenery before heading to one of the larger car parks where you can go hiking, up a cable car and other fun activities. If you or a party member are disabled, or not really into going for a hike these observation areas are a great way of seeing the different scenery in the park without having to go far from the car.
Here are some of the observation areas I like to stop off at, with links to the Google map location so you can easily save these:
Tip: Make sure to look for lizards whenever you stop off at any of the observation areas! They can be hard to spot, but once you spot one you'll normally see a few hanging out together and they're fun to watch.
Visiting Mount Teide
Whilst in the national park, I highly recommend either hiking up to the peak or taking a cable car to the mountain. You can even opt to take a cable car part way up and hike the final 170 meters to the peak, or just take the cable car up and enjoy the view.
If you'd like to take the cable car up to the viewing area, then I recommend booking a return ticket online in advance to avoid disappointment. You'll also have the benefit of being able to skip the long queues to buy tickets on the day. From the cable car and the viewing area, you'll be to enjoy views over the national park, enjoying its amazing landscape. You'll be able to stay at the deck for 1 hour, before boarding another cable car and descending back down the mountain.
You can book tickets for the cable car online here. But why not consider taking a tour, that'll transfer you to the Teide National Park from your chosen pick-up location? Not only does this help with conservation by minimizing the number of vehicles coming into the park, but everyone in your party, including the driver, can relax (some people find driving up to the park quite stressful due to its steep windy roads). Book your return cable car ticket with a transfer here.
If you want to visit the peak, you must get a permit. There are only 200 permits issued per day, so I highly recommend arranging this well in advance to avoid disappointment.
If you'll be hiking then I recommend joining one of the guided hiking tours that'll help with arranging a permit and ensure you'll have a safe hike from the cable car viewpoint to the peak. You could also do a hike on your own, but please make sure to stick to the paths, take plenty of water, and sunscreen and follow all the guidelines given on the signposts. You can book a cable car + hiking tour here.
You can also choose to hike up the whole of Mount Teide and only take the cable car on the way back down. This is a difficult hike, requiring a good level of hiking experience, physical health, and enough stamina for a 5+ hour hike. You could also get altitude sickness. If you're new to hiking, I really recommend opting to take the cable car + hiking tour instead. To ensure you have a safe hike, you should consider booking a guided tour. This tour will guide you up the 1500-meter ascent, on which you'll cross through lava fields and steep rocky slopes, with uneven ground. Whilst difficult, if you're experienced with hiking and have the fitness required then it is definitely worth the challenge. Your tour guide will apply for your permit after booking. You can book the tour here.
Get tickets to the Mount Teide Cable Car:
Hiking in Teide National Park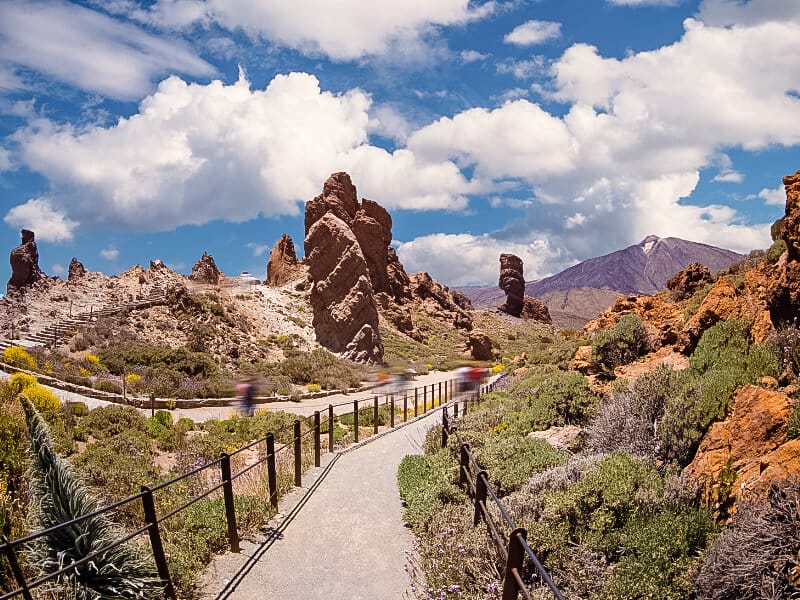 Teide National Park is a great place for hiking. There are tons of hiking trails, of various difficulties and lengths that'll let you explore different areas of this park and enjoy the scenery.
If you'd like to hike all the way up Mount Teide, as mentioned above then I recommend taking a guided tour which you can book here. If you don't have the fitness required for the full hike then, book the cable car ride and hiking tour here.
You could also opt to hike up Mount Guajara, which is a dormant volcano located in Teide national park. The volcano is 2,718 metres tall, and you can see Mount Teide from its peak! Whilst you can always hike this mountain on your own, following a guide from Alltrails and by following the signs I recommend using a hiking tour guide instead. If you're visiting as a group, you could book this private tour (for up to 4 people), on which you'll follow an 11km circular route around the mountain. That'll let you see Mt Teide, across Tenerife, and on clear days you'll be able to see as far as Gran Canaria. Book this tour here.
Here are some other popular hiking options, that you can do on your own by following a guide:
Chinyero Volcano Loop – This is a great hike for those with less hiking experience or looking for something easy. It's a 7.2km circular hike that will take you around the Chinyero Volcano, and should take you 1 to 3 hours to complete. The volcano is dormant and hasn't erupted since 1909 and offers some great views of the national park, and a chance to see some wildlife. You can park here, at the Boca Tauce starting point and follow the guide from Alltrails here.
Montaña Majúa – This is an easy hike, following a 2.9km long circular route. This is a popular hike, as it's fairly easy and has some great views across the southern part of Teide national park. The hike starts near the El Portillo Visitor Center, so it's easy to get to as there's plenty of parking and public bus stops at the visitor center. Download the hiking guide here.
Ventanas de Güímar – known as Windows of Güímar, this is a challenging out-and-back trail covering 11.3km of ground, with an 1195 elevation gain. This hike isn't for the faint of heart but if you're fit and experienced enough to do it, you'll get some amazing views across the national park and over the sea of clouds. The trail does cover narrow, uneven ground so if you have health issues including vertigo – give this one a miss. You can download the hiking guide here.
There are plenty of other hikes, of various lengths and difficulty for you to pick from here.
Go Stargazing At Night In Teide National Park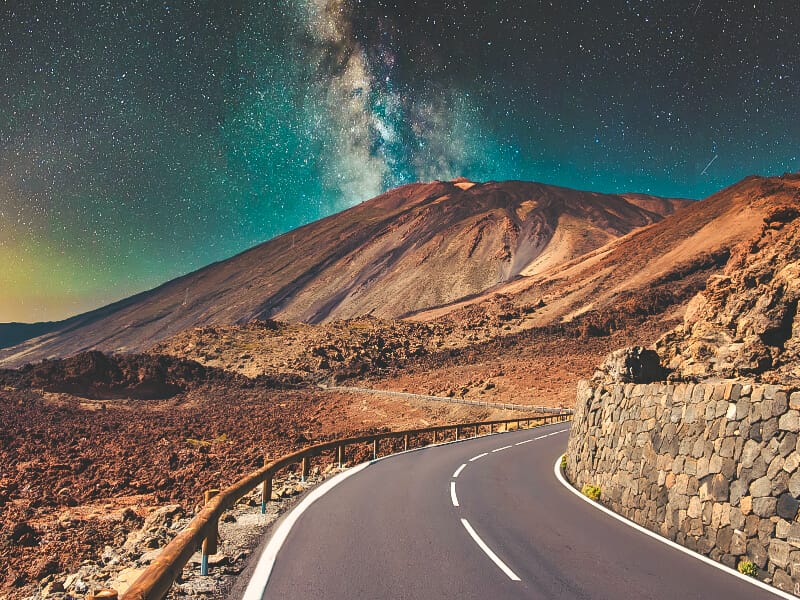 Teide National Park is a great place to go stargazing. The sky is really dark, with very little light pollution so you'll get a really good view of the stars. This is an amazing opportunity, as there are not many places left in Spain or Europe with this little light pollution.
If you book this stargazing tour, you can pick between self-driving or opting for them to pick you up. The tour includes a glass of cava, which you'll enjoy whilst watching the sunset. Then afterward, once it's dark you'll continue further into the national park to a spot where you'll have access to telescopes and be given a laser-guided tour of the sky. You'll be able to spot the milky way and the different star constellations!
If you love astrophotography, you could take your camera with you and get some amazing photos of the night sky. If you or someone in your party has limited mobility it's best to pick the self-driving option as the transfer vehicle isn't wheelchair accessible.
The self-drive option starts at $49.92 USD, and the hotel pickup option starts at $74.88 USD. You can book this Teide stargazing tour here.
Book to go Stargazing in El Teide National Park:
Visit the Mount Teide Observatory
To further continue your exploration of the sky, why not visit the Mount Teide observatory? This is the largest solar observatory in the world! I recommend booking a guided tour, on which you'll be able to use professional scopes to see sunspots and solar flares. You'll also learn how the astrophysicists at the observatory work, and about the sky above the Canary Islands.
Prices start at $20.97 per person. You can book the observatory tour here.
Go on a Romantic Sunset and Stargazing Tour (including dinner)
If you're visiting Tenerife as a couple, then why not opt for this romantic sunset and stargazing tour? First, you'll get to enjoy watching the sunset over Mount Teide with a glass of cava before exploring the stars with a telescope. You'll learn about the night sky and discover the constellations with the help of an astronomer.
This tour starts at $88.85 per person. You can book this tour here.
Visit the El Portillo Visitor Center
Whilst in the national park, I recommend heading to the El Portillo Visitor Center. Here, you'll find great views of the national park, and an amazing botanical garden. You'll get to see some of the different fauna that grows in the national park, especially if you visit during spring. You'll also be able to learn about the local ecosystems and the national parks' plant life.
The El Portillo Visitor Center is open from 9am to 4:15pm, every day but Janaury 1st + 6th and December 25th. You can learn more about the visitor center on their website, here (this is only in Spanish so you may need to translate it).
The visitor center is also next to the Restaurante El Portillo, which is temporarily closed but once re-opened, is a great place to stop off for a drink or bite to eat.
Go on a Jeep Safari to Teide National Park From Las Americas
If you're staying in Las Americas, why not opt to go on a Jeep Safari tour of the Tedie National Park? This is a great way of exploring without the stress of driving yourself.
This tour will pick you up from your hotel in Las Americas in a 4WD, and you'll enjoy being driven to Teide National Park, and also Viaflor – the highest village in Spain! Plus you'll visit some of the beautiful hamlets of Masca. The driver will talk about each of the locations you visit, so you can learn about them. As part of the tour, you'll get to stop off at a restaurant, where you can enjoy a meal. The cost of the meal isn't included in your tour though so make sure to allow for the cost when budgeting.
The tour starts at $58.46 per person. You can book here.
Visit the Ermita de las Nieves Church
Whilst in the national park, why not stop off and take some landscape photos or pray at the Ermita de las Nieves? This tiny church is dedicated to Our Lady of the Snow, and is probably the smallest church I've ever visited as it only has one room! The church is located over 2000 meters above sea level, making it the highest Catholic church in all of Spain and The Canary Islands.
You'll find the church across the road from the La Ruleta Vista Point, so you can easily combine this with a visit to the Roque Cinchado rock formation. The church is also next to a 3-star hotel, Parador de Canadas del Teide which is a great place to stay in the national park. The hotel offers amazing mountain views, a cozy bar and lounge, and an indoor pool.
You can find out more information on the church on their Facebook page, here (Only in Spanish).
Ride a Quad Bike Through Teide National Park
Another way of visiting Teide National Park is on a quad bike! This is really fun and can give you an adrenaline rush. You will travel 90km from Playa Las Americas to Las Cañadas del Teide, and see the beautiful scenery of the national park whilst having fun on the quad bike. You'll also go on some dirt roads for a bit of the tour!
The tour is suitable for those age 7+, with up two riders per quad bike. Children do need to be accompanied by an adult aged 18+ and whoever is driving, must have a driver's license.
Tour prices start at $128.81 per person, and you can book it online here.
Cycle Through Teide National Park
If you love cycling, then I recommend going on a cycling tour through the park. Whilst I can't ride a bike myself due to being disabled, my friends took part in this cycling tour and had tons of fun! I also watched some of the cyclists whizzing down the mountains and it looked like such an exciting thing to do.
You'll start by cling 15km to La Camella, before cycling up to Granadilla. Then, once you reach Vilaflor, you'll climb 14km! This is the hardest part of the tour and will require a decent level of fitness and acclimatization to the altitude as you'll climb about 2100 meters to get to Retamar. Then, descend to Tedie National park where you'll cycle 8km to the National Parador. From here, you'll cycle 45km down to Playa de las Americas.
The tour price includes hotel pick-up and drop-off (from selected hotels). Cost includes access to a bike, helmet, snacks, and bottled water. The tour takes place on Fridays, and the price starts at $92.15 per person. You can book the cycling tour here.
Enjoy a Private Landscape Tour of Teide National Park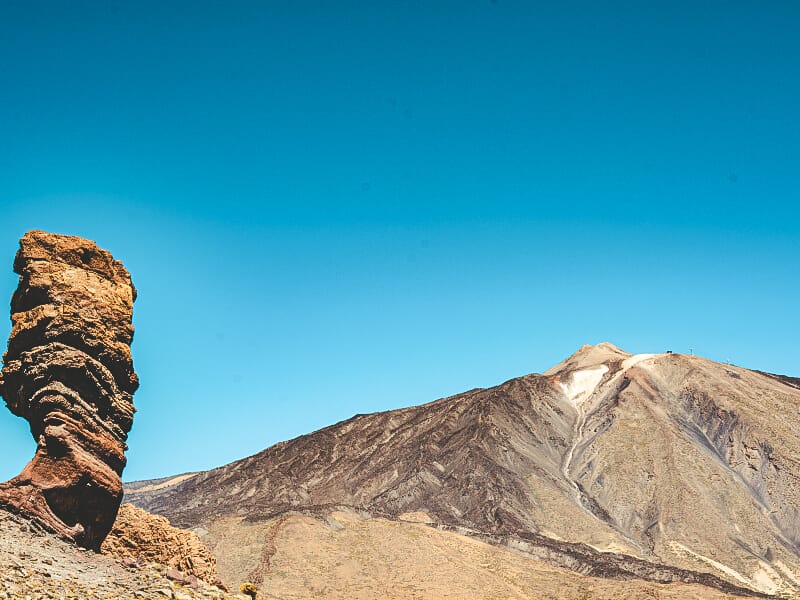 If you'd like to explore Teide's landscapes and enjoy spectacular views across the park, then why not take this private tour? As part of the tour you'll visit the El Portillo Visitor Center, where you can learn more about the park but it also has some great views of the park's scenery.
You'll also visit both the Los Roques de Garcia and Los Roques de Garcia (Queen's shoe in English), rock formations which are some of the most unique rock formations on the island. The tour includes pick-up from your hotel, and the route will be customized based on your pick-up location.
This tour starts at $77.29 per person and you can book it online here.
Go Paragliding Over Teide
Finally, I recommend checking out this opportunity to go paragliding over the park. If you're adventurous and want to see the national park from a unique point-of-view, then this cannot be missed. You'll start by taking off at 2300 meters high, and glide as you float down to the ground level (takes about 30 to 40 minutes). You'll see some really amazing views over the national park, whilst experiencing the adrenaline rush.
You'll ride the paraglider in tandem with a trained pilot. The tour cost includes pick up from your hotel, and transport in a minivan. The tour starts at $202.50 per person, and you can book this online here.
There are other opportunities to go paragliding in Tenerife. If you really love paragliding, make sure to check these tours out that cover other areas:
I hope you found this guide to Teide National Park helpful. If you have any recommendations for what to do in the park, please share in the comments below or send me a message.
Travel Tips For Tenerife
Don't Forget Sunscreen – No matter where you're going, I recommend packing a good quality reef-friendly sunscreen. This will help protect you from developing skin cancer or getting sunburnt.
Check the bus times – Before heading off anywhere by bus, make sure to check the bus times on the official website.
Airport Transfers in Tenerife – If you're not hiring a car, make sure to book an airport transfer. You can book a transfer to/from Tenerife South Airport to/from your hotel in the South of Tenerife here.
Ferry to/from Fuerteventura – Whilst in Tenerife, why not also visit Fuerteventura ? You can book a ferry online in advanced to save money. Remember, the earlier you book, the more you save. Book your ferry ticket here.
Car hire in Tenerife – Book your car hire online in advance to save money and avoid possible scams. I recommend booking through Discover Cars to find the cheapest prices & get free cancellation.
Booking a taxi in Tenerife – If you want to book a taxi, visit Official Taxis Tenerife. They offer transfers all around the island, and if needed they also offer adapted vehicles at no extra charge.
Wheelchair/Mobility scooter hire – Wheelchair and mobility scooter hire is available from Los Cristianos and Playa de las Americas. I normally use Jose Mobility but another option is Active Mobility which will deliver to anywhere in Los Cristianos and Playa de las Americas.
More Travel Tips & Resources
Get Travel Insurance – Don't leave home without travel insurance. Travel insurance can cover you in case you have an accident, get sick, lose your passport or other belongings, miss your flight, or if part or all of your trip is canceled or delayed. Make sure you have coverage for any existing health conditions, and enough coverage to bring you home if needed. If you're in the UK, I recommend using Allclear, for the USA you should consider AXA and for the USA, UK + Rest of the World check out SafetyWings.
Hiring a car – I recommend booking your car hire through Discover Cars. They offer 24/7 support, free cancellation, and are really good value. They help by finding the cheapest car hire available, by searching hundreds so companies so you don't have to.
Booking budget-friendly accommodation – I normally book hotels and hostels through Booking.com, as they allow me to filter for properties based on my needs (including accessibility ones like elevator access to all floors). They also have a great free cancelation policy, and I always filter hotels for those which offer free cancelation. For my UK holidays, I normally use Park Holidays to book lodges/caravans and pet-friendly accomodation. For long-term stays and holiday rentals, I use VRBO.
Booking Tours – When I am booking tours, I normally use GetYourGuide or Viator. They both have great selections of guided tours, skip-the-line tickets and city passes (travel + museum entrances at a discount). For tours run by locals, AirBnB Experiences has some great selections as well. For trips to Asia, I normally book tours through Klook.
Booking Flights – I always find my cheapest flights using Kiwi or Skyscanner. Both search for the cheapest flights, and lets you filter by stops, times, etc so you can find the cheapest options. You can also sign up for Jack's Flight Club to be alerted to cheap deals if you're happy to travel anywhere.
Don't Forget Sunscreen – No matter where you're going, I recommend packing a good quality reef-friendly sunscreen. This will help protect you from developing skin cancer or getting sunburnt.
Face masks – Not just for covid! I've worn an n99 face mask on planes since 2017, as they've helped me avoid getting sick from other passengers' germs and avoid bad smells. I always wear a Cambridge Mask when visiting countries with high pollution such as Taiwan, as they help against air pollution, bacteria, and more.
Travel eSims – If your phone supports an eSim, I recommend using Airalo. They sell eSims based on country, region, and even global ones! There's one for almost every country and they can work out cheaper than sim cards.
Travel Sim cards – If you don't want an eSim, then this Orange travel sim card will have you covered for Europe or this Global Sim Card that works in over 200 countries. Make sure to check out my sim card guides for information on buying local sim cards.
VPN – Whilst traveling you'll normally end up using WiFi in public places or at your accomodation, that may not be fully secure. I recommend using Proton VPN, as they don't track your browsing history and are reasonably priced. Plus they have a free version with restricted speeds, so if you're on a low budget you can use this to ensure your connection is secure.