Visiting Jiufen and Shifen is a must during any visit to Taipei. Luckily, getting from Taipei to Jiufen and Shifen isn't too difficult using public transport or taxis and both are accessible within about 1 to 2 hours from Taipei.
This guide will help you with getting to Jiufen and Shifen, plus some other nearby areas and attractions that are worth checking out during your visit to this beautiful area.
How to go from Taipei to Jiufen
You can either choose to take a bus/coach, or train and bus or taxi to Jiufen. There are two buses from Taipei to pick from. The 965 coach bus leaves from by Beimen station and takes about 1 hour 30 minutes to get to Jiufen. The 1062 bus, leaves from Zhongxiao Fuxing Station and takes about 1 hour to arrive in Jiufen. When you have arrived in Jiufen, it's only a short walk to the old street.
To take the train from Taipei, you'll want to take the Shuttle train towards Fulong, disembarking at Ruifang Train Station. You'll then need to walk a bit, to catch the 788 bus from Putou on the Ruifang Bridge, which will drop out in Jiufen, by the Jiufen police station. From there you can walk to the old street. If you wish to take a taxi, get off the train at Ruifang Train Station and exit the train station. There is normally a selection of taxi's available, waiting for customers out front of the station. If you require a wheelchair accessible taxi, you may wish to book this in advance or ask for help in the Ruifang Station Tourist Information Center.
If you're a wheelchair user or need step-free access, you will be limited to taking the train to Ruifang and then catching either the 788 bus (as this is a standard public transport bus) or using a taxi. Although Jiufen itself has limited accessibility due to the age of the town, Shifen is a bit more accessible but once again, it is quite an old town so accessibility is limited.
How to go from Shifen from Jiufen
To get to Shifen, you can take either the 965 bus, or 788 bus to Ruifang Station, and then walk to Ruifang Train Station. Once at the train station, catch the train towards Jingtong, disembarking at Shifen Station. Shifen Station brings you outright bang in the heart of Shifen Old Town. After exploring the old town, I recommend visiting the Jingan Suspension Bridge for a view over Keelung River. If you still have time, I also recommend doing the 20 to 30-minute walk or taking a taxi to Shifen Falls — a beautiful waterfall along the Keelung River.
Getting back to Taipei from Shifen
To return from Shifen to Taipei, you'll need to take the train back to Ruifang and then you can either swap to the 965 bus out the front of the station or catch the shuttle train back to Taipei.
If you'd like to also visit Keelung for the night market, catch the 788 bus from Ruifang Station or the train towards Shulin. You'll need to get off the train at Badu and catch a different one that then goes towards Keelung. Then to get back to Taipei, you'll need to take the train. Remember to keep an eye on the time, to ensure you can get back to Taipei before the trains finish or you'll get hit with a really expensive taxi fare or a night in Keelung.
Other things to do in the area
If you love cats I highly recommend also stopping off at the Houtong Cat Mining Village, which is located near Jiufen and Shifen, and also accessible by train. For instructions on how to get there, check out my Houtong Cat Mining Village guide.
If you wish to stay within the Jiufen or Shifen area, you may also have time to visit the Wanggu Waterfall or Lingjiao Waterfall. Wanggu Waterfall is accessible by the 795 Extend Shifen public transport bus from Shifenliao Bridge. You'll need to ride this bus for 5 stops to Qinahan, and then walk around 700 meters to the waterfall. Lingjiao Waterfall is also accessible via the 795 Extend Shiefn bus, or you can take the train that goes towards Jingtong, one-stop, from Wanggu station. Both waterfalls are really well worth visiting, and are some of the most incredible things to see in Taiwan.
After visiting the waterfall you could continue onto Lingyan Temple, which is a temple located further into the mountains. To get there, you can either walk about 2km along the road up to the temple or take a taxi to the car park by the temple. If you choose to walk, you'll be able to also check out Qingliang Mountain Tianning Temple and Centennial Fuxing Palace Land Temple that are along the walking route.
You could also visit Pingxi old street, which is accessible by train from Shifen. If you're interested in the history of the area, you could also continue on to Jingtong, where you can visit the coal memorial park. Which is a little museum, where you can view some of the old mining pits.
Where to stay in Taipei?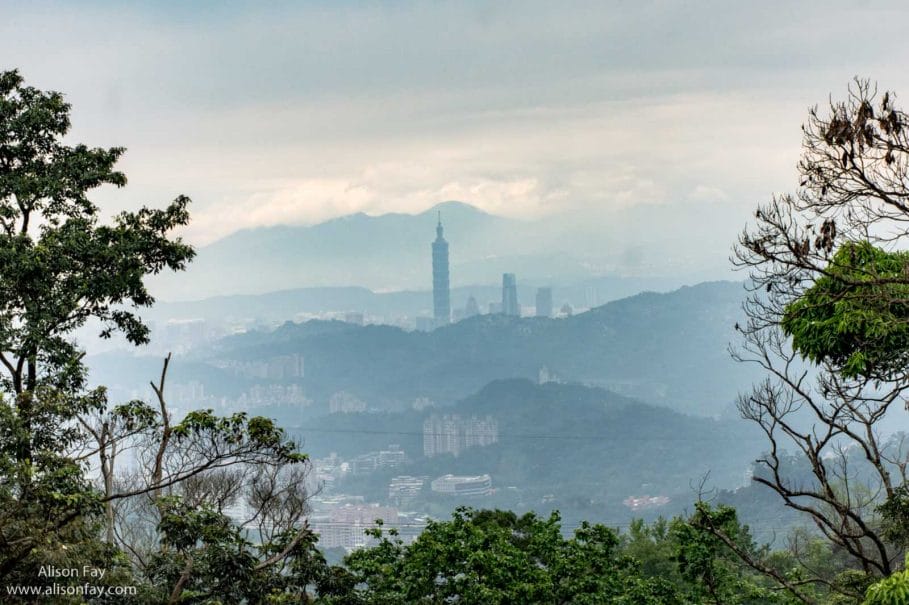 During my stay in Taipei, I stayed in two hotels. The first was a budget hotel/hostel – So Sweet 3S Guest House. This hotel is in a great location, as it's near the bus and train stations for accessing Jiufen & Shifen, and the rest of Taipei. It's also close to Ximen, 2/28 Peace Park, The North Gate, Modern Toilet Restaurant and Taipei Main Station. Although the rooms are small, and you have to share the bathrooms, they're clean and the bathrooms are kept clean + tidy. Plus kitchen facilities make it great for those of us on a budget. There's also an accessible bathroom, which I normally find quite hard to find in budget hostels/hotels.
The next hotel I stayed in, was the Taipei M hotel. This one is just across the road from So Sweet 3S Guest House, but offered some extra comfort before my flight home. With this hotel, I had access to a private bathroom and the bed was super comfy. This hotel has a rooftop garden, a gym, free WiFi, and even if you do not opt for breakfast you are allowed to help yourself to juice, water, and toast.
To see what other accommodation options are available in Taipei, check out the map below. Want some tips on finding cheap accommodation? Check out my guide, where I share my secrets to finding cheap accommodation.
Where to stay in Jiufen and Shifen?
There is a huge selection of hostels, hotels and guest houses that you can stay in within Jiufen. Although Shifen has a very limited selection available, so I recommend booking somewhere to stay in Jiufen as you can easily trave between the two.
Use the map below to find the latest deals in Jiufen or Shifen for your stay in Taiwan