Perth is a city that's full of life, culture, and history. It's also a city that can be enjoyed without breaking the bank! Whether you're a local or just visiting, there are plenty of free things to do in Perth that will keep you entertained for hours.
Perth is the capital and largest city in the Western Australia (WA) region, sitting on the northern bank of the swan river that originates in the swan valley.
From exploring the stunning beaches to wandering through the bustling markets, there's something for everyone in this vibrant city. So why not take advantage of all that Perth has to offer without spending a penny?
In this guide, we'll explore some of the best free things in the city of Perth to see, so you can experience all the fun and excitement without worrying about your budget. Get ready to discover some hidden gems and enjoy everything that this incredible city has to offer!
Getting around Perth
The best way of getting around Perth is to ditch the car and use public transport. Getting around Perth by public transport is really easy and you can always take advantage of one of the hop-on hop-off buses that will stop at (or near) many of the places covered in this guide including King's Park, The Bell Tower, and the Swan River waterfront.
The Hop-on hop-off bus can be purchased for 24 or 48-hour durations. Your ticket includes commentary that's available in multiple languages including English, French, German, Italian, Spanish, Mandarin, Japanese, Hindi, Korean, Indonesian, and Malay. There's also a kid's commentary channel that's in English. You can always sit on board the bus for a full tour of Perth's highlights, which will last 2 hours. Then use the bus as a hop-on hop-off transport to get around Perth for up to 48 hours.
When it comes to using public transport (bus or train), you can get a SmartRider car which costs $20 AUD, and includes $10 AUD for travel. You can also buy day riders or family riders. For here more information on fares and how to use public transport in Perth check the TransPerth website here.
If you do want to drive around Perth, I recommend finding car hire through Discover Cars as they'll find the cheapest prices available from tons of different car hire places and they always include free cancelation. So if plans change, you can cancel without worrying! Plus, you get 24-hour support, 7 days a week. Check car hire prices & availability here.
You can also get around Perth by taxi or Uber. But these are both expensive options. If you're on a budget avoid these as much as you can during your trip to Perth.
Need to book a flight?
I recommend using Expedia to find cheap flights. Compare multiple airlines to find the cheapest tickets.
Explore King's Park And Botanic Garden
Looking for some free activities in Perth? Then look no further than King's Park and Botanic Garden.
This sprawling parkland sits on top of a hill overlooking the city, offering breathtaking views of the skyline and the Swan River below. And best of all, it won't cost you a dime to explore the Perth hills.
The regional park in Perth is home to a stunning collection of native plants and flowers, making it a must-see destination for any nature lover. Take a leisurely stroll through the gardens, or climb up to the top of DNA Tower for an even better view. And don't forget to check out the park's many sculptures and memorials – each one tells a unique story about Western Australia's rich history.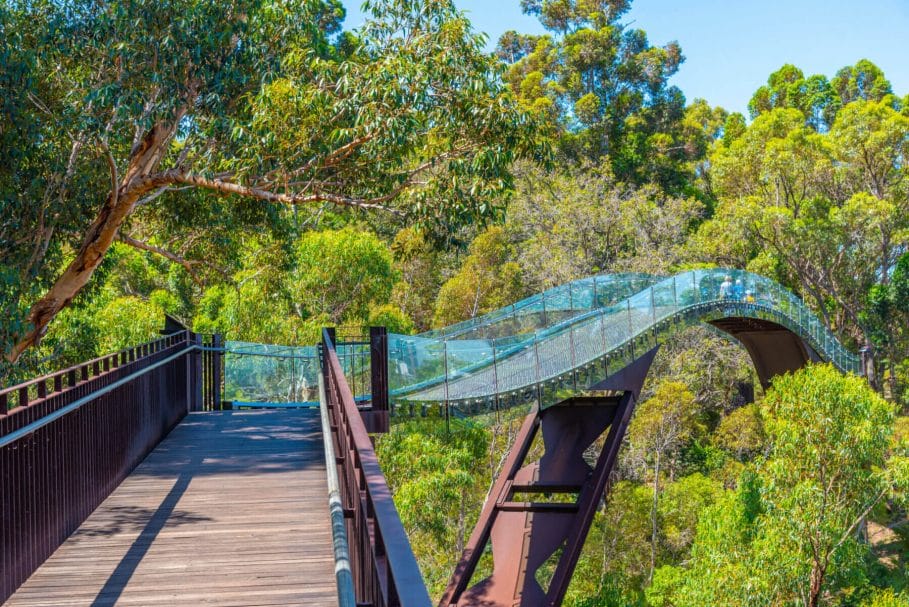 But King's Park isn't just about flora and fauna – there are plenty of other activities on offer too. Take a picnic lunch and enjoy it while soaking up some sun on one of the park's many lawns. Or head over to Synergy Parkland, where you can let your kids run wild in the playground while you relax with a book or take in some live music. With its stunning views, fascinating history, and endless activities, it's no wonder this is one of Perth's most popular attractions.
The LotteryWest Federation walkway is a must, offering spectacular views of Perth City and its skyline. The walkway is wheelchair accessible although some may require assistance on the arched section of the elevated walkway
Regular pop-up events take place at the park, check out upcoming events and attractions here.
If budget allows, why not take a tour of King's Park? Such as this highly-rated Segway tour, where you'll get to listen to commentary on a wireless headset as you ride around the park on a segway for 1.5 hours.
Fraser Avenue Lookout
If you want free or cheap things to do in Perth, look no further than the Fraser Avenue Lookout. This stunning lookout offers panoramic views of the city skyline and the Swan River. It's a great spot to catch a sunset or take some breathtaking photos.
Located in Kings Park, the Fraser Avenue Lookout is easily accessible by public transportation, car and the hop-on hop-off bus stops nearby in Kings Park. Once you arrive, take a leisurely stroll along one of the many walking trails that wind throughout the park. You'll be surrounded by beautiful native plants and wildlife, making it a perfect escape from the hustle and bustle of city life.
For those who love history, don't miss out on learning about the significance of Kings Park to Aboriginal culture. Take a guided tour or explore on your own to discover ancient stories and traditions that have been passed down for generations.
Whether you're a visitor or a local looking for new experiences, Fraser Avenue Lookout should definitely be on your list of Perth things to do.
Take A Stroll Through Elizabeth Quay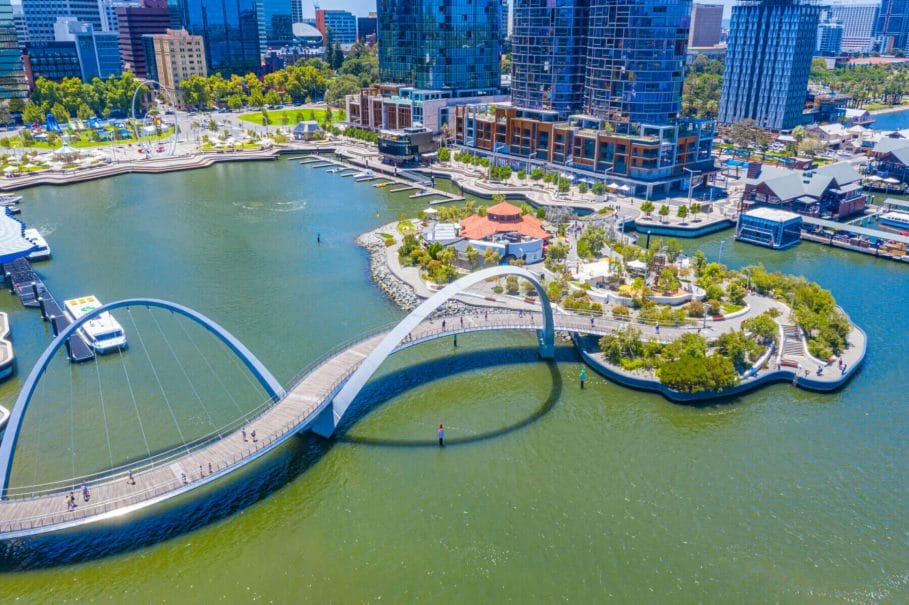 As you explore Perth, don't forget to take a stroll through Elizabeth Quay. From enjoying the stunning views of the Swan River to taking a leisurely walk along the promenade, there's something for everyone at Elizabeth Quay.
One of the best free things attractions in Perth is to simply relax and soak up the scenery. Take a seat on one of the many benches scattered throughout the quay and watch as boats sail by or take in the stunning views of the city skyline.
You can also check out some of the public art installations that are dotted around the area. If you're feeling more active, there are plenty of opportunities for exercise at around the quay. Take a jog along the riverside path or join one of the many fitness classes that are held in the area. You can also rent a bike and explore further afield – there are plenty of cycle paths that wind their way through this beautiful part of Perth.
All in all, Elizabeth Quay is one of Perth's must-visit destinations – and it won't cost you a penny! So why not add it to your list of Perth things to do and experience all that this vibrant waterfront precinct has to offer?
Check out the website to find out about upcoming events in the area too.
Have Fun At Yagan Square
Yagan Square is a vibrant public space located in the heart of Perth and offers plenty of free stuff to do. Named after the aboriginal warrior Yagan, the square is situated between the horseshoe bridge and the Perth bus port making it accessible and easy to find.
From live music to food markets, this place has something for everyone. One of the main attractions at Yagan Square is its giant digital tower, which displays stunning images and videos that are sure to captivate your attention. If you're lucky, you might even catch one of the free outdoor movie screenings they host here from time to time.
There is also plenty of street performers and artists who add to the lively atmosphere. If you're feeling hungry, Yagan Square has got you covered with its range of food and drink options. You can find everything from traditional Australian fare to international cuisine here. And if you happen to be visiting on the weekend, don't miss out on their weekly markets where vendors sell fresh produce and unique goods. With its bustling energy and diverse offerings, it's a great spot for tourists and locals alike. So why not head over now and see what this exciting public space has in store?
If you're interested in taking a tour, you could consider this cultural walking tour that'll take you through many of Perth's important cultural sights including Yagan Square. You'll get to learn about the city's history, street art, culture and more. The walking tour lasts 3 hours and is ran by a knowledgeable local guide. Book this tour here.
Visit The Perth Cultural Centre
The Perth Cultural Centre is a hub of artistic and cultural activity located in the heart of Perth. It houses some of the city's most prominent cultural institutions and offers a range of free events and activities throughout the year. If you're looking for free stuff in Perth, this is definitely one place you won't want to miss. At the center, you can explore a variety of galleries, museums, and exhibitions that showcase everything from contemporary art to local history.
The Western Australian Museum is one such institution that has recently undergone an extensive renovation and now features stunning new exhibits on natural history, science, and culture. Meanwhile, the Art Gallery of Western Australia offers visitors a chance to see works by some of the state's most celebrated artists. If you'd prefer something more interactive, this is one of the best places to check out one of the many workshops or events that take place at the center. From live music performances to hands-on art classes, there's always something happening here.
And if you're visiting with kids, be sure to stop by the State Library of Western Australia where they can participate in storytelling sessions or other fun activities. In short, if you're searching for free things and places to go in Perth, look no further than the Perth Cultural Centre. With so much to see and do here, it's a great option for anyone who wants to experience the city's vibrant arts scene without breaking the bank.
Tour The State Buildings And Cathedral Square
The State Buildings and Cathedral Square in Perth are a must-visit for anyone looking for free things to do in the city. This historic precinct is home to some of the most beautiful buildings in the city, including the former Treasury Building, the Land Titles Building, and the Old Perth Boys School.
Touring these beautiful buildings is an excellent way to spend an afternoon and learn more about Perth's history. You'll be able to explore the stunning architecture and see how these buildings have been transformed into modern-day attractions. The State Buildings also house some of Perth's best restaurants, bars, and boutique shops.
Cathedral Square is located just next door to the State Buildings, making it easy to explore both areas in one visit. This public square is home to St George's Cathedral, a stunning Gothic-style church that has been standing since 1888.
Take a stroll through the park-like setting or simply sit and enjoy the peaceful atmosphere. The impressive architecture, historic significance, and modern amenities make this area a must-visit for anyone exploring the city. So why not take advantage of this opportunity and experience all that these beautiful buildings have to offer?
Check Out The Art Galleries
As you wander through the streets of Perth, take a moment to check out the art galleries within the Perth Cultural Centre. These incredible spaces are home to some of the most beautiful and thought-provoking works in the city. As you step inside, you'll be greeted by the smell of freshly painted walls and an atmosphere of creativity.
The first gallery on your list should be PICA – the Perth Institute of Contemporary Arts. This space is home to some truly amazing contemporary art exhibits, showcasing everything from painting and sculpture to video installations and live performances. With free entry for all, it's the perfect place to spend an afternoon exploring.
Next up is the Art Gallery of Western Australia. This stunning building houses a collection of over 17,000 works, including pieces by renowned Australian artists such as Sidney Nolan and Fred Williams. With free entry every day, this is a must-visit destination for any art lover.
Finally, don't miss out on visiting Linton & Kay Galleries. This privately owned gallery has two locations in Perth – one in Subiaco and one in the CBD – and features work by both emerging and established local artists. Wander through their beautifully curated exhibitions and discover some incredible new talent.
Immerse yourself in Perth's thriving arts scene with a visit to these incredible galleries. From contemporary masterpieces to traditional classics, there's something here for everyone – all without spending a dime!
Perth also has some great street art and you could take a tour that'll take you to see the best street art in Perth including graffiti, murals, and sculptures such as this highly-rated Perth Street Art Tour.
Shoalwater Islands Marine Park
If you're looking for a free activity in Perth that is both relaxing and exciting, head to the Shoalwater Islands Marine Park. This protected reserve boasts clear blue waters, stunning reefs, and abundant marine life. You can spend an entire day here exploring the islands and swimming with dolphins.
One of the best ways to enjoy Shoalwater Islands Marine Park is by taking a walk along the coastal trails. These trails offer breathtaking views of the Indian Ocean and its surrounding islands. You can also spot local wildlife like kangaroos, lizards, and seabirds while trekking through the park.
For those who love water activities, Shoalwater Islands Marine Park has plenty to offer. You can bring your snorkeling gear or hire one on-site to discover colorful fish and coral gardens beneath the water's surface. Another popular activity is kayaking, where you can paddle around Penguin Island and watch playful sea lions up close.
If you're lucky enough to visit during the right season, you may even catch a glimpse of migrating whales passing through the area. The park also hosts various events throughout the year, like outdoor movies and live music performances.
Regardless of what you choose to do at Shoalwater Islands Marine Park, with some of the best free attractions, it's sure to be an unforgettable experience that won't cost you a penny.
Take A Free Walking Tour Of Perth
A great way to explore Perth without spending a penny is to take a free walking tour of the city. Not only is this an excellent way to see all the major sights and landmarks, but it's also a fantastic opportunity to learn about the history and culture of Perth from knowledgeable local guides who offer free tours around the city.
One of the best things about taking a free walking tour is that you can go at your own pace and stop whenever you like. Whether you want to spend more time admiring a particular building or simply take a break and grab some food or drink, you have complete control over your experience. Plus, since these tours are led by locals, you'll get an insider's perspective on the city that you might not find in guidebooks.
During your free walking tour of Perth, you'll likely visit some of the most iconic sites in the city, such as Kings Park and Botanic Garden, Elizabeth Quay, and St Mary's Cathedral. You'll also have the chance to explore lesser-known areas that are rich in history and character.
No matter where you go on your tour, though, be sure to take plenty of pictures so that you can cherish these memories forever. The good news is you don't need to spend a penny, however, tour guides are always grateful for any tips received.
Overall, taking a free walking tour of Perth is an excellent way to explore this vibrant city without breaking the bank. So why not grab some comfortable shoes and join one today? Who knows what hidden gems you'll discover along the way?
Explore Heirisson Island
After strolling around the city, let's explore Heirisson Island. This hidden gem is a sanctuary for Western Grey kangaroos that roam freely on its grounds. It's a natural habitat in the middle of the city where you can witness peaceful coexistence between wildlife and humans.
Here are three things to do while you're there:
Observe and take photos of Western Grey Kangaroos in their natural habitat.
Enjoy a scenic picnic with family or friends overlooking the Swan River.
Take a leisurely walk along the island and soak up nature's beauty.
Heirisson Island also offers breathtaking views of the Perth skyline. You can capture stunning photos of the city's architecture from different angles while enjoying your time with nature.
The place is perfect for solo travelers who want to unwind or families who want to bond over wildlife encounters. Whether you're an animal lover, nature enthusiast, or simply looking for a new place to explore in Perth, Heirisson Island should be on your list.
With its unique blend of urban life and abundant wildlife, it's an experience like no other. Remember to pack your camera, and some snacks, and enjoy all that this beautiful island has to offer!
Go For A Walk Along The Swan River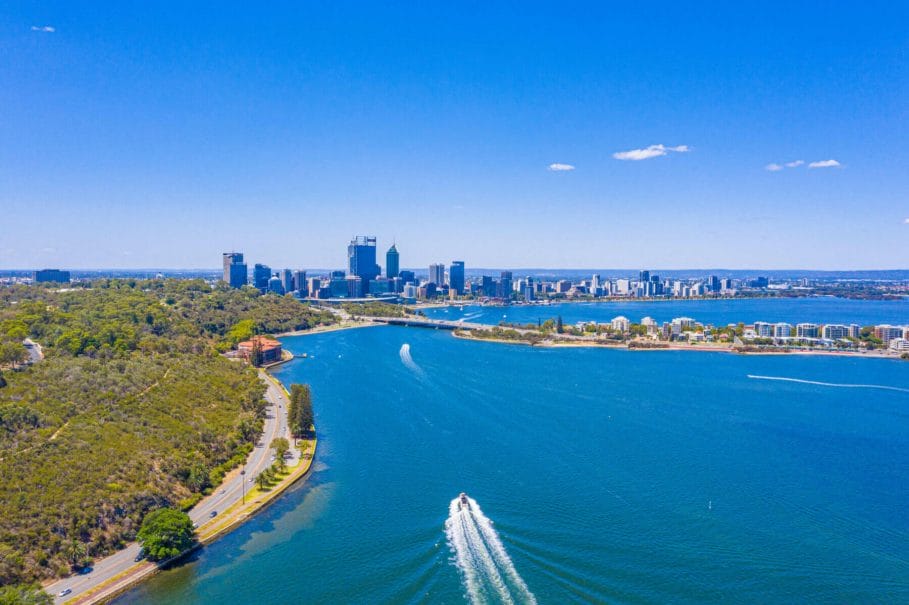 One of the best activities to do around Perth for free is to take a leisurely walk along the beautiful Swan River. This picturesque river is a must-visit spot for nature lovers and adventure enthusiasts alike. With its stunning views, lush greenery, and tranquil atmosphere, it's the perfect place to escape from the hustle and bustle of city life.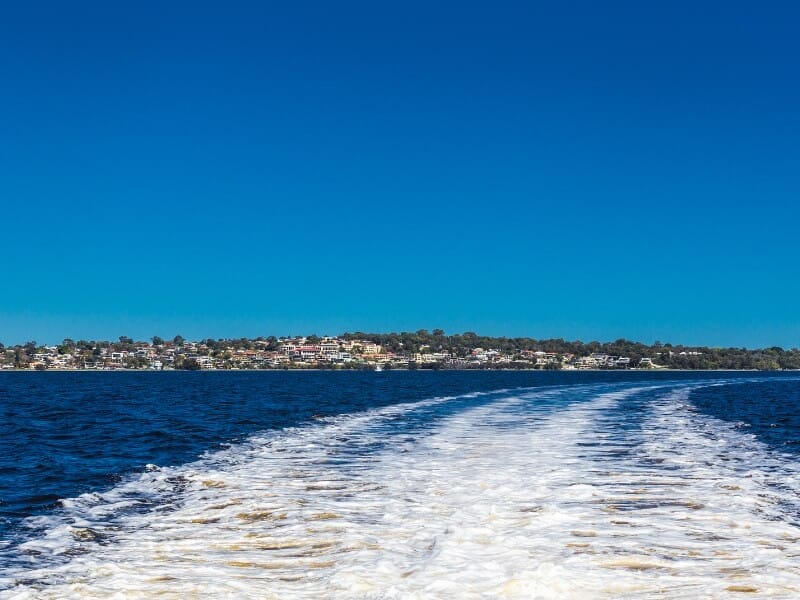 As you stroll along the riverbank, you'll come across several scenic parks and gardens that offer great picnic spots and recreational activities. You can also take a dip in the cool waters or go kayaking if you're feeling adventurous. The river is home to a variety of wildlife species such as dolphins, pelicans, swans, and black cockatoos, which make your walk even more exciting.
The river has several walking trails ranging from easy strolls to more challenging hikes. The most popular is the Swan River Foreshore Trail, which stretches over 10 kilometers from East Perth to Crawley.
Along the way, you'll pass through some of Perth's iconic landmarks such as Elizabeth Quay, Kings Park Botanic Gardens, Point Fraser Reserve, and Matilda Bay Reserve.
Instead of walking you could also opt for a boat ride, and cruise along the Swan River. I recommend buying tickets to the river cruise online in advance to ensure your spot on the boat. You can buy your tickets online here.
Alternatively, you could combine a trip to Swan River with wine tasting on a full-day trip tour from Perth. This day trip includes transport to and from Perth, an hour cruise along the Swan River where you'll get to enjoy wine tasting and cheese tasting. Next, you'll visit 2 Australian wineries in the Swan Valley before heading back to Perth. Book this tour here.
If you'd prefer something more active, why not go kayaking on the swan river? You could book this river kayaking tour that'll take you on a 4-hour guided kayak tour and includes lunch at the Mandoon Estate and wine tasting. This tour doesn't include transport from Perth.
Enjoy Free Events At The Perth Concert Hall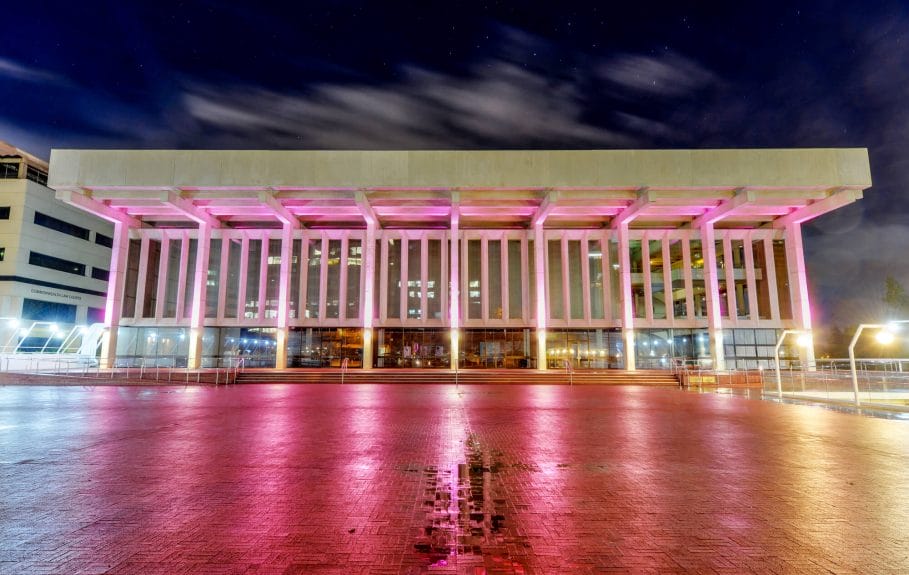 Did you know that the Perth Concert Hall is one of the most popular performing arts venues in Australia? In fact, it has a seating capacity of 1,729 and hosts about 320 events per year. The best part? Many of these events are fun and free! So if you're looking for something to do in Perth without breaking the bank, look no further than the Perth Concert Hall.
Here are four types of free events that you can enjoy at the Perth Concert Hall:
Lunchtime concerts: Every Wednesday from February to December, the venue hosts free lunchtime concerts featuring local and international artists.
Open rehearsals: Get a behind-the-scenes look at how world-class musicians prepare for their performances by attending free open rehearsals.
Community events: The Perth Concert Hall also hosts various community events throughout the year, such as cultural festivals and charity fundraisers.
Exhibitions: Check out the latest art exhibitions on display in the foyer of the concert hall – for free!
Attending these free events is not only a great way to save money, but also an opportunity to experience some of the best music and art that Perth has to offer.
Whether you're a music lover or simply looking for something new to do in your spare time, there's bound to be something that catches your interest at the Perth Concert Hall.
So why not take advantage of these fantastic free events? With so much on offer, you'll never be short of things to do in Perth – all while staying within your budget.
Head over to the Perth Concert Hall website today and start planning your next visit!
Watch a Free Movie at Northbridge Piazza
If you'd like to watch a movie, you could head to Northbridge Piazza where you can enjoy watching a free movie on the outdoor screen. You don't even need to book, just check what's on, turn up, and enjoy the movie. Just remember to bring along something comfy to sit on, as seats aren't provided. You're welcome to bring along a picnic rug, camping chair, as well as your own food. There are some bean bags but they're limited and first come first serve.
Besides movies, they also show sports and creative presentations. Check out the Northbridge Piazza schedule here.
Take A Walk Along The Foreshore Promenade
As you wrap up your time at the Perth Concert Hall, consider taking a leisurely stroll along the Foreshore Promenade. This picturesque pathway offers stunning views of the Swan River and is an ideal way to experience the beauty of Perth without spending a dime. Along the promenade, you'll find plenty of places to stop and take in the scenery. Why not bring a picnic lunch and enjoy it on one of the many grassy areas or benches available?
Or simply sit back and relax as you watch boats glide by on the river.
If you're feeling more active, there are also several walking paths and bike trails that run along the promenade.
Take advantage of these free resources to get some exercise while enjoying the beautiful surroundings.
Overall, a walk along the Foreshore Promenade is a must-do activity for anyone looking to experience Perth's natural beauty without breaking their budget.
So grab your walking shoes and head out for an afternoon of relaxation and exploration.
Cottesloe Beach
Cottesloe Beach is a gem nestled in the heart of Perth, like a pearl in an oyster. The crystal-clear waters and white sand make it a perfect destination for those looking to escape the hustle and bustle of the city. With its laid-back atmosphere and stunning views, Cottesloe Beach is a great place for anyone who craves relaxation and freedom.
There are tons of free things to do at Cottesloe Beach, you'll be pleasantly surprised by the variety of activities available. Here are some ideas to get you started:
Take a leisurely stroll along the beach promenade, taking in the fresh sea air.
Have a picnic with friends or family in the grassy area overlooking the beach.
Go for a swim or surf in the crystal clear waters.
Watch the sunset over the Indian Ocean, which sets behind Rottnest Island.
Whether you're seeking solitude or socializing, Cottesloe Beach has something for everyone. It's easy to lose track of time here as you soak up all that this beautiful location has to offer.
As you leave Cottesloe Beach, take one last look at the ocean's horizon and feel grateful for all that life has given you. Remember that moments like these are what make life worth living – those moments where we feel free and alive.
Visit Rottnest Island
Rottnest Island is a must-visit destination for anyone exploring Perth. This stunning island offers breathtaking views and some of the most beautiful beaches in Australia. Just 90 minutes west of Perth, Rottnest can be accessed via Ferry for a great day with the family exploring.
The island is home to the famous quokka, a cute and friendly marsupial that has become an internet sensation. These adorable creatures are everywhere on the island, and they are not afraid to pose for selfies with visitors. So, grab your camera and head out to explore the island's many walking trails while looking for these furry friends.
If you're feeling adventurous, you can rent a bike and cycle around the island. The roads are well-maintained, and there are plenty of scenic stops along the way. You can also take a dip in one of the many secluded bays or snorkel around the coral reefs teeming with marine life.
As the day comes to an end, make sure to catch one of Rottnest Island's stunning sunsets. There's nothing quite like watching the sun dip below the horizon while surrounded by nature's beauty. So, pack a picnic, bring some friends, and enjoy this magical experience without spending a dime!
When it comes to getting to Rottnest Island, I recommend booking the ferry online in advance. You can book the ferry ticket online here.
To save some money, you could book a combination ticket where you get your return ferry ticket plus an activity on the island. Here's som of the best rated combination tickets:
You can also book the segway tour as a standalone 1-hour segway tour here.
Photograph The Bell Tower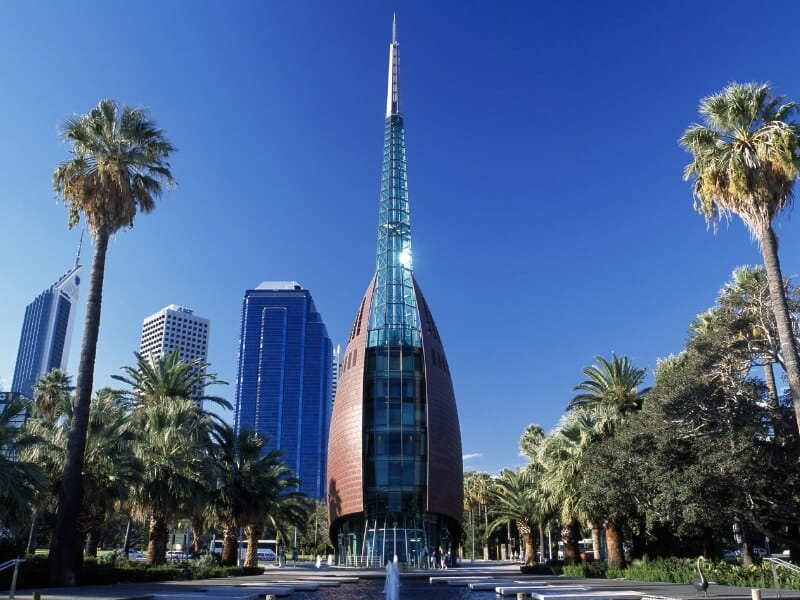 After exploring the beautiful Rottnest Island, you can head back to Perth and capture some stunning photos of The Bell Tower. This iconic landmark is a must-visit spot for any tourist in Perth. It stands tall and proud at the edge of the Swan River, providing a picturesque view that's perfect for Instagram.
Built-in 2000, The Bell Tower features an impressive set of bells that visitors can see up close. You can even watch as bell ringers perform their artistry during specific times of the day.
If you want to learn more about this historic site, there are free tours available that provide fascinating insights into the tower's construction and significance.
The Bell Tower is also known for its unique architecture. Its copper sails create a striking contrast against the blue skies on sunny days, making it an even more attractive destination for photography enthusiasts.
So if you're looking for something to do in Perth that won't cost you anything but will leave you with memorable experiences and breath-taking photos, make sure to add The Bell Tower to your list of things to see in Perth.
Scarborough Beach
Scarborough Beach is one of the top attractions in Perth, and it won't cost you a penny to visit. With its stunning white sands, clear blue waters, and laid-back atmosphere, this beach is the perfect destination for anyone looking to relax and soak up some sun.
Whether you want to go swimming, surfing, or simply take a stroll along the shore, Scarborough Beach offers something for everyone. The waves here are ideal for surfing and bodyboarding, making it a popular spot with locals and visitors alike to have a bit of fun. And if you're not up for getting wet, there are plenty of other activities to enjoy on the beach, from volleyball and frisbee to picnicking and people-watching.
One of the best things about Scarborough Beach is its location. Situated just 14 kilometers from Perth's city center, it's easy to get to by public transport or car. And once you're there, you'll find that everything you need is within easy walking distance – from cafes and restaurants to public toilets and showers.
So if you're after a day out in Perth that won't break the bank, head down to Scarborough Beach. With its stunning scenery, endless activities, and relaxed vibe, it's sure to be an experience you won't forget anytime soon.
Feel the warm sand between your toes as you walk along the shoreline
Watch as surfers ride the waves with ease
Soak up some sun while enjoying a good book or music playlist
Take in the breathtaking sunset over the Indian Ocean
Enjoy a romantic dinner on the beach with your loved one under the stars.
South Perth Foreshore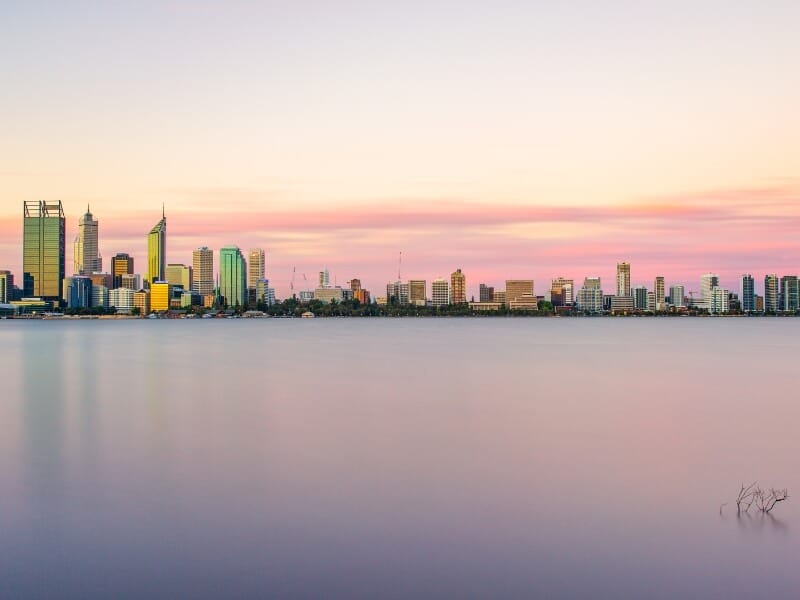 Ah, the South Perth Foreshore. A place where you can spend your day enjoying the breathtaking views of the Swan River and the city skyline without spending a dime. Who needs to pay for a fancy rooftop bar when you have this gem right here?
Take a leisurely stroll along the foreshore and soak in the stunning scenery. You might even catch a glimpse of some dolphins swimming in the river if you're lucky. If walking isn't your thing, grab your bike or rollerblades and enjoy some free exercise while taking in the sights. Or, if you're feeling adventurous, try out some water activities like kayaking or paddleboarding. There are plenty of places around where you can rent equipment cheaply or bring your own gear if you have it. Just be sure to wear sunscreen, as it can get pretty hot out on the water.
And let's not forget about the food! Pack a picnic and enjoy it on one of the many grassy areas along the foreshore. Or, head over to one of the nearby cafes or restaurants for some delicious eats. Either way, you'll be able to indulge in some tasty treats while enjoying one of Perth's most beautiful locations. The South Perth Foreshore is truly a hidden treasure that offers endless possibilities for those seeking adventure and relaxation alike.
Trigg Beach
Trigg Beach is one of the most beautiful and popular beaches in Perth, known for its crystal clear waters, soft sand, and stunning sunsets. It's free to visit and offers plenty of activities for those looking to spend a day by the shore.
Whether you're into surfing, swimming, or just lounging on the sand, Trigg Beach has something for everyone. If you're feeling adventurous, why not try your hand at surfing? Trigg Beach is renowned for its consistent waves that are perfect for beginners and experienced surfers alike. There are several surf schools located in the area that offer lessons and board rentals at affordable prices.
For those who prefer a more laid-back experience, take a stroll along the beach or relax under the shade of a nearby tree. The beach is also equipped with BBQ facilities and picnic areas, making it an ideal location for a family or group gathering. Bring your own beach games or toys for free activities to keep the family entertained. Trigg Beach is surrounded by numerous cafes and restaurants where you can grab a quick bite or indulge in a leisurely meal while enjoying panoramic ocean views.
Visit The Fremantle Markets
Have you ever been so broke that your bank account is begging for mercy? Don't worry, you're not alone. But who says being broke means missing out on all the fun?
It's time to put on your explorer hat and head down to The Fremantle Markets! Free to enter and located in the heart of Fremantle, The Fremantle Markets are a hub of activity, vibrant energy, and authentic local experiences. You can wander through the stalls and enjoy the eclectic mix of food, crafts, art, and entertainment. From fresh produce to handmade jewelry, there's something for everyone.
Grab some friends or make new ones as you weave through the crowd and discover hidden gems around every corner. Take a break from shopping and indulge in some live music performances by local artists or watch street performers wow the crowds with their talents.
The best way to get to Fremantle from Perth is by taking a sightseeing cruise. You can opt for a one-way, or a return ticket. The sightseeing cruise lets you admire the views as you relax, and cruise along the water between Perth and Fremantle. The sightseeing cruise can sell out fast so I recommend booking your tickets online in advance. Book your tickets here.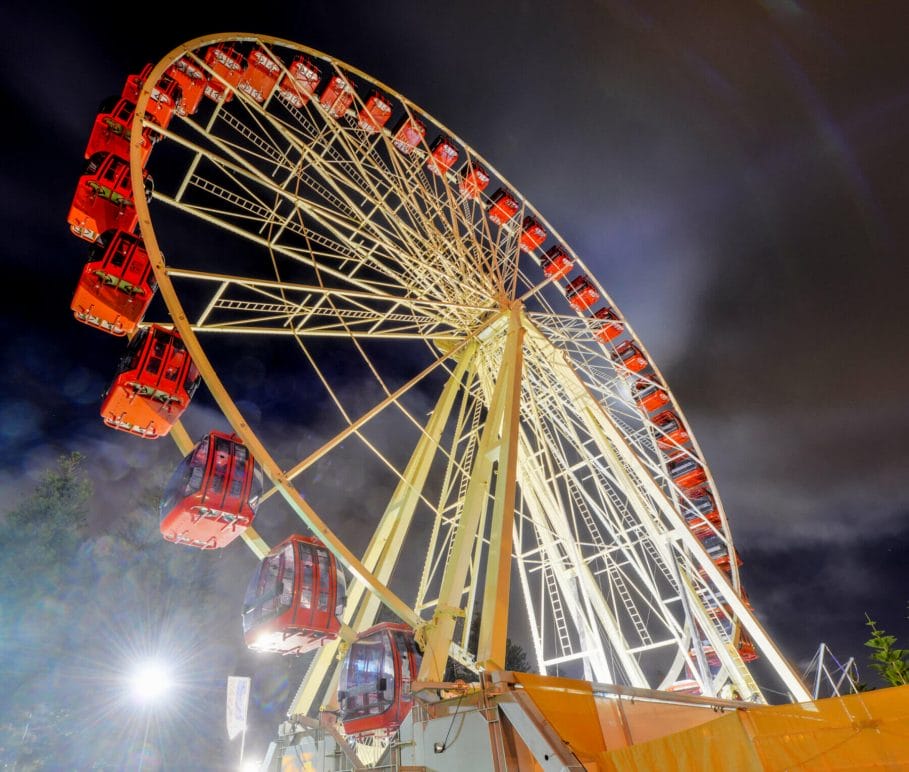 While you are in Fremantle you could also ride on the Ferris wheel. It's not free to ride but its only around $9 (USD) per person. You can pre-book tickets for the Ferris wheel online here.
You could also opt for a twilight cruise around the waters near Fremantle. This isn't cheap but it's such a chill, relaxing experience. You'll get to ride on a catamaran, sipping on wine as you watch the sunset. Book the cruise here.
So, there you have it – From exploring the beautiful King's Park and Botanic Garden to enjoying the stunning views from Fraser Avenue Lookout, Perth has so much to offer without costing you a penny. Perth is a city packed full of free attractions that will keep you busy for days on end. Whether you're a local or just visiting, these top free things to see and do are sure to leave an impression on your mind forever.