Tenby is a charming historical harbour town located in Southwest Wales, about 2 hours from Cardiff. With pastel-colored houses, sandy beaches and historical landmarks dating back to the 12th century, the town makes for a great seaside getaway all year round (especially in the summer).
Whether you're traveling with just adults or as a family, Tenby is a great place to visit. As a child I frequently went on weekend breaks to Tenby with my parents, and again as an adult. Whether it was building sand castles as a kid, or exploring Tenby Castle as an adult I've always found thought of this little town to be one of my faveorite places in Wales.
If you're wondering when to visit Tenby, I think the summer is definitely the best time to visit Tenby, as this time of year offers the best weather and more chance of some summers sun. But summer means more crowds, and higher accomodation prices. Looking to avoid the crowds? Consider booking for Late March-May or Mid September to October instead. You'll still benefit from warmer weather, but the crowds will have calmed down.
In this guide, I'll cover what to do in Tenby and give you some tips into making the most of your time here.
Things To Do In Tenby
Tenby Castle
If you're interested in history you could add this to your list of things to see in Tenby. The castle was originally built by the Normans in the 12th century, and experienced multiple attacks over the years.
It played an important role in wars between the Welsh and the English. In the 13th Century, the castle walls were built, with improvements being made over the years by different occupiers. Such as when Jasper Tudor, had the walls repaired, raised and widened in the 1457.
Today, most of the castle is now gone with only a small tower occupying the land and part of the castle's gateway. But while in ruins, the castle is still well worth visiting. Due to it's positoning you'll be able to enjoy amazing views over the town and the sea.
The Tudor Merchant's House
The Tudor Merchant's House is a beautifully restored 15th-century house that'll give you a glimpse into what life was like for a wealthy merchant in Tenby during the Tudor period. The house is still furnished with Tudor furniture and decorations so you can see how it was used during the Tudor times. The tudor time was between 1485 to 1603, and one of England's most well-known monarch's – King Henry 8th, ruled during this time.
Whether you're interested in just learning more about the tudors, or wanting to find things to do in Tenby in the rain, I recommend visiting the house.
Nowadays the house is owned and cared for by The National Trust. If you're a National Trust member you can visit for free, otherwise you'll need to pay an entry fee. You can check the entry fees on their website.
I also recommend checking if there's any free National Trust passes available as sometimes they offer free family passes that give access to 1 National Trust property. These offers are normally available in August. Just use a search engine to look up "Free National Trust Pass" and it'll show the latest offer.
Town Walls & Five Arches Gate
The town walls and Five Arches Gate are another historical part of the town that are worth checking out. The walls were built in the 13th century to protect the town from invaders, and they still stand today. Although some of the walls are now partially missing on the north side, if you head to the east side of the town you'll find an intact wall running along the esplanade and ending at the beach.You'll be able to see the
The Five Arches Gate is one of the surviving Barbican towers that has been split up into 5 different archways giving you access to the area inside of the town walls. It's where I'd recommend heading if you want to take photos. The gate joins onto St George's Street, which is a charming little shopping street.
If you're hungry after wandering around the city walls, you could get a fish & chip takeaway from the Pipers Fish & Chips which is located on St George Street.
Green Bridge of Wales and Stack Rocks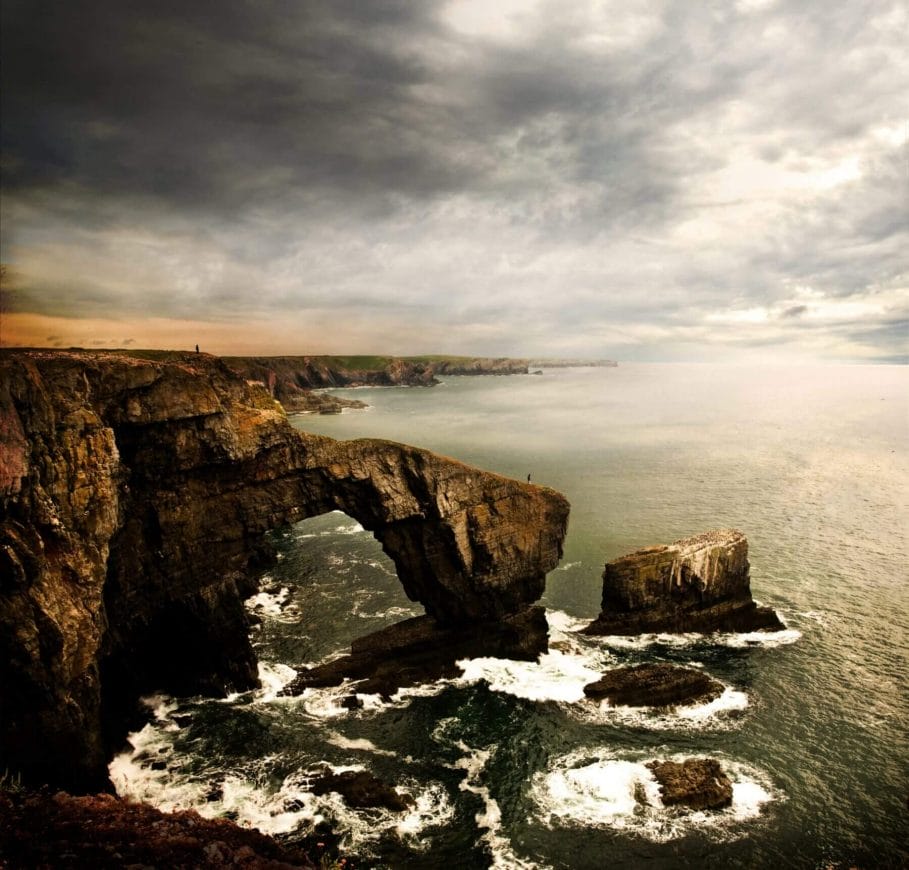 The Green Bridge of Wales is a natural limestone arch that is located about 12 miles from Tenby. It is a popular spot for hikers and nature lovers, and it is also steeped in history. Legend has it that the arch was used by smugglers to transport goods between Wales and Ireland.
Right next to the Green Bridge, is Stack Rocks (also known as Elegug Stacks). The rocks are impressive, naturally formed pillars that jet out of the waters. In the summers, you'll find them covered in guillemot's which is where they get the name "Elegug stacks" as elegug is guillemot in Welsh.
The area is great for landscape photography, and enjoying views over the Welsh coast. It's also a great place to walk your dog but just remember to keep them on a lead, as there can be steep cliffs that are hard to see the edges of.
Getting to the Green Bridge and Stack Rocks is easiest if you're driving, and there's car parking nearby at Stack Rocks Car Park. You can also get there using public transport (although the service is limited). To get there, first take a train from Tenby to Pembroke (about 20 minutes ride). From there, you'll need to get a bus (about 1 hour 10 minutes) to Stack Rock Car Park. If you do want to use public transport, just make sure to check the times in advance & also the night before as they do make last minute changes to the schedule.
Check the latest bus schedules here
St Catherine's Island & Castle Beach

St Catherine's Island is a small island that is located just off the coast of Tenby. It is home to a 19th-century Napoleonic Fortress that was built to protect the town from French invasion. Today, you can visit the fort but to get there you need to cross over during low tide. As the tide goes out, a path becomes accessible bewteen St Catherine's Island and Castle Beach. Castle Beach is a little beach that's great for swimming, kayaking and paddleboarding. I recommend combining a visit to the beach with a stroll the island if you can time your visit during low tide.
The opening times for the island does vary depending on the tide times, and last entry is 30 minutes before closing. Before you head to the island, make sure to check their Facebook page as this is where they post the daily opening & closing times. Entry to the island costs £5 per person.
Castle beach is accessible via a set of steep steps, so it's not recommended for those with mobility issues.
North Beach and South Beach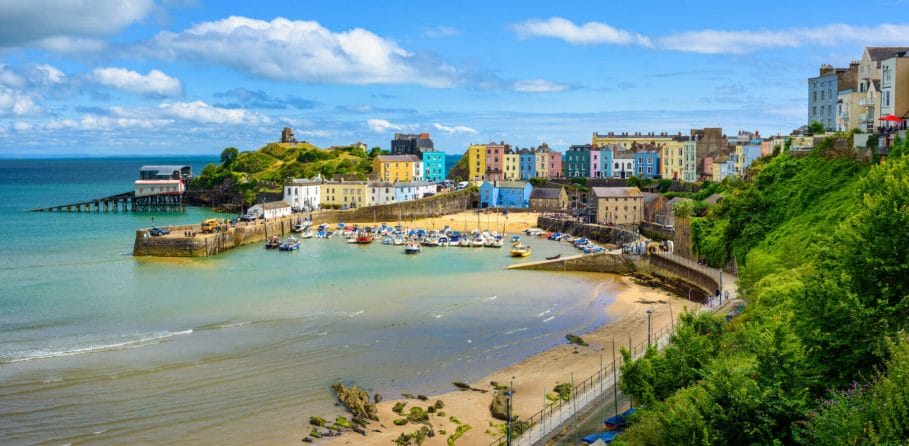 North Beach and South Beach are two of the most popular beaches in Tenby with South Beach being the quieter of the two. Both beaches are great for swimming, sunbathing and building sand castles.
North Beach has golden sands, rock pools and is sheltered by the cove that curves round to Tenby Castle. You'll also find Goskar rock about halfway along the beach.
South Beach is a long stretch of golden sand, lined by sand dunes with views over towards Giltar Point and Caldey Island. As well as swimming, South Beach is a great spot for windsurfing as it's more exposed making it the better of the two for waves.
As a kid, I'd usually be found searching the rock pools to see if I could find a crab or building sand castles with my brother. If you need to get a bucket and spade to build sand castles, plenty of nearby shops sell them. They'll most likely be hanging on a shelf outside so they're easy to find. But if you're struggling to find somewhere, just head to Poundland as they'll normally have some for sale down the toy isle.
Monkstone Beach
If you're traveling with a car, I recommend heading to Monkstone Beach as it's easily one of the best things to do near Tenby. While the beach is a bit further out from Tenby, (about 10 minutes drive) but it's definitely worth the trip.
When you get here you'll find a secluded beach that is perfect for a quiet day by the sea. The beach also offers stunning views of the Pembrokeshire coastline. I also recommend going snorkeling or diving, and to bring an underwater camera, so you can photograph the marine life and unusual rock formations. Just remember to check the Tenby tide times if you want to go in the water.
Monkstone Beach is accessed by a steep set of stairs so isn't really suitable to those with limited mobility.
Caldey Island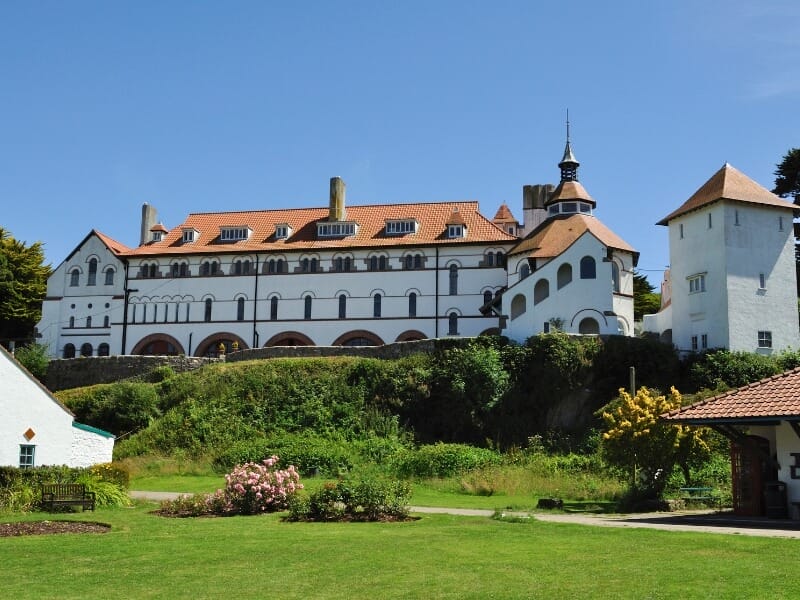 Caldey Island is a small island located just off the coast of Tenby. It's home to a small community of monks who have been living there for over a thousand years. The island is also home to a beautiful beach, which is perfect for swimming and sunbathing.
The island is also inhabited by a diverse range of wildlife, such as the red squirrel which is extinct in most of the UK and seals. It's a great place to visit if you love animals, or are into wildilfe photography. As a wildlife photographer I love coming here to photograph the red squirrels.There's also a selection of birds that are hard to spot in other areas of hte UK such as black swans, barnacle geese, and golden pheasants.
You can reach Caldey Island by taking a short boat ride from Tenby Harbour for most of the year. During the autumn season, the boat departure point changes to the jetty at the Tenby Castle Beach (and payment is in cash only). Check their site for the latest sailing times and departure points.
You could also go on a boat ride around Caldey Island and St Margaret's Island with Tenby Boat Trips. These trips go 5 times a day, and you can book a trip through their website. Due to Tenby's waters being tidal, the number of steps down the boat can change so make sure to contact them ahead of time if you have mobility limitations.
Tenby Museum and Art Gallery
The Tenby Museum and Art Gallery is a museum that showcases the Welsh culture and heritage of South Pembrokeshire. The museum has several exhibits such as geology, archaeology, maritime and social history, natural history, plus 2 art galleries.
The permament art galleries feature work from local artists such Augustus and Gwen John, who both lived in Tenby. They also have temporary exhibitions that feature artwork from other Welsh artists. Plus they host events throughout the year, such as art classes, guided tours and lectures.
Tips for Visiting Tenby
Parking in Tenby
Tenby has plenty of car parks throughout the town, including a multi-storey car park on Upper Park Road. But during the summer, the town does get really busy so parking can be a bit of a challenge. If you can, I recommend choosing to stay within Tenby itself and then exploring the town on foot rather than driving.
Most of the car parks in Tenby charge for parking. Many of them do offer disabled parking for blue badge holders, but the parking isn't free. Instead, blue badge holders receive 1 hour extra parking for free on top of their purchased time.
Most on street parking in Tenby is reserved for residents, so it's much easier to just head to one of the many paid car parks rather than risk a parking ticket.
Where To Stay
Tenby has a good selection of accommodation. Whether you're looking for a luxury hotel, a cozy bed and breakfast, a caravan holiday park or a self-catering cottage, you're sure to find something that suits your needs.
Prices vary depending on the time of year, and during the summer you can expect to pay much higher than you would during autumn or spring. Here's some of the best rated places to stay in Tenby:
Giltar Hotel – A 3 Star Hotel right by the beach, giving you easy access to the beach and the town centre.
Kiln Park Holiday Park – Family-friendly holiday park that's near to Tenby and offers affordable static caravan hire.
The Park Hotel – located on a cliff, this hotel has amazing views over Tenby
Weather
The weather in Tenby can be unpredictable, like most of Wales. During the summer, you can expect temperatures to average 20°C (68 F), but it can also be quite rainy.
In the winter, temperatures can drop to around 5°C (41 F), and there is a higher chance of rain and wind. I recommend bringing a rain coat and a sweater all year round just in case. But also, remember to pack sunscreen so you don't end up with sun burn.