Locating the perfect photo-spots while traveling is time-consuming. No one wants to waste their precious time when travelling sat in front of a computer browsing the net, trying to find the perfect spots. It is best to do your research ahead of time, making a plan of where and when you want to visit each place you want to photograph.
Researching and planning is a major part of my travel photography. I can spend hours researching, making a list of each place I wish to visit and planning out exactly what time of day or night, I should be there. This allows me to spend my time when travelling actually taking photographs, allowing me to make the most of the time allocated for each place.
Below are some tools that I use, and recommend for finding travel photography spots. As well as an explanation of how and what exactly I use the tool for.
Using Google Images to find travel photography spots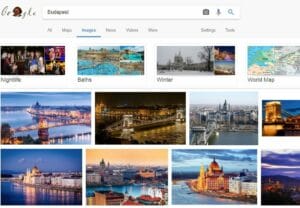 Google Images is the most well-known and commonly tool on this list. I use Google Images to get a quick taste of the area I am visiting. I can quickly see the type of photographs taken, and get a brief understanding of what to photograph. When using Google Images, you can find where photographs were taken or what the photographs are of, by clicking on the image and visiting the website they're hosted on. This allows for quick, research but is quite basic.
Visit Google Images here.
Using ShotHotSpot to find travel photography spots
ShotHotSpot allows you to search for a place, and see a map where photographs were around that area. You can filter the map to different types of photographs, such as city/urban, wildlife, or transport. A list of photo-spots are generated below the map, and if the place is curated there will be a star ranking next to it.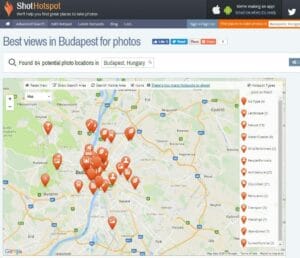 ShotHotSpot is one of the better photo-spot finding sites out there. Although it isn't perfect as it still relies on user-submitted data or data gathered through third-party services such as Flickr, there can sometimes be errors or a lack of information. But it is still much quicker than browsing Flickr the normal way.
Visit ShothotSpot here.
Using Locationscout to find travel photography spots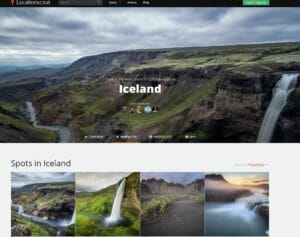 Locationsout allows you to search for your chosen place, and view photographs and photo-spots. When you click on a photo, you are taken to a page containing information on the photo, the photographer, and where it was taken. They also include travel information, such as where to park and how far you need to walk. A map shows the photo spot, along with sunrise and sunset directions. Other users can comment, and rank the photo-spot. They also allow you to register an account, allowing you to save photo-spots and contribute your own.
Locationscout is my favourite tool for finding locations. I love the amount of information given for each place, and the travel information gives a rough idea of how accessible the place is.
Visit Locationscout here.
Google Maps and Google Earth
Google Maps
Google Maps is great for viewing photographs of different locations., and for saving your research. Browsing the place where you are visiting, and clicking on different spots in the area will bring up user-submitted photographs. You can expand the features available within Google Maps by downloading Google Earth for desktop here. .Once downloaded, to use Google Earth open Google Maps and click on "satellite". On a desktop, you then need to click on 3D in the bottom right. Use your scroll wheel to zoom in and out, mouse to drag the map around, and the search bar to search for locations. To access a better view of the terrain, hold down shift while dragging the mouse. This allows you to view the terrain like in the screenshot below. Drag left to right to pan, or up and down to rotate the view.
To record locations you wish to visit on Google Maps, either click on the location's name and then click "Save" under the location's name on the left.
If the place isn't named/marked, right-click on the map and select "What's here?". A red marker appears, along with coördinates at the bottom of the map. Clicking on the coördinates brings up the save button on the left and an option to add a label.
Access Google Maps here. Download Google Earth here.
Found this guide useful? Then why not Pin it to Pinterest?