Asakusa (Pronounced A-sak-sa), is an area of Tokyo full of history and is home of Tokyo's oldest temple; Sensoji. While most of Tokyo suffered a lot of damage during World War 2, a lot of buildings in Asakusa managed to survive, and some of those damaged were restored after the war. Making it is one of the places in Tokyo to view historical buildings, which are included below in the best things to do in Asakusa.
Disclosure: This post may contain affiliate links that earn me a small commission, at no additional cost to you.
Guide to The Best Things To Do in Asakusa
Kaminarimon
Kaminarimon (Kaminarimon means "Thunder Gate"), is one of two large temple gates leading you towards the Sensoji temple. The gate is a large, impressive structure and is definitely worth taking the time to admire from both sides before continuing onto Sensoji. Below is some history behind the gate.
Kaminarimon was originally built in 941 by a military commander called Taira no Kinmasa. The temple was originally located near Komgata, but was relocated to the Sensoji in 1649 by Tokugawa Imeitsu. The gate has been destroyed twice by fire, once in 1747 and again in 1865. The current gate was build in the 1960s. The gate is home to four statues. The two statues in the front are of Shinto gods, Fujin the god of wind in the east side, and Raijin the god of thunder in the west side. At the reverse side, the Buddhist God Tenryu is on the east side and Kinryu on the west side.
In the centre of the gate, hangs a giant red chouchin (a paper lantern stretched over a bamboo, wood or metal frame), that is 4 meters tall and about 3.4 meters wide, weighing in at an impressive 670kg (1480lb)! The current lantern was donated by Matsushita Electric Industrial Co (Now called Panasonic), to the temple in 2003, to mark the 400th anniversary of the start of the Edo Period.
Sensoji Temple and Nakamise shopping street
After passing through the thunder gate, you'll approach Sensoji temple (Senso is an alternative reading for Asakusa, and Ji means Temple). This temple is the oldest and most popular temple in Tokyo. Sensoji is definitely one of the best things to do in Asakusa. Originally built in 645 century, the current temple is a postwar reconstruction. The temple is said to have been built after two brothers fished a statue of Kannon, the goddess of mercy, out of the Sumida river. Despite putting it back, the statue kept returning to them, so Sensoji was built nearby for the goddess of Kannon.
As you approach Sensoji, you'll walk down a 200-meter long shopping street called Nakamise that will lead you to the second temple gate, Hozomon. These historical shops sell a range of Japanese souvenirs such as folding fans, yukata, and omiyage (food that is gifted to friends, family, and coworkers) and some less traditional souvenirs such as fridge magnets, and keychains. Beyond the Hozomon gate, is Sensoji's main hall, pagoda, and slightly off to the left is the Asakusa Shrine.
The Sensoji temple main hall is open from 6:00 am until 5:00 pm (6:30 am from March to October). The temple grounds is always open, and the temple is lit up until around 11 pm every night. The temple is even more magnificent looking at night than it is during the day, making it a good place to visit after sundown. Plus, visiting at night after the crowds have gone, allows you to benefit from a more peaceful visit. Although the main hall is closed at night, you will still get to see some locals coming to pray at the temple.
Sensoji's Five-Story Pagoda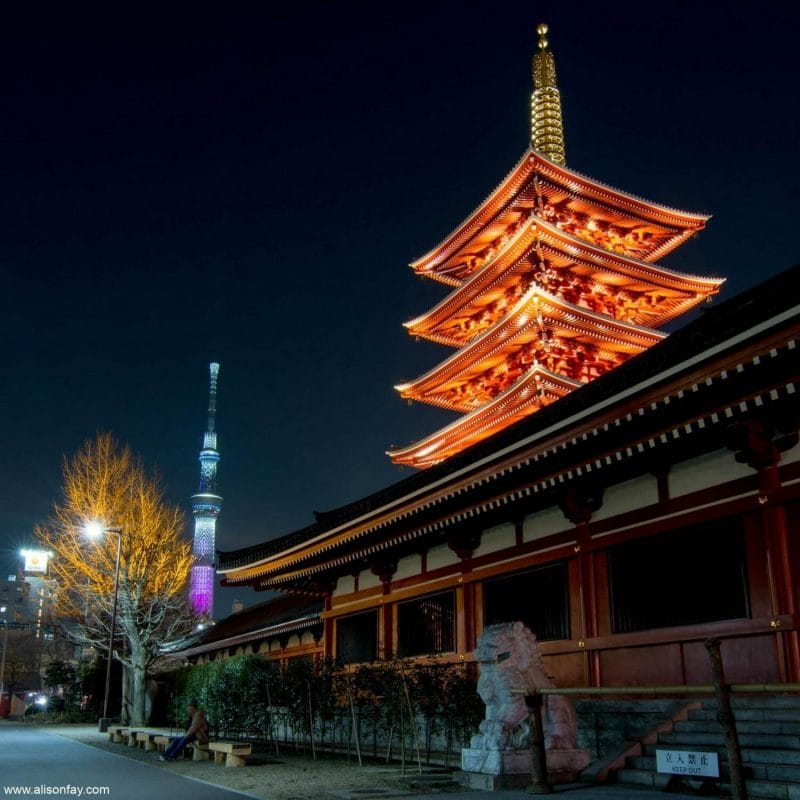 While in the Sensoji temple grounds, you are sure to spot the five-story pagoda. Standing 53meters tall, the pagoda is the second tallest in Japan. Originally built in 942, the pagoda was reconstructed in 1648. The top floor of the Pagoda is home to Buddha's ashes, which were gifted to Japan by the Sri Lanka Government as a sign of goodwill between the two nations.
Asakusa Shrine
The Asakusa Shrine, (also called Sanja-sama meaning Shrine of the Three Gods) was built during in 1649, and, is one of two buildings in the area that managed to survive World War 2. The shrine is one of the most famous Shinto shrines in Tokyo and is located to the left of Sensoji's main building. Due to its history, the temple is a designated Important Cultural Property meaning that it is of significant importance to Japanese people.
Dempoin Temple
Dempoin Temple is located next to Sensoji temple. Sadly the temple has been closed off to the public, so you can only view it from behind a gate. But the temple and its gardens are still worth the view.
Shin-Nakamise Shopping Street
Shin-Nakamise Shopping Street is located next to Sensoji temple. Running perpendicular from Nakamise Shopping Street, this street contains a range of shops, restaurants, and arcades.
Hanayashiki
Hanayashiki is a small theme park, containing 20 rides, is located in the center of Asakusa. The theme park opened in 1883 and is home to Japan's oldest steel track rollercoaster and a haunted house. A lot of the rides have been updated but it is still quite a basic theme park due to its small size. This little theme park is worth a visit if you are travelling with children and want an alternative to the typical sightseeing Tokyo normally offers.
Tokyo Sky Tree

The sky tree is the second tallest structure in the world and the tallest free-standing tower. It features two observation decks, a shopping and food court area and throughout the year they have different attractions out the front of the tower such as bungee jumping and trampolining. Visiting Tokyo Sky Tree while in the Asakusa area is definitely a must, as it offers some really wonderful views across Tokyo and on a clear day you can see Mount Fuji from the Tokyo Sky Tree. I recommend trying to time your visit for around sunset, allowing time to queue up. The tower can get really busy, and you'll have to queue for tickets and then again to access to the tower unless you reserve online or buy a fast pass. I recommend arriving at least 1 hour on weekdays and 2 hours on weekends before sunset to give you ample time to get your tickets, and queue for the elevator.
For an adult to visit both the Tembo Deck and Tembo Galleria deck, it will cost around 3100yen for a day ticket and 4000yen for an advanced ticket. Children prices vary depending on age. For disabled visitors, a 50% discount is available for same day tickets but make sure you bring along proof of disability. Please contact the Tokyo Sky Tree to confirm what they accept as proof of disability.
More information is available at: https://www.tokyo-skytree.jp/en/ticket/
Ushijima Shrine
Ushijima Shrine, built in 860, is a shinto shrine located in the Sumida Park, on the Tokyo Sky Tree side of the Sumida River. Inside the temple grounds is a statue of a cow, that is said to have healing powers. If you stroke the cow in an area where you are suffering pain, then it is said it will help heal that area.
Sumida Park and Sumida River
If you are in need of a bit of relaxation then head over to Sumida Park. Located on both sides of the Sumida River, the park offers views of the Sky Tree, and the Asahi Beer Hall. Combine your visit to the park with a boat trip along the river. During spring, Sumida Park is a prime location for hanami (flower viewing), as over 1000 cherry blossom trees line the river, offering a beautiful scenery to those who choose to enjoy the Sakura before it disappears.
Rokku Entertainment District
Before the war, Rokku was Tokyo's leading entertainment district. It was once filled with restaurants, bars, theaters, street performers, brothels, and more. Now, the district mainly boasts a range of shops such as Mega Don Quijote, restaurants such as Yoshinoya and Pachinko + Slot parlors.
Asakusa Culture Tourist Information Center
Enjoy a free view over Asakusa, Sensoji, and towards the Sky Tree from the Asakusa Culture Tourist Information Center. There is an elevator which will take you to the free observation area. Sadly, using a tripod is not allowed. After taking in the view, make your way down each floor (either by stairs or elevator), viewing each of the floors different exhibits. Free help and information about Asakusa is available on the ground floor to tourists who may need it.
Drum Museum
The drum museum is one of the nosiest museums in Tokyo. The museum contains a range of drums from around the world including Japanese Taiko drums and steel drums from the Carribean. There are several drums available for visitors to play. The museum is located above the Miyamoto Unosuke Nishi Asakusa store. The store itself sells a range of Japanese drums.
The museum is open Wednesday to Sunday, 10 am until 5 pm.
Where to eat and drink
Suzukien Matcha
Love Matcha? then make sure you visit Suzukien Matcha. This shop offers 7 different intensity levels of Matcha, level 7 being the richest flavoured matcha ever made. Expect to spend around 700yen for 2 scoops of gelato, which might not seem cheap but is well worth it. The store can get quite busy, and you may be sent to a waiting area around the block where you will be called when it is your turn. You can choose between 1 or 2 scoops, and in a cup or cone. There are other flavors available including seasonal ones such as Sakura with red beans.
I opted for level 7 matcha with black sesame. My friends went for the sakura with red beans with level 5, and level 5 + level 7. We all thoroughly enjoyed our gelato and would recommend this place. If you order level 7, I would recommend is trying to eat the non-Matcha or weaker Matcha flavour first, as level 7 can overpower the other flavours.
Map showing the location of Suzukien Asakusa

World Beer Museum
This beer hall, which, despite its name, is not actually a museum, offers over 150 varieties of beer from all over the world. The beer hall has a terrace which offers views over Asakusa and of the sky tree on sunny, and clear days. Just be aware that this beer hall gets packed most days, so it is worth arriving early to get a seat.
Asahi Beer Hall
The Asahi Beer Headquarters is made up of two buildings. The one looks similar to a glass of beer, with the top part representing the "foam". The second and the more famous of the two is the one the golden flame (also known as "the golden turd" due to its uh, turd like shape) sits on top of. Located on the 22nd floor of the beer glass shaped building is the "Sky room", that offers fresh beer and a great view across Asakusa and the nearby Sumida River.
Onigiri Asakusa Yadoroku
Onigiri, are balls of rice containing different fillings and wrapped in seaweed. Onigiri Asakusa Yadoroku is the oldest onigiri specialist in Tokyo and their onigiri is some of the best available throughout Japan. They use different rice depending on the season, and local edo-mae seaweed which is famous for its rich flavour. They have a range of fillings from all over Japan, plus some seasonal ones. As they stay open until 2 am, this is the perfect place to grab a late night bite to eat.
Budget: 260-1000yen
Opening times:
Lunch – 11:30am until 5:00pm, Monday to Saturday
Dinner – 6:00pm until 2:00am, Monday to Sunday. Closed Wednesdays, and the second and fourth Tuesday of the month. May close sooner if they run out of rice.
Yoroiya Ramen
It's said that Shoyu Ramen originated from Asakusa, and Yoroiya is the perfect place to taste this traditional dish. Yoroiya has been serving their traditional shoyu ramen for over 20 years. The restaurant is located a few minutes from Sensoji temple and 5 minutes from Asakusa Station exit 1.
Budget: 1000yen
Opening times: 11:00 am until 8:30 pm, 7 days a week.
Accessing Asakusa
Asakusa is covered by the covered by the Tsukuba Express, Tokyo Metro Ginza Line, Tobu Skytree Line and Toei Asakusa Line. This allows you to benefit from a range of travel passes available for the Tokyo area. More information on what passes are available for Tokyo can be found in my free Tokyo Discounts and Passes guide, here. The area has two different train stations within Asakusa, plus another for the Tokyo Sky Tree.
If coming from Akihabara, take the Tsukuba Express Line towards Tsukuba.
If coming from Shibuya, Harajuku or Ginza take the Ginza lines towards Asakusa.
If you are coming from Shinjuku, you will need to first take the Maranouchi Line towards Tokyo, and swap trains at Akasaka-Mitsuke to the Ginza line towards Asakusa.
You can also get to Asakusa using the Tokyo Water Bus which leaves from some popular areas of Tokyo such as Odaiba. The Odaiba to Asakusa ferry takes about 1560 yen for an adult ticket. The ferry from Hinode Pier to Asakusa is 780yen for an adult.
Map of Asakusa

Wondering what apps you should use during your time in Japan? Then check my guide to the most useful travel apps for Japan. .
If you found this guide useful, then please share it on Pinterest.