Over the last few years, Iceland has become one of the top travel destinations. With its rugged, yet beautiful scenery and the northern lights it has become the favorite of many landscape photographer and traveler. Iceland's harsh weather can make photography a challenge, and tests even the most patient of photographers. In this guide, I will share tips to help you capture the perfect photograph during your trip to Iceland. This guide to photographing Iceland is suitable for all levels of photography, with any type of camera, however, a camera with manual settings (Shutter Speed, ISO, Aperture) is best. If you do not own a camera with manual options, check out my guide to the best travel photography cameras here.
Disclosure: This post may contain affiliate links that earn me a small commission, at no additional cost to you.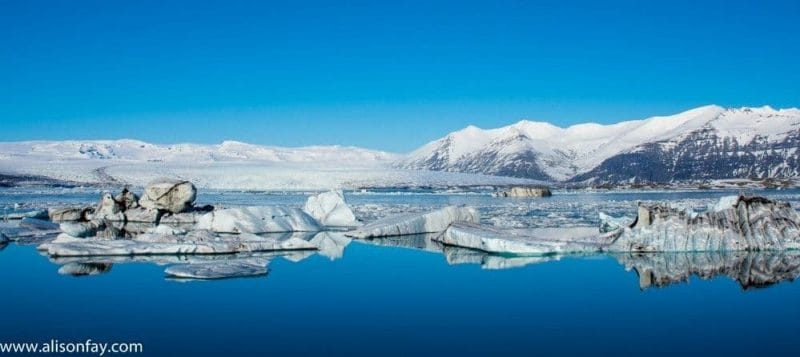 Use a tripod
Beware of the cold
As you will already know, Iceland is cold and this can cause issues when taking photos. Due to the cold, there is a risk of condensation forming inside your camera and lenses, causing your lens or viewfinder to fog up. This happens due to the drastic change in temperature when moving gear in and out of camera bag or car. While this issue sounds worrying, condensation rarely causes permanent damage to camera equipment. To avoid condensation from forming, leave your camera equipment in a zipped up camera bag to give it time to acclimate to the new temperature. If your lens does fog up, do not wipe down the lens and do not remove it from the camera. Wiping foggy lenses can cause streaks, and taking it off the body can introduce condensation to the rear of the lens and inside of your camera. If you can, put it in an airtight bag with something to absorb moisture such as rice or silica gel.
Rain & spray from waterfalls
Iceland's weather can change quite quickly, one minute it is sunny and the next it's raining. Iceland has extremely powerful waterfalls which spray water which can hit your camera. While most cameras have some level of weather resistance, most manufacturers do not actually state what this actually resists against. Rain and spray can cause damage to a camera if it manages to get inside. But it is more likely, the rain or spray will get on the front of your lens and cause water drops to appear in your photos. I recommend buying a rain cover, I use OP/Tech rainsleeves as spray is the last thing you need on your lens when photographing Iceland.
Get up early for sunrise when photographing Iceland
Sunrise in Iceland, is stunning. It is worth waking up early to capture the sunrise over Iceland's breathtaking landscape. You can also make use of the golden hour, a period after sunrise in which the light is softer. Early morning starts are a good way of avoiding crowds, as tour groups start arriving around 9 am. Watching the sunrise in peace, while capturing stunning photographs is well worth the effort.
Stay out late for sunset when photographing Iceland
Sunset over Mount Esja, Iceland Just like with getting up early for sunrise, staying out late for sunrise can allow for some stunning photos. Once again, make the most of the golden hour but also blue hour. Blue hour takes place when the sun is at a significant depth below the horizon and causes sunlight to turn blue and becomes softer. This allows you to capture more beautiful, stunning photographs. Evenings get quieter at the tourist spots. I found that by 6:30 pm, most of the tour groups had left. So once again, you can take advantage of the quietness by capturing photographs without crowds of people in them. The photograph above was captured at around 6:30 pm. in Reykjavik, Iceland. A lot of the other people around were making use of the sunset while photographing Iceland's amazing scenery.
Waterfalls
Iceland has tons of amazing, beautiful and powerful waterfalls for you to photograph. So knowing how to capture them is important. When photographing a waterfall, you are capturing how the water flows. You need to decide whether you want to freeze the water, have a completely smooth milky effect or a mix of the two. To freeze water, you need to use a fast shutter speed which is quite simple to do and can be done handheld. Milky effects are a bit more difficult, as you need a slow shutter speed, a tripod and possibly a neutral density filter (ND for short). A neutral density filter allows you to block excess light, so you can decrease your shutter speed without overexposing the photograph. They're made by companies such as Lee, Hoya, B+W and Format-Hitech. I recommend Lee or Format-Hitech. The actual shutter speed required will depend on the lighting, filter strength and what type of effect you are going for. If you wish to completely smooth the water, you will most likely need longer than 10 seconds exposure. If you want to still have some movement, 2-5 seconds is normally enough.
Need a hotel in Iceland? Check out the hotels in the city centre of Reykjavik below. [tp_hotels_selections_discount_shortcodes city="5044″ title="" paginate=true off_title=false type_selections="center" number_results="5″ subid="" city_label="Reykjavik" type_selections_label="Hotels in the center" link_without_dates=false]
If you found these tips helpful, then please share them on Pinterest.