The 59th Asahikawa Winter Festival took place during February 2018. This winter festival is the second biggest snow/winter festival in Japan, after the Sapporo snow festival. The festival took place from February 7th through to February 12th.
The festival takes place in the town of Asahikawa, Hokkaido, which is about 2 hours north of Sapporo by train. The festival takes place early February every year, coinciding with the Sapporo Snow Festival, Lake Shikotsu Ice Festival, and the Otaru Snow Path Light festival; which are some of the many things to see and do in Hokkaido.
About the Asahikawa Winter Festival
The Asahikawa Winter Festival's main feature is its giant snow sculptures, with a stage created from snow on which live music and other performances take place. The snow stage sculpture is unique to the Asahikawa Winter Festival and sets it apart from Sapporo which does not feature a stage made completely out of snow. There are smaller snow sculptures, featuring characters such as Totoro (from My Neighbour Totoro) and Minions, and ice sculptures which you can watch being made.
Visitors can take part in some activities (both paid and free), including riding in a horse-pulled sleigh, snowmobile rides, sledging, tubing, and snow rafting. There's a range of street food stalls selling a range of Japanese street food, as well as some non-Japanese food. Muslims visiting the event will be happy to hear that a lot of the street food is halal and that there is even a snow mosque with a prayer room.
The Snow Stage
This year's snow stage was themed off Hokkaido's forest. The stage is massive and has to be seen to be believed how large it is. It features a giant wheelchair accessible slope you can walk or roll up to access slides that adults can go tobogganing on. Below are two photos of the sculptures built into the snow stage.
The snow stage is unique to this festival, and I'd say it is more impressive than any of the sculptures in Sapporo's festival.
The Snow Sculptures
Most of the sculptures at the festival based on different characters – mostly anime and cartoons. This year they included Pokémon, Totoro, Minions, Moomins, Mario and loads more. Every year, some of the medium sculptures are entered into a contest. This years winner was the Pokémon sculpture, that featured a hollow tree with different Pokémon characters climbing over it and inside it. This was my favorite sculpture.
Some of the medium sculptures were made into slides, for children.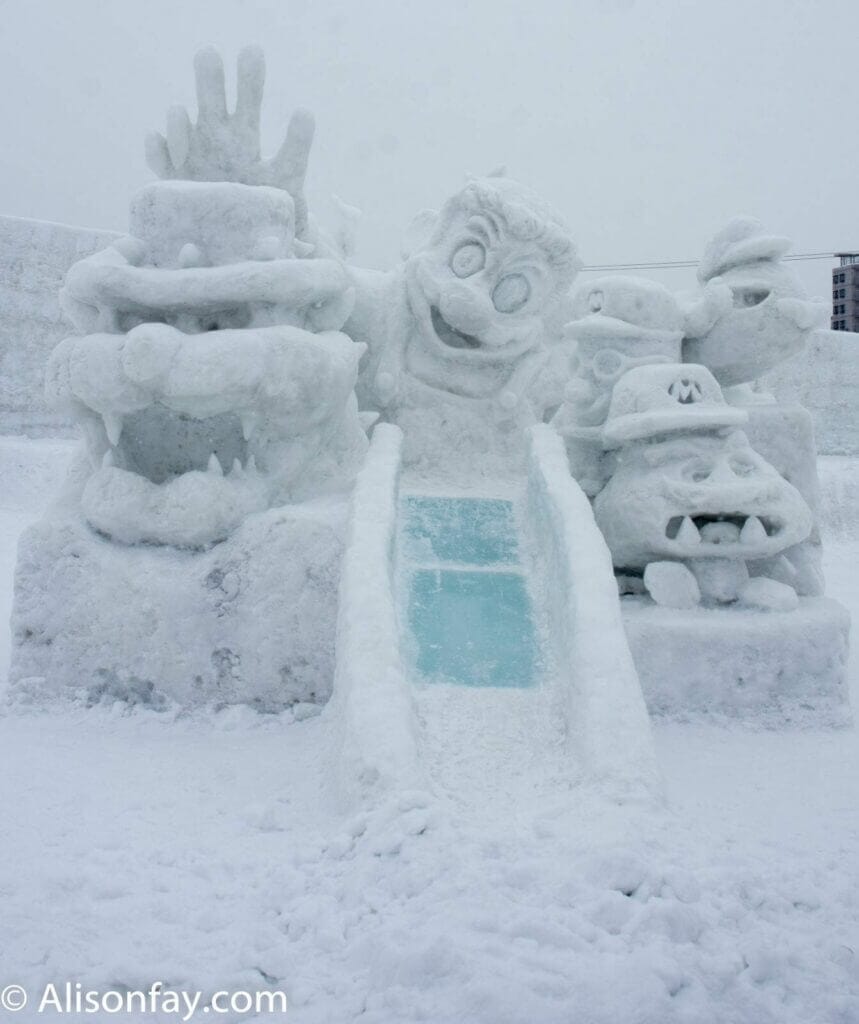 As mentioned earlier, the festival has a mosque made out of snow containing a prayer room. The prayer room is for Muslims only, with a sign outside in Japanese and English stating this. There's also a table with hot water for you to wash your hands before entering the room. Inside, is a prayer mat and a curtain to pull across for privacy.
Below are some of the smaller snow sculptures at the festival, my favourite of which is Totoro.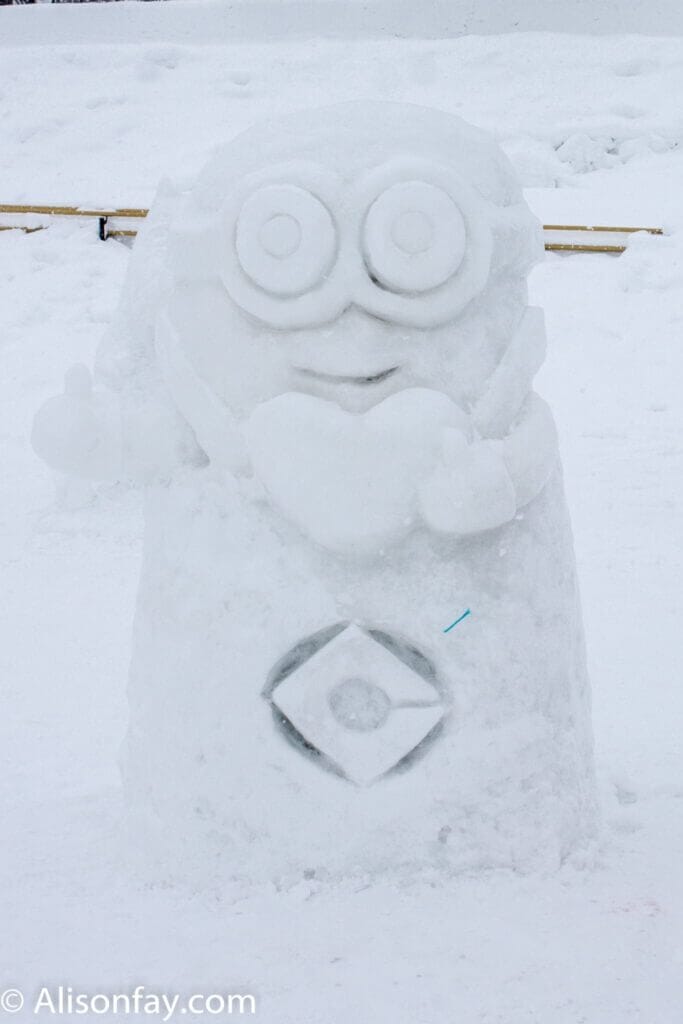 The Ice Sculptures
Unlike the snow sculptures that are build before the festival begins, the ice sculptures are mostly created during the festival. There is a contest for individuals to enter their sculptures into, and those entering have travelled from all around Japan and even other countries to enter the contest. Watching the sculptors at work is quite interesting.
The number of ice sculptures in this festival is a lot less than those in the Sapporo snow festival, but being able to watch the sculptors at work makes up for it.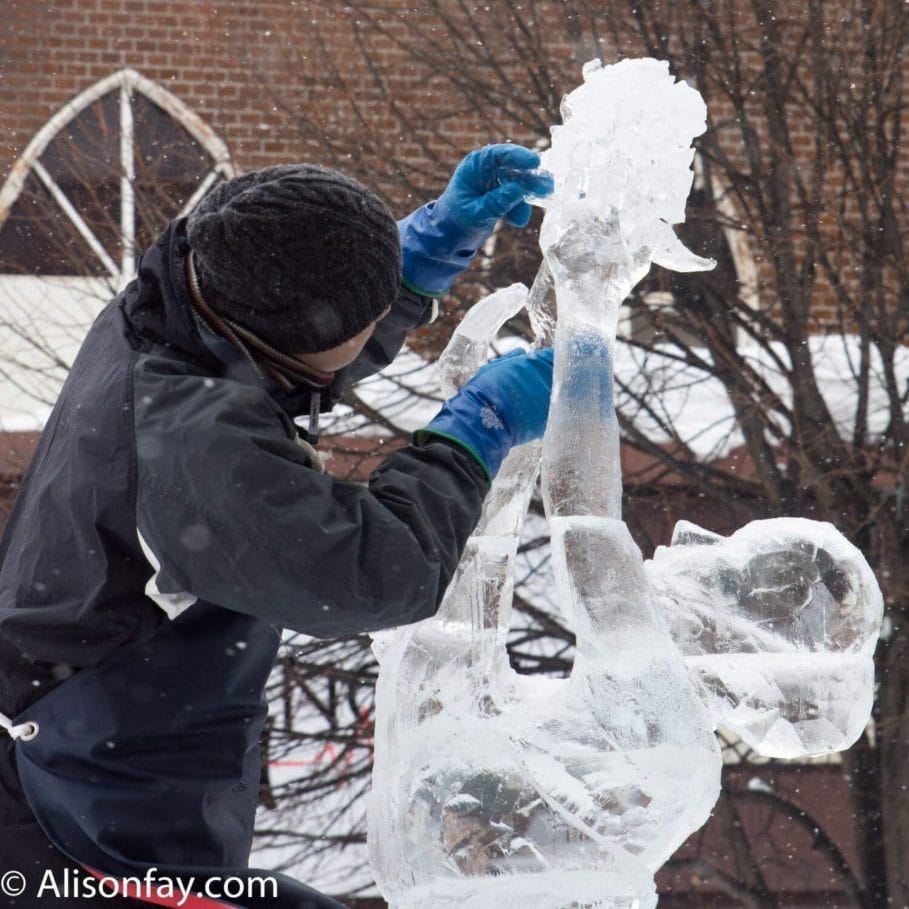 What to do at the festival
Most of the activities at the festival felt more suitable for children than adults, but there is still plenty to do for all ages. One of the free activities includes decorating your own snowman and is available throughout the day until the supplies run out. The snowmen are pre-built using a mould, for you to decorate. When finished, they're put on display outside the stall. They have to be the cutest snowmen I've ever seen.
There's a range of slides available. The medium size sculptures have slides for children, there were no queues for these while I was there. There are some larger slides for children, where they can sit on a little sledge and slide down them. Once again, there wasn't much of a queue for these while I was at the festival. The snow stage features a slide for adults, where you ride in a type of toboggan, which had a small queue. There is a large slope to climb up, which is accessible for wheelchair users. Sadly I was unable to walk up the slope, so was unable to have a go but everyone going on it was enjoying themselves.
There's a giant maze built out of snow that is free, and suitable for all ages.
For 300 yen, you can go snow rafting. This involves sitting in a lifeboat or raft which is attached to a snowmobile, that pulls you around at a high speed on the ice. The ride lasts about a minute, and while that doesn't seem very long it was quite an exciting fun experience and was worth the 300 yen. It's also one of the more suitable activities for those with limited mobility as no physical activity is needed. As long as you can sit down low at ground level, climb in and out of the lifeboat, and hold onto a rope then you can have a go.
For 700 yen, you can go in a horse-drawn sleigh. The horses that pull the sleighs are well cared for, healthy and strong. From what I could tell, they seemed quite happy and were free from any signs of abuse. But as with every animal attraction, I always recommend doing your research on the animals welfare, and if in doubt, avoid the attraction.
Throughout the festival, there is free live music, and other performances taking place on the snow stage. There are signs around the festival detailing when these are taking place.
English-translations and English speaking staff
For those who speak English, but not Japanese, you will be happy to find that there is some English speaking staff available. These staff can be easily identified by their coat, that has "English-speaking Volunteer" on them. Activity information is in English, and the staff I dealt with when paying for activities all spoke enough English. English translations for the names of the snow sculptures are limited. Announcements made over the PA/Tannoy system are in multiple languages, including English.
Some of the street food stalls have signs in English.
Free WiFi availability
Free WiFi is available throughout the festival grounds but some of it is limited. In the bus shelter, there is one called Bus WiFi which can be accessed 6 times throughout the day for a max of 240 minutes. The Asahikawa Winter Festival free WiFi is available in the street food area, but the connection itself was poor and kept disconnecting. The login pages for both of the free WiFi's is available in English.
Location & how to get there
Asahikawa is easily accessible from Hokkaido's major cities by train, car or highway bus. From Sapporo, it takes approximately 2 hours by train and the limited express trains normally run every 30 minutes.
Booking a reserved seat in advance is recommended, as they sell out quickly. However, non-reserved carriages are available on all the limited express trains. You can also use a highway bus ran by either Dohoku Bus, Chuo Bus, Hokkaido or the JR Hokkaido Bus.
If you are using the JR Pass, or JR Hokkaido Rail Pass, then all your JR trains and JR bus fares will be covered.
The festival takes place in two parts of Asahikawa. The main part with the snow sculptures is located by Tokiwa Park. Free shuttle buses to the festival run from the bus terminal at Asahikawa Station. The shuttle buses run about every 20 minutes.
The Ice sculptures can be found along the Heiwa-Dori Shopping Street and finish which starts near the front of Asahikawa station. The street finishes about 600 meters from the main area of the winter festival, and you can easily get from Heiwa-Dori to Tokiwa Park by following the signs for the park.
I recommend those physically capable of it to do the walk along Heiwa-Dori Shopping Street, as you'll be able to see the ice sculptures and get to check out the street, which is a tourist attraction.
On-sight parking is not available but parking is available nearby (this may incur parking costs). If you are disabled and need accessible parking, please contact the festival to check whether you can park nearby or on sight.
Hotels in Asashikawa
[tp_hotels_selections_discount_shortcodes city="24085″ title="" paginate=true off_title=false type_selections="rating" number_results="10″ subid="" city_label="Asahikawa" type_selections_label="Rating" link_without_dates=false]
If you found this post helpful, please share it on Pinterest.