If you're visiting Key West, you'd be glad to hear that it is a foodie's paradise. There are tons of amazing restaurants and cafés to eat, that'll let you experience a range of different cuisines from the Cuban-American culture that Key West is known for.
Key West isn't the cheapest place to eat out, so I do recommend budgeting around $15 to $20 a meal per person. If you'd like to learn about the history or culture behind these restaurants or are only in Key West for a few days then I recommend booking a food and culture tour. This tour is a great way of getting a taste of all the dishes Key West is well known for whilst learning about the culture and history behind each dish and the restaurant serving it. Plus this tour takes you off the beaten track, so you can experience some of the local's favourite places. If you're a Hemingway fan, you may prefer to book the Hemingway Food Tour that takes you to some of Hemingway's favourite haunts and learn more about this famous author's life in Key West, Florida.
Blue Heaven
If you're looking for a fresco dining restaurant, you should definitely go visit Blue Heaven. The entire restaurant is in the exact style of Key West with its improvised art, a sail strung between trees for shade and its canopies of tropical foliage. In Blue Heaven there are plenty of dishes to choose from, but some of the best ones are the blueberry pancakes, scallops Provençale and the miso-marinated eggplant salad for example.
When you visit Blue Heaven in Key West, you won't only get great food, but it's a whole experience as well. During your dinner, you can see plenty of chickens and cats roaming the area as well as admire their improvised art, like the jolly-colored coconuts for example. You can find the restaurant in the historic Bahama Village. This is the best place to eat in Key West if you're looking for an indoor and outdoor dining experience with live entertainment and an American, Caribbean and a vegetarian cuisine.
Conch Republic Seafood Restaurant
If you're more in the mood for some delicious seafood, you should definitely stop by the Conch Republic Seafood Restaurant in Key West. Here you can taste the freshest seafood in all of Key West and possibly the whole of Florida! The restaurant is located on the spot which was formerly known as the Singleton Fish House and Ice Plant, where thousands of pounds of Key West Pink Shrimp were unloaded, processed and shipped by local shrimpers.
The owners of the Conch Republic Seafood Restaurant have kept a lot of the old look alive, by saving the original concrete floor and the Singleton logo sign above their stage. The restaurant is located on the dock and is the perfect destination for multiple occasions. Here, you can eat delicious seafood with your family, but you could also host a private party here or just stop by for their happy hour.
Once you get to the restaurant for dinner, there are plenty of delicious dishes you can choose from, whether you're in the mood for seafood or if you'd rather get something else. If you'd like to try one of Key West's famous dishes then make sure to order the Conch Fritters and/or Key Lime Pie. You can also enjoy conch fritters as part of Hemingway's Life and Local Food tour which visits many of the places Hemingway hung out.
Kermit's Key Lime Shoppe & Café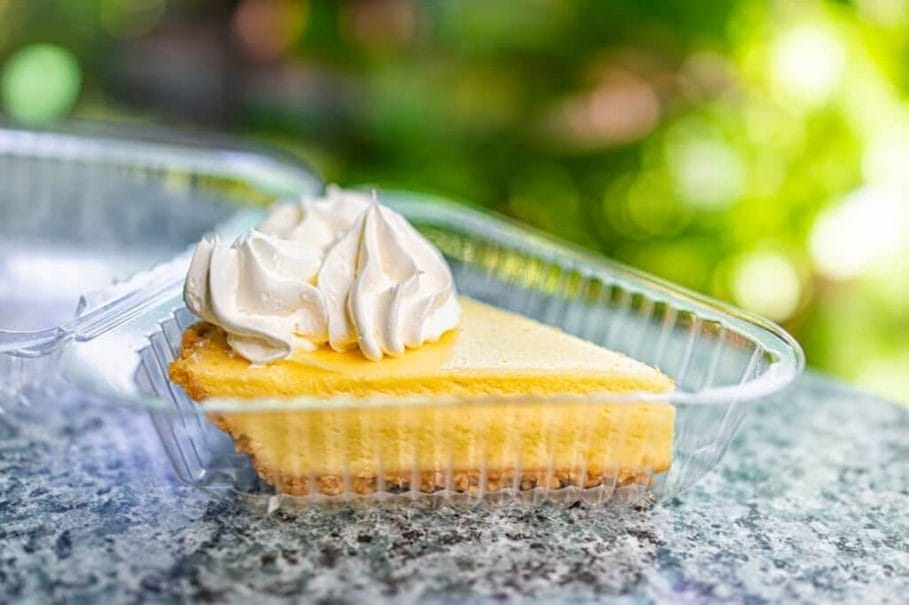 The best Key Lime pie in Key West can be found in Kermit's Key Lime Shoppe & Café. In this restaurant, they do not only just serve delicious Key Lime pie, but they ship it as well. This way, you can always enjoy their Key Lime pie, whether you want to go out to eat it or just eat it with friends in the comfort of your own home. In the café itself, they even offer the Key Lime pie on a stick as a variation!
Besides Key Lime Pie, Kermit's Key Lime Shoppe & Café also offers a range of other dishes which you can eat for breakfast or lunch. To stand out, they even serve their breakfast ALL day! So whether you want to get up early or sleep in until noon; at Kermit's Key Lime Shoppe & Café you can still eat breakfast all day long. Some of their House Specials are the Chicken Wings in Kermit's Wing Sauce, Fish & Chip Basket or the Buffalo Shrimp Basket.
At Kermit's Key Lime Shoppe & Café, you can also buy cookies or candies and various other snacks to take with you if you want. The shop even offers gift assortments, seasonings, bath & body products and accessories for those who are interested!
Cuban Coffee Queen
For the people who really love their coffee, I would recommend visiting the Cuban Coffee Queen in Key West. This place offers the best Cuban coffee in Florida! The inspiration for the place came from an interaction the owner had with a woman in Cuba. This lady showed her how to make a real café con leche. The owner never forgot about the Cuban Coffee Queen and opened her restaurant in 2009.
At the Cuban Coffee Queen, you can choose between various kinds of delicious Cuban coffee. However, they don't only offer coffee, but they serve delicious food as well. You could go there for a wonderful breakfast and order a Cuban Breakfast Burrito for example or go for the Steak Sandwich during lunch.
if you really like the coffee, you can even take it home if you want! The Cuban Coffee Queen also has a shop that sells different types of roasted coffee. You can even get a subscription on their coffee if you want to, which enables you to keep enjoying their coffee every month!
Glazed Donuts
Located on Eaton Street, Glazed Donuts opened in 2012 and offers a variety of delicious and special donuts. They believe eating should be one of the highlights of your day and that's why they put so much thought and care into every single one of their donuts. At Glazed Donuts, they make all of their donuts from scratch and have the perfect donut for everyone.
If you're looking for extraordinary donuts in Key West, you should definitely stop by Glazed Donuts. They offer both fritter-style as well as cake donuts and they have some exotic donuts as well. You could try a donut with hibiscus syrup and candied bacon for example. If you're looking for a donut that's fitting for Key West, you should try their Key Lime donut, although their pina colada donut is delicious as well.
At Glazed Donuts, you don't have to be thirsty either, since they make their own coffee as well. It's called Red Buoy coffee and they have been roasting coffee since 2016. You can even find their delicious coffee at other restaurants as well, like Blue Heaven for example.
Santiago's Bodega
Santiago's Bodega is a restaurant in Key West that is a result of the lifelong dream of the founder. Jason Dugan had always wanted a restaurant where every night would be like a party for the guests and he wanted to serve them tapas because it would allow his guests to try a wide variety of dishes. The restaurant is put together perfectly with its remarkable artwork and the stained-glass doors for example.
At Santiago's Bodega, they give you a few different options. You could go there for dinner of course, but they offer a tapas-style brunch as well! Here you can have brunch with hot tapas like a frittata, cold tapas, a salad and sweet tapas, like the toffee cake for example. However, at dinner, you still have plenty of different tapas to choose from. There is a range of different hot tapas, like croquettes with prosciutto or miniature quesadillas for example. If you're more in the mood for cold tapas, you'd still have plenty to choose from and you could go for the smoked salmon carpaccio or the mozzarella burrata. No matter what kind of tapas you choose; at Santiago's Bodega, you and your friends or family will have a great time with great food!
Matt's Stock Island Kitchen
Matt's Stock Island Kitchen is a very special restaurant that serves American Coastal Comfort Food. Although the food they serve is fairly simple, they prepare it in such a way that it's surprisingly delicious! The thing that makes this restaurant so special is that you don't just have the opportunity to choose something from their menu, but that you can bring your own fresh catch, which they will then prepare for you!
If you're not really a fan of catching fish yourself, there are still plenty of dishes on the menu that you can choose from. They offer breakfast, during which you could enjoy some delicious banana bread pancakes or eggs and roasted potatoes with a side of bacon for example. For dinner, you could go for one of their delicious seafood options or enjoy their fried chicken for example. Matt's Stock Island Kitchen offers breakfast, dinner and happy hour every day and on Sundays you could even go there for a delicious brunch! Therefore, Matt's Stock Island Kitchen is a place you should definitely visit to eat in Key West.
Old Town Bakery
When you're in Key West and you're looking for a place to get some delightful pastries- you should go to Old Town Bakery on the corner of Eaton and Grinnell Streets. Here you can get pastries and bread, which are baked in the traditional, old-world style. The restaurant itself complements the traditional baked goods they serve perfectly since the owners did their best to keep the 19th-century Key West charm of the building.
At Old Town Bakery, you don't have to go for just their pastries or their bread; they serve breakfast and lunch as well. The bread they use for their dishes is always oven-fresh. You can also get various kinds of coffee to go with your delicious meal, like a latte or an espresso. The coffee they serve is also freshly ground, so everything you get here is fresh! If you go to Old Town Bakery for lunch, you should definitely try their curried chicken salad or the smoked key west chicken wrap. As a dessert, you can also order sweets or cookies, like Key Lime Pie for example.
The Stoned Crab
One of the most special features of The Stoned Crab in Key West is that they have two of their own, private fishing boats. These boats are used to go fishing every day and catch fresh seafood to serve to their guests in the evening. This way, they ensure that their guests get to taste the freshest stone crab, lobster or Key West shrimp.
Besides dinner, you can also go for a delicious lunch at The Stoned Crab. They offer cocktails too, in case you're more in the mood for a happy hour than for eating out. However, if you do choose to go there for dinner, you should definitely try 'The Stoned Lobster'. This dish combines three of Key West's most iconic seafood species. The dish includes stone crab, Key West pink shrimp and spiny lobster and is prepared in such a way that all of the flavors blend together perfectly. So when you are in Key West and you're in the mood for seafood, you should most definitely go to this place as it is one of the best places to eat in Key West.
El Meson De Pepe
When you're in Key West, Florida and you're in the mood for some Cuban food, you should definitely pay a visit to El Meson De Pepe. You can find this restaurant in the popular neighbourhood called Old Town and it's located next to Mallory Square. They serve authentic Cuban food and drinks and have been doing so for more than 30 years now.
One of the best things about El Meson De Pepe is that they have live salsa music. This way, you can enjoy your delicious cocktails and authentic Cuban food while listening to great music on the Patio Bar. If you want to experience the Sunset Celebration at Mallory Square, El Meson De Pepe is still the place to go. It provides both pre and post-parties for its guests and this way you can enjoy some tapas, traditional Cuban entrees and festive cocktails before or after the Sunset Celebration. So try their alitas de pollo for example. These are chicken wings in a garlic mojo sauce.
Hot Tin Roof
If you're looking for a restaurant where you can eat in a gorgeous dining room or a verandah that offers a spectacular view of the sunset over the harbour, you should go to the Hot Tin Roof restaurant for dinner. The restaurant was designed in such a way that it has a romantic and warm exterior. They used detailed teak woodwork and painted the ceiling by hand to give the restaurant its stunning look.
You can also go to the Hot Tin Roof if you're in the mood for just cocktails. You and your partner, family or friends can enjoy some delicious cocktails in the Hot Tin Roof Lounge, where you have a stunning view of the Sunset Pier. While you're there, you should try the signature cocktail of the Hot Tin Roof called the Hot Tin Tini with vodka-infused fresh pineapple. The Hot Tin Roof serves food that is a mélange of tastes from both Florida and the Caribbean, which gives it its unique Floribbean flavour. So if you want to go out for dinner or drinks in Key West with a spectacular view, you should pay a visit to the Hot Tin Roof.
Banana Café
Banana Café in Key West is the perfect place to go to if you're looking for a spot to have your breakfast and/ or lunch! This fun café serves all kinds of breakfasts and makes sure that its guests always have enough options to choose from. You could go for the French Egg Sandwich for example with ham, caramelized onion and swiss cheese on a croissant with breakfast potatoes. You will definitely find something to your liking here!
If you're more in the mood to go out for dinner, you could still go to the Banana Café in Key West and go for one of their amazing dinner options. They have plenty of options you can choose from, like French Country Chicken or Classic Baked Escargot for example. The Banana Café also serves delicious drinks. Whether you want to enjoy some mimosas during your breakfast or a French Vanilla Iced Coffee during lunch; the Banana Café has exactly what you're looking for!
Garbo's Grill
Gabo's Grill in Key West is also called the 'Hidden Gem' of Key West according to Food Network's Diner's Drive-Ins & Dives! You can find this unique restaurant at Hank's Hair Of The Dog Saloon. The food here is carefully prepared with love and sold for a fair and good price. The goal of the staff of Garbo's Grill is to make every single guest feel as if they were a local in the area. Therefore, this restaurant is the perfect place to go to if you really want to feel like a local in Key West. It's also one of the places you will visit if you book onto a food and culture tour of Key West.
The menu of Garbo's Grill changes with the seasons, which provides them with the opportunity to serve their guests all kinds of different, unique flavours throughout the year. One of the most recent updates to the menu is the addition of the New England Lobster Roll. If you're not really into lobster, you could also go for a delicious poke bowl at Garbo's Grill. Here, you get a selection of vegetables with mango to which you can choose to add beef, shrimp or fish. As a dessert, the restaurant also offers the iconic Key Lime Pie of Key West, Florida.
First Flight Island Restaurant & Brewery
First Flight Island Restaurant & Brewery is a great restaurant located in one of Key West's historic buildings. The building is the birthplace of Pan American World Airways, and the first tickets sold by Pan-Am were purchased here. Nowadays, you can find a restaurant between soaring trees and an arch, which creates a living canopy. This garden is already stunning during the day, but during the night you can even see all of the lights sparkle.
Another special feature of the restaurant is its brewery on the property itself. At First Flight Island Restaurant & Brewery, they brew their own beers. You can try the Old Havana Red, which is a rich amber ale in colour for example. They have their own, unique beers on tap and you can try them in their famous 'Crash Bar'. Here you can enjoy your beer and enjoy the decoration as well, as it has a Sikorsky seaplane hanging from the ceiling.
Eaton Street Seafood Market
If you're in the mood for some fresh seafood to take with you, you should stop at The Eaton Street Seafood Market. Here you can buy the freshest locally caught seafood. There are many different kinds of seafood you can choose from, like hogfish, grouper, stone crab and even lobster for example!
You can buy their seafood online too as well as stop by and dine in their restaurant. You can choose which kind of seafood you would like to try and the kitchen will prepare it for you! Eaton Street Seafood Market has a cozy seating outdoors, where you can enjoy a great view and some stone crab for example.
I hope you found this guide helpful. To help you plan your trip to Key West, why not check out my guide on things to do in Key West here? Also did you know that Key West has tons of paranormal activity? If you're interested in all things ghostly and spooky, check out my guide on Key West's most haunted places here.
More Travel Tips & Resources