In the most Northern prefecture of Japan, Hokkaido, the annual Sapporo Snow Festival takes place each February. Started back in 1950 when local high school student's build six sculptures in Sapporo's Odori Park, attracting over 50,000 visitors The Sapporo Snow Festival has developed into a massive, impressive event featuring hundreds of Sculpture's.
The Snow Festival takes place over three sites. The main site Odori Park is a 1.5km long park located in the centre of Sapporo. The Odori Park site features gigantic snow sculptures measuring up to 25meters tall and 15 meters wide. Odori is also host to events such as concerts and snowboarding, some of which make use of the giant snow sculptures as part of their performance. The snow sculptures in Odori Park are illuminated each evening, until 10:00 pm.
Disclosure: This post may contain affiliate links that earn me a small commission, at no additional cost to you. . 
The second-largest site is located at the Tsudome, which feature's an open-air and indoor venue. The open-air venue feature's three different snow slides, snow rafting, sledge runs, a snowman labyrinth and other family-friend attractions. You'll also find some more snow sculpture's, such as those built by local high school students and citizens of Sapporo. The indoor venue feature's play equipment, a stage zone, and a snow education zone and the Hokkaido Gourment Fair which feature's authentic Hokkaido food's for you to try.
The third site is Susukino Ice World, which is home to the ice sculpture competition. You can touch and ride on some of the ice sculptures in the Fureai Hiroba plaza, enjoy hot drinks at the Ice Bar and snap photos of illuminated ice sculptures along the Illumination Street. Ice sculptures are illuminated until 11:30 pm each day (10:00 pm on the last day of the festival).
Sculptures at the 2018 Sapporo Snow Festival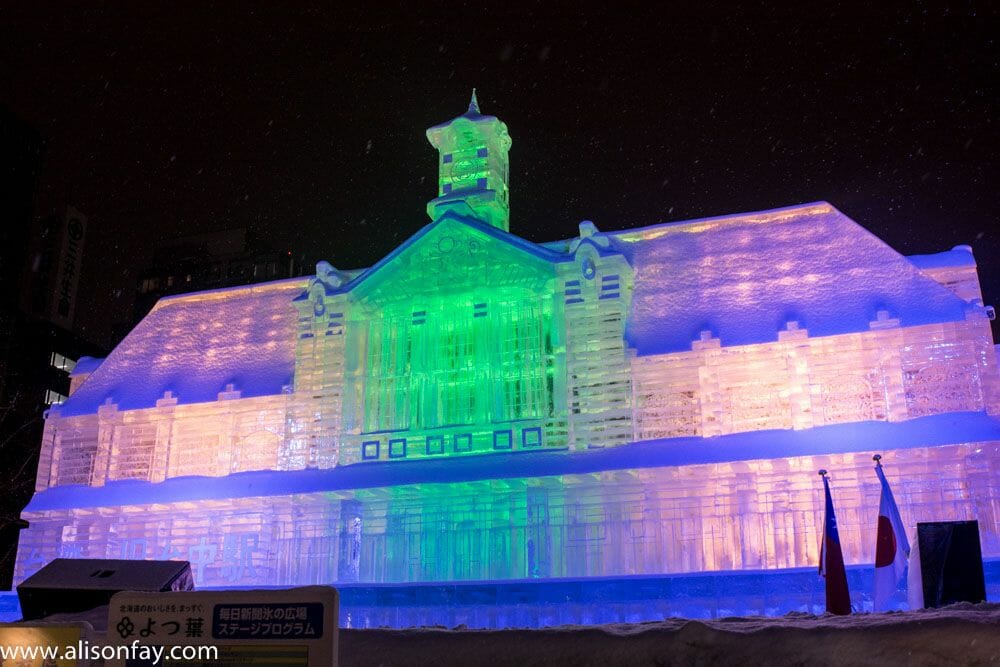 The 2018 headliner was an ice sculpture Taiwan'sn's old Taichung Train Station. This impressive sculpture stood 10 meters tall, 18 meters wide and 16 meters deep. The sculpture was created to signify the diplomatic relations between Japan and Taiwan.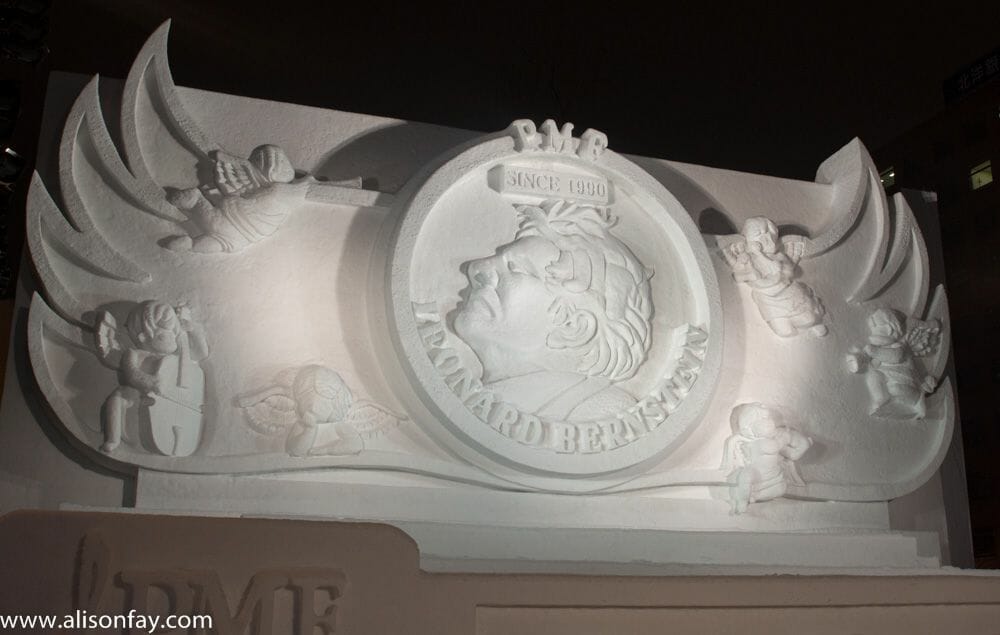 The 2018 Sapporo Snow festival featured a sculpture dedicated to the founder of the Pacific Music Festival (PMF), Leonard Bernstein who is known for his contributions to the musical, "West Side Story". 2018 would have been Bernstein's 100th birthday, and the 2018 festival featured various events on the PMF stage. The Pacific Music Festival is an educational international music festival that help's educate young musicians.
Below are some other ice sculpture's created for the festival by different groups.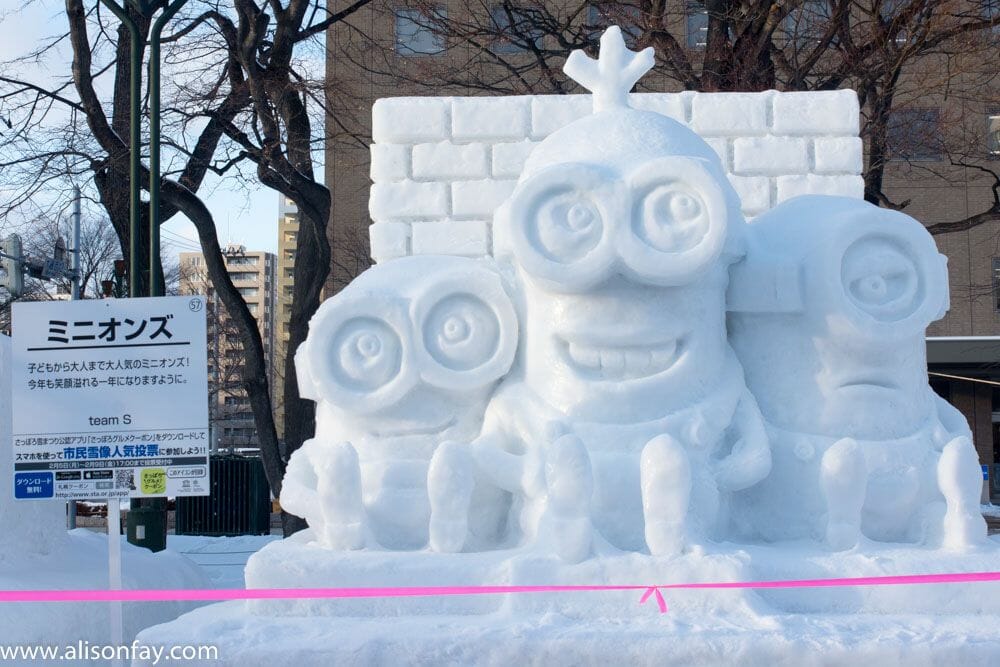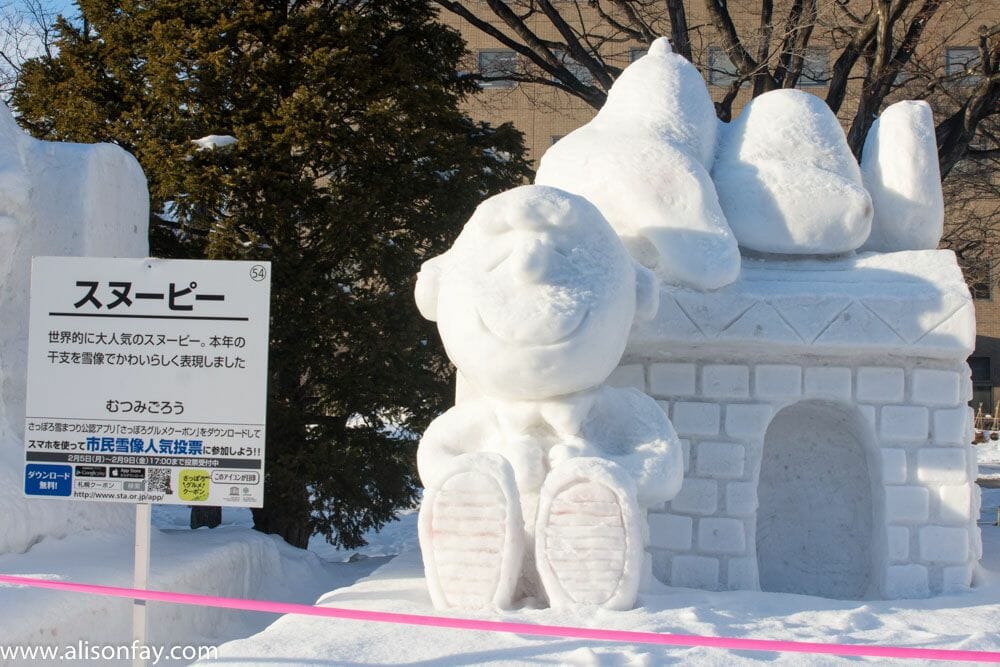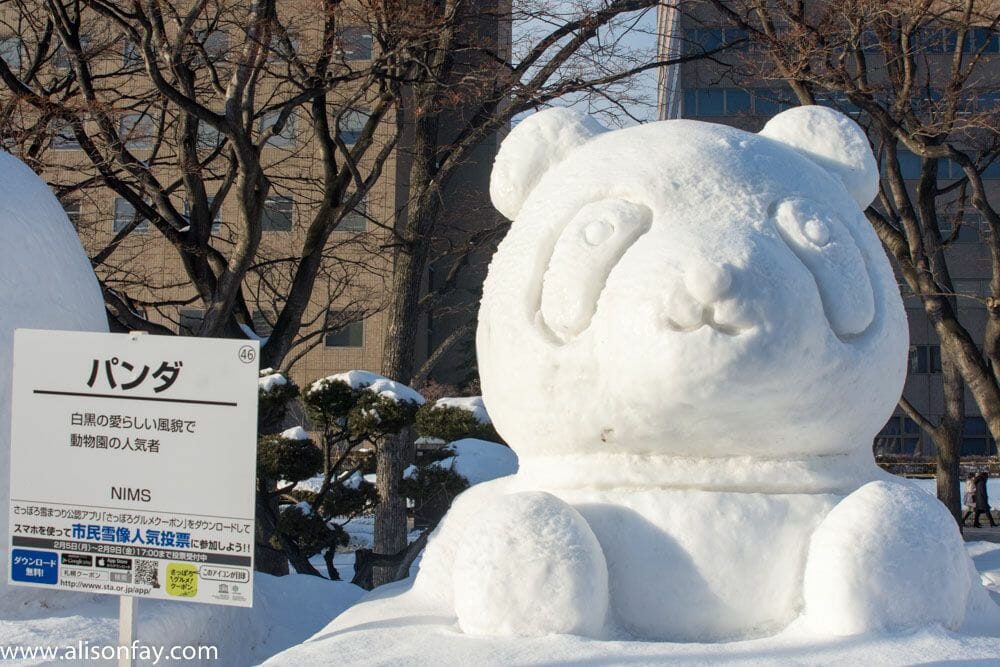 International Snow Sculpture's at the Sapporo Snow Festival
Every year during the Sapporo Festival, there is an international sculpture building competition. While visiting the festival you can walk around and view the snow statue's as they are being built. Below are some of the 2018 snow statues as they were being built.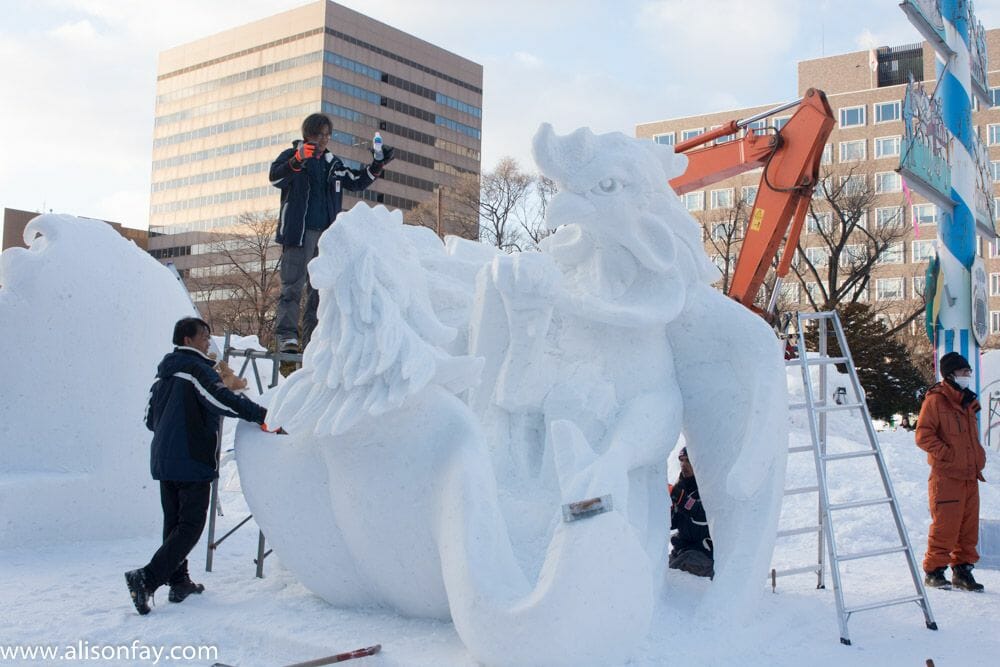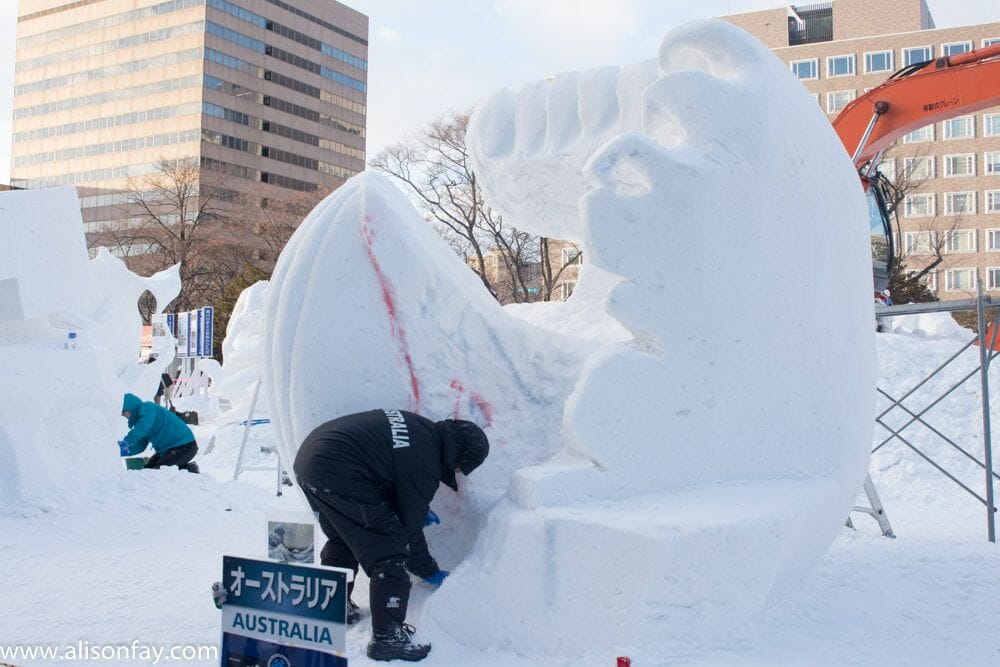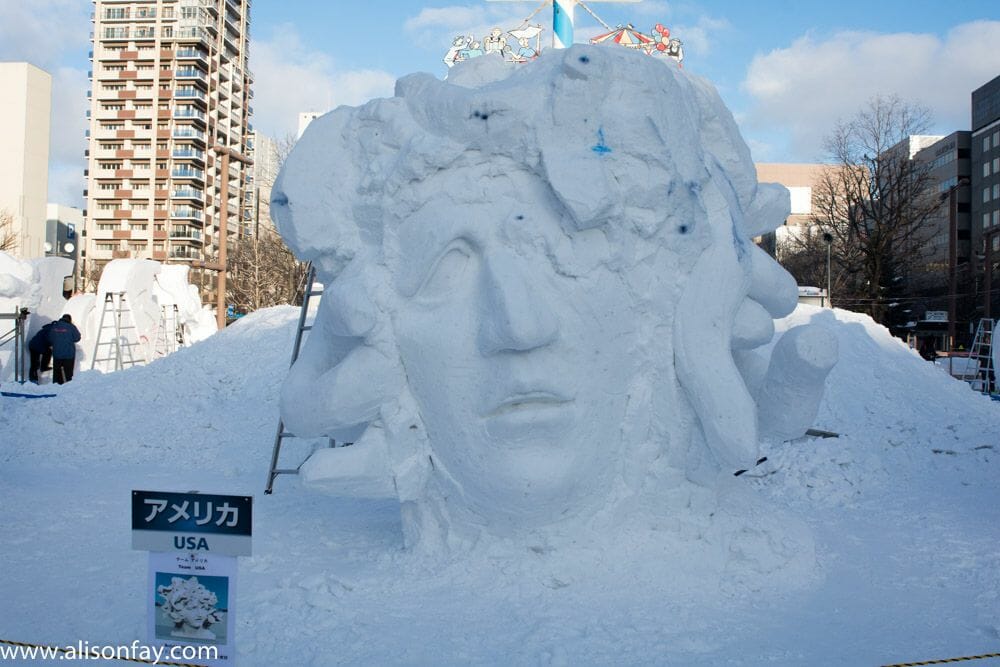 Sapporo TV Tower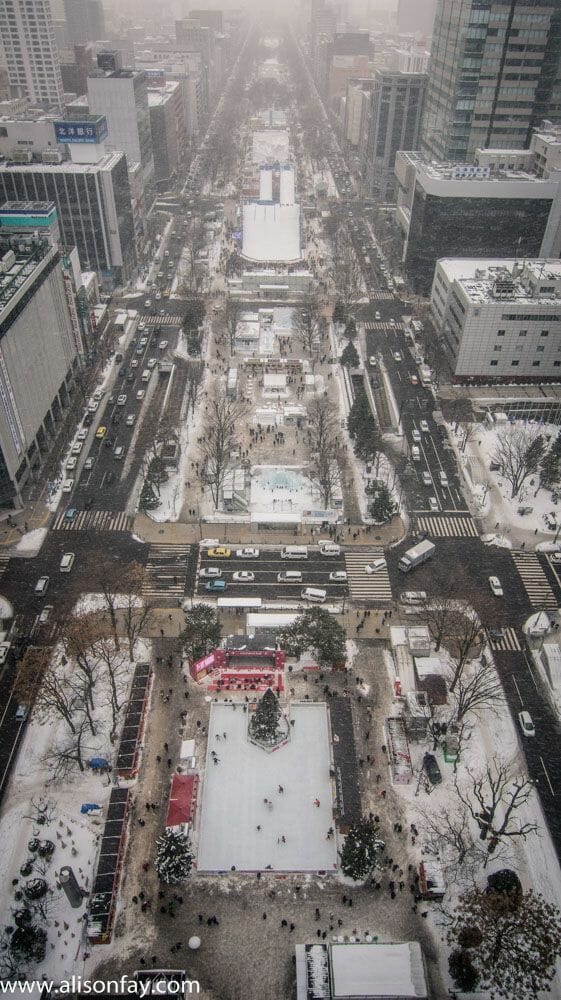 During your visit to the festival, you can access the Sapporo TV tower for a view over the festival, with the best view being available from the observation deck. There is a charge to access the observation deck, with a discount available for people who have a disability certificate. Discount combination tickets are also available, to combine your visit to other attractions in Sapporo such as the Hitsujigaoka Observation Hill. The basement, 2nd floor and part of the 3rd floor are free to access.
The Susukino Site Ice Festival
The ice statues at the Susukino ice festival site, are best viewed at night when they're lit up, contrasting against the neon lights from the nearby buildings.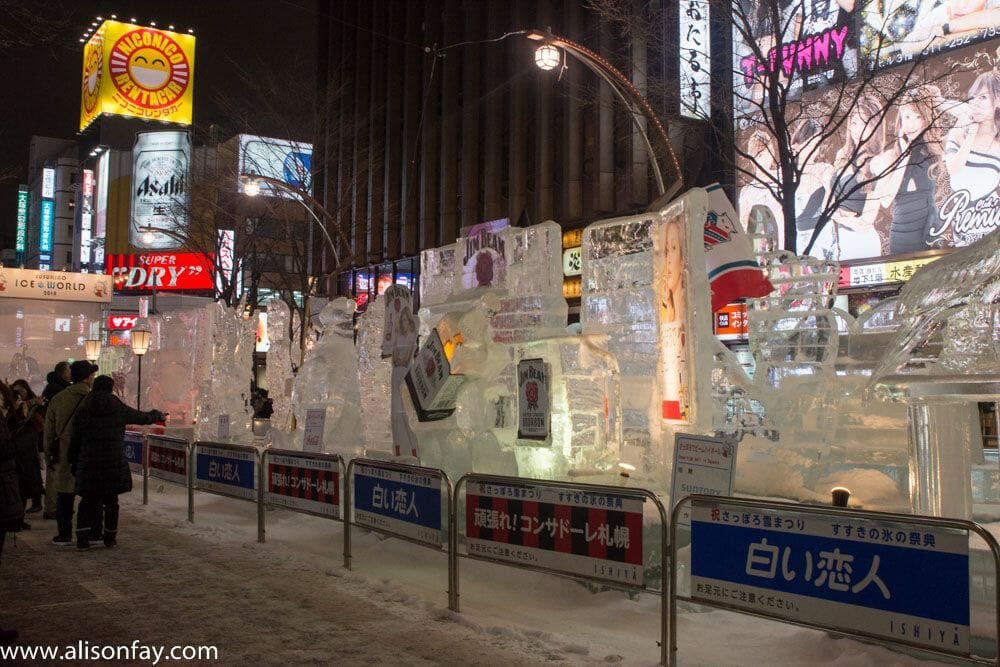 At the Susukino site, there are hundreds of ice sculpture's on display including one's from Jim Beam and Sapporo Beer. You can also see ice sculpture's being created, and get the chance to handle and take photographs with some small miniture ice sculpture's.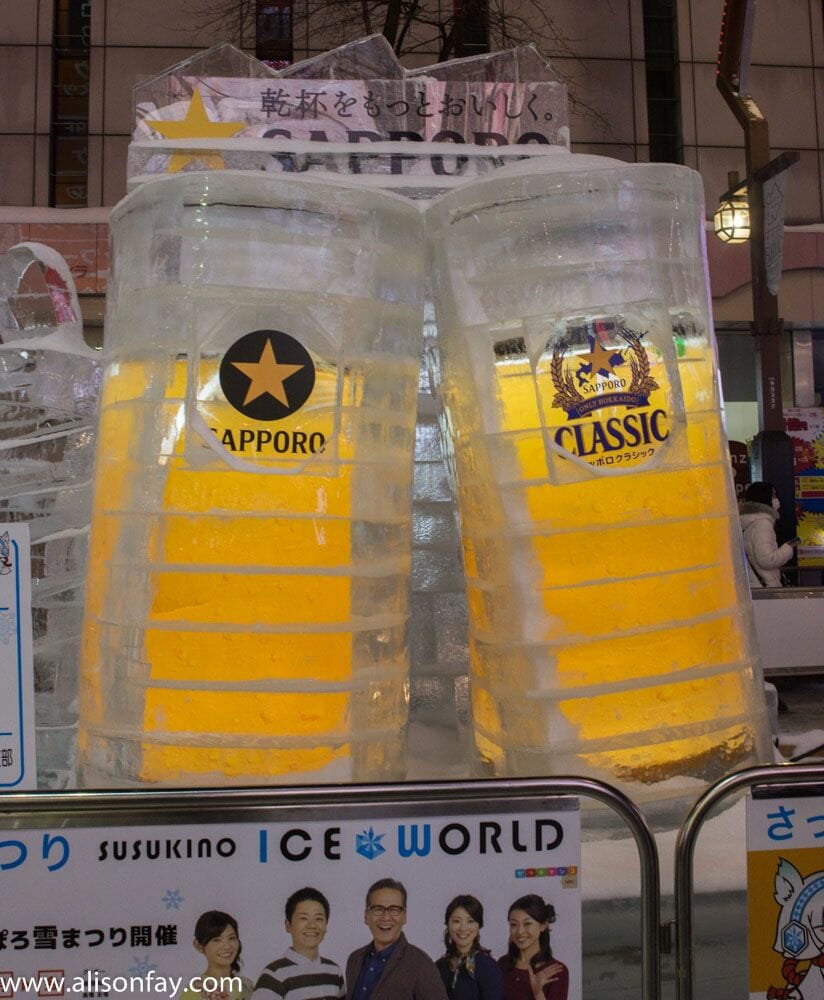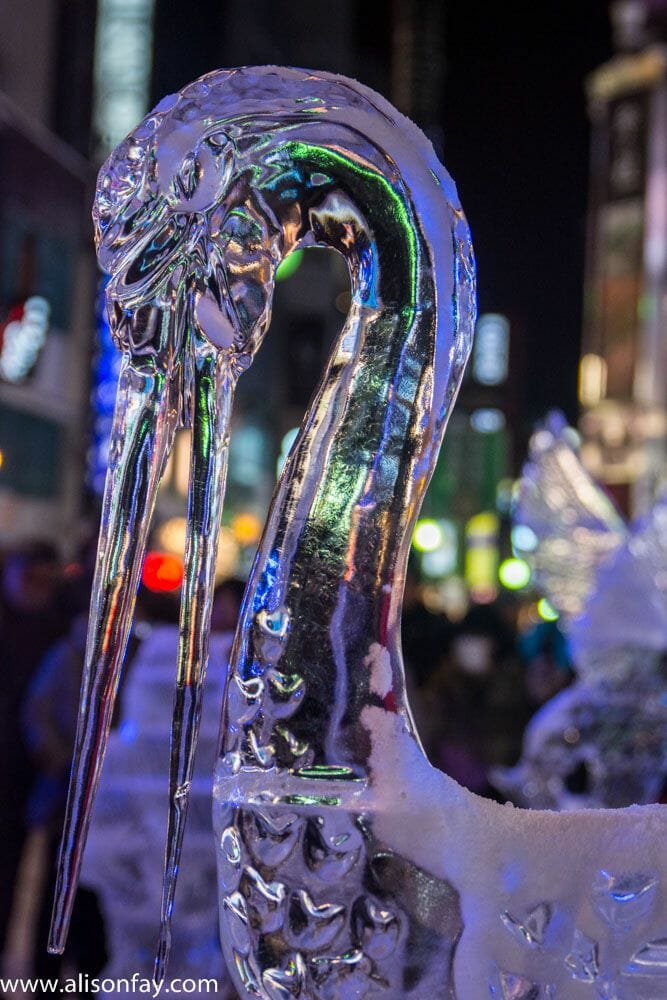 What to wear to the Sapporo Snow Festival
The Sapporo snow festival takes place during Japan's winter season when temperatures can reach sub-zero in Hokkaido, snow is constantly falling and the ground is covered in a mix of ice and snow. Sidewalks/pavements in Sapporo are not cleared (except where a business has invested in underground heating), and the snow quickly turns to ice. This puts you at risk of falling, so to ensure your own safety it is best to wear winter boots or shoes with ribbed soles. Ice cleats are available to buy from stores in the JR stations and subway stations and cost around 1000yen a pair.
Due to the sub-zero temperatures, and snowfall, make sure to bring some thermals and a warm waterproof coat. A warm hat, gloves, scarfs and thick socks are also recommended. If you forget to bring any of these with you, you can pick them up in a Daiso 100 yen store or in stores under or around Odori Park. Disposable hand warmers can also be handy to help warm you up, they're available in most of the Daiso 100 yen stores and convenience stores such as 7/11 and Family Mart during the winter.
Sapporo Snow Festival Disability Access
Most, if not all JR stations and Metro stations in Sapporo have wheelchair access. If you need assistance getting around or in/out of the station's, ask one of the staff members at the information desk or at the manned ticket barrier.
Due to the mix of ice and snow, the snow festival has limited accessibility and manoeuvring over the ice in a wheelchair can be quite difficult. However, to make thing's easier the Sapporo Snow Festival has volunteers who can help you adapt your wheelchair for the snowy conditions. There are two adaptions available, either little skills that attach to the front wheels or larger wheelchair tires.
The Sapporo TV Tower has elevator access to the upper floors. The TV tower has wheelchairs available for visitors to use, however numbers are limited. There is an accessible toilet available on the 1st floor.
Sapporo Snow Festival Site Locations and Access
The Odori site is located at Odori park; Nishi 1 chome ~ Nishi 12 chome.
You can access Odori Park from Odori station using the Namboku Line, Toho LIne or Tozai Line. Odori Station brings you out near the beginning of the park, by the Sapporo TV Tower. There's also access from Nishi juitchome Station, on the Tozai Line, which brings you out nearer to the end of Odori Park.
The Tsudome site is located about 1km from Sakaemachi Station. The walk takes approximately 15 minutes. During the Sapporo Snow Festival, there are shuttle buses from outside Sakaemachi (From exit #1 on weekends, and exit #2 on weekdays). The bus costs 100yen each way, and the fare is only payable using cash.
Departure's from Sakemachi to Tsudome:
Weekdays: between 8:40 am to 4:00 pm, every 10 minutes.
Weekends/holidays: 8:40 am to 4:00 pm, every 5 minutes.
Departure's from Tsudome to Sakemachi:
Weekdays: 10:00 am to 5:20 pm, every 10 minutes.
Weekends/holidays: 10:00 am to 5:20 pm, every 5 minutes.
You can also get to the Tsudome from the Odori Site, from the JR Sapporo Station Bus Terminal #6 Bus Stop. Bus fares from Oodri to Tsudome cost 210yen one way for adults and 110yen for elementary school children. Up to two pre-school children can ride this bus for free with an adult.
Departure's from JR Sapporo Station Bus Terminal #6 Bus Stop to Tsudome
Weekdays: 9:00 am to 3:00 pm, every 30 minutes.
Weekends/holiday: 8:30 am to 3:00 pm, every 15 minutes.
Departures fromTsudome to JR Sapporo Station Bus Terminal #6 Bus Stop
Weekdays: 10:15 am to 1:15 pm, every 30 minutes. 1:35 pm to 5:15 pm, every 15 minutes.
Weekends/holiday: 10:15 am to 3:00 pm, every 15 minutes. 3:00 pm to 5:20 pm, every 10 minutes.
Sapporo Snow Festival Site Map
Below is a map showing the locations of each site at the Sapporo Snow Festival. Feel free to share with friends or copy this map to your own Google Maps account.
The Sapporo Snow Festival 2019 Dates
2019 marks the 70th year since the Sapporo Snow Festival started. The main parts of the snow festival at the Odori site and Susukino site take place over 7 days.
The Odori Site and Susukino Site, are open February 4th through to February 11th 2019.
The Tsu dome Site is open from January 31st through to February 11th 2019.
For more information on the starting times, visit the Sapporo Snow Festival official website here.
Sapporo Snow Festival Accommodation
Due to the popularity of the festival, I recommend booking accommodation as early as possible. Accommodation quickly sells out, and prices increase rapidly the closer to the festival you get. I also recommend being flexible on what type's of accommodation you book. Even if you normally stay in hotels, consider staying in an AirBnb, hostel or capsule hotel to save money.
Learn how to book cheap accommodation with my free guide where I share my secrets to finding cheap hotels. 
Below is a list of hotel's available in the centre of Sapporo during the 2019 Sapporo Snow Festival.
Getting to the Sapporo
Sapporo is accessible using the JR Tohoku/Hokkaido Bullet Train to Hakodate, and then transferring to the Hokuto limited express to Sapporo. This route is covered by both the Japan Rail pass and the JR East South Hokkaido Rail Pass. It takes around 9 hours to get to Sapporo from Tokyo.
Flying to Sapporo can be much quicker than taking the train. Flights from Tokyo to Sapporo take around 1 hour 35 minutes.
Below is a calendar displaying flight prices for flights between Tokyo and Sapporo for the Sapporo Snow Festival. Flying from a different location? Find cheap flights to Sapporo here.
Found this guide useful? Then why not share it on Pinterest?