London is one of the most visited cities in the world, and it's no wonder why. It has a vibrant culture, beautiful architecture, and incredible history that make it one of Europe's most captivating destinations. You may be wondering where you can stay in London while travelling on a budget. While London can be expensive, there are plenty of budget hotels available. Even if you're travelling with kids, there are some great hotels offering deals that will help keep your London travel costs down. If you're wondering where to stay in London on a budget, you'll be glad to hear a good night's sleep doesn't have to break the bank!
Here are some of the best budget hotels in London to make sure you get your rest and still have money left over to see all the city has to offer, like Buckingham Palace and Big Ben.
Top Hotels in London on a budget
The Z Hotel Strand
The Z Hotel Strand offers a fantastic combination of amenities and prices. The location is ideal for business or leisure guests. The hotel's location is ideal for sightseeing as well: Buckingham Palace, Trafalgar Square, and St. Paul's Cathedral are all within walking distance from The Z Hotel Strand.
Nearby London Underground stations include Charring Cross and Embankment, giving you easy access to the rest of London. Plus, next door is The Adelphi Theatre which is one of London's oldest theatres, giving you easy access to amazing shows such as Back to The Future: The Musical.
You'll also find a selection of restaurants, and cafés nearby (plus a Krispy Kreme doughnut shop next door). If you need to use an ATM, you'll be glad to find that Nationwide is located at the front of the lane of the entrance the hotel is accessed from, with an ATM out front. If you need a sim card to use while in London, there's an o2 phone shop opposite as well as Argos which also sells SIM cards.
Rooms are stylishly furnished with contemporary touches and have large Samsung HD TVs with Sky TV, free Wi-Fi access, tea & coffee making facilities, and en-suites. They also have double, and queen size accessible rooms available for wheelchair users.
You can check reservations and find out more about this hotel here.
ibis Styles Southwalk
For a low-cost hotel stay, look no further than ibis Styles Southwalk. This budget hotel chain is perfect for those traveling on a budget who still want to enjoy a high level of quality and comfort. Located in Southwalk, the hotel gives easy access to loads of popular attractions such as Borough Market, The Tate Modern, Shakesphere's Globe, The Shard and London Bridge.
There's two nearby underground stations, the nearest being Borough Underground Station that is only 7 minutes walk away. London Bridge underground station is 10 minutes walk away. Both stations give good access to London and will allow you to explore the city by yourself, or on a tour. Bankside ferry is also nearby, giving you easy access to boat trips and ferry rides along the River Thames.
The hotel includes free WiFi with all rooms, an en-suite and an unlimited breakfast is available at no extra cost. The hotel also has a stylish bar, and plenty of nearby restaurants if you'd prefer to dine out. Plus, there's a car park behind the hotel, and although this isn't free any parking is hard to find with most hotels in London.
The hotel has queen size wheelchair accessible rooms available, and the hotel itself is wheelchair accessible.
You can find out more about this hotel and check for available dates here.
Travelodge London Central Southwark
Located right across from Southwark tube station, Travelodge London Central Southwark is a budget hotel that offers clean and comfortable accommodation at an affordable price. The hotel is located near London Southbank, and you can easily access nearby attractions such as The Tate Modern, National Gallery, London Bridge and the London Eye.
Each room at Travelodge Central Southwark have access to an en-suite bathroom, TV, and coffee/tea making facilities. The hotel also has a bar/cafe. WiFi and breakfast is available at an extra cost. The WiFi costs £3 per 24 hours. If you want breakfast and WiFi, I recommend paying in advance when booking your hotel room. You may however, find that it's cheaper to get a prepaid sim card with a high data plan instead of paying for WiFi. Prepaid sim card plans normally start at around £10 in the UK.
Limited parking is available for blue badge holders behind the hotel. The nearest car park, is Great Suffolk Street car park located at Ewer Street, off Great Suffolk Street, London, SE1 0UE. This car park does have expense parking costs of up to £30 a day (£20 daytime parking fee, and £10 for over night parking).
Travelodge hotels do have accessible rooms available, but they're not advertised online. If you need an accessible room, you'd need to contact the hotel before booking to confirm that there's a suitable room available. Once booked, you then need to contact them again to arrange for them to assign you the accessible room.
You can find more information on booking this hotel and room availbiltiy here.
Holiday Inn, Kensington Highstreet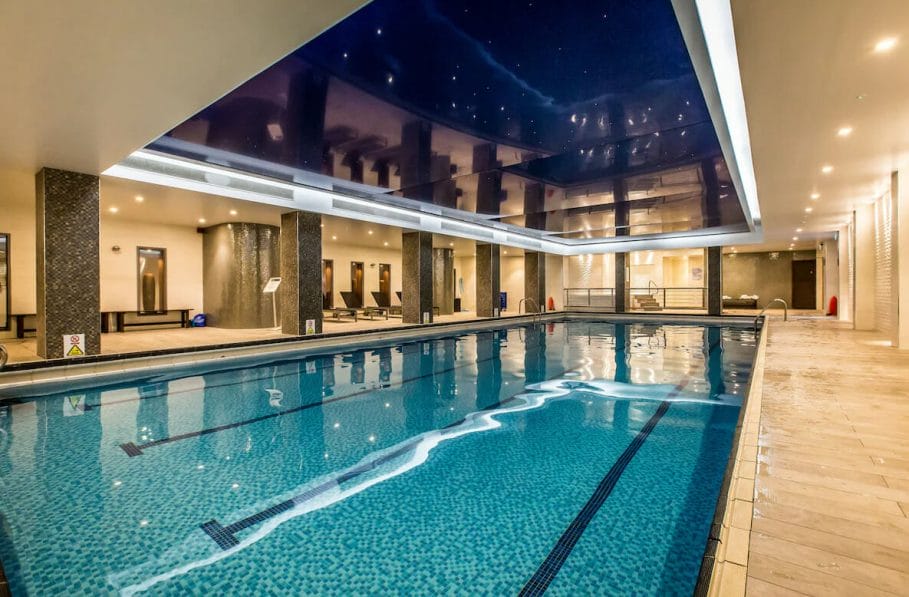 If you're looking for a budget hotel in central london, a great option is Holiday Inn on Kensington Highstreet. If you're travelling to Hyde Park and surrounding areas, like Harrods or Notting Hill, then there's no better place to stay. It can be hard to find budget hotels that offer breakfast in London, but this Holiday Inn hotel has a cooked breakfast available for £17.50 per adult and kids under 12 eat free!
This hotel is one of the more pricer on the list, but it does include access to a swimming pool, sauna and steam room (subject to £5 fee for adults, kids swim for free). Plus, kids stay for free which can help reduce the cost for familes when compared to other budget hotels. The hotel also has a private garden, fitness centre, and spa available on site along with one restaurant.
Plus there's free WiFi included, which other budget chains such as Travelodge charge for. The Holiday Inn on Kensington Highstreet does have parking available, but this costs £45 per day.
The hotel has accessible king size rooms available with the option of requesting twin beds, and adjoining rooms. If you need an accessible room, I recommend speaking to the hotel to confirm they have rooms available.
You can find out more about this hotel and check for available dates here.
Mowbray Court Hotel, Earls Court
The Mowbray Court Hotel is a budget hotel located by Earls Court. The hotel is minutes from Hyde Park, Kensington Gardens and Buckingham Palace. If you're visiting Earls Court Exhibition Centre, this hotel is in a great location as the exhibition centre is only a few minute walk away.
This budget hotel offers comfortable en-suite rooms equipped with Free Wi-Fi Internet access available in the rooms and public areas of the hotel. The Mowbray Court Hotel also features a 24-hour reception, laundry service and dry cleaning services. A breakfast is available at £5 a day. Guests can enjoy dinner or drinks at its onsite restaurant, or visit one of the nearby restaurants or cafes.
The nearest tube station, is Earls Court Underground Station which covers the Piccadilly line, which can get you to or from Heathrow airport in approximately 35 minutes. Plus, via Earls Court undergrond station you easy access to most of London's top attractions such as the Natural History Museum and Harrods.
You can book a room at the Mowbray Court Hotel, or for more information here.
hub by Premier Inn London Spitalfields, Brick Lane hotel
Located right on Brick Lane, hub by Premier Inn offers great value for money. The hotel's rooms are bright and spacious, and each comes with a 40″ TV, desk, free WiFi, a hair dryer, and an ensuite bathroom that has a shower.
Guests can unwind with a drink from hub bar before heading out to explore Spitalfields market or Brick Lane nightlife. The hotel is a short walk from Liverpool Street Station, so you'll be able to travel cheaply throughout London when you stay here. Nearby attractions include Van Gogh: The Immersive Experience (until May 2022), Whitechapel Gallery, Spitalfields Charnel House and Jack the Ripper tours in Whitechapel. Bricklane itself features a range of live music venues, with a great nightlife.
The hub by Premier Inn has an accessible room that has a double or king size Hypnos bed with an accessible ensuite bathroom. To book an accessible room, you should contact the hotel to confirm availability and to ensure they'll assign you an accessible room on booking. They have information on how to book under section 8 of their disabled access page.
Note: The disabled access page isn't specific to his hotel, but a guide and policies that covers all hotels. For specific information about the Spitalfields hub hotel, you'll need to contact customer service.
You can book a room at the hub by Premier Inn, and to find out more information here.
Hotel Bluebells Nottinghill Gate
For those looking for affordable, stylish accommodation, look no further than Hotel Bluebells Nottinghill Gate. This hotel is a great choice for both business and leisure travellers to London. Situated just a 15-minute walk from Hyde Park, Regent Park and Kensington Palace, this makes for a great location to access some of London's most beautiful areas. Plus, you're also nearby Portabello Road market which has a range of vintage stores, and great places to eat.
The hotel is situationed in an 18th century building, that combines period charm with 21st century amenities including free Wi-Fi access, TV, private bathroom with a shower and tea & coffee making facilities. They also serve breakfast between 7:30 am until 9:30 am from Monday to Saturday and on Sunday from 8:00 am until 10:00 am.
To book a room, and find out more information go here.
Travelodge London Excel
The Travel Lodge London Excel is located a bit further away from the central touristy area of London, but is convenient if you are visiting the ExCel centre, climbing or visiting the o2 Arena or using London city airport. While further away from central London, there's a range of nearby attractions that are easy to ge to such as the Museum of London Docklands, Cutty Sark and the Maritime museum, and the Dock Beach which has bars and a movie theatre. If you want to visit the more central attractions, you can use the DLR line and be at Tower Bridge in about 35 minutes.
The Travelodge London Excel offers comfortable rooms at a reasonable rate. WiFi is available for £3 per day, and parking is available for an additional fee of £10 a day. Limited disabled parking is available outfront for blue badge holders. The rooms at Travelodge feature TVs with freeview channels, as well as tea and coffee making facilities. Each room includes a private bathroom with either a bath or shower.
If you need an accessible room, call before booking to confirm availability. After booking, you need to let them know that you require an accessible room.
More information and online booking is available on the Travelodge website.
Ibis London Earls Court Hotel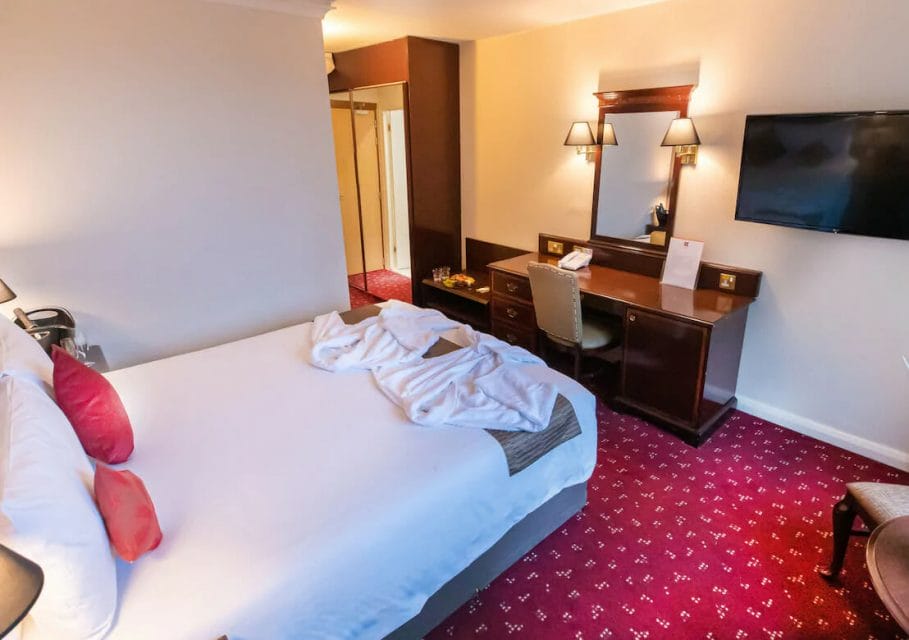 Ibis London Earls Court Hotel is located 200 metres from Earl's Court Exhibition Centre, and nearby is Earl's Court Underground Station. This makes it a great place to stay if you are visiting the exhibition centre, or want easy access to Heathrow Airport. Earl's Court underground staiton is on the piccadilly line, giving you easy access to Hyde Park, Kensington, Harrods and more. If you're a Dr. Who fan you'll also want to visit the Earl Court's Police Box which is also visited on the Dr Who London Tour.
The hotel has free WiFi throughout its public areas. Each room at Ibis London Earls Court Hotel has air conditioning and a TV with freeview channels. All rooms are fitted with a private ensuite bathroom equipped with a shower. Some rooms have a desk, and seating available.
Rooms can be booked online here.
St Athan's Hotel, Bloomsbury
Located on Southampton Row, St Athan's Hotel offers easy access to the British Museum and Bloomsbury Theatre. There's a range of near by art galleries such as Crypt Gallery, Wellcome Collection and Mamoth Gallery. For Dickens fans, the Charles Dickens Museum is only 12 minutes walk away.
The nearest underground station is Russell Square, only 4 minutes walk away. Russell Square is located on the Piccadilly line which offers easy access to popular attractions such as Hyde Park, Oxford Street, and Buckingham Palace. It takes about 53 minutes on the Piccadilly line to get to Heathrow Airport from Russell Square.
Each room has a TV with satellite channels is provided. Free WiFi is available throughout. There are no tea/coffee making facilities in the rooms, but you can ask receiption for hot water. The rooms don't have a fridge but the hotel can store medication in a fridge if needed.
The hotel itself isn't wheelchair accessible, but those with limited mobility and able to walk up/down stairs may find that there's suitable rooms available. There's 3 steps into the hotel, but they do have some ensutie rooms on the ground floor. These rooms don't have step free access to the ensuite bathroom. But if this sounds OK, make sure to ask the hotel if you can book one of these. They also offer a range of other accessibility option such as Deafguard pillows which vibrate if there's a fire which many other budget hotels do not.

If you have any accessibility needs the hotel has detailed information in their accessibility guide.
You can book rooms online or find out more information here.
What to do in London
If you're wondering what to do in London, make sure to check out my guide to the best tours in London or check out the tours below! To ensure you can easily access your tour tickets while travelling around London, I recommend getting a sim card. These can be purchased online ahead of time, at Heathrow Airport or within London after you arrive. Check out my guide on how to get a sim card, and which plans you should get.