Buying a Prepaid UK sim card can help you save on roaming costs whilst staying in the UK. Depending on which of the UK sim cards you pick, you can possibly also use it within the EU as well. Some sim cards can even be used worldwide! So whether you're staying in the UK or passing through Heathrow Airport on your way to Europe this guide will help you pick up a sim card at the airport.
The UK has dozens of prepaid sim cards for tourists available, that unlock monthly data, calling, and texting plans based on the amount you top up. Local sim cards in the UK don't cost much, so I highly recommend buying one to make your trip more fun and to remove the hassle of having to find and connect to public WiFi.
Brexit warning: Due to Brexit, networks have been changing how they handle EU roaming charges. Please make sure you double-check with your network before using the sim card abroad.
Some UK networks which used to have a fair usage policy for EU roaming have kept this in place, although the restrictions have tightened. But most networks (including Three, EE, and Vodafone), are now charging daily fees for using your UK sim card abroad.
I have covered the announced changes so far in this post but as roaming can get expensive double-check the information I'm sharing with the phone network before traveling to Europe.
As of July 2022, Tesco Mobile stopped including roaming allowances with all new plans. So if you need a sim card for roaming in Europe, don't go with Tesco Mobile UK. However, if you're also visiting the Republic of Ireland their Tesco Mobile Ireland sim cards work in the EU.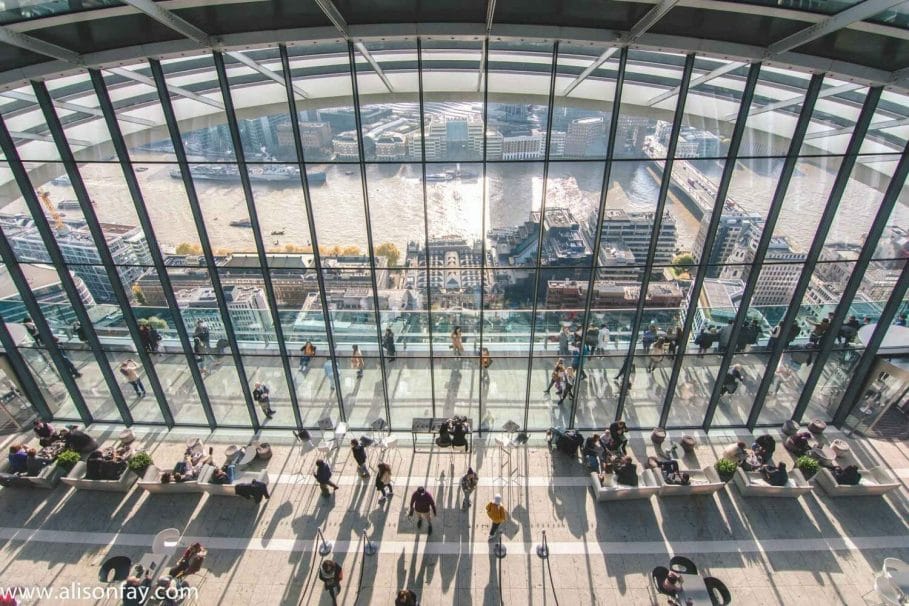 How to use a UK Prepaid Sim Card
Before coming to the UK, make sure your phone is able to use UK Sim cards. You'll need to make sure your phone is unlocked or contact your phone network to ask for an unlock code. Depending on the phone and where you live, there may also be a store or online website that can help.
The UK's phone networks use LTE, with support for 2G, 3G, and 4G speeds. London and other large cities such as Manchester and Bristol have 5G available. 5G coverage is constantly growing in the UK with EE having 107 cities and towns covered as of November 2022.
The quality coverage of 5G and 4G you get will vary depending on where you're going but within London and other UK cities, you can expect to have 4G and 5G on most networks.
If you're staying in or visiting London, and have a 5G phone make sure to buy a 5G UK Sim Card to make use of the latest London phone network technology.
Below's a table of the band frequencies that the UK mobile phone network uses, make sure your phone supports these before you buy a sim card.
| | |
| --- | --- |
| Network | Band type |
| EE | Band 3 (1800MHz) and Band 7 (2600MHz) |
| Three | Band 3 (1800MHz) and Band 20 (800MHz) |
| O2 | Band 20 (800MHz) |
| Vodafone | Band 20 (800MHz) and Band 7 (2600MHz) |
European networks mostly use the same technology but I recommend checking this Wikipedia list of mobile networks to confirm what network types are available in the EU countries you'll be visiting.
If you have a dual-sim phone, make sure you configure your sim card settings to use the UK sim card. Ensure roaming is disabled on your home country's sim, otherwise, you may end up with a huge bill.
Buying a Sim Card at London Heathrow From Sim Local
Sim Local stores are located in all of Heathrow's terminals, and in 2022 they opened two new stores making it easier to get a sim card.
You can find them in the following places at Heathrow Airport:
Level 1 of Arrivals at Heathrow Terminal 2
Baggage hall at Heathrow Terminal 2 (Newly opened in 2022)
The ground floor of arrivals at Heathrow Terminal 3
Baggage hall at Heathrow Terminal 3
Level 0 of arrivals at Heathrow Terminal 5
Arrivals Hall in Terminal 4
The underground walkway between Terminals 2 and 3
The stores in terminals 3 and 4 are open from 6am until 10pm. The terminal 2 baggage reclaim hall store, is open from 6am to 2pm, and the arrivals level 1 store is open from 6am until 19pm. The terminal 5 store is open from 5:30am until 9pm.
If you need assistance installing the sim card or figuring out which plan you need, then I recommend going to one of these stores. But If you'd prefer to do it yourself, then you can go to WHSmiths or a sim card vending machine.
At a Sim Local store you'll be able to buy sim cards from any of these networks; EE, Three, Vodafone, and Lyca mobile. Here's a list of some of the plans they have available:
| | | |
| --- | --- | --- |
| Phone network | Plan | Price |
| Lyca Mobile | 3GB of 4G Data, unlimited texts + minutes, 100 international minutes to 42 countries. | £25 |
| Lyca Mobile | 7GB of 4G Data, unlimited texts + minutes, and unlimited international minutes to 42 countries. | £30 |
| EE | 30GB of 4G Data, unlimited texts + minutes. | £30 |
| EE | 40GB of 4G Data, unlimited texts + minutes. | £35 |
| EE | 120GB of 4G Data, unlimited texts + minutes. | £45 |
| Three | 8GB of 4G/5G data, unlimited texts + minutes. | £25 |
| Three | 25GB of 4G/5G data, unlimited texts + minutes. | £30 |
| Three | 50GB of 4G/5G Data, unlimited texts, unlimited minutes | £35 |
| Three | Unlimited 4G/5G Data, unlimited texts, unlimited minutes | £50 |
| Vodafone | 20GB of 4G Data, 250 minutes, unlimited texts. | £30 |
Buying a Sim Card From WHSmiths at London Heathrow Airport
WHSmiths has a range of UK pre-paid sim cards available. Sim Local also sells the same sim cards but if you get a sim card at WHSmiths don't have to deal with someone trying to upsell things you probably won't want.
So if you don't need assistance with buying and installing the sim card, I recommend going here. Just make sure you have a sim card slot opener on you or you'll have to pop to Sim Local or the tourist information for help installing it. Tip: to avoid losing your sim card slot opener, you can attach it to a keyring on your house/car keys.
If you do have an issue with the London sim card you purchased from WHSmiths, you can pop into the Sim Local store and they'll be able to help fix it. Make sure you check the sim card works before you leave the airport, otherwise, you'd have to return if there's an issue.
WHSmith stores can be found in the arrivals for Terminals 2, 4, and 5. They're also in the Landside arrivals area for terminal 3, and the landside main in terminal 4. They're open from 6:30 am until 10 pm.
London Prepaid Tourist Sim Card Vending Machines
Sim Local has a few vending machines that sell sim cards, dotted around each of the terminals — normally next to the drink and food vending machines. These vending machines can be cheaper than the Sim Local stores, so I recommend checking them out. Plus they're open 24/7 so if your flight arrives before 6 am or after midnight you can still use a sim card vending machine to buy a UK prepaid sim card. If you have an issue you can still go to the SIM Local store to have it resolved (if arriving before midnight). But make sure you have the sim card opener if you're arriving outside of the store opening times.
The sim card vending machines in Heathrow airport sell sim cards from EE, Three, Lyca, and Vodafone. They normally only have one plan for each network, but they're cheaper than the Sim Local store.
Buying a UK sim card from WeKnow in Heathrow Airport
WeKnow is the tourist information for London and has prepaid sim cards for EE and Three for sale in their store at Heathrow Airport. WeKnow is located in the Heathrow arrival areas for Terminals 2, 3, 4 and 5. They're open from 5:30 am to midnight in Terminals 3 and 5, and from 6 am to midnight in Terminals 2 and 4.
WeKnows sim cards are more expensive than those you can purchase in a local shop once in London but if you need a sim card on arrival they're not the worst option – especially if you need help setting it up.
Here are some examples of the plans available:
Network

Plan

Price

EE (5G available)

40GB Data / 80GB Data / 120GB data for 30 days, unlimited UK calls+texts.
Roaming data allowance includes the EU/EEA

£35-£45

Three (5G Available)

12GB / 30GB / 50GB / Unlimited data, for 30 days. All plans have unlimited UK calls+ texts

£25-£50

Lyca Mobile

1GB data, 100 UK Texts, 500 UK minutes, 500 International minutes

£25

Lyca Mobile

5GB Data, Unlimited UK calls + texts, with 1000 call minutes to India

£30

Three

3000 minutes, 3000 texts, Unlimited data in the UK, up to 12GB data within the EU.

£50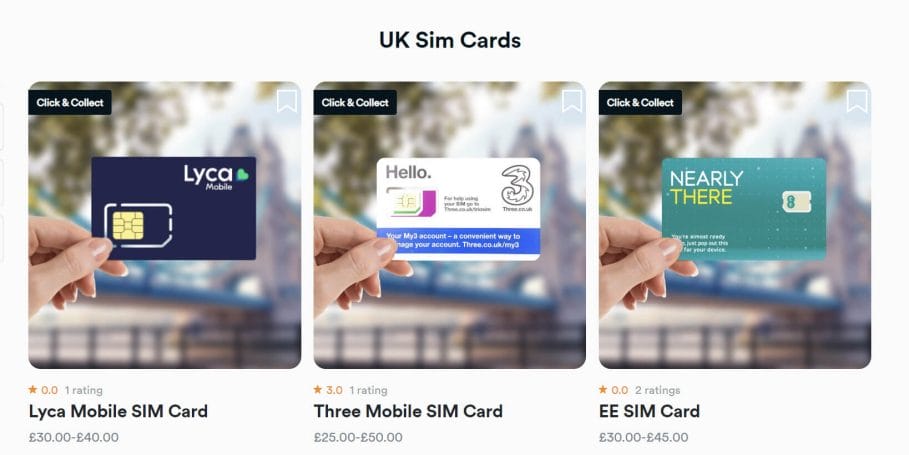 If you want to, you can reserve and pay in advance for the sim card with WeKnow online, their website has sim cards for sale from EE, Three Mobile and Lyca mobile which you can pick up at Heathrow Airport. When ordering you'll be asked to select your pickup location and time you'll collect the sim card so make sure to double-check your flight information to make sure you have the correct terminal.
How to Buy a London Sim Card in the Heathrow Departure Area
If you're a traveller passing through Heathrow, there are a few places you can find a sim card although options and limited, and you'll probably have to pay extra than you would if you leave the airport. I recommend waiting until you arrive at your destination and purchasing a local sim card when you arrive. If you're not staying in the UK, check out my other sim card guides.
Sim Local has a store located just after security in Terminal 5b. This store sells pre-paid UK sim cards that can be used in the EU, US, and other countries so this is a great place to look for a sim card if you want to avoid expensive roaming charges in multiple countries. Sim Local also has stores at other airport locations so you could also check if there's a store available at your final destination.
You can also try WHSmith's, as they sell local UK sim cards to global travelers in theri stores that can be found in the departure hall.
WHSmith is located in Terminals 2, 3, 4 and 5 after security and in Terminals 3, 4 and 5 before security. Most of the stores are open from 5:30 am to 10 pm but some are open earlier.
What To Do if Your Sim Card Doesn't Work
I recommend making sure your sim card is working before leaving the airport, to avoid the hassle and cost of returning to the airport.
If you've installed your sim card, and it has an error such as "no sim detected", try restarting your phone. If this doesn't work, try removing the sim card, and re-inserting it. If that still didn't fix it then you'll need to go to the Sim Local store.
If you have already left the airport, and cannot go back then your best bet is to contact the network provider and Sim Local. Sim Local used to have a refund request page but this has been taken down, so you'll need to contact them via their contact page or you can email or ring them (the information is on the contact page). To contact your network provider without a mobile phone is quite a hassle, so I'd advise going into one of their stores or asking wherever you're staying if they have a phone you could use.
Buying a Prepaid Sim Card in London From a Local Shop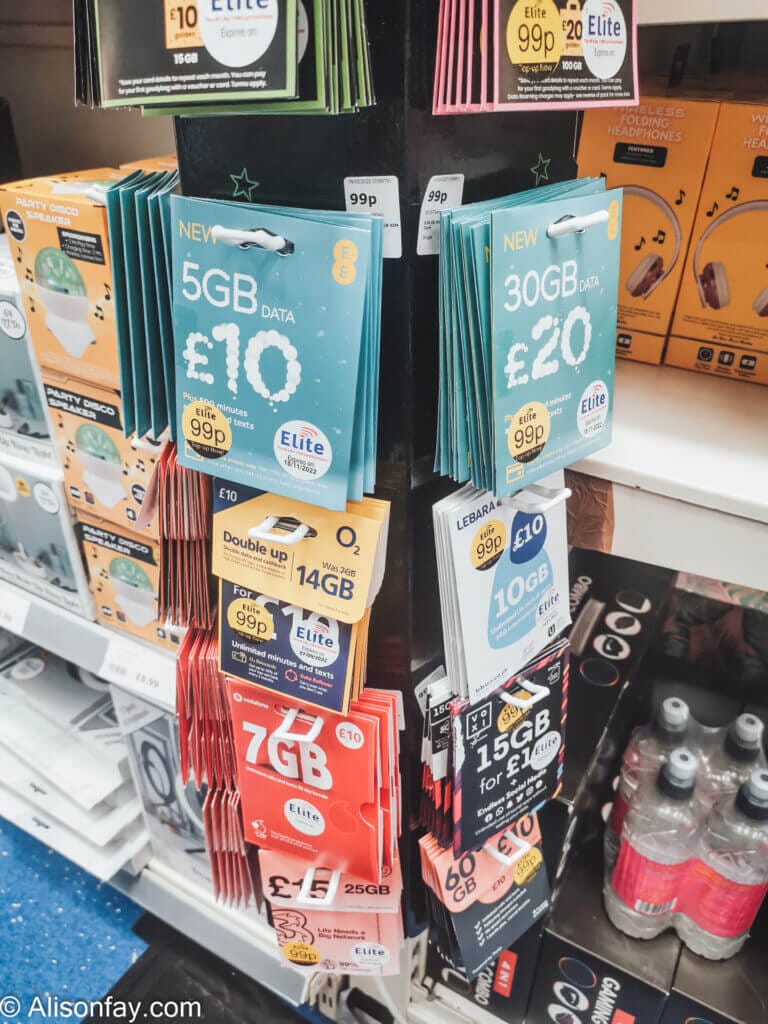 So after you have arrived in London, I know you'll probably want to get connected to a phone network as quickly as you can. But if you can wait until you're outside of Heathrow Airport, and purchase uk sim cards from a local shop you can save money. There are plenty of sim card stores throughout London, and other areas of the UK offering sim cards for less than they cost at the airport. There's a lot of competition between the UK networks so there's always some local sim card sales going on and sometimes you'll get some really good bonus deals.
If you're traveling to London, or another UK city you can find convenience stores everywhere that sell sim cards. I find the best places to buy a sim card in London are either from Tesco Express, Sainsbury's, or Co-op.
You'll also find them in their supermarkets, such as Asda Supermarket, or Morrisons Supermarket. Although Lidl and Aldi don't tend to stock sim cards, so don't waste your time visiting them unless you want cheap food. Sim cards in all these stores are normally located near the checkout. You normally have to top up at least £10 when buying the sim card.
If you find you need help with changing sim cards, you're best bet would be to head to one of the UK operators stores such as Three Mobile, or Vodafone network. These stores can be found all over London, and there's normally a few in each large city and town. If you bought a sim card already and get problems installing it, you can always visit one of these stores and ask for help.
Supermarkets have much better sim card deals than the airport. Here are some examples of offers available from UK networks, as of June 2021 using supermarket sim cards:
A £10 top-up with GiffGaff will give you access to 10GB of data and unlimited UK texts + minutes for 30 days. With EE, a £10 top-up gets you 100 UK minutes, unlimited texts and 4GB of data for 30 days.
Some supermarkets such as Asda and Tesco, have their own-brand sim cards. Asda mobile uses Vodafone's network and gives you unlimited minutes, texts and 10GB of Data – you'll also get access to 5G if in a 5G coverage area. Whereas Tesco, uses the O2 network, and a £10 top up with Tesco will give you a 4G sim card that has 5000 minutes, 5000 texts and 10GB of data.
You can also find London sim cards in shops like Argos, such as £15 for 15GB of data, unlimited minutes + texts with Vodafone. If you're going to be using a lot of data in the UK, then VOXI offers 45GB of data for £20. This sim card is available from Argos.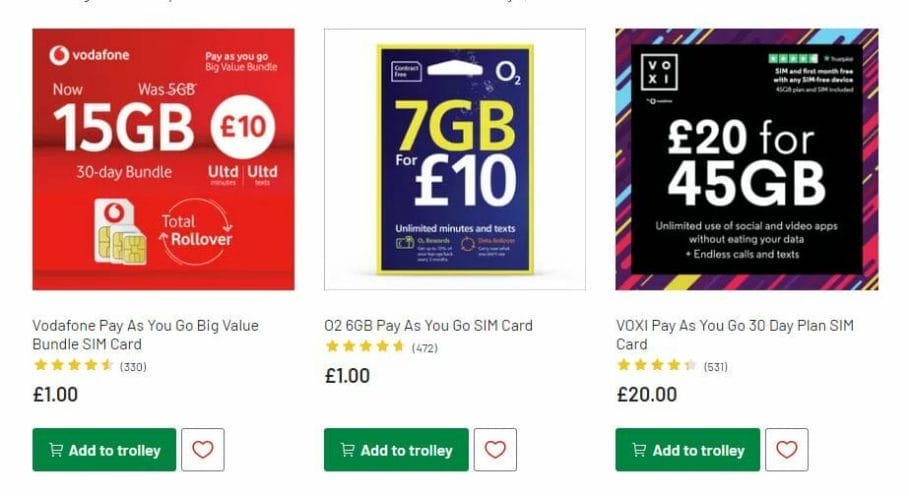 How to Buy a UK eSim Online
eSims are digital sim cards that download onto your phone. Plus there's the added benefit of not having to remove your home country's sim card, so you can still receive calls/texts etc from friends/family. New phones, such as the Samsung S22 and iPhone 13 support dual sims via eSims.
I recommend buying a UK eSims from Airalo, as they make it super easy. You buy your eSim online via their site, download it to your phone along with their app and you can top up the eSim or purchase different eSims as needed. Plus you're not just limited to UK eSims as they sell them for almost every country, region and even global ones. The only downside is, all of the eSims are data only so if you need minutes/texts you'll need to get a physical sim card instead.
Airalo has 4 different UK eSim plans available that start at $5 for 1GB of data.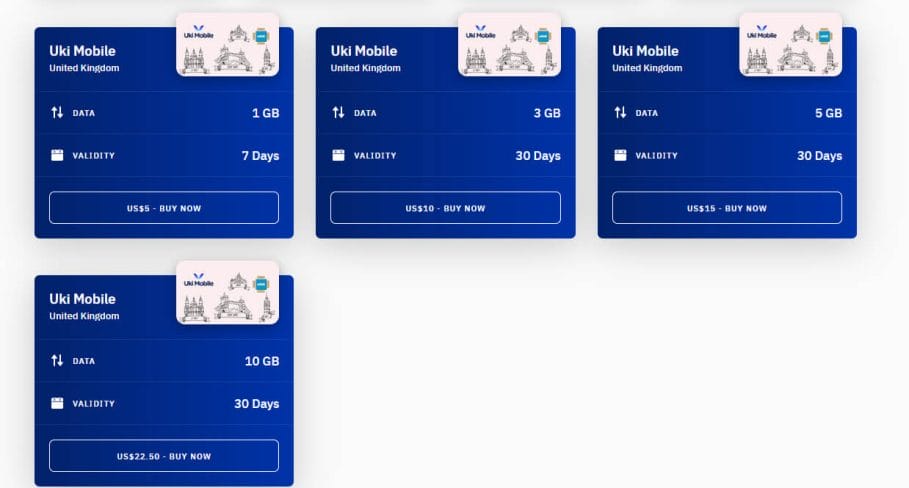 For $5 you'll get 1GB of data that is valid for 7 days.
$10 gets you 3GB of data that is valid for 30 days.
$15 gets you 5GB of data that is valid for 30 days.
$22.50 gets you 10GB of data that is valid for 30 days.
Tip: out of the above eSim plans, I'd recommend getting at least the $15 plan that gives 5GB data. 1GB and 3GB data can be eaten up super quickly especially if you start uploading TikToks or Instagram reels.
If you're visiting other EU countries, then you should check out their EU travel eSim card options as they could work out cheaper than buying country-specific sim cards. Their EU eSim works in 39 countries including the UK, Spain, Iceland, and Greece.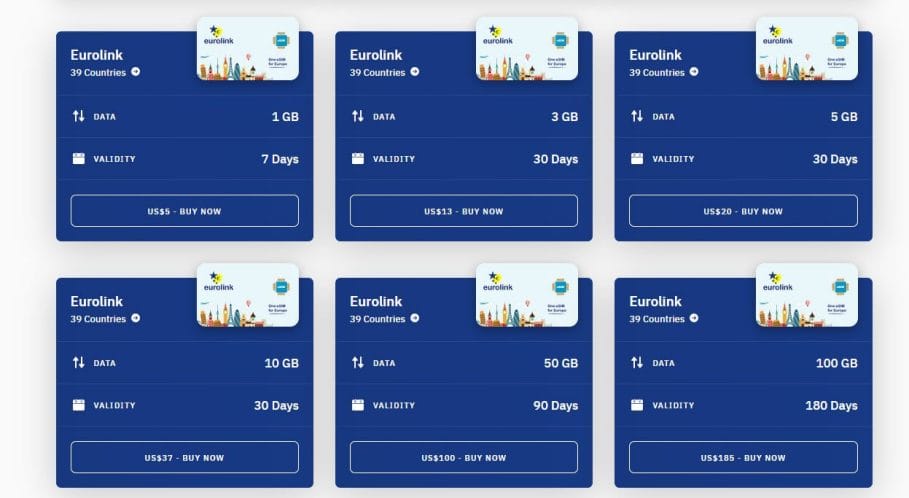 They have 6 different plans available as of July 2022:
Tip: As mentioned before 1GB and 3GB doesn't go that far. So I recommend the 5GB plan for $20. If you're going live on TikTok in places without public WiFi then the 50GB plan is probably more suitable even if it is a bit pricy.
If you're not staying in the EU, then you should check out Airalo's global sim cards. These start at $7 for 1GB data so they're a bit more expensive but they work in 87 countries including the UK, USA, Thailand and Australia.
Airalo has the following eSim global plans available:
Tip: These plans aren't as cheap as local eSims so I recommend checking the plans for each region and country you're visiting first. If you're only visiting one or two non-EU countries then you're probably better off buying seperate eSim Cards for each of those countries.
How to Buy a UK Sim Card Online
You can also order UK sim cards in advance online from Amazon, and have them delivered to an Amazon Locker. Amazon lockers are found in a lot of stores around London and most of the UK so you can easily arrange to have one delivered to the locker. If you're staying in London, you can also choose the Amazon Fresh store in Kensington as your pick up location.
Such as this 36GB Simcard with unlimited calls and texts from Three, including up to 12GB of data roaming within 49 countries in Europe, or, this preloaded EE Sim Card with 6GB Data that lasts for 90 days.
There's also a Vodafone sim card with 15GB of data that lasts for 90 days + international calling.
You can also order a sim card online directly from the UK mobile network. These sim cards either require you to pay online when ordering for a pay-as-you-go plan, or they send you a free sim card which you load credit onto when you receive it.
I personally recommend ordering a GiffGaff sim card. They're a cheap network with good deals, and use the O2 network which has really good 4G and 3G coverage across the UK plus 5G coverage in London (and other cities). Their plans start at £10 and last for 30 days. Plus they include roaming in the EU! Their deals start at £10, for 15GB of data and go up to £35 for unlimited data. All plans include unlimited texts + minutes in the UK. Giffgaff sim cards can be ordered for free online, but these can take a while to arrive.
To guarantee you'll get the GiffGaff pre-paid sim card in time for your vacation, I recommend ordering one from Amazon UK for a penny and paying £2.99 for priority delivery. Plus the sim card from Amazon includes a £5 bonus when you do your initial £10 top up.
Another good option is a SMARTY sim card, which runs on Three's network and includes 5G Data plus EU roaming. This phone network will give you access to good 4G and 3G network coverage throughout most of the UK, and 5G available in some cities including London. SMARTY sim cards cost £1 from Amazon and require you to top up and pick a plan. For £20 you get unlimited data, or for £10 you get 30GB data plus unlimited calls and texts. Plus you can use the sim card in Portable WiFi devices, laptop and tablets – not just phones.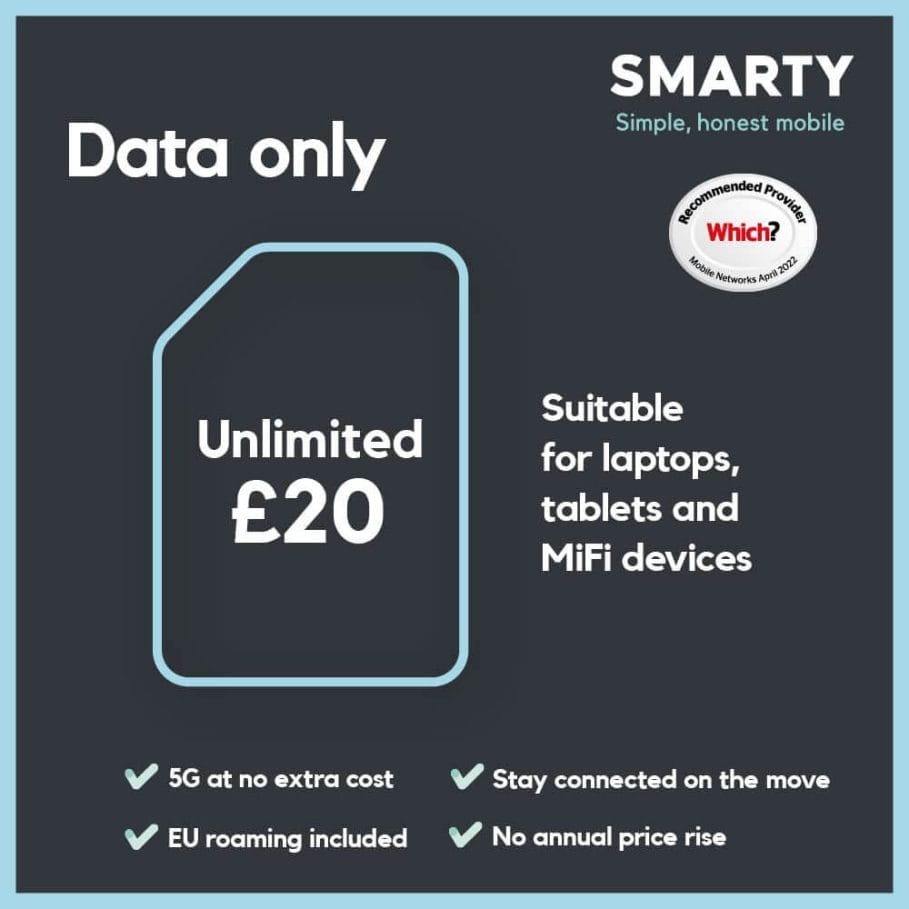 Other companies you can order UK sim cards from include:
Vodafone, from £10 for 5GB data.
Asda, from £10 for 10GB of data
Three, from £10 for 6GB of data
Need international calling? Lycamobile and Giffgaff offer cheap international calling and their sim cards can be ordered online. These sim cards are a great option if you need to call home.
If you're planning on using a mobile WiFi device, then I recommend checking out the plans and devices below. All the plans listed, allow you to use them in Mobile WiFi devices. They're also pretty affordable with decent data limits.
Buying UK Sim cards in other countries
Depending on where you're coming from, It is possible to pick up a UK sim card or an international tourist sim card that works in the UK, and sometimes multiple countries before you arrive. This is a great way of guaranteeing you'll have a working sim card soon as you land, and might save you time.
If you're flying from Bangkok, you can pick up a 4G Sim Card
with unlimited data, that lasts for 15 days from Bangkok Airport.
If you're flying from Hong Kong, you can order a UK Three Sim Card
to collect from the arrivals hall in Hong Kong airport. This travel-friendly sim card gives you 5GB of internet data to use in 42 countries, including the EU, the UK, Hong Kong, and Macau. These sim cards last for 30 days.
Coming from Singapore? You can order this 4G Sim Card
, that works throughout Europe with 2 different plans available (2.5GB data for 7 days or 5GB data for 20 days). This sim card will be shipped to you so you make sure to order in advance to ensure there's time for you to receive the sim card.
If you're flying from Ha Noi or Ho Chi Minh City, there is a 4G Sim Card
with either 5GB data or 12GB data that lasts for 30 days. This sim card will be shipped, so make sure to order well in advance to get it in time for your flight.
If you're coming from the USA, you can order European Sim Cards off Amazon that cover the UK and EU. Such as this Orange Sim Card that has 20GB of data, 120 minutes and 1000 texts, or a Three sim card that gives you 12GB for use in the UK and Europe for up to 1 year.
Other sim cards are available to pre-purchase before arriving in the UK.
If you found this guide to buying a UK prepaid sim card at Heathrow Airport helpful, please share it with your friends. Also make sure to check out the travel tips below, to get the best of your vacation.
If you're staying in London and looking for some day trips, why not visit the beautiful Georgian city of Bath? or, make the day trip into a weekend by combining it with a visit to the beautiful county of Somerset?