Whether you're visiting London on a day trip, or for a vacation there are some apps I highly recommend downloading before you travel. Some of these apps will help you get around London and travel on the London's public transport including the underground, others will help you with finding things to do and places to eat.
This guide only includes free apps although a few do have premium options available, upgrading isn't required to use them in the way I recommend in this guide.
AccessAble App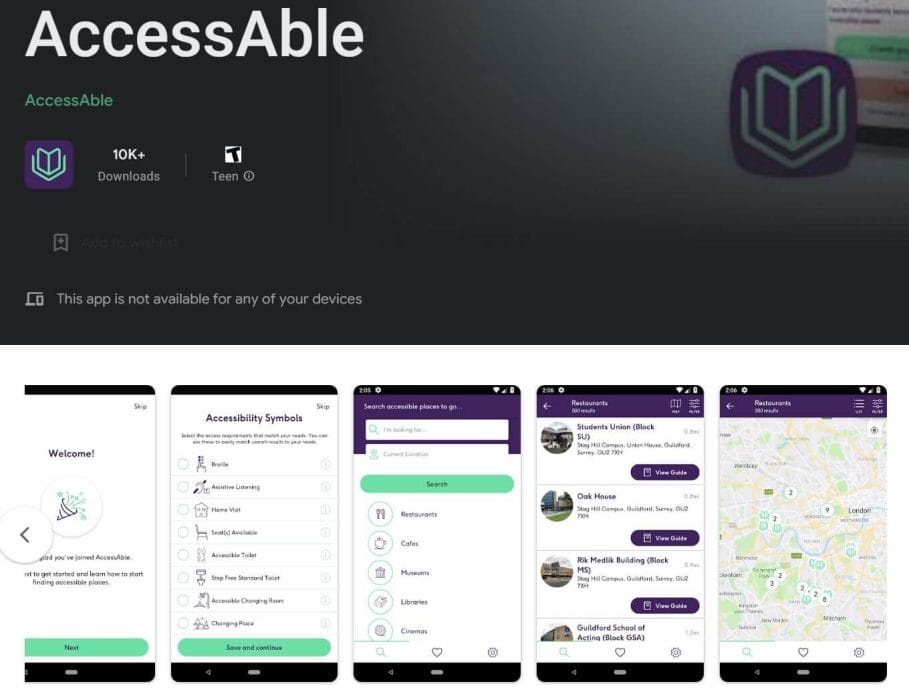 If you are disabled or have any accessibility needs, I really recommend getting this app. AccessAble lets you quickly view accesibiltiy guides for thousands of different locations throughout the UK including hundreds of venues in London. When sortnig out your travel plans, use the app to check whether places are accessible. One of the best things about this app is that the accessibiltiy guides go into a lot of detail and cover a huge range of accessibility needs including wheelchair access, hearing assistance, whether there's braile, accessible toilets and changing places etc.
The app lets you check many of London's popular museums, theatres, restaurants, historic buildings such as the Tower of London, and more. If you or someone in your group has a disability, I highly recommend downloading the AccessAble App but you can also search on their website if you prefer.
AccessAble is free for iOS (deisgned for iPad) and Android and as a website.
Citymapper for London
CityMapper is a free navigation app, that will help you navigate around London (and many other cities) with turn-by-turn directions. The CityMapper app makes navigating really easy, with easy to understand instructions. You can compare traveling on a range of transport such as London buses, the tube, taxi's, the London overground, electric scooter rental, cycling and more.
If you choose to travel by bus, tube or overground the app will tell you how far it is to the bus stop or station. It'll also tell you how many stops there are, and highlight which stop you're currently at so you know when to get off. This makes traveling on London's public transport system so much easier and helps reduce the overall stress and confusion; especially on the tube. It's not just one of the best apps for London though. If you're visiting other parts of the UK, such as Liverpool and Manchseter then I recommend keeping the app installed as you can use it to travel around other UK cities as well.
CityMapper is free for both iOS and Android.
TfL Go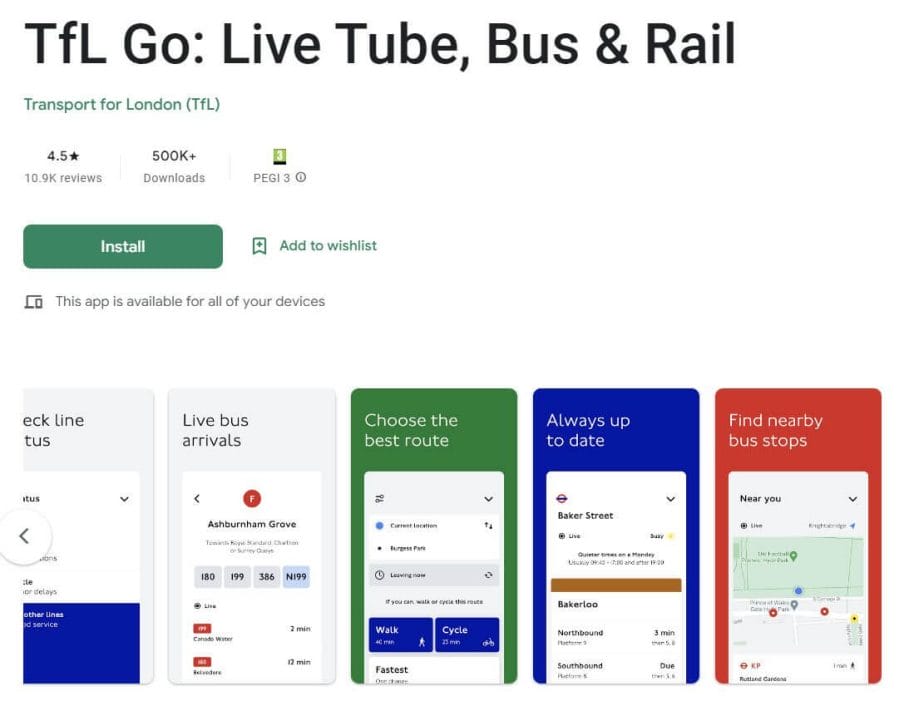 This is another free travel app that you could use instead of CityMapper. This is the official Travel for London app for London's buses, underground, overground, DLR, and also the Emirates air line. The app lets you look up step-free journies which is super handy if you need to avoid stairs. You can also use Tfl Go to calculate the best safest route if you are walking or cycling.
The app shows a breakdown of the travel time, and shows you the number of stops and which stop you're currently at so you can track your journey in real time. You can also find near by bus stops and check live bus arrivals, so when you're waiting for the bus you can check when it's due to arrive. The app also lets you check for disruptions so you can plan around these if needed.
TfL Go is free for iOS and Android.
TfL Oyster and Contactless App
When visiting London, you'll find that the easiest way to travel is by using a contactless payment method or an Oyster card. You can also purchase a day travel card, but these normally work out more expensive per journey. So this means that you either need a contactless debit/credit card, Google/Apple Pay linked to a payment method, or an Oyster card.
If you choose to go for an Oyster card, I recommend downloading this app to help you manage your top ups. Oyster cards cost £7 and can be bought on the app if you live in the UK or in person at the following places: Tube + Overground stations (and most Elizabeth line stations), Oyster ticket shops (they have the Oyster logo outside), visitor centres, and some other places which you can find listed on the TFL site here. You then top it up using your credit/debit card and use it to pay per journey. You can also buy weekly adult travelcards on the app, but if you only want a day one you still need to visit a ticket machine as these are paper only.
If you're visiting from abroad, I recommend using the Oyster app over a credit/debit card as it lets you avoid paying foreign transaction fees everytime you travel. By loading a larger amount onto the pay (say £20-30 at a time) you'll only pay any foreign transaction fees to your bank when you load the card rather than each time you travel. You can also avoid high foreign transaction fees by signing up for a free Wise card. Wise only charges 0.35% per transaction whereas most banks charge at least 2%. You can learn more about Wise here.
TfL Oyster and Contacless App is free for iOS and Android.
FREE NOW Ridehalling / Taxi App
FREE NOW is a ridehalling app/taxi app that is similar to Uber. Uber isn't available in London so I recommend using FREENOW instead. The app is easy to use, and can work out cheaper than waving down a London taxi. For example, I paid £15 for a 2 mile journey in London whereas on Freenow, 2 mile journey only cost me £6.
FREE NOW also has some great offers for new customers. If you sign up using this referral link you will receive £10 credit to use on your first journey.
FREE NOW is free for iOS and Android.
TubeMap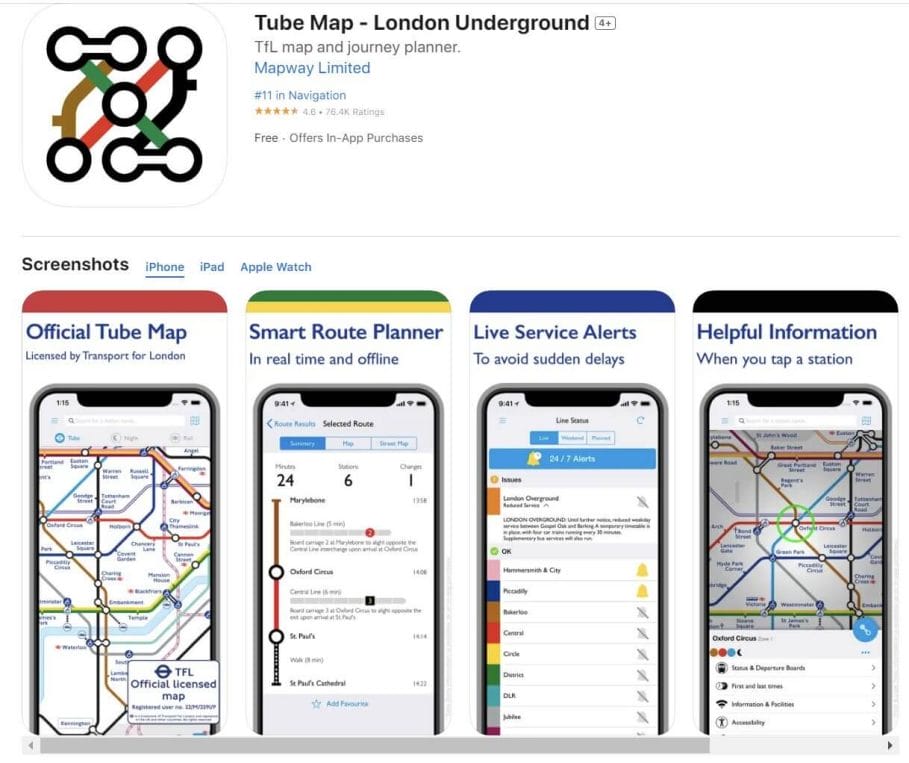 TubeMap is another free navigation app that lets you view the map of the Tube (The London Underground), the Night Tube and National Rail train maps. You can use the app to plan a route, and save this for offline use or view it online for a live update. You can also check live departure boards to see when the trains will arrive.
TubeMap is free for iOS and Android
Santander Cycles App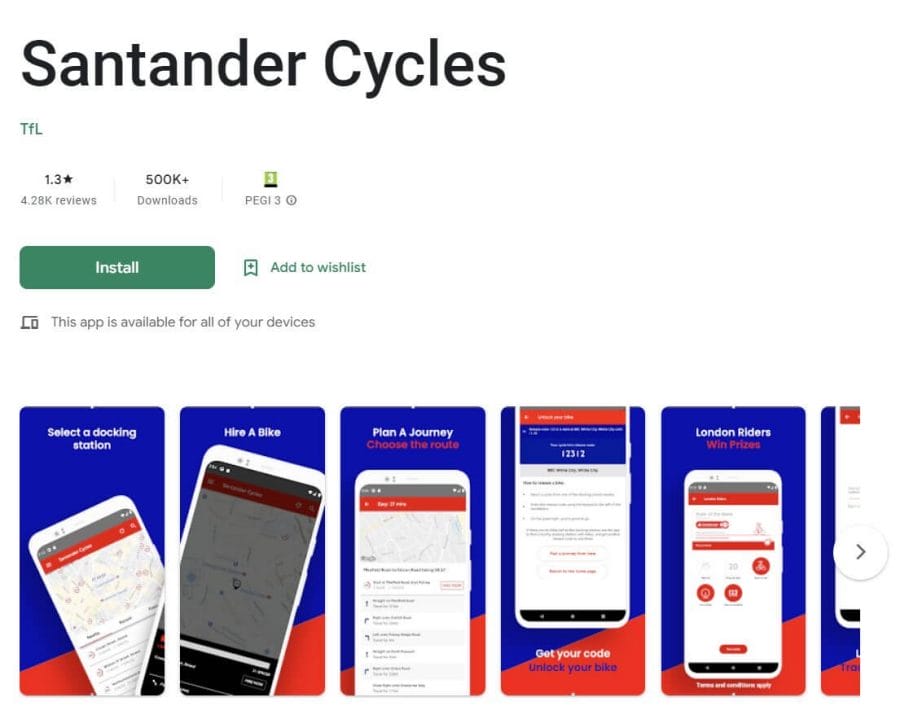 This app lets you rent a bike through the Santander Cycles rental system. These bikes can be found around the city, and the app lets you check the availability of both bikes and docking space. Plus you can bypass the terminal at the rental location. Normally, you have to use the terminal at the bike docking station to hire a bike but by using the app you can get a release code sent to your phone so you can hire the bike much more quickly. You can also use the app to plan your cycle route.
Santander Cycles is free for iOS and Android
Too Good To Go – Discount Food App
Too Good To Go is a great app that helps you save money whilst helping to reduce food waste. They've connected with hundreds of different shops, cafes, restaurants etc throughout London and thousands more across the UK as well as other European countries including Denmark, Portugal and Sweden. These businesses are using the app to sell the food they have left over at a discounted price. It's pot luck what you'll get, sort of like a goody bag that contains different foods that the businesses sells. The app does give you a summary of what you can expect, plus there's a rating left by previous users so you can judge whether it was worth the money or not. So you can judge whether there is likely to be food you'll like.
While in London you'll have so many places to choose from such as Leon, Starbucks and even some of the high end bakeries. You just have to be really open to eating whatever they have, so if you have allergies or really cannot stand eating something then you might find this app isn't suitable. If you're vegan or vegetarian, its best to stick to vegan-only restaurants as you could be given meat/fish products. You also need to be open to eating later as most places will require you to pick up as they are closing. You don't get to eat in the restaurant so you do have to find a bench or take the food back to your hotel. So while you're in London I really recommend getting this app and keeping an eye on it.
Most food bags cost between £2-£5, but some might be higher. Which is much cheaper than eating out in London.
Too Good To Go is free for iOS and Android.
Happy Cow – Vegan Food App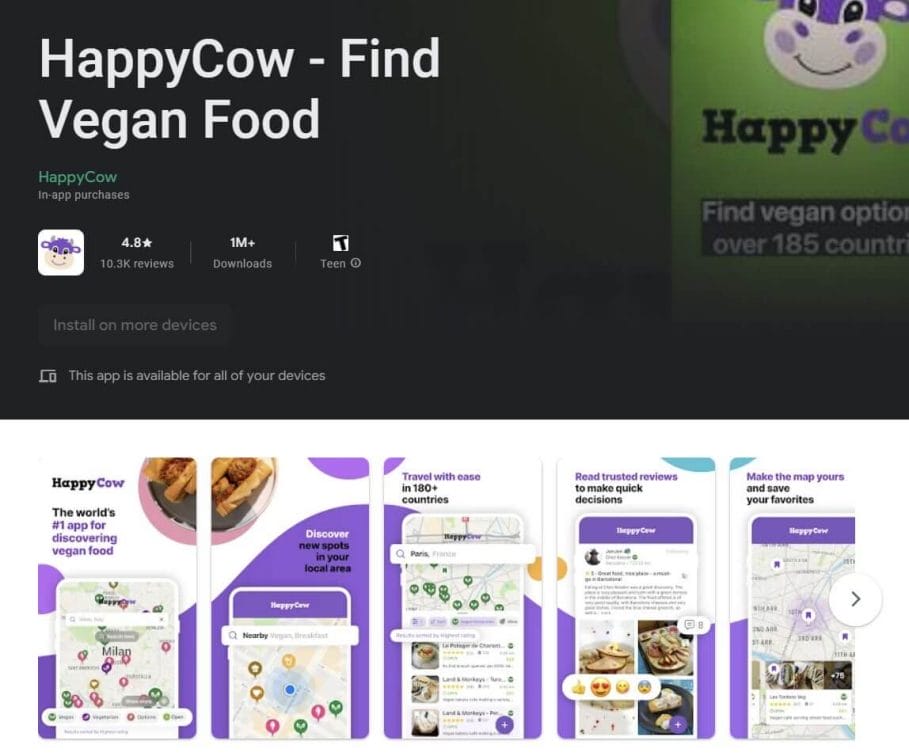 If you're a vegan or have a dairy allergy, you need this app. The Happy Cow app gives you a list of restaurants in London that are serving vegan/vegetarian options. You can filter the restaurants for vegan only, vegetarian and veg-options. Then, check the description, cusine type, opening times etc to help you pick where you'd like to eat. The app works worldwide, so you can keep this installed all the time and even use it in your home town.
Happy Cow is free to download for iOS and Android. They also have a website here.
London Architecture Guide
This app shares information for over 1000 of London's famous buildings, going as far back as the Roman period. If you're interested in learning about London's architecture, you should download the app. You'll be able to enjoy commentary from Edward Jones and Christopher Woodward, who wrote the book that the app is based off of; Guide To The Architecture Of London.
When you use the app, you'll be able to see a map of London with pins of each location covered. So as you travel around London, you can check the information on buildings as you walk past them and learn more about this amazing city.
London Architecture Guide is free for iOS and Android.
Urbs – Free City Audio Walking Tour Guides
This is one of the best apps for travelling around London on a budget. The app lets you enjoy a walking tour of London, without the cost involved. The app offers 8 different free audio guides, which includes one for London. The London audio guide contains over 4 hours of content, that covers 60+ locations and over 80 different restaurants, bars, cafes and shops. Some of the places included in the guide may require a ticket, which you can book through the app but I personally prefer to book these tickets through Get Your Guide as they include free cancelation.
This is definitely one of my faveourite apps, and one of the best London apps. It helps save money on walking tours, and you can go at your own pace so if you need a break you can take one without worrying you'll lose the tour group.
Urbs is free to download for iOS and Android.
Get Your Guide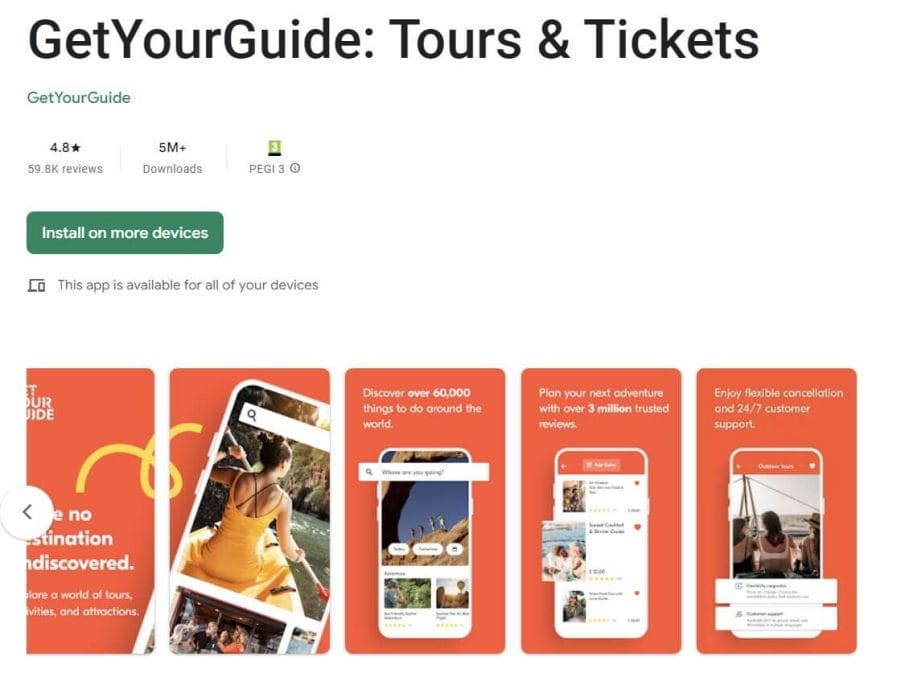 The Get Your Guide app is very handy to have installed whilst you're visiting London. It lets you find and book tours, day trips and entry tickets for places like the Tower of London. Sometimes they have special offers, so sometimes you can save money booking via the app rather than booking through the tour companies own website. Many of the tours and tickets also include free cancelation up until 24 hours before you go. The app saves a copy of all your bookings with a copy of your ticket. You can also view your historical bookings if you ever want to refer back to them.
Note: The app doesn't tend to offer the discounted concession entry ticket for students, elderly or disabled people/their carer. E.g. The Tower of London has cheaper entry for disabled people but this is only available through the website. Always check the app price and then go direct to the company and confirm whether they offer a cheaper ticket before booking to make sure you're getting the best price.
Get Your Guide is free for iOS and Android. You can also book through their site here, and choose to download the app afterwards to access your booking information.
Locationscout – Find The Best Photo Spots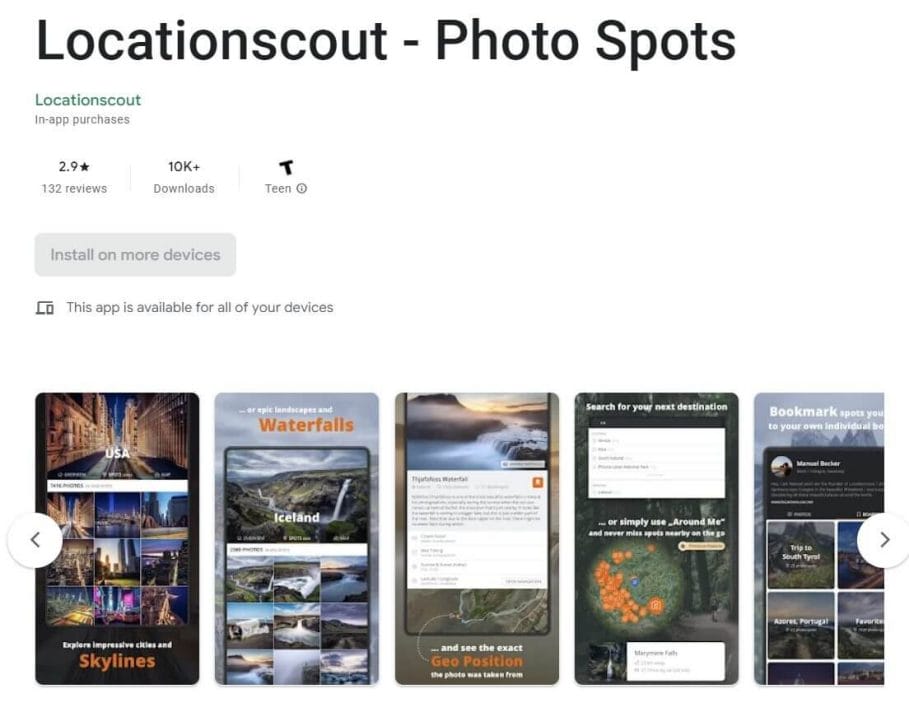 If you want to get some awesome travel photos I really highly recommend this app. Locationscout is one of my faveourite planning apps for travel photography, as it lets you search by location and view different places to take photos, and see some example photos. You'll need to register a free account to get full access to all the location information but after you've registered you'll be able to view maps, where you can see the exact pin pointed location of where a photo was taken. You can also leave comments and submit your own photos when you find interesting places to take photos.
This app works worldwide so if you love taking travel photos, then I recommend keeping this installed and using it wherever you travel.
Locationscout has a website, and is free for iOS and Android.
PackPoint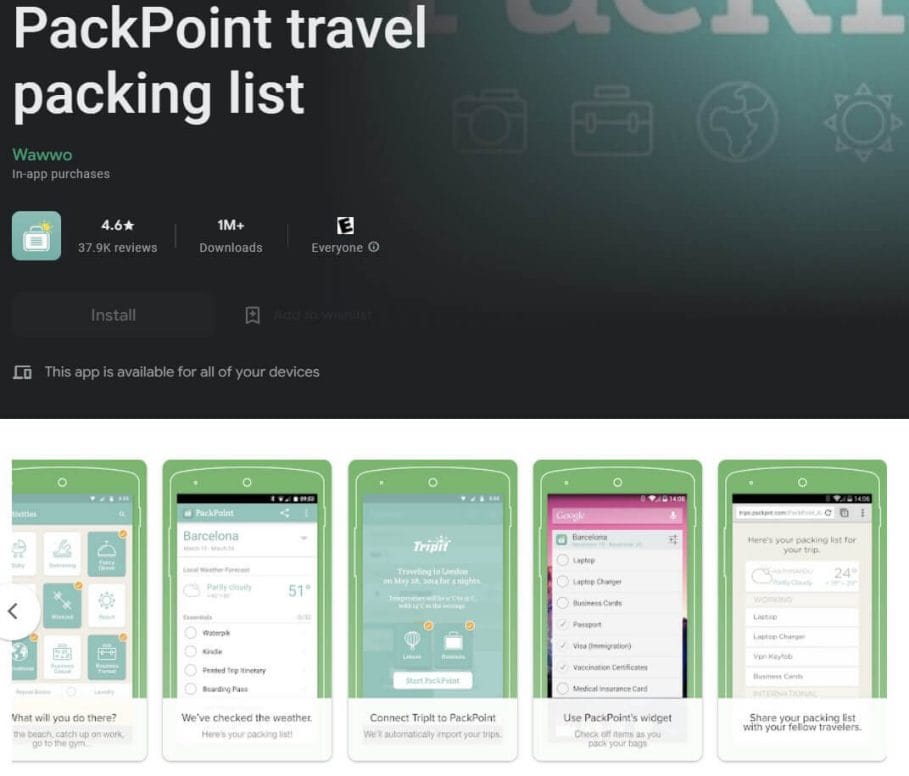 PackPoint is a must-have app to have installed when you're packing for your trip. The app helps you organise what you'll need to pack depending on length of trip, weather and activities you've planned. It can help you avoid overpacking, and cut down the time you spend on deciding what to take. Despite traveling a lot, I still tend to overthink what I need to take with me so PackPoint is an essential app for me to have installed. It's really helped me cut down on the amount of clothes I take, which in turn has reduced my travel costs by avoiding check-in bag fees.
The app itself is free but there's also a premium version available that lets you share your packing lists and connect your PackPoint app to TripIt and get your travel itineray information linked across to help you pack better.
PackPoint is free for iOS and Android. With a premium upgrade option available.
TripIt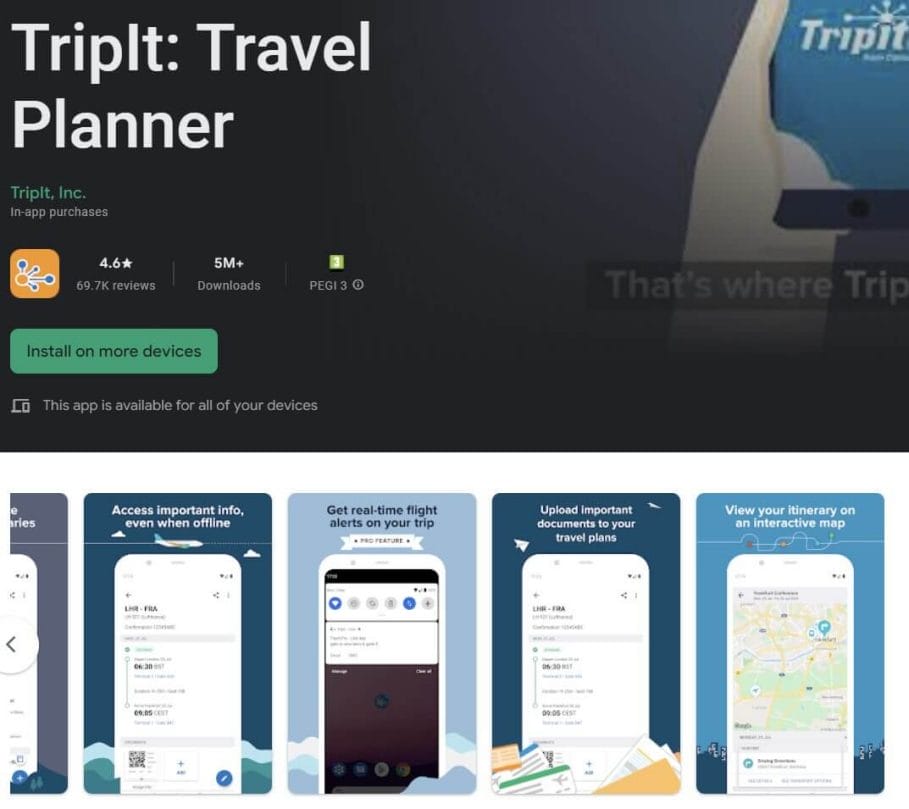 TripIt is a travel itinerary planning app. You can use the app to organise your travels all in one place, including your reservation details. So you no longer have to search through different hotel booking apps, your emails, etc. Just save all your travel information in the app, and it'll help you stay organised. If you have PackPoint premium you can also connect TripIt to PackPoint, so you'll be able to organise your packing based on your travel itinerary.
The app is free but they also offer a pro option. If you choose to upgrade, you can receive flight status alerts and a reminder to check-in for your flight. It'll also let you track your rewards and alert you if they're expiring so you don't lose things like your airmiles, and check if fare prices have dropped so you can request a refund (if eligible).
This app is free for iOS and Android (with a premium upgrade option).
I hope you found this guide helpful. If you're looking for ideas on which tours to do whilst in London check out my guide to the best tours in London. If you need a sim card, make sure to check out my guide on buying a sim card at Heathrow Airport or in London here.
Travel Tips For London
Don't Forget Sunscreen – No matter where you're going, I recommend packing a good quality reef-friendly sunscreen. This will help protect you from developing skin cancer or getting sunburnt.
Getting a taxi in London– If you want to use a taxi in London, you can always wave down a Black Cab. But to save money I recommend downloading FreeNow. Use the referral code o9be2eaj5 to get £10 for your 1st trip.
Get the TFL Go App – Before heading to London, down the TFL Go App to help you plan your journeys and check the bus, train and tram times within London. Download the app here.
Airport Transfers in London – Landing in Gatwick? Book tickets to get to London on Gatwick Express.
For Heathrow flights, book tickets for the Heathrow Express.
Hotels & Hostels in London – I always book hotels and hostels for London through Booking.com, as they have thousands of options with free cancellation & let me to filter for properties based on my needs (e.g. free breakfast).
Car hire in London – Driving in London is expensive, but if you're traveling to other areas of the UK I recommend hiring a car. Book your car hire online in advance to save money. I recommend booking through Discover Cars to find the cheapest prices & get free cancellation.
Wheelchair/Mobility scooter hire – Wheelchair and mobility scooter hire is available from Direct Mobility, and Mobility Equipment Hire Direct. Contact them before you travel for a quote.
Get a sim cards – Make sure to get a sim card for your trip to London. Buy online in advance, such as the Orange travel sim card or read my guide on buying a sim card in the UK, or at Heathrow Airport to know where to get the best deals when you arrive.
VPN – If you use a shared/public WiFi in London (even at your accomodation), I recommend using a VPN. You can never be too safe, and sometimes public WiFi isn't secure. I recommend using Proton VPN, as they don't track your browsing history and are reasonably priced.