Experience the breathtaking beauty of Diamond Beach in Iceland, where the icy blue waters of the glacier meet the black sand shores. Located on the south coast of Iceland, Diamond Beach, also known as Breiðamerkursandur is a must-see destination for any visitor to the country. With its unique blend of natural wonders, including the dramatic Jökulsárlón glacier and the sparkling diamond-like ice chunks scattered along the beach, Diamond Beach is truly a one-of-a-kind destination.
This guide will help you plan your trip to Diamond Beach in Iceland and discover the magic of this iconic spot for yourself.
Why is it called Diamond Beach?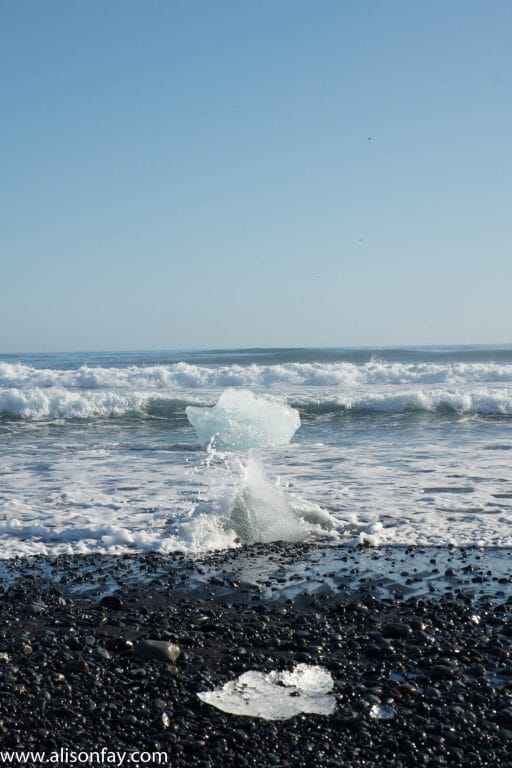 Diamond Beach gets its name because of the shiny, diamond-like ice chunks that wash up on the shore. These chunks are actually pieces of ice that have broken off from a nearby glacier called Breiðamerkurjökull and floated through the glacier lagoon, down into the ocean before being washed up on the shore. When the waves bring the chunks of ice onto the beach, they glisten and shine in the sunlight, giving the beach its name.
Can you see the Northern Lights from Diamond Beach?
The Northern Lights, also known as the Aurora Borealis, is a truly spectacular sight to behold. It's an amazing natural phenomenon that can be seen from many places around the world. But can you see the Northern Lights from Diamond Beach? Yes, the area has low enough light pollution to see the northern lights as long as you're here at the right time of year.
The best time to see the Northern Lights at Diamond Beach is during winter between October to March when it's clear and dark outside. The chances of seeing them increases in December and January, although these months also have the coldest and more extreme weather than the rest of the year. To increase your chances of spotting the Northern Lights, you can download a free app called "My Aurora Forecast & Alerts", which is available for iPhone and Android. This is one of a dozen travel apps for Iceland that I recommend installing to make your vacation easier. You could also opt to take a tour to see the Northern Lights although these may not necessarily take you to the beach unless that's the best location for it on the particular day.
Where is the Diamond Beach?
Diamond Beach is located along the ring road, in the south of Iceland. It's near to the Jökulsárlón glacier lagoon, which is just across the road from the beach. The beach has plenty of free parking available so if you're doing a self-drive Iceland vacation you won't have to worry about finding a parking spot. It's also really easy to get here, as you just follow the ring road until you see a white bridge, and the red and white sign for Jökulsárlón. You can choose to park at Jökulsárlón and check out the glacier first, or go into the Diamond Beach car park that's on the other side of the road which will give you easy access to the beach.
If you or someone in your travel party has limited mobility, I recommend parking at the main car park for Jökulsárlón first which will give you a good view of the lagoon then move the car to diamond beach car park so you're as close to the beach as possible so you don't have to walk as far. Neither the lagoon nor the beach are setup for wheelchair access but with the right equipment, you should be able to still enjoy these areas. If you don't currently have an offroad wheelchair setup, check out this guide by ActiveMSers.org, which covers the types of offroad wheelchair options available. Also make sure to check with your airline, that you'll be able to transport your chosen setup.
The Best Tours to Diamond Beach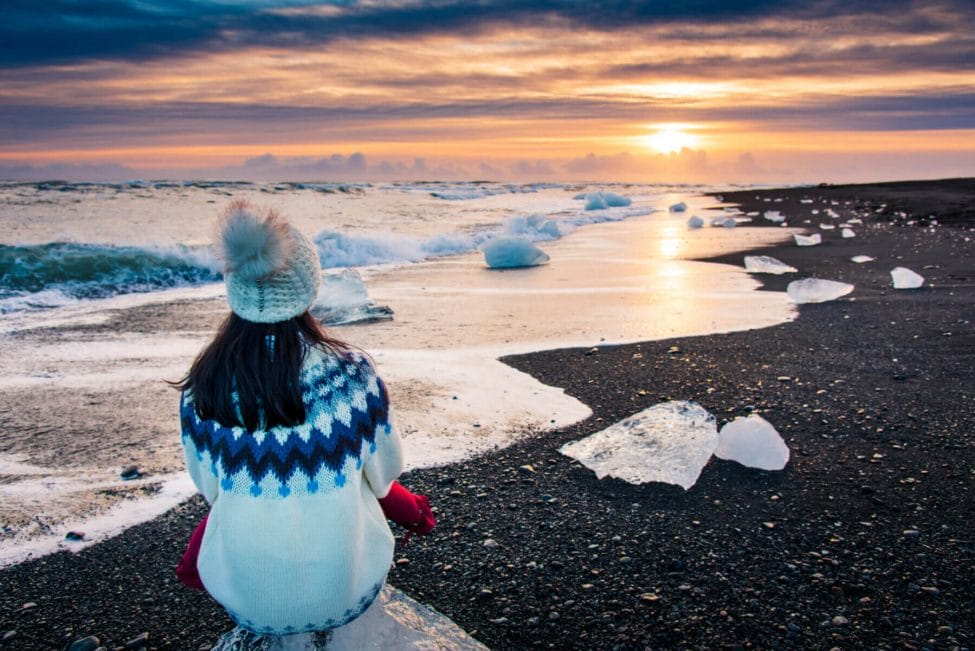 If you're not driving, there are plenty of tours that go to Diamond Beach. There are some tours that leave from Reykjavik, but this can be quite a long day as it's a 5 hour drive (in good weather). So I recommend doing a multi-day tour, so you can explore a few different places and make the most of your time here in Iceland. Plus, by doing a muti-day tour can save money over booking individual tours as they normally offer some discount for booking packages.
You could consider this 2-day tour that takes you to some amazing waterfalls such as Seljalandsfoss and Skógafoss, to the Eyjafjallajökull glacier volcano and the Mýrdalsjökull glacier where you can opt to do a 1.5 hour glacier hike. Then, after you'll head off to Reynisfjara black sand beach. Then the next day you'll head to Jokulsarlon glacier lagoon, and also visit the Diamond Beach. Then, you'll head to Hofskirkja which is an unusual turf-roof church and then onto the Fjadrargljufur River Canyon which has amazing scenery and you can also spot some of Icelands wild birds here.
Alternatively you could also consider this 6 day South Iceland Tour. This tour takes travelers on a journey around the country's famous Ring Road, allowing them to experience the breathtaking natural beauty of Iceland up close. The tour includes a variety of activities such as hiking, whale watching, and visiting hot springs and geysers. In addition, travelers will have the opportunity to visit popular Icelandic landmarks such as the Blue Lagoon, the Golden Circle, and the Northern Lights. With knowledgeable local guides, comfortable transportation, and convenient accommodation included in the package, this tour is a great way to see all that Iceland has to offer in a short amount of time.
If you or someone in your group uses a wheelchair or has limited mobility, I recommend looking at the accessibility tours offered by Iceland Unlimited. They offer both accessible self-drive tours and accessible guided tours so you can be sure to get something that covers where you want to visit, and meets your accessibility needs. Visit their website here.
Can you swim at Diamond Beach?
Swimming at Diamond Beach isn't allowed. Iceland's weather can change quickly, with very little (if any) warning, plus the water itself can be quite trecherous with strong waves that can drag you out to see. For your own safety, and the safety of those who would have to rescue you, please do not try swimming here. While you cannot go swimming, you can still enjoy the beauty of this unique beach by taking pictures or simply admiring the scenery. If you do want to go swimming in Iceland, I recommend the pool in Vik, where can swim whilst enjoying views of the beauitful mountains around Vik.
Why is some of the ice blue?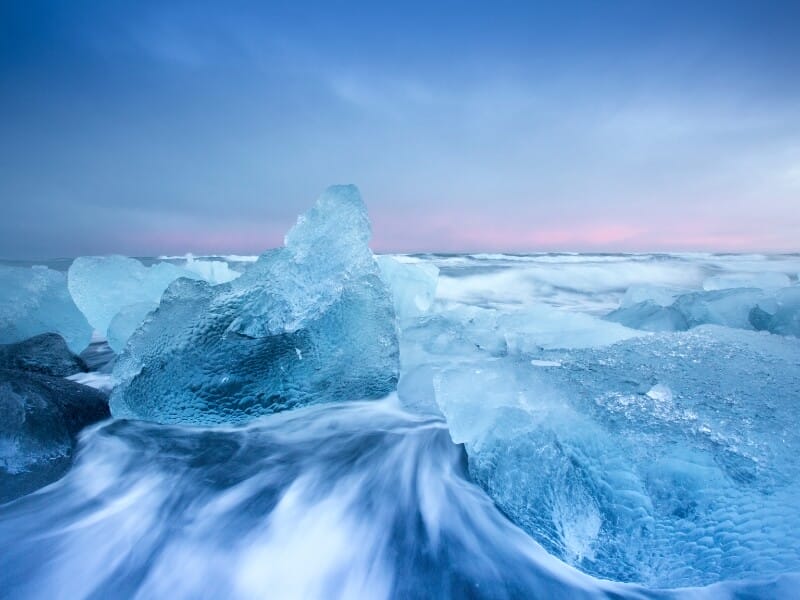 The ice at Diamond Beach can sometimes have a blue colour to it. This is due to how the ice is made up of compressed snow that has been frozen for many years. When the snow was squeezed together, the air bubbles inside were pushed out, leaving behind the clear ice. Then the blue color is caused by the way that light passes through the ice. When light hits the ice, it absorbs some of the light and some of it is reflected back. Light waves come in different lengths and when the longer ones hit the ice they get absorbed more, where as the shorter ones get reflected back out. These shorter waves are blue light, so when they get reflected back at us, we see blue ice.
Why do Icelandic beaches have black sand?
The beaches in Iceland have black sand as they're made up of volcanic rock. Iceland is a volcanic island, so it has a high amount of volcanic activity. Over time, the volcanic rocks have been ground down and made into sand. The rocks contain a high amount of iron, which causes them to have a metallic black color.
There are many black sand beaches all over Iceland, such as Reynisfjara which is one to the top rated attractions in Iceland, located along the south coast of Iceland near Vik. Diamond Beach is also a black sand beach, which can give photos an amazing contrast between the sand and blocks of ice that wash up on the beach.
When is the best time to visit Diamond Beach?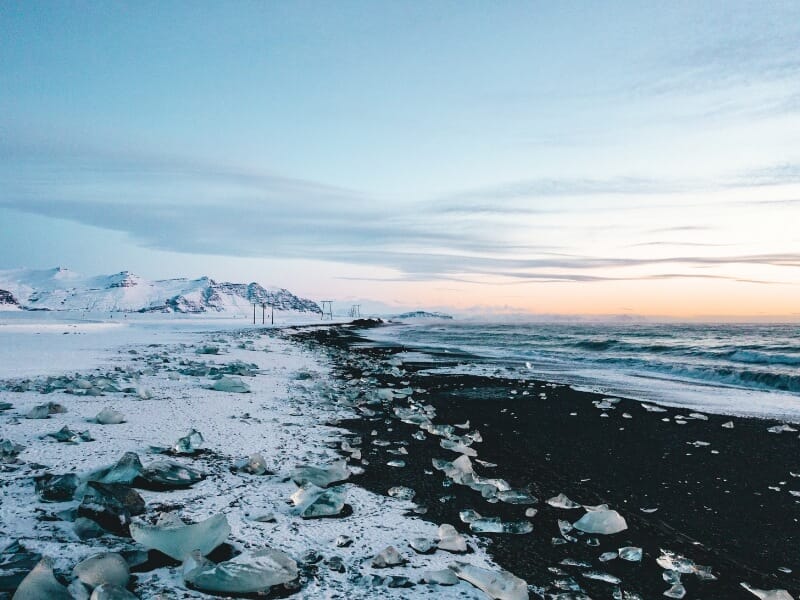 The best time to visit, really depends on what you want to do at the beach and during the rest of your trip to Iceland.
If you want to see the Northern Lights, you need to visit Iceland between October and March for the highest chances to see them.
Winter is also great time to visit if you want to see Iceland covered in a blanket of snow, and take photos of the snowy landscape.
If you visit in March, as winter is ending you'll still get the chance to see the northern lights but also benefit from smaller crowds. The weather can also be a bit more calmer, so you might find there's less road closures. Although there can still be
But if you dislike cold weather or want to see the midnight sun then visiting in summer is the best bet. Summer has more wild weather, with warmer days and long nights due to the midnight sun. There's also less snow you so if you're driving and don't have much experience with driving in snow, you might feel safer coming in the summer.
Is there Parking?
Yeah, there is free parking near the beach. Diamond Beach is split in two by the river that runs from the glacier lagoon. There's a parking area on either side of the river. You can find one on Google Maps labelled as Breiðamerkursandur, click here to view it on Google Maps.
The other, is labelled Diamond Beach and you can click here to view that on Google Maps.
While you're visiting Diamond Beach you should also visit the Jokulsarlon glacier lagoon as both of these attractions are next to each other. There's parking for Jokulsarlon along the ring road, such as this car parking place that gives you a view over the lagoon. I found these car parks have the best viewing and access to the lagoon. But they have have limited parking, so if they're full there is a larger car park called Jökulsárlón Main Parking off the ring road and is sign posted. This car park has toilets, electric car charging ports, and a restaurant.
How far is Diamond Beach from Reykjavík?
Diamond Beach is about 378 kilometers (235 miles) from Reykjavík. Driving from Reykjavík to Diamond Beach takes about 5 hours by car, depending on traffic and road conditions. So I highly recommend breaking this up, with visits to other areas of Iceland such as The Golden Circle, Vik and Reynisfjara Black Sand Beach, and the Fjaðrárgljúfur Canyon.
You can also get a public bus to the glacier lagoon and then walk a few minutes to the beach, but this takes about 7 hours and requries multiple changes.
How far is Diamond Beach from Vik?

Diamond Beach is 193km (120 miles) from Vik. It takes about 3 hours to drive here by following the ring road. On route you can stop off at other places such as the Fjaðrárgljúfur Canyon and Skaftafell to see the waterfalls. Both of which are amazing places and I really recommend visiting them.
You can also get a bus from Vik to Jökulsárlón, and then walk a few minutes from there to the beach. From Vik, you'd catch the bus numbered 51 and ride this for about 3 hours. The bus also stops at the town of Skaftafell, so you could hop off here and spend the day hiking to the Svartifoss and Hundafoss waterfalls.
If you'd like to stay in Skaftafell for the night, you could choose to camp at the campground in Skaftafell so if you're camping, and want to stay in the area for the night I recommend checking the availability and information for the campsite on their website here. If you'd prefer to stay in a hotel, your nearest option would be Hotel Skaftafell which is next to the Freysnes bus stop. This bus stop is the next one on route to Jokulsarlon.
How far is Jökulsárlón from Diamond Beach?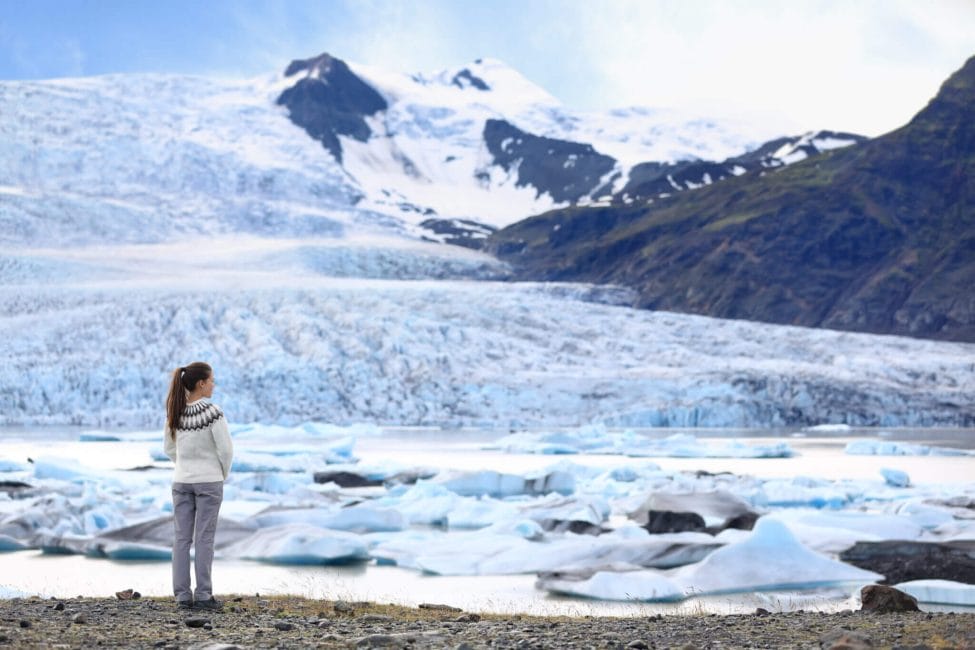 Jökulsárlón is very close to Diamond Beach, on the opposite side of the road. The Jökulsárlón main car parking and main viewing area with toilets, and a restaurant is about 900 meters from the beach. Although the water the blocks of ice float along, is actually part of the Jökulsárlón glacier lagoon and you'll be able to see this from the beach.
As the glacier lagoon is so near to the Diamond Beach, and they're both some of the best things to do in Iceland you should definitely make sure to visit both.
Staying Safe at Diamond Beach
In general Diamond Beach isn't a dangerous place to visit. Unlike Reynisfjara Beach, Diamond Beach doesn't have sneaker waves so it tends to be safer. But there's still somethings you should be aware of when you're here.
As previously mentioned, you can't swim here. The weather can change quickly so even though there's no sneaker waves, it's still dangerous to go swimming in the sea in Iceland.
You should also avoid climbing on the ice. Some of the chunks of icebergs, can be quite large and you or your children may be tempted to climb on them. But this isn't allowed, and you can be fined for climbing on them. The icebergs are slippery, with sharp jointy edges that will cut you. You'll easily slide off them and end up hurting yourself. If the icebergs are in the water, they can topple over and push you under the water. So to stay safe at Diamond Beach, and to avoid ruining your vacation make sure you stay back and admire them from afar.
If you're lucky, you may also see some the seals that call this area home. But you should never approach them, as they can get defensive. Especially if you are visiting during the summer or autumn months as this is the pupping season, and the seal mum's are more likely to be on the defensive and attack tourists that approach them. If you do spot any seals, or other wild animals please keep your kids back and admire them from afar. Do your best to not disturb them and never feed the wild animals, birds or horses in Iceland.
I hope you found this guide to Diamond Beach helpful. If you'll also be visiting the Reynisfjara Black Sand Beach why not read my guide on what to know before visiting here. If you'd like to visit the Blue Lagoon, I recommend reading my guide for visiting the Blue Lagoon before booking your tickets to help you avoid making any costly mistakes and to ensure you have the best time.
Travel Tips For Iceland
Download Apps To Help You Stay Safe – Check my list of apps here I recommend downloading, that'll help you stay safe whilst in Iceland, plus other apps for finding cheap food & drink, free audio guides and more.
Don't Forget Sunscreen – No matter where you're going, I recommend packing a good quality reef-friendly sunscreen. This will help protect you from developing skin cancer or getting sunburnt.
Airport Transfers in Iceland- If you're not hiring a car, make sure to book an airport transfer. You can book a transfer to/from KEF airport that includes a trip to the Blue Lagoon here, or a transfer from KEF to Reykjavik via bus here.
Car hire in Iceland- Book your car hire online in advance to save money and more choice. I recommend booking car hire through Discover Cars to find the cheapest prices & get free cancellation.
Get Travel Insurance – Don't leave home without travel insurance. Travel insurance can cover you in case you have an accident, get sick, lose your passport or other belongings, miss your flight, or if part or all of your trip is canceled or delayed. If you're in the UK, I recommend using Allclear, for the USA you should consider AXA and for the USA, UK + Rest of the World check out SafetyWing.
Booking budget-friendly accommodation – I book my hotels and hostels in Iceland through Booking.com as I can filter to my accomodation requirements and let me opt for free cancelation. For holiday rentals, I use VRBO.
Booking Tours – For booking tours in Iceland I like to use GetYourGuide or Viator. For tours run by locals, AirBnB Experiences has a great selections as well. For accessible tours, contact Iceland Unlimited.
Booking Flights – I always find the cheapest flights using Kiwi or Skyscanner. Both search for the cheapest flights, and let you filter by stops, times, etc so you can find the cheapest options. You can also sign up for Jack's Flight Club to be alerted to cheap deals if you're happy to travel anywhere.
Travel eSims – If your phone supports an eSim, I recommend using Airalo. They sell eSims based on country, region, and even global ones! There's one for almost every country including Iceland and they can work out cheaper than physical sim cards.
Travel Sim cards – If you don't want an eSim, then this Orange travel sim card will have you covered for Iceland, and this Global Sim Card works in over 200 countries. Make sure to check out my sim card guides for information on buying local sim cards.