Seville is an ever-popular destination in the south of Spain for travellers wanting to get away for a long weekend. Flights are generally available throughout the year, lasting just 2hr 30 minutes from London and are reasonably priced. Hotels in Seville are also good value for money making it the perfect budget-friendly weekend! Seville is particularly famous for Seville Oranges, being the original home of Tapas and Flamenco. More recently, it's become known for its beautiful architecture thanks to TV shows such as The Game of Thrones that have been filmed in parts of Seville. Here are just some of the best photo spots in Seville and what you should look out for when visiting to make the most of your trip.
I have also added a note to give an idea of wheelchair accessibility at each of the locations. However, it is recommended to visit the Seville Tourist Information Website for further and more in-depth accessibility information.
Disclosure: This post may contain affiliate links that earn me a small commission, at no additional cost to you.
Map showing Seville's Best Photo Spots
Metropol Parasol
Known locally as 'Las Setas de la Encarnación', and as "The Mushrooms" due to their individual Mushroom shape. The structure offers one of the best views over Seville and makes for an Instagrammable photo spot. The structure took six years to build and was completed in 2011. It is one of the largest timber structures ever built. Although not a long visit in itself it can easily be combined with other nearby attractions within the old quarter of the city. The Metropol Parasol offers visitors a variety of additional amenities such as an archaeological museum, a farmer's market, the elevated plaza, multiple restaurant bars around the structure, as well as the amazing panorama terrace on the top of the parasols. 
To make the most of the structure, visitors are able to access the viewing balcony for 3 € on Tuesday through to Sunday 10:00-23:30. Part of the platforms are wheelchair friendly but unfortunately, not all of it is accessible due to having steps. Full details available from the information desk.
The Real Alcazar 

 
Originally built in the 11th Century, the Royal Palace is still in use today. The Alcazar is divided into sections dating from a series of eras: Moorish (11th-12th century), Gothic (13th century), Mudejar (14th century), and Renaissance (15th-16th century). Although hard to put into words how magnificent the Palace and its Gardens are, it is a must see for anyone visiting Seville. It is recommended to plan to spend at least three hours here to take in the amazing surroundings. Game of Thrones fans will also recognise scenes from series 5 and 6 when visiting!
Standard tickets are 9.50 €. If you have a disability you can skip the queue and get free access! Just go to a member of staff in front of the entrance, and tell them you are disabled (or handicapped, I found some staff members knew the word handicapped but not disabled). They will ask to see proof of your disability, such as a letter or a European blue disabled parking badge. I showed my blue badge, and they allowed me + my family to enter for free! Unfortunately, not all of Real Alcazar is wheelchair accessible however more details are available from the Palace information desk. 
La Giralda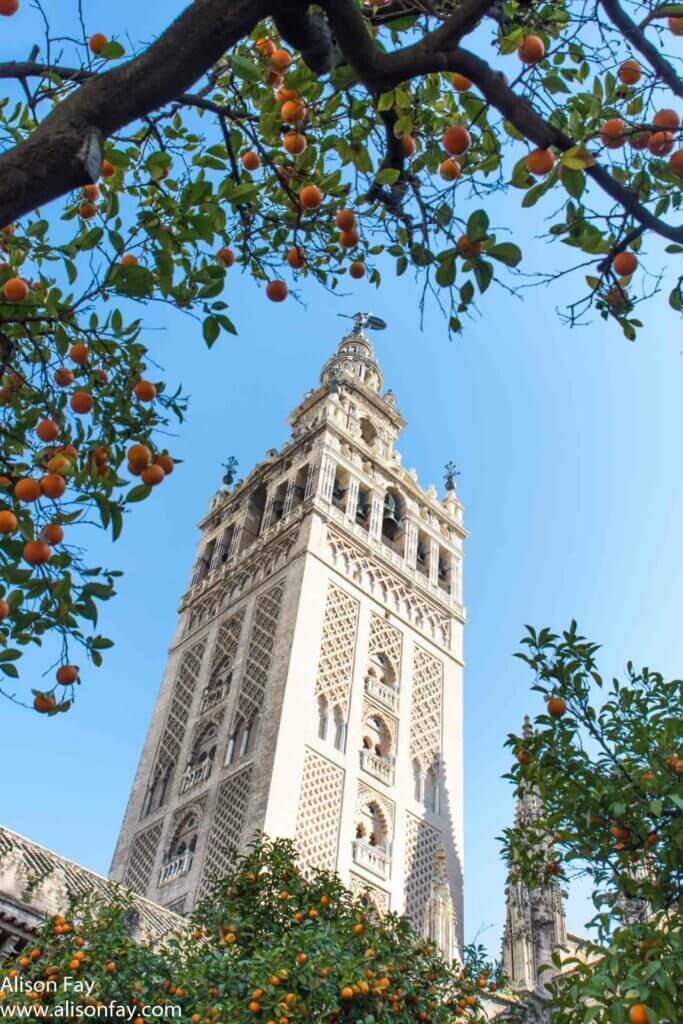 Put simply, La Giralda is the name of the Bell Tower attached to Seville Cathedral, it was built in Moorish times as the Minaret for the Great Mosque of Seville. La Giralda was registered in 1987 as a World Heritage Site by UNESCO and remains one of the tallest churches in the world. Visitors who are able to walk the steep 35 ramps to the top of the Bell Tower are greeted with panoramic views of the City.
Tickets are 8 € and allow visitors access to both La Giralda and Seville Cathedral. While La Giralda tower is accessed by ramps, they are quite steep and there are a few steps at the top making it harder to access for those who are unfit or have a mobility-related disability. 
Seville Cathedral
Completed in the early 16th century, Seville Cathedral is a Roman Catholic Church occupying a huge 23,500 square metres of land. Built to advertise the City's wealth it became a major trading centre from 1248. The central nave measures stand at an impressive 42 metres high, with the overall square footage of the Cathedral measuring in at 11,520m2 making it the third largest in the world. 
Mass times vary throughout the year so it is best to check the webpage first to ensure you arrive on time. Visitors can purchase an adult ticket to Seville Cathedral for 9€, with discounts available for disabled visitors, seniors and students. The disability discount is based on a % of how disabled you are, which I found quite strange. To receive a full discount, you have to be "75% disabled", but it doesn't explain what this means, what type of disability they recognise, whether you need to have a carer or a doctors letter. It was really unclear and my blue parking badge only qualified me for a 50% discount, yet any doctor would state I am definitely "100% disabled". Seville Cathedral is Wheelchair accessible throughout with lots of seating available plus there's a vending machine in the garden area in case you do need a drink.  
There are many restaurants and bars around the Cathedral site making it a great spot for people watching. 'Gusto' coffee shop on the square has been voted the best place in Seville for the famous Seville Orange Juice and is decidedly Instagrammable if that is your thing!
Plaza del Cabildo, in Seville
At the heart of Arcos' old town and in Seville's City Centre, Plaza del Cabildo offers visitors to the square fantastic photo opportunities as well as a quieter haven in the heart of the city. Each Sunday morning a collector's market takes place where it is possible to purchase items such as collectable coins, stamps and military medals. Again, with a variety of small souvenir shops and restaurants, it is a good place for people watching and relaxing away from the hustle and bustle of the main city roads. The square is a public place and therefore free to visit. It is also suitable for wheelchair users.
Plaza de España, Seville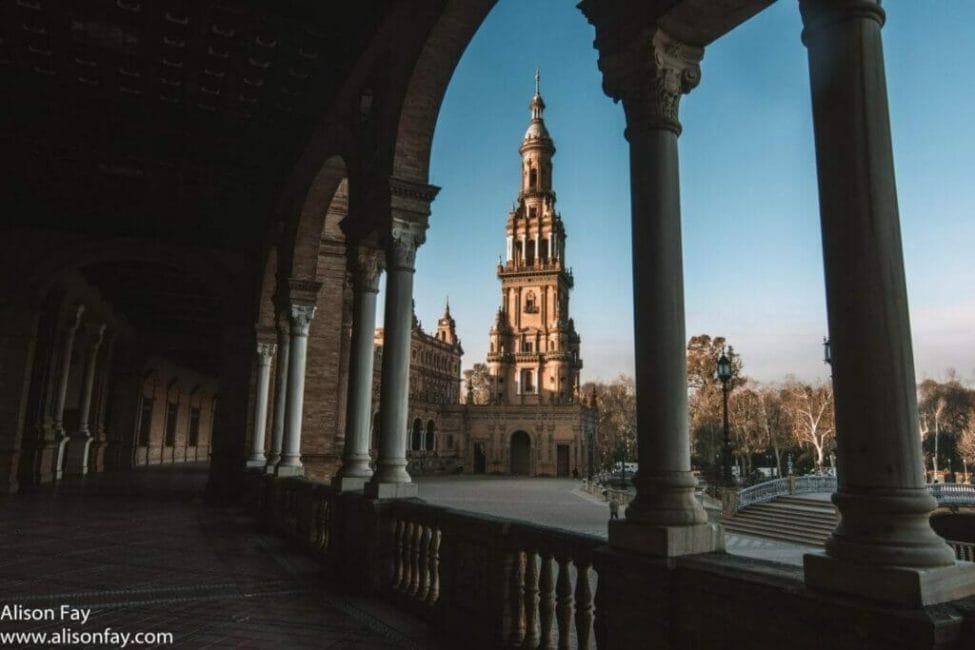 Built in 1928 for the Ibero-American Exposition of 1929 Plaza de España is perhaps the best example of regionalism architecture using elements of Renaissance Revival and Moorish Revival architecture. Star Wars: Episode II – Attack of the Clones fans may recognise the building from scenes in the 2002 film. Look for the 'Little Free Library' when visiting the Plaza to see whether you can find a new book to read or donate a preloved copy of your favourite book for someone else to enjoy. Some parts of The Plaza is suitable for Wheelchair users but sadly most of it is only accessible by stairs.
Parque de Maria Luisa, Seville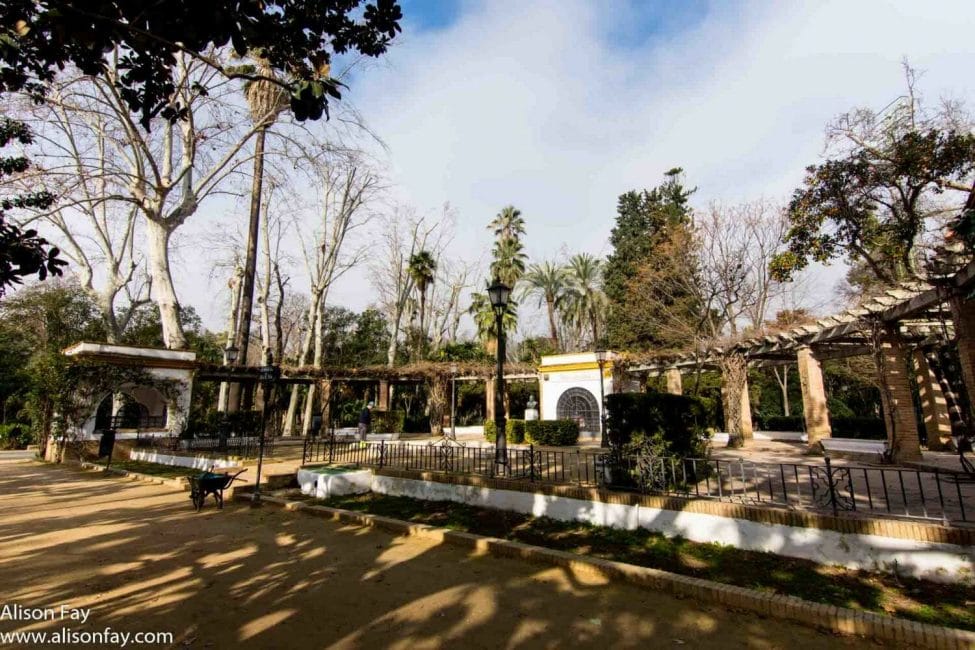 Princess María Luisa donated part of the gardens in 1893 which then went on to be part of the Hispano-American Exhibition that took part in Seville during 1929. Works commenced to prepare the area for the exhibition and Jean-Claude Nicolás Forestier, a French landscaper, and head gardener of the Bois de Boulogne in Paris was chosen as a gardener at Parque de Maria Luisa who successfully adapted his work to meet the needs of Sevillian climate and traditions. It is worth noting that these gardens are wheelchair accessible with car parking available onsite.
Jardin de Murillo, Seville
A place of tranquillity in the heart of the hustle and bustle of Seville providing 8,500m2 of open space, beautiful gardens and relaxation for visitors and locals alike. There are a variety of unusual but beautiful trees and flowers to see throughout the gardens. The Jardin is also home of the Christopher Columbus monument too, it is a must-see location perhaps to tag onto a visit to the nearby Palace. Word has it that Christopher Columbus planted some of the rubber trees in the gardens over 500 years ago. The gardens are wheelchair accessible and free to enter.
Teatro Lope de Vega, Seville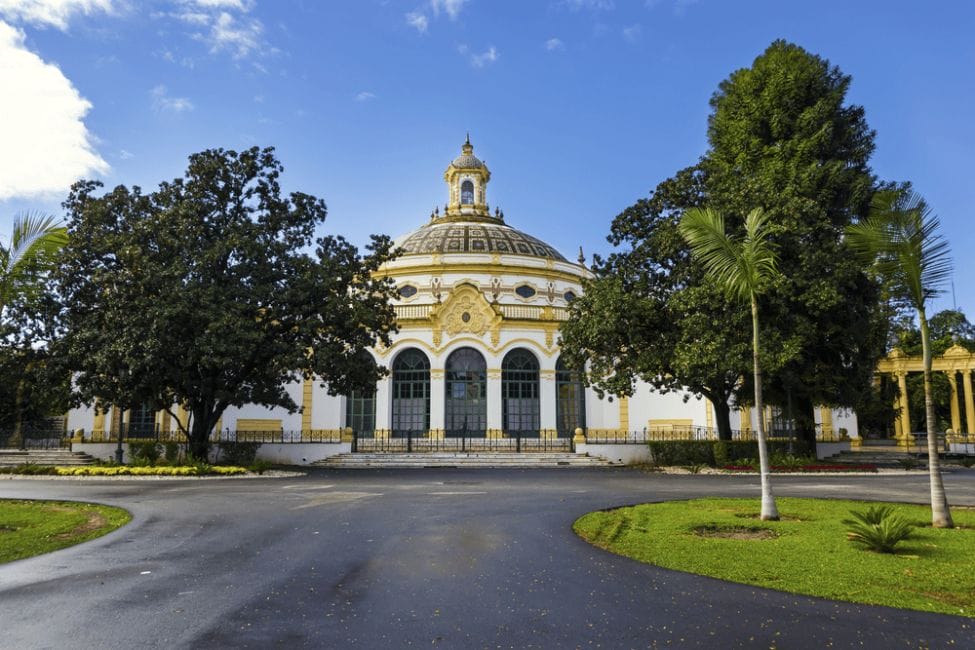 The Theatre construction was completed in March 1929 after two years of work for the Ibero-American Exposition. Situated in the Parque de Maria Luisa, the Theatre was named after a famous 16th Century, Spanish playwright named Lope de Vega. During the civil war, the Theatre was turned into a Hospital and returned to its original use again in October 1939. Tickets for performances at the Theatre start at just 24€ and currently 'The Lion King' (El Rey León) is in residence. The venue is suitable for wheelchair users, however, it is best to check on booking that accessible seating is available on your requested dates.
Plaza de Santa Cruz, Seville
Formerly the Jewish quarter of Seville, Santa Cruz Plaza makes up part of the many old churches in the city. Nearby, are many of the other Plazas of Seville. Chances are you will walk through the 'Jardin de Murillo' to get to Plaza de Santa Cruz so it is a good opportunity to combine a visit to the two hotspots. The plaza is also directly next to Real Alcazar making it easy to combine a visit alongside too. Or perhaps visit the Plaza in the early evening on the way to watch some Flamenco dancing at Tablao Flamenco Los Gallos next door.
Plaza de Santa Cruz is mostly wheelchair accessible, making it a beautiful point of interest to any visitors of Seville. As with many other attractions in Seville, it is free to visit Plaza de Santa Cruz.
Where to stay in Seville, Spain?
I recommend staying in the Old Town, a beautiful and central area within Seville, giving you easy access to the all the above photo spots and more.
How to get to Seville?
Seville Airport is about 30 minutes away from Seville's old town by taxi or bus. The airport is used by major European airlines, such as Ryanair, EasyJet and Vueling. Seville's main train station, Sevilla Santa Justa has connections to most major Spanish cities. Seville is around 2 hours from Málaga, 5 hours from Barcelona and 3 hours from Madrid. Seville is accessible by car, taking around 5 hours from Madrid, 10 hours from Barcelona or 2 hours 30 minutes from Málaga.
I hope you found this guide to the best photo shops in Seville helpful. If you have any recommendations for what to do in the park, please share in the comments below or send me a message.
More Travel Tips & Resources
Get Travel Insurance – Don't leave home without travel insurance. Travel insurance can cover you in case you have an accident, get sick, lose your passport or other belongings, miss your flight, or if part or all of your trip is canceled or delayed. If you're in the UK, I recommend using Allclear, for the USA you should consider AXA and for the USA, UK + Rest of the World check out SafetyWings.
Hiring a car – I recommend booking your car hire through Discover Cars. They offer 24/7 support, and free cancellation. They help by finding the cheapest car hire available, by searching hundreds so companies so you don't have to.
Booking budget-friendly accommodation – I normally book hotels and hostels through Booking.com, as they allow me to filter for properties based on my needs. They also have a great free cancelation policy. For my UK holidays, I normally use Park Holidays to book lodges/caravans and pet-friendly accommodation. For long-term stays and holiday rentals, I use VRBO.
Booking Tours – When I am booking tours, I like to use GetYourGuide or Viator. They both have great selections of guided tours, skip-the-line tickets and city passes. For tours run by locals, AirBnB Experiences has some great selections as well.
Booking Flights – I always find my cheapest flights using Kiwi or Skyscanner. Both search for the cheapest flights, and let you filter by stops, times, etc so you can find the cheapest options. You can also sign up for Jack's Flight Club to be alerted to cheap deals if you're happy to travel anywhere.
Travel eSims – If your phone supports an eSim, I recommend using Airalo. They sell eSims based on country, region, and even global ones! There's one for almost every country and they can work out cheaper than sim cards.
Travel Sim cards – If you don't want an eSim, then this Orange travel sim card will have you covered for Europe or this Global Sim Card that works in over 200 countries. Make sure to check out my sim card guides for information on buying local sim cards.
Face masks – Not just for covid! I've worn an n99 face mask on planes since 2017, as they've helped me avoid getting sick from other passengers' germs and avoid bad smells. I always wear a Cambridge Mask when visiting countries with high pollution such as Taiwan, as they help against air pollution, bacteria, and more.
VPN – Whilst traveling you'll normally end up using WiFi in public places or at your accommodation, which may not be fully secure. I recommend using Proton VPN, as they don't track your browsing history and are reasonably priced.