What, and where is Japan's Cat Island?
Cat Island, aka Tashirojima / Tashiro Island, is a tiny little island off the coast of Ishinomaki in the Miyagi prefecture. Ishinomaki is to the east of Tokyo and is about 4 hours away from Tokyo by train.
Cat Island is a fun place to visit in Japan and is something a bit different from the usual attractions that get recommended such as shrines, arcades, and themed restaurants.
The island's main inhabitants are cats, with a cat shrine, and cat-themed cars making it a cat-lovers paradise. As of October 2013, the island had about 15 people living on it, with one store and a vending machine. Due to the lack of facilities, when visiting the island, make sure you take some snacks, and drinks, and please remember a bag to put all your trash in. You must take your rubbish back to the mainland, please don't leave it behind as there are no trash cans for you to dispose of your trash, and the island doesn't have a regular trash collection.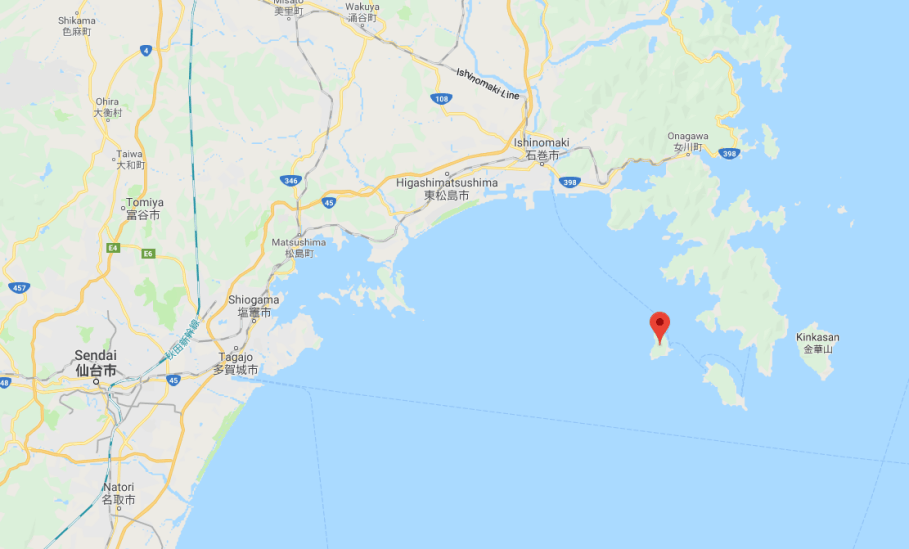 Tashirojima / Cat Island is located east of Sendai, accessible from Ishinomaki as shown on the map above. You have to get a boat, which leaves from Ishinomaki's harbor. I cover further down how to locate, and purchase a ticket for the boat.
Tashirojima is also home to Manga Island, made by the famous mangaka Shotaro Ishinomori who created Cyborg 009, Super Sentai Series (which the Power Rangers was adapted from!), and Kamen Rider series. He also worked on Astro Boy. So if love any of these Manga then I recommend exploring this area of the island as well. Manga Island is an area that has buildings shaped like cats, that you can sometimes stay in. During the 2011 earthquake, Tashirojima was flooded and several buildings got destroyed. According to a local, due to the earthquake, the island sank an inch closer to sea level. But all damage was quickly cleaned up and Manga Island reopened for visitors.
The cats of Japan's Cat Island
Soon as you're off the ferry and leaving the harbour, you will start spotting cats. There really are hundreds of adorable cats and kittens dotted all over the island. If you'd like to feed the cats, make sure to buy some cat treats before leaving Ishinomaki as there are none readily available to buy on the island (the little store might have some, but stock is limited).
Some of the cats will hide behind buoys near the harbourside so be sure to look around this area soon as you get off the boat.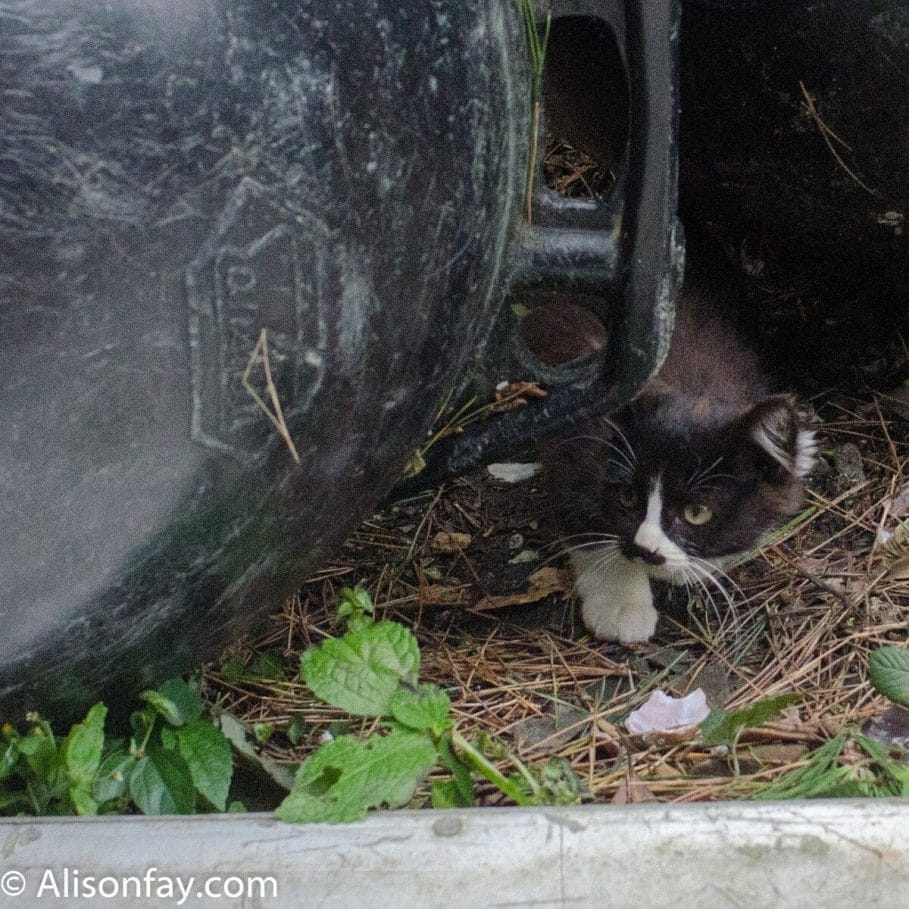 Other cats are hanging out together, wandering around the roads that lead out of the harbor.

Plenty of the cats sleep in different spots around the island, such as people's gardens. Make sure to keep an eye out as you'll be sure to spot some cute sleepy kittys.
If you wish to, you can take some cat food with you to feed the cats. You can pick some up at most supermarkets or 100 yen stores before you head off to Ishinomaki. Make sure to pick up some good quality cat food, that has a good nutritional and mineral content so the cats don't end up being fed too much unhealthy junk.
After feeding some cats, you'll wander a bit more and spot even more cats
You may also spot some little kittens, hiding beneath people's cars like this one I spotted below.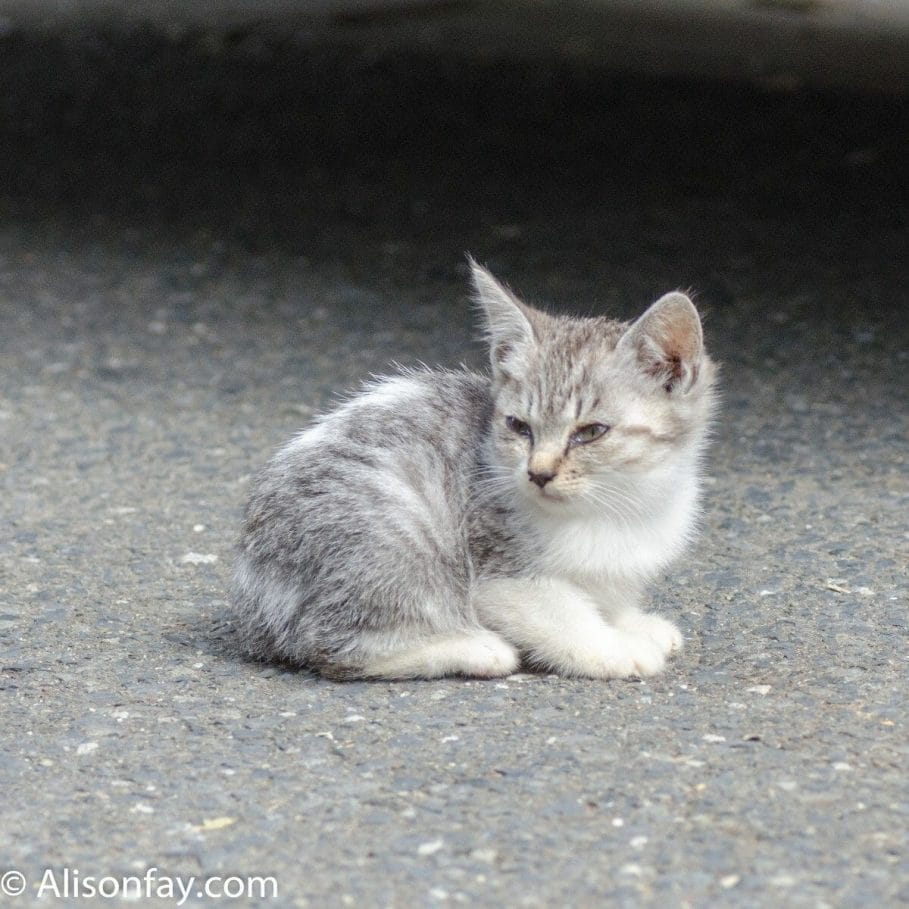 The Cat Shrine on Cat Island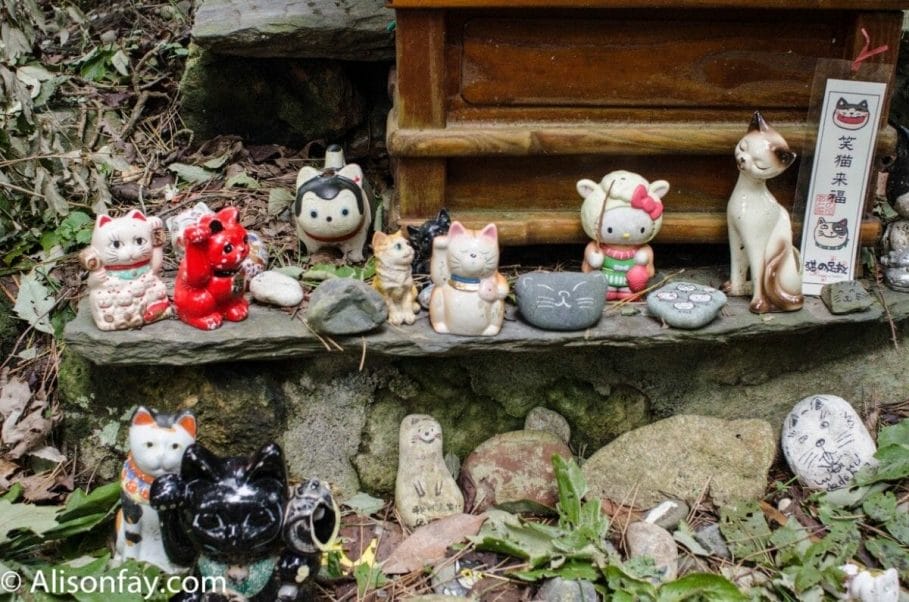 As you wander towards the north of the Island, you'll come across the Cat Shrine (Neko Jinja, 猫神社). This shrine was made by fishermen who believed that the cats on the island would bring them good luck. Over the years, people have left different figures and trinkets at the shrine including a Hello Kitty. The shrine is located about 1.6km from the ferry landing point so it is a bit of a walk but it's worth it as you'll spot plenty of cats along the way.
Manga Island, Tashirojima
The sign reads "Manga Isrando" (Manga Island)
As mentioned earlier, Manga Island is an area of Tashirojima that created by the famous Mangaka, Shotaro Ishinomori. This area of the island has a lot of cat-shaped houses, which you can stay in if you're visiting during the summer or autumn. The inside of the cat houses are decorated with cat-themed art, drawn by famous manga artists such as Tetsuya Chiba. The houses are suitable for 5 to 6 people, and prices start at 8000yen (about $60 USD) per night. You can also camp on the island for 1500 yen (about $11 USD) per night, and if you don't have your own tent you can hire one for another 1500 yen.
For more information on booking a stay on Manga Island, you can visit their booking site or the Ishinomaki city website. These sites are in Japanese so you may need to use Google translate or similar.
How Do I Get to Cat Island/Tashirojima?
To get to cat island, you will need to take a ferry from the mainland. These ferries take about 40 minutes. The ferries are pretty standard, with some seating on board, but there's nothing really special about them.
But first, you'll need to get to Ishinomaki. If you are coming from Tokyo, you can take the Shinkansen to Sendai, and from there switch to the Senseki-Tohoku line. If your arrival time in Sendai is spot on, it is possible to catch the train to Ishinomaki with 10 to 20 minutes transfer time. But if you miss the next train to Ishinomaki, you'll have to wait for 1 hour or longer for the next one. If you have yet to purchase any train passes for your visit to Japan, I recommend grabbing a copy of my discount travel pass guide to make sure you're getting the best value for money. There is more to Japan's train passes than the JR Pass, and some other passes may be more suited towards your trip.
The train time between Tokyo and Ishinomaki is normally between 3 to 4 hours by train. You can also drive to Ishinomaki from Tokyo, takes about 5 hours and you'll need to pay some tolls. Most of the journey by car is along the Tohoku Expressway, which is one of Japan's main highways. Although I highly recommend using the trains, as whilst you have to change a few times it's cheaper and faster than driving.
Next, you need to get from Ishinomaki station to the Ajishima Line ferry terminal. There are 3 ways of getting to the ferry terminal; by bus, walking or taxi. Infrequent buses leave from Ishinomaki Station. If you do not know Japanese, trying to figure out when these buses leave is quite difficult as the bus timetables are not in English so I recommend making sure you have Google Translate downloaded or, have a Japanese sim card. Walking from Ishinomaki Station to the ferry terminal is a 2.2km walk, which takes about 30 minutes. Taxis take about 10 minutes and cost around 1000 yen($8 USD).
Once you arrive at the Ajishima Line ferry terminal, you will need to get on a boat that goes to Tashirojima. Boats travel to and from Tashirojima 3 times a day. As accommodation on the island has to be booked in advance, if you haven't booked camping or to stay in a cat house then make sure you make it back in time for the last boat.
As of August 2022, the ferry costs 1470yen (about $11 USD) each way for foot passengers. The ferry only takes cash so make sure you have cash before traveling. The current ferry prices for cat island are viewable here, under the column labelled: "石巻" (Ishinomaki), on the line for Tashiro (仁斗田). Below is an image guide to understanding the Ishinomaki ferries pricing table from the ferry website.
The first column is for Ishinomaki, the fourth for Tashirojima. Each row in the table represents a stop on a particular island, the 3rd row down being for Tashirojima. The price under the first column, 3rd row down is the pricing for Ishinomaki to Tashirojima one way. Sometimes there are special offers on, located in the pink box at the top of the right of this screenshot. As of 2022, the offer is for a discounted round ticket to Ishinomaki. These offers are limited, not always available, and may need to be rebooked in advance by phoning them.
How to read the Ajishima line ferry timetable:
The first half of the timetable is going from Ishinomaki to Tashirojima. The important columns are the purple, blue and bright green columns.
The 2nd purple column and labelled "田代島・網地島 鮎川行き" contains the name of the boat you need to take. These are ブルーライナー (Buru Raina, or Blue Liner), マーメイド (Maamaido, or Mermaid), and みゅう(Myuu).

The third column (blue) labelled "石巻発" contains the list of departure times for Ishinomaki.

The fourth column (bright green) labelled "田代(たしろ)島発" contains 2 columns, one labelled "大泊" that indicates the direction the boat is going, and the other labelled "仁斗田" contains the arrival time to Tashirojma.

The fifth column (green) labelled "網地(あじ)島発" is for arrival times to Aji Island and the sixth (orange) is for arrival times to Ayukawa. These two columns can be ignored.
The second half of the timetable is for departure times from Tashirojima back to Ishinomaki. In this part of the timetable, you need to pay attention to the 2nd, fifth and sixth columns.
Once again 2nd purple column and labelled "田代島・網地島 鮎川行き" contains the name of the boat you need to take. As above, these are ブルーライナー (Buru Raina, or Blue Liner), マーメイド (Maamaido, or Mermaid), and みゅう(Myuu).

The second (green) column labelled "網地(あじ)島発" is for arrival times to Aji Island and the third (orange) is for arrival times to Ayukawa. These two columns can be ignored.

The fifth column (bright green) labelled "田代(たしろ)島発" contains 2 columns, one labelled "仁斗田" contains the departure time from Tashirojma and the other "大泊" indicates the direction the boat is going.
4th. The sixth column (blue) "石巻発" contains the arrival time for Ishinomaki.
Always check what time the last boat leaves Tashirojima, as if you miss this boat you will become stranded on the island overnight and may be unable to book accommodation.
Where to stay when visiting Cat Island?
You'll probably be wondering where it's best to stay when traveling to cat island.
I recommend staying in Ishinomaki, as this is where the boat leaves from. It's a little town that was mostly destroyed during the 2011 Tsunami but they have been rebuilding. There's a reasonable selection of Japanese business hotels available, to book here, starting from around £40/$50 a night for two people. Although sadly accessible hotel rooms are not available. Some hotels do have elevator access, or units on the ground floor so those with limited mobility who are able to walk can still be accommodated but things like wheelchair access and accessible bathrooms are not easy to find.

I hope you found my guide to Cat Island helpful. If you have been to cat island, please let me know what you think in the comments below.
If you're looking for other things to do in Japan, why not visit Asakusa in Tokyo? or if you're visiting in February make sure to visit the Sapporo Snow Festival. also visiting Taiwan, make sure to visit their Cat Mining Village, which is home to over 200 cute kitties!