The Blue Lagoon is a geothermal spa located in southwestern Iceland. It is one of the country's most popular geothermal spas, and for good reason: the milky blue water, surrounded by black lava fields, is a truly unique and breathtaking sight.
The water temperature ranges from 37-39°C (98-102°F) and is rich with minerals, including silica which is great for your skin. The lagoon features an in-water mask bar, where you can apply a body mask made of silica mud. There's also other masks available such as lava, or algae. You can also enjoy a range of relaxing spa therapise such as float therapy, or an in water massage.
When Is the best time to visit the Blue Lagoon in Iceland?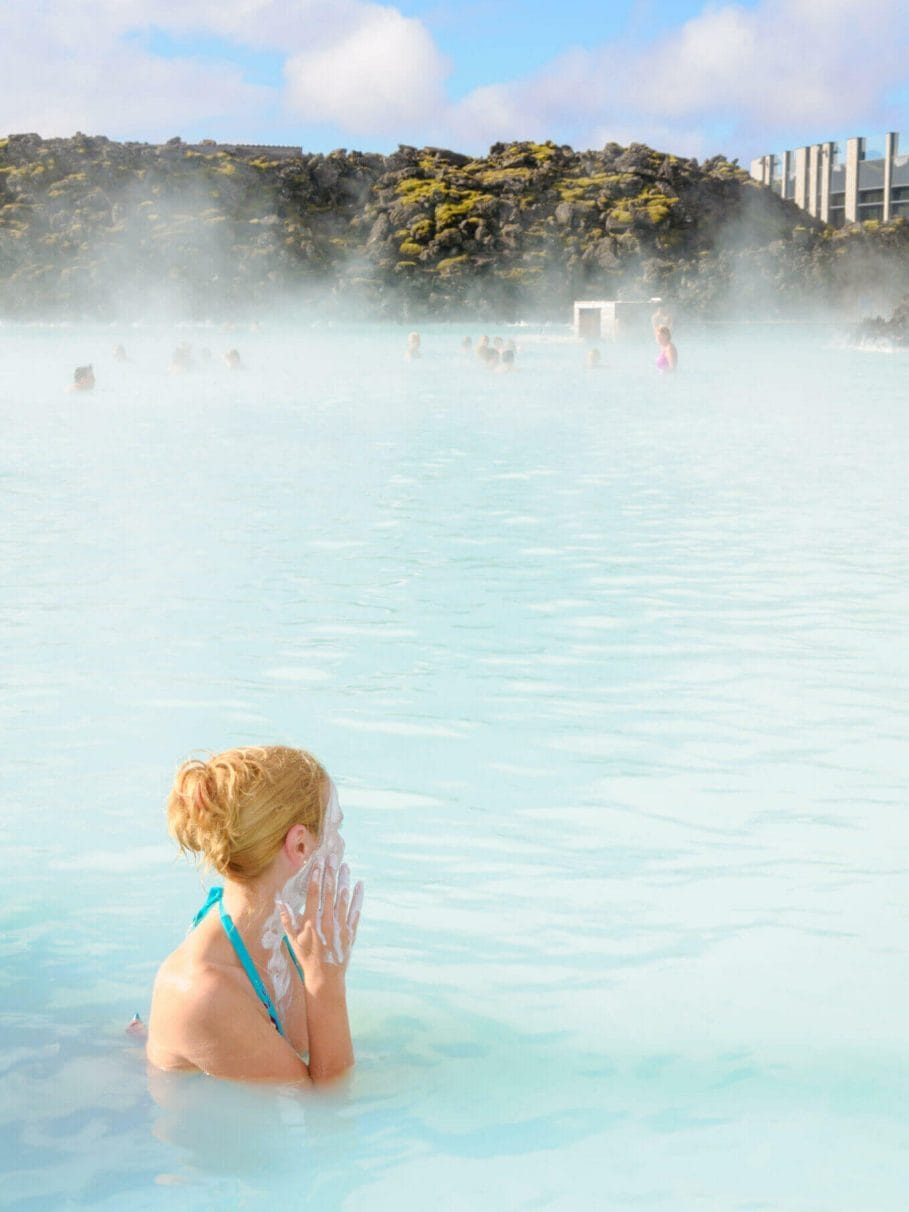 The best time to visit Iceland's Blue Lagoon depends on what you're wanting to get out of your whole trip to Iceland and the Blue Lagoon.
If you'd prefer to go when it's warmer, with less chance of rain and also enjoy the longer daylight hours then the summer is the best time to visit. If you'd prefer cooler temperatures, to see snowy landscapes then visiting during the winter months would be best. Additionally, it's important to keep in mind that due to its popularity, The Blue Lagoon can get quite crowded during peak seasons such as summer or winter holidays. Therefore, if you're looking for a more private experience, it's best to plan your visit during off-peak times such as midweek or early morning hours. No matter when you decide to visit the Blue Lagoon, though, you'll be sure to have an incredible time!
Weather: Iceland's weather can be unpredictable, with strong winds and rain or snow showers possible at any time of year. That said, the summer months (June to August) tend to be the warmest and driest, with average high temperatures ranging from the mid-50s to low 60s Fahrenheit. If you're hoping for sunny skies and warmer temperatures, these months may be the best time to visit the Blue Lagoon. But if you want to see the northern lights whilst visiting the blue lagoon, then the summer is the worst time of year due to the midnight sun lightning the sky for most of the night.
So when's the best time to visit the Blue Lagoon to see the northern lights? The best time to see the Northern Lights in Iceland, is from late September to early April, with peak viewing times typically occurring in December and January. You can still see them in February and March (I saw them 5+ times in March!) but the closer to spring you get, the less chance you have of seeing them. During this time, the nights are long and the skies are dark, making it the perfect time to see the Northern Lights. If you're thinking of visiting Iceland in March, make sure to check out my guide on what you should know about visiting Iceland in March.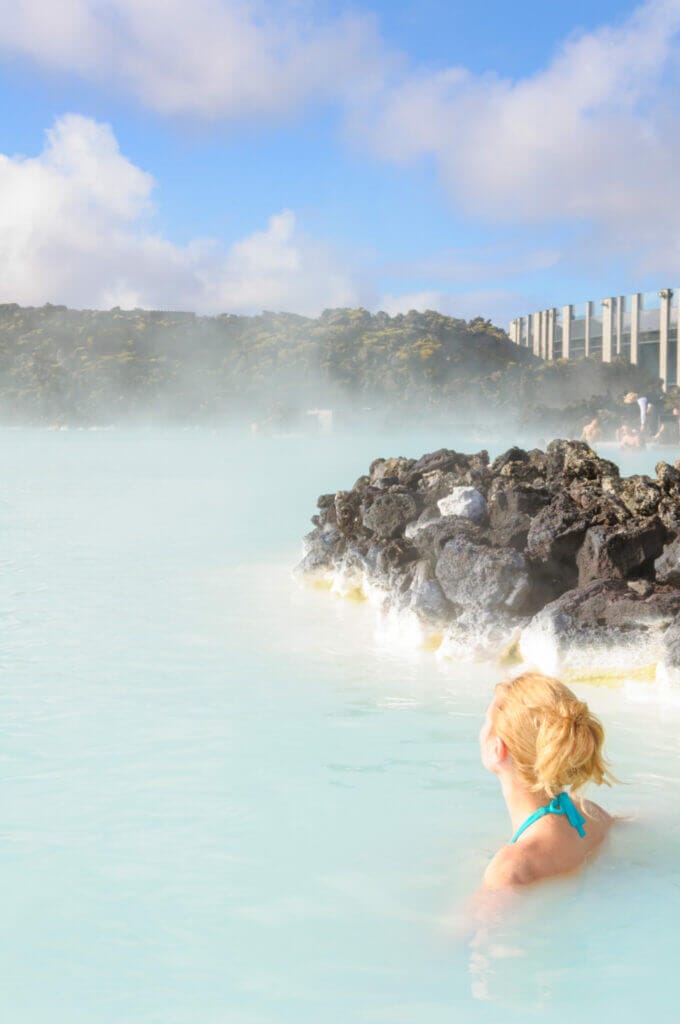 Crowds: Next thing to be aware of, is how crowded the lagoon can get. As the blue lagoon offers such an amazing experience, it gets really popular all year round. The busiest months tend to be June, July, and August, when the weather is at its best and the days are longest. If you want to avoid the crowds, you may want to consider booking your trip for the offpeak winter months (December to February), when the weather can be cold but the spa and Iceland in general is generally less crowded.
Prices: The Blue Lagoon can be pricy and the ticket prices can vary depending on the time of year, and the time slot you pick. In general, prices are highest during the peak season (June to August) and lowest during the off-season (October to April). If you're looking to save a bit of money, consider visiting during the quieter, offpeak seasons or in the winter, when prices are typically lower. You may also find some offers on discounted tours during the offpeak months.
Other things to consider other than the entry costs are the cost of your flights to Iceland, the hotels and cost of getting to the Blue Lagoon. If you are choosing to hire a car in Iceland, you'll most likely find the best offers during the offpeak months plus there's more cars available to pick from. Although, driving in winter is also much more dangerous than in the summer so if you don't feel confident with driving in snow, I recommend booking a tour to the Blue Lagoon that will pick you up from your hotel in Reykavik.
If you're on a low budget, you can keep your costs low by booking into a hostel or a budget room at a guesthouse. I normally book a room in REK Inn as you get a private room, with access to a shared kitchen plus there's free parking on the road outside.
How do I get to The Blue Lagoon?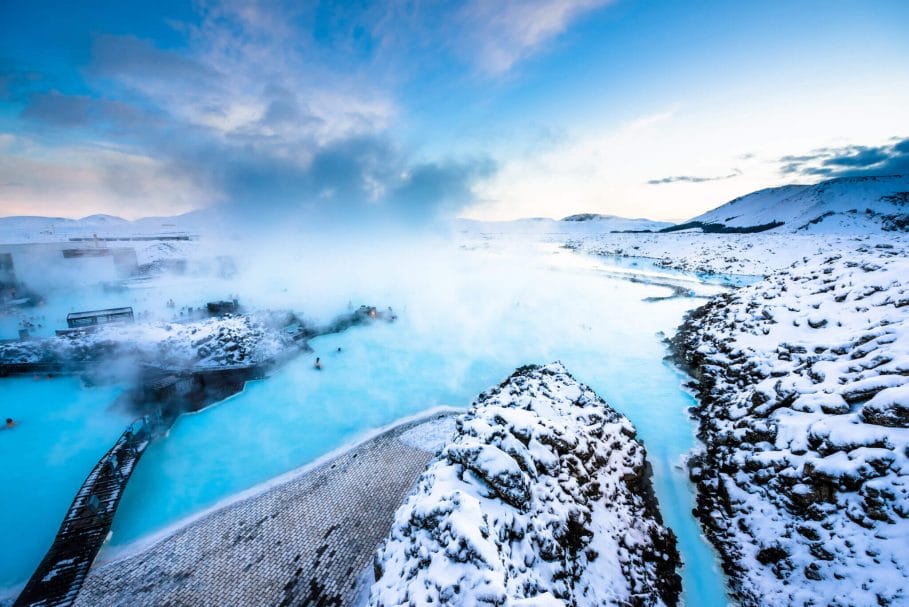 The Blue Lagoon is located about 40 minutes from Reykjavik, the capital of Iceland. It is easily accessible by car or by booking onto an organized tour. The tickets sell out far in advance, so I recommend getting a tour booked or tickets purchased soon as you know when you'll be going to Iceland. The Blue Lagoon is open year-round, but opening hours may vary depending on the season so be sure.
You can also visit The Blue Lagoon on your way to the airport. Although it's a bit of a diversion, there are companies offering private transfers that let you visit The Blue Lagoon for 2 hours.
Can I take my kids to The Blue Lagoon?
Children over the age of 2 years old can go into The Blue Lagoon. For kids aged between 2 to 13 years old, you can even get a free kids pass which includes a towel, and silica mask. They do have to share a locker with their parent/guardian and there's no free drink incldued with this pass. Children aged 8 and under also need to wear floaties, which can be borrowed from the entrance free of charge for your visit.
Just be aware you must keep your kids supervised at all times with a maximum limit of 2 kids per parent. When it comes to the changing rooms, your kid can accomopany a parent of the opposite sex up until the age of 6. After that, they need to be with a parent/superviser of the same sex. The Blue Lagoon do have staff available that can help accompany your child into the changing room to offer guidance if needed.
Is the Blue Lagoon wheelchair accessible?
If you or someone in your group is a wheelchair user, you'll be really glad to hear that it is accessible. The main complex is wheelchair accessible and you can get into the lagoon itself, using a specially designed wheelchairs. These wheelchairs will allow you to go bathing in the blue lagoon, but just be careful not to roll in too far as the water can get deep and the floor is uneven.
They also have wheelchairs you can borrow if needed. You can also ask to borrow a shower chair if needed. If you need help in the changing room, you can bring an assistant in for free and there's a larger specially made changing room on the ground floor. This changing room has enough space for a wheelchair user and their assistant.
For more accessibility information, check the Blue Lagoon website. When you plan your trip I recommend contacting them in advance to make any special arrangements.
If you'd like to get help with arranging your entire trip to Iceland, I recommend contacting Iceland Unlimited. They can help arrange a self-drive accessible tour, or an accessible guided tour.
Does The Blue Lagoon Damage hair?
When visiting the lagoon I really don't recommend getting your hair wet or it will really dry out. The minerals and silica in the water at the Blue Lagoon in Iceland can potentially have an drying effect on hair, and it is not uncommon for people to experience some degree of hair dryness or tangling after their visit. To minimize the potential for hair damage, it is recommended to rinse your hair thoroughly and coat it conditioner (which is provided) before entering the lagoon. For those with longer hair, it's really recommended to tie it up in a bun, or pony tail. You can also bring a swim cap to protect your hair, which I really recommend doing to keep your hair from getting wet, as not even the conditioner can fully protect it.
If you have chemically treated or particularly dry or damaged hair, I recommend speaking with your hair dresser before visiting the Blue Lagoon to get personalized advice on how to care for your hair before and after.
Do I need to shower first and bring a towel?
The Blue Lagoon has a strict hygiene policy, and all visitors are required to shower before entering the lagoon. You do have to shower naked, but they have private showers so you can avoid showering in front of others if you don't feel comfortable doing so. They also have the option of booking a private changing room instead of using a communal one if you really want something more private.
Towel hire is included with your ticket fee, and you can choose to upgrade to also have access to a bathrobe.
How much does The Blue Lagoon cost?
The cost of visiting the Blue Lagoon in Iceland varies depending on the ticket option you choose and the time of year you're visiting Iceland. If you're on a budget, look for an early morning or the last evening slot at 7pm to change some money. Just be aware that during winter, it'll be dark by 7pm. But, on a plus side these 7pm slots increase your chance of seeing the northern lights over the blue lagoon.
There's three ticket types available; Comfort, Premium and Luxury.
The Comfort package starts at around ISK 8,490 (approximately $56 USD) per person. This includes access to the lagoon, a silica mud mask, a towel, and a first drink of you choice.
The Premium Package, which starts at around ISK 10,990 (approximately $76 USD) per person, includes all of the features of the Comfort Package, as well as two additional masks of your choice, use of a batherobe and 1 glass of sparkling wine if you're eating at the Lava restaurant.
The Retreat Spa Package, which starts at around ISK 59,000 (approximately $413 USD) per person, includes 5 hours access to The Blue Lagoon and The Retreat Lagoon, and Retreat Spa. You'll get to also to partake in The Blue Lagoon Ritual (a 3 stage full-body exfoliation/masque spa treatment), a private changing room, skincare amenitites, the spa restaurant and 8 subterranean spaces including a sauna, and lava spring. So whilst expensive, this really is the ultimate lagoon experience.
Prices can change overtime so book in advance to lock your price in. You could book a tour package, where you combine your visit to the Blue Loagoon with a tour to other areas of Iceland such as this one where you'll also visit The Golden Circle and the Kerid Crater. By booking a package tour, you can get a better deal than you would if you were to book each tour individually.
Is the Blue Lagoon a natural hotspring?
Nope! Many people think the Blue Lagoon is a naturally occuring geothermal pool but it's not! The Blue Lagoon is completely manmade but it's still a great place to visit. While in Iceland, why not also visit some of the natural hot springs? The Sky Lagoon is a popular natural hot spring that's located only a few minutes from Reyjkavik so you can easily visit both the Blue Lagoon and Sky Lagoon during a short trip to Iceland.
Can I Stay At The Blue Lagoon?
Yes, the Blue Lagoon in Iceland has a hotel called the Retreat at Blue Lagoon. The hotel offers a variety of suites that start at 189,000 ISK (Around $1300 USD) per night. All the suites have breathtaking views of the mossy lava fields and beauitful scenery around the hotel.
You can also make use of the hotel's restaurant, and enjoy a gourmet breakfast or dinner during your stay. To help you unwind, the hotel also offers its guests the opportunity to partake in morning yoga. You could also book one of the spa treatments, and take advantage of the award-winning skincare range from the comfort of your suite.
Will the Water Ruin My Swimsuit?
I hear people asking this a lot, as they're concerned that as the water has a high silcia content it'll damage their swimsuit. Afterall it can damage our hair right? Luckily this is a misconception, and the water is really unlikely to cause any permament damage to your swimsuit. They do recommend swilling it out afterwards with cold water and soap to get the minerals out of it.
If you're worried about ruining your own swimsuit, you can hire one for 800 ISK (about $5.60 USD)/
Where in Iceland can I buy a swimsuit?
If you forgot to bring a swimsuit with you, you can head to The Blue Lagoon shop. They sell them there, although they may have limited sizes, styles and the prices can be a bit expenisve. If you're staying in Reyjakvik, there are a few stores you could try to purchase in the Kringlan Shopping Mall. These are Hagkaup, H&M or Next. This shopping mall also has a Bonus supermarket which is one of the cheaper supermarket chains in Iceland. Check it out if you want to find any Iceland snacks or buy food to cook during your stay.
Can I see The Northern Lights at The Blue Lagoon?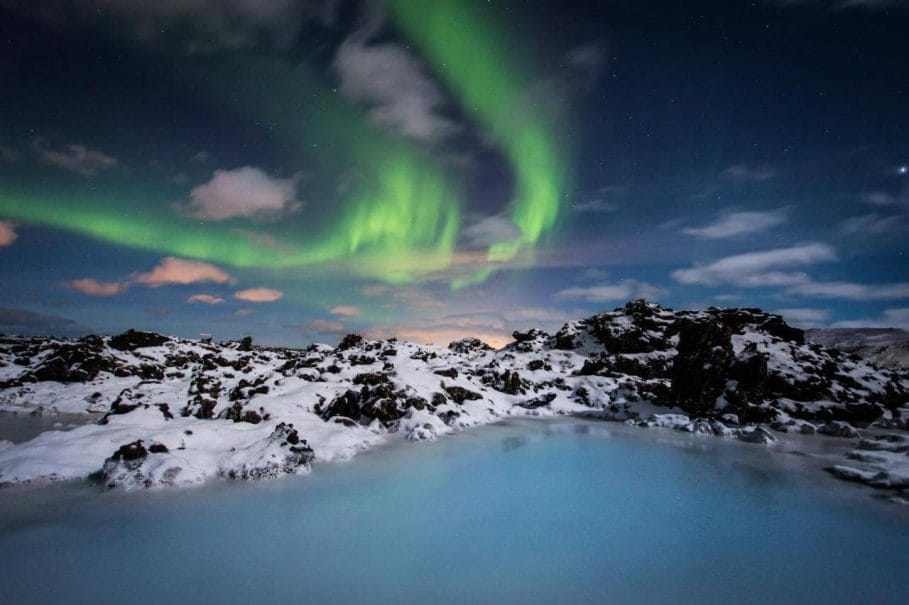 It is possible to see the Northern Lights, also known as the Aurora Borealis, from the Blue Lagoon in Iceland but the chance of seeing them varies depending on the time of year. The best time of year to see the Northern Lights is typically from late September to early April and you'd need to be at the Blue Lagoon after it gets dark to see them. If you're visiting during the summer, sadly you won't be able to see them as the midnight sun lights up the sky all night so they wouldn't be visible.
Can I wear jewelry into The Blue Lagoon?
The Blue Lagoon can damage your jewelry so I really recommend removing all piercings, and taking off any necklaces, braclets etc. If you really need to keep a piercing in, change it for one that you don't mind getting damaged. As the silica content of the water, will damage your jewelry and cause it to tarnish.
Can I wear glasses or contacts in The Blue Lagoon?
You can wear glasses and sunglasses to The Blue Lagoon but don't get them wet! The water will damage the coating on any glasses.
You should also avoid wearing your contact lenses. As the water contains a high amount of salt, minerals etc, wearing contacts increases the chances you end up getting irritated eyes. So if you normally wear contacts and need them to get around, make sure you bring your prescription glasses on your trip to Iceland as well. I recommend grabbing a second pair of cheap prescription glasses, that you don't mind getting lost or damaged to bring with you.
How Deep Is The Water At The Blue Lagoon?
The water at the Blue Lagoon isn't really that deep. At it's deepest, its 1.4 meters (4.7ft), and the shallowest area is only 0.8 meters (2.6ft). So most adults, you can easily stand in The Blue Lagoon and if you're afraid of getting your hair wet you can easily stay in the shallow areas.
Why is the water at the Blue Lagoon blue?
The water in the Blue Lagoon in Iceland appears blue due to its high silica content. When silica is dissolved in water, it can give the water a blue or blue-green color. The water in the Blue Lagoon also contains other minerals, such as sulfur and algae, which can contribute to its blue color.
The blue color of the water in the Blue Lagoon is further enhanced by the way that the light reflects off of the surface of the water. The water in the lagoon is relatively shallow, and the bottom of the lagoon is covered in white silica mud, which reflects light back up to the surface of the water. This reflection of light, combined with the blue color of the water, gives the lagoon its unique and iconic blue appearance.
How do I pay for drinks once in the water?
You may be wondering how you'll buy drinks once you're in the Blue Lagoon water, as you don't want your card or phone to get wet.
The Blue Lagoon supplies you with an electronic waterproof wirstband. This acts as entry to your locker, the different facilities, and it lets you buy your food, drink, face masks etc whilst you're in Iceland's Blue Lagoon!
Do you have to leave the water to buy drinks?
Nope! There's two pool bars that can be in found in The Blue Lagoon. One that serve's drinks and the other is a mask bar.
So you can swim up, and buy yourself a soft or alcoholic drink, including beer & wine. You'll also be able to redeem your free drink that's included with your ticket price at one of these bars. Also the best thing I recommend doing whilst you're here, is drinking plenty of water so you don't get dehydrated.
After you've got your free drink, head over to the mask bar and get yourself one of your free body masks. All tickets include at least the silica mud mask, which is amazing for your skin! But if you upgraded to the premium plan you can also pick two additional masks. There's also the option of buying more body masks using your wristband.
What should I take with me to The Blue Lagoon?
When you are packing for your visit to The Blue Lagoon, make sure to pack the following:
A swimsuit, a hairbrush, flipflops or waterproof shoes, a reusable water bottle, reef-friendly sunscreen, a hair tie and/or swimming cap, a waterproof camera such as a GoPro or a waterproof casing for your phone, a seperate bag for your wet swimsuit.
These are optional but you could bring an extra towel, soap, shampoo and conditioner. These things are supplied by The Blue Lagoon but if you have allergies, sensitie skin or need specific type of hair care products make sure to bring your own products with you. You'll probably need to use these during your trip to Iceland anyway and purchasing them when you arrive can cost a lot.
Where can I stay near The Blue Lagoon?
While you can stay at The Blue Lagoon and it is an amazing experience, the Retreat Hotel can be expensive for those on a budget. Most visitors will stay in Reykjavik as the city offers easy access to many of Iceland's most popular tours. From Reykjavik you can book a transfer to The Blue Lagoon. But if you'd like to stay nearby, there are a few hotels Grindavík where the Blue Lagoon is located that offer more affordable accomodation. These are:
Northern Light Inn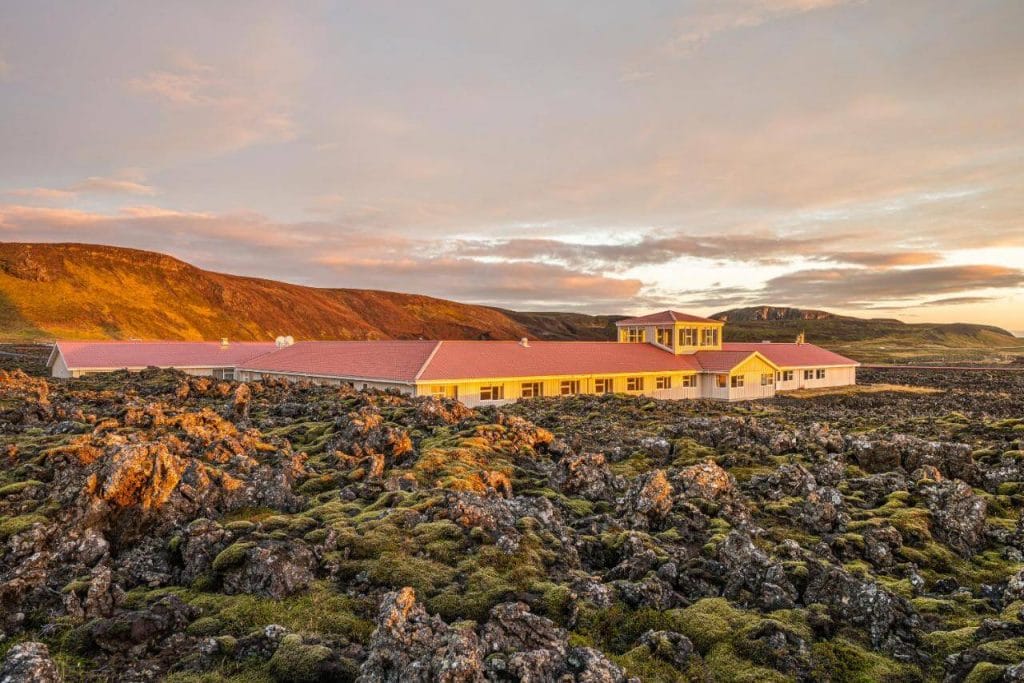 This is a family-ran spa and wellness hotel, that's under a mile away from The Blue Lagoon. The hotel has a wellness spa, fitness center, and a lounge with a fireplace and panoramic views. There's also a free shuttle bus that goes to and from The Blue Lagoon that you can use whilst staying here.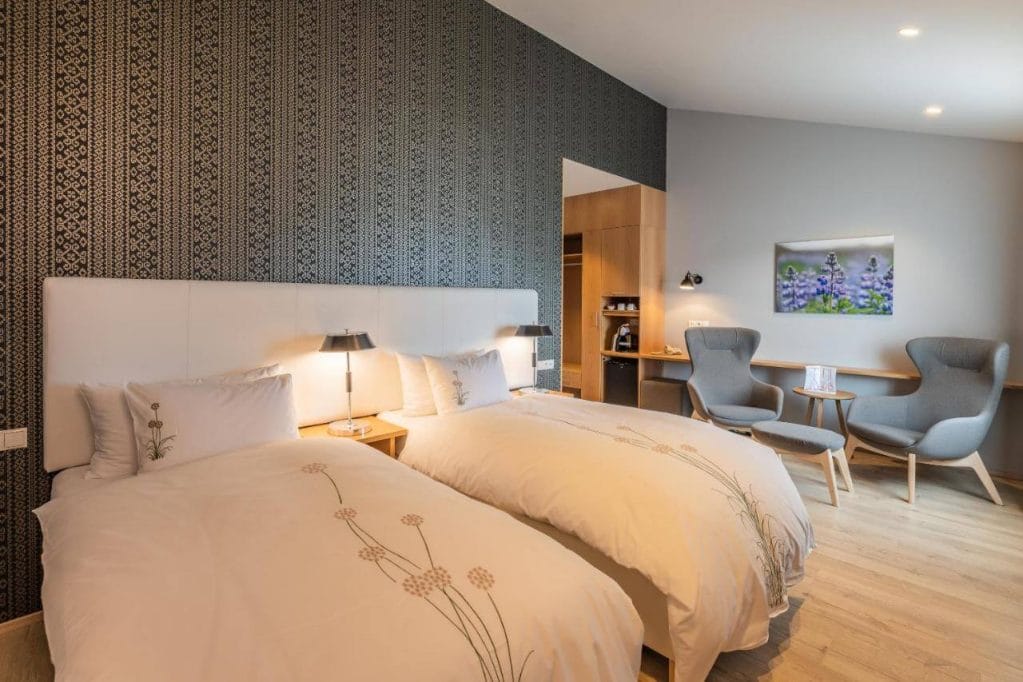 The inn offers a range of rooms in different sizes (twin, double, and family size), each including a private bathroom, smart TV and free WiFi. The inn also offers a restaurant that has floor to cieling windows for you to enjoy views over the lava field that covers the Reykjanes Penisula.
Hotel Grindavík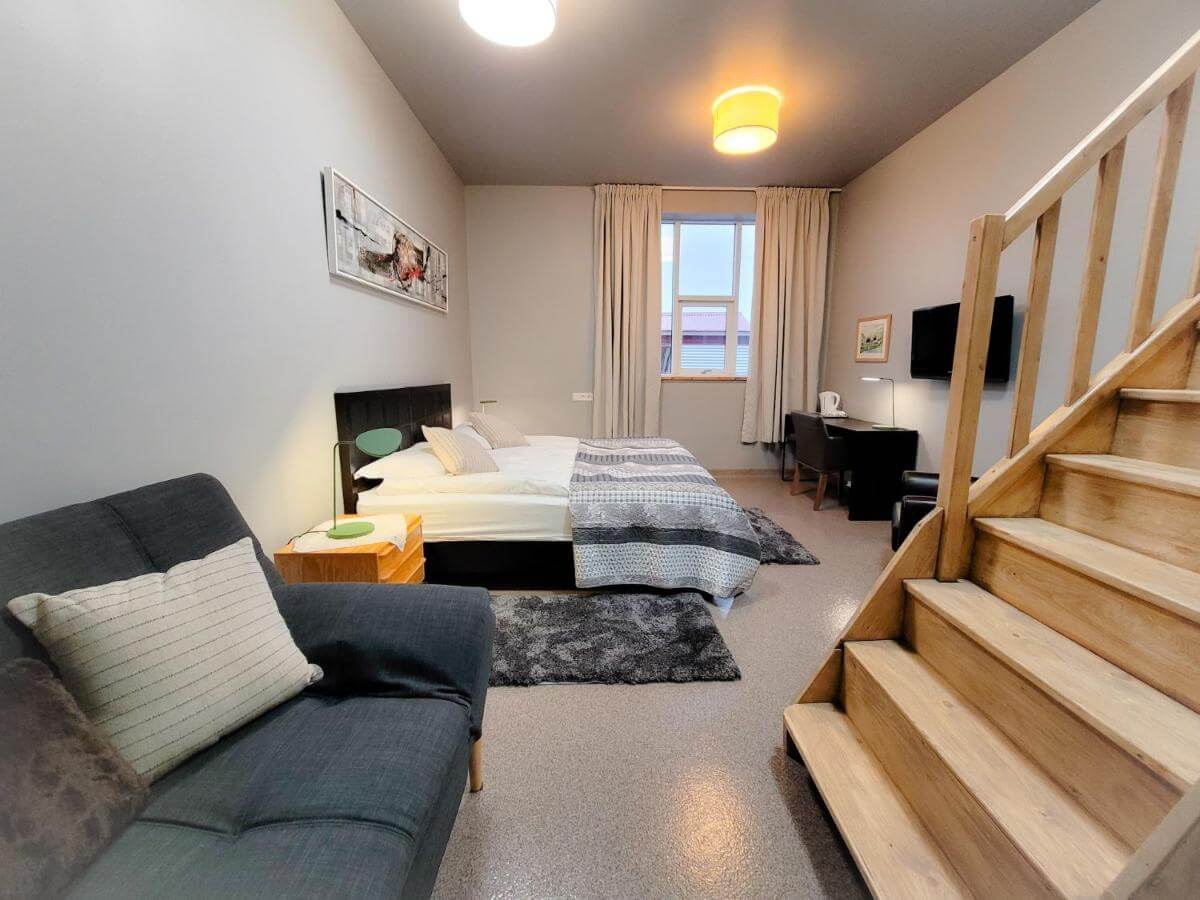 This hotel is located in a quiet area about 5 miles from the Blue Lagoon and offers free private parking so this is a great place to stay if you're hiring a car. The hotel has large comfortable rooms, with a sofa, desk area, TV, free WiFi and a private bathroom. There's also a restaurant and bar, and the cost of your room includes breakfast.
Converted Water Tower
The Converted Water Tower is a holiday home located in Grindavík that sleeps up to 4 people. As the name suggests, this property was once a water tower but has been converted into a stylish and comfortable holiday home.
The property offers a variety of amenities, including a fully equipped kitchen, a living room with a fireplace and dining table. There's also a washing machine, dishwasher, and free WiFi. Plus amazing views over the near. The Converted Water Tower is located in a peaceful and serene setting, making it a perfect retreat for those looking to relax and unwind.
Which tour should I take to get to The Blue Lagoon?
If you're hiring a car, I recommend driving to The Blue Lagoon. You need to book your tickets online in advance, I really cannot stress this enough. The Blue Lagoon is Iceland's most popular tourist attraction so it sells out really far in advanced. Soon as you know your travel dates for Iceland, book the tickets. You should also arrange your car hire as soon as you can as well, to ensure you can get the best selection and offers. I recommend using Discover Cars to find car hire, as they will search all of Iceland's car hire companies and show you the best price. Plus they offer free cancelation so you can always cancel if your plans change. Find your car hire here.
If you're not hiring a car, there are a range of tours that you can pick from. Some of the tours are package deals, where you get to visit other areas of Iceland as well as the Blue Lagoon. Either as a day trip or multi-day trip, and this is a great way of saving money over booking the tours individually. There's also airport transfer options that include a stop off at the Blue Lagoon! So you can relax before or after your flight to/from Iceland!
Here's some tours and transfers I recommend considering:
From Reykjavik or Keflavik: Blue Lagoon Transfer via bus – If you're not driving and only want to visit the Blue Lagoon, you could book this transfer-only option. This is only for the transfer so you need to also book your Blue Lagoon tickets seperate to this. But this is the cheapest way of getting to The Blue Lagoon from Reykjavik or Kelflavik Airport if you don't have a car.
If you want to book your transfer and tickets together, I recommend this option; From Reykjavik: Blue Lagoon Entry with Round-Trip Transfers. This tour will pick you up from Reykjavik 1.5 hours before your Blue Lagoon starting time and drop you back at your hotel afterwards.
Reykjavik: Golden Circle, Kerid Crater, & Blue Lagoon Tour – On this tour you get to see the Golden Circle which is one of the most popular areas to visit whilst in Iceland.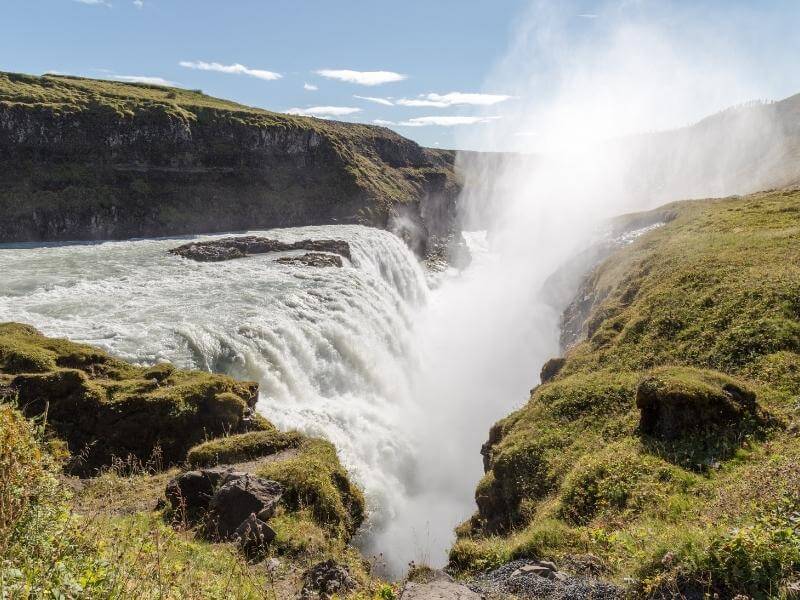 It's really beautiful, and you'll get to see one of the most amazing waterfalls in iceland – Gullfoss. You'll also visit Strokkur which is the Geyser area near the Golden Circle and the Kerid Crater.
From Reykjavík: Merdalir Volcano and Blue Lagoon Day Trip – If you take this tour you'll get to visit the Meradalir Volcano and then continue onto the Blue Lagoon.
The Meradalir volcano eruption is a stunning natural wonder, and is a truely amazing experience. During this tour, you;'ll get to enjoy amazing views of Lake Kleifarvatn and hike up to the active volcano sites at the top of Fagradalsfjall and get to see the Merdalir eruption. At the summit of the Meradalir volcano, you will be able to see for miles in all directions and watch as the lava flows from the volcano. The view from the top is truly spectacular, and this is a once in a life time experience.
Some other tours to consider:
I hope you found this guide to visiting Iceland's Blue lagoon helpful. If you have any tips you'd like to share, get in touch.
Travel Tips For Iceland
Download Apps To Help You Stay Safe – Check my list of apps here I recommend downloading, that'll help you stay safe whilst in Iceland, plus other apps for finding cheap food & drink, free audio guides and more.
Don't Forget Sunscreen – No matter where you're going, I recommend packing a good quality reef-friendly sunscreen. This will help protect you from developing skin cancer or getting sunburnt.
Airport Transfers in Iceland- If you're not hiring a car, make sure to book an airport transfer. You can book a transfer to/from KEF airport that includes a trip to the Blue Lagoon here, or a transfer from KEF to Reykjavik via bus here.
Car hire in Iceland- Book your car hire online in advance to save money and more choice. I recommend booking car hire through Discover Cars to find the cheapest prices & get free cancellation.
Get Travel Insurance – Don't leave home without travel insurance. Travel insurance can cover you in case you have an accident, get sick, lose your passport or other belongings, miss your flight, or if part or all of your trip is canceled or delayed. If you're in the UK, I recommend using Allclear, for the USA you should consider AXA and for the USA, UK + Rest of the World check out SafetyWing.
Booking budget-friendly accommodation – I book my hotels and hostels in Iceland through Booking.com as I can filter to my accomodation requirements and let me opt for free cancelation. For holiday rentals, I use VRBO.
Booking Tours – For booking tours in Iceland I like to use GetYourGuide or Viator. For tours run by locals, AirBnB Experiences has a great selections as well. For accessible tours, contact Iceland Unlimited.
Booking Flights – I always find the cheapest flights using Kiwi or Skyscanner. Both search for the cheapest flights, and let you filter by stops, times, etc so you can find the cheapest options. You can also sign up for Jack's Flight Club to be alerted to cheap deals if you're happy to travel anywhere.
Travel eSims – If your phone supports an eSim, I recommend using Airalo. They sell eSims based on country, region, and even global ones! There's one for almost every country including Iceland and they can work out cheaper than physical sim cards.
Travel Sim cards – If you don't want an eSim, then this Orange travel sim card will have you covered for Iceland, and this Global Sim Card works in over 200 countries. Make sure to check out my sim card guides for information on buying local sim cards.