The Isle of Mull is an amazing place and one of my faveorite places to visit in Scotland. Bursting with rich wildlife, gorgeous beaches, quaint harbours, fascinating history and art – and, of course, a wealth of spectacular landscapes – the island is the perfect location for a remote getaway.
Camping on the Isle of Mull is a great way to explore the island without breaking the bank.
Whether you're looking for a quiet, secluded spot or a lively, family-friendly campsite, there are plenty of options to choose from.
You May Also Like..
Campsites on the Isle of Mull
If you're planning a camping trip to the Isle of Mull, you'll have plenty of options to choose from. Here are some of the most popular and highest rated campsites on the island:
Tobermory Campsite
Located just one mile west of Tobermory, this large campsite is a popular choice for visitors to the island. It offers hook-ups, chemical disposal, toilets, and showers.
Tobermory Campsite offers a blend of comfort and adventure that's hard to resist. From well-maintained facilities to friendly staff who are always up for a chat about the best local spots, this campsite truly feels like a home away from home. Plus the campsite is well located, near Tobermory so you can easily go for a stroll along the harbor or hop on a boat ride to see puffins on Staffa and the Tresnish Isles.
Shieling Holidays Craignure Campsite
Situated in the village of Craignure, not too far from the ferry terminal Shieling Holidays campsite is perfect for those who want to explore the southern part of the island. At the Shieling Holidays campsite, you'll find a range of facilities, including showers, and toilets. For campervans and caravans, there are hard-standing pitches available. You could also choose to book one of their cottages or go glamping in one of their chalets. For those traveling with dogs, this site is doggy-friendly.
The campsite has a stunning view of the Sound of Mull and offers easy access to walking trails through the forest and along the coastline.
Salen Bay Campsite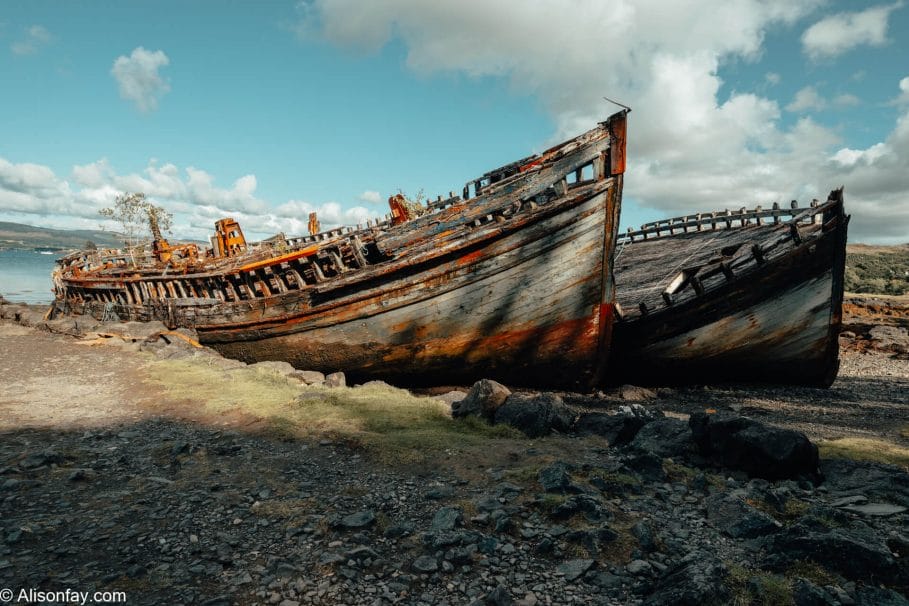 Tucked away in a peaceful nook, in the village of Salen this campsite is a great place to stay if you'd like to relax. The campsite is surrounded by stunning scenery and is located near the coast where you may be able to spot otters.
My personal highlight? Watching the sunset, and the sky turn into a starlit wonderland. The view across The Sound of Mull offers the opportunity for an amazing sunset, and once as the sun dips below the horizon, you'll be able to spot stars appearing in the sky (if the sky is clear). The Isle of Mull has low levels of pollution, giving you an amazing opportunity to enjoy stargazing whilst camping.
Salen Bay also offers a range of facilities, including showers, and toilets. You'll also be near local facilities such as a Spar supermarket store, MacDonald's Petrol Station, and two cafes (The Coffee Pot and The Little Bespoke Bakery – both of which I recommend checking out).
Pennygown Holiday Park
Located along the scenic coastline in Aros, Pennygown Holiday Park offers campers a front-row seat to The Sound of Mull. We were instantly drawn to its pristine landscapes, where the River Fossa's azure waters meet lush greenery, creating a serene backdrop for camping on Mull.
At Pennygown you can choose to camp in a tent, or campervan or book a camping pod. The campsite offers a range of spacious hardstanding pitches for motorhomes and tent pitches with electrical hookups. All their hardstanding pitches have a view of the Sound of Mull. You'll get access to an onsite laundrette, dishwashing facilities, fresh water, a kitchen, and more.
You'll be located near Salen so you'll get good access to the local stores, and cafés. Plus, you're not too far from some of Mull's iconic spots such as the Salen shipwrecks. The campsite is pet-friendly so you can bring along your dogs. You'll be near a number of walking trails, and have access to the coast where you may be able to spot otters, seals, and different seabirds.
Fidden Farm
Fidden Farm is a popular campsite that has been welcoming visitors to the island for over 60 years. Located on the west coast of the island (near the Iona ferry) this campsite, offers stunning views over the sea, with beautiful waters, and easy access to some of Mull's best walks. Every corner of Fidden Farm represents the Isle of Mull's timeless beauty.
Camping here is an amazing experience, where modern amenities blend seamlessly with nature. The farm's ethos aligns perfectly with sustainable and responsible tourism, making it a favorite among eco-conscious travelers.
For those keen on exploring, the farm's location is a gateway to some of the most breathtaking spots on Mull. Whether you're hiking, bird-watching, or simply lounging by the beach, this is a great spot to camp. You'll also be near the Iona ferry, which is a stunning vehicle-free island just off the coast of Mull which you should definitely visit. The site has a range of facilities, including showers, toilets, and laundry facilities.
Crannich Campsite
Located in Glen Aros, Crannich Campsite is a testament to the Isle of Mull's diverse landscapes. This campsite offers an amazing experience, where you can enjoy watching the sunset across the Glen Aros, and the melodious chirping of birds. It's no exaggeration to say that camping at Crannich feels like being in a nature lover's dream.
The campsite is thoughtfully designed, ensuring that even amidst the woods, comfort isn't compromised. And for budget travelers, Crannich strikes the perfect balance between affordability and a premium camping experience.
You'll be well connected to many nearby walking trails that allow you to explore the surrounding areas. The campsite offers hardstanding pitches with electrical hookups, and has shower plus toilet facilities. There's also WiFi on site which they recommend using as the phone signal isn't always great.
Calgary Beach Campsite
Situated just a short walk from the pristine Calgary Bay on the North West of Mull, this campsite offers an experience that's as close to wild camping as Mull has to offer on a dedicated campsite. Yet still offers the essential amenities that modern campers seek.
The allure of Calgary Beach Campsite lies in its simplicity. Here, the rhythms of nature dictate the pace. The gentle lapping of waves, the rustling of leaves, and the distant calls of seabirds become the soundtrack to your camping Mull adventure. It's a place where you can truly disconnect from the hustle and bustle and reconnect with the natural world.
Whilst at the beach you'll be able to enjoy wild swimming, coastal walks and hiking trails through Mull's countryside. You may get to see otters, seals and other wildlife that makes this area of Mull it's home. Plus the campsite permits campfires and is dog-friendly so you can bring along your furry friend.
Calgary Beach Campsite is only for tents, motorhomes and caravans are not permitted.
Amenities and Facilities at Campsites
When choosing a campsite on the Isle of Mull, it's important to consider the amenities and facilities available. Here are some of the common amenities and facilities you can expect to find at campsites on the island:
Toilets and Showers
Most campsites on the Isle of Mull have toilet and shower facilities available for campers to use. These facilities are usually clean and maintained and can be a welcome relief after a day of hiking or exploring.
If you do choose a campsite that doesn't have a toilet or shower, you can find public toilets + showers in Tobermory Harbor. There are showers (including an accessible shower with a seat, handrails, and emergency pull cord) in the Aquarium as well as toilets. The toilets are run on donations, with a recommended donation of 20p, and the showers cost £2 for 7 minutes (as of 2023). Car parking in Tobermory is free, in the harbor car park.
You can also find 24/7 toilets in Salen. These aren't as good condition as the ones in the harbor but they are open 24 hours a day. Please make sure to keep them clean as they're free to use and people misusing these toilets could cause them to be locked at night.
If you are staying in a motorhome you're not allowed to dispose of chemical waste/your toilet down the public toilets. This can cause them to become blocked and stop them from being usable to others. Please use the chemical waste disposal facilities on a campsite.
Electric Hookups
If you're camping in a caravan or motorhome, you may need access to electric hookups. Many campsites on the Isle of Mull offer this service, but it's always best to check before you book to ensure that your needs can be accommodated.
If you're not traveling with an electrical hookup I recommend getting a portable power station or a high-capacity power bank. If you are wanting to charge a laptop or camera batteries then I recommend using an Anker power bank with power delivery, this is the one I use:
You could also charge your devices from your car when driving around. If your car/hire car doesn't have USB ports built-in you could pick up a USB car charger from Amazon or a service station before coming over to Mull.
I don't recommend relying on being able to recharge your devices at a restaurant or café on Mull. As they're all independently run they don't necessarily have the facilities available to recharge your devices and it can be seen as rude/disrespectful. Please ask before charging any devices in independent cafes/restaurants.
Laundry Facilities
If you're planning on an extended stay on the island, laundry facilities can be a real lifesaver. Many campsites offer laundry facilities for campers to use, so you can keep your clothes clean and fresh throughout your stay.
If you don't have access to onsite laundry facilities, head to Tobermory. You'll find a laundrette at the harbor, by the Aquarium next to the toilets.
Wi-Fi
While many people choose to disconnect from technology during their camping trips, others may need access to Wi-Fi for work or personal reasons. Some campsites on the Isle of Mull offer Wi-Fi, but it's important to note that the signal may not always be strong or reliable.
If you're traveling from abroad I recommend picking up a sim card or eSim before coming over to Mull. I personally find that the o2 network has been reliable, and I even had 5G coverage at one point. You can find out more about the best prepaid UK sim card here.
On-Site Shops
If you need to stock up on supplies during your stay, some campsites on the Isle of Mull have on-site shops where you can purchase essentials like food, toiletries, and camping gear. But otherwise, head to one of the Spars in either Salen or Craignure. You'll also find a Co-Op supermarket in Tobermory. Tobermory also has a range of local independent stores selling gifts, clothes, toiletries, camping gear, and more. If you need something that is deemed essential, chances are a store in Tobermory has it for sale.
Overall, the amenities and facilities available at campsites on the Isle of Mull can vary depending on the location and type of site. Be sure to research your options and choose a campsite that meets your needs and preferences.
Camping Rules and Regulations
When camping on the Isle of Mull, it is important to be aware of the rules and regulations to ensure that you have a safe and enjoyable experience. Here are some guidelines to keep in mind:
Campsites
If you plan to camp at a designated campsite, be sure to follow the rules and regulations of the site. Each campsite may have different rules, so it is important to check with the site before your arrival. Some common rules include:
No open fires
No loud music or noise after a certain time
No littering
No driving on the grass or off-road
No pets allowed
Wild Camping
Wild camping in a tent is allowed on the Isle of Mull, but there are some guidelines to follow to ensure that you are camping responsibly and safely:
Camp only in designated areas or on land where you have permission from the landowner
Leave no trace – pack out all of your trash and waste
Do not damage the environment or wildlife
Do not light fires unless they are in a designated fire pit or stove
Respect the privacy of other campers and landowners
Wild camping in a vehicle of any type is not allowed.
Motorhomes and Campervans
If you plan to camp using a motorhome or campervan, there are some additional rules to keep in mind:
Camp only at designated sites or areas where you have permission from the landowner. Camping in motorhomes is not allowed outside of designated sites or without the landowner's permission.
Do not empty your waste tanks anywhere except at designated waste disposal sites
Do not park or camp in areas where it is prohibited or unsafe, such as on narrow roads or near cliffs
Do not park/camp where there are signs saying no overnight parking is allowed.
By following these rules you help preserve the beauty of the Isle of Mull and help protect the wild life.
Getting to and Around Isle of Mull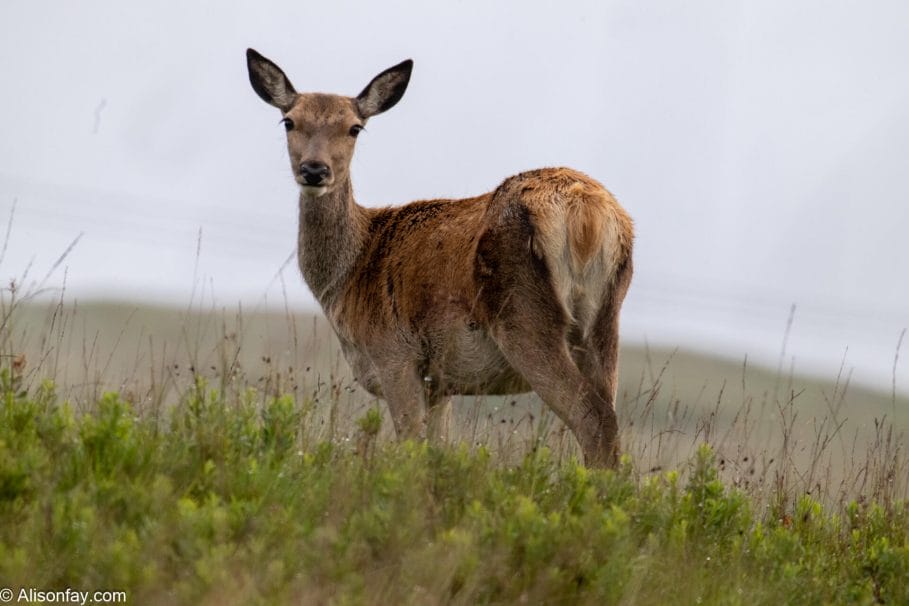 Getting to the Isle of Mull is easy, and there are several ways to do it. The most common way is to take a ferry from the mainland, which departs from either Oban or Kilchoan using CalMac. The ferry journey from Oban takes approximately 45 minutes, while the journey from Kilchoan takes around 35 minutes. You can also take a ferry from Lochaline, which takes around 15 minutes.
Ferries can sell out, especially during the summers so make sure to book your ferry in advance. Ferries can be booked online through Calmac's website. When booking online you can also choose to book assistance or a spot by the lift/elevator if you are disabled and cannot go up/down the stairs.
You can travel to Mull in a vehicle, as a foot passenger or with your bike.
Once you arrive on the island, if you don't have your own car there are several ways to get around. To hire a car on the island, you can contact Mull Car Hire in Craignure, or hire one on the mainland. For the best deals I recommend hiring a car in a city such as Glasgow, or Edinburgh but you can also hire one from Oban.
There's also public transport on the island if you'd prefer not to drive. Most buses are ran by West Coast Motors, which have 3 different bus routes on the island. You can view the time tables here.
There is also a local bus service operated by Mull and Iona Community Trust, which runs services to some of the more remote parts of the island. Just be prepared to have 1-2 hour waits between buses which isn't a bad thing as it allows you to travel at a slower pace, enjoying the beautiful environment and local culture.
If you want to explore the island on foot, there are several walking trails and paths that you can follow. The Isle of Mull has a network of well-maintained footpaths, ranging from easy strolls to more challenging hikes. You can also rent a bike from Salen. I recommend arranging bike hire in advance so you can budget for it + ensure you have a bike booked in for your trip as they may get fully booked.
Guided Tours to Mull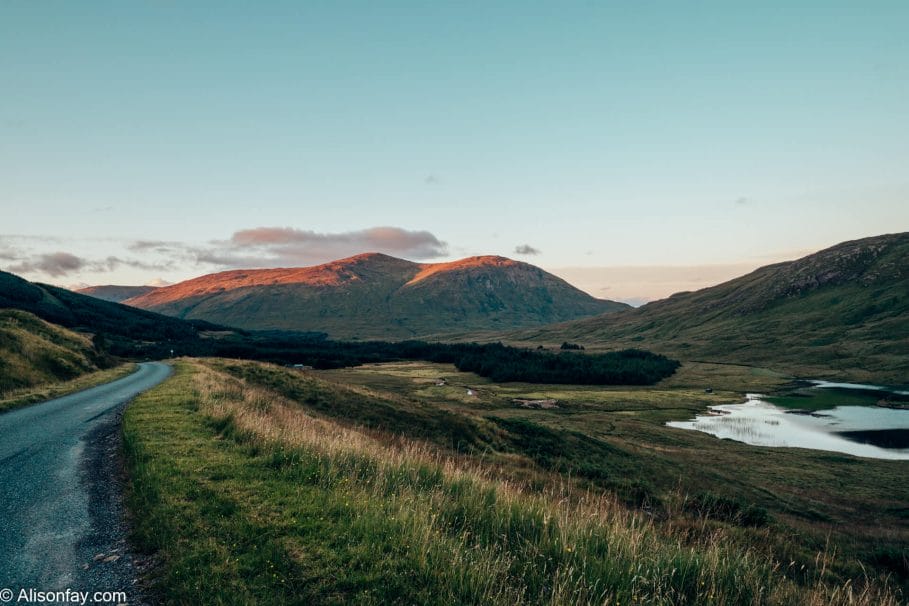 Another great way to visit the Isle of Mull is by joining a guided tour, that'll include your hotels + transportation to Mull. This way you can jus sit back, relax and enjoy Mull's beautiful scenery without having to worry about planning a single thing.
Travel in both comfort and style in a top-of-the-range, 16-seat Mercedes mini-coach
Don't worry about accommodation, as two nights in a B&B or hotel are included
There's three highly rated tours that I recommend checking out:
| Tour | Rating | |
| --- | --- | --- |
| 3 Day Tour of Isle of Mull and Iona from Glasgow. Includes 2 nights in a B&B/Hotel + Transport | 5/5 ⭐ | Book Here |
| 4-Day Mull, Iona & West Highlands Tour from Edinburgh. Includes 3 nights in a B&B/Hotel + Transport | 5/5⭐ | Book Here |
| 5-Day Iona, Mull and the Isle of Skye Tour from Edinburgh. Includes 4 nights in a B&B/Hotel + Transport | 5/5⭐ | Book Here |
Hope you found this guide to the best campsites on the Isle of Mull helpful.
Whilst on Mull I also recommend going on a boat trip to Staffa + Lunga to see the puffins and fingal's cave. You could also take a boat trip with Sea Life Mull to see dolphins, whales and other sealife around the island.