London is home to some of the world's most famous streets, each with its own unique character and charm. From popular shopping streets such as Oxford Street to the world-famous Abbey Road. Other famous streets in London include Baker Street, which is known for its connection to Sherlock Holmes, and Carnaby Street, which was at the heart of the Swinging Sixties.
Whether you're interested in history, or culture, or just soaking up the atmosphere of a new city, there's no shortage of famous streets in London to explore.
You May Also Like..
Historic Streets of London
If you're interested in exploring the city's history, I recommend checking out the streets covered below. London is home to many streets that are centuries old, and full of history.
The Strand
Located in central London, The Strand has been around since the Roman Times, It used to be the main passage between the City of London and Westminster. Currently, it is the home of several iconic buildings, like Somerset House and the Savoy Hotel. It is well also known for its theatres, such as the Adelphi and the Vaudeville.
This London road is also home to the Strand Lane Baths, which have been in use as a public bath since 1770. Some people think they're Roman Baths but they're actually made from part of a cistern that was built in 1612. The cistern was built to supply water to a fountain in the gardens of the old Somerset House. Strand Lane Baths are normally close to the public but they do open as part of the London Open House weekend. When this takes place, you can visit some of London's most famous, and well-preserved historical sights that are normally closed to the public. You can learn more on the Open House website.
The Strand is also home to the first building in London to have a street number. Sometime between 1660 and 1685, England's Secretary of State used to live here, and this building became known as No 1. The Strand.
It's also said that the gunpowder plot (where Guy Fawkes tried to blog up London's Parliament) was planned at the Duck and Drake Inn along this famous road. The pub was originally located opposite the Royal Courts of Justice, but it's long gone.
Abbey Road
Abbey Road is most famous for its link to The Beatles, as this was where they recorded their final album "Abbey Road", at Abbey Road Studios. Since The Beatles, numerous popular music artists such as Kate Bush, Oasis, and Amy Winehouse have recorded their music at the studio. It has also been used to record movie soundtracks, such as Lord of the Rings.
The street is also where The Beatles captured the photo of them crossing the road that was used for the Abbey Road album cover and has become an iconic image.
If you're visiting London in August, you could visit the Abbey Road Studios and take a tour of the facility to learn more about the history of the studio and the famous musicians who have recorded there over the years. These tours are only offered on a limited basis, on select dates throughout the year. For the latest information check the tour information page here.
Alternatively, you could consider taking a musical history tour of London, which will take you to many of the city's famous music sites including Abbey Road. You could consider booking one of these tours:
Fleet Street
Fleet Street is another historic street in London that has been around since Roman times. The street runs east to west, from Temple Bar to the River Fleet which the street was named after. Fleet Street is mostly known for its links to the British newspaper industry and has been historically tied to the printing and publishing industry since the start of the 16th century, with most of the British national newspapers operating from here throughout the 1900s. These days, Fleet Street is still home to many newspapers and publishing companies, although the industry has largely moved elsewhere.
Fleet Street is lined with famous historical buildings. Many of the buildings have a history dating back to medieval times, the Knights Templar, and other important events throughout London's history.
Some notable places to visit along Fleet Street include:
St Dunstan's in the West: This church was built back in the 1830s but there has been a church here since medieval times. On the outside of the building, you'll find plaques serving as a memorial to James Louis Garvin who was a British Journalist that became editor of The Observer in 1908. A second plaque memorializes Lord Northcliffe (Alfred Harmsworth), who played a major role in creating the form of newspaper we have today. During his lifetime, he helped start and expand many famous newspapers. Such as starting the Daily Mail in 1896, and later the Daily Mirror in 1903. He was able to play a major role in influencing the British popular during the first world war as he has such a huge control over the British press.
Prince Henry's Room: At 17 Fleet Street you'll find one of the only buildings to survive the Great Fire of London – Prince Henry's Room. The building's history can be traced back to the 12th century when it was owned by the Knights Templar. In 1312, it was given to the Order of St John of Jerusalem. In 1610, it was rebuilt as a tavern, before being sold to James Sotherby. From 1795 to 1815 the building was used by Mrs Salmon's Waxworks. Today, it's owned by the City of London Corporation. Sadly you cannot go inside Prince Henry's Room but it's worth walking past, stopping and admiring the architecture.
The Punch Tavern: Located at 99 Fleet Street is one of the most famous pubs in London, The Punch Tavern. The tavern was previously called Crown and Sugar Loaf but in the 1840s, the name changed to the Punch Tavern after the nearby Punch Magazine. The Punch Tavern is still running today as a gin bar. They serve over 100 different types of gin + a great selection of beer, and food.
The DC Thomson and Sunday Post building: At 185 Fleet Street, you'll find the DC Thomson and Sunday Post building, which is still in operation today. This publisher is most known for the Beano and Dandy comics that ran from 1937 to 2013.
St Bride's Church: St Bride's Church is one of the oldest examples of Christian history in the UK dating back to Roman times. When visiting the church, make sure to go down into the crypts where you can see the remains of a Roman pavement, a Victorian iron casket that was used to deter body snatchers and a Medieval Chapel. The church also has a memorial to Polly Nichols, the first victim of Jack the Ripper, and "The Journalist's Alter" which is used to remember journalists that lost their lives, are held hostage, or are missing. If you're interested in a guided tour, visit the church's website here to find out how to arrange a tour.
The Telegraph Building – located at 135-141 Fleet Street, you'll find an Art Deco-style building that was built for the staff of The Daily Telegraph (later becoming the Telegraph online). The building opened in 1928 and was used by The Daily Telegraph until the 1980s.
The Express Building – At 121-128 Fleet Street you'll find the Express Building. The building opened in 1932 and was used by The Daily Express. This time, Owen Williams who designed the building went with a more modern look; incorporating black structural glass, combined with chrome and large glass windows. The building is quite a stark contrast against the Art-Deco style of the Telegraph Building and can be easily spotted standing out against the older buildings.
Plus there are many other famous places along Fleet Street that are worth visiting such as the Old Bell Tavern, Temple Church, the Former Reuters building, and the former King and Keys pub.
Baker Street
Baker Street is mostly famous for being the home of Sherlock Holmes, the fictional detective created by Sir Arthur Conan Doyle. Sherlock's fictional home is 221B Baker Street, which is where you can find the Sherlock Holmes Museum.
If you're a Sherlock Holmes fan, why not take a tour?
Sherlock Holmes Museum & Westminster walking tour – Take a 3-hour tour through Westminster, and see famous London sights such as Buckingham Palace, Green Park, Trafalgar Square, Westminster Abby, and more. After the tour, you'll visit the Sherlock Holmes Museum. Admission to the museum is included. Check availability here.
Sherlock Holmes Private Guided Tour – This private tour will take you to locations used in the BBC Sherlock Holmes Series as well as the original series. Such as the restaurant in the BBC series where Sherlock & Watson met in Soho and Speedy's Sandwich Bar & Cafe which was the film location for 221b Baker Street in the BBC series. Check availability here.
Sherlock Holmes Tour by Black Cab – Hop on in the London taxi cab, and enjoy a 3-hour Sherlock Holmes tour. You'll get to visit many of the filming locations used in the classic Holmes films, and some of the recent films and other sights relating to Sir Arthur Conan Doyle. You'll get to travel along some of the famous London roads, such as Baker Street where you'll get to see 221b Baker Street and explore some of London's Victorian alleyways that were used in the film. You'll also get to see Sir Arthur Conan Doyle's home. Check availability here.
Besides Sherlock, Baker Street is also famous for other things. Back in 1835, the first Madame Tussauds Wax Museum opened on Baker Street, and during World War 2 the UK's Special Operations Executive was located at 64 Baker Street. In 1967, The Beatles Apple Boutique opened at 94 Baker Street which was their first business venture, although sadly it didn't work out and they closed in 1968. Back in 1978, the song Baker Street by Gerry Rafferty, which was a major worldwide hit was written when Rafferty stayed with a friend who lived off Baker Street. So there's plenty of other history along here as well making it one of the best streets in London you must visit.
Cheapside
Cheapside is a historic street in the City of London that has been around since medieval times. Cheapside was once one of the busiest marketplaces in medieval London, with vendors selling everything from food to clothing. The name "Cheapside" comes from the Old English word "ceap," which means "market." In the 16th century, Cheapside became a fashionable shopping district, making it one of the oldest shopping areas in London.
During the Great Fire of London in 1666, much of Cheapside was destroyed but was quickly rebuilt. Today, If you're interested in shopping, Cheapside is the perfect place to find unique gifts and souvenirs.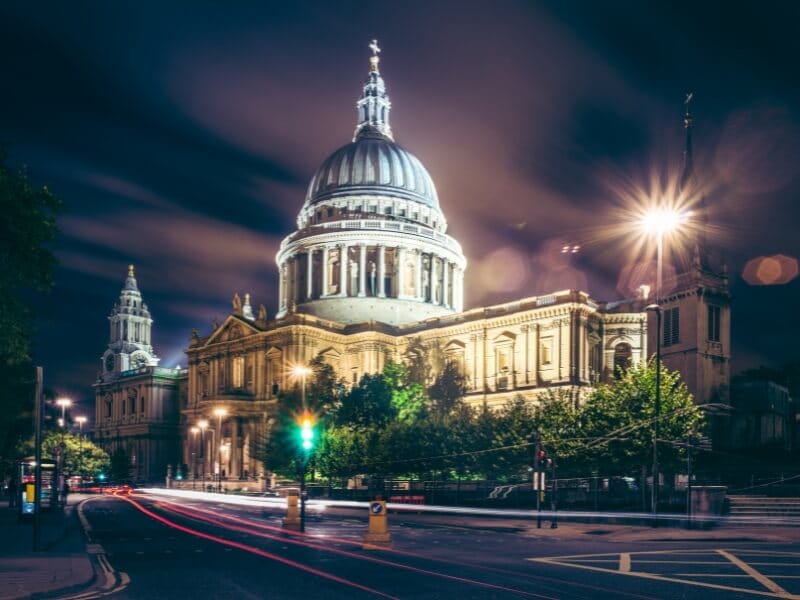 Cheapside is also known for the famous, St. Paul's Cathedral which is well worth a visit. If you're able to, when visiting St. Paul's I recommend climbing the stairs to the viewpoint. There are a lot of steps (300 to 500 depending on the gallery you're visiting), but if you're able to, it's well worth the view.
Worshipping at St Paul's is free, and you can check their worshipping schedule here. Other areas of the church such as the gallery viewpoints are not free to access, but I highly recommend buying a ticket. I recommend buying your tickets online in advance to skip the queue. Book tickets to St Paul's Cathedral here.
If you're disabled and need a carer to accompany you, you can book a free carer ticket through their site. Sadly people with limited mobility won't make it to the viewing galleries. If you're disabled or on a low budget, I recommend visiting the Sky Garden.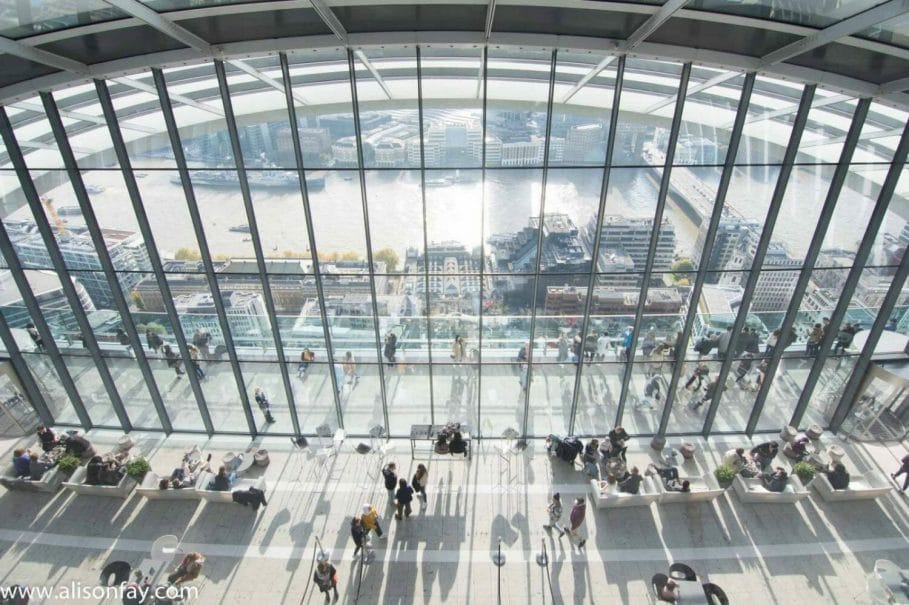 The Sky Garden offers an amazing view over London and is completely free (but it gets booked up fast so make sure to book ASAP). The Sky Garden is about 15 minutes walk from St Paul's Cathedral, so you can easily visit both in a day.
Whilst in Cheapside, if you're into shopping or want to take photos of St Paul's I recommend visiting the One New Change shopping centre. Take the lift to the top floor where you can enjoy views of St. Paul's Cathedral and take photos. The shopping center is also home to several restaurants and bars, making it a great place to grab a bite to eat or a drink.
The Bank of England can be found at the east end of Cheapside, on the corner of St. Princes Street. You can only see the bank from the outside but the historical building makes for great architecture photos. If you're interested in learning more about the bank you could consider visiting the Bank of England Museum which is free to enter.
Shopping Streets
London is home to some of the most famous shopping streets in the UK, as well as plenty of world-famous streets. London has a great selection of shops catering to different styles and budgets especially when it comes to clothes. From the vintage clothing shops on Brick Lane, to the high end designer fashion shops on Regent Street, there's something for everyone.
Here are some of the most iconic shopping streets in London that you could consider visiting.
Portobello Road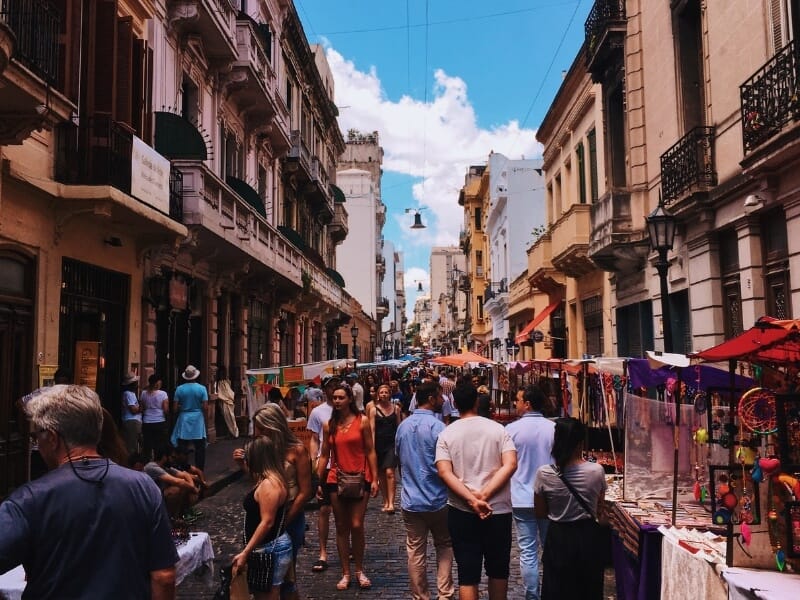 Portobello Road, located in the trendy London district of Notting Hill, is home to one of London's most iconic and famous markets. The road's history dates back nearly 300 years when it was originally just a country lane called Green Lane. In the 18th & 19th Centuries, it was used to travel between Notting Hill and Kensall Green. Over time the road developed into what it is today, with the famous Portobello Road Market opening in the 1940s which has since become one of the most famous markets in the UK, if not the world.
Over the years the market has become known for its antiques with sellers selling a range of antiques and jewelry dating as far back as the 17th century. It's also a great place to buy vintage or antiquarian books. The market also offers fresh products, secondhand goods, clothes, and loads more. The best day to visit the market is on a Saturday, as this is the peak trading day when most of the traders will be here.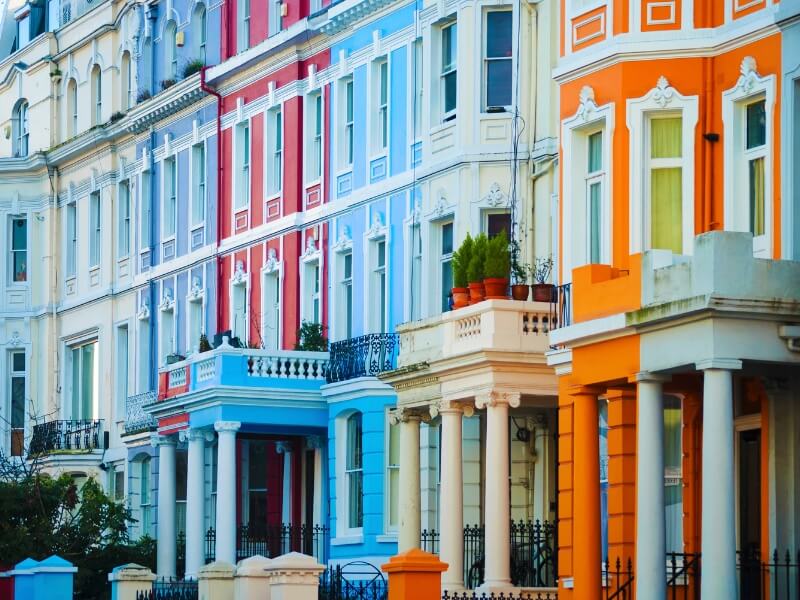 If you're interested in photography, you could take this Portobello Market photography tour. You'll be taken on a tour through the market, and get help taking photos using manual mode. You need a camera that does have manual controls (e.g. a DSLR or Mirrorless) so this won't be ideal if you only have a camera phone. The tour lasts for 2 hours, and by the end of the tour, you should have a better understanding of how to use your camera. You could also read up on some photography tips before taking the tour, to ensure you get the most out of it.
Oxford Street
When it comes to famous streets in London, Oxford Street is undoubtedly one of the most well-known. This street is home to a wide variety of shops, restaurants, and entertainment venues. There are over 300 shops along this street, making it one of the best streets in London to visit if you're planning on shopping. Although Oxford Street tends to be an expensive street, it also has a range of cheaper retailers like Primark so even if you're on a budget, you can find a bargain here. If it is your first time in London you must visit Oxford Street, but even if you've been here before it's still worth visiting.
Some of the most popular stores on Oxford Street include:
Selfridges: This iconic high-end department store is a must-visit for anyone who loves fashion and luxury goods.
Forbidden Planet: Sells merch for cult entertainment, science fiction, comics, fantasy, etc. Their London a mega store & definitely worth visiting.
Disney Store: If you're a Disney fan, I recommend heading here. The store is huge and has a great selection of Disney merch.
Primark: If you're looking for budget-friendly fashion, Primark is the place to go. This fast-fashion retailer offers a wide range of clothing and accessories at incredibly low prices.
Plus there are loads more stores in Oxford Street.
If you get hungry, Oxford Street has a good selection of dining options. If you're after coffee, I recommend checking out Huffkins, or if you love a good burger I highly recommend checking out Honest Burgers.
Oxford Street also has some great museums that you could consider visiting, such as the Twist Museum. This museum is full of illusions and offers an immersive experience. It's quite a fun place to visit, especially when it's raining or if you're after a dopamine hit.
At the west end of Oxford Street, you'll also find Marble Arch. Marble Arch was built in the 19th Century and designed by John Nash as an entrance to the cour d'honneur of Buckingham Palace. If you enjoy walking, you could go for a stroll here, and onto Hyde Park which is located right by Marble Arch.
Hyde Park is a great place to go for a walk and escape the crowds. Especially in the spring and summer when the warmer weather allows you to enjoy sitting by the lake, wandering around Hyde Park Rose Garden or the Princess Diana Memorial Fountain. You could also hire a boat on The Serpentine Lake in Hyde Park.
If you're visiting London in November or December I highly recommend visiting Oxford Street for the Christmas lights and Christmas-themed shop fronts. This is the time of year when the shops put on amazing shopfronts, and the street lights up. If you'd like a guided tour of the light festival, you could consider either of these options:
Christmas Lights Bike Tour – A 3-hour guided bike tour that'll take you past Covent Garden Christmas Market, Hyde Park Winter Wonderland, and along Oxford Street where you'll see the famous Christmas lights. Book here.
Private Tour of London's Christmas Lights – On this tour you'll get to visit Oxford Street, Mayfair, Trafalgar Square, and the West End in the comfort of a private black cab. The tour is led by an experienced cabbie driver who has extensive knowledge of London. Book this tour here.
Regent Street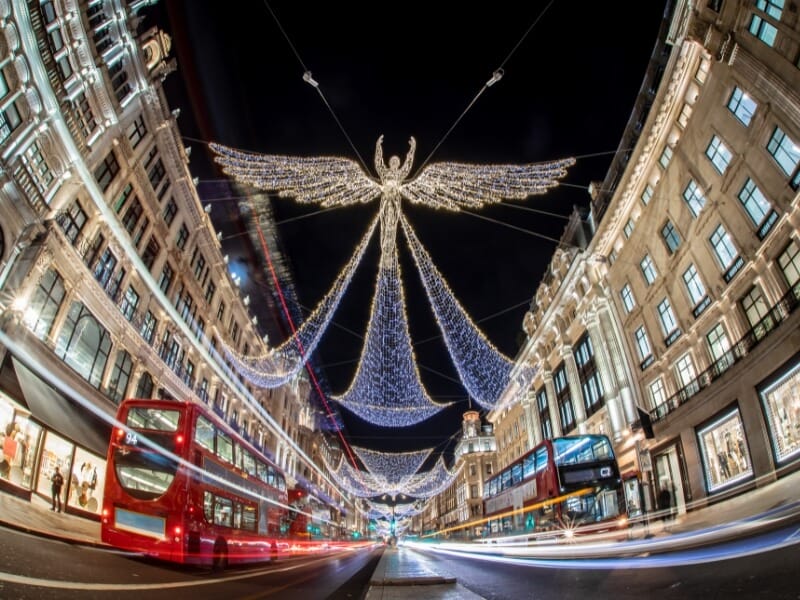 Regent Street is another famous London street that's well-known for shopping and was the first dedicated shopping street in London. It's home to some of the most luxurious shops in London, including Burberry, Michael Kors, and Liberty London.
Regent Street also has some really beautiful architecture, with many of the buildings dating back to the 19th century. The street was built in 1819 under the direction of architect John Nash who is a famous architect and designed many of London's famous Georgian and Regency-era buildings.
If you're visiting in November or December, I recommend going to Regent Street to see the Christmas lights and shopfront displays. Just like Oxford Street, Regent Street comes alive at Christmas with its dazzling lights and Christmas shopfronts.
You could also take a tour to see the Christmas lights in London. This walking tour will take you to Regent Street, Piccadilly Circus, Carnaby Soho Lights, Covent Garden, and more. This walking tour takes about 2 hours. You can book the tour here.
If you're interested in photographing the Christmas light displays, you could book a photography tour on which a professional photographer will take you to the best locations to get photos. The pro photographer will also help you learn how to take photos of the lights and help you get some amazing photos. Book the photography tour here.
Carnaby Street
Carnaby Street was the heart of shopping in London in the 1960s, and it still offers quirky and glam stores, international brands, and unique one-of-a-kind shops. Carnaby Street is an excellent location to shop off the main roads of London and is a wonderful place to get lost.
Carnaby Street is home to a plethora of quirky and glam stores. You'll find a wide range of fashion boutiques, vintage stores, and designer shops. Some of the popular stores in this category include Irregular Choice, Skinnydip, and Lazy Oaf. You'll also find popular brands like Levi's, Vans, and Dr. Martens.
It's also home to several unique one-of-a-kind shops. These shops offer products that are not available anywhere else. Some of the popular stores in this category include We Built This City, a store that sells London-themed souvenirs and gifts, and Tatty Devine, a store that sells quirky and colorful jewelry.
Entertainment Streets
If you're looking for a night out in London, there are several famous streets that offer plenty of entertainment options. From street performers to theaters and cinemas, these streets are sure to keep you entertained for hours.
Covent Garden
Covent Garden is a great shopping and entertainment area located in The West End of London. Most nights, there will be musicians singing and playing music in the Covent Garden marketplace. Even if you're not in the mood for shopping, its a nice place to go for a stroll and enjoy listening to the performers.
Covent Garden is home to over 20 theatres, including the Royal Opera House and the Duchess Theatre. If you're in the mood for a movie, you could head to the Odeon Covent Garden cinema.
Covent Garden is also home to a wide variety of shops, restaurants, bars, and cafes. The Apple Market, located within the historic Covent Garden Market building, offers a selection of unique crafts, antiques, and artisan products from independent vendors. The Jubilee Market, also inside the Market building, transforms throughout the week with different themes ranging from antiques, arts, and crafts to general market items.
Covent Garden is also home to the London Transport Museum, which covers the history and heritage of London's public transport system. The museum is housed in a beautifully converted Victorian-era building and features various interactive exhibits.
During the festive season, Covent Garden is transformed into a holiday wonderland with decorations, twinkling lights, and a large Christmas tree, adding to the festive atmosphere in the area.
Leicester Square
Leicester Square is another popular famous road in London that is a great place to go if you're looking for entertainment.
Leicester Square gets it name from Robert Sidney, 2nd Earl of Leicester who built a home here. The square has been used for a variety of purposes throughout its history, including as a location for public executions and duels that took place here in the 17th century. In the 19th century, the square became a popular entertainment area as theaters and music venues started popping up.
When it comes to things to do here, you could:
Take in a show at the Leicester Square Theater which offers a range of comedy shows, live music, dance, and theater. Go here to see what's on.
Watch a movie at the Odeon Leicester Square Cinema, which is one of the largest cinemas in Europe. It's also a popular spot for movie premieres, with red-carpet events taking place throughout the year.
See the statues of famous people such as William Shakespeare, William Hogarth and Sir Isaac Newton in the gardens.
Grab a bite to eat at the Jungle Cave restaurant which has an Amazon rainforest theme.
Enjoy live music at The Piano Works West End which takes place each night when piano vocalists and other musicians play non-stop live music all night.
Visit the M&M World candy store, which is a 4-story store dedicated to M&Ms with tons of flavors to choose from.
Go shopping at the LEGO Flagship store. This store is huge, with tons of LEGO for you to choose from and a life-size LEGO car that you can even sit in.
Piccadilly Circus
Piccadilly Circus is one of the most popular streets of London and is mostly known due to its large video display and neon signs. The street was originally built in 1819 to connect Regent Street to Piccadilly. Over the years it developed, and became one of London's most famous streets. There's tons of things to do such as going to the theater, watching a movie at one of the cinemas, or grabbing a bite to eat at one of the many restaurants.
Here are some ideas for things you could do in Piccadilly:
No matter which entertainment street you choose to visit, you're sure to find plenty of options to keep you entertained. Whether you're in the mood for a show or just want to soak up the lively atmosphere, these streets are a must-visit for any tourist in London.
Alternative Streets
If you're looking for something a little different from the typical tourist hotspots, London has plenty of alternative streets to explore. Here are a few you won't want to miss:
Brick Lane
Brick Lane is the heart of London's Bangladeshi community, and it's known for its delicious curry houses and street art. On Sundays, the street comes alive with the Brick Lane Market, where you can find everything from vintage clothing to handmade crafts. If you're a fan of street art, be sure to keep an eye out for the colorful murals that adorn many of the buildings.
Brick Lane is also home to the UK's first bagel (also spelled Beigel) shop and I highly recommend getting bagels here as they are so good. There are two bakeries to choose from, Beigel Bake Brick Lane Bakery which is open 24 hours a day and sells traditional Jewish-style bagels. The other one, Beigel Shop is a few doors down and was the 1st bagel shop in the UK! Both sell salted beef bagels which are a must-try if you're not veggie/vegan.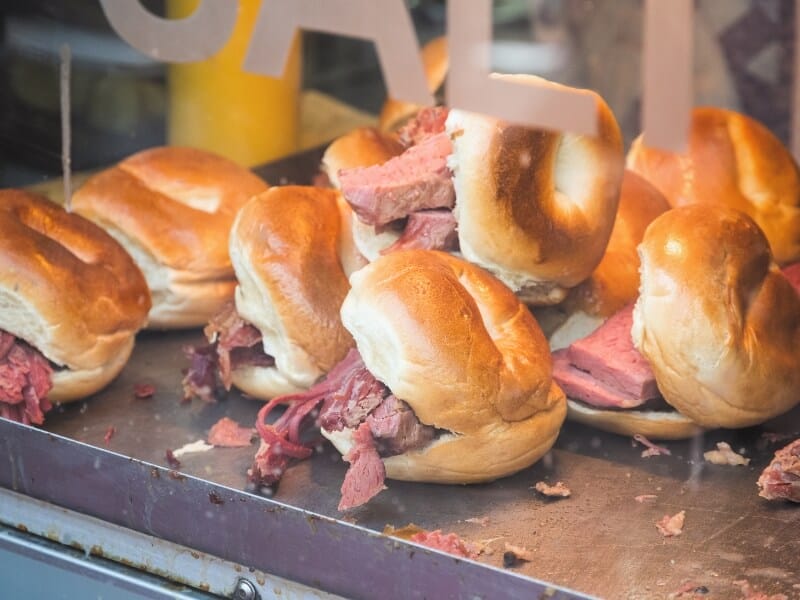 Brick Lane also has a LGBTQ+ bookstore cafe called The Common Press Bookshop which I recommend visiting as it has such a welcoming vibe for queer folk and allies.
Camden High Street
Camden High Street is a bustling thoroughfare in the Camden Town neighborhood. It's home to a variety of shops, including vintage clothing stores, record shops, and alternative fashion boutiques. If you're a fan of the punk and alternative scene, you'll definitely want to check out the shops on Camden High Street. There are also some retro/vintage style clothes shops such as Collectif's main flagship store which has a great selection of 50s-style clothes. The street is also home to the famous Camden Market, which offers a wide variety of food, drink, and shopping options.
Just be aware that there are some "punks" who hang out on the bridge and around Camdem who will charge you money to have a photo taken with them. This is a touristy scam and I recommend avoiding them.
Tours of London's Famous Streets
If you're interested in taking a tour of London's famous streets when here are some of the best tours that you could consider: