If you try searching your mobile's app store for photo editing apps you are sure to get lots of options. But telling what's good, and what's bad or finding the right type of app for you, can be quite difficult.
To save you having to spend hours testing out apps, I have done the legwork for you and created a list of my favourite photo editing apps. These apps are all packed with different feature's, and allow you to edit things like exposure, brightness, highlights, resize, crop, add filters and more. All these apps work for both iOS and Android and are free to use (although some do have a premium option and in-app purchases available).
Snapseed – Free For iOS and Android
Snapseed is my favourite photo editing app for mobiles. The app feature's tons of editing tools that let you change the brightness, exposure, shadows, crop, fix white balance etc. The app includes filters, so you can easily apply effects to your photos such as vintage, HDR effects or convert to black and white. Each filter has customisation options so you can easily adjust it to suit your photograph. You can also do things like add frames, blur parts of the image or use a selective filter brush to only apply filters to parts of an image.
Snapseed supports RAW as well as JPEG, which is a +1 as even some mid-range camera phones are capable of taking a RAW photograph. Another huge plus, is that when editing RAW files any changes made will only be applied to an exported version of the photograph, so you can easily revert your changes.
VSCO – Free, for iOS and Android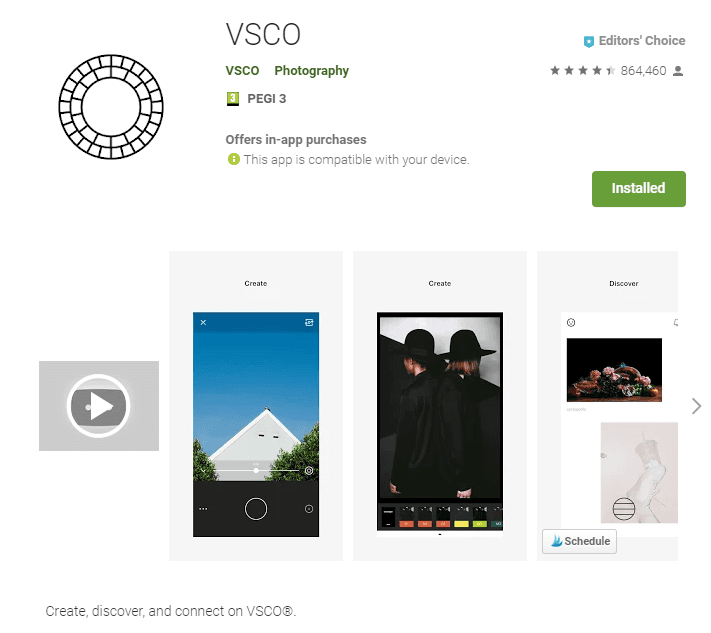 VSCO is both an editor, and a social network. You can create an account, edit your photographs and publish them on VSCO, and then save to your device or a social network.
VSCO includes filters that you can modify, sort of like Instagram but they produce much better quality edits. Although this app is quite simple so the amount of editing possible is more limited than that of Snapseed.
Pixlr – Free for iOS and Andriod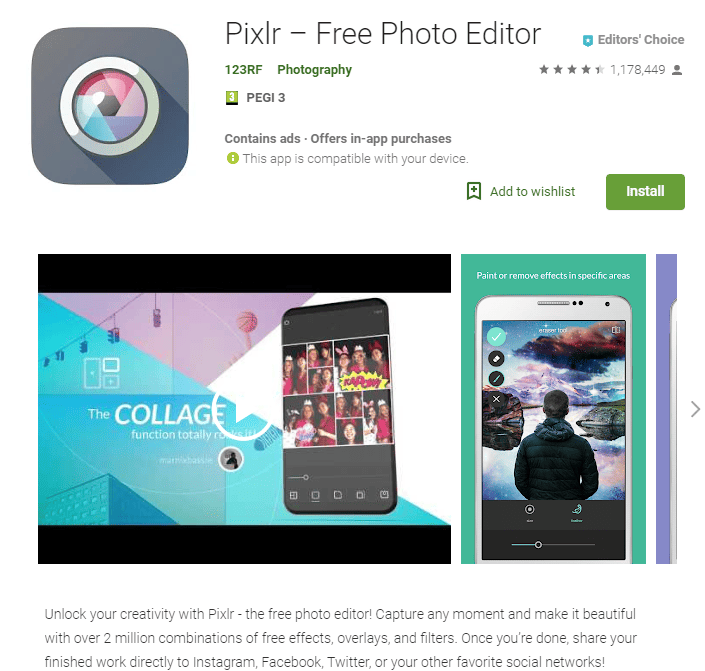 Pixlr is a free photo editor, that allows you to use different effects, overlays and filters to edit your photos and create collages. You can edit photographs you've already taken, or use the app to capture a photo. You can use Pixlr to create double exposure style images by overlaying multiple photographs; either from your own gallery or choosing from the transparent overlays, they offer within the app. You can also add text, borders and export directly to Facebook, Instagram etc.
Pixlr is definitely the more creative type of image editing app, that could be suitable for  Instagram and Facebook stories.
Adobe Photoshop Express – iOS and Android 
Adobe Photoshop Express is Adobe's mobile photography editing app. Although they refer to it as "Photoshop Express", you do not need any prior photoshop knowledge and is much easier to use than the full desktop photoshop version. Adobe Photoshop Express allows you to make a variety of edits to your photos such a clarity, sharpen, reduce noise, shadows, temperature, highlights etc. It includes red-eye removal and supports removing unwanted spots/blemishes. You can choose from 80+ different effects to apply to your photographs. There's a before and after comparison option, so you can easily see what changes were made. Adobe Photoshop Express also allows you to add things like frames or create collages.
Polarr Photo Editor – Free for iOS and Android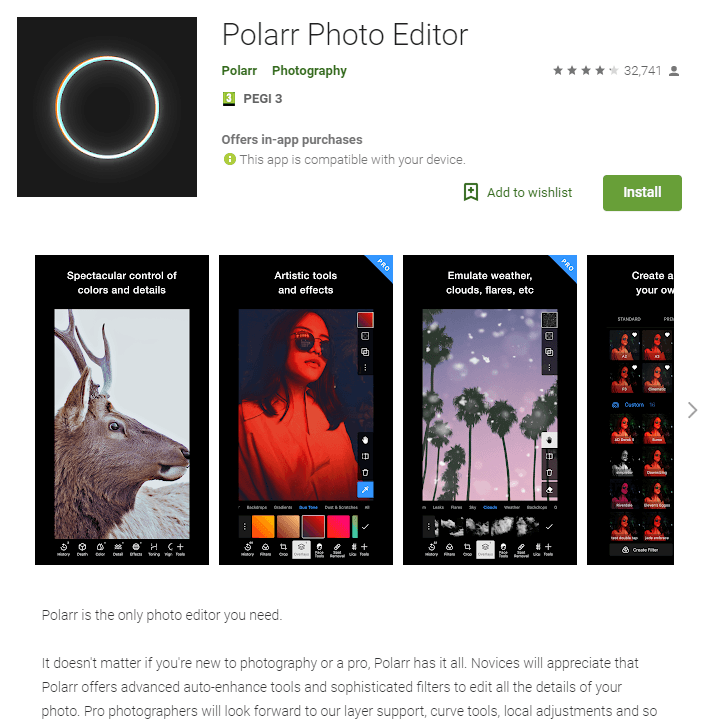 Polarr is a pretty neat editor, that is quite simple to use. It includes auto-enhance options for those wanting a more quick and simpler option. The app allows you to overlay images on each other, using different blending modes. You can add different effects to your photographs such as dual lens mode, and emulate things like water, sun flares etc.
One of the best things about Polarr is that it allows you to create your own filters. When you download the app, you get some basic filters, and the options to download or create more. You can also share the ones you've made with other people. Another neat thing is the support for local adjustments and global adjustments. Local adjustments allow you to adjust different parts of the photograph using a range of tools such as the brush mask. Global adjustments apply the effect to the whole photograph.
If you found this guide useful, then please share it on Pinterest.