With its cobbled streets, historic landmarks, and charming atmosphere, York is a great place to visit for a weekend break.
From the city's medieval walls, ancient churches, boutiques shops, and traditional pubs There's something in York to suit all tastes. With a wide range of restaurants, cafes, and bars to choose from, you'll be spoilt for choice when it comes to food and drink.
York is surrounded by some of England's most beautiful countryside. If you want a break from the city crowds during your weekend break in York you could visit the nearby North York Moor National Park. There are also some quaint little towns and villages such as Malton that you could explore. You could even go a bit further afield with a day trip to Whitby and the North York Moors.
In this guide to a weekend break in York, I will cover the top things to see and do in the city.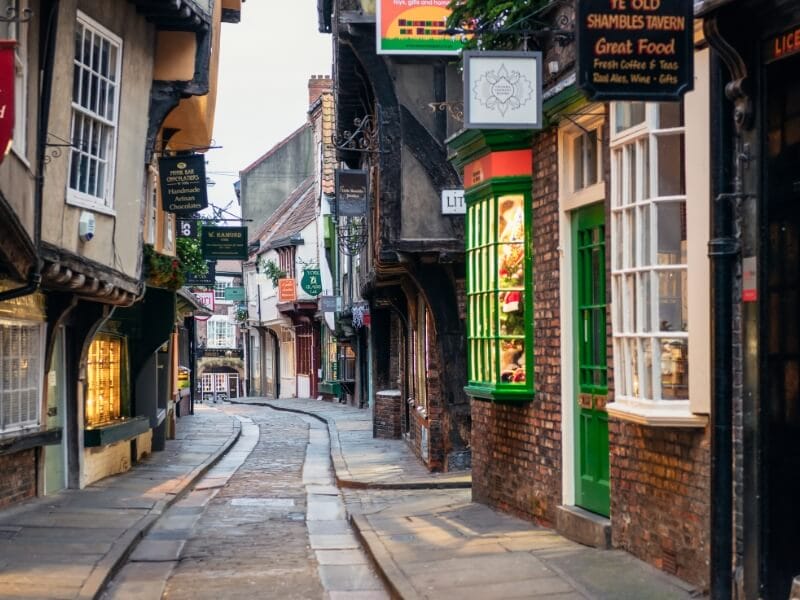 Traveling To York
There are several ways of getting to York for a weekend break. The best way to arrive here can change depending on if you're from the UK or traveling from another country.
York is just 2 hours away from London by train, and there are frequent trains from cities like Manchester and Edinburgh. Driving allows easy access to York from the A1 and M1 highways. Additionally, there are numerous parking lots available in and around the city center.
By Train
Getting to York by train is easy, with frequent services from major cities like London, Edinburgh, and Manchester. The train from London to York takes 2 hours.
If you fly to Heathrow, you can easily visit York during your London trip. To get the best deals, book in advance. If you book as soon as tickets are available, you can often find good deals on train tickets.
Trains are much quicker than buses, and can also be quicker than driving (and safer) as you'll avoid traffic. There are some downsides – cost, strikes causing disruptions, etc.
If you're disabled remember to contact the train company well in advance to book any assistance you need. If you have a hidden disability, you can get a sunflower lanyard to show that you may need extra assistance.
By Car
Why not drive to York? The city is right by the the A1(M) and the M1 making it easy to access. Driving in York is easier than driving in Bristol or London, in my opinion.
Need to hire a car?
I recommend using Discover Cars to find the cheapest car hire + you get 24/7 support & free cancelation!
If you're going to be booking accommodation in York, try to find somewhere that includes parking to save on cost. If you need long-stay parking, check out the list of long-stay parking places on the York Council website.
The city center has multiple car parks. There is also limited off-road parking available. Additionally, there are a few Park and Ride sites located on the outskirts of the city.
Parking in the city center can be costly, especially in NCP car parks. It's best to avoid them to save money. Stick with council ran car parks to avoid being hit by a huge parking bill.
Disabled people can park for free in council car parks like Castle Car Park in the city. To get this free parking you need to have a Blue Badge (disabled parking permit). If you're not from the UK but have a disabled parking permit from your own country, you might be able to use it.
The UK recognizes badges that were issued by EU and EEA countries. If you're from the USA you should check if your disabled parking permit can be used in the UK. I recommend contacting York Councils' blue badge team to check.
By Bus
There are also several bus services that run to York, including National Express and Megabus. They run from most major towns and cities and are a cheaper alternative to the train.
The problem is that they are slower and more likely to be delayed because of roadworks and traffic. Depending on where you are going, you may also have to change buses or use different companies.
If you're only in York for a short break, time is limited so you might find your weekend here gets cut short by the bus travel time. But still, if you're on a budget and happy to spend about 8 to 10 hours traveling you can get from London to York for £15+ by bus.
York has a decent public bus service so once here, you can always use them to get around. Plus the city is quite small, so you'll probably be able to walk everywhere during your stay in this beautiful city.
By Air
If you're from another country, you can fly to Leeds Bradford or Manchester airports. Then, you can take a train or bus to York. Also, you can fly to a London airport like Heathrow and take a train to York from there.
You could also hire a car at the airport. There are plenty of options for car hire at both airports. Renting a car lets you easily explore the North York Moors National Park and other areas of Yorkshire on your weekend getaway.
If you or someone in your travel group uses a wheelchair, you may need to rent a wheelchair-accessible vehicle (WAV). In that case, I recommend checking out Allied Mobility or Enterprise. If you're not sure what you need, talk to Allied Mobility. They can help you find a suitable WAV for hire.
Need to book a flight?
I recommend using Expedia to find cheap flights. Compare multiple airlines to find the cheapest tickets.
Things To Do in York in a Weekend
Tip: Save money on attractions in York by buying the York City Pass. This pass includes access to 20 attractions such as Jorvik Viking Centre & York Minster.
The York pass lasts for either 1, 2, or 3 days. The pass includes a 24-hour hop-on-hop-off bus ticket plus a cruise on the River Ouse.
Here's the pass durations + cost:
The 1-Day pass costs $76.26 (£59)
The 2-Day pass costs $96.94 (£75)
The 3-Day pass costs $116 (£90).
Although they may appear costly at first, most York attractions charge approximately £14 to £16 for admission. This can accumulate rapidly, particularly if you're staying for a whole weekend. The hop-on hop-off bus typically costs $20.68 (£16) per adult.
The cruise costs $18 (£14) per adult. So you could save money by getting a pass a long as you visit a few attractions.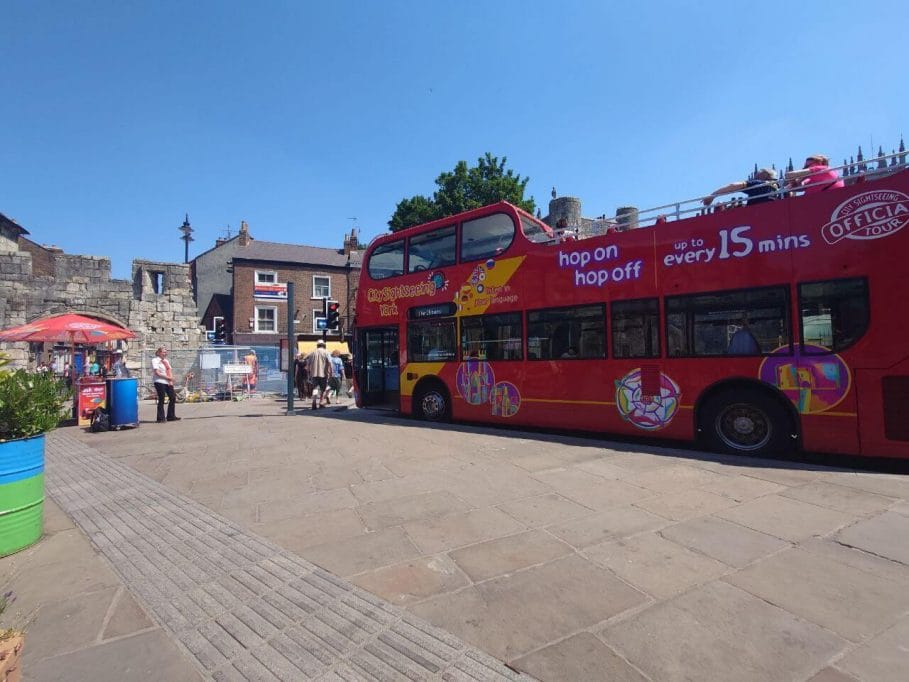 If you choose to buy a 3-day pass and visit all the places I recommend that are included on the York Pass here's what you'd save:
This brings the total to £123 if you were to book these things individually. If you get a 3-Day York Pass and visit everything above you would save £33.
You can save time by visiting other places like the York Cocoa Works. It may not be a big saving, but it's worth considering. I recommend avoiding the Van Gough Immersive Experience on the York Pass. This is because it has low quality and poor reviews.
You can easily reach most places on the York Pass. For example, there are buses with lower floors for easy access. Additionally, there are also some River Ouse Cruise boats available.
Visit York Minster
Located in the heart of the city, York Minster is a really stunning cathedral and is one of the largest Gothic cathedrals in Europe. Outside you can take in the architecture. Once inside you will see its impressive stained glass windows. You'll be able to admire the construction and decor of the building.
Entrance to York Minster isn't free, and the following ticket options are available:
Why not climb the 275 steps to the top of York Minster's Central Tower? You'll be met with an amazing view over the historic city. Here you can see many of York's historic sights such as the city walls.
Climbing the tower isn't free, and there are limited spots per trip so I recommend booking this in advance. You must be fit, healthy, and at least 8 years old to climb the tower.
You won't be allowed to climb the tower if you have any heart or lung/respiratory conditions, high blood pressure, heart issues, are pregnant, or had surgery recently.
It's also not recommended if you have a phobia of heights or tight spaces. The tower is really high and the stairs get super narrow. The climb is really difficult. The stairs are steep and narrow at times.
If you'd like to learn more about the history and architecture of this incredible building you should take a guided tour. York Minster runs official free guided tours throughout the day.
You could also visit the Undercroft Museum which is located below the Cathedral and contains 2000 years of history. Tickets to the cathedral include a free guided tour and a free visit to the Undercroft Museum.
Enjoy a Cruise Along the River Ouse
Cruise along the River Ouse with this tour. It's a great way to see York. The cruise offers you the chance to relax and escape the crowds. You'll get to see some of York's most famous landmarks, including the medieval city walls, and Cliffords Tower.
The boat ride lasts 45 minutes and includes commentary that'll tell you about Yorks's history. You can book the boat ride here.
City Cruises River Ouse Cruise is included on the York City Pass. Get your York City Pass here.
For those needing wheelchair access: City Cruises has two wheelchair-accessible boats, these are the River Palace and River Duchess. So even those of us with accessibility needs can explore York by boat.
Make sure you confirm which boats are in use to make sure you get booked onto either of the accessible ones. I recommend contacting them. You can find their contact information here These boats also only depart from the King's Saith landing, so you'll have to embark and disembark the boat there.
Walk Along the City Walls
Take a walk along the ancient city walls and enjoy breathtaking views of the city. The walls date back to Roman times hence why York is known as being a "walled city".
The walls offer a unique way to explore the city's history and architecture. There are plenty of access points to the walls across the city, and you can enjoy strolling along the walls for free.
You could also explore the walls with this private tour that is led by a knowledgeable guide. You'll walk along the walls whilst learning about their history and the role they played in defending the city. You'll also get stunning views of the city and its landmarks.
The private tour also lets you customize it to add on other areas such as The Shambles or York Castle. Book the tour here.
For those who need wheelchair access, sadly due to how old they are the York Walls aren't accessible for those using a wheelchair. You can still walk past the walls, or see them up close near the Multangular Tower which is located in the Museum Gardens.
Go on a Ghost Tour
Another fun thing to do during your weekend break in York is to go on a ghost tour such as this one. York has quite a dark history. The city was invaded by Vikings, hit with the black death, experienced civil war, was bombed in World War II, and more. Due to it's dark history, York has a high level of paranormal activity.
One of the best-rated ghost tours is the Shadows of York. This tour takes you on a journey through York's history, from its Roman beginnings to the present day whilst focusing on the spooky side of things. During the tour you'll get to hear about York's dark history and learn the history of York most tours won't cover. You'll also get to visit The Shambles. Book this tour here.
Visit the National Railway Museum
The National Railway Museum is home to over 100 locomotives and exhibits on the history of rail travel in the UK. If you come here, you'll get to see the famous Flying Scotsman and the world's fastest steam locomotive, the Mallard.
To get to the museum I recommend using the Railway road train. It leaves from the York city Center and has a wheelchair-accessible carriage. Riding the train costs £3.50 unless you have the York Pass, then there's no extra cost as it's included on the pass. The train leaves every 30 minutes from Duncombe Palace next to York Minster, between 11:15 and 3:45pm.
The National Railway Museum is free to enter but you should still book tickets online for the museum. Sometimes it can get fully booked up. Soon as you have booked your weekend in York I recommend booking your tickets here.
The museum has step-free access throughout (either by ramp or elevator). For more accessibility information, check their site here.
Go Shopping Along The Shambles
The Shambles is one of York's most famous streets. It is home to a variety of independent shops and boutiques. Take a stroll along the cobbled street and pick up some unique souvenirs to take home with you.
Tip for wheelchair users: The Shambles is really old with uneven pavements and a cobblestone road. You can get along the road but it'll be a bumpy and uncomfortable ride.
You may notice The Shambles is quite familiar. That's because it was the inspiration behind Diagon Alley in Harry Potter. Due to this, there are a lot of wizard-themed stores along the Shambles. If you're a fan you may be interested in either of these stores/experiences:
The Shop That Must Not Be Named – A store that sells licensed Harry Potter Merch
The Potions Cauldron – An interactive cauldron brewing experience. Family-friend and adult-only experiences are available.
The Society Of Alchemists – A store themed around alchemy that sells perfume, reed diffusers, bathing products, and other beauty products.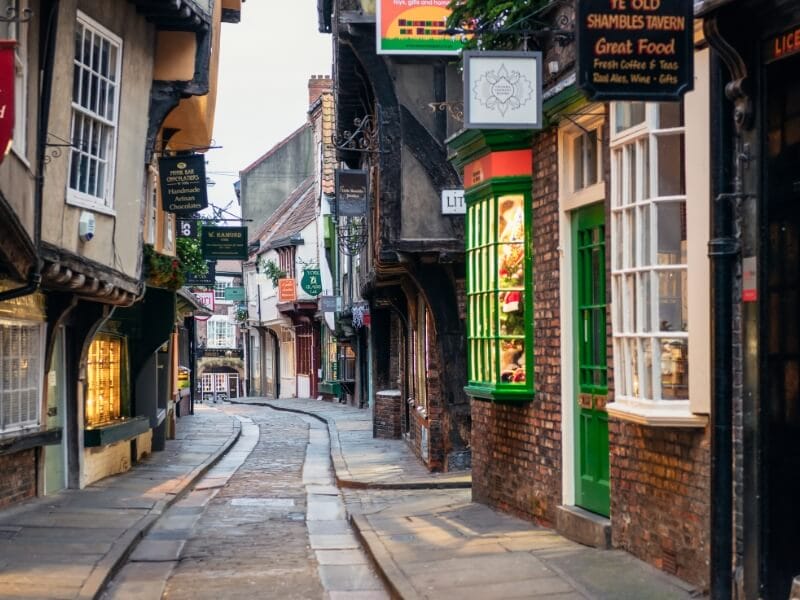 Hungry? You could also get one of the cute bao buns from Meow & Bao. You'll spot the bakery by its cute pink design.
They offer 4 different flavors, custard, lotus seed, chocolate, and Char siu pork. I opted for custard, and whilst they're smaller than most bao's it was really cute + tasted good.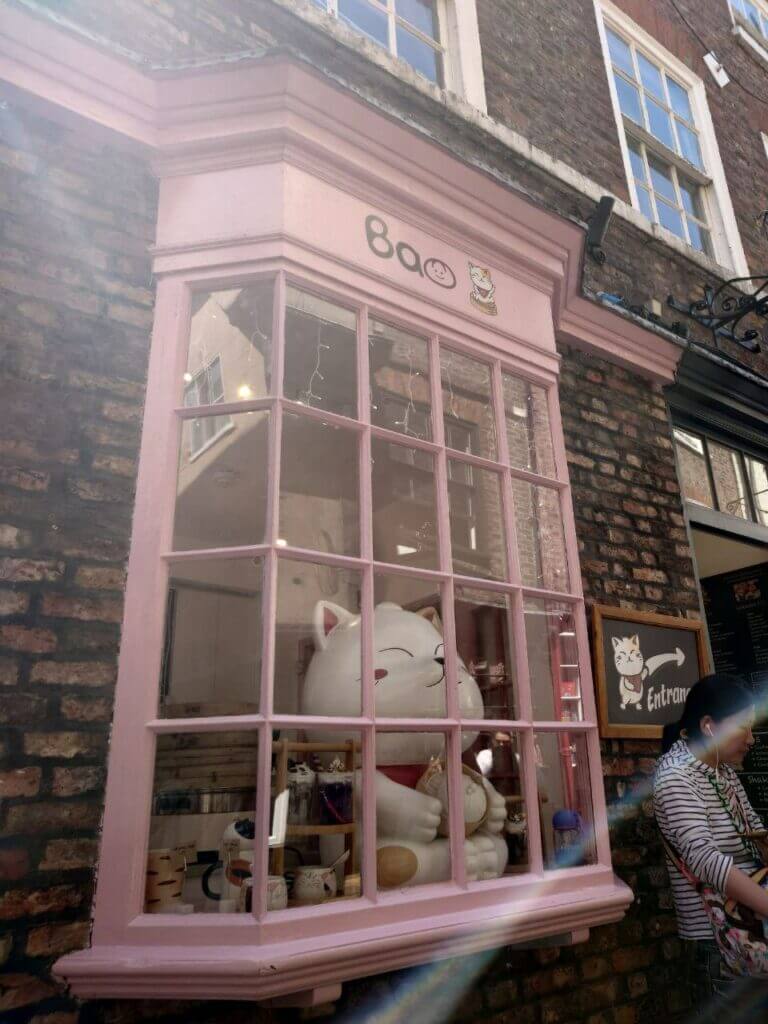 There are so many other places along the Shambles worth visiting, here are some of my favorites in no particular order:
The York Vikings – A gift/souvenir store themed around Vikings.
Nutcracker Christmas Shop – A shop that sells Christmas decorations all year round
The Cheesecake Guy – Some of the best cheesecake in York. If you love cheesecake, you should go here during your visit to York.
Parlormade Scone House – Really good fresh scones, with loads of flavors available. You can eat in or take out.
The Earl Grey Tearooms – A quaint little tearoom. This can get busy so you may have to queue.
You should also make sure to visit The Shambles Market, which is the oldest market in York and has been around since the 1950s. The market has over 80 different traders selling food, clothing, hats, souvenirs, handmade goods, and more.
You could also take a walking tour that goes along The Shambles. Such as a Harry Potter location walking tour, or why not consider this private walking tour ? On this guide will tell you tales about York's most famous murderers, crimes, and mysteries, Such as the Yorkshire Ripper, and the executions at St. George's Field.
Visit JORVIK Viking Centre
Whilst in York I really recommend learning about the city's Viking past at the JORVIK Viking Centre. The interactive museum takes you on a journey back in time to the days when York was a Viking stronghold. Experience what life was like for the Vikings who lived here and you'll also get to see some of the Viking artifacts that remain.
JORVIK is easily one of the best museums in the City of York, so if you only go to one museum I recommend it be this one so you'll get to learn about part of Yorks's history. Although if you're not interested in the Vikings you might prefer the York Castle Museum.
Entry to JORVIK is free with the York City Pass. If you're not getting a city pass, you can pre-book tickets for the museum here. I highly recommend pre-booking as there's always a queue, even in the quieter months.
Stroll around Breezy Knees Gardens
Located just 5 miles from the center of York, is Breezy Knees Gardens. The gardens are home to over 7000 different varieties of plants, covering 20 acres of land.
The gardens are open from May 1st until September with different parts of the garden coming to life as the flowers bloom such as irises and peonies in May + June.
After spending a few hours enjoying the gardens, you could enjoy getting a bite to eat at the cafe. The cafe serves freshly baked scones which are really delicious.
Most of the gardens have hard paths that are suitable for wheelchairs or mobility scooters to roll over. Some parts such as the Cottage Garden don't have hard paths.
The garden is open Tuesday to Sunday, 10:30 am until 5 pm from May 1st until 30th September. They also open on Bank Holiday Mondays.
Entry costs £10 per adult, £4.50 for children aged 4-15. There are no discounts for disabled visitors or their carers. You don't need to pre-book, just turn up and buy tickets at the entrance.
York's Chocolate Story
York is famous for its chocolate, and a visit to York's Chocolate Story is a must for any chocolate lover. The museum takes you on a delightful journey through the rich history of chocolate in the city.
Entry includes a tour guide that'll take you around the museum and tell you about the origins of chocolate, how it is made, and how to taste it like an expert. You'll also get to taste some chocolate.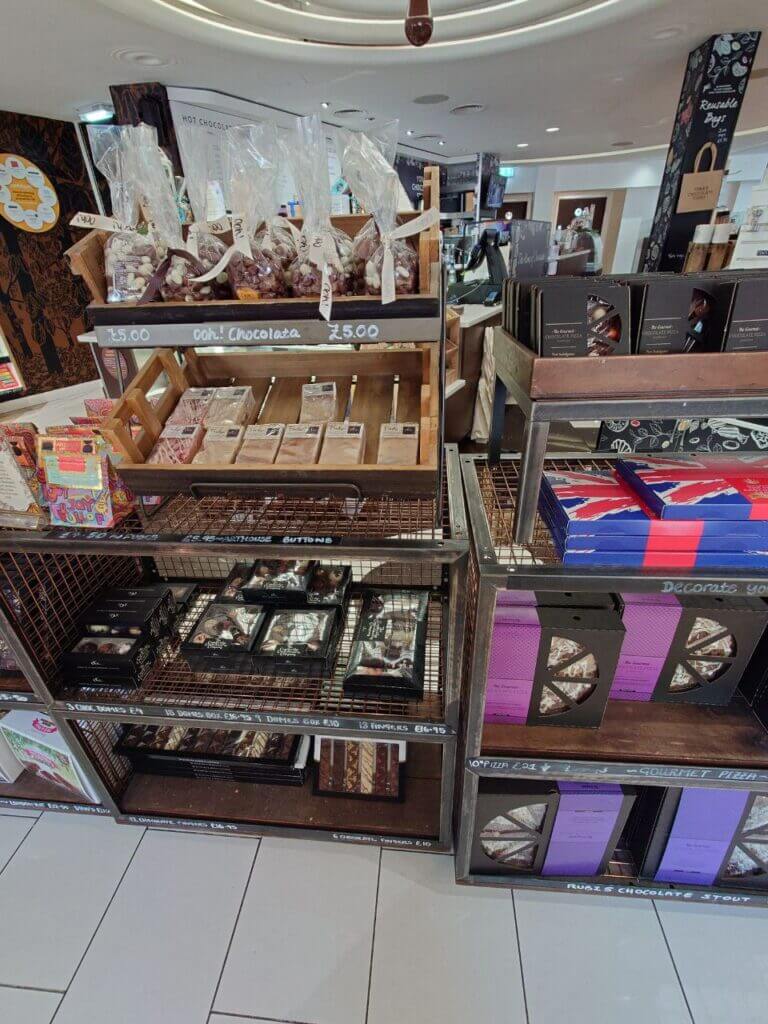 York's Chocolate Story also has a shop with a cafe, so even if you don't fancy visiting the museum you could enjoy a hot chocolate or buy some chocolate to take home. They sell chocolate made locally as well as other popular chocolate such as the Dutch brand Tony's Chocolate and also some dairy-free products.
Visit The York Castle Museum
York is renowned for its rich history, with Roman roots and a Viking past. A great way of diving into the city's fascinating history is to visit the York Castle Museum.
The castle was originally constructed by William the Conqueror in 1068 with the current buildings being from the 18th century. The museum is located inside what was the 18th-century debtor's prison and female prison. The other building on the site was the 18th-century courthouse which is now the York Crown Court and is still operational today.
The museum houses a collection of artifacts, that take you back through York's history. One of the best parts of the York Castle Museum is Kirkgate, a recreated Victorian street. This immersive experience will transport you back to the late 19th century. Each shop and business on Kirkgate is based on a real business that operated in York between 1870 and 1901.
You'll get to see some businesses that are still operating today, such as Sessions Printers which has been around since the 1400s. You'll also get to see shops/businesses for products we no longer find on our high streets like Cooper's Saddler's which sold horse riding saddles.
Another interesting exhibit is the original prison cells. This is where the famous highwayman Dick Turpin was once held. Here you'll learn about Dick Turpin and other in-mates such as the last woman to be burnt at the stake in Yorkshire.
You should also visit the 1914 exhibit. This shows how people lived in York during the first world war. Other exhibits touch on other areas of Yorks's history such as fashion, and toys.
Concessions are available for those with limited mobility as some of the museum exhibits aren't accessible. But you do get a discounted ticket. You'll pay £6.50 if you book online, and £8 for walk-up tickets.
Play Mini Golf at The Hole In Wand
For a fun afternoon activity, head to The Hole In Wand and play a round of mini golf. This magical-themed course has 9 holes and is great fun for all ages. Standard entry is £8.29 for adults and £6.99 for kids which is great value for money as this includes the 9-hole mini golf plus a magical potion drink at the end.
If you want, you can upgrade to the premium package which includes jelly beans for children or alcohol (gin, vodka, rum, or whisky) for adults.
The premium package is £8.99 for kids and £10.29 for adults. There's also a VIP package that gives you a potion pack + souvenir guidebook for £15.99 per player. They also offer duo and group packages.
The Hole in Wand is located by the Coppergate Shopping Centre, opposite the JORVIK Viking Centre.
Go on a Walking Tour around York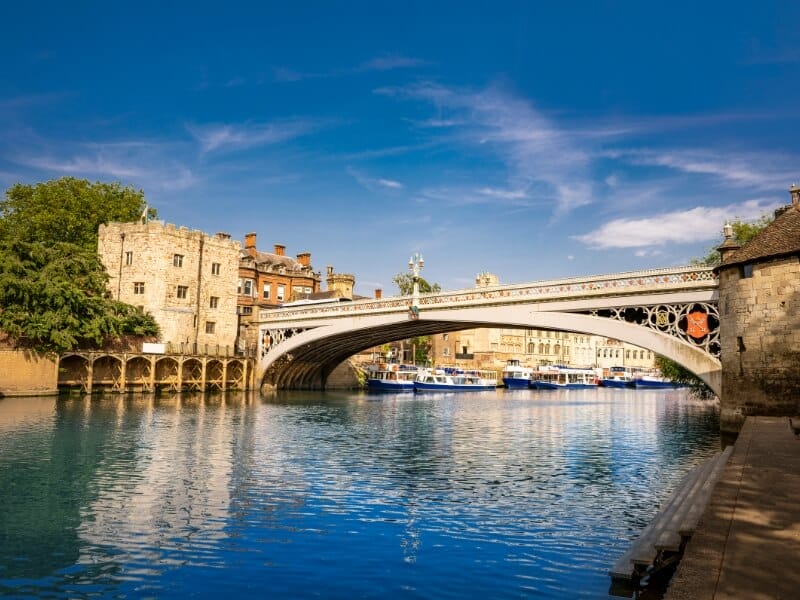 Murders, Crime & Mystery Private York Walking Tour – A private walking tour on which you'll hear stories about the history behind gruesome events. Such as the executions at St George's Field, and the Yorkshire Ripper. Plus you'll learn about Dick Turpin. You'll get to see many of York's famous sights including The Shambles.
York City Highlights Small-Group Walking Tour – On this tour, you'll get to see many of York's historic buildings. You'll learn about the city's history such as how the Kit Kat chocolate bar was invented in York. This tour lasts 90 minutes and gives you a taster of the main sights in York, making it a great choice for a York weekend break.
Shadows of York Ghost Walk – A guided walking tour that'll tell you about the spookier side of York. As you walk around the historical city you'll get to learn about its tragic past. The tour will take you along The Shambles, which has uneven flooring. It's OK for electric wheelchairs/mobility scooters but it'll be a bumpy ride.
Where to Eat & Drink in York
When it comes to food and drink, York has a lot to offer. The food here is great, with tons of options. Here are some of my favorite places in his beautiful historic city:
Shambles Market – If you're looking for a quick, cheap bite, head to Shambles Market. This bustling market offers a variety of street food options, from Thai noodles to Mexican burritos to traditional British pies.
Pavement Vaults – This bar and restaurant is in the heart of the city at Parliament Square, and only 100 meters from The Shambles. The bar serves a range of drinks including craft beer at reasonable prices. When it comes to food, they offer BBQ and smoked food with vegan/vegetarian options. Pavement Vaults is wheelchair accessible with an accessible bathroom.
200 Degrees Coffee Shop – If you're in need of a caffeine fix, check out 200 Degrees Coffee Shop. This cozy coffee shop serves up delicious coffee, along with pastries and sandwiches. The atmosphere is relaxed and welcoming, making it the perfect spot to catch up with friends or get some work done.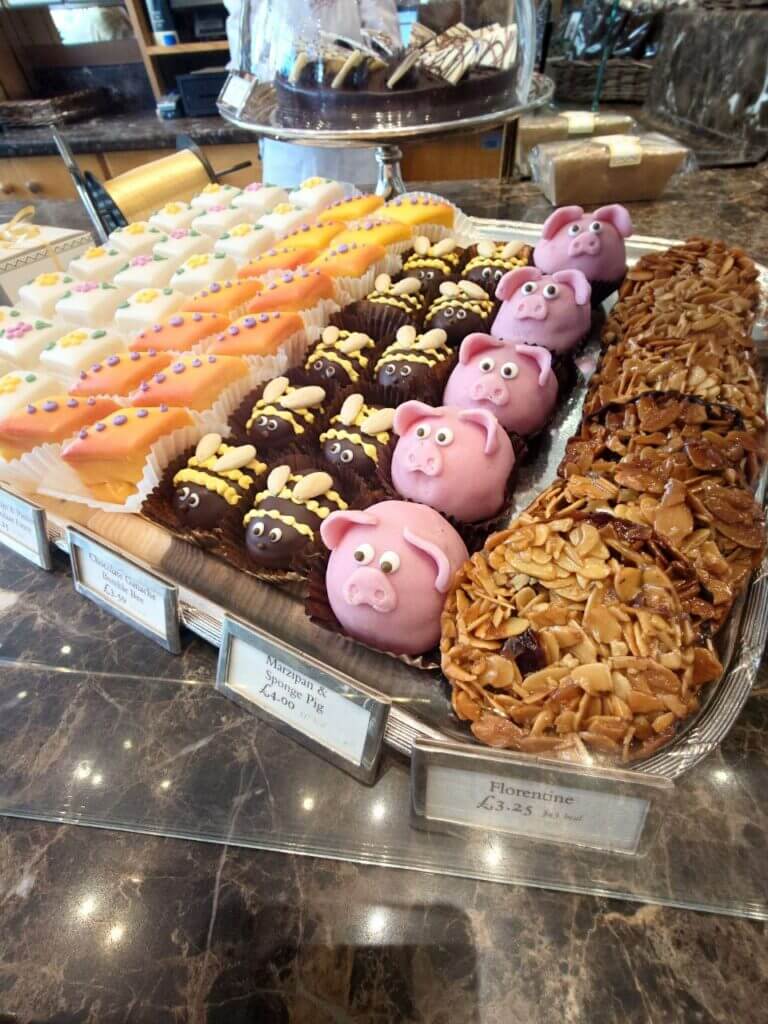 Betty's Café Tea Rooms – For a taste of old-school British charm, head to Betty's Café Tea Rooms. This iconic tea room has been serving up delicious afternoon tea and cakes since 1919. The menu includes classic British dishes like fish and chips and shepherd's pie, as well as a variety of cakes and pastries. The atmosphere is elegant and refined, with white tablecloths and silver tea sets. I highly recommend booking if you want to eat at Betty's, you can find out how to book a table here. Betty's also has a shop where you can buy tea, individual cakes, and loaf cakes such as their new Yorkshire Tea cake. Even if you don't have a chance to eat at Betty's, I do recommend going into the store and buying one of their cakes during your city break. Betty's is wheelchair accessible! Either by ramp or wheelchair lift (when it's fixed). They also have an accessible bathroom.