When you want to go on a vacation with your family, Tampa is one of the best places you can go! It has many different activities you can choose from, which will all guarantee a great vacation for you and your family. However, it can sometimes be difficult to choose what you want to do on holiday. Here's a list of fun things to do in Tampa for you and your family to make the choice easier for you!
Visit the Florida Aquarium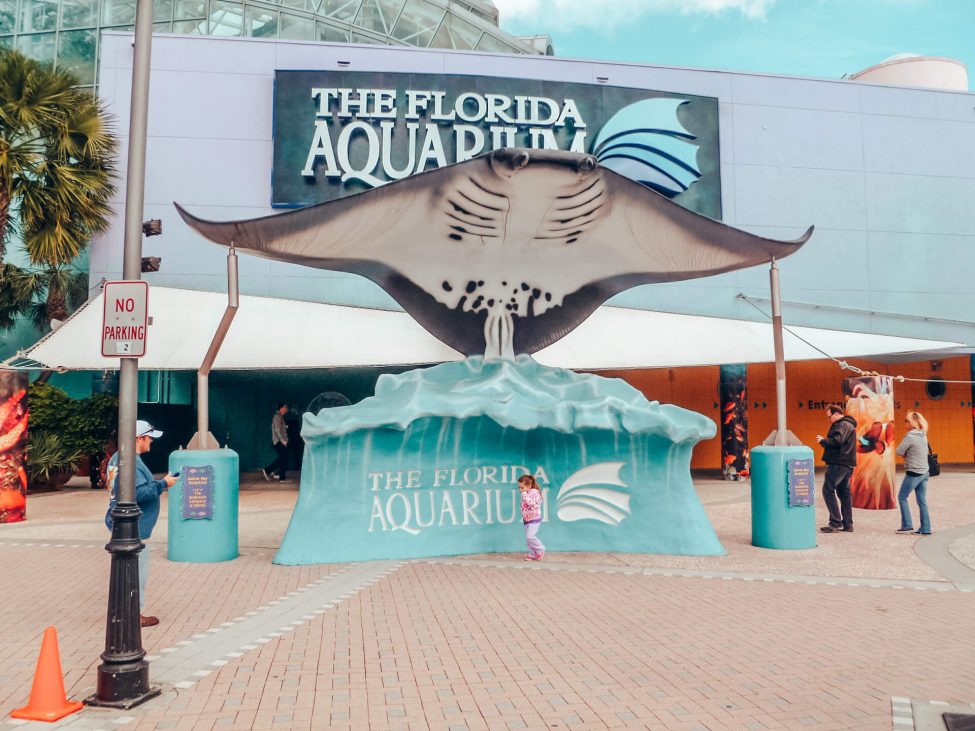 When you go on vacation to Tampa, you really have to visit The Florida Aquarium in Tampa Bay. In this aquarium, you can find more than 9,000 aquatic creatures to look at. You and your children can admire fish or sea turtles for example, but the aquarium even has alligators and sharks to look at! In the aquarium, there are three touch pools as well. Here you can pet Stingrays, Moon Jellies or animals without bones! Another highlight of the aquarium is the Coral Reef habitat, which is just beyond impressive!
In the aquarium, there is even a zone for the children called Splash Pad in the Outdoor Plaza. Here, children can play in both dry and wet zones. You could also enjoy some 4-D Theater with your kids or go to the African Penguin habitat. When you're looking for fun things to do in Tampa that are also family-friendly, the Florida Aquarium in Tampa Bay is one of the best activities for you and your family!
Take a Tour in a Golf Cart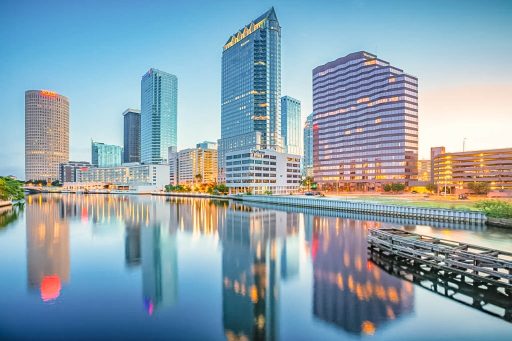 Another fun thing to do in Tampa is to take a tour of the Tampa Tour in a Golf Cart.
This tour is an easy and quick way to see all of the best highlights in Tampa! During the tour, you will find out more about the history and culture of Tampa as well as its secrets and the best places you should visit. I recommend booking this tour for one of the first days of your vacation in Tampa, so you'll know and be able to see what places you can visit and get a feel for the area before you start exploring on your own.
During the golf cart tour, you and your family will be taken to a variety of places in Tampa. You can see what downtown looks like in Tampa, after which you will visit Tampa Heights for some incredible views! The tour guide will also take you to Hyde Park, the University of Tampa, the Waterworks Park, Armature Works and the Hillsborough River. You even get a chance to see Tom Brady's previous house and the Gasparilla Pirate Ship!
Drive a Speedboard Around Tampa Bay
This experience will be so thrilling that you and your family won't forget it anytime soon. At Speed Boat Adventures in St Petersburg, you will be given the chance to drive a speedboat on your own across Tampa Bay. This activity is not only for people who already know how to drive a speedboat but also for people who don't have any experience in this!
When you arrive, you will first get a short safety orientation. After this, you will be given an F-13 mini speedboat on which you can cruise around with your family. Obviously, you can admire the coastline during your speedboat trip, but sometimes you can spot dolphins as well! If you're looking for a true adventure for you and your family, you should book the Speed Boat Adventure.
Take the Tiki Boat Cruise
If you're looking for a fun, unique activity that will really give you the feeling of a tropical vacation, you should book a Tiki Boat Cruise in Tampa. The Tiki Boat Cruise gives you the opportunity to not only take a cruise along the coast during which you can see multiple impressive highlights, but you also get the chance to feel like you're in Hawaii! They recommend you bring your own bottle, as liquor is allowed but not served.
During the cruise, you will pass some impressive highlights, like the Tampa Riverwalk for example. Another highlight you will get to see during your Tiki Boat Cruise is the Straz Center for the Performing Arts in Tampa. Lastly, you and your family will get to see the Amalie Arena from the riverside!
Children are allowed on this boat tour, but kids under 10 will have to wear a lifejacket. Although this tour is better suited to those with teenagers. If your accommodation offers a children's daycare center, you could always make the most of that to enjoy this cruise without the kids.
Fly in a Helicopter Over Tampa
When you're looking for fun things to do in Tampa with your family, you really can't skip this amazing activity. Tampa Bay Aviation offer you and your family the amazing possibility of going for a helicopter flight over Tampa and St Petersburgh.
On the helicopter, you can see Downtown St Petersburg with all its restaurants, bars, shops and other popular attractions. You will also fly past the Spa Oceana. This is a luxurious spa centre that's located at the Don Cesar. The Don Cesar is a stunning pink palace on St. Pete Beach. During your flight, your family will also get a chance to look at the Treasure Island Beach, where you can even see the beautiful waters of the Gulf of Mexico. If you're lucky, you could even get to see dolphins!
Take a Guided Segway Tour of Tampa
Segways are a really fun way to get around and your kids would most definitely love to get the chance to ride one. If you also want to be able to see some highlights of Tampa without having to walk all day, a Segway tour is the perfect way for you and your family to see Tampa.
During your tour, the guide will take you along the Amalie Arena and across the Tampa Riverwalk. You will also get to ride along the Hillsborough River and go to Curtis Hixon Park. While you're following your guide, he or she will also give you additional information about all of the highlights you come across, so you will actually learn something about Tampa as well!
Tip: This tour is suitable for children aged 10+. If you're visiting with children under 10, I recommend booking a walking tour instead.
Go Kayaking in Tampa Bay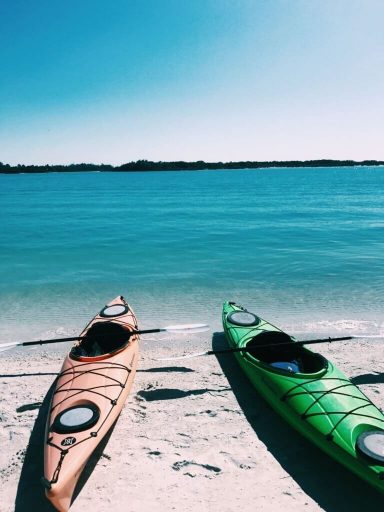 A fun way to explore Tampa Bay is by kayaking. There are a few different kayaking tours to pick from, and you can pick between self-guided tours or guided tours.
If you'd like to take a guided tour, then I recommend a tandem kayak guided tour that explores the wildlife, and mangroves around Tampa Bay. You'll also stop off at Shell Key Preserve where you can enjoy its beaches and sandbars. If you're travelling with an infant, they can ride in the kayak by sitting on your lap. Note: You need to bring a lifejacket for children that weigh under 30lbs, and kids under 6 must wear a lifejacket at all times.
Another option is to book a private kayaking tour that lets you customize your itinerary. The tours take place around St Pete Beach, where you'll be able to see marine life, coastal birds, and if you'd like beautiful sunsets/sunrises. You can choose also to go around Tierra Verde and see the Mangroves.
If you'd prefer to do a self-guided tour, you can also hire a single-person kayak and go kayaking around the water in Tampa Bay. Hiring a kayak gives you the benefit that you can paddle at your own speed, and kayaking around Tampa Bay will give you the chance to spot manatees, dolphins, and other marine life.
Visit the Museum of Science and Industry
The Museum of Science and Industry in Tampa (MOSI for short), is a family-friendly museum with tons of kid-friendly activities. Plus it's budget-friendly at only $12.95 per adult, $7.95 for kids aged 3-12 years old, and kids aged 2 or under entering for free. Plus, if you have a Tampa CityPass you save 52% off the admission price!
Activities at the museum include examining fossils under the microscope, creating your own invention, building a robot, and seeing optical illusions. Plus, for an extra $5 fee you can visit the Planetarium, where you'll be able to see a 45-minute show allowing you to explore the universe. There's also a Skyropes course that takes you 36 feet off the ground and challenges you to conquer your fears. Entry to the Skyrope course is $7 per person.
The museum also has temporary exhibits throughout the year. For 2022, they're holding a dinosaur exhibit from May 14th until September 5th. The exhibit covers dinosaurs from around the world and how they spread out across seven continents. Kids can learn how plate tectonics work, land bridges, and the volcanic activity that let dinosaurs travel around the globe. Entry to the exhibit is included with the museum entry ticket so this is definitely worth checking out if you're visiting before September 5th, 2022.
Ride the Rollercoasters at Busch Gardens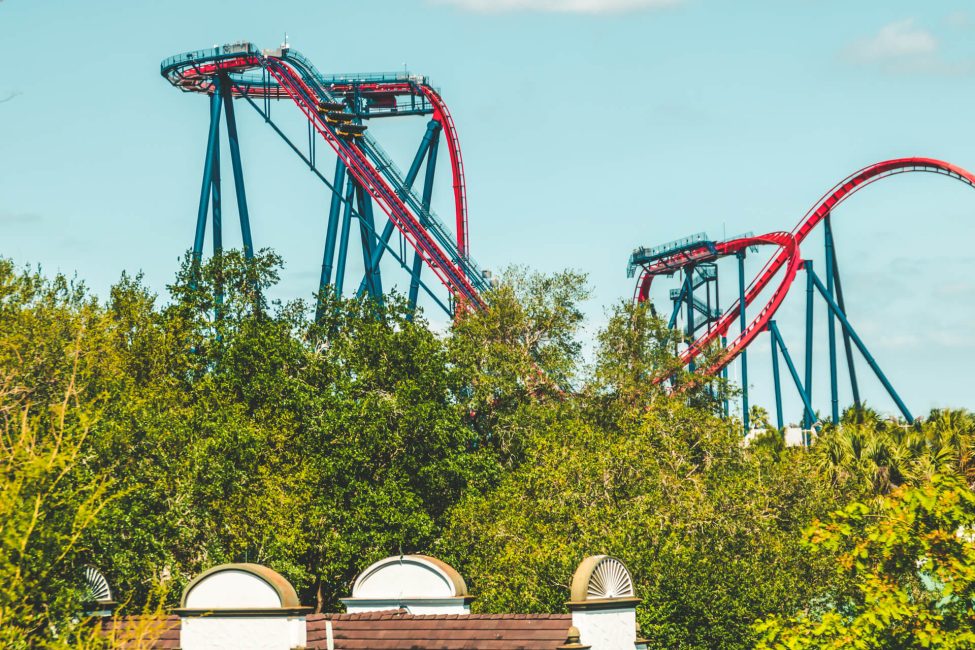 If you and your family love rollercoasters then you should definitely head to Busch Gardens. This African-themed theme park has tons of rides, including some really awesome rollercoasters suitable for all levels of thrill-seekers.
For 2022, there's a new thrilling hybrid coaster called the Iron Gwazi. This is the most intense ride at Busch Gardens and one of the most intense coasters in the world. The Iron Gwazi is the tallest hybrid coaster in North America and the world's fastest & steepest hybrid coaster. You'll plummet 206 feet, on a 91-degree drop and reach speeds of 76mph! You can watch a video of the Iron Gwazi ride, here.
For younger thrill-seekers, there's a much more gentle children's friendly ride called Air Grover. This ride is located in the Sesame Street Safari play area and is a great way of introducing your kids to roller coasters at a much more chill speed.
For those who prefer something in between, there's the Sandserpent which offers a moderate level of thrill. The ride is a family-friendly wild-mouse style coaster, that travels up 5 stories high and has some twists and turns before dropping you back down.
Busch Gardens also has some non-rollercoaster attractions, such as the Serengeti Express train which takes you through the park's African-themed natural area, where African animals such as zebra, and giraffes free roam. Kids will also love the multiple play areas available such as the Treetop Rails (A 3-story, family-friendly climbing area) and the Sesame Street play area.
Visit Adventure Island Waterpark
Just across the road from Busch Gardens is Adventure Island Waterpark. If you love waterparks, then Adventure Island Waterpark in Tampa is definitely somewhere you must go while on vacation in Tampa. Adventure Island is Florida's biggest waterpark and is packed with tons of different attractions including 8 different waterslides, including twist and turn high-speed Caribbean corkscrews, and an epic-free fall at Vanish Point.
Kids can enjoy playing in Splash Attack Maze or jumping off the Paradise Lagoon Cliff Jump. If you'd prefer something more relaxing, there's a chance to float along the Rambling Bayou while enjoying the waterfalls and tropical-themed landscapes. If you and your family enjoy surfing, then head over to Endless Surf where you'll find a 17,000-square-foot wave pool with continuous rolling waves, that let you surf.
For 2022, the park has added two new rides – the Rapid Racer and Wahoo Remix. The Rapid Racer is the world's first dueling saucer water ride that has over 600 feet of twisting turning slides, and with low walls, you can see your opponents. The Wahoo Remix replaced Wahoo Run with a newer version that now features synchronized light and sound elements, offering a family-friendly rafting experience with a party atmosphere.
Visit The Glazer's Children's Museum
The Glazer's Children Museum is a great place to go with kids aged 10 and under. The museum has interactive exhibits, that are fun and teach kids about tons of different things including helping animals in a Vet Clinic, getting to build things in the Engineer's Workshop and pretending to be a doctor or nurse at the St. Joseph's Children's Hospital.
The entry fee to the museum is $16 per adult or child and you can buy tickets online. There's no free parking at the museum, but there are some car parks close by. You can also get to the museum using a water taxi, which offers a unique way of traveling around Tampa.
Explore Hillsborough State Park
Close to Downtown Tampa, Hillsborough State Park is a beautiful park covering over 3000 acres of land. In the park, you'll find, a range of trails letting you explore the park. Such as the 1.1-mile Baynard Trail that starts near the car park, and explores the scenic areas of the park where you can see cypress trees. Another option is to take the 1.2mile River Rapids Trail which walks you upriver towards the rapids. In the river, may you may spot turtles, otters and sometimes alligators.
The park also has two cycle routes. Pick between the Wetlands Restoration Nature Trail which is a 1.6mile trail or a 2.2-mile park loop. You can also go kayaking or canoeing along the river and down the rapids, but you need to bring your own.
The park is also home to Fort Foster State Historic Site, which is a replica of a fort that was originally found on the land back in 1836. The original fort was built to act as a resupply point for soldiers and to defend a bridge that crosses the Hillsborough River. As of February 2021, the fort is closed for visitors but is still visible from the outside. Make sure to check the Hillsborough State Park website for the latest status before you visit.
Hillsborough State Park also has a swimming pool but this is closed until summer 2023.
Tips: Parking is available at the state park, but costs $6 per car. I recommend taking the exact change with you, as sometimes change isn't available. The park is open until sundown, so make to take the time it takes to return back to your car into consideration when hiking.
Visit The Beaches in Tampa
A visit to Tampa isn't complete without visiting one of its beautiful beaches. Two of the most popular beaches right by Tampa are St Pete's Beach (where many of the tours listed in this guide take place) and Clearwater Beach. Clearwater is a bit further afield but it is one of the best beaches in Florida.
If you'd like to unwind whilst visiting Clearwater Beach, then why not partake in some beach yoga? You'll take part in a 60-minute yoga session whilst enjoying the fresh sea air, and the calming sounds of waves.
There's also Ben. T Davies Beach is a small, nice little landscape beach that runs alongside the road connecting Clearwater to Tampa. Whilst small, this beach makes for a great place to go for a walk, especially during sunset.
If you're happy to drive a bit further afield, your family may enjoy a trip to Siesta Key beach. The sand here is made up mostly of quartz, which comes from the Appalachian Mountains! Siesta Key is really beautiful and whilst visiting the beach, why not improve your sand castle building skills? You and your kids (age 7+) can learn how to build bigger sand castles with an experienced instructor.
Take part in the Gasparilla Pirate Invasion
If you're visiting Tampa during the Gasparilla Pirate Festival, your kids will love taking part in the pirate invasion. The festival is named after a famous 18th and 19th-century pirate called Jose Gaspar and features the world's only fully-rigged pirate ship! The pirate ship will emerge on the Hillsborough Bay and sail through with hundreds of other boats, as they "invade" Tampa during a historical reenactment. The boats will reach Tampa, where they'll dock up at the Tampa Convention Center and the Mayor of Tampa surrenders the Key to the City
The festival also has other events such as a parade of pirates, that takes place in the afternoon after the invasion. Then in the evening, you can enjoy live music, at different stages along the Riverwalk.
The invasion and parade are both free to the public but there are optional add-ons that you can pay for such as the Gasparilla Pirate Invasion brunch and reserved seating for the parade. For more information on the 2023 Gasparilla festival such as dates and ticket prices, visit the official Gasparilla pirate festival website.
Visit Tampa Theatre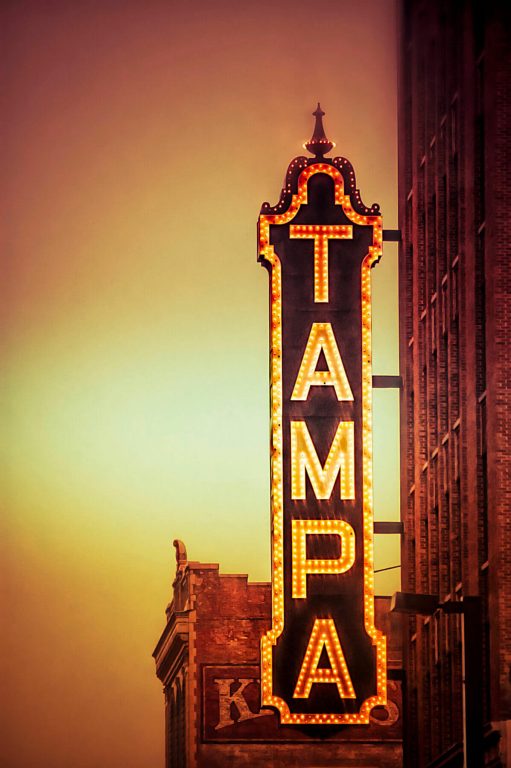 Tampa Theater is also a fun place to go with kids. The theatre shows a range of indie movies and documentaries, many of which are family-friendly. The theatre itself is a historical city landmark, that opened in 1926 making it almost 100 years old! They offer Balcony to backstage tours, on select Tuesdays and Saturdays. The tours take you behind the scenes, to show you how the theatre runs as well as discover its architecture and learn how the theatre was restored.
I highly recommend buying the Balcony to Backstage Tour tickets online in advance, as they can sell out fast. You can also buy them in person at the Franklin Street Box Office. For more information on buying tickets, visit the Tampa Theatre website.
Take a Sunset Cruise at St. Petersburg
Tampa has some beautiful sunsets, and your best chance to see these is by taking a sunset cruise and eco-tour at St. Petersburg. The boat can fit up to 6 people and will take you out into Riveria Bay then through to Weedon Island Nature Preserve where you'll see some beautiful scenery. Then out into Tampa Bay, where you'll have the chance to see Tampa's breathtaking sunsets.
Take a day trip to Orlando
Tampa is only 1 hour 30 minutes from Orlando by car, making it a great place to visit for a day trip. Once in Orlando, there are tons of family-friendly attractions such as the Crayola Experience where kids get to unleash their artistic side and see the world's largest Crayola crayon! You could also take a tour of the Florida Everglades, and possibly spot some alligators along the way. Plus, there's always Universal Studios Orlando or Walt Disney World.
Visit LEGOLAND Florida
Another fun day trip, is to go to Legoland Florida. It's about a 1 hours drive from Tampa and has over 50 different rides, shows, and attractions for you and your family to enjoy.
Some of the best rides at Legoland are the Joker Soaker water playground where kids can enjoy getting soaked while playing in the water, or the Build-A-Raft River where you'll be able to build your own LEGO raft and float down a 1000-foot-long river. If you're travelling with toddlers, there are some fun toddler-friendly rides such as the DUPLO Splash Safari which has a zero-depth wading pool and toddler-sized slides.
Legoland is best visited with kids age 1 to 12 but it's still fun to visit as an adult, especially if you loved LEGO as a kid.
You can purchase tickets for LEGOLAND Florida online, and I recommend buying in advance as they can sell out – especially during the summer and school holidays.
Visit The Kennedy Space Centre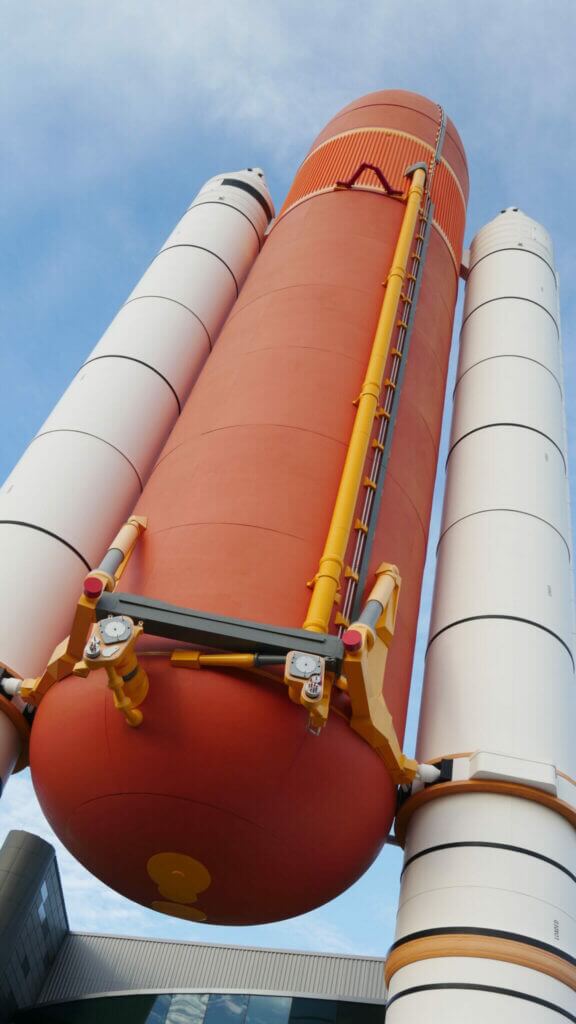 If you and your family are interested in space, then you really should visit the Kennedy Space Centre. It's about 2 hours drive from Tampa, and is about 1 hour from Orlando so you can easily combine this with a day trip to Orlando. The space centre lets you tour massive rockets, watch IMAX films about NASA missions and tons of other educational exhibits. They hold events throughout the year, so definitely make sure to check what's on before you visit.
You can also book a "chat with an astronaut" experience which space-enthusiastic kids will love, or how about an astronaut training experience and discover what it's like to do a spacewalk? If you just want to go around the space centre without the extras, I recommend buying skip-the-line tickets online.
I found you found this guide helpful and have a good time in Tampa, Florida. Make sure to let me know what your favourite thing to do in Tampa was in the comments below.