If you're visiting the Florida Keys then you must visit Key West. Located on a small island off the coast of Florida, Key West has a much more unique tropical vibe to it when compared to other areas of Florida. Plus, there are tons of fun interesting things to do such as visiting the beautiful beaches, swimming in crystal clear waters, exploring its historical city centre or taking part in watersports. Plus, Key West has an amazing key lime pie that you cannot miss.
If you're visiting on a budget, Key West is a great location for an affordable vacation. There are plenty of free and low-cost activities and attractions to enjoy during your visit to the Southernmost City.
Whether you're taking your family on vacation or visiting with friends, Key West has plenty of attractions to keep you busy.
Ernest Hemingway Home & Museum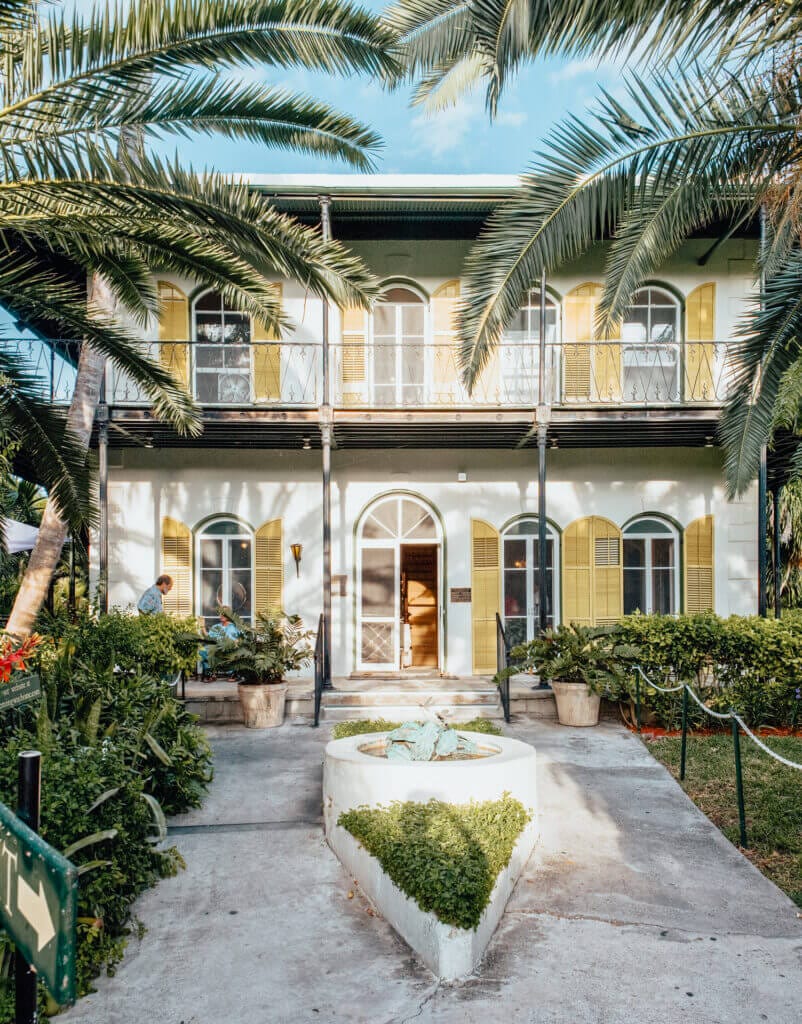 Ernest Hemingway is one of the most famous American writers. He was known for his journalism, novels and short stories. If you've ever enjoyed reading Hemingways works, then visiting the house is a must as you'll be able to learn more about his life in the Florida Keys and see where he wrote many of his stories. Plus there are beautiful gardens for you to explore.
Back in 1931, Ernest Hemingway, along with his wife Pauline fell in love with the Florida Keys and decided to make Key West their home. Nowadays, the Hemingway House is open as a museum where you'll find a collection of artworks, and furniture decorating their house – plus a number of cats. The cats are said to be the descendant of the six-toed cat, that Hemmingway was gifted by the captain of a ship.
The house is open every day, from 9 am to 5 pm and includes a 20-30 minute guided tour. There's no need to book tickets online, but they only accept cash. As of June 2022, it costs $17 for adults and $7 for children aged 6-12.
Climb up the Key West Lighthouse
Right next to the Hemmingway House is the Key West Lighthouse.
Back in 1848, the current Key West Lighthouse was built to help military and commercial vessels find safe passage into Key West. Back then, it was one of the only light houses in the USA to have a woman working as the Lighthouse Keeper. The lighthouse ran until 1969, when it was closed by the U.S Coast Guard. Nowadays, you're allowed to visit the Lighthouse and climb its 88 steps to the top as well as learn about Key Wests maritime heritage. There's also a small museum dedicated to the first keeper, found inside what was once her chambers.
Visit the Southernmost Point in the Contentineal USA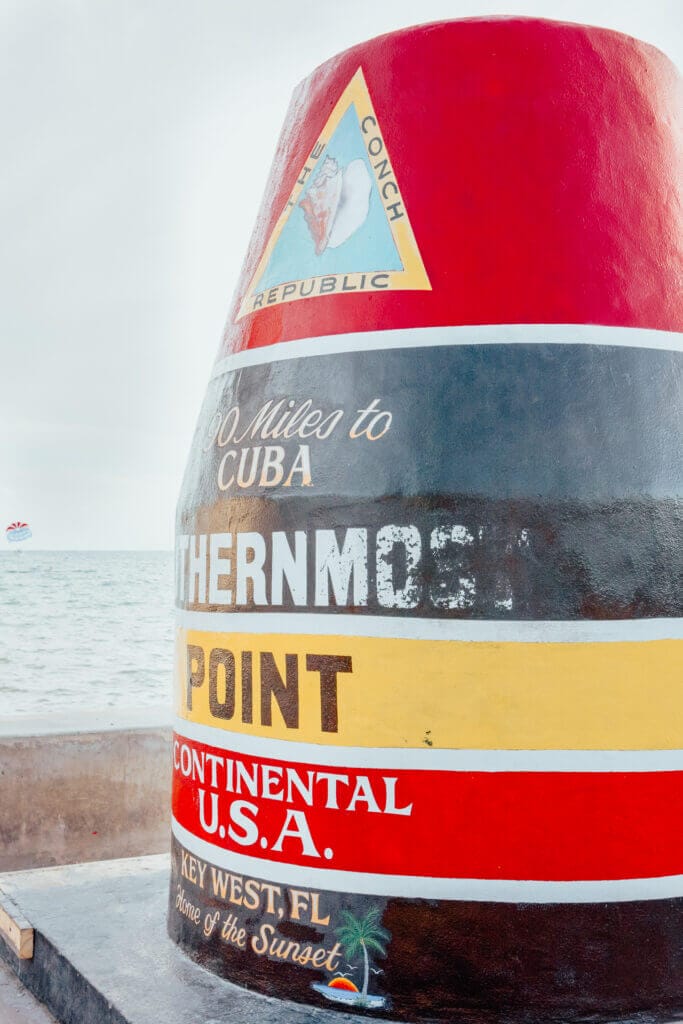 Key West is the Southernmost city in the continental USA, so while you're visiting make sure to get a selfie with the stripey-coloured boy that is used as the Southernmost Point marker.
Key West is the Southernmost city in the continental USA, so while you're visiting make sure to get a selfie with the stripey-coloured boy that is used as the Southernmost Point marker. There's normally a queue for selfies, starting in the morning and way past sunset. So I do recommend heading here early morning to try to skip the busiest times. Plus, the early morning sun gives better lightning than the harsher late-morning or afternoon sun; so you'll be able to get better photos.
Ride the Conch Tour Train
While in Key West, you're sure to spot the yellow-and-black trains known as the Conch Tour Train as you walk around the city. The Conch Tour Train is one of the most popular tourist attractions and is definitely something you should.
Since the 1950s, the train has been transporting visitors around Key West, while giving a narrated tour of the city's historic district and learning about people like Harry S. Truman, and Ernest Hemingway. It's a great way to learn about the city while also getting around. Plus, The Conch Tour Train tickets are valid for the entire day, so you can hop on and off the train at any time throughout the day.
When it comes to wheelchair access, some of the Conch Tour Trains are accessible. If you're in a wheelchair that can fold down, all the trains are accessible and the train staff can help with loading your wheelchair on board. If the wheelchair doesn't collapse, you'll have to board at one of the designated stops. They ask that you contact them 24 hours in advance of your arrival date, so they can prepare any assistance needed and ensure the right vehicle is available. For those who are Deaf/Hard of Hearing, you can request 24 hours in advance for them to supply you with a tour script to read during your ride. More information on wheelchair-accessible Conch Tour Trains and other accessibility options can be found on the Conch Tour Train website.
You can book tickets online in advance, and pick from either a 1-day pass or a 2-day pass.
Ride the Old Town Trolley Tour
The Old Town Trolley is another way of getting around Key West while taking a tour of the area. Tickets last for 1 or 2 days, so you can hop on and off the trolley at different stops. The trolleys run about every 20 minutes, and if you choose to ride the entire tour at once it takes 90 minutes. During the tour, you'll learn about Key West and its points of interest.
The Old Town Trolley Tour has 13 stops, giving you 9 more drop-off points than the Conch Tour but it is $10 more expensive. The tour starts at 10 am, and the last one departs at 4:30 pm from Mallory Square.
They also offer a spooky version of this tour, called Ghost & Gravestones Tour of Key West. The tour takes you around some of the most haunted places in Key West and is a must-do activity if you love the paranormal.
If you need wheelchair access, The Old Town Trolleys are mostly accessible via a motorized lift. Not all the stops are accessible, but 10 out of the 13 are so you'll still be able to hop on and off the trolley at most of their stops. They do ask that you contact them in advance so they can make accommodations, and ensure they can assist you. There are some size, and weight limits. If you're Deaf or Hard of Hearing they are able to give you a script of the tour. They just ask that you let me know 24 hours in advance to ensure its availability. Their website covers their accessibility information in more depth, so make sure to give that a read.
Book your Old Town Trolley tickets
Visit the Truman Little White House
Anyone interested in Key West and/or the USA's history should pay a visit to the Truman Little White House. The Little White House is still an active presidential retreat but is also open to the public. It's also the only presidential museum in Florida, so it's definitely one of the more unique things to do in Florida. Many presidents and other dignitaries have stayed in the Little White House, but Harry S. Truman loved Key West and stayed here for a total of 175 days during his time as president.
Truman's original 1950s limousine is also located at the Little White House, and you can now enjoy a ride in the limo as part of the new VIP White Glove Tour. The tour also gives you access to the botanical gardens, access to the archives and more. Plus photo opportunities are Truman's desk and custom-built poker table, whereas normally photography isn't permitted inside the house. The tour does cost $645 for up to 6 people (as of June 2022).
A more budget-friendly option is the normal guided tour which only costs about $25. You can book the Little White House tour tickets online.
Visit Fort Zachary Taylor State Park
The world's largest collection of Civil War armaments is kept at Fort Taylor, a national historic site and state park. Tours take place daily, at 11 am, and let visitors learn about the history of the fort including its involvement in the Civil and Spanish-American wars.
Plus, the Fort Zachary is said to be haunted by ghosts. During the civil war, both soldiers and prisoners died from different diseases such as yellow fever. The Fort also executed some prisoners. According to ghost hunters, the high number of deaths at the fort led to a lot of paranormal activity in the area making it one of the most haunted places in Key West. If you are interested in ghost hunting or want to see spooky places, make sure to check out my other guide which covers the most haunted places in Key West.
Fort Zachary is also home to one of Key West's best beaches, where visitors can enjoy swimming, snorkeling, fishing, and wildlife watching. There's enough shade, to sit out of the sun if preferred and picnic tables are available. You can rent a lounge chair ($12), and an umbrella ($15). If you forgot to pack a snorkel and fins, you can rent a set for $20. If you'd like to fish, you'll need to bring your own fishing rod and supplies.
The entrance fee to the park is $6.50 for a vehicle with 2 people and $0.50 per extra person. If you arrive on a bike or foot its $2.50 per person.
Tip: This is a coral beach so remember your water shoes. If you forget, the gift shop does sell them but you'll save money buying some online before you travel.
Visit Smathers Beach
Smathers Beach is the largest beach in Key west, measuring just over 2 miles long. The beach is a bit more lowkey than Fort Zachary as it's located on the other side of the island to Mallory Square but unlike Fort Zachary, this beach has more soft white sand.
If you're interested in watersports, then Smathers beach is your go-to beach. There are tons of opportunities here to kayak, snorkel, hire a hobie cat or go parasailing.
Parking at Smathers Beach isn't free, but entry to the beach is. I recommend bringing cash, especially coins to pay for parking, and buy food, drinks, etc.
Visit Higgs Beach
Higgs beach is a two-mile-long sandy beach, although it isn't as pretty as Fort Zachary or Smathers beach. But on a plus side, there is limited free parking available here (unlike most places in Key West).
This beach isn't as suited for swimming as Fort Zachary or Smathers Beach due to the tidal currents bringing in things like seaweed. However, the beach gets cleaned frequently so the beach itself is still quite pretty and a nice place to relax.
The beach has lounge chairs, beach chairs, and umbrellas available for rental. If you'd like to go kayaking, or snorkeling you can also hire these here.
Key West Butterfly and Nature Conservatory
The Butterfly and Nature Conservatory is an amazing place to visit, with 100s of butterflies and flamingos surrounded by beautiful flowers, and other plants. It's a great place to go for a nice relaxing stroll, allowing you to escape the hustle and bustle of the city centre. Plus, with air conditioning, it's a great place to stop off to escape the afternoon sun.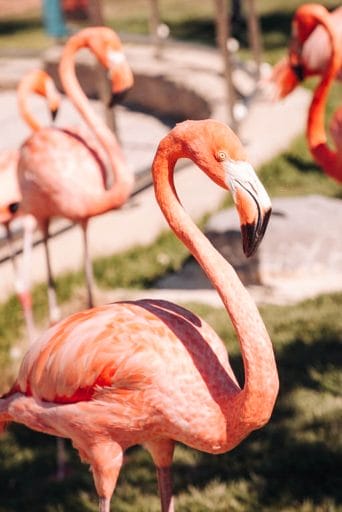 If you're a photographer, it's definitely worth visiting to capture the butterflies up close and the flamingos. If you can take a macro lens, it'd give you the chance to take some awesome shots of the butterflies but if not then you can always take beautiful photos of them in their environment. I normally use a 24-70mm for environment shots.
Entrance to the conservatory is $15 for adults, kids aged 4 to 12 cost $11 while kids under 3 go in for free. Those over 65 or in the military can get a discounted $12 entry fee.
The Audubon House and Tropical Garden
The Audubon House, along with its gardens is one of the prettiest houses in Key West. Although small, the tour is really interesting and if you love visiting historical houses then this is definitely somewhere you should go.
It was built back in 1830 by Captain John Juling Geiger. Captain Geiger, made most of his money from wrecking; which is where you salvage goods from shipwrecks and he used this fortune to build a beautiful home and garden for his family.
The family lived there for over 100 years but due to financial issues, the house fell into disrepair. Back in the 1950s, the house was due to be torn down when a non-profit, the Wolfson's Foundation stepped in and rescued the house. The house was then restored and reopened as a museum in 1960. They filled the house with different antiques and a collection of bird paintings created by John James Audubon, a famous painter who visited the house. During his visit to Key West, Aubudon was responsible for discovering 18 new species of birds and painted many of these on the grounds at the house. Hence the name "Audubon House".
In terms of accessibility, the house isn't modernised so there is no elevator access. Those with mobility limitations may find the house difficult to get around due to the steep stairs.
Visit the Mel Fisher Maritime Museum
The Mel Fisher Maritime Museum covers the history of a treasure hunter called Mel Fisher, who spent decades trying to locate the Nuestra Seora de Atocha, a Spanish ship laden with treasure that was lost in 1622. In 1985, he found the wreckage and some of the treasure found is on display at this museum.
Go a bar crawl at Duval Street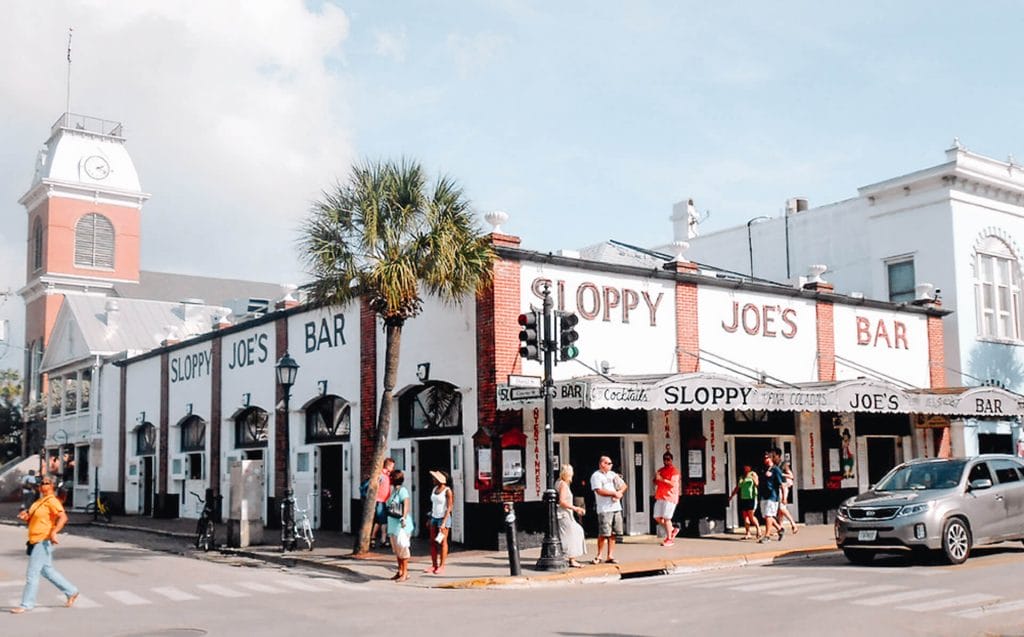 Duval Street is one of the most touristy areas in Key West, but a visit to Key West isn't complete without a visit to Duval Street. The street really captures Key West's unique vibe and is where you'll find some great bars, restaurants and shops.
If you're visiting Duval without kids, and want to enjoy the local nightlife I recommend joining a bar crawl that covers many of Duval Streets' 43 bars. Alternatively, you could enjoy a cold beer from one of the famous bars such as Sloppy Joe's (where Hemmingway used to drink) before grabbing some conch fritters at The Conch Shack (they're open to midnight on weekends).
Book a bar crawl:
If you're visiting with kids, you can always stroll down Duval Street and visit some of its shops or restaurants. You could also take a ride for free on the Duval Loop, to get around Duval Street and some other areas of Key West. The Duval Loop is a free hop-on-hop-off bus service and gives you easy access to some of the popular restaurants, art galleries, etc.
Take a selfie at the Mile 0 Marker
Taking a selfie with the Mile 0 Marker sign is one of the more iconic things to do while you're visiting Key West. The sign marks the end of the US 1 Highway route that covers 2,370 miles (3,810 km), from Key West all the way to Maine!
The signs are located on the corner of Fleming Street and Whitehead Street, but be prepared for it to be busy. If you'd like a photo without the crowds, you'll need to get up early.
Discover the Local Cusine With a Food Tour
Taking a food tour is a great way of experiencing the local cuisine, and discovering food from the Cuban and Caribbean cultural influences that make up Key West.
Below are two of the most highly-rated food tours available in Key West:
Key West: Southernmost Food and Cultural Walking Tour – This tour is run by a guide that has lived in Key West for 25+ years and is really knowledgeable. You'll sample some of the local dishes at 5 different locations that are off the beaten track, and discover things like amazing key lime pie, conch fritters nd fish tacos.
Key West: Food Tasting and Cultural Walking Tour – This tour takes you around 6 different restaurants and eateries, to sample 6 different local dishes including seafood, drinks, and key lime pie.
Visit the Key West Historic Seaport
The Key West Seaport has been a major part of the city's economy and culture for almost 200 years. The Seaport was once used by various maritime traders such as fishermen but nowadays it is a vibrant area filled with shops, bars, restaurants, art galleries and more.
If you're interested in discovering the Seaport's history, you can enjoy a free harbor walk which will point you toward some of the historical markers along the harborside.
Enjoy a Sunset Cruise
Key West has some stunning sunsets, and a great way of enjoying these is by taking a sunset cruise. Most cruises include drinks, and food on board so you can relax and enjoy the sunset while enjoying a glass of wine, or cocktail.
There are a few sunset cruises to pick from, some of which offer a more relaxing experience whereas others are more lively with live music on board.
Below are some of the best-rated sunset cruises for you to pick from:
Key West Premium Sunset Sail aboard Schooner with Hors D'oeuvres and Full Bar – For this sunset cruise you'll board a classic schooner, where you'll stand on board the deck. The cruise includes unlimited drinks; such as beer, wine, cocktails, soda, and sangria. You'll also be served hors d'oeuvres while you watch the sunset.
Key West: Sunset Sailing Trip with Open Bar, Food and Music – This cruise takes place on a catamaran, offers live music with dancing and includes access to an unlimited open bar that serves a range of drinks including beer, champagne, margaritas, and more. They also serve appetizers.
Key West: Sunset Cruise with Buffet Dinner and Open Bar – This sunset cruise includes access to a tropical food buffet, such as deep-fried plantains, black beans and rice, and Cuban bread and butter. They serve a selection of drinks such as rum runners, margaritas, beer, and more. After dinner, they play live music on the upper deck with space for dancing.
Join a Dolphin Watch & Snorkeling Tour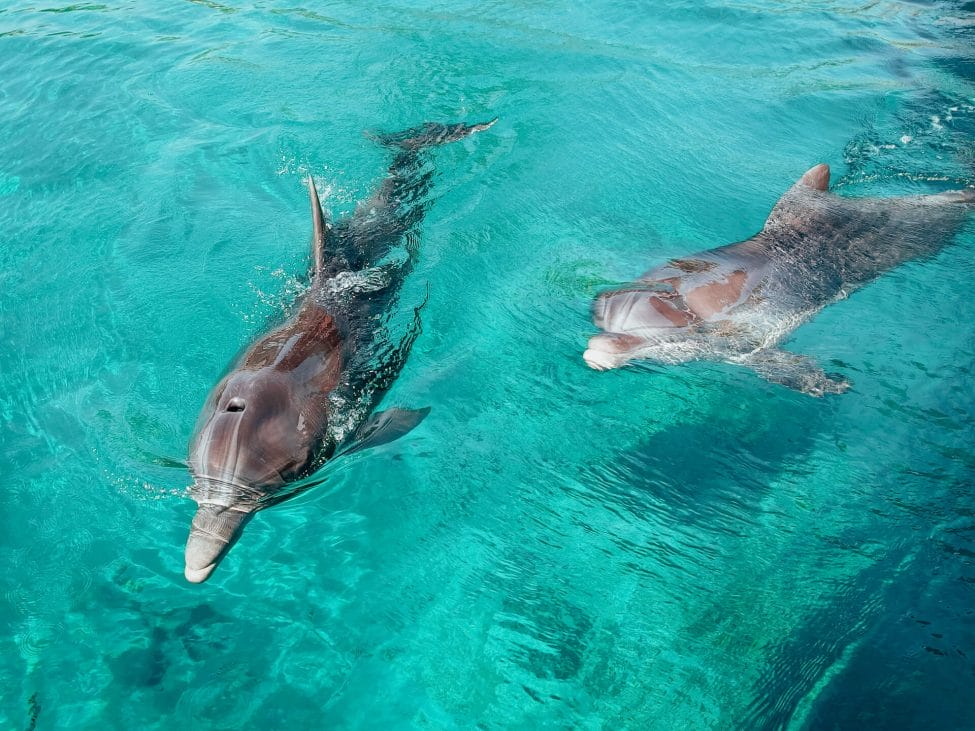 If you love dolphins, then I highly recommend watching them in their natural habitat rather than going to sea parks. In the seawaters around Key West, you'll be able to watch bottlenose dolphins swimming, playing and feeding.
When going dolphin watching, always make sure to use a company that cares for the dolphins, and is responsible in how they handle their tours to avoid disturbing the dolphin's natural behavior. In the USA, there's a certification called Dolphin SMART that is given to companies that aim to avoid disturbing the dolphins, and avoiding problematic behavior like harassment, feeding, and educate others.
In Key West, Fury Waters is the only company in the Florida Keys that has a "Dolphin SMART" certification. They offer an excursion that includes both dolphin watching and snorkeling. On this tour you can see the bottlenose dolphins in their natural habitat, and then go snorkeling where you'll see more marine life such as sea flora, sponges, and coral. You can also opt to take this tour at sunset, and enjoy both dolphin watching and the famous Key West Sunset. Tip: Remember to print your voucher, as you need to bring a printed copy.
Book your Dolphing Watching & Snorkeling Trip
Take Part in a Key West Island Adventure Eco Tour
If you love water sports and nature then you should definitely do an island adventure tour. The tour is operated by Fury Water Adventures and takes you into the backcountry waters of Key West, where you'll start off snorkeling. Then, you'll be able to go paddle boarding and kayaking through mangroves. You'll stop off at a sandbar where you can relax while enjoying a buffet lunch before heading back to Key West during the sunset.
Watch the Sunset at Mallory Square
Mallory Square is the center of Key West's social life with tons of bars, restaurants, shops, museums, theaters, live music and tons more. Plus, there are some amazing views of the sunset which are definitely worth watching.
Every evening, the sunset celebration take place where you'll see live performances from a range of acts such as live music, comedians, jugglers, and sword swallowing. There's also a range of local artistans selling their crafts, and food vendors. The sunset festival is a great place to visit whether you're travelling solo, as a couple or with family.
Sometimes the view of the sunset is partially blocked by cruise ships, but even so the festivities themselves are worth going along for. For guaranteed uninterrupted views of the sunset, why not book a sunset cruise?
Discover Key Wests Haunted History
Key West is the best place in Florida to come if you want to see paranormal activity. It's been called one of the most haunted cities in the United States and has a rich haunted history.
As previously mentioned Fort Zachary State Park is a paranormal hot spot that you must visit if you're interested in Key West's haunted history. The number of deaths from disease, and executions have caused the area to become popular with ghost hunters.
Other places worth visiting include the Fort East Martello Museum where you can see the haunted Robert the Doll on display, and St Paul's Church Cemetery which is a popular spot for ghost tours and paranormal investigators. The cemetery is said to be haunted by a sea captain, the souls of children and a man dressed in 19th-century clothing.
Read my guide to discover more about haunted places in Key West, or check out the available ghost tours.
If you found this guide helpful, why not share it with your friends?
What's your favorite place in Key West? Have a question? Drop me a comment and let me know.
More Travel Tips & Resources