In Orlando, you'll be able to enjoy gorgeous weather year-round and plenty of fun activities on the gorgeous white sand beaches nearby—no matter if you're looking for family-friendly beaches or just want some quiet time in your own private paradise. From Daytona Beach to Cocoa Beach, these beaches close to Orlando are sure to make your trip one to remember! Just remember to pack some sunscreen, as getting sunburnt while on vacation sucks.
Vero Beach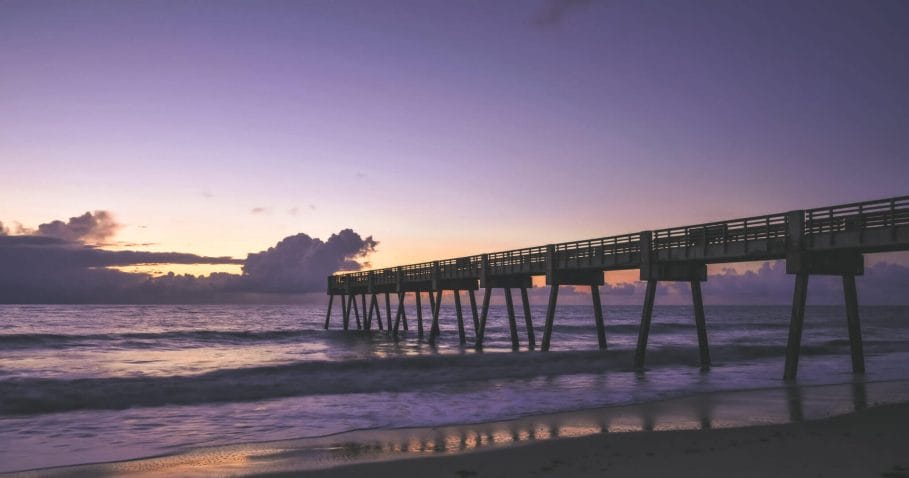 Vero Beach offers a charming small-town atmosphere with plenty of great restaurants, accommodations, and access to beautiful beaches. Vero South Beach is one of the most popular. This beach gives access to luscious white sands, swimming in the Atlantic, and volleyball courts making it a great family-friendly location.
Visitors can check out Old Town Vero Beach, a historic district full of shopping, dining, and events. Right on Eau Gallie Causeway is an area with plenty of shops, art galleries, and boutiques. There are also opportunities for fishing, surfing, and kayaking along Indian River Lagoon; just make sure to obey posted signs and check in with local authorities before heading out on your own.
If you're looking for other things to do nearby Vero Beach, you could also visit McKee Botanical Garden. The garden features historical architecture, that has been restored and preserved for visitors to enjoy. There are also thousands of plants, both tropical and ones native to Florida plus a collection of water lilies. The garden offers a beautiful, peaceful environment for you to enjoy while learning more about these plants. Plus its wheelchair accessible with wheelchairs and scooters available to hire (subject to covid restrictions).
Clearwater Beach
Just over 2 hours away from Orlando is the beautiful, Clearwater Beach.
Clearwater Beach, is definitely one of the more stunning beaches in Florida, and the USA. Besides from it's clear water, and white sand the beach is great for spotting dolphins, fishing, and water sports. If you're visiting with kids, I recommend taking a ride on a pirate ship which includes a treasure hunt, face painting and other fun activities on board.
If you'd really like to see how beautiful this area is, I recommend taking a helicopter ride, which will fly you over Clearwater, Sand Key, and Belleair Country Club.
If you can, I recommend staying in the area at one of Clearwaters beachside hotels. This will give you more time to explore the area and discover why Clearwater is rated as being one of the best places to visit in Florida. You'll also be able to experience more of what Clearwater has to offer such as drag racing, and Tiki Beach Cruises.
Go on a day trip to Clearwater
You could book this day trip to Clearwater beach that includes transfers from Orlando. You'll get to pick different activities you'd like to do during your visit. Such as going on the sea screamer boat ride, or visiting Clearwater's Aquarium.
You can book this day trip here, or check the availability below.
Canaveral National Seashore
Canaveral National Seashore is a beautiful natural park located about 1 hour away from Orlando in Titusville. It offers miles of pristine, undeveloped beach and an abundance of wildlife, making it the perfect getaway for nature lovers looking to explore and those who want to relax.
The park also features several scenic trails that'll take you through the dunes and wetlands, as well as camping areas, fishing spots, picnic areas, and more. You could also go kayaking in the Mosqutio Lagoon, which covers two thirds of the park's shoreline. There's a few different places offering kayak rental such as JB's Lagoon Adventures or at the Mosqutio Lagoon RV Park.
Canaveral National Park is also one of the closest beaches to the Kennedy Space Center. If NASA is launching a rocket during your visit to Florida, you could watch this from the beach. The rocket launches must take place during the park opening times (6am to 8pm in summer, and 6am to 6pm in winter). You'l also need to be at the park before the launch starts to avoid any traffic diversions that NASA puts in place. For more tips on seeing a rocket launch, I recommend reading the National Park Service guide here.
To check when the rocket launches are happening at the Kennedy Space Center, check the rocket launch schedule here.
Whilst in Canaveral, why not visit the Kennedy Space Center? If you or your family are interested in learning more about NASA and space exploration, then I really recommend visiting the space center when on vacation in Orlando. Skip the link admission tickets can be purchased online here, or you can choose to add on extra experiences such as "chat with an astronaut" which can be booked here.
You could also combine a visit to the space center with a visit to The Wizard of Oz Museum. The Wizard of Oz Museum offers an immersive Oz experience, and has over 2000 artifacts from the movie and book series. Book your combo ticket here.
Whether you're looking for a quiet afternoon by the beach or a full-day adventure in nature, Canaveral National Seashore has something for everyone. With its stunning views and unparalleled access to nature, this national seashore is sure to be an unforgettable experience that you'll want to come back to again and again.
Warning: Due to the hurricanes damaging the area, Apollo Beach boardwalk and Appolo Beach Parking Area 6 is currently closed. As well as Playalinda Beah parking area 6, 8 and Eddy Creek 9, 10, 11, 12 & 13. If up to date information on these closures and other safety warnings please check the National park service website here.
Daytona Beach
Located on Florida's Atlantic Coast, Daytona Beach is just over an hour from Orlando. Here you'll find 23 miles, of white sand and water giving you plenty of beaches to enjoy.
If you're looking for a more unique unmissable experience, make sure to see the live Polynesian Fire and Dinner Show. The show takes place, 3 nights a week on Daytona beach and includes access to an unlimited buffet.
Other fun things to do nearby include the Sun Splash Park, and the Daytona International Speedway. If you're visiting without kids, you could also hop on the Paddle Pub – a peddle-powdered pontoon boat that hosts 20 people on board at a time. Just make sure to book tickets ahead of time to ensure your space.
Melbourne Beach, Florida
If you want to escape to a charming oceanside paradise, head over to Melbourne Beach. A hidden gem about 1.5 hours from Orlando, located about 10 minutes outside of Melbourne, Florida.
Melbourne Beach is great for those who are looking for miles of scenic sandy beaches without crowds. Here you can enjoy a range of activities, such as snorkeling, swimming, and surfing.
Nearby, is the Historic Downtown Melbourne which offers shopping and a range of restaurants covering a range of cuisines and budgets. You'll also find some shops, so you can pick up some souvenirs before heading back to Orlando.
New Smyrna Beach
About 1 hour drive from Orlando, and near Daytona Beach is New Smyrna Beach. This beach is quieter and more secluded than some others in this list like Cocoa Beach or Daytona Beach. This is a huge plus if you're looking for somewhere to relax, with your partner or as a family.
If you're looking for a bite to eat and enjoy seafood then check out the River Deck Tiki Bar & Restaurant. The restaurant offers a range of seafood such as oysters; Mahi Mahi; and shrimp. If you're not keen on seafood, there's also a selection of meat dishes available including sirloin.
New Smyrna Beach has tons of activities taking place including fishing charters and wildlife tours in a kayak. If you'd like to get out on the water, jetski and boat rentals are also available.
Caladesi Island State Park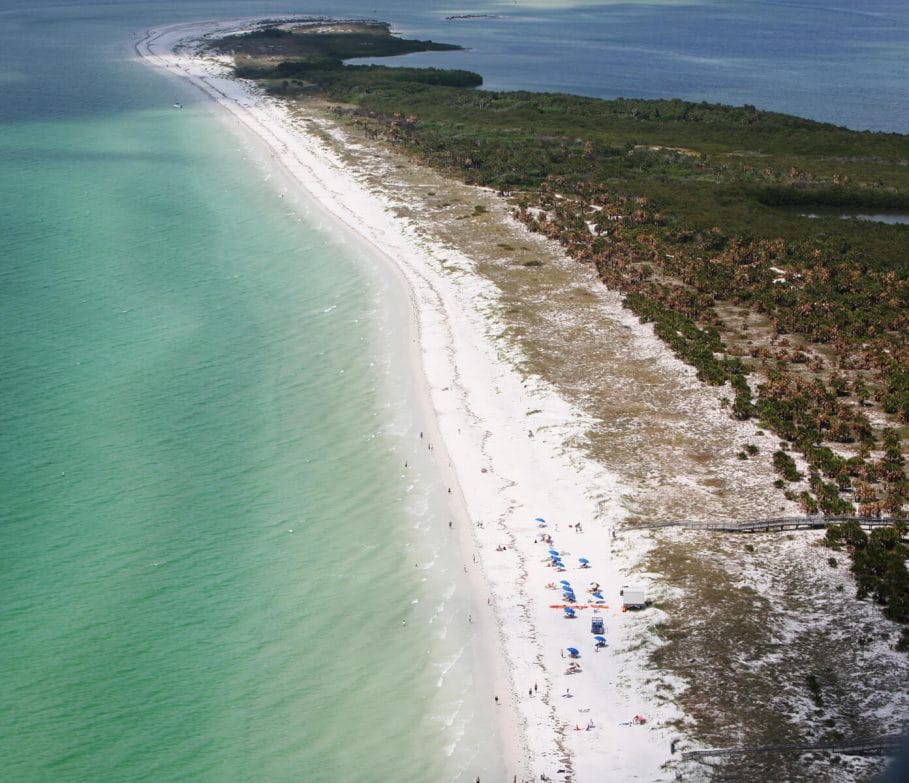 North of Clearwater Beach and only 20 minutes away by ferry is the Caladesi Island State Park. The island is only accessible by boat, making it one of the most secluded and natural beaches in the area.
Caladesi is also home to some amazing wildlife which you can spot along the wildlife trail, or by hiring a paddle boat. Just make sure to bring insect repellent, as well as your sunscreen!
If you'd like to go shelling, then Caladesi is definitely worth the visit. After landing, head north of the dock and walk along the beach and you'll discover some beautiful amazing shells that you can collect. Live shelling is not allowed, please do not remove live creatures from the beach.
Cocoa Beach near Orlando, Florida
One of the most famous and popular Florida Beaches. Cocoa Beach is one of the best family beaches close to Orlando Florida, at only about 1 hours drive away.
Along with a beautiful beach, you can also take advantage of other amenities, such as a wide array of delicious restaurants nearby, a bike trail that runs along part of Cocoa Beach. It's a great option for those looking to get away from it all – but still, have access to shops and restaurants in case you get hungry!
If you're feeling adventurous, rent a surfboard or paddleboard at any of many rental locations and take advantage of the beautiful water, which offers perfect waves for surfing. Cocoa Beach is located near the Kennedy Space Center and Cape Canaveral Air Force Station, making it a great place for a day trip from Orlando.
Sebastian Inlet State Park, Near Orlando
You'll find Sebastian Inlet State Park on A1A just south of Fort Pierce. Just under two hours from Orlando, this beach is a wonderful choice for family beach outings.
Sebastian Inlet State Park, offers many amenities including hiking trails, boat ramps, and picnic areas. Enjoy surfing, fishing, spotting wildlife and relaxing on beautiful sugar-white sands. This is one of Florida's most underrated beaches! While a bit further away from Orlando than some of the other beaches it's definitely worth the drive.
Siesta Key, Florida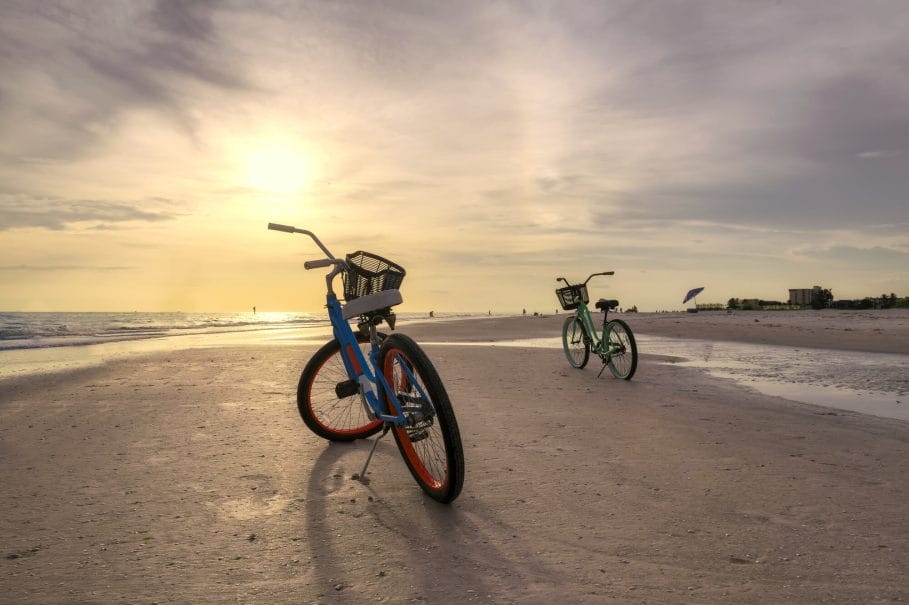 2 hours 20 minutes from Orlando, is the beautiful Siesta Key Beach. Located on Florida's Gulf Coast, this beach has beautiful, white-quartz soft sand.
The beach is a great place to visit with kids, as there's a huge range of family-friendly activities including volleyball, frisbees, a play area, electric bike hire, and more. If you enjoy snorkeling, you'll want to head to the southern area, onto the Crescent Beach section as this gives you the best chance to spot wildlife.
If you're looking for somewhere to eat, head up to the Siesta Key Village and you'll find a range of bars and restaurants. You'll also come across some great shops, and places to buy souvenirs here.
Siesta Keys is also a great place to stay, and oyu can choose from luxury hotels that offer private beach access such as Twin Palms or book yourself a vacation rental home.
I hope you found this guide to the best beaches near Orlando helpful. If you're looking for other things to do while on vacation in Orlando, head over to my guide here – Best things to do in Orlando. If you're looking for some more unique things to do while in Florida, then why not discover some haunted places in Key West?
More Travel Tips & Resources