Bristol is a vibrant city in the South West of England, offering a friendly laid-back atmosphere that offers a nice alternative to London's less friendly and busier atmosphere. The city is mainly known for the famous street artist Banksy and the Concorde airplane, but the city has a lot to offer in terms of culture, creativity, independence, and sustainability.
Bristol is home to the longest chain of independent shops in Europe, has its own currency, was named Europe's Green Capital in 2015, and back in 2014 Park Street was transformed into the world's longest waterslide. A lot of Bristol's attractions are accessible to people with a range of disabilities and impairments, meaning there is something for everyone to enjoy in Bristol
As part of this guide on accessible things to do in Bristol, I have listed some of my favorite, wheelchair-accessible places to visit in Bristol, as well as accessible restaurants, and accommodations that have accessible rooms.
Attend a live music event
Bristol's O2 Academy
The O2 Academy hosts some of the biggest international artists from a range of music genres. The O2 Academy is fully wheelchair accessible, with wheelchair spots available to reserve on a first-come-first-served basis. Guide/assistant dogs are allowed inside the venue, and when required they're able to offer Braille and large print material. There are accessible toilets available in the venue. The thing I love about the O2 is that they issue discounted or free tickets for a disabled person's companion/carer/personal assistant. This can help offset all the extra costs we incur with taxis etc. To ensure you are able to access the wheelchair-accessible area and to get a discounted/free ticket, you need to contact the O2 Academy directly on their booking line.
More information on how to do this can be found on the O2 Academy website here.
The Fleece
The Fleece is one of Bristol's most popular music venues that hosts a range of Independent artists. The Fleece is located on a cobbled street which can be difficult to walk along due to how uneven it is, and the entrance to the venue has a small 10mm (0.39inch) lip that you need to get over. But once inside, the venue is accessible for wheelchair users, with one large accessible toilet on site.
The Fleece has some spots available for wheelchair users to reserve, but these are on a first-come-first-served basis so make sure to book a spot in advance to ensure it is available. If you need to be able to sit down during the show, the bar staff are happy to help supply you with a barstool. If you want to take a personal assistant or carer with you, then The Fleece asks that you contact them to arrange this.
More information on accessing these services can be found on The Fleece website.
See a performance at the Bristol Hippodrome
The Bristol Hippodrome is Bristol's main theatrical venue, holding a range of events such as comedians, musicals, opera, and more. The Bristol Hippodrome is managed by ATG, who have done quite well at adapting the old building to support disabled visitors. The venue has a wheelchair accessible entrance behind the back of the building, and a platform lift inside to give you access to the seating area. There is on-street parking available nearby. There is one accessible toilet, also located near the rear entrance.
There is a seating area for wheelchair users and a companion on the ground floor which needs to be reserved in advance. If you want to order drinks during the interval, this can be done using the Bristol Hippodrome's phone app.
The Bristol Hippodrome allows disabled people and their companions to access discounted tickets. These discounted tickets are not available online, and must be booked in person or using the booking line (either by phone or using text type). You may be required to show proof of disability before they allow you to book the tickets. The Bristol Hippodrome helps support visitors who have autism, sensory processing disorders or communication problems by offering a visual story, that can be requested by email.
The Bristol Hippodrome offer's a range of assisted performances such as audio descriptions, captions, and sign language interpreted performances. There is sometimes the option to take part in a "Touch Tour", which take place before the audio performance. Audio performances only tend to be available for the long running shows, but it is always worth checking with the venue to see if there's anything on during your visit.
For more information on the Bristol Hippodrome and accessing their disability services, visit the ATG website here.
Visit some of Bristol's magnificent churches
Bristol Cathedral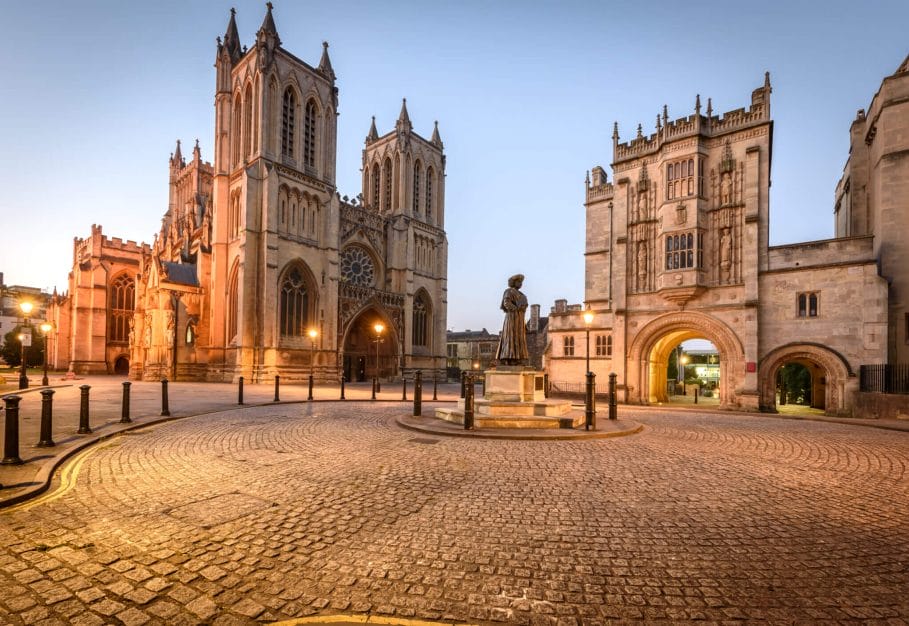 Bristol Cathedral is a magnificent church with free admission, from 8:00 am until 5:00 pm, Monday to Friday. The cathedrals main front doors are wheelchair accessible and give you access into the nave. There are wheelchair accessible ramps down to the east end of the Cathedral, but sadly the cloister, Chapter House and cafe are only accessible using stairs. The Cathedral's disabled toilet is located in the cloister and has quite a long trek around the outside of the cathedral through the cloister car park to a large wooden door to get access to it. I find it quicker to ask to use the accessible toilet in the Central Library next to the Cathedral. There is no parking available on site, but there is on-street car parking nearby which is free if you have a blue badge/disabled parking badge. The nearest car parks are located at Millenium Square, College Street Car Park and Frog Lane Car Park.
For more information, visit the Bristol Cathedral website.
St Mary Redcliffe Church
An 800-year-old church, offering free entry to visitors between 8:30 am to 5:00 pm, Monday to Saturday. The church services take place on Sundays at 8:00 am, 9:30 am, 11:15 am and 6: 30 pm. Anyone is welcome to attend the services, but the church is closed for viewing during this time. St Mary Redcliffe has on-site parking with free disabled parking for disabled badge holders. Information on the church is available in Braille and large print. The church welcome's assistant dogs, and can offer water and a toilet area if needed. The main entrance of the church is wheelchair accessible, and once inside there are ramps between most of the publically accessible parts of the church, however, the café and toilets are only accessible via stairs and there is no accessible toilet on site. Despite these limitations, St Mary Redcliffe is still worth the visit.
For more information, visit the St Mary Redcliffe website.
Enjoy Banksy's Street Art
Bristol is where the world-famous street artist Banksy created some of his earliest work. A lot of Banky's work around Bristol can be seen from the roadside, which is great if you have a car as you can easily drive around to view some of Banksy's work. If you are travelling around by public transport, then things do get a bit more complex as you may have to change buses.
Below is a map of Banksy's street art locations, including some of his lesser-known earlier work, such as Take the Money and Run. All the street art pinned to the map, are visible from the roadside, except for Banksy's Grim Reaper which is on display in the M Shed.
Visit Clifton Suspension Bridge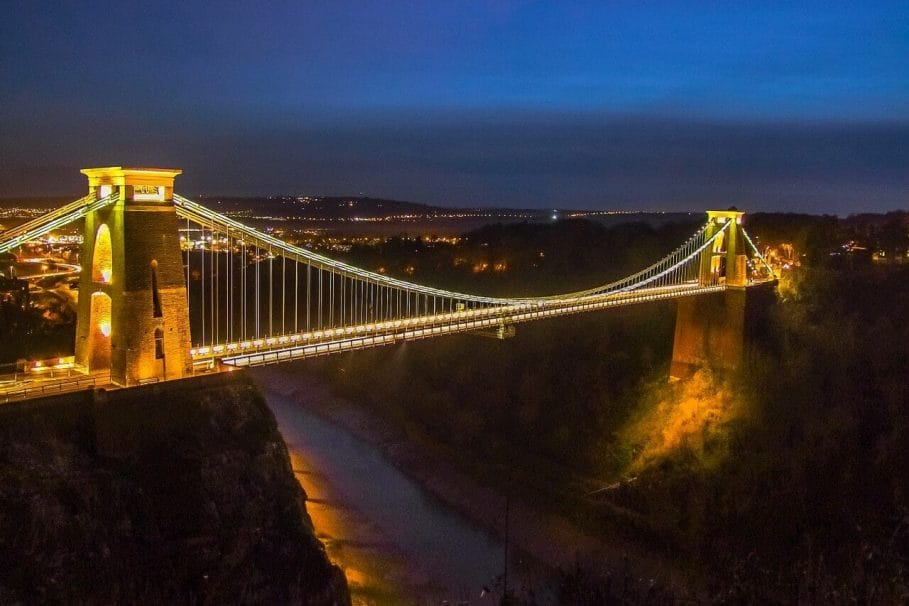 Clifton Suspension Bridge is one of the Bristols most iconic and recognisable structures. The bridge offers a free Visitor Centre and pedestrian crossing, and a paid toll booth for cars. The bridge's pedestrian crossing has level access, and it is definitely worth crossing the bridge during your visit. There are no nearby car parks but you may find parking on-street or at Leigh Woods.
The Visitor Centre is open 10:00 am until 5:00 pm every day. The Visitor Centre is wheelchair accessible, with folding stools that can double up as a walking aid for use throughout the centre. There's an accessible bathroom on the ground floor, and lift/elevator access to each floor.
Staff are on hand to help answer any questions you may have about the exhibition. Sadly there is no induction loop for Deaf visitors to use, and the DVD they play does not have captions but there is an audio described leaflet available to accompany it.
For more information on Clifton Suspension Bridge, check out their site here.
Check out some museums and Art galleries
During your time in Bristol, why not check out some of the local history and art? Most of the museums and art galleries have a range of free exhibitions. While there are dozens of museums & art galleries in Bristol, due to the age of the buildings some have limited access. Below I cover some of my favourite museums in Bristol, that I believe are the most accessible and accommodating towards a range of disabilities and impairments (not just mobility impairments).
Aerospace Bristol
Aerospace Bristol share's the story of Bristol's aerospace industry and allows you to view the Concord Alpha Foxtrot, which was the last Concorde to fly. You can also see some other aeroplanes as well as helicopters, satellites and more. All areas of the museum are accessible, with facilities for those with hearing impairments. There are an accessible toilet and disabled parking areas for disabled visitors who have a blue badge / disabled parking badge.
Visit the Aerospace Bristol website for more information.
Bristol Museum & Art Gallery
The Bristol Museum & Art Gallery is a free museum offering access to tons of art, nature and historical displays. A range of exhibitions is held throughout the year which may incur a charge. Past exhibits have covered music, geology, Japanese art, wildlife and more. The museum itself is accessible from the main entrance using a platform lift, and all areas of the museum except Sea Dragons is accessible using a passenger lift. The museum has 1 wheelchair accessible toilet.
The museum has some wheelchairs available for hire, but due to the limited quantity available, I recommend booking one a few days in advance. If you require audio descriptions, make sure to ask at reception for a DiscoveryPen device, which works for a few of the galleries. Assistance/guide dogs are welcomed in the museum.
There is no parking on sight, but there is nearby on-street parking available which is normally free if you are a blue badge holder (European or UK disabled badge). The museum and art gallery is open Tuesday to Sunday, 10am-5pm and Mondays during the school holidays and bank holidays, 10-5pm.
For more information, visit the Bristol Museum & Art Gallery website.
M Shed
The M Shed is another free museum that offer's a range of exhibitions covering the history of Bristol and stories from the people of Bristol. The M Shed has level access to all galleries, cafés, and pre-booked tour areas, with accessible toilets on all floors with an adult-sized changing table and hoist in the ground floor accessible toilet.
There are 2 wheelchairs available for hire, but once again I recommend booking a few days in advance due to the limited quantity. A DiscoveryPen device is also available in the M Shed, offering audio descriptions for the main galleries. There are a few disabled spots in nearby car parks such as The Grove Car Park, Brunel's Butter and Wapping Wharf. The M Shed is open from 10 am until 5 pm, Tuesday to Sunday.
For more information on the M-Shed visit the Bristol Museums site here.
Arnolfini
Arnolfini is a contemporary art museum in Bristol that hosts art exhibitions, artist performances, poetry and book readings, music & dance events, talks, lectures and a cinema. The art exhibitions are free to access, but the cinema, performances etc normally incur a charge and tickets should be booked in advance. The main pedestrianised area around where Arnolfini is accessed from is made from bricks which can cause some accessibility issues for those of us with mobility issues who are not driving to Arnolfini.
There is a pavement, but this tends to get blocked off with signs. There are plenty of nearby benches for you to rest on if needed, and as Arnolfini is located by the harbour you can take in the sights. Arnolfini's entrance is a brick path, on a slight incline. Once inside, all the floors are accessible via a lift.
They have a wheelchair available for a visitor to borrow, but once again make sure to request this in advance to ensure it is available. If you are driving, there's disabled parking outside the main entrance that can be accessed via Farr's Lane. This parking requires a permit that can be obtained from reception and is available on a first-come-first-served basis.
For more information on the Arnolfini website here.
Go on a shopping spree
Bristol has numerous shopping centres such as Cribs Causeway, The Galleries at Broadmead and Cabot Circus. All three shopping centres have car parks attached with plenty of disabled accessible parking available. It's free to park at Cribs Causeway, but there's a parking charge for The Galleries and Cabot Cirus car parks (Broadmead being cheaper). Each shopping centre feature's step-free access and there are lifts and escalators throughout the shopping centre's that offer access to each floor, including food courts.
Cabot Cirus and The Galleries Shopping Centre
Cabot Cirus is one of the newest shopping centres in Bristol, featuring a range of shops and restaurants such as Accessorize, Flying Tiger Copenhagen, Five Guys, Krispy Kreme, and Yo! Sushi. There is also a cinema (Cinema de Lux), and mini-golf. The Galleries is located in Broadmead which is an area that connects onto Cabot Circus, and feature's a range of stores such as Boots,
The Pound Shop, and Waterstones. There's a food court with different fast-food restaurants such as Subway and Burgerking. Nearby there is an Apple Store, Debenhams Department Store and Primark.
The majority of stores within the Cabot Circus, The Galleries and Broadmead tend to be accessible for people in wheelchairs, and multistory stores do tend to have lift access. For Deaf travellers, some stores do feature induction loops and staff may be willing to assist those with visual impairments. There can be some limitations for wheelchair access in smaller stores, such as Game and Flying Tiger Copenhagen, due to the narrower aisles. But most stores have staff that are willing to assist you if required.
The disabled parking in the Cabot Circus car park is located on levels 1 and 3. When driving into the car park, there is a sign indicating how many spaces are available on each floor, and once again a sign on each individual floor. You may find that floor 1 and 3 are marked as full, however, this is rarely the case as they are not counting the disabled parking spots towards this availability limit.
If you are visiting Cabot Cirus then I recommend parking on floor 3, as this allows you to get closest to the shops, with step-free access across a bridge. Shop Mobility (that offers wheelchair and mobility scooter hire) is available on the ground floor. There is lift access to each floor in the car park.
The Galleries car park is smaller and normally gets filled up quicker than Cabot Circus, but it is a lot cheaper. There is disabled parking on Level D. Disabled accessible toilets are available on all three floors of the shopping centre, but they use the RADAR key scheme (a specialist key that helps stop people from abusing, and damaging accessible toilets). You can purchase a RADAR key from the Shop Mobility store at Cabot Circus or on Amazon.
For more information on the Cabot Circus website or The Galleries website.
Eat at one of Bristol's Wheelchair Accessible Restaurants
Bristol has hundreds of restaurants, bars and fast food places. Many of these places do have a certain level of accessibility but due to the age of some of the buildings, there may be steps, steeper inclines and narrow entrances. Most of the restaurants and fast food places in Cabot Circus, The Galleries and Broadmead are accessible for people using a wheelchair. But a lot of these places do get quite busy, so it is normally best to avoid these places or have a few options in mind if you require a quieter restaurant. Some fast food restaurants such as McDonald's have ordering screens with an accessibility option. Most restaurants and bars are happy to provide a bowl of water for assistant/guide dogs on request.
Outside of the main shopping areas, there are tons of other restaurants that have wheelchair accessible entrances, and accessible toilets. Below I have listed my favourite of these restaurants and bars.
Note that due to covid, some of these restaurants may have reduced capacity, and requrie reservations. Resturants found in hotels, may only be open to residents. Make sure to check the restauarnt websites for any information on booking, and covid-related restrictions.
Za Za Bazaar
An all-you-can-eat, self-serve world banquet restaurant and bar. Serving food from around the world including Sushi, Pizza, Pasta, Chinese food, Tex Mex and more. I find this a good choice when your party is unable to decide on a specific type of food, and to accommodate different tastes and/or sensory processing disorders. Accessible via a ramp with doors wide enough to accommodate a wheelchair, the restaurant has a lift giving you access to the upper floor. Motorised scooters are not allowed in the venue, so make sure to bring a wheelchair with you if you require one. There is an accessible toilet available on the first floor. Za Za Bazaar is located by the Bristol Harbourside, accessed via a pedestrianised area. The nearest car parking is The Grove Car Park, around 200 meters away and the nearest bus stop is 150 meters away.
For more information on the Za Za Bazzar website.
Beerd Restaurant
Located at the Colston Hall, Beerd offers craft beer and pizza. The restaurant is accessible via a ramp, with level access once inside. Beerd has an accessible toilet on both floors, and allows motorised scooters to be used in the restaurant. Assistance/Guide dogs are allowed, and the staff are happy to provide water for your dog if needed. The nearest car park is NCP Trenchard Street which does have disabled parking, and wheelchair access, however, there is quite a steep hill to the car park. On-street parking is available nearby, and if you have a disabled parking badge/blue badge you can normally park for up to 2 hours, free (always check the parking meter to confirm if this applies).
For more information on the Beerd website.
The Tobacco Factory
Further away from the city centre, located in the South of Bristol the Tobacco Factory offer's food, drink, exhibitions and live music. The Tobacco Factory offers local beer and food from independent suppliers and is able to cater for vegans. The downstairs restaurant and bar are accessible via a ramp through double-width doors, with an accessible toilet on the ground floor. There is a lift available, giving access to other floors such as the bar and auditorium. The theatre is accessible by a fairly steep ramp, with two sets of doors to get through. The Tobacco Factory's car park has limited accessible parking reserved for disabled customers. There's a bus stop within 150 meters of the Tobacco Factory and on-street parking is available, as well as parking in the nearby Aldi Supermarket car park (may incur a charge).
For more information on The Tobacco Factory website.
Mobility Scooter and Wheelchair Hire in Bristol
Bristol Shopmobility offer's mobility scooter and wheelchair hire in Bristol's city centre for those with either temporary or permanent mobility impairments. They have a range of electric and manual wheelchairs available for hire, and a Maclaren buggy for young children. When hiring a wheelchair you will need to show identity so make sure to bring along some form of identities such as a passport or driving license. The Shop Mobility store is located on the ground floor of the Cabot Circus car park. If you are not visiting Cabot Circus, but wish to hire a wheelchair or scooter you can contact Shop Mobility and they might be able to meet you somewhere within the city centre.
Mobility Scooter and Wheelchair hire are available from 10:00 am, to 4:30 pm, Monday to Saturday. All hired equipment must be returned to Shop Mobility for 4:30 pm. Longer-term hire is available if required.
For more information, visit the Bristol Shop Mobility website.
Wheelchair Accessible Transport in Bristol
Finding accessible transport in Bristol isn't normally too difficult, however, it can take some planning and you may need to book services up to 24 hours in advance to ensure the required service is available.
Wheelchair Accessible Taxi's in Bristol
All the Hackney Taxi's in Bristol, are able to accommodate a wheelchair and any new Hackney taxi's in Bristol must be wheelchair accessible. Hackney Taxi's do not charge extra for assistance/guide dogs or any mobility aids such as wheelchairs or walkers. If you choose to use a privately hired taxi, make sure to confirm whether they are able to accommodate your accessibility needs before you agree to book as not all privately hired taxies are large enough to accommodate mobility aids. Sadly, wheelchair-accessible vehicles are not yet available through Uber in Bristol (As of October 2018).
Wheelchair Accessible buses in Bristol
Nearly all buses in Bristol are designed to have low-floor access, featuring a ramp or a step that can be lowered so that wheelchair-users and those with difficulty getting up steps can access the bus. You will need to ask the driver when the bus arrives to lower the step or extend the ramp for you.
Most buses have a dedicated priority area for wheelchair users, which other passengers are asked to vacate (although the driver has no power to force someone out of this location, and can only encourage passengers to do so out of common decency, however, most people will vacate the area if asked to do so).
If you have a visual impairment, you can ask your driver to identify your stop. There's normally no extra charge for an assistance or guide dog on buses within Bristol. A "Better Journey Card" that aims to help make our journey easier is available to download and print from the First Bus website.
There are pre-made messages available such as "please be patient, I have a hidden disability", or you can print off a blank card and write your own message. These cards can help ensure the driver is more accommodating for your needs such as giving you extra time to board or helping you find a seat. You can download these hidden disability cards form the First Bus site here.
Money-saving travel tip: If you are travelling to Bristol using a National Express coach, you can buy a Disabled Coachcard for £12.50 + postage, saving you 1/3rd off standard and flexible fares. If you're using National Express a few times a year, you can easily save more than the £12.50 + postage this costs. You can also book a priority seat free of charge, just ring up to book, or book online and phone them after. They also have wheelchair lifts for most of their coaches, so make sure to ask to be able to use it when you book.
If you live in England, you can apply for a concessionary bus pass. If you're eligible, these bus passes normally allow you to travel within England, including London for free. Just make sure to check with your local council for the actual coverage. To find out how to apply, check the government website.
Wheelchair accessible hop-on hop-off sightseeing bus
Bristol has one company that runs hop-on hop-off sightseeing buses that are wheelchair accessible. Tickets are available for 2 days, and as of August 2020, ticket prices start at £14 per person, if you book online.
The sightseeing bus covers many of the wheelchair accessible places I've covered in this travel guide, so you'll be able to easily get around Bristol without worrying about the cost of taxi's or whether a public-bus is going to have space for you. The bus tickets do not include access to any attractions, so make sure to account for the cost of those when budgeting your trip.
Wheelchair Accessible Trains in Bristol
There are a few train stations in Bristol, with the main ones being Bristol Temple Meads and Bristol Parkway. Both train stations offer step-free access to the platforms using lifts and have wheelchair-accessible ticket gates. Extra assistance such as guidance through the train station, or ramp access onto the trains is available upon request. To ensure that your assistance will be available, it is recommended to book it 24 hours in advance.
Trains in the UK are not that reliable and a lot of trains are cancelled, delayed or moved to a different platform. If this happens, make sure to alert one of the staff on the platform that you or someone in your party has a disability and/or some type of impairment. I find that this helps ensure the staff on the other platform are made aware I am coming and sometimes they will hold the train doors open a bit longer so I don't miss the train. Although this isn't guaranteed to happen and I have been left behind a few times, so I recommend booking assistance if your train ticket only allows you to travel on a certain train.
When trains are cancelled, sometimes they are replaced by a bus which may be inaccessible. If you are unable to access the replacement bus then the train line should supply you with a free taxi replacement instead. For more information on assistance, and train accessibility information visit the National Rail website here.
Money-saving tip: If you are using a wheelchair, and remain in the wheelchair you can save between 34 to 50% off your train tickets. For more information check the National Rail concessionary discount page. If you're not using a wheelchair or do not wish to remain in your wheelchair, and live in the UK, you can buy a disabled persons railcard for £20 a year. This railcard will save you 1/3rd off train tickets for yourself and a friend! In 2018, my disabled railcard saved me £86.40!
Accessible Ferries in Bristol
Bristol's water bus service is run by Bristol Ferries. The ferries cover the City Centre, Hotwells and Bristol Temple Meads. As of October 2018, they have one boat, the Brigantia that is wheelchair accessible, although the boat does not have a wheelchair-accessible toilet on board and there is still a slight step up onto the boat at all the landing stages. The height of this step varies depending on the height of the water level but is typically between 10 to 36cm in height. Once onboard the Brigantia, there is a hydraulic lift that carries you onto the boat.
The other boats may be accessible for people with other types of accessibility requirements. If you want to use the Brigantia, you need to contact Bristol Ferries at least 24 hours in advance to ensure that the boat is running and where it is. Staff are happy to assist anyone who has any disability and/or visual/hearing impairment on board, and assistance/guide dogs are welcome.
To find out more information on the Bristol water bus services accessibility, visit the Bristol Ferries access page here.
Where to find Wheelchair-accessible accommodation in Bristol?
Most hotels in Bristol have some accessible rooms, but due to the limited availability I recommend booking well in advance or being flexible on what part of Bristol you wish to stay in. When booking, make sure to contact the hotel to ask them to book you into the accessible room. If you require a shower with step-free access, make sure you request a wet room – otherwise, you may be given a bath.
Below is a list of the best-rated hotels and hostels in Bristol that have wheelchair-accessible rooms.
Holiday Inn Express Bristol City Centre
DoubleTree by Hilton Bristol North
Hilton Garden Inn Bristol City Centre
If you need a hotel at Bristol Airport, the Hampton Hotel located by the airport has accessible rooms available.
If you found my accessibility guide for Bristol useful, then, why not share it on Pinterest?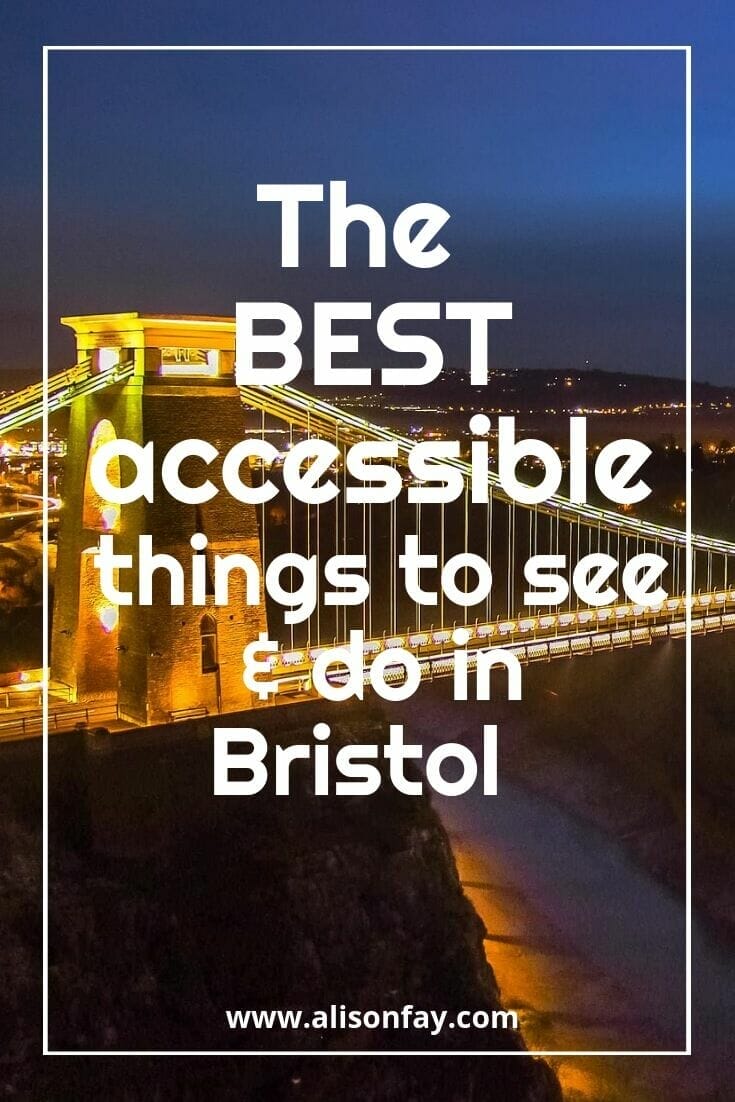 Image credit:
Bristol's colour houses by Shauking at https://pixabay.com/en/houses-colour-colourful-bristol-2532766/
Bristol Hippodrome by EM Stanton at https://www.flickr.com/photos/emstanton1983/20652988982/in/album-72157635021628219/
Bristol's Clifton Suspension Bridge by Diego_torres at https://pixabay.com/en/bristol-bridge-building-947391/
Working exhibitions and Mathew outside M Shed by Steelfish, at https://pixabay.com/en/bristol-harbour-ship-matthew-dock-2312859/