If you are looking for something to do in Bristol, that won't break the bank then this guide will have you covered! This guide covers a range of free attractions to do in Bristol including museums, parks, historical areas, markets, boats and more.
Free Museums and galleries
There's a range of free museums and galleries in Bristol, that hold interesting exhibitions and events throughout the year. Entry to these museums is free, but some exhibitions may incur a charge.
M Shed
Offering a range of exhibits such as Bristol Places Gallery that focuses on how Bristol was built, and the Bristol People gallery that explores the lives of those living in Bristol, the M Shed is definitely worth checking out.
The M Shed is Tuesday to Sunday, 10am-5pm and some Monday's. The museum is closed 25th and 26th December. If you can't get there during opening times, you can always check out The Working Exhibits outside the museum, that include Electric and Steam cranes, trains, and a range of boats.
For more information on the M-Shed visit the Bristol Museums site here.
The Bristol Archives
The Bristol Archives looks after the archives for the city and surrounding areas. Different exhibitions are hosted throughout the year, that have free entry. Exhibitions mainly focus on Bristol and the surrounding area and cover different areas of Bristol's history such as World War 1 and 2 and changes to the local geology and landscape.
For more information on the Bristol Archives visit their site here.
The Red Lodge Museum
The Red Lodge Museum is a historic Elizabethan house offering visitors the chance to view over 400 years of history. Entry to the museum is free. The museum is closed from January 1st to March 31st, and is open Monday, Tuesday and weekends from 11 am to 4 pm the rest of the year.
For more information on The Red Lodge museum visit their site here. 
Bristol Museum & Art Gallery
The Bristol Museum & Art Gallery is an amazing museum with tons of art, nature, and history on display for visitors to explore. Different exhibits and events are held throughout the year, entry fee depends on the exhibition/event so make sure to check before visiting. The museum is open Tuesday to Sunday, 10am-5pm and Mondays during the school holidays and bank holidays, 10-5pm.
For more information, visit the Bristol Museum & Art Gallery website.
The Georgian House Museum
The Georgian House Museum allows visitors to discover what Bristol sugar plantation and slave owner's homes were like back in the 1790s. The museum is open from April 1st to December 31st on Monday, Tuesdays and weekends from 11 am until 4 pm.
For more information visit The Georgian House Museum website here
Blaise Castle House Museum
Blaise Castle House Museum was built in the 1790s, and visitors can see how people lived through time at the house, and learn the history of the house and it's estate. The museum is open from April 1st to December 31st, Thursday to Sunday from 11 am to 4 pm.
For more information visit the Blaise Castle House Museum website.
Historical Spots
Clifton Suspension Bridge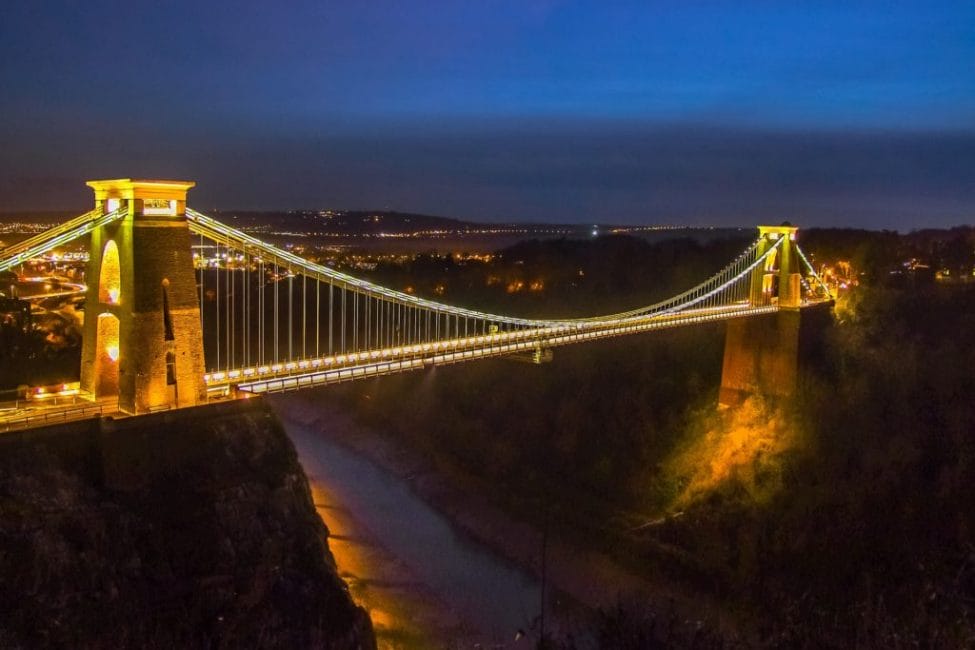 Bristol Suspension Bridge. Credit: Diego_torres at https://pixabay.com/en/bristol-bridge-building-947391/You know you're in Bristol when you spot Clifton Suspension Bridge in the distance. Clifton Suspension Bridge's free visitor centre is open from 10 am to 5 pm every day throughout the year. They offer free tour guides on weekends and bank holidays from Easter to October. Tours start at 3pm, at the Clifton Toll Booth and booking is not required.
You can walk across the bridge for free (cars must pay a toll). While walking across the bridge, you may feel and see the bridge moving as cars drive across. In the summer, you may be lucky to spot one of the adult Peregrine Falcons from the Leigh Woods side of the bridge. If you are visiting at night, you may get to see the bridge light up. Clifton Suspension Bridges lights are turned on 30 minutes before dusk, and stay on until Midnight.
For more information on what to see and do at the bridge, visit the Clifton Suspension Bridge website. 
Cabot Tower and Brandon Hill Park
Brandon Hill is the oldest park in Bristol, offering stunning views over the city and Bristol Harbourside. The park is family-friendly, offering a children's play area, nature and conservation area, and paths for you to walk along.
The park is home to Cabot Tower. The tower stands at 105ft tall and was built in 1897 to commemorate John Cabot's voyage from Bristol to North America 400 years earlier. The tower is open free to visitors year round except for Christmas Day, and New Year's Day. The tower is open from 8:15 am to 4:30 pm. Climbing the spiral staircase inside Cabot Tower gives visitors the chance to see the stunning panoramic views across the city of Bristol and its harbourside.
St Mary Redcliffe Church
This beautiful church has stood for over 800 years. Entry to the church is free to visitors between 8:30 am to 5:00 pm, Monday to Saturday. Services take place on Sundays at 8:00 am, 9:30 am, 11:15 am and 6: 30 pm. You can attend any of these services if you wish, but during these times the church is closed for viewing.
For more information, visit the St Mary Redcliffe website here.
Bristol Cathedral
Bristol Cathedral is a stunning church and is one of the best free things to do in Bristol. The cathedral is open every day with free admission. Monday to Friday, the Cathedral is open from 8:00 am until 5:00 pm. The cathedral also offers free tours most Saturday and Tuesdays. Different events are held throughout the year, most of which have free admission.
For more information, visit the Bristol Cathedral website.
Oldbury Court and Snuff Mills
Oldbury Court is a beautiful historic estate dating back to 1066, containing some stunning scenery in its woodland, rivers, and parkland. There are play area facilities for children and picnic areas available, making it a great day out for the family. The park is accessible to wheelchair user's and guide dogs are permitted.
Arnos Vale Cemetery
Exploring a cemetery might seem a little bit macabre, but Arnos vale Cemetry is a really unique Victorian garden cemetery with tons of history that is worth the visit. The cemetery has 45 acres of beautiful gardens for you to explore, with listed buildings that host a range of exhibitions throughout the year.
The cemetery is free to access, and you can follow the self-guided walks for free. Guided tours are available for a charge, and there's also a café, gift shop and more.
For more information visit the Arnos Vale website.
Markets
St Nicks Market
Located on Corn Street, the market is open Monday to Saturday, 9:30 am to 5 pm. The market is full of local independent retailers offering a range of goods including artwork, jewellery, home decor, vintage clothing and more. Every Wednesday the market hosts the Bristol Farmers Market, from 9:30 am to 2:30 pm. During the farmers market, you'll be able to buy delicious produce grown and made locally. On Friday's, the Friday market takes places from 10 am to 4 pm, offering a range of amazing street food.
The Harbourside Market
The harbourside market hosts a range of local artists, musicians, makers, foodies and marketers selling jewellery, books, art, soaps, trinkets and more. Every Thursday the market hosts Street Food Thursdays from Miday, offering some of the best street food available in Bristol.
The market is open every Saturday and Sunday from 10 am to 4 pm.
For more information visit the Harbourside Market website. 
Bristol's German Christmas Market
Every Christmas, Bristol hosts a German Christmas market in the Broadmead shopping area. The market boasts over 50 wooden chalet-style stalls offering handmade goods, fair trade produce, delicious food and drink including some German produce. Glühwein and German Beer is available at the Jägerbarn beer garden, while other stalls offer bratwursts and schnitzels.
The market start date varies each year, with 2018 market taking place from November 9th through to December 24th.
Parks and nature reserves
Leighwoods
Owned by the Nation Trust, Leighwoods is a beautiful nature reserve that offers spectacular views over Bristol. If you are into mountain biking, then make sure to check out Leigh Woods purpose-built mountain biking trail that weaves through the woodland. Leigh Woods is also great for running, bird watching, wildlife photography, or just a simple stroll.  Admission to Leigh Woods is free, however, you may incur car parking charges.
For more information visit the National Trust site.
Clifton Downs
Known as either Clifton Downs, Durdham downs,  or The Downs, this area of Clifton offers a large green open space for picnicking, sports, exercising, and events. Admission to Clifton Downs is free, but events take place throughout the year that may have restricted access.
For more information visit Bristol City Council's website here
Castle Park
Located near the Harbourside, Castle Park is a beautiful green area in the heart of Bristol. The park is a great spot for picnicking, exercising, relaxing or a quiet stroll. Inside the park is the ruins of St Peter's Church, which was damaged during World War 2. Sadly due to the extent of the damage, the church is not open to the public but you can wander around the outside and through its gardens.
For more information, visit the Bristol City Council website here.
Free outdoor activities
Play ping pong
Bristol has a number of outdoor Ping Pong / Table Tennis tables that are free to use. The tables are available for use all year round, just bring along your own bats and balls, and have a free game.
A map of the tables, known as Ping! Tables are available here or you can see the list of locations here.
Slide down the infamous rock slide at Clifton Suspension Bridge
The slidey rock is located on the Avon Gorge by Clifton Suspension Bridge. The natural rock slide has become shiny over the years due to the number fo Bristolians and visitors who have enjoyed sliding down the rock face.
To get to the slide, take the footpath on the right side of Clifton Suspension Bridge when you are approaching from Clifton Village side.
See the deer at Ashton Court
The Ashton Court estate is home to two different types of deer; Fallow Deer and Red Deer, the latter being the rarer of the two breeds. The Fallow deer park is in the central area of the estate and is accessible from the Leigh Woods car park, while the red deer park is by the University of the West of England's campus located in Bower Ashton.
Entrance to the park is free, but you may incur a parking charge.
For information on opening times and car park costs, visit the Bristol City Council website here.
Visit Banksy's Graffiti
Bristol is where the world-famous artist Banksy first started out. There are numerous Banksy artworks dotted around the city. If you are a fan of Banksy then make sure to check out his artwork around the city.
Walk along the Harbourside
Bristol Harbourside offer's a nice walk alongside the River Avon. You can check out a range of shops, visit the market on a Saturday or head towards Millenium Square. Whatever you choose to do, the harbourside makes for a nice walk all year round.
Millenium Square
Millenium Square is a popular area near the Bristol Harbourside. It's most recognisable feature is its giant reflective silver ball. There is a range of statues in the square that are worth checking out while you wander around.
While not free, the square is home to the "We The Curious" science centre (Previously @Bristol), which is a great place to visit if you have kids.
Walk over Pero's Bridge
Per's Bridge is a pedestrian footbridge between the floating harbour. The bridge was named after Pero Jones, an enslaved African who was owned by John Pinney who bought Pero with him when he came to live in Bristol in 1784. Pero served Pinney for 3 years and died in Bristol.
Pero's Bridge acts as a popular meeting point and links two sides of the harbourside to give easy access to restaurants and Millennium Square.
Walk over Castle Bridge
One of the latest additions to Bristol is Castle Bridge. Castle Bridge is a new pedestrian footbridge over the River Avon that leads into Castle Park from Finzel's Reach and provides access to the floating harbour.
I hope you've found this guide to free things to do in Bristol useful. I have tried to list as many of my favourite free places as possible but there really are so many amazing and beautiful places to check out in Bristol.
If you are staying in the area, then why not visit the nearby Georgian city of Bath? 
If you found this guide useful, please share it on Pinterest.