The charming city of Utrecht is the fourth largest city and oldest city in The Netherlands. Often overlooked by tourists, Utrecht offers a much more relaxed, laid-back pace than that of Amsterdam. The city has a lot to offer, including beautiful canals, a millennial of history including UNESCO-protected sights, modern architecture, stunning churches, and more. In October 2017, Utrecht was given the title a"City of Literature" by UNESCO, making it the first city in The Netherlands to receive this prestigious title.
How to get to Utrecht
Getting to Utrecht couldn't be simpler. The city itself is the main transport hub within The Netherlands due to its central location making it easy to get to. There are a few options – car, taxi, trains, buses and even by canal boat. The quickest, and easiest of these is the train, and this is the method I recommend using. Trains in The Netherlands are really good, with space for wheelchairs and most offer free WiFi.
Chances are, you will most likely be coming from Amsterdam or Rotterdam. The train takes about 25 minutes from Amsterdam Centraal to Utrecht Centraal, and 1 hour 20 minutes from Rotterdam Centraal to Utrecht Centraal. You can plan your journey, check costs, and for disruptions on www.ns.nl.
Travelling to Utrecht By bus
Buses in The Netherlands are reliable and easy enough to use. To use a bus, you need either an Ov-Chipkaart (a smart travel card) or a single-use chip card. The single used cards are purchasable from the bus driver, but these cost more than using the Ov-Chipkaart. Buses from Amsterdam to Utrecht take about 2 hours. Rotterdam to Utrecht takes about 3 hours. For more information on bus times, visit https://9292.nl/en. To search for bus journeys, click "extra options" and de-select the other transport options.
Travelling to Utrecht By Boat
If you want something a bit different, then why not consider travelling around The Netherlands by boat? Hiring a boat will allow you to cruise along beautiful canals between Amsterdam, Utrecht, Liden and Haarlem. Boat hire is available per hour, through companies such as sloepdelen.nl or for holidays through https://www.boatingholidays.com/holland-boating-holidays/.
Travelling to Utrecht By Car
Hiring a car gives you the freedom to explore at your own leisure, and not rely on public transport. Both Rotterdam and Amsterdam are about 50 minutes from Utrecht by car. If you need to hire a car, check out companies such as Euro Car and Hertz.
What to see and do in Utrecht?
The Dom Tower
Dom Square, The Dom Tower & Dom Under
Dom Square is a beautiful, historical area in Utrecht, with a history dating back 2000 years. Located in Dom Square is The Dom Tower, Pandhof, Utrecht University's University Hall, Dom Under, plus some nice cafes, and the tourist information centre. This makes it the perfect starting point for your visit to Utrecht.
Despite on-going restoration works, The Dom Tower (or Domtoren in Dutch), is a magnificent building from the outside, but if you feel up to the climb then why not climb the 465 steps to the top? You'll need to take a guided tour, and the climb is split up (phew!), with some pauses that allow you to learn more about the history of the tour as you go. Sadly, there is no disabled-friendly access to the top of the tower. So disabled travellers like myself may be unable to enjoy the view from the top, but there is still plenty of things to see in the square for those who choose not to climb the tower.
DOMunder
DOMunder is a tour-guided museum allowing you to go beneath Dom Square. Covering 2000 years of Dutch History, you'll get to see archaeological finds, visit ancient cellars, and learn why Utrecht was the centre of The Netherlands. Tickets can be booked in advance to guarantee a suitable time slot. DOMunder normally has limited accessibility, especially for wheelchair users. But, on the first Monday of each month at 10:30 am, they offer a special guided tour for disabled people. These tours let you use a stair lift to get access to the first part of DOMunder, followed by a tour of the Dom Square.
For information about these tours, contact DOMunder on their website at https://www.domunder.nl/nl/contact for more information. Information for these tours is only available on the Dutch site here: https://www.domunder.nl/nl/tickets/gehandicapten so there is a chance that the tours will only be available in Dutch.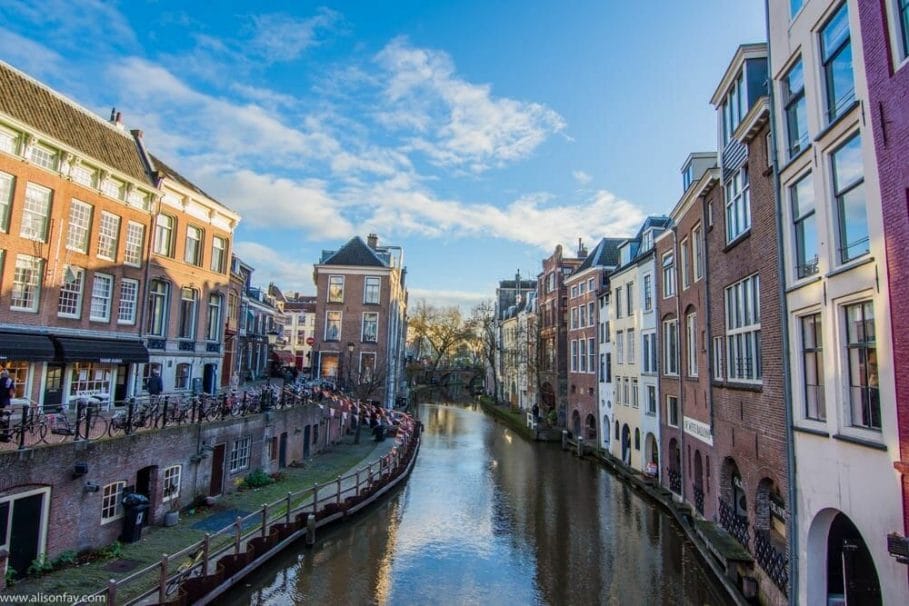 Utrecht Canals
Utrecht is home to some of the most beautiful canals in the world, that are more relaxed than those in Amsterdam. The canals are split into "Oudegracht" (meaning old canals) and Nieuwegracht (meaning new canals). Utrecht's canals feature wharves and cellars at water-level, which in parts were converted into a range of restaurants, shops and cafés. One of the more popular areas to eat and drink by the canals is Oudaen, a castle from the 1200s that has been converted into a restaurant and brewery. Whether you choose to eat inside the castle or by the canals, Oudaen offers a charming historical experience.
Due to its more relaxed and quieter atmosphere, exploring Utrecht's canals by boat may be more enjoyable than doing the same of Amsterdam's. Choose between a boat tour, hiring a pedal boat or even canoeing. If you'd prefer to explore the canals on foot, you have a choice of strolling at wharf level along the waters-edge, or at street-level along the shops. These shops offer a range of goods, including home-ware, internationally imported foods, designer fashion, hand-made goods and more.
To avoid disappointment, book your canal boat tickets online before you go. You can book the tour here, or below.
Anne Frank Statue
The Janskerkhof, Janskerk and the statue of Anne Frank
Janskerkhof
Janskerkhof (St. John's Graveyard in English) is now known as Utrecht's university district. The square is famous for the flower market held on Saturday's, and offer's a range of restaurants. The square's history date back to 1050, when it was originally walled off, around the Janskerk. The area was owned by the chapter of Saint John and had its own government and jurisdiction. Members of the church of St. John were known as canons, who built houses with large gardens around Janskerk. A few of these houses are still standing today. They are now used as offices by Utrecht University.
In 1246, land in South-west Janskerhof was sold to the Order of Friars Minor who built a monastery and church on the land. Recently, two medieval crypts were discovered that contained the skeletal remains. In 1581, when the Catholic faith was banned, the walls around Janskerhof were demolished and it stopped being a self-governing area.
Janskerk
Janskerk (or St John's Church in English), is a beautiful old church in Janskerhof in central Utrecht. Founded in 1040, the church is dedicated to John The Baptist. It was originally one of the five collegiate churches that formed a cluster in the shape of a cross, known as the Utrecht Church Cross. The other churches included in this cross are the Dom, St Salvator's Church, St Peter's Church and St Mary's Church.
The church has a vast history, that covers the banning of the Catholic faith, use as a city library, a university library, and being acquired by the Reformed Church. After tornado damage, the church fell into disrepair but was restored in the 20th century. The church is open to the public most weekday mornings and holds a service on Sundays. Events (mainly concerts) are held throughout the year. For opening times visit their website here, and for events here.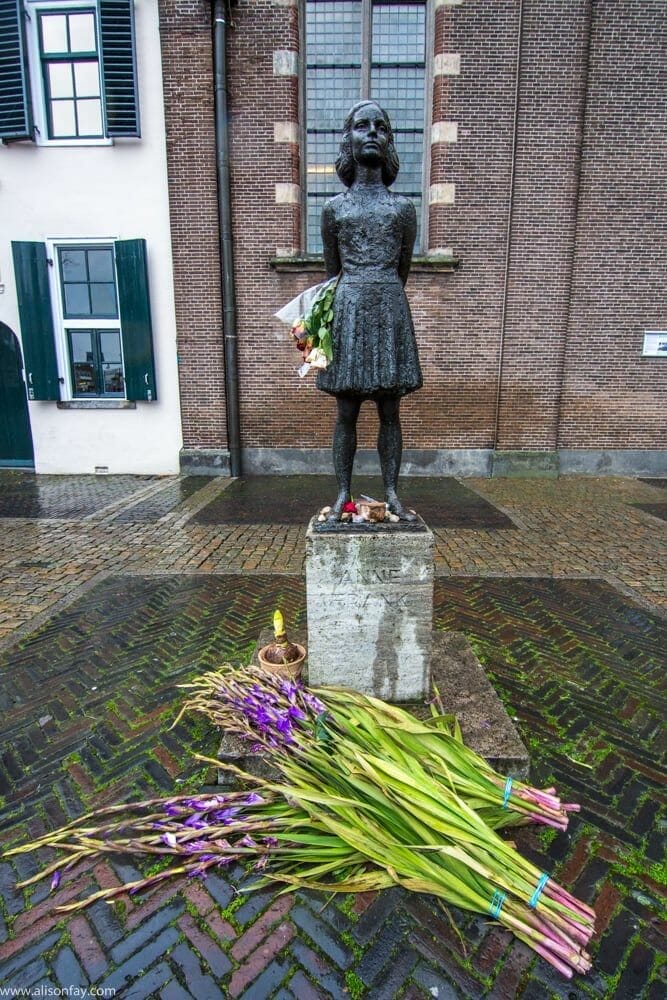 The Statue of Anne Frank
Located in front of Janskerk, stands a brass statue of Anne Frank. The statue is in memorial for those persecuted in World War 2 in The Netherlands. Most days, flowers are placed in front of the statue or in her hands. Anne Frank is a national symbol in The Netherlands and the face of the Holocaust. The statue gives a place in Utrecht for us to remember those who lost their lives in World War 2. When passing by the statue, it is worth stopping and taking a moment of silence to just pay our respects and remember those who lost their lives in World War 2.
Betje Boerhave Museum / Museum Voor Het Kruideniersbedrijf
This cute little museum is dedicated to a woman called Betje Boerhave who owned a grocery store in the 19th Century. Downstairs is a traditional sweet/candy shop, selling a range of traditional Dutch candies including old-fashioned liquorice. The museum is located upstairs. Sadly the museum has no disability access. The museum has a variety of products from the 19th century, and the Second World War as well as different shop equipment such as an old-fashioned scales. Entrance to the museum is free. It is run by volunteers and funds itself through the sweet shop.
Frietwinkle – the best fries in Utrecht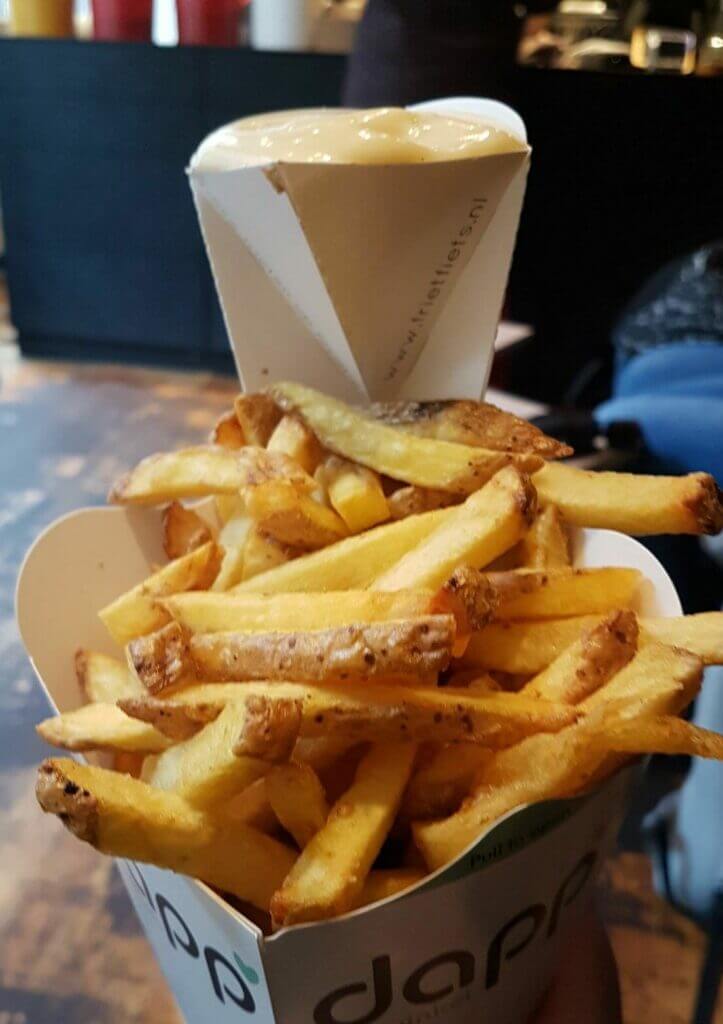 If you're after some good fries, then I recommend visiting Frietwinkle. The fries are delicious and taste like the original Belgian fries. They're freshly made, with the skins left on which makes them extra crunchy and adds to the taste. There's a range of sauces available. I opted for a large portion, with mayonnaise. The snack bar is quite popular, so there is sometimes a queue but it is definitely worth the wait.
Frietwinkle is located near Oudegracht. It is about a 10-minute walk from Utrecht Centraal Station.
Neude Square in Utrecht
One of Utrecht's most famous squares, Neude is among the main hubs for drinking in Utrecht. This makes the historical square the perfect place to finish off your visit to Utrecht. While in Neude, you can make use of the unlimited internet available from DE Cafe (At the time of writing). The post office in Neude Square is the main historical feature. Designed by J. Crouwel and built in 1924, the Post Offices is a great example of Dutch Art Deco architecture.
Hope you found this guide to Utrecht helpful. Please get in touch if you have any suggestions on things to do that you'd like me to share.
More Travel Tips & Resources