No matter what time of year you visit Bristol, you'll find plenty of things to do in Bristol with your kids. From parks and museums to boat rides and wildlife, this city has something fun for every child or family looking to enjoy an action-packed trip abroad. So if you're looking for the best activities in Bristol with kids, look no further than these ten options to get started on your trip planning!
Visit Bristol Museum and Art Gallery
Bristol is well known for its museums and art galleries. One of these museums is Bristol Museum and Art Gallery, a great place to visit if you're looking for a fun activity on a rainy day. Both the museum and art gallery have free exhibits for you to enjoy, with paid exhibits taking place throughout the year.
Visit the M-Shed
The Bristol M-Shed is a great place for families. It's a museum dedicated to Bristol's engineering and maritime history. The interactive exhibits are fun and engaging. There's also a small arcade for kids – who doesn't love an arcade? – that includes boats that children can take out on a virtual harbor. You can pay a small additional fee for rides on John King, a real tugboat that spent 35 years towing on the river.

For more information, check out their website here.
Explore Bristol Harbourside by Boat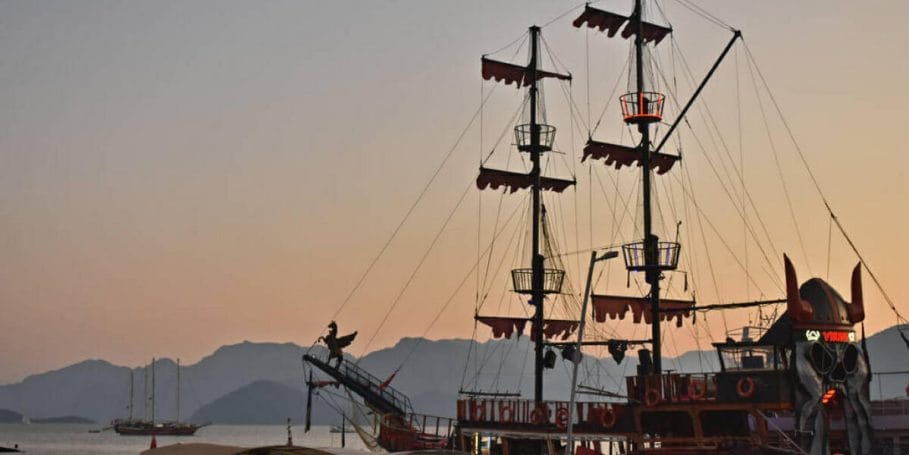 If you want to see Bristol Harbourside but are short on time, opt for a boat tour. There are boat tours that offer everything from quick jaunts around just one side of the harbor to full-day tours that take you around both sides of Bristol's harbour. There's a selection of boat ride companies you can pick from, such as Avon River Cruises and Bristol Packet.

You can also take a ride on The Matthew of Bristol, which is a modern reconstruction of the original Matthew said to Newfoundland in 1497 by John Cabot. There's a range of trips on offer, such as a trip around the Harbour that takes around 45 minutes, or a 3-4 hour trip along the River Avon which travels along Avon Gorge and under the Clifton Suspension Bridge.
For more information on riding the Matthew, visit their website here.
Visit SS Great Britain
The SS Great Britain is a historic steamship and was the world's first propeller-driven ocean liner when it entered service in 1845. The ship served as a passenger ferry for almost 70 years before being converted into a museum ship. Since opening in 1984, she has been featured on postage stamps and received national historic status. Visiting her is truly an inspirational experience—don't miss out!
See Concorde at Aerospace Bristol
If you're visiting Bristol for any reason—particularly if you have kids along—you can't leave without paying a visit to Aerospace Bristol.
The museum houses over 200 aircrafts and artifacts, including the Concorde plane. Visitors can look at different types of planes, aeronautic technology and aviation history as well as walk through the Concorde plane and see inside the cockpit (although you're not allowed to walk inside).
The Aerospace museum is a good place for families with children who have an interest in aircrafts or just want to have a fun day out together. There's plenty on offer here for both adults and children alike, so it's a great trip for everyone!
Explore Asthon Court Estate
Ashton Court estate is one of the most beautiful estates in England. The estate was established by the Duke of Beaufort, and has been carefully maintained since. The estates grounds contain a mixture of meadows and woodlands, and are home to a variety of wildlife including the red deer, which are only seen in certain areas of the UK.

The estate hosts a number of events throughout the year, including open air plays, Bristol Balloon Fiesta and firework displays. If you're looking for a fun and family-friendly outing, then check out Ashton Court.
Watch an independent film at the Watershed
Bristol's Watershed is home to an independent cinema showing some great films. Try out a new genre or catch up on that classic you never got around to seeing. Whether you choose art-house classics or first-run blockbuster flicks, you're sure to find something for your personal taste at The Watershed.
The cinema has screenings throughout the week with a range of screening types, to cater to all visitors. This includes screenings with audio descriptions or descriptive subtitles, subtitles, socially distanced, baby friendly screenings for babies up to 12 months and relaxed screenings that are suitable for those with additional needs.
The Watershed also has a café and bar, so you can enjoy something to eat and drink while waiting for your film to start.
Discover Bristol Cathedral
Bristol Cathedral is a gorgeous attraction with beautiful architecture and beautiful artwork. The 12th-century spire is not only a major landmark for Bristol but also stands as one of the finest examples of Norman architecture in Britain. Visitors are always impressed by its charming ambiance. If you're looking for fun things to do in Bristol, there are few better places to visit than Bristol Cathedral. Take your family on a Sunday morning service or watch an organ recital during any other time of day. Whatever you end up doing, you'll enjoy every moment here!

Watch a show at the Bristol Hippodrome Theatre
Another must-see attraction is Bristol Hippodrome Theatre. Not only is Bristol's Hippodrome a historic piece of architecture dating back to 1894, it's also home to a wide variety of theater performances.
Their productions include everything from classic comedies and Shakespearean dramas to popular musical acts like Ronan Keating and Beverley Knight. It's definitely worth checking out if you want some culture or entertainment while visiting Bristol.
One note: make sure you buy tickets as far in advance as possible; many shows sell out fast!

To find out what's on, and to book tickets visit ATG Tickets.
Explore Clifton's Observatory's Giants Cave
Clifton's Observatory's Giants Cave, also known as Ghyston's Cave, is another one of Bristol's hidden gems, and is one of the more unusual unique places to visit in Bristol. Plus, it's family-friendly so you can explore this cave with the kids. This large cavern provides a glimpse into Bristol's geological past, while offering the only viewing platform that overlooks Avon Gorge and Clifton Suspension Bridge.

Sadly, the caves are not wheelchair accessible and I don't recommend visiting them if you have limited mobility. This is due to an uneven surface, and stairs, and quite a long trek down through the cave system to the viewing platform. To find some alterantive wheelchair accessible attractions in Bristol, check out my guide on wheelchair accessible places to visit in Bristol.

Entry to the caves, is reasoanbly priced at only £1.50 for children age 4 to 14, and £3 for adults. You can also combine a visit to the cave, with a visit to the Clifton Observatory's camera obscura. Combination tickets, for adults are only £5, and £2.50 for children (under 14). Prices are as of November 2021 and may change at any time.
Book your tickets early because there is limited space, and due to covid there may be even more restrictions on how many people are allowed in the cave at one time. You can book tickets, and view information on the attractions on the Clifton Observatory website here.
Walk over Clifton Suspension Bridge
The Clifton Suspension Bridge is a stone arch bridge spanning 276 ft (84 m) across Avon Gorge, linking Clifton in Bristol to Leigh Woods in North Somerset. It was designed by architect Isambard Kingdom Brunel and completed by 1864. The bridge has been designated as a Grade I listed building and is now owned and maintained by the Royal Society for the Protection of Birds (RSPB). It is also a Scheduled Ancient Monument and a UNESCO World Heritage Site.
Driving over Clifton Suspension Bridge carries a toll, however walking across is free! So why not park up nearby, or take a bus and enjoy a stroll across the bridge while enjoying the views over Avon Gorge?
Shop at Cabot Circus
Cabot Circus is one of Bristol's most popular shopping destinations, boasting over 170 retail outlets across 6 floors. There are many options for food and drink here too, so it's an ideal place to meet up with friends or family after a long day of sightseeing. Cabot Circus is located in central Bristol, making it easy to access by foot, bus or car.
Visit Arnos Vale Cemetery
Arnos Vale Cemetery is a hauntingly beautiful place and is also one of Bristol's most interesting attractions. You can see some beautiful gravestones and memorials or simply wander around looking at all of the graves – particularly eye-catching ones – and learn about local history.
The cemetery houses some of Bristol's most famous residents – Isambard Kingdom Brunel and Daniel Whiddon, founder of Whiddon Milk. It's a lovely place for a picnic lunch and a wander around. Also of note is that William Blake, author of Jerusalem, is buried here—he passed away during a cholera epidemic that swept across 19th-century England.
Fun fact: Arnos Vale has been used as a filming location for many films including Harry Potter and The Remains of The Day!
Visit Arnolfini Arts Gallery
Bristol's Arnolfini Arts Gallery is a contemporary arts centre that houses a busy programme of exhibitions and projects as well as a café, bookshop and education suite. Check out an exhibition by one of their resident artists or come along to one of their family-friendly events, including art workshops for kids. You can even get involved yourself; Arnolfini hosts open art days on Sundays where you can get creative with crafts and activities. The café serves locally-sourced seasonal food for lunch and light meals plus barista coffee throughout the day (and there are some sweet treats on offer too). The combination of art exhibitions, great food and drinks make Arnolfini one of Bristol's top things to do in bristol for families.
Visit the George Müller Museum
The George Müller Museum is a testament to one man's selfless devotion. It all started in Bristol, when George Müller visited a young family who had just lost their newborn daughter, and was overcome by grief. The grieving father said that his daughter's death wasn't fair. George answered: No, it isn't fair, but God is faithful! This short conversation started a sequence of events which would change history—for thousands of orphans were saved through his work at Bristol Orphanage. Today visitors can learn about Müller's life on site and see what life was like for children growing up there.
Chill out at College Green
College Green is one of Bristol's most iconic landmarks, hosting events like St. Patrick's Day celebrations and open-air concerts. At all other times, you can simply enjoy wandering around its historic architecture. When it's time for a bite to eat, grab a quick sandwich at Café Gusto or pizza from Millies Pizzeria—both are just across College Green. Also on College Green are several historic museums, including Number One Cabot Tower, where you can learn about Bristolian history. Across College Green is Morgan's Cave—the last remaining part of Tyndall's Caverns, which have been turned into an underground nightclub.
Explore the shops at St Nichol's Market
St Nichol's Market is just down the road from Bristol Cathedral, and it's perfect for spending a couple of hours browsing through all of its quirky shops. Whether you're looking for vintage clothing or want to try some tasty street food, there are loads of stalls set up outside – giving visitors plenty of choice. If you'd rather spend time inside, there are also lots of cute cafes where you can grab a coffee while your kids run around. The market opens on Saturday morning at 10am, so it's easy to drop by when you're already out and about. Toilets are available in St Nicholas Market itself (next door), along with free parking for parents if they pop into Costa next door beforehand!
Enjoy a stroll through Castle Park
Bristol's Castle Park is a wonderful place for an outdoor stroll. It's home to an array of flora and fauna, including deer and peacocks, and houses some beautiful sculptures as well. The park is especially beautiful at sunset. It's a great place for a picnic and offers many play areas and playgrounds for children.
Visit Airhop Bristol
Airhop. Airhop is an indoor trampoline park, which is guaranteed to be a big hit with energetic youngsters. With its huge open space and variety of activities, it also makes a great place for older children who are getting bored of traditional playgrounds. Airhop is also great for adults, with hundreds of trampolines to bounce around on.
Airhop Bristol is located by Cribs Causeway, so why not combine it with a shopping trip to The Mall?
Shop at The Mall, Cribs Causeway
The Mall, Cribs Causeway is Bristol's premier shopping centre for retail therapy. With over 130 stores including John Lewis, Next and Marks & Spencer it's hard not to find something you like. Or why not treat yourself at one of The Mall's 5 high-end beauty shops?
Getting to Cribs Causeway is easy. You can either drive, and park for free in one of the thousands of parking spots including disabled parking bays for blue badge holders. Cribs Causeway is also accessible via buses 7-8-22-23-24-25/A35/X39, which depart from Temple Meads Train Station.
To find out more about The Mall, view their website here
I hope you have found this guide to Bristol useful, and have discovered som fun places to visit. If you're a wheelchair user or have accessibility needs, check out my guide to wheelchair-friendly places to visit in Bristol. If you're looking for other places to visit nearby, make sure to check out my guide to Bath, and Somerset.