If you're traveling to Italy and want to stay online so you can use things like Tiktok, Google Maps, etc but want to avoid data roaming charges? Then I recommend buying a prepaid local sim card, eSim or travel sim card for Italy.
Data roaming can be extremely expensive but thanks to travel sim cards, eSims, etc you can easily save a lot of money and stay connected. Rome Fiumicino airport has some good sim card plans available if you want to get connected soon as you land. But the best-prepaid sim cards are normally found online or in the city. Getting data in Italy doesn't have to be expensive, and if you know where to look you can get the best prepaid sim card for Italy.
If you're coming from another EU country and already have a sim card you should check whether you have any data allowance left to use during your visit to Italy. Some sim card plans do limit how much data can be used in other countries so make sure you check the EU data roaming allowance before you arrive in Italy.
When I visited Italy, I was only allowed to use 12 GB data of from my Three Unlimited data plan before they'd start charging me. Some countries may have a higher or lower limit depending on how your country interpreted the EU data roaming laws.
If you're coming from the UK and have a UK sim card, make sure to check what the data roaming limits are. Since Brexit, most networks have started charging for roaming. Some networks like EE and Vodafone let you add it to your contract as a monthly add-on. Some include roaming for some plans such as O2 and BT. So make sure to check before leaving whether your plan includes roaming, and the limits.
If you're on a network like EE or Vodafone that has monthly add-ons for data roaming, you might find buying a local sim card is cheaper. For example, Vodafone charges £2 per day for roaming if your plan doesn't include 4 Xtra benefits. For a 2-week trip, that'll be £24 which can be more expensive than just getting a local sim card.
What to know before buying a sim card in Rome
Before you get a sim card in Rome, first be aware that to buy a sim card at the airport, in a store (including Wildtre, Vodafone and TIM), or online from TIM you will need to show your ID. They normally require a foreign ID such as your passport. So make sure to take your passport with you when buying ga pay-as-you-go sim card in Italy. To avoid this, you can buy online only sim cards that are shipped to your home country address.
Next: Make sure your phone is compatible with Italian networks. If you're coming from an EU country then chances are it will be compatible but if you're coming from outside the EU (especially the USA), make sure to check if your phone is compatible. If you do get to Italy without checking this and find you cannot use your phone, you can always hire a mobile wifi.
You must make sure your phone is unlocked so that you can use another network provider's sim card. If it isn't unlocked, you'll need to contact your network provider and ask them to unlock it for you. If for some reason they won't unlock it, you could always hire a mobile WiFi or pick up a cheap unlocked phone such as a Moto G Power.
If you want to use an eSim instead of a physical sim card you'll also need to check whether your phone supports eSims. Most modern phones do, but some variations won't be able to. Check this list to see if your phone supports eSims. If your phone does support them, then make sure to check out the eSim plans I mention later in this guide.
You should also check whether your phone is compatible with the Italian phone networks. Most popular brands, such as an iPhone, and Samsung Galaxy will be compatible but it's always worth checking. To be able to use an Italian sim card, check that your phone can use any of the following network technologies:
900/1800 MHz GSM (GPRS, EDGE)
900/2100 MHz UMTS, HSDPA, HSUPA, HSPA+, DC-HSPA+
800/1800/2100/2600 MHz LTE, LTE-A
If it can use any of the above, then you'll be able to use any sim card that uses the Vodafone, TIM or Wind Tre phone networks.
If your phone can use any of the below technologies, it'll be able to connect ot the Iliad network:
900/2100 MHz UMTS, HSDPA, HSUPA, HSPA+, DC-HSPA+
1800/2600 MHz LTE, LTE-A
(Network technology information sourced from Wikipedia, Wikipedia contributors. (2019, October 19).)
Buying a sim card at Rome Fiumicino Airport
If you're flying into Rome Fiumicino Leonardo da Vinci International Airport, and want to buy an Italian sim card before you leave the airport you'll find sim card stores in the baggage collection area in Terminal 3, and the Terminal 3 Arrival Hall. If you can, I highly recommend waiting until you've left the airport to buy a sim card as purchasing a sim card at the airport is really expensive.
Need to book a flight?
I recommend using Expedia to find cheap flights. Compare multiple airlines to find the cheapest tickets.
If you do want to buy the sim card a the airport then here are some tips:
Within the Terminal 3 Arrival Hall, you will find 2 sim card stores, one for Vodafone, and the other for Lyca Mobile. Vodafone is one of the more popular networks in Italy and has good 4G and 5G coverage but their airport pricing is hiked up and is one of the most expensive sims in Italy.
When I passed through, they were charging 50 euros for a Vodafone Italy sim that would cost you 10 euros outside of the airport! Lyca Mobile offers cheaper plans than Vodafone, and if you're planning on phoning home you'll benefit from their cheaper international phone calls.
In the baggage collection area, you'll find a Tutto store that offers sim cards and mobile hotspots. But once again, their prices are really hiked up.
If you're traveling into other areas of the EU, make sure to check what data roaming allowances are included in these operators' plans. Some of the sim cards for sale in the airports have low data limits when you travel outside of Italy.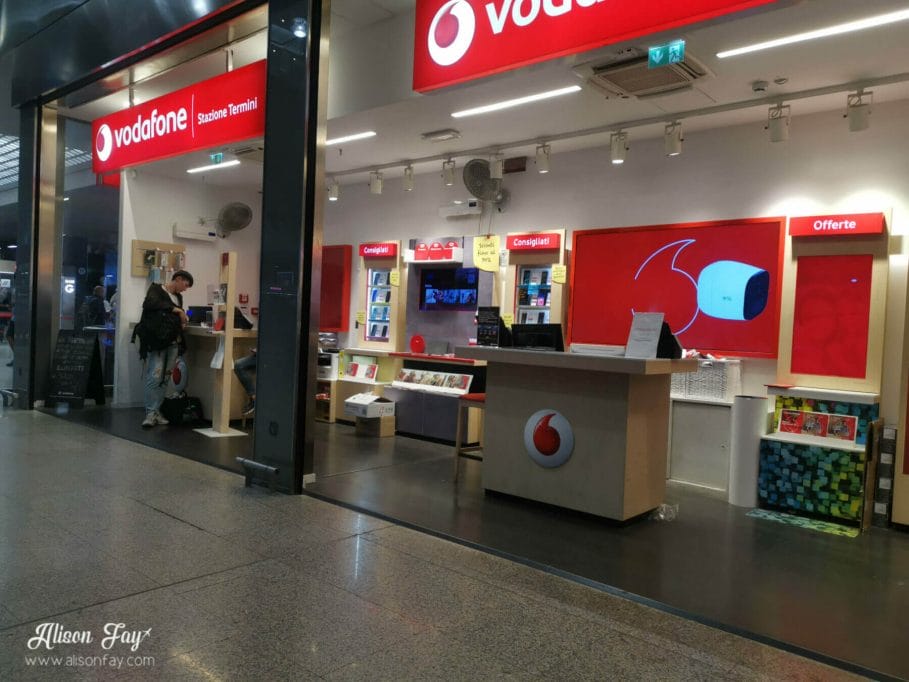 Buying an Italian sim card in Rome
Buying a sim card within Rome is so much cheaper than buying one at Rome FCO airport, and there are so many more options. Plus, you can top up sim cards purchased within Rome whereas the airport sim cards cannot always be topped up.
Within Rome's city center and around the outside of Vatican City, you will find loads of stores selling TIM sim cards, Vodafone Sim Cards and Lyca Mobile sim cards. You'll also be able to find sim card stores in some of the bigger train stations.
If you're taking the train to central Rome, and are getting off at Roma Termini, you can pick up a sim card within the Roma Termini shopping area from one of many sim card stalls such as TIM and Windtre.it (formally Wind and tre.it, they merged together in 2020).
Here's some of the sim card offers available:
Windtre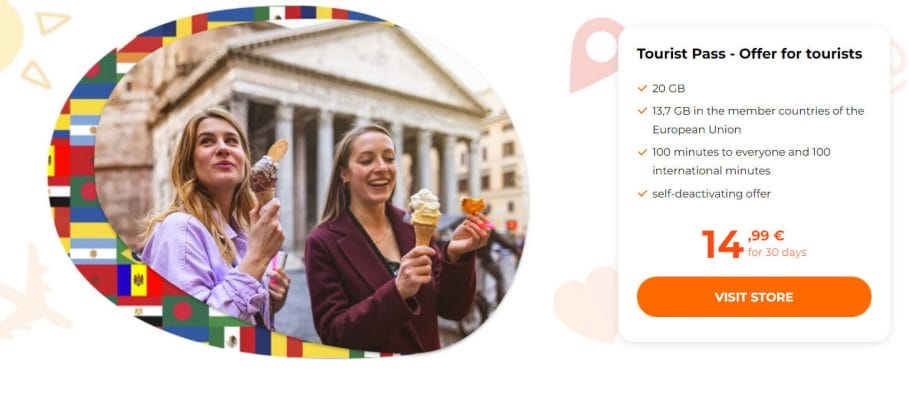 Windtre sell prepaid sim cards for tourists. They have a plan that includes 20GB of data, 100 minutes within Italy, and 100 international minutes. The sim card lasts 30 days and costs 14.99 euros. This plan includes data roaming in other EU countries, you can use up to 13.7GB of your 20GB allowance in other EU countries. This is such a good deal and easily one of the best prepaid Italy sim cards available for tourists.
You need a foreign ID such as your passport when buying a sim card in Italy so make sure to take one to the store with you. Jf you forget your ID they won't sell you a sim card so make sure to carry it on you.
Vodafone:
Vodafone is one of the best Italy sim card options, as they offer good prices plus great 4G and 5G coverage. Below is a map showing their coverage across the whole of Italy. So even if you're traveling outside Rome you can pretty much guarantee you'll have a decent phone signal in most of Italy if you chose to use Vodafone.
For 2023, Vodafone Italy has some decent offers that are available for tourists. Their main tourist sim card is called Dolce Vita and includes 600 minutes, 30GB of data (15GB can be used within other EU countries), and unlimited usage for WhatsApp, Waze, Instagram, etc for 24.99 euros a month.
They also offer some data-only plans which are great for tablets and mobile wifi devices. These plans are:
29.99 euros (no activation fee) for 300 GB of data that lasts for 3 months.
9.99 euros a month, for 50GB of data per month
13.99 euros a month for 100GB of data per month
Vodafone Italy also offers some sim cards which may be available in their stores. You can't order these online without an Italian tax ID but you may be able to buy these in-store when showing a foreign ID. These plans have a one-off activation fee of 6.99 euros which is not included in the plan cost. They also auto-renew, so you have to cancel the plan on either Vodafone.it or the My Vodafone Italy App.
For under 25s – 9.99 euro a month for 100GB 5G Data, Unlimited minutes + texts, unlimited minutes to EU countries.
Red Max – 19.99 euro a month, for 100GB 5G data, unlimited minutes + texts, unlimited minutes to EU countries.
Red Pro – 14.99 a month for 50GB data, Unlimited minutes and texts, and unlimited minutes to EU countries.
For under 16s – 9.99 a month for 100GB 5G data, unlimited minutes and texts, unlimited minutes to EU countries
Infinite – 24.99 a month for unlimited data, unlimited minutes and texts, unlimited minutes to EU countries, and 1000 minutes to non-EU countries
You do need a foreign ID, so make sure to take your passport along with you to the Vodafone store.
TIM Italy Tourist Sim Cards
TIM is another good network, with only slightly less coverage than Vodafone but if you're staying in large towns/cities this isn't a problem.
TIM offers a 4G only Tourist Sim card that costs only 14.99 Euros that includes: 50GB of 4G Mobile data for Italy, and 200 minutes for calling Italy and abroad. The sim card lasts for 30 days.
The tourist sim card has to be purchased online here using PayPal or a credit/debit card. Before you can use a sim card purchased from TIM, you need to go to a store to collect it. When you've ordered the sim card you'll be given a pin code, take this along with your passport to a TIM store to collect your new sim card.
They also offer the following prepaid sim card plans:
TIM in Viaggio Pass: 10GB Data, 500 minutes, 500 texts for 20 Euros – lasts 30 days and works in Europe, USA, Canada, and Brazil
TIM in Viaggio Pass MONDO: 2GB Data, 200 minutes, 100 SMS – Lasts 30 days and works in 85 non-EU countries (not the USA, Canada or Brazil)
Buy an e-Sim card for Italy online
eSims are a great alternative to a physical sim card so you just download them onto your phone. There's no hassle of using the sim card ejector tools or the risk you'll lose your normal sim card. They also don't require ID, so if you want to avoid the hassle of needing to go to a phone store in Italy with your ID to pick up a sim card then I recommend getting an eSim. It also avoids the hassle of getting a sim card at an airport and paying the stupidly high fees they charge at Rome Airport for basic sim card plans.
There is one major downside though. Travel eSims only let you use data, they don't include minutes or SMS so you won't be able to use your phone in Italy to call/text friends if you get an eSim. But as long as you keep your normal sim card in your phone, you can still receive important calls/texts from banks, doctors, etc.
I personally recommend using Airalo. They're the best eSim provider I've used so far and have local esim cards for 200+ countries. They also have regional eSim cards, and global eSim cards that both work in Italy. They're also fairly affordable, starting at $4.50 for 1GB for their Italian sim cards. If you need a lot of data, you can easily renew the eSims through their app when your data has run out.
Here's the list of eSim cards they offer for Italy: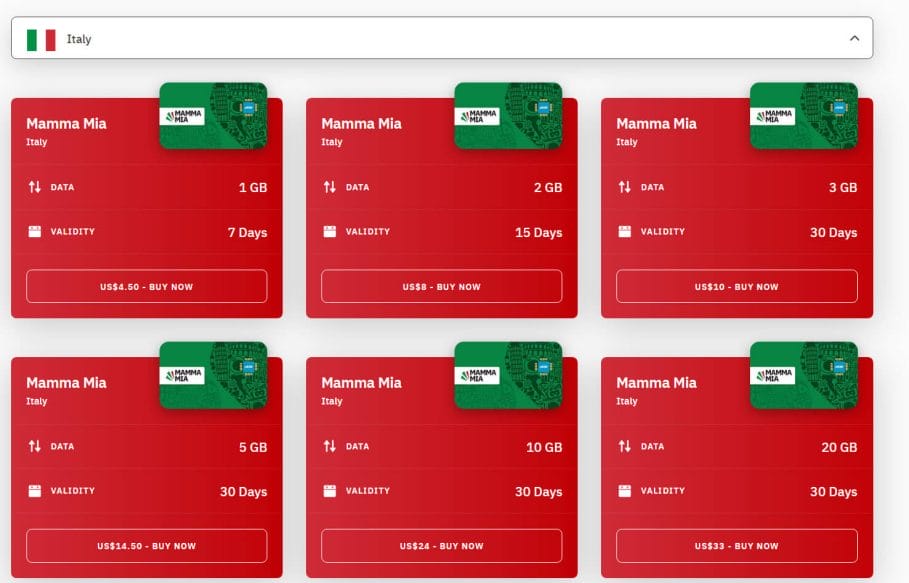 If you're visiting other countries you could consider one of their regional e-Sim cards, such as their European regional eSim. Their European regional sim card goes up to 100GB of data as well so if you're a high data user, you won't need to renew the card so often.
Their European regional eSim has the following plans available:
If you'll be traveling outside of Europe, you could consider getting one of their global eSims which are one of the best prepaid international sim card options for travelers.
Airalo has the following eSim global plans available:
Get an Italian Sim Card Online
Another way of bypassing the ID check or hassle of needing to find a store, is to order a sim card online. You can choose between data-only sim cards or sim cards that also include texts + minutes.
Three Mobile's prepaid sim card works for 30 days within Europe, including Italy as well as the USA, Australia, Hong Kong, Singapore, New Zealand & more.
The offer does vary depending on Three Mobile's latest pay-as-you-go offer. You receive the equivalent of their £10 pay as you go sim card offer which for 2023 is 10GB Data, and unlimited calls+texts but this can decrease/increase. If you're in the UK/Visiting the UK you can save some money by ordering this sim card from Amazon.co.uk.
Orange's prepaid sim card offers 14 days of 20GB 4G data within Europe, including Italy, plus 120 international minutes and 1000 international texts for use within Europe. While the credit only lasts 14 days, you can top up the Orange sim card online. This sim card only includes 4G data so if you do want 5G you'll need to consider an alternative.
Another option is SIM2ROAMs Prepaid Europe Data Sim card that gives you 10GB of data for 30 days. This sim card lets you use 5G or 4G data, depending on what your phone supports and what networks are available. The sim card will connect to 5G whenever it is available in Italy, so you'll get the fastest speeds whilst you're in Italy and other large cities. Plus you'll be able to continue roaming in other countries in Europe.
Renting a portable WiFi in Rome
If you're traveling as a group, or have multiple devices you might find a portable Wifi is cheaper than buying multiple sim cards. Plus, it means you can keep your own normal sim card in the phone so if you only have 1 sim card slot you don't have to worry about being unable to receive authentication texts from your bank, etc.
You can rent an unlimited 4G portable wifi, that supports up to 10 devices online. It'll be delivered to your accommodation so make sure you can receive parcels. I recommend ordering it to arrive the day before you arrive just to make sure it does turn up as there can be postage delays.
If you'd prefer to buy a portable WiFi, then there are a few options that include roaming.
You could get the GlocalMe 4G portal WiFi which works on up to 10 devices, in 140 countries. It doesn't use a sim card so there's no worry about getting sim cards in multiple countries.
They also offer a 5G mobile WiFi, which has a larger battery at 5000mAh capacity and supports up to 16 devices. When you buy the device brand new you'll get 1.1GB fo 5G Global Data and 8GB of 4G Data for use in the USA, Canada or Mexico. The included data is only available for 30 days after activating the device. Check out the 5G Mobile WiFi device here.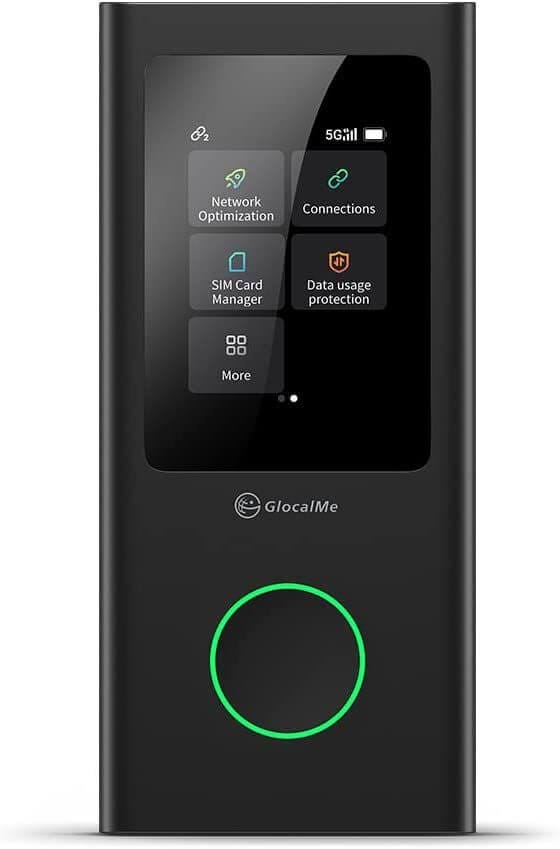 After your initial offer expires you can buy more packages. GlocalMe sells a range of passes for Italy on their website that lasts for 1-month. These passes offer unlimited data at a capped speed and a limited amount of data at a higher 4G for the cheaper packages or 5G if you opt for the 5G package. These plans start at 50 euros a month.
You can also hire a GlocalMe portable WiFi through their website, but these are quite expensive. They have a minimum 5-day rental and their cheapest plan is $8.99 a day for 1GB 4G data and unlimited 3G.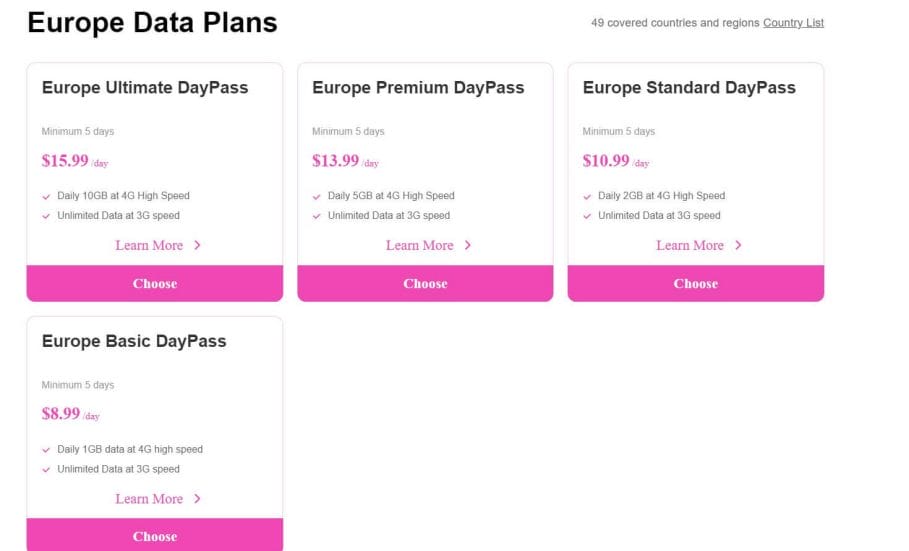 You could also consider one of the pocket WiFi devices or sim card plans listed below:
If you're interested in getting an international sim card for travelers, then I recommend checking out my guide to the best prepaid international sim cards. International sim cards are a great option for frequent travelers as they work in most countries and remove the hassle of needing to buy local prepaid sim cards in Italy or other countries.
I hope this sim card guide helped and that you've been able to find the best sim card for Italy that suits your needs. If you're visiting other countries and need a sim card for them, make sure to check out my other sim card guides including Amsterdam, and London.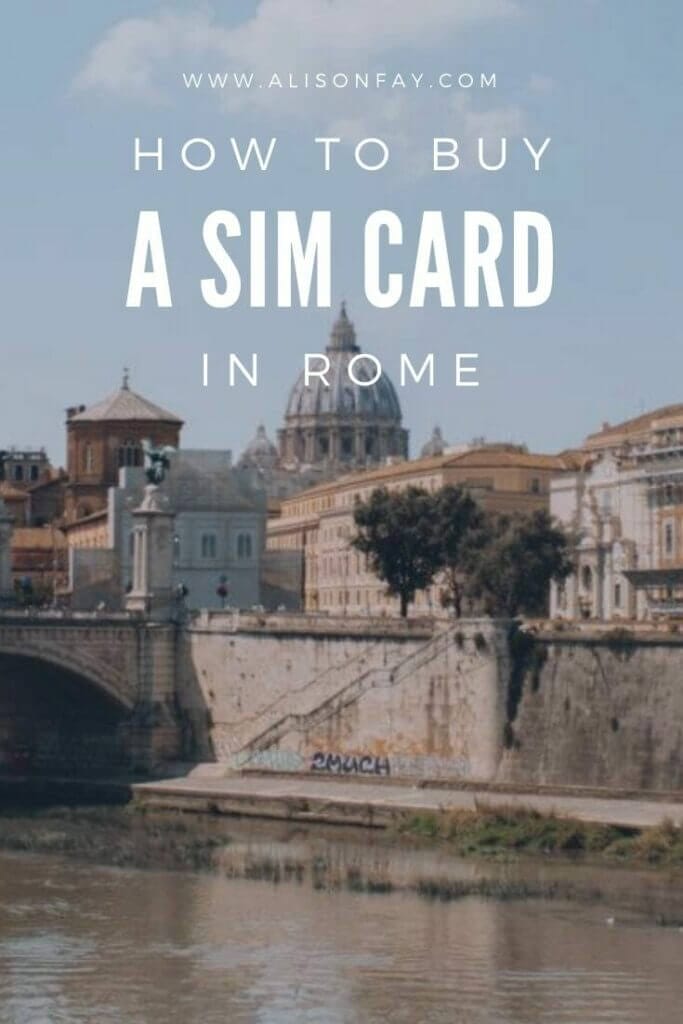 Sources:
Wikipedia contributors. (2019, October 19). List of mobile network operators of Europe. In Wikipedia, The Free Encyclopedia. Retrieved 10:01, October 21, 2019, from https://en.wikipedia.org/w/index.php?title=List_of_mobile_network_operators_of_Europe&oldid=922092464