When it comes to planning a camping trip, there are a lot of details to consider. One of the most important aspects of planning a camping trip is finding the right campsite.
This is where camping apps come in handy. These apps can help you find campsites, make reservations, and even provide information about the weather and local attractions.
Camping apps are designed to make your camping experience more enjoyable and stress-free. They can help you find the perfect campsite, plan your route, and even provide you with information about local amenities. There are a variety of camping apps available, each with its own unique features and benefits.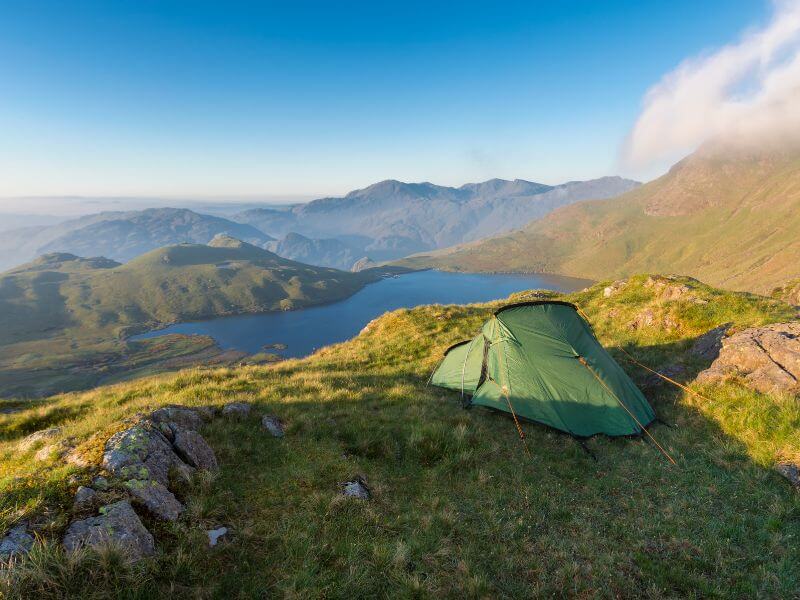 When choosing a camping app, it's important to consider your specific needs. Some apps are better suited for RV camping, while others are designed for tent camping. Some apps may also be more useful for those camping in specific regions or states.
You May Also Like..
Campendium
Campendium is a great app for finding campsites and RV parks. With over 27,000 listings across the United States, you're sure to find the perfect spot for your next camping adventure. The app includes user reviews, photos, and detailed information about each campground, making it easy to find the perfect spot for your needs. You can even filter by amenities, such as pet-friendly sites, showers, and more.
Campendium is free for iOS and Android but you need to pay for the full features.
Maps.me For Offline Maps

Maps.me is an offline map and navigation app that is perfect for travel. You are most likely camping in remote areas where there is no cell service, and having maps to help you navigate is really important. So I recommend getting this offline map app.
You can download apps for each area you are visiting, and navigate using your phone's GPS without needing internet access. You can navigate by car and on foot. The app lets you search for nearby public toilets, shops, and attractions and save them for easy access later on.
Maps.me is available on Android and iOS.
WeatherBug Weather Forecasting App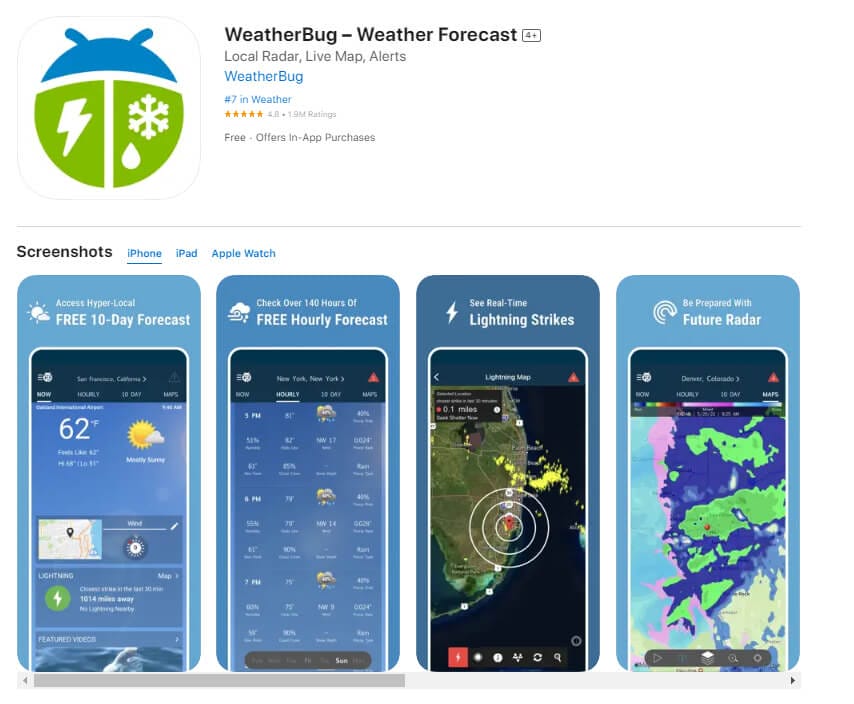 Another important app to have, is one that checks the weather forecast. Knowing the weather conditions can help you plan your activities and make sure you are prepared for any changes in the weather.
WeatherBug is a free app that'll show you a 10-day weather forecast app and lets you check the weather on the radar so you can see where rain/storms are. Plus it also shows lightning strikes. These things are important for avoiding adverse weather. If you're traveling around somewhere like Iceland, which is prone to sudden weather changes I really do recommend getting a weather forecasting app.
WeatherBug is free for iOS and Android.
Survival Guides App
Camping can be unpredictable, and it's important to be prepared for any situation. Having an app that includes survival guides and tips for dealing with emergencies can be handy to quickly refer to in a crisis. These guides can provide valuable information on how to start a fire, find shelter, and stay safe in the wilderness.
There are two apps I recommend depending on whether you use iOS or Android. For iOS I recommend using Survival Manual for Wilderness, and for Android, I recommend using Offline Survival Manual. Both of these apps are free.
Camping Recipes
Food is an essential part of any camping trip, and having access to camping recipes can help you plan your meals and make sure you have all the ingredients you need. Look for an app that includes a variety of camping recipes, including easy-to-make meals and snacks that can be prepared over a campfire or on a portable stove.
If you're using iOS, check out the Trail Recipies App.
If you're on Android, check out this Camping Recipes App.
Overall, a good camping app should provide you with the tools and resources you need to have a safe and enjoyable camping experience. Look for an app that includes these essential features and more to make the most of your next camping trip.
AllTrails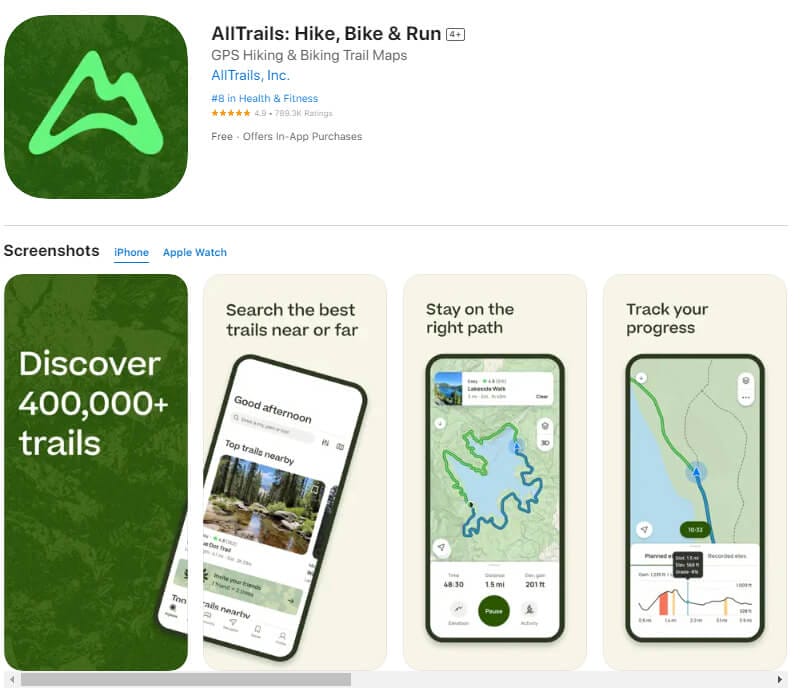 AllTrails is an app that helps you find hiking and biking trails near your campsite. With over 100,000 trails across the United States, Canada, and other countries, you're sure to find a trail that suits your needs. The app includes detailed trail maps, user reviews, and photos, making it easy to plan your next outdoor adventure.
AllTrails is free for iOS and Android. Premium upgrade is optional.
ViewRanger
ViewRanger is a GPS app that helps you navigate while you're out on the trails. The app includes detailed topographical maps, so you can see the terrain and plan your route accordingly. You can also track your progress and share your location with friends and family, so they know where you are at all times.
ViewRanger is free for iOS and Android.
Spyglass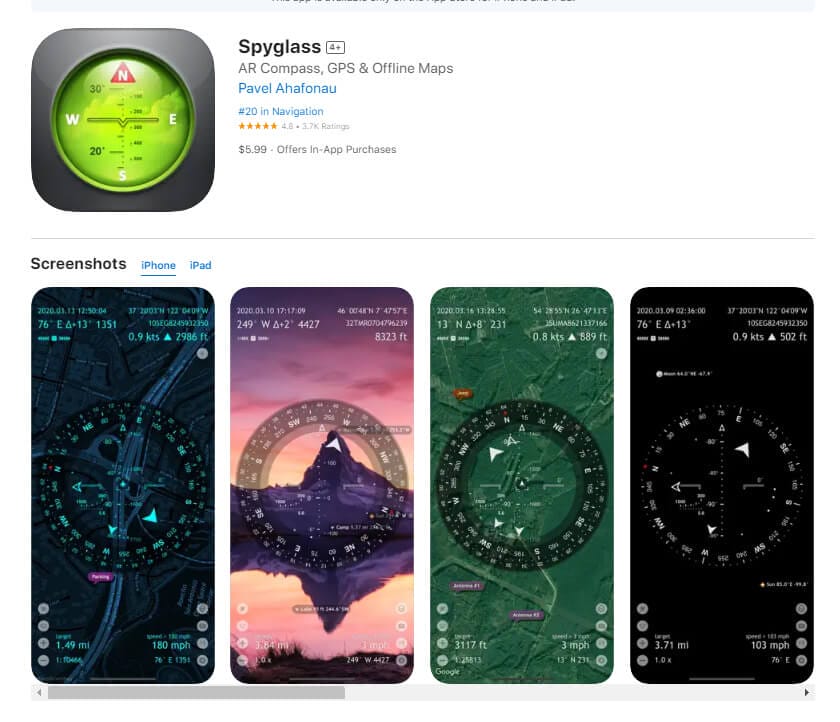 Spyglass is a great app for navigating in the wilderness. The app includes a compass, GPS, and maps, so you can navigate even if you don't have a cell signal. You can also use the app to track your progress, mark waypoints, and share your location with others.
SpyGlass is $5.99 for iOS, and Android.
Allstays Camp & RV for US and Canada
This app offers information on over 32,000 campgrounds, RV parks, and rest areas. As well as information for finding outdoor areas with showers & other facilities. It also offers offline maps and trip-planning features.
RV Parks & Campgrounds for USA, Canada and Mexico
This app offers information on over 40,000 RV parks and campgrounds. It also offers advanced search features and real-time updates on availability. You can find gas stations, stores, rest areas etc on the map.
RV Parks & Campgrounds is free for iOS and Android.
Brit Stops for the UK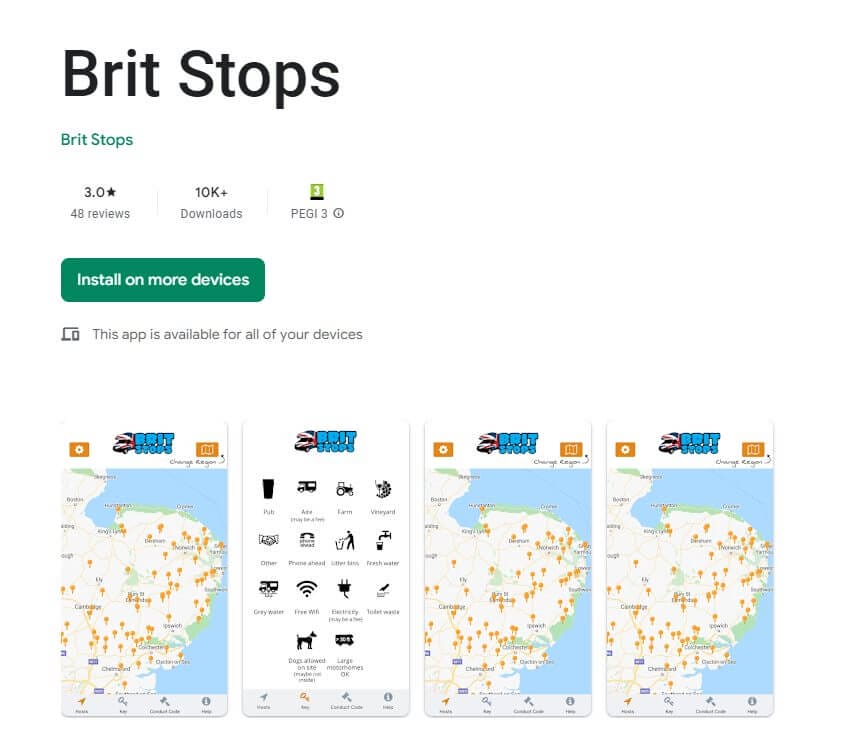 The Brit Stops app is a free app that goes alongside the Brit Stops book. You'll need to purchase a copy of the book, and then download the app. Once you've done that you'll get access to details of over 1100 stops in the UK where you can stay the night in a campervan. This includes pubs, vineyards, breweries and more. Most places do ask that you buy some food/drink in exchange for a free night say.
Brit Stops can be purchased here.
StayFree Vanlife Camping Spots
StayFree lets you search thousands of places to stay in a campervan or those wild camping. The app has information on wild camping spots, campervan stops, RV parks, camp sites, etc for most countries including the USA, Canada, and the UK.
StayFree Vanlife is free for iOS and Android.