When planning a trip to Japan you may be wondering what apps there that'll make getting around Japan easier, booking your hotels & flights, finding things to do, etc.
Luckily there is a range of apps that will help even the most seasoned of travelers with the language barrier, navigating, things to do, finding free WiFi and more. In this guide below I cover some of the most useful travel apps for Japan. Most of these apps are free, usable offline, and most work for Android and iOS devices.
Google Translate (Offline) for Android and iOS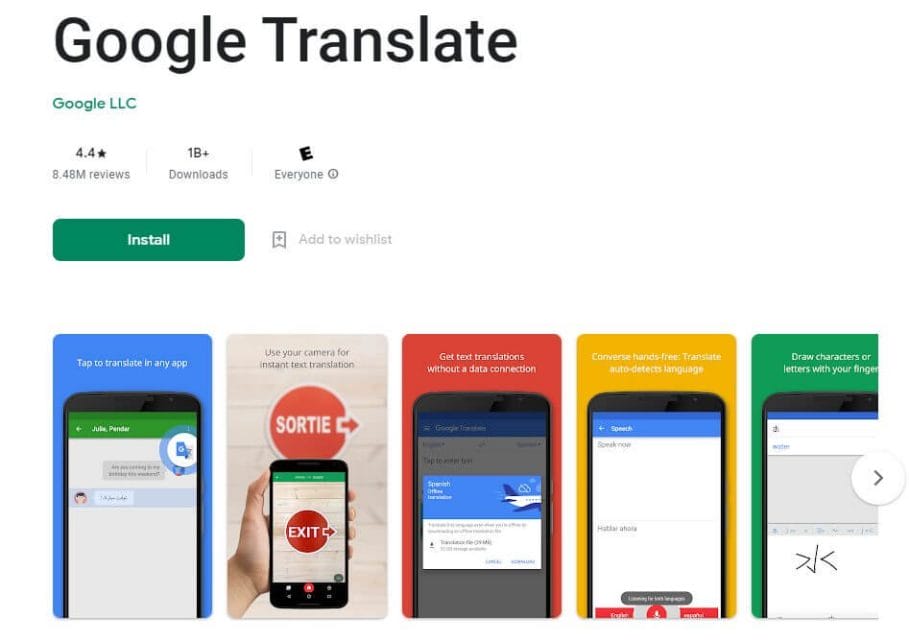 Google Translate is the perfect app for helping get around the language barrier. Google Translate fully works online, with the option to download language dictionaries for offline translation. When online, you can use Google Translate to translate speech, write, type, or take photographs. While offline, you can use the app to translate by typing into it which makes it useful when trying to overcome a language barrier.
Open the app, select Japanese as your chosen language, and hand the phone to the person you are talking to. Not all Japanese people can read and use romaji, so I recommend installing a hiragana keyboard and swapping to it when you open the translate app. If you need to translate a menu, food packets, signs, etc, and have internet access then choose the camera option, to snap a photo, highlight the Japanese text and translate it.

Google Translate is available for both Android and iOS. You can also use it in your browser, here (online only).
Self-guided Walking Tours through GPSmyCity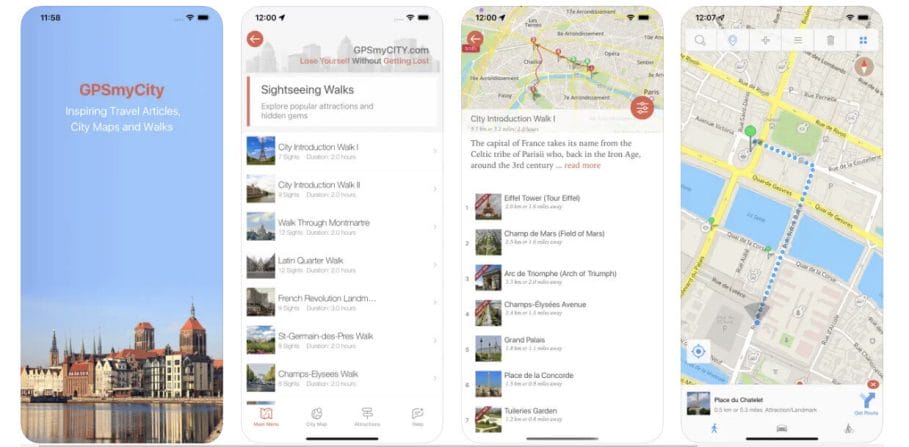 If you're traveling on a budget but want to enjoy a walking tour, then I recommend checking out the self-guided walking tours app – GPSmyCity. GPSmyCity offers a range of self-guided walking tours for different cities including Tokyo, Kyoto, Sapporo, Yokohama and more.
Their app does require a subscription but as you only need to download and subscribe on one phone, it works out much cheaper than a walking tour where oyu need to pay per person attending. The app works offline so you don't end up running up a huge data roaming bill (although I do recommend buying a prepaid tourist sim in Japan to avoid roaming costs). You'll be guided using a map that tracks you via GPS and shares information on each of the different sights you'll be taken through. WIth over 1000+ cities included and tons of features this is easily one of the best walking tour apps for traveling in Japan, and in other countries as well.
GPSmyCIty for Android, and iOS.
Gourmet Navigator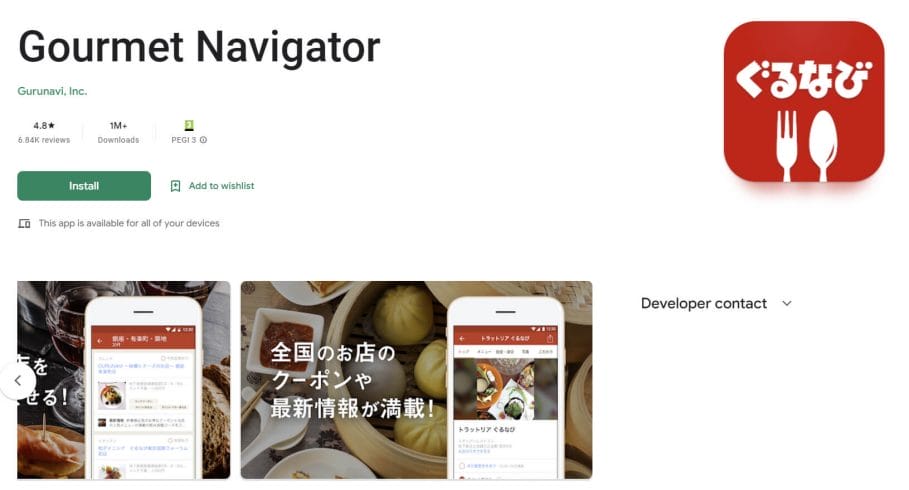 If you're a foodie or just want to find the best ramen in Japan, then I really recommend using GuruNavi as it lets you find the best gourmet restaurants that you can experience in Japan. You can search based on cusine, location, the nearest train station and many other options. So this is one of the most useful apps for planning where to eat, and will make your trip easier.
Note: The app is only available in Japanese but their website is in English. If you cannot speak Japanese, just head to their website here and start searching. Both the apps and the website is free to use. You can download the app for iOS here and Android here.
Japan Connected WiFi for Android and iOS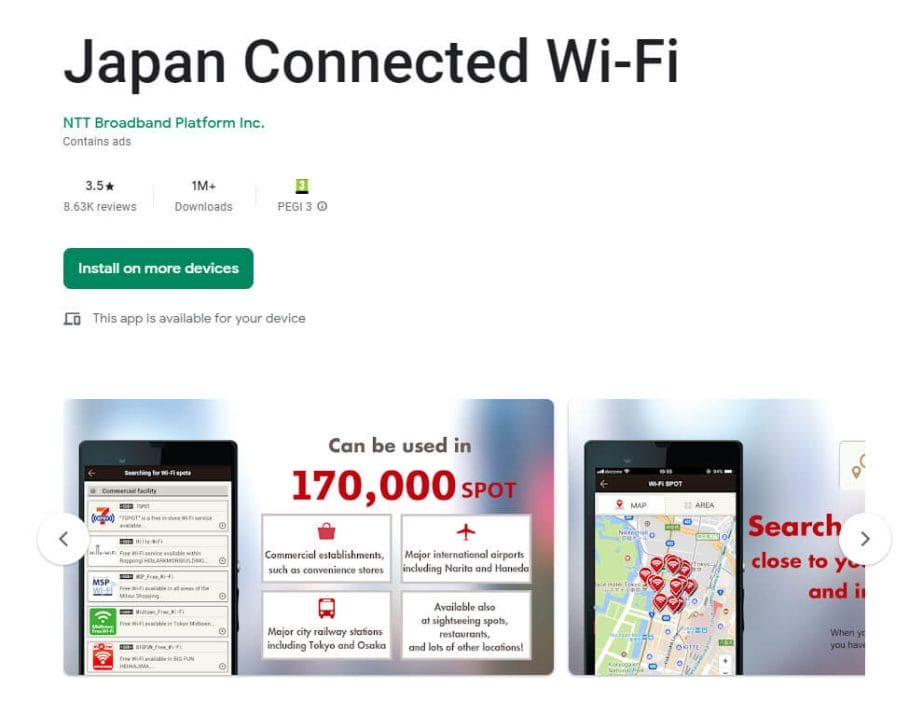 Free WiFi has become more popular and easier to access throughout Japan's major cities, especially Tokyo. Most convenience stores (Lawsons, 7/11), Coffee Shops (Tully's Coffee, Starbucks, etc), train stations, and shopping malls have WiFi.
There are even some shrines, streets, and shopping streets with free WiFi. However, some of these locations require tourists to log in using applications such as Japan Free WiFi. These applications are free to download and register on. But you must register before you are able to connect to the free WiFi with the app. Make sure to download and register before you arrive or at your accommodation using the WiFi there before you head off. Then while you're out and about Japan, you can search for hotspots such as "Free_wifi_passport" to get online.
Alternatively, you could purchase a Japanese tourist sim card, which would let you use data throughout Japan so you don't need to worry about hunting for WiFi.
Japan Free WiFi is available for both Android and iOS.
Maps.me, offline maps for Android and iOS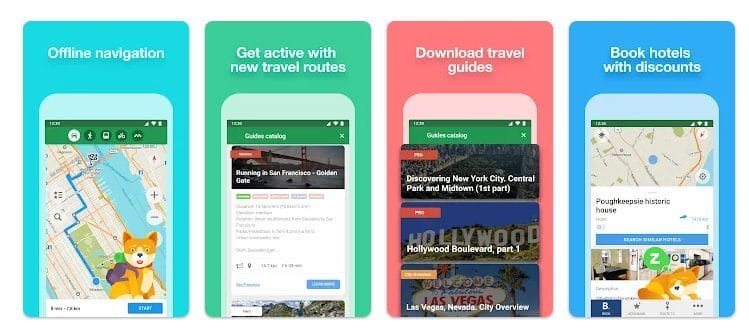 Maps.me is a free offline map app, that uses your phone's GPS to let you navigate while offline. Initially, you must download the maps for each area you are visiting and it is recommended to do this over WiFi due to the large file sizes. Once downloaded, you can navigate offline as long as you are able to pick up a GPS signal. The app can be used for navigating by car, or on foot while offline. The app allows you to look up things such as restaurants, attractions, toilets etc or type in where you wish to go. You can bookmark locations to easily find them later. This application is definitely one of the most useful travel apps for Japan, as it makes navigating the streets of even the smallest Japanese village a breeze.
Maps.me is available for Android and iOS.
Japan Travel – Route, Map, Guide, JR, taxi, Wi-fi for Android and iOS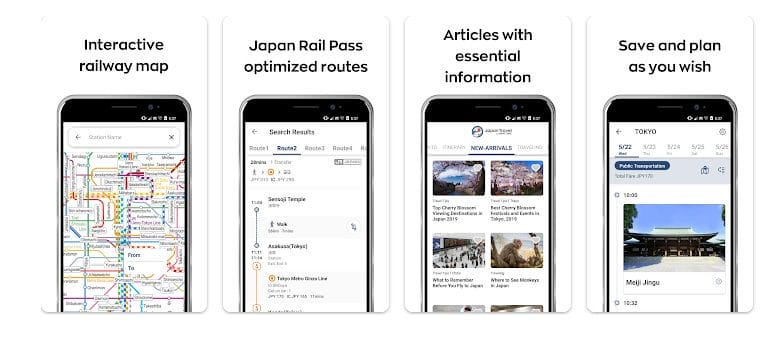 Japan Travel by NAVTIME is a free travel planning app for Japan. It allows you to plan your train routes, and find free WiFi Hotspots, ATMs, and train stations. It also contains free travel guides to help you get online, use public transport and enjoy Japanese culture. The greatest thing about this app, which makes it handier than other train planning apps, is that it allows those using the JR pass to prioritize train routes that will make use of their pass. The app has partial offline functionality for the following search features; Free WiFi hotspots, currency exchange, ATMs, tourist information centers, stations, and "spot locator". The app allows you to save up to 50 train routes for offline access.
Japan Travel is available for both Android and iOS
Happy Cow Vegan Restaurant Finder for Android & iOS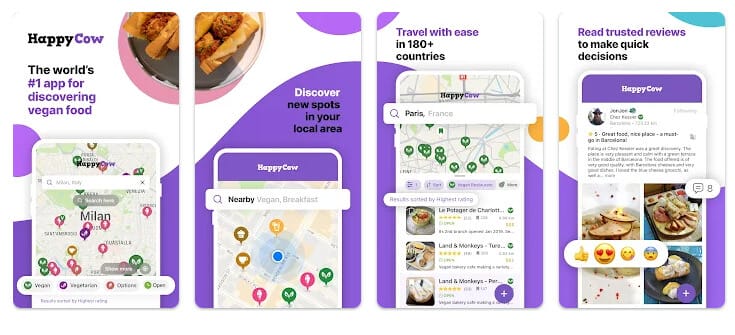 Happy Cow is an app for vegans and vegetarians, allowing them to locate restaurants, cafes, etc that serve vegan and/or vegetarian food. Traveling around Japan while a vegan or vegetarian is challenging, and even those who live here find it hard to manage with the lack of options.
Japan is not a vegan and vegetarian-friendly society. Even food that would otherwise be vegan, or vegetarian, normally contains some form of fish such as dashi (fish stock) or bonito (fish flakes). Adapting dishes is not normally an option in Japan, and most restaurants will be confused as to what you exactly want and why you're trying to change their menu. HappyCow makes the life of those avoiding animal products much easier. The free version lets you search for restaurants nearby, and the paid version lets you plan ahead. The app will exclude places that do vegetarian or vegan dishes that also serve meat dishes or use non-organic products. . Due to that, you may find it to be quite limited outside of major cities.
HappyCow is available for both Android and iOS
Japan Official Travel App
Japan Official Travel App is a free app, that let's you find things to do and see whilst traveling around Japan. Plus it'll help you with navigating between your destinations, buying travel passes and entry tickets to museums & other attractions as you travel in Japan. It's a great app, for helping you keep everything organised. The app is made by the Japan National Tourism Organization so you can be sure to get up to date tips & travel information. Plus there's shopping coupons, so you can save money. Shopping in Japan can be expensive, and if you're like me you could easily spend $100+ on Japanese KitKats alone. So I really believe this is an essential app to have installed when for visit to Japan, for the coupons alone.
Japan Official Travel App is free for Android, and iOS.
Google Maps Offline for Android and iOS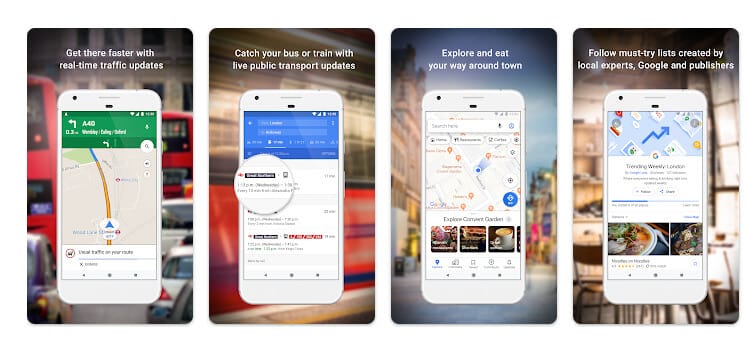 Most of us already use and rely on Google Maps for navigating. But thanks to some new features, the app can be used for offline navigation. In order to do this, you need to download sections of areas you're visiting, to your phone while online, and then you can later navigate them. However, these sections tend to be more limited than those covered by Maps.me. Which means, you need to plan ahead and make sure you have the right areas saved before you head out. You can also use Google Maps for viewing Google Street View and terrain to let you research an area before you visit. You can check the opening times, reviews, and contact details for attractions, restaurants, etc.
Google Maps lets you bookmark places, and you can have customized categories within your bookmarks, which makes it great for travel planning. It can also be used for planning public transport, but it isn't always perfect, giving short connection times and won't prioritize JR pass routes – which is why I recommend using Japan Travel. Google Maps, Maps.me and Japan Travel are 3 of useful travel apps for Japan when it comes to navigating!
Google Maps is available for Android and iOS
Uber for Android and iOS
Uber, a taxi ride booking application, is available in some areas of Japan such as Tokyo. Taxis in Japan are not cheap but if you must use one, booking through Uber is easy.

Uber requires the internet, so you'll either need to pick up a Japanese sim card or use data to book the trip. But if you plan on staying out past midnight, and end up missing the last train back to your accommodation then Uber is one of the most useful travel apps you'll need in Japan as missing the last train back to your accommodation means either a long walk or finding somewhere such as an internet café or 24 hour McDonald's to hang out until the trains restart at about 5 am.
Uber is available for Android and iOS.
Lingodeer – Learn to speak Japanese for Android and iOS
The final app on my list is Lingodeer, a free, language learning application. Lingodeer helps you learn Japanese, Chinese, or Korean for free. The application lets you learn the Japanese alphabet and will teach you words, phrases, and grammar as you progress throughout each stage.
Learning even some basic Japanese can make things a bit easier when traveling around Japan, especially if you can read Katakana. Katakana is the alphabet used for words adapted from foreign languages, mainly English. This means if you can read Katakana you can normally make out what it is you are reading – E.g.カレー/Ka-re is curry, and ゼロ / zero, is – you guessed it, zero! It is normally used for zero-sugar drinks such as Coke Zero.
The great thing about Lingdoeer that makes it better than other language apps, is that it lets you download the lessons offline. This means you can learn Japanese while on the plane, trains, etc – a great educational time killer.
Lingodeer is available for Android and iOS
Japan Transit Planner -Norikae Annai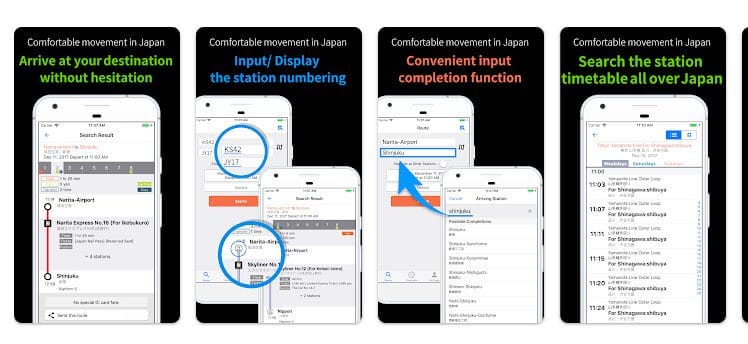 Japan Transit Planner is a free app, that will help you plan your train journeys throughout Japan. You can search by station and check the timetable throughout all of Japan. It also lists popular destinations in each city/town, so you can quickly look up how to get to them from your chosen departure station.
You can also buy mobile tickets for buses, trams, street cars, monorails etc through the app for different cities/regions throughout most of Japan. There are passes available that cover many of the best places to go in Japan such as Nara, Sapporo, and the Skytree Shuttle which covers the Tokyo Sky Tree and Sensoji Temple.
All you have need to do to use the ticket, is purchase it in the app, and make sure to show whoever is in charge of checking tickets (normally the driver on buses and trams).
Japan Transit Planner is available for Android and iPhone.
TravelSpend for Android and iOS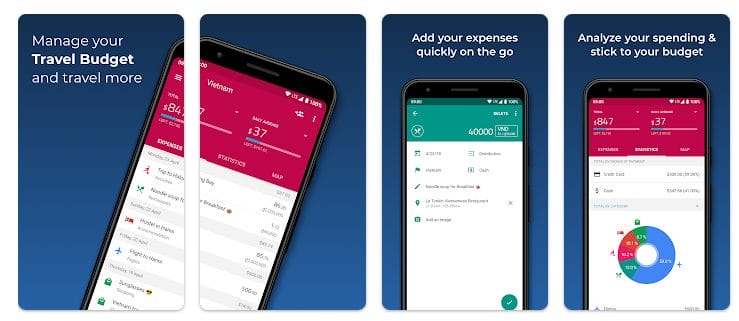 TravelSpend is a great app to help you keep track of your travel expenses. Japan can get costly if you're not careful so I highly recommend keeping track of your budget whilst there, and an app is a great way of doing this.
You can track all your expenses including flights, hotels, food, etc. There's a nice overview for each location so you can quickly see what you spent in each city/country you visit. Plus if you're traveling as a group and need to split an expense between multiple people, you can tell it to share expenses with others and see what you owe each other.
TravelSpend has both a free and paid version. If you travel a lot, it's worth considering upgrading to the premium version (a 1-year subscription is $17.99 USD).

Travel Spend is available for both Android and iOS.
Hope you found this guide for the best Japanese travel apps useful. If there's an app you use that isn't listed and would like to recommend, please let me know so I can check it out and add it to the list.
More Travel Tips & Resources