Are you planning a trip to Amsterdam? If so, you're in for a treat. The city is famous for its scenic canals, historical landmarks, and vibrant nightlife. But what about the food? Dutch cuisine may not have the same international recognition as Italian or French, but it's certainly worth trying during your stay.
One of the most popular Dutch dishes is the stroopwafel. This sweet treat consists of two thin waffles stuck together with a layer of sweet syrup. It's best enjoyed hot and gooey from a street market or bakery. Another must-try dish is bitterballen, a deep-fried crispy ball traditionally served with mustard for dipping. It's the ultimate Dutch pub snack and can be found on the menu at most Amsterdam drinking establishments.
But Dutch cuisine is more than just sweet and savory snacks. From Dutch pancakes to raw herring, there's a wide variety of flavors to explore. Whether you're a foodie or just looking to try something new, Amsterdam has plenty of Dutch foods to offer. So, let's dive in and discover some of the best dishes to try during your visit.
Stroopwafels
If you try one Dutch sweet treat, make it a stroopwafel. This delicious snack consists of two thin waffles with a layer of syrup in between. You can find them in many bakeries, cafes, and street markets throughout Amsterdam.
Stroopwafels are believed to have originated in the city of Gouda in the late 18th or early 19th century. Today, they are a beloved Dutch snack that locals and tourists alike enjoy with a cup of coffee or tea.
While traditional stroopwafels are made with caramel syrup, you can also find variations with chocolate or honey filling. Some bakeries even offer stroopwafels with unique flavors like cinnamon or ginger.
If you want to try the best stroopwafels in Amsterdam, head to Lanskroon Bakery. This family-owned bakery has been making stroopwafels since 1902 and is known for its delicious, freshly baked treats. Another great option is Van Wonderen Stroopwafels, which offers a variety of flavors and toppings to choose from.
When you try a stroopwafel, be sure to eat it while it's still warm and gooey. I recommend placing it over the top of your coffee cup to help soften and warm up the caramel filling. Don't forget to take some home as a souvenir or gift for friends and family. If you do forget to pick them up in Amsterdam, the airport sells loads of Stroopwafels at the duty-free stores that are dotted throughout Schiphol Airport's departure area.
Bitterballen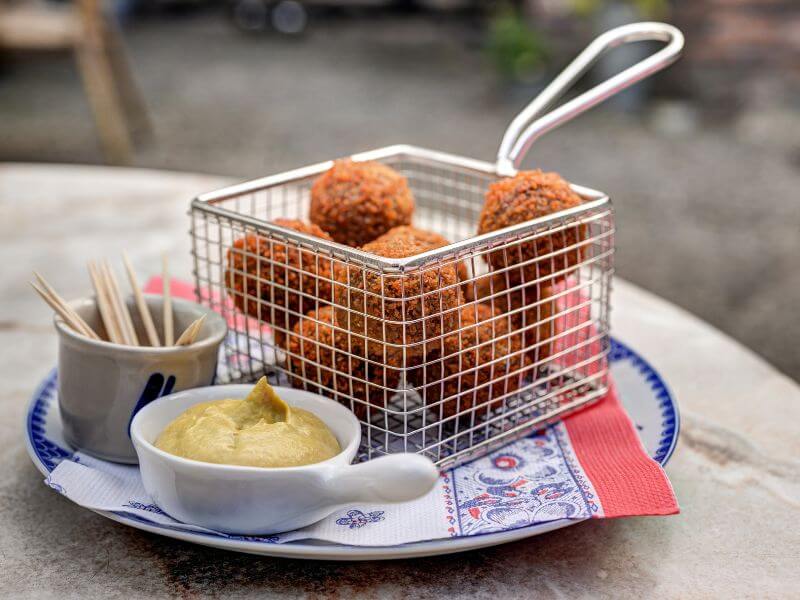 If you're looking for a typical Dutch snack to try in Amsterdam, then you must try Bitterballen. These small, crispy, deep-fried meatballs are a popular bar snack in the Netherlands and go down well with a cold beer.
Bitterballen is made with beef or veal ragout, butter, flour, and broth. The mixture is then shaped into small balls and coated with breadcrumbs before being deep-fried until golden brown. The result is a crispy, savory, and creamy bite-sized snack that is perfect for sharing with friends.
Bitterballen can be found in most bars and cafes in Amsterdam, but some places are known for serving the best ones. I recommend Winkel 43, or De Ballenbar as they both serve some of the best Bitterballen.
When ordering Bitterballen, keep in mind that they are usually served with mustard or mayonnaise for dipping. Some places also offer different variations of Bitterballen, such as ones made with cheese or mushrooms. If you're a vegetarian, you'll want to look for "vegetarische bitterballen". If you are vegetarian or vegan I do recommend De Ballenbar as they serve both vegan and vegetarian bitterballen.
Poffertjes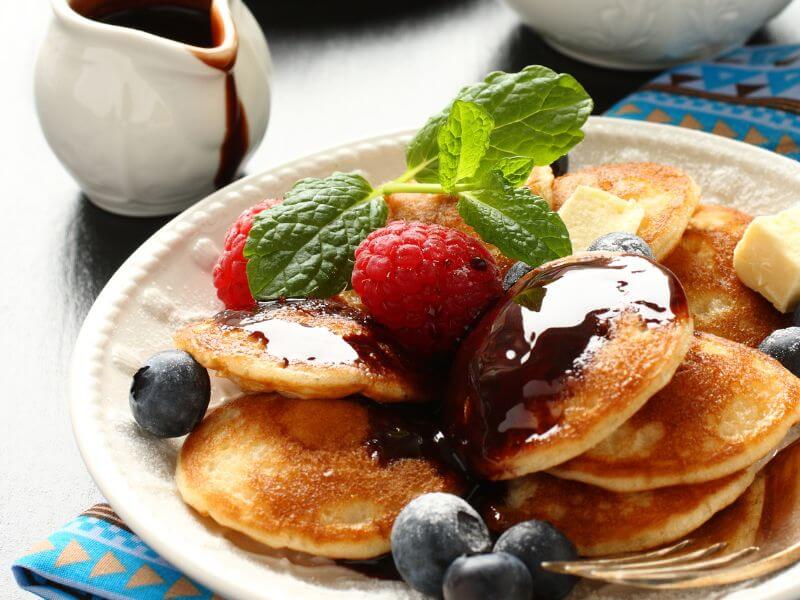 When you're in Amsterdam, you must try poffertjes. These fluffy mini pancakes are a Dutch classic that you can find in many cafes and restaurants throughout the city. Poffertjes are typically served with butter and powdered sugar, making them a sweet treat that's perfect for breakfast, lunch, or dessert.
Unlike American pancakes, poffertjes have a light and spongy texture that melts in your mouth. They're made with yeast, buckwheat flour, and milk, and cooked on a special cast-iron pan with small indentations. The result is a batch of perfectly round and puffy pancakes that are irresistible.
My favorite place for poffertjes is The Pancake Bakery. It is a popular spot serving poffertjes and other Dutch pancakes since 1973. Other places I've enjoyed poffertjes from include The Pancake Club, and De Carrousel Pannenkoeken Amsterdam.
In conclusion, poffertjes are a must-try when you're in Amsterdam. Whether you're a fan of pancakes or not, these mini pancakes are sure to win you over with their fluffy texture, sweet flavor, and irresistible aroma. So head out to one of the recommended spots and indulge in this Dutch delicacy!
Herring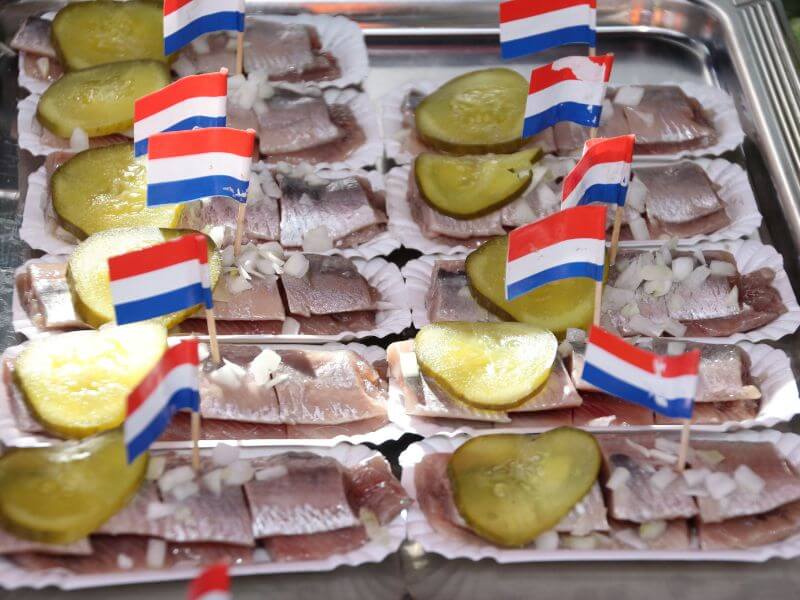 When in Amsterdam, you must try herring (Haring in Dutch), which is a popular and healthy snack. It is a traditional Dutch dish that has been enjoyed for centuries. The Dutch are known for their love of herring, and it is considered a national delicacy.
Herring is typically served with diced onions and sliced pickles on the side. You can eat it as is or on a bun, which is called a broodje haring. It is a simple yet delicious snack that you can find at many fish stalls throughout the city. My favorite place to buy it is from the Frens Haringhandel, which is a fish stall located by Koningsplein.
You can also get herring from Stubbe's Haring which is about 7 minutes walk from Amsterdam Centraal Station or Henk's Herring which is near the Cannabis Museum and Rubber Duck Store.
Stamppot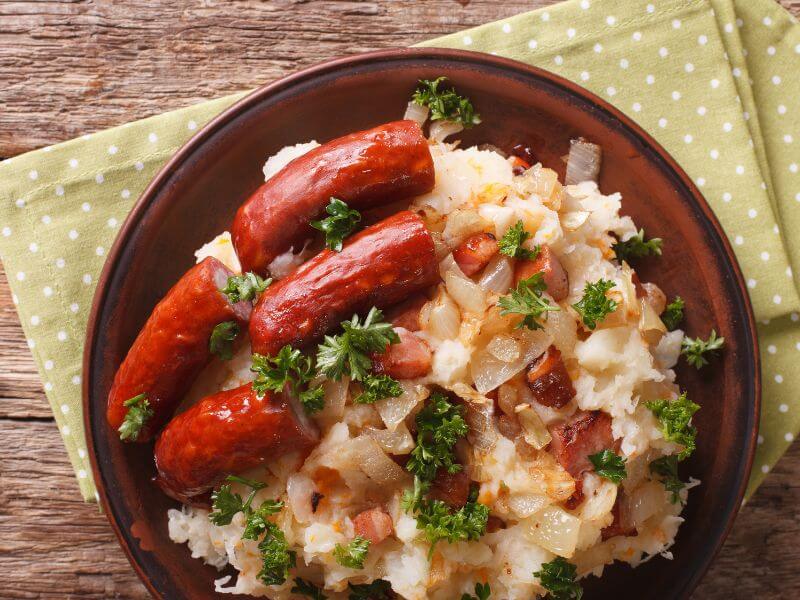 If you are visiting Amsterdam during the winter months, you must try Stamppot, the quintessential Dutch comfort food. This hearty dish is perfect for cold weather and will warm you up from the inside out.
Stamppot is a mashed potato dish that includes a variety of vegetables, most commonly sauerkraut, kale, endive, spinach, and turnip greens. It is typically served with meat, such as traditional Dutch sausage or bacon, and gravy.
The dish is easy to make and is a staple in Dutch homes during the winter months. The mashed potatoes and vegetables are boiled together, and then mashed with butter and milk to create a creamy texture. The meat is usually cooked separately and served on top of the mashed potatoes and vegetables.
Stamppot is not only delicious but also nutritious. It is a great source of vitamins and minerals, including vitamin C, vitamin K, and potassium. Plus, it is a filling meal that will keep you satisfied for hours.
If you are looking for the best places to try Stamppot in Amsterdam, there are several noteworthy restaurants that serve this Dutch staple. Some of the most popular places include Moeders, Restaurant 't Zwaantje, and De Blauwe Hollander. Each restaurant has its own take on the dish, so be sure to try a few different versions to find your favorite.
Oliebollen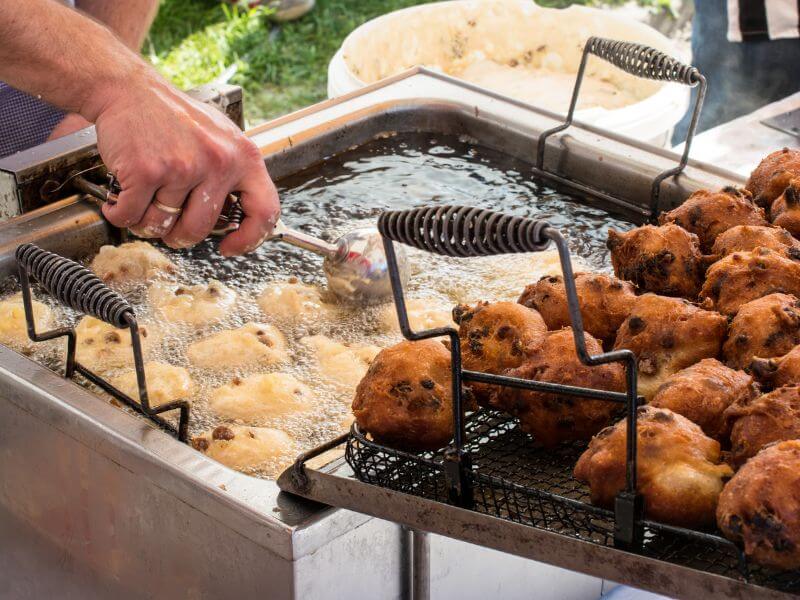 If you happen to be in Amsterdam around Christmas or New Year's Eve, you must try Oliebollen, a traditional Dutch treat. These deep-fried doughnut-like pastries are typically served with powdered sugar and have different flavor fillings. I love Oliebollen and make sure to eat these whenever I'm in the Netherlands during winter.
Oliebollen is believed to have originated in the Netherlands in the 17th century. You might know them as Dutch Donuts or Dutchies. They were initially made with leftover bread dough and fried in animal fat. Over time, the recipe evolved, and today, Oliebollen is made with flour, eggs, yeast, and milk. Traditionally they'll be filled with raisins or apples but there are dozens of other fillings such as Nutella or custard. They are deep-fried until golden brown and dusted with powdered sugar before serving.
You can find Oliebollen at many bakeries and food stands throughout Amsterdam during the holiday season. Some of the best places to try Oliebollen include Bakkerij Ad Straathof, Lanskroon Bakkerij, and Hartog's Volkoren Oliebollen.
You can also try making Oliebollen at home. They are relatively easy to make, and there are plenty of recipes available online. Just be sure to use caution when deep-frying, as the oil can get very hot.
Dutch Cheese Tastings
While in Amsterdam I recommend trying some of the local Dutch Cheese from cheesemongers such as Old Amsterdam and Henri Willig. Both companies have stores in the cities that sell a range of their cheeses and offer free cheese tastings but for the best experience, I recommend taking a tour.
Henry Willig offers a cheese-tasting experience where you can learn about how they make their cheese, taste 5 different kinds of cheese, meet members of the Henri Willig Cheese family, and more. Plus you'll get a 10% discount on purchases made at the end of the tasting. Book this cheese-tasting experience here.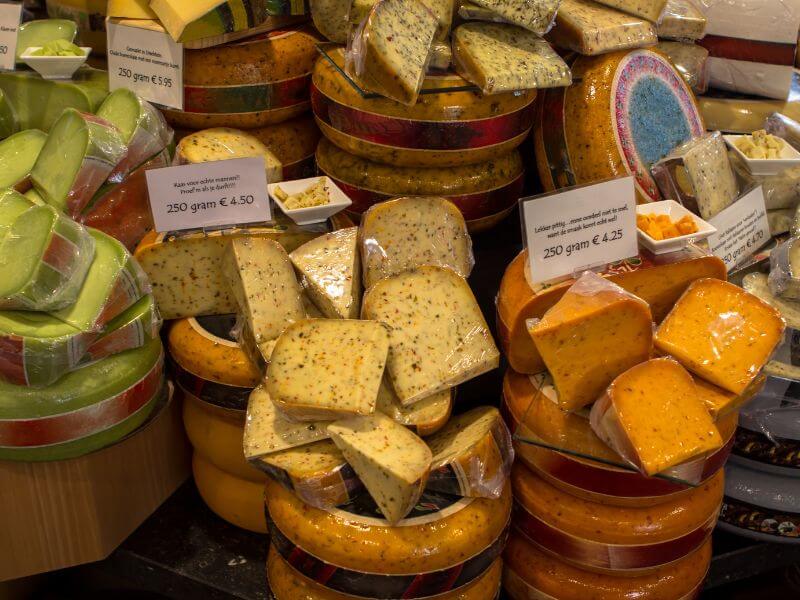 Old Amsterdam offers a cheese and wine-tasting experience, where you'll get to try 5 different cheeses plus 3 different wines that have been selected to complement the cheese. You'll get to learn the story behind Old Amsterdam cheese and also receive a certificate at the end. Book the cheese and wine tasting here.
You can also enjoy cheese tasting in Amsterdam as part of a canal boat ride. You'll get to enjoy tasting cheese and wine as you cruise along the Amsterdam canals, taking in the sights and enjoying the city's atmosphere. Book the cheese & wine tasting canal ride here. For more suggestions on canal boat rides, make sure to read my guide to the best canal boat rides in Amsterdam.
You May Also Like..