Amsterdam is an amazing city, with tons of different things to do that suit everyone. With it's historic buildings that line the winding canals, it's beautiful parks, and world-renown museums to the red light district and coffeeshops there are tons of things to do here. Many of which are free, and will help keep your travel costs down. If you're visiting with family, you'll be glad to hear that there's many free things here to do that are kid-friendly as well.
Take a Selfie With the I Amsterdam Sign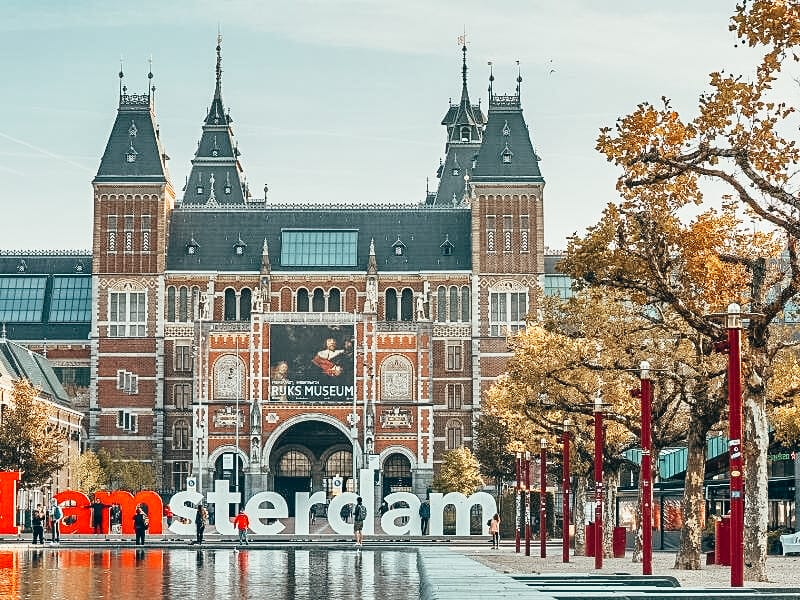 If you love taking selfies, then why not take a photo with the I Amsterdam sign? The signs have become a pretty iconic thing to do when visiting Amsterdam so I do recommend arriving early to avoid the crowds. You may want to take a selfie stick or gimbal with you to help avoid the crowds.
There are currently two I Amsterdam signs available as of 2022. There used to be three signs but back in 2019, the Amsterdam Council had the one located in Museumplein removed as it was causing issues with "mass tourism". When you're taking selfies with these signs, and anywhere else in Amsterdam please remember to be respectful to the locals as mass tourism can cause problems.
You will currently find one of these signs outside Schiphol Airports main entrance and the other is located by the A'DAM Lookout Tower at Overhoeksplein. If you're going to take a photo with the one by the A'DAM Lookout you could also visit the tower itself; although this isn't free it is the lookout gives you great views over Amsterdam and you can swing on the tallest swing the world. the A'DAM Lookout is included in the I Amsterdam City Card which gives you discounted entry to museums, art galleries etc. If you're visiting a few different paid attractions, I really recommend considering getting one of these cards.
Visit The Botanical Gardens at Vrije University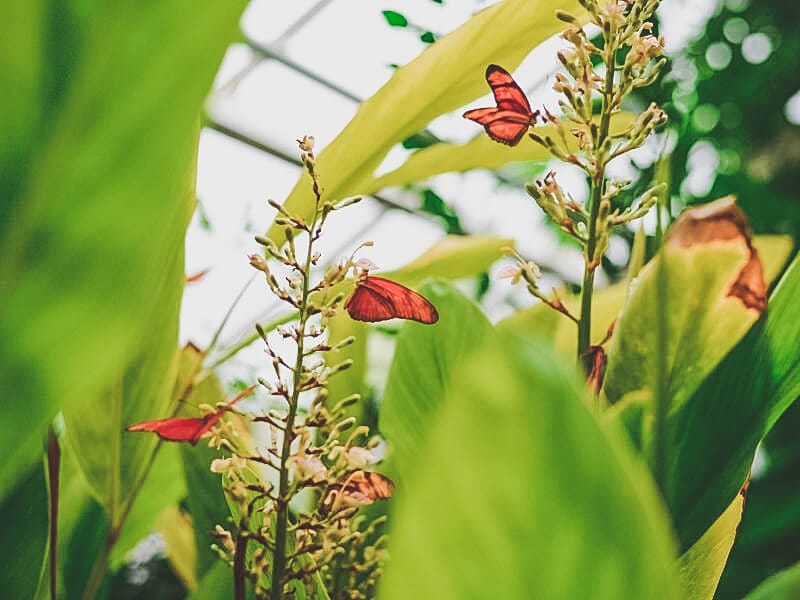 Go to One of the Free Lunchtime Concerts

If you're in Amsterdam on a Wednesday then I highly recommend attending one of the free lunchtime concerts. They're held once a week, on a Wednesday at The Royal Concertgebouw. This is a great way of enjoying live music from the Royal Concertgebouw Orchestra or up-and-coming talented musicians without the cost involved in normally seeing these performances.
The concerts start at 12:30pm, with the programme being released 1 week in advanced on their website. There are a limited number of seats available so you do need to get a free ticket. These tickets can be booked online in advanced which I highly recommend doing, to ensure you'll get a spot. If you turn up on the day, you may get lucky during the quieter months but during the summer they'll most likely be sold out. They do advise that visitors should be age 6 or above, and it isn't really an ideal place to attend with younger children who may cry, get bored or not enjoy the noises of the instruments.
You can book tickets online for the Lunch concert here.
Visit a Church in Amsterdam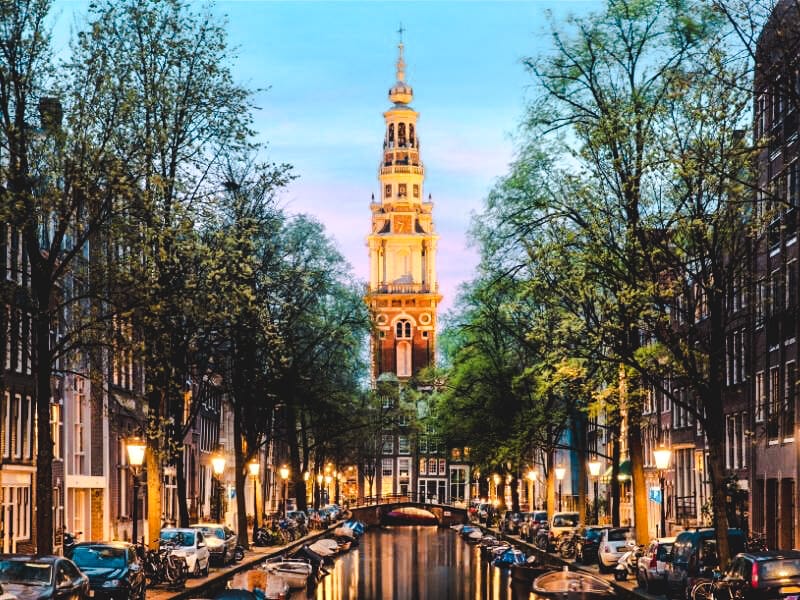 Amsterdam has tons of old churches, with interesting architecture that you can attend during your visit or just enjoy from outside. One of the best free churches is Zuiderkerk. Zuiderkerk is a beautiful church that was built in 1601, and converted to a Protestant Church during the Reformation. The church is also located by the Amsterdam Canals, and it's stunning architecture can add some interest to your photos. Even if you don't go inside this church, it's worth taking some photographs of the canals with this church in the background. Especially at night, when the light makes the churches architecture stand out even more.
Zuiderkerk has events taking place throughout the year, although these may not be free. Check out their website for more information. Their website is in Dutch, so you may need to use Google Translate.
If you'd like to attend a church service whilst in Amsterdam, and don't speak Dutch it's OK. As there's plenty of churches that offer English services for different forms of Christianity and also Jews. To find these, I recommend checking out this list here.
Take Part in a Brewery Tour
A large number of free brewery tours have also been organized for the people who visit Amsterdam to take part in. I recommend taking part in the Tour of Brouwerj. It is one of the small breweries that you will be able to find in Amsterdam. These organized tours are accompanied by an English speaking tour guide so don't worry if you cannot speak Dutch. However, keep in mind that free tours are available only on specific days of the week, with paid tours taking place at other times.
Join a Free Talking Tour
There are a few free walking tours available in Amsterdam, each covering a different area of Amsterdam's history and culture. Each of these tours are free, but they do ask that you pay what you think they're worth. Note: Although these tours are free, Amsterdam city charges an entertainment tax of €1.55 per person, so you will need to pay this at the start of the tour.
If you're looking for a tour that covers Amsterdam's main history over the last 800 years, you could take part in this 2-hour walking tour. This tour visits the more well-known areas such as the Canal, and Royal Palace. You do need to sign up for the tour online, so make sure to do that on their website here.
If you're interested in learning about how Amsterdam went from being a conservative Christian city to more open-minded with coffee shops, and the red light district you could join this 2-hour alternative tour. Make sure to book online so they know you'll be going.
If you want to discover Amsterdam's best food, then you should consider doing this 2-hour food tour. You'll get to taste famous Dutch dishes including poffertjes (mini-pancakes), Gouda chees, Stroopwafel, and Bitterballen (these are my favorite). All the tasters on this tour are free, but as mentioned before they do ask if you can pay what you think the tour is worth. You can book on the food tour, here.
Booking is required, with a maximum of 15 people per group. To learn more and book your walking tour, visit their site here.
Take a Free Ferry Boat Trip to NDSM
If you're on a budget, you could hop on a free ferry boat trip. Whilst this isn't anywhere near as good an experience as riding in a canal boat, you do get to see a little bit of Amsterdam from the water. The ferries leave from the GVB ferry terminals, which can be found in a few different locations.
The main ferry terminal is located at Amsterdam Centraal Station, and here you can catch the boat to NDSM, Distelweg, Buiksloterweg, and Pontsteiger. The longest of these is the Amsterdam Centraal to NDSM ferry route, so if you want to try to see as much of the River Ij as possible then you should head to/from NDSM. NDSM is also a fun area to visit and is home to a few art galleries (some may have an entry fee), NDSM Loods and street art that you can enjoy for free.
You can see the ferry routes here.
See the Art Exhibits at NDSM Loods & NDSM Fuse
If you want to see art from some of Amsterdam's local artists, then I recommend heading to NDSM Loods. The monument is private, but they open to the public from 9am to 6pm daily and entry is free. There may be artists working during your visit so please be sure to respect them and their space. NDSM Loods holds expos, and other events throughout the year which you can see on their website here (this section is only in Dutch).
Whilst at NDSM Loods you can also visit the nearby NDSM Fuse, which is open from 12pm to 6pm from Thursday to Sunday. NDSM Fuse is an industrial exhibition space that holds exhibitions and other events. The exhibition space is only accessible by stairs, and doesn't currently have any wheelchair access. Entry to NDSM Fuse is free but they do ask you to pay what you wish.
Visit Amsterdam's Floating Flower Market
If you want to surround yourself with beautiful flowers in Amsterdam, you should visit the floating flower market, and is one of the best places to visit in Amsterdam. The local flower market of Amsterdam has a rich history, which dates back to 1862. You can visit the flower market from Monday to Saturday, and entry to the market is free. If you do wish to purchase anything at the Amsterdam Flower Market, you should keep in mind that it may be illegal to take bulbs or flowers back to your home country. Make sure to check customs and import laws for your country before buying anything.
Hang out in the Vondelpark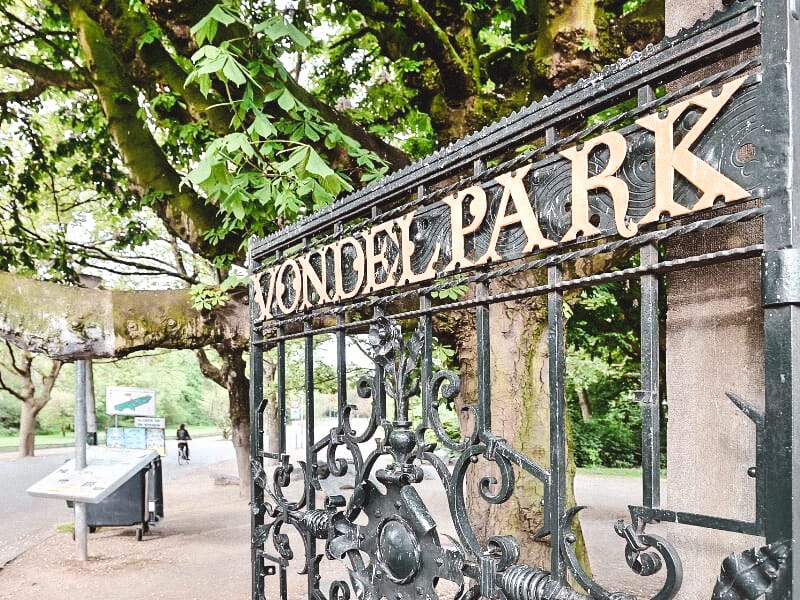 Amsterdam has a few nice parks, but the best one is Vondelpark. Whether you are a solo traveler or traveling with friends or family, this park is a wonderful place to hang out and relax. At Vondelpark, you will be able to find one of the most beautiful rose gardens I've ever seen, filled with more than 70 different varieties of roses. You will also be able to discover a large number of restaurants and cafes in the park and an open-air theatre to view some amazing performances.
Vondelpark is also near to the Museumplein which is home to Amsterdam's most famous museums – the Rijksmuseum, Stedelijk museum and the Van Gogh Museum. Whilst these museums aren't free, all three museums are well worth visiting. I personally loved the Rijskmuseum (and the staff were very accommodating of my disability). Two of them (Rijksmuseum and Stedelik museum) are included on the Amsterdam City Card so you can get discounted entry to these museums (and many other attractions). The Van Gogh Museum is also really worth the visit, but you do need to book your tickets online in advance.
Visit The Cat boat
If you are a cat lover, then make sure to visit Amsterdam's Cat Boat. The Cat Boat, which is also known as Pozenboot, is a sort of floating animal sanctuary. Abandoned and stray cats from all corners of Amsterdam are brought here to help ensure they live a better life. During your visit to the Cat Boat, you will be able to make a donation, which can help them provide better living conditions for the cats.
Save money with the iAmsterdam City Card
The iAmsterdam City Card is a quick and easy way of saving some money on your trip to Amsterdam. The card includes access to many of the popular museums, including the Rijksmuseum as well as a canal boat ride and bike hire. You also get discounted entry to some restaurants and concerts. For the duration of the card, you get to use public transport within Amsterdam at no extra cost (the metro, bus, ferry and tram).
After purchasing the card here, you should then install the iAmsterdam app onto your phone so you can get the latest infromation on what the city card includes, opening times, and the latest offers. To make the most of the app, you'll need the internet so I recommend getting a prepaid sim card from a store or an eSim from Airalo to ensure you can get connected without any problems. Check out my guide to purchasing a prepaid sim card in Amsterdam here.
Buy your iAmsterdam card here or check availability below:
There are so many free things to do and see while visiting Amsterdam. I hope this post has helped make your trip planning easier by giving you lots of suggestions for free activities during your stay here!
More Travel Tips For The Netherlands
Booking Tours – When I am booking tours, I use GetYourGuide or Viator. Both have great selections of guided tours, skip-the-line tickets and the Amsterdam city pass. For tours run by locals, AirBnB Experiences has some great selections as well.
Booking budget-friendly accommodation – I book hotels and hostels through Booking.com, as they allow me to filter for properties based on my needs. They also have a great free cancelation policy. For holiday rentals, I use VRBO.
Travel Sim cards – Stay connected whilst in The Netherlands by picking up a prepaid sim card. This Orange travel sim card will have you covered for Europe and this Global Sim Card works in over 200 countries. Make sure to check out my guide to buying a sim card in Amsterdam for information on buying a dutch prepaid sim card.
Travel eSims – If your phone supports an eSim, I recommend using Airalo. They sell eSims based on country, region, and even global ones! There's one for almost every country and they can work out cheaper than sim cards.
Booking Flights – I always find my cheapest flights using Kiwi or Skyscanner. Both search for the cheapest flights, and let you filter by stops, times, etc so you can find the cheapest options. You can also sign up for Jack's Flight Club to be alerted to cheap deals if you're happy to travel anywhere.
Alternatives to flying – Hate flying? If you're traveling from the UK, check out my guide on getting to Amsterdam without flying.
Hiring a car – I recommend booking your car hire through Discover Cars. They offer 24/7 support, and free cancellation. They help by finding the cheapest car hire available, by searching hundreds so companies so you don't have to.
Get Travel Insurance – Don't leave home without travel insurance. Travel insurance can cover you in case you have an accident, get sick, lose your passport or other belongings, miss your flight, andis canceled/delayed. If you're in the UK, I recommend using Allclear, for the USA you should consider AXA and for the USA, UK & Rest of the World check out SafetyWing.
VPN – Whilst traveling you'll normally end up using WiFi in public places or at your accommodation, which may not be fully secure. I recommend using Proton VPN, as they don't track your browsing history and are reasonably priced.