If you're going to Amsterdam, you'll definitely want to get a sim card to save on data roaming costs and to keep in touch with your family/friends at home. Being connected will make getting around, looking up the train times and buying tickets for things like a canal cruise much easier. If you're planning on travelling to other places in the rest of the Netherlands such as Utrecht, you'll really want to be connected as free internet in The Nethelands becomes harder to find outside of Amsterdam (although all buses and trains do offer free WiFi so if you're stuck, head to a train or bus station i get internet in The Netherlands).
There's a few different you can buy a local prepaid sim card in Amsterdam such as Amsterdam Schiphol Airport, in convenience stores, online & more. Most of the sim cards I cover in this guide can be used in other EU countries as well. So if you're travelling to the Netherlands and Europe you'll already have a sim card you may be able to use in those countries. You could also buy an international sim which works in most countries so you can travel without any extra charges.
Tips for Using a Sim Card From the Netherlands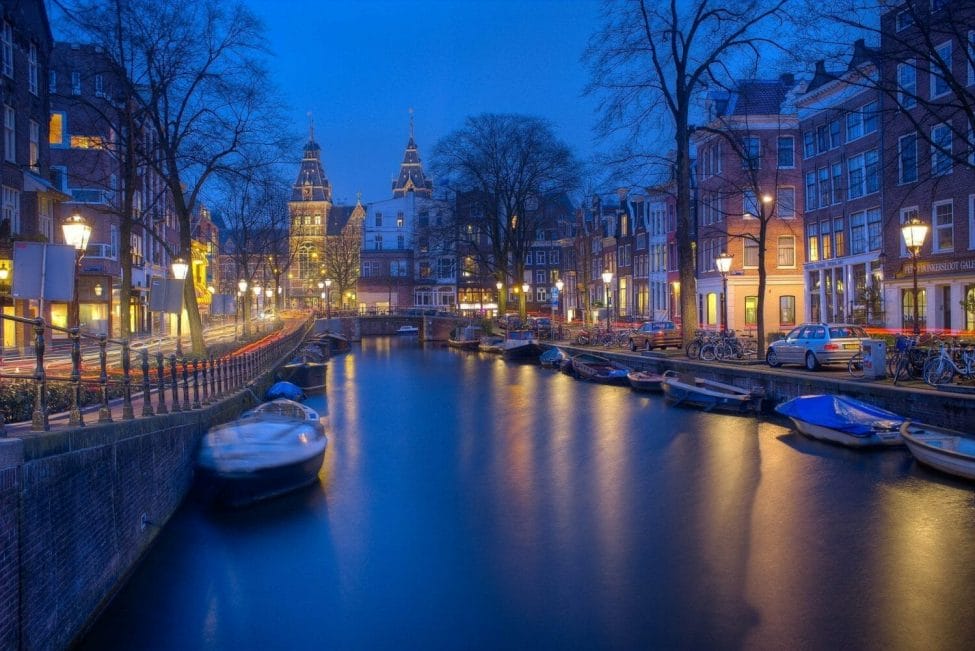 First things first, before you travel you need to make sure your phone is compatible with the type of sim card you're buying.
First, check your phone is unlocked so you can use it on any network, not just the phone network you use at home. Most phones should be unlocked, but it's always worth double-checking. If it isn't, you'll need to ask the network for an unlock code or contact a local phone repair store. If you have already arrived in the Netherlanda nd found that you don't have an unlocked phone, you can visit somewhere like CEX (there's two stores in Amsterdam) to buy a 2nd hand phone or The Phone House to buy a new one.
Next, check your phone will work on the networks used in The Netherlands. Most phones will, especially those from brands like Samsung, Apple, and Google. But, it's worth checking your phone with a Netherlands sim card before you travel to Amsterdam.
There's three main network companies in The Netherlands, these are:
All 3 of these networks support the following:
4G – 800 MHz (B20), 900 MHz (B8), 1800 MHz (B3), 2100 MHz (B1), 2600 MHz FDD (B7), 2600 TDD (B38)
5G – 700 MHz (n28), 1800 MHz (n3)
5G is available throughout Amsterdam, and the rest of The Netherlands but some local prepaid sim cards don't always support it. But pretty much wherever you are, you should be able to connect to a 4G network.
If your phone supports e-sims, then you can always choose to download one of those rather than buying a physical sim card. eSims are a cheap way of getting mobile internet, and save you from the hassle of needing to change out your sim card. Although if you'd like to make phone calls, you'd need to buy a physical sim card to have calls and data as prepaid eSims only offer data. eSims are good value for money though, so I recommend considering one if you only need data.
I also recommend taking a pin, that can be used to eject your sim card. I recommend buying a sim card ejector tool that has a hole in the end, so you can attach it to your keys.
Buying a Prepaid Sim Card at Amsterdam Schiphol Airport
Buying a sim card at the airport is convenient but, expensive. Amsterdam Schiphol Airport has free WiFi available, and the trains also have free WiFi so if you can hang on to use your phone data until you've left the airport I recommend doing so.
Otherwise, if you want to be instantly connected there are a few different places you can buy sim cards at Schiphol airport.
When you arrive at the airport, you'll go through passport control, customs etc and find yourself in a huge shopping area with cafes, restaurants, convenience stores and other shops. Most of them are overpriced, so I recommend avoiding them.
The main sim card store is Airport Telecom which is located at Arrival Hall 1. There are signs all over the airport which will help direct you there but if you get lost, you can ask for assistance at an airport information desk.
The Airport Telecom shop is open from 7 am to 6 pm. They are able to help with installing sim cards if you need assistance. If your phone isn't compatible, they also sell phones you can use prepaid sim cards in.
Below's a list of the sim cards Airport Telecom sells, as of June 2022. All 3 sim cards work across the EU and are available as mini, micro and nano sizes. All these sim cards support tethering, so you can use them for hotspots or in a mobile WiFi device.
| | | |
| --- | --- | --- |
| Sim card | Plan | Price |
| Sim Card Europe 12GB | 12GB Data, unlimited calls and texts within the EU, EEA and UK. | €54.99 euros |
| SIm Card Netherlands | €5 euros call credit, no data included but can be upgraded to 10GB or 35GB | €24.99 euros |
| Sim Cards Netherlands 10GB | 10GB data, unlimited calls within The Netherlands, upgraded to 35GB. | €35 euros |
| Sim Card Netherlands 35GB | 35GB Data, free calls to 45 countries including EU countries, the UK, and USA. | €49.99 euros |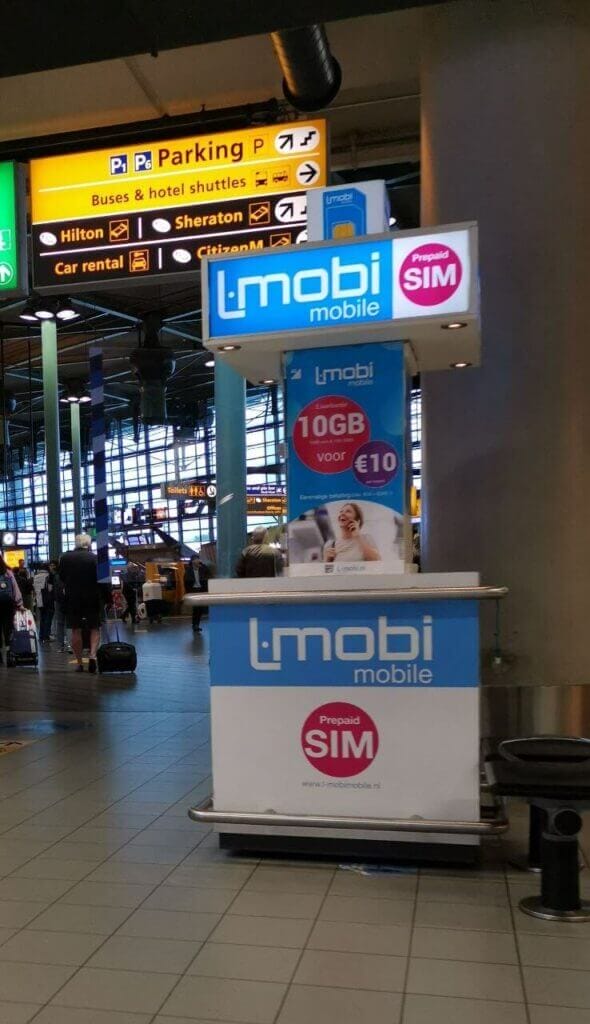 Another option is to purchase a sim card at one of the L-mobi prepaid sim card stands. There is a stand near where you find the train station ticket machines. L-mobi uses the KPN network which has good service throughout all of The Netherlands.
As of June 2022 the sim card stand at the airport claimed to offer 10GB of data for €10 euro. However, from experience with purchasing sim cards here before the prices are normally much higher. It's more likely to be €40 to €60 euro for 10GB of data. I really recommend avoiding this.
The L-mobi stand does close early and was unmanned by 7 PM so this isn't an option if you're arriving on an evening/night flight.
Buying a Prepaid Sim Card in Amsterdam
Once you've left the airport you will see dozens of places selling sim cards. Most of the places advertising data inclusive sims, are targetting tourists and will most likely overcharge you.
You're best going to go to supermarkets (such as Albert Heijn – there are loads around Amsterdam), Media Markt (an electronic store, there's one about 10 minutes walk from Amsterdam Centraal station), convenience stores (e.g. Spar) or a mobile shop.
If you choose to buy a sim card in Albert Heijn, you'll want to visit a supermarket and not one that only sells pre-made food for takeaway like sandwiches, coffee etc. In the Albert Heijn supermarkets, you will normally find sim cards near the checkout or at the service desk (which should be near the entrance).
Albert Heijn normally sells Lycamobile, Lebara mobile and their own network – AH mobiel.
AH Mobiel has sim cards from €5 euro with €5 euro call credit included.
The Lycamobile sim cards they sell include the Holland Bundle S plan which costs €15 euro and gives you 7GB data, and as of June 2022 includes 3GB extra data for free (Total of 10GB). You can also make calls and texts within the Netherlands on this plan.
Just make sure you are purchasing a sim card, and not a top-up. If you're purchasing a sim card the packaging should say the word simkaart and will normally mention the sizes of sims like in the picture below: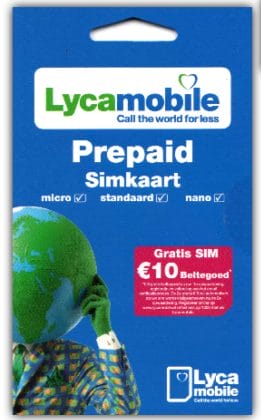 If the word "simkaart" isn't mentioned on the packaging, its most likely you're buying a top-up. If you're stuck, feel free to ask a member of staff to confirm if it's a sim card or only a top-up.
If you want to buy a sim card from a network's mobile store such as Vodafone, you'll find plenty of those stores dotted around Amsterdam.
Vodafone, offers sim cards for free with credit top up.
As of June 2022 they have the following sim card offers:
| | | |
| --- | --- | --- |
| Sim card | Plan | Price |
| Sim with €5 euro credit | No plan, just credit | €5 euro |
| Sim with 2GB data | 2GB data | €10 euro |
| Sim with 4GB Data | 4GB data | €15 euro |
| Sim with 6GB data | 6GB data | €20 euro |
| Sim with 10GB data | 10GB data | €30 euro |
If you choose to top up rather than picking a plan at purchase, you can text them to activate a prepaid bundle.
For example, if you'd like unlimited data, you can purchase this for 1 day at a time, at 4 euros per day. You need to text them each day you want it active though. You can find more information on their unlimited data prepaid bundle on the dutch Vodoafine website site.
T-mobile also offers similar sim card deals to Vodafone, however, their sim card isn't free. You can either visit a store to check their offers or order a T-mobile sim card online for collection in store. The sim card costs €10 euro, and gives you €5 euro credit and 1GB Netherlands-only data.
T-mobile's prepaid options include unlimited data for 1 day within The Netherlands and 2GB of data in the EU.
As of June 2022 this offer costs €2.95euro per day and expires at 11:59pm on the day of purchase.
They also offer unlimited weekend data bundles, for €5 euro for the weekend, which includes 3.4GB of data in the EU. The unlimited weekend bundle runs from Friday 5 pm to Sunday 11:59 pm.
They also offer some other bundles in-store or online. These bundles can be used throughout the EU, but they can be expensive. These bundles are set up to renew automatically, so if you need to make sure to cancel it once you've activated it. They say you can cancel these by registering for My T-Mobile.
Here's some examples:
| | | |
| --- | --- | --- |
| Combi bundle | Plan | Price |
| Combi S | 500MB data, 5 minutes/texts. | €7.50 euro |
| Combi L | 2GB Data, 15min/texts | €15 euro |
| Combi XL | 4GB Data, 20 minutes/texts | €22.50 euro |
Buying a Prepaid Travel Sim Card Online
I really recommend buying a sim card online ahead of time. This will save you from having to waste time finding a store, or risk being overcharged. There are tons of options online and most work across Europe so you can use them in other EU countries!
Here are some of the plans I recommend checking out, this list includes sim cards available in the USA, and others available in the UK:
| | | |
| --- | --- | --- |
| Sim Card | Plan | Price |
| Orange Holiday Europe | 8GB Internet Data in 4G/LT+ 30mn + 200 Texts across Europe, and the UK | $27.29 |
| Three PAYG 30 Days Sim Card | 12GB data usable in 71 countries including the EU, UK, USA, Australia, Hong Kong and more. 3000 minutes + texts to the UK usable in 71 countries. | $29.99 |
| Orange Holiday Europe | 20GB Internet Data in 4G/LTE + 120 mn + 1000 Texts in 30 Countries in Europe | $48.90 |
| Dataroam | 20GB Bundle – 4GB Europe Data SIM Card usable in 33 Countries | $49.00 |
| Easygosim | 7GB Data in 4G LTE data, covers 35 Countries | $19.38 |
| O2 SIM Card UK & EUROPE | 7GB + 7GB FREE DATA + Unlimited Texts & Mins | £9.39 |
| Vodafone | 20GB + Unlimited Mins & Texts | £14.99 |
| DROAM Sim Card | 2GB Data starting balance, top-ups available. Works in the EU and North America | £20.49 |
Another option for those coming from the UK, is to get a Smarty Sim card. They're a prepaid-only network, that runs on Three's network. Their plans start at £6 for 4GB of data, and they let you use up to 12GB of your plan's data for EU roaming.
Renting a Pocket WiFi in Amsterdam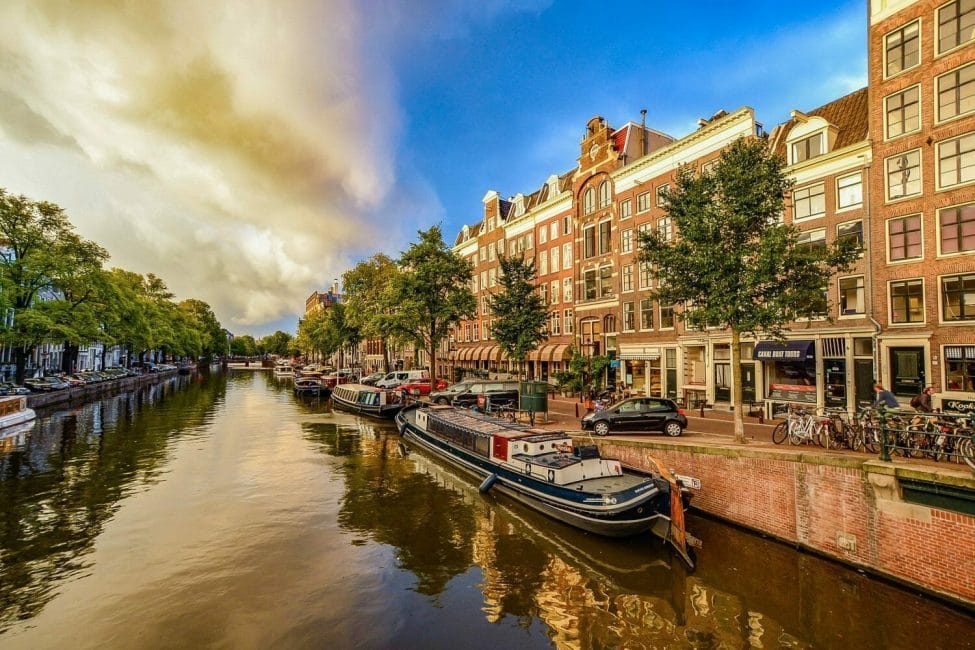 If you're travelling in a group, have multiple devices or still want to use your own sim card then another option is to rent a pocket WiFi.
Pocket WiFi's let you connect to them with multiple devices at the same time, so can save money if there's a group of you. It's also more convenient if your phone only supports 1 sim card, as you can still use your own sim card.
Unlimited 4G Pocket WiFi for the EU can be rented from Rent 'n Connect and ordered online. They'll ship the Pocket WiFi to your accommodation so make sure to confirm it's OK to receive parcels. Prices start at $53.47/ € 50 euro for 3 days, with a maximum rental period of 1 days.
You can also purchase a pocket WiFi device online that includes roaming.
For example, GlocalMe DuoTurbo Pocket Wifi includes data roaming to 140 countries, The pocket wifi is pay-as-you-go but upon activation, you'll receive 1.1GB of global data, usable in 140 countries and 8GB USA only data (for the first 30 days).
Another option is the Macaroon Mobile Wi-Fi Hotspot Device, which includes 5GB of US data for 30 days and the option to top up with international data, that can be used in 200+ countries.
If you're coming from the UK, Huawei has low-cost travel portable wi-fi available. You can put any of the UK sim cards mentioned in this guide in the portable WiFi or purchase it with a Smarty Sim Card. Smarty sim card plans start from £6 for 4GB of data and include data roaming in Europe.
I hope you found this guide helpful, and if you're visiting Amsterdam via the London/Heathrow Airport or Rome make sure to check out my sim card guides for them. There may be some better offers available at other European airports so it's always worth checking.
More Travel Tips & Resources