The Anne Frank House Museum, located in Amsterdam, is one of the most famous museums in the city and receies over a million visitors each year. When visiting the house you can see the canal house where Anne Frank and the Secret Annex hiding place, where her family hid from the Nazis during World War II.
Visiting the Anne Frank Museum gives you the chance to learn about the life of Anne Frank and the legacy she left behind, as well as about the nazi occputation of Amsterdam. Through the exhibits and artifacts on display, you can gain insight into her experiences, hopes, and also her families life.
The museum also highlights the impact that Anne Frank's diary has had on the world, and the lessons we can learn from her story. You'll also get to learn about her father, Otto and how he came to publishing the famous diary.
Due to it's popularity, buying tickets to the Anne Frank House Museum can be challenging. In this travel guide, I will walk you through the process of buying tickets to the Anne Frank Museum, including when tickets are released and how to ensure you get your hands on them.
Anne Frank House tickets are only available through the official website. Be careful of those claiming they can sell you tickets, as tickets have the person's name on them so they cannot be transferred. A lot of people claiming to have tickets to resell are scammers.
Tours that visit the Anne Frank House only goto the facade outside and not into the actual museum. The tours are interesting and can be really insightful, but entry tickets aren't included. Some companies will help you get tickets, but they have to use the same website as us to purchase them.
When Are Tickets to the Anne Frank House Museum Released?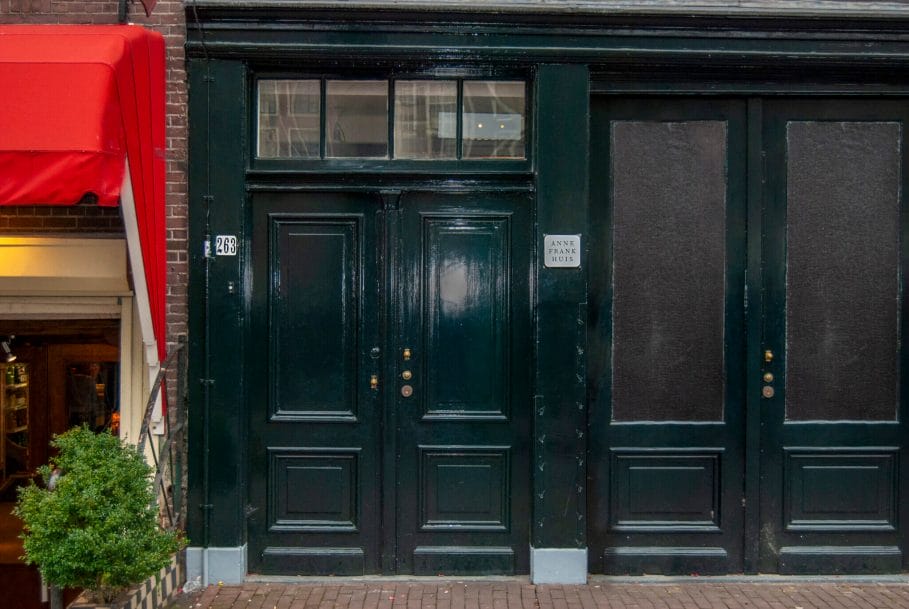 In previous years you could queue up outside the museum to get tickets but this has been stopped. Now, they're only available online.
Tickets to the Anne Frank Museum are released online 6 weeks in advance every Tuesday at 10am CET.
Musuem tickets are sold as time and date slots, and can sell out quicky (especially the morning slots) so it's best to purchase them as soon as they become available.
Each time slot allows you a 15 minute window to enter the museum. If you miss this slot, you won't be allowed in.
During off-peak months ticket sales are a bit slower so you might get lucky with buying tickets a few weeks after the release date. But during the summer, tickets sell out soon as they're released.
What Is The Museums Opening Hours?
The museum is daily, 7 days a week all year round except for Yom Kippur when the museum is closed.
The museum is open from 9am to 10pm most days, except for certain dates.
1st January (New Years Day) it's open from 12 to 10pm. April 27th, December 25th and December 31st the museum is open from 9am to 5pm.
You can view the updated opening hours on their website here.
How to Buy Tickets
You can only buy Anne Frank House Tickets online through the museum's official website. When you're buying your tickets you can pick between two types of tickets, these are:
Museum visit – includes a free audio guide, for Deaf/Hard of Hearing visitors you can request a written copy.
30-minute Introductory program with museum visit – Includes a 30-minute video that introduces you Anne Frank's life in Amsterdam during the second world war. Afterwards you will visit the museum. There are fewer tickets available for the introductory program though so you'll need to be quick if you want to do this.
Both the museum and the introductory video are not recommended for those under the age of 10.
So here's how you can get tickets:
Decide on the date you want to visit. I recommend picking 2 or 3 days during your trip to Amsterdam that would be suitable in case your first choice sells out. Count back 6 weeks from that date. Then use a time converter, to check what time 10AM CET is in your local time zone.
Visit the Anne Frank Museum's official website soon as your tickets are available and select the booking option for the type of ticket you want. Then on the next page pick the time and date.
If you can purchase tickets, the website will show the time and the number of tickets available. If no tickets are left, the box will be greyed out.
Click add to basket, choose whether you want to add a donation and then check out.
Check you have received the confirmation email with your ticket reservation information. If you can't see it, check your spam. Still not there? Contact the museum and ask them to help. As you'll need this or you cannot get into the museum.
Tip: Print the tickets. I know everything is digital now but sometimes bad luck happens and our phones can run out of battery, get lost/stolen or break. The museum won't look up your tickets on their system so make sure you have a paper copy in case.
Make sure you're 100% certain on the date you picked as you cannot change it. There's no options for changing the dates or names. Even if you were to let the museum know you want to make a cancellation, they won't be able to refund or change the ticket date/time or name on the ticket.
Tips for Booking Anne Frank House Tickets
As we mentioned earlier, tickets to the Anne Frank Museum are in high demand and sell out quickly. Here are some tips to help ensure you get your hands on tickets:
Book as soon as tickets are released. As mentioned, tickets are released online 6 weeks in advance, on Tuesday at 10am CET so mark your calendar and be ready to purchase tickets as soon as they become available.
Visiting during the off-season (winter months) can increase the chance you get tickets. There's a lot less tourists between November to March so booking tickets is much easier. Whilst colder, Amsterdam is awesome all year round and you can enjoy eating some of the Dutch seasonal foods like Stamppot.
Have each person in your travel group ready to buy tickets to increase the chances one of you gets through. Also do check for the introductory program tickets if the standalone tickets are gone. Whilst more limited they can be overlooked by other visitors.
Increase your chcances of getting a ticket by booking an afternoon slot. Morning time slots are popular. I still recommend at least an hour for going around the museum, preferably 2 if you want to take your time.
Can I get a guided tour of the Anne Frank House?
No, there are no guided tours. Entry to the museum does include a free audio tour with your entry ticket.
Any tour groups claiming to visit the Anne Frank House do not actually go into the musuem. They will only take you to the outside of the house, where you can see the entrance to the museum alongside the Amsterdam Canals. I know I mentioned this earlier but so many people get disappoitned when they book a tour and find it only goes to the outside of the museum.
Where is The Anne Frank House Museum?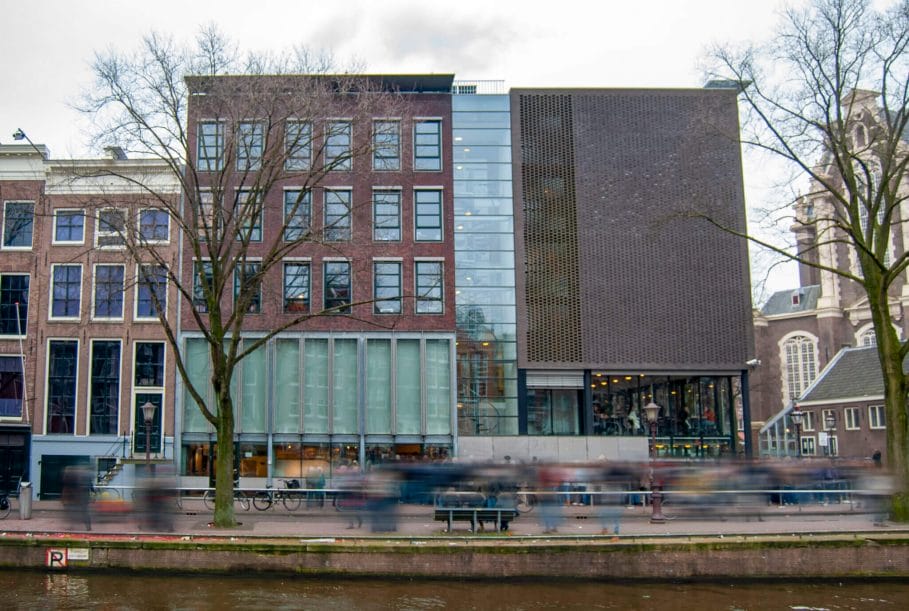 The Anne Frank House is located at Prinsengracht 263-267 inside a canal house. The museum is about 20 minutes walk from Amsterdam Centraal Train Station and 10 minutes from Dam Square. If you'd prefer to use public transport, the nearest tram stop is at Westermarkt. The tram runs really near Anne Frank'sHouse, and is only about 2 minutes walk away.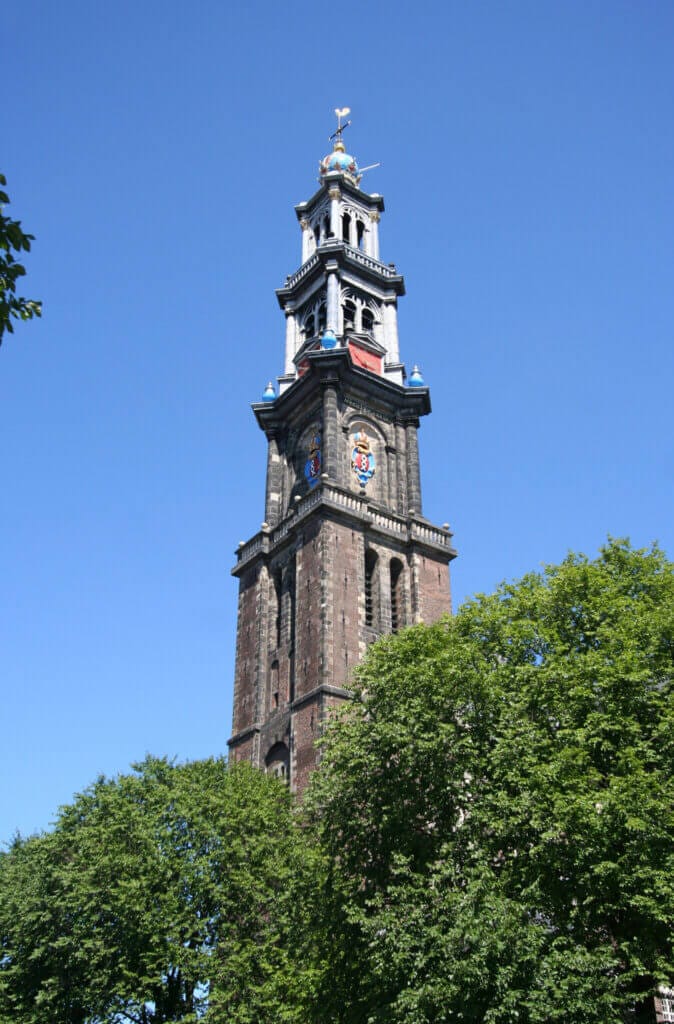 If you choose to get off the tram at Westermarkt, you'll walk past the Anne Frank Monument on the way to the house. The monument is located in front of the Westerkerk Church which is the largest church in Amsterdam and Anne wrote about it multiple times in her book. The church was one of the few things visible from the Annex, and Anne wrote about hearing the church bells in her diary, and how she enjoyed listening to them:
On the 11th July 1942, Anne wrote "Father, Mother and Margot still can't get used to the chiming of the Westertoren clock, which tells us the time every quarter of an hour. Not me, I liked it from the start; it sounds so reassuring, especially at night.".
Later on 10th August 1943, she talks about how the bells are removed to be melted own for the war and how she hopes they'll return:
"We've all been a little confused this past week because our dearly beloved Westertoren bells have been carted off to be melted down for the war, so we have no idea of the exact time, either night or day. I still have hopes that they'll come up with a substitute, made of tin or copper or some such thing, to remind the neighborhood of the clock."
If time allows, why not also visit Westerkerk? From April to October you can also climb the tower and enjoy views over the area. If you visit just before a service begins, you may also hear the bells ringing. For more information on the church, visit the Westerkerk Church website.
Here's a map showing the location on the Anne Frank House, Anne Frank's Statue, Westerkerk and the tram stop.
Is The Anne Frank House Museum Accessible?
Most of the museum including the Secret Annex isn't accessible to those with limited mobility who cannot do stairs and wheelchair users. There's a lot of steep narrow staircases inside the house, so sadly you won't be able to really visit the museum if you're unable to do these.
There is however an accessibe entrance, that gives you access to a different, modern part of the museum that is much more accessible. There's a temporary exhibit here, as well as the cafe and shop. So whilst you cannot see the house or where Anne Frank lived, you can still see the exhibits in the new modern area.
If you're blind or visually impaired, the museum has an audio tour guide you can use but just be aware that if you use an assitance dog you won't be able to take this up the stairs into the old parts of the building. Sadly the stairs are too steep for dogs to climb.
For those who are Deaf or have a hearing-impairment, they have written copies of the audio guide that you can read as you walk around.
The Anne Frank House also recognises the yellow sunflower lanyard scheme which is a scheme to help those with invisible disabilities and those who may need extra help from staff. So if you have a sunflower lanyard, make sure to bring this with you to help signal you may need extra assistance.
For more access information, please check their website's accessibility information page here. I recommend contacting the Anne Frank House and discussing your requirements with them before booking, to ensure your visit goes smoothly. Even if you don't currently have a date you'd like to visit, make sure to check with them whether the building is accessible to you. Click here to contact them.
Anne Frank Walking Tours in Amsterdam
Anne Frank Walking Tours are a great way of learning more about the nazi occuptation of The Netherlands, and learning more about The Story of Anne Frank. It's a great addition to visiting the museum, or as an alternative if you didn't manage to get tickets.
You could consider this highly-rated Life of Anne Frank and World War II Walking Tour. During this tour, you'll get to learn how Anne Frank moved from Germany to Amsterdam, and how her family was forced into hiding. You'll learn about their life in Amsterdam whilst hiding in the annex and her father's life after the war ended.
You'll cover many of Amsterdam's sights including the Portugese Synagogue and learn about the original Jewish Neighbourhood. You'll also learn about the Dutch resistance during the holocaust, visit the Jewish Historical Museum and Auschwitz Monument. This tour also takes you to see the Anne Frank House facade.
You could also consider a tour that focuses more on the jewish quarter, such as this Anne Frank and Jewish Quarter walking tour. You'll get to learn about the Nazi occputation of Amsterdam, and learn about the February Strike and other important events. You'll also get to hear the story of Anne Frnak and learn about her life in Amsterdam.
On this tour you'll visit the Jewish quarter, and learn about it's history and how it has developed, and visit buildings that play an important role in the Jewish quarters history such as the Portugese Synagogue. You'll also get to visit the Auschwitz Monument, and the Dokwerker; a memorial for the The February Strike.
Ths tour is available as both a group tour, and as a private tour. Book the group tour here.
Prefer a private tour? You can book the private tour here.
Can I Buy Tickets From Someone Else?
No, if you buy tickets from someone who cannot use them anymore or a reseller you run the risk of not being able to enter.
Tickets must be in the name of the person using them and you cannot change the name. You can be asked to show ID so make sure to carry your passport, in case you need to show this when entering.
How can I learn more About Anne Frank?
If you'd like to learn more about Anne Frank and the holocaust, you could consider viewing these resources:
If you have not yet read Anne Franks diary, you could purchase a copy of the diary or download an audiobook before visiting the Annek Frank House. You can buy her book online here which also includes options for an audiobook format.
If you'd like to educate your children on Anne Frank, there's a few books suitable for younger children that share her story:
Anne Frank: A Kid's Book About Hope – This book explains Anne Frank's story in a way that is suitable for young children, with pictures and easy to understand kid-friendly language. The book is for age 3 to 11 and is also available as an audiobook.
I am Anne Frank – A NY Times best seller, this book shares Anne Frank's story showing her courage throughout the second world war. The book is suited for kids age 5 to 9 and also has an audiobook format.
The Story of Anne Frank: A Biography Book for New Readers – For older children (age 6 to 9), who want to read the biography. This book is formatted in a way that helps guide the reader through the biography with defintions and easy to read text.
There's also a movie adaptation from the diary, called The Diary Of Anne Frank that has an ImDB dating of 7.5. The movie adaptation is suitable for age 16+. Watch The Diary of Anne Frank on Amazon Prime.
If you'd prefer to watch a documentary, you could watch Anne Frank Remembered. The documentary uses archival material, and interviews to create a documentary telling the story of the Frank family and Anne Frank. The documentary has an ImDB rating of 8.1, and is one of the higher rated documentaries covering Anne Frank's life. You can watch the documentary online using Amazon Prime here or you could alternatively buy a copy on DVD/Blu-Ray or VHS.
If you'd like to support the Anne Frank House, please consider donating to their cause. You can donate on their webiste here.
If you have any resources on Anne Frank and the holocaust that you'd like to share, please contact me here.