Tulip season in The Netherlands begins near the end of March and continues until the middle of May. The season reaches it peak when the tulips are in full bloom, which is normally around the middle of April. During this time, many of the Dutch tulip fields open up to the public but the largest and most well-known one is Keukenhof.
While many popular attractions end up being over rated, this isn't the case with Keukenhof. It is easily one of the most beautiful tulip fields in The Netherlands and one of the best things to do near Amsterdam. There's tons of tours to pick from and even a special bus lines that run from Amsterdam Schiphol Airport, Amsterdam city center and Leiden.
These buses are accessible for wheelchair users as well, so even if you have limited mobility it's easy to get to Keukenhof.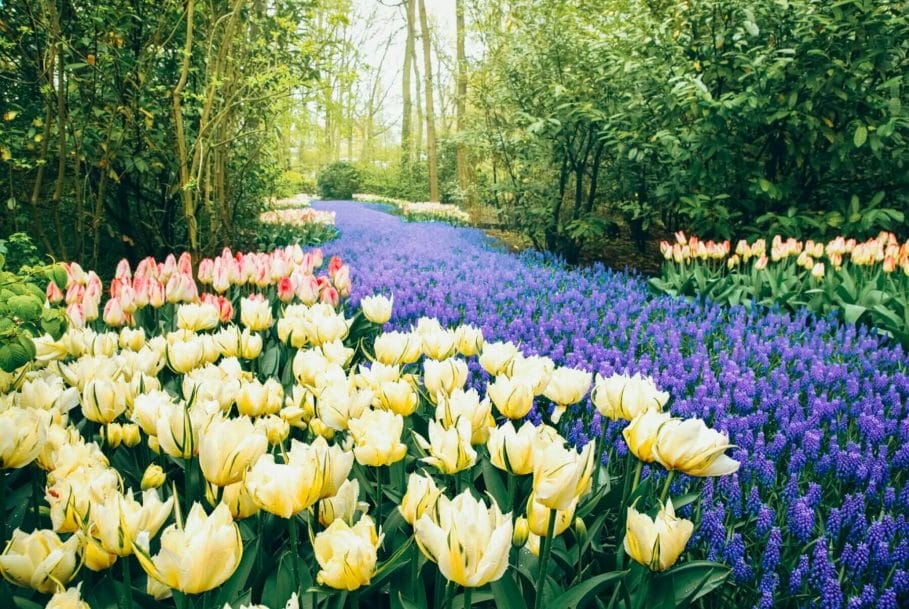 There's over 7 million flowers planted at Keukenhof each year making it one of the world's largest flower gardens! Whilst many of these are tulips there's also daffodils and other flowers that bloom during spring.
The tulips are organised into rows in the fields, with pathways between so you can easily walk around and take stunning photos. There are tons of photo opportunities here, with so many beautiful flowers and scenic views, Keukenhof is a photographer's paradise.
So don't forget to bring your camera and capture some stunning shots of the tulip fields. It's also a really great place to chill out, relax and destress whilst you're surrounded by the beautiful Dutch flowers.
You could also combine a trip to Keukenhof with a visit to another one of Europe's best gardens, such as Kew Gardens in London or Versailles Gardens in France.
When should I visit Keukenhof?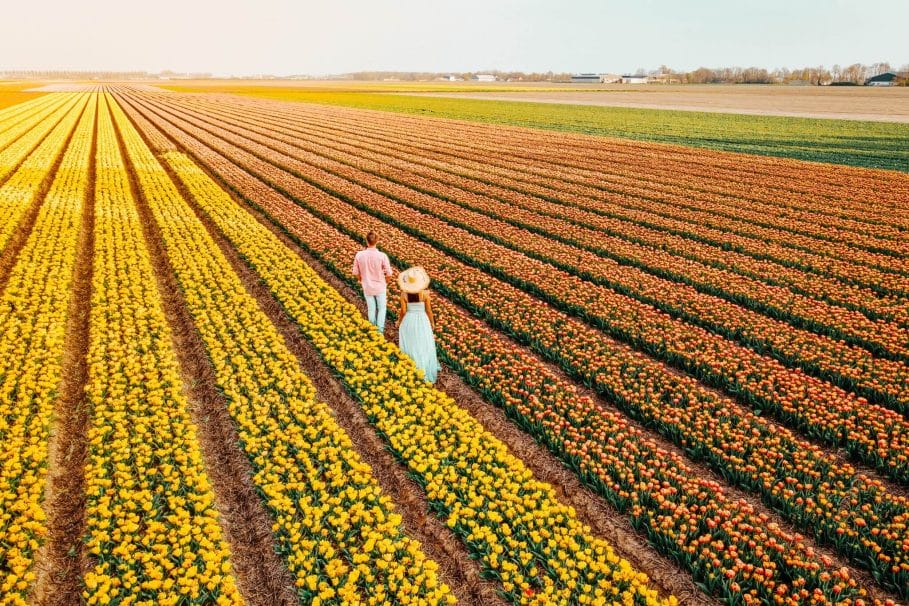 The Keukenhof tulip fields open to the public on March 23rd, and closes on May 14th. The fields are open from 8AM until 7:30PM so you can choose to arrive early and enjoy the morning sun or leave just before the sun is setting.
There's not really any specific time of the season that is the best for visiting, as the actual time the flowers reach full bloom can vary. But mid-April tends to be the most popular time to visit as this is normally around the height of the tulip season in Holland and The Netherlands.
But no matter when you visit you'll get to see millions of tulips and no matter if they're blooming or fully bloomed it can make for a great experience. So if you're in The Netherlands whilst Keukenhof is open, I recommend visiting to experience this part of the Dutch culture.
How to get to Keukenhof?
Keukenhof is located in a town called Lisse, which is about 40km (24 miles) from Amsterdam. It only takes about 30 minutes to get here by car but I recommend opting for a tour, or the Keukenhof Express bus service instead.
If you're looking for a easy, convenient way of getting to Keukenhof then I recommend opting for a tour. Tour's are great as they remove any effort involved in planning how you'll get to/from the tulip fields and remove the risk that you accidentally end up on the wrong bus or miss the last bus back to Amsterdam. You can also take advantage of a guided tour, or book tickets that combine your trip to Keukenhof with the Windmill cruise.
Here's some of the tours you could consider:
Day Trip from Amsterdam to Keukenhof Gardens with a Windmill Cruise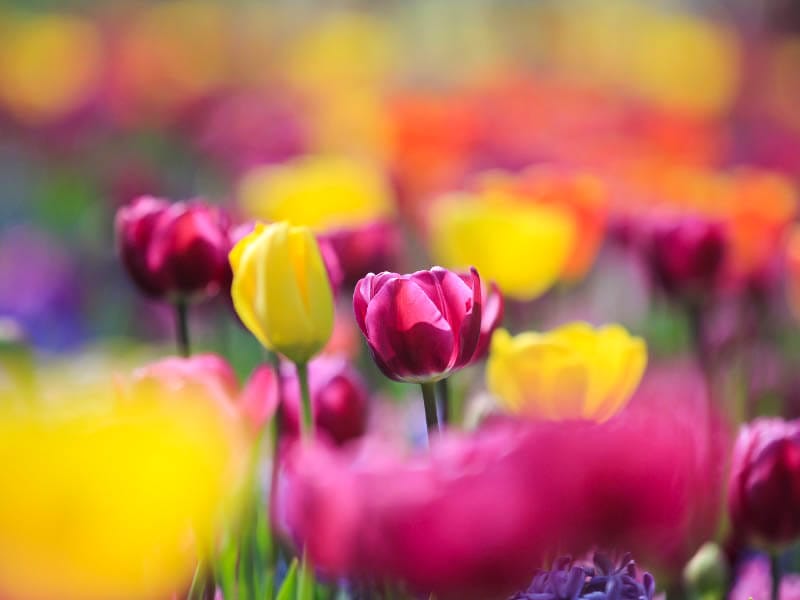 On this cruise, you'll board the bus in Amsterdam. You'll then ride about 1 hour to Kaag Lakes, where you'll board a boat the Ringvaart Canal and cruise along enjoying views of the windmills, tulip bulb fields and nearby Dutch villages.
This tour then takes you to the Keukenhof gardens where you'll get time to explore the tulip bulb fields up close. This tour has a flexible time scale, so you can choose which bus you take to/from Amsterdam. Just make sure to confirm the last departure times for the buses, and sightseeing cruise.
From Amsterdam: Keukenhof Flower Park Trip with Transfer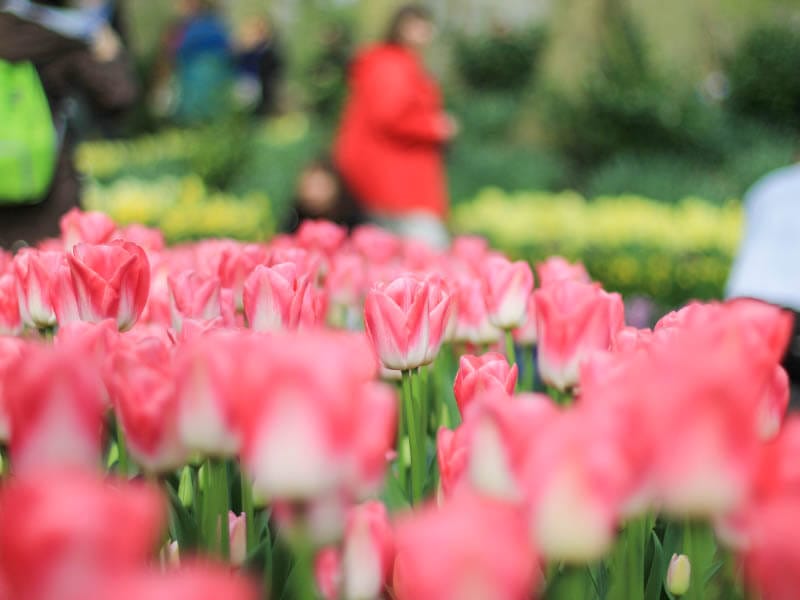 As an alternative to the Keukenhof Express you could opt for this tour, where you'll be picked up from Amsterdam Central. You'll ride a coach bus that has comfy seats to the gardens, where you'll be able to spend the day going around Keukenhof and exploring it's millions of flowers, ponds, restaurants and more.
This tour includes the entry ticket for Keukenhof, and for the bus ride you can choose between a transfer-only option or a tour that includes live commentary in English and Spanish as well as a GPS audio guide. The tour costs $43.41 USD per adult (about £35 GBP), and $21.80 USD (about £18 GBP) for a child aged 4 to 12.
Keukenhof: Flower Fields Small-Group Cultural Bike Tour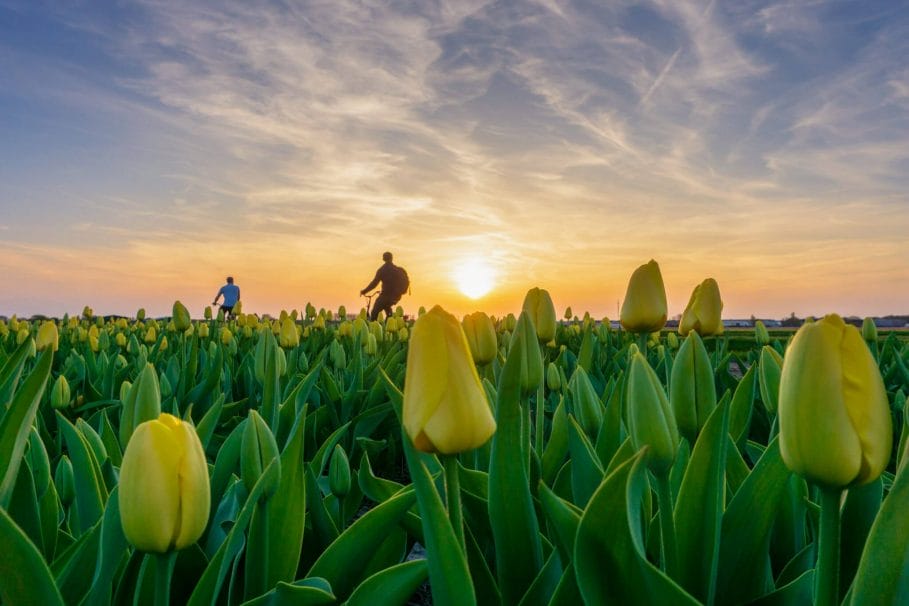 For this tour, you'll be taken on a bike ride around the Keukenhof flower fields. The tour doesn't include your transfers to Keukenhof or your entry tickets so you'll need to make your own way there and buy your own entry ticket.
Amsterdam Combo: Countryside and Windmills & Keukenhof Tour
Alternatively, you could book a combo day-ticket that takes you to the Zaanse Schans windmills, to Volendam and Keukenhof.
The first part of this tour goes to Zaanse Schans where you can see some of the few last remaining Dutch windmills, learn how they were built and how they work. Some of these windmills are still active today, making things like paint and spices. After, you'll board a boat, and go for a ride to Volendam. During this boat ride you'll get to see the traditional Dutch fishing villages of Volendam and Marken. When you arrive in Voldendam you'll get to go to the cheese factory, to watch a demonstration and enjoy tasting Dutch cheese.
After this, you go back to Amsterdam where you will have some free time to rest up and eat lunch. After lunch, you get back on the coach bus and head to Keukenhof. While you travel to Keukenhof, you'll get to hear about it's history and learn more about the area. When you arrive, you'll be given a map and get to head off on your own to explore Keukenhof. Afterwards your tour bus will take you back to Amsterdam.
This tour includes admission costs, and the return transfers. The tour costs $110.87 (USD) per adult (about £90 GBP) and $55.43 USD for a child (about £45 GBP).
Private tour of Keukenhof from Amsterdam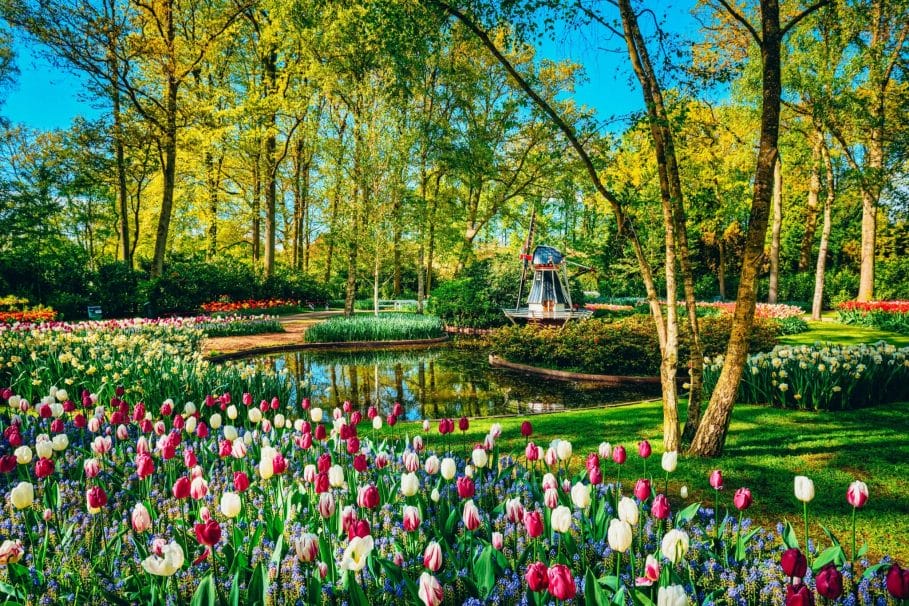 If you're looking for something more luxurious you could also opt for a private tour. This tour includes pick up and return from your accomodation in Amsterdam and your admission cost to Keukenhof. You'll ride in a private vehicle for about 35 minutes, before arriving at Keukenhof where you'll get to explore the flower gardens on your own.
Save Money With The Tulip Festival Card
If you're looking for ways to save money, or just want to make traveling easier I recommend buying the Tulip Festival Card.
The Tulip Festival Card includes a skip-the-line entry ticket for Keukenhof park, plus unlimited use of the public transport (trams, buses, metros, and trains) within Amsterdam and the Amsterdam Region (including the Amsterdam Airport Express Bus 397).
You can also travel on the Keukenhof buses ran by Arriva and Connexxion, which includes the Kuekenhof Express lines 852, 858 and 50 as long as its within the Keukenhof Season. So you won't need to buy a seperate bus ticket.
The card also includes a Tulip Festival Digital Guide that covers 18 different locations in the Keukenhof Park. You'll also be able to download an Amsterdam City Audio Guide App that covers over 100 places in Amsterdam with visual descriptions and audio commentary.
Plus, with the Tulip Festival Card you can get 10% discount on other tours. The discount code will be emailed to you when you purchase the Tulip Festival Card.
Buying your Tulip Festival Card
Tulip Festival Cards can sell out fast!

Keukenhof has a limit on how many people can enter per day, so there's a limited number of festival cards available. Soon as you have your travel dates, I recommend booking your card.

You can either book with the button below or use the calender to find avialable tickets.
Using the Kuekenhof Express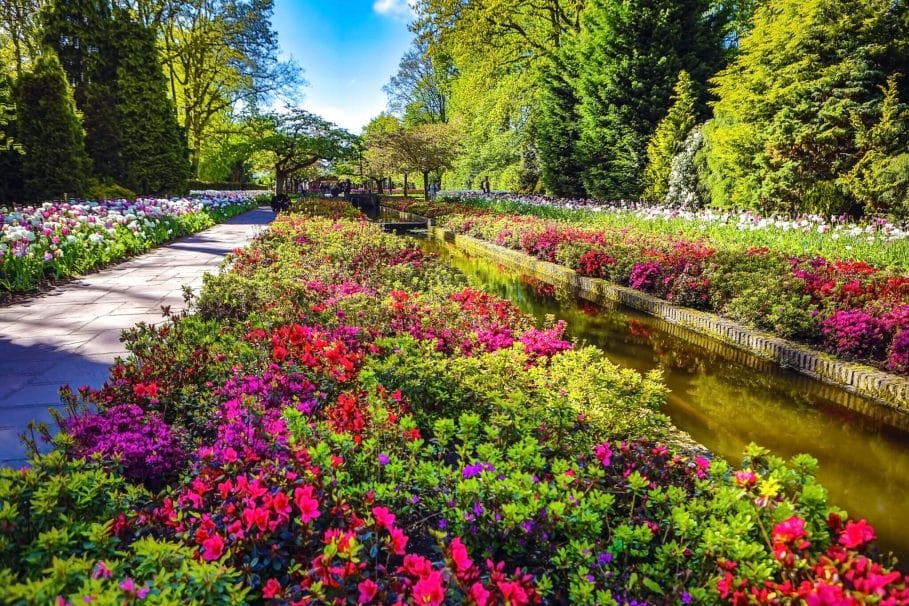 Alternatively, you can choose to use the Keukenhof Express bus service which is a non-stop direct bus that takes you straight to Keukenhof. This covers Amsterdam, Amsterdam Schiphol Airport, Leiden. There's also a regular bus route from Haarlem but this isn't a non-stop ride.
Each of the Keukenhof Express buses require a ticket. You can either purchase a combination ticket that includes both the entrance fee and the return bus journey, or just the bus journey by itself (referred to as a day ticket). Both types of tickets cannot be purchased on the bus, so you need to buy them in advanced. You can however use an OV-Chipkaart to pay for your bus journey, or use one of these travel tickets:
Out of the 3 above tickets, if you're mainly sticking to Amsterdam and the surrounding area then I recommend the Tulip Festival Card or the Amsterdam & Region Travel Ticket. The Tourist Day Ticket doesn't cover Amsterdam so only buy this if you're going to stay somewhere it covers such as Rotterdam or The Hague.
Depending on your departure destination, there are different bus lines and ticket prices. The prices below are from 2022, as 2023 prices have yet to be comfirmed. All these buses run until Mid-May (March 23rd 2023 until May 14th 2023). The tickets are yet to be released online, but once available you can order them from Tiqets.com for the cheapest price.
Bus 852 departs 8 times an hour from Amsterdam RAI train station (about 15 minutes from Amsterdam Centraal train station). This bus ride takes about 35 minutes. It costs 33.50 euros for the entry ticket + return 852 express bus ticket. Book your bus and/or entry tickets here.
Bus 858 departs from Amsterdam Schiphol Airport, 6 times an hour. This takes about 35 mintues to get to Keukenhof. It costs 29.50 euros for the entry ticket + return 858 bus ticket. Book your bus and/or entry tickets here.
Bus 854 departs 4 times an hour from Leiden Station, and the journey takes about 25 minutes. It costs 29.50 for the entrance ticket + 854 return bus ticket. Book your bus and/or entry tickets here.
Bus 50 covers a regular bus route from Haarlem, that departs about 4 times an hour on weekdays and 2 times an hour on weekends. The bus ride takes about 50 minutes, but you'll also need to walk 10 minutes from the bus stop to the Keukenhof entrance. As it's a regular bus it's more likely to be subject to delays and you'll need to make sure you listen out for the bus stop. It costs 29.50 euro for the return bus ticket + entrance ticket for this route (bus 50).
Children combi tickets cost 15.50 euros, for children aged 4 to 17 years old. Standalone entry tickets cost 19 euros for an adult, and 9 euros for a child.
Book your Keukenhof Tickets + Transfers
Driving to Keukenhof
Another option is to hire a car and drive to Keukenhof. I don't really recommend this if you're staying in Amsterdam, Rotterdam or The Hague as car parking in all 3 cities is hard to find and can get really expensive. But if you're also going to be visiting smaller cities/towns and nature areas such as Utrecht, Apeldoorn, or Veluwezoom National Park then hiring a car can be worth it.
If you do want to drie to Keukenhof, you'll need to purchase a car parking ticket. They limit how many tickets are available per day so make sure to book these online in advance so you don't have to alter your plans. Car tickets only cost 6 euros (about $7 USD) and can be purchased online here.
Things To Do At Keukenhof
Keukenhof has 5 different gardens, each with a different theme. If you're traveling as a couple then you may want to head to Bridal Lane in the Red Romance Garden where you can express your love and share it with other visitors. There's the Reconnection Garden which uses sustainable materials, so you can enjoy tulips that have been grown in an enviromentally concious way. There's also a tropical beach garden that gives you a more summery-beachy vibe with it's palm trees and hammocks.
For something a bit different than tulips, head to the Green Tea Garden. Here you'll find a range of different herbs including mint, camomile and aniseed. Plus there's a greenhouse cafe where you can enjoy a cup of coffee to tea. In the Cottage Garden you'll be able to see wild plants and flower bulbs that are indigenous to The Netherlands. It's also a great place to relax after exploring the rest of Keukenhof.
Here's some of the activities you can enjoy at Keukenhof:
Take a guided bike tour around the fields around Keukenhof, and discover the beauitful tulip fields and other spring flowers that grow in this region. Note: This tour starts outside Keukenhof and takes you to the area surrounding the park. Entry to Keukenhof isn't included. Book this tour here.
Visit the animal meadow where both adults and children can enjoy watching different animals such as peacocks, and goats.
If you are visiting with children, make sure to pick up a free scavenger hunt at the entrance. The scavenger hunt has brain teasers, challenges and facts so it'll help keep kids entertained whilst they're learning. When they've finished the hunt, hand it in at the information desk by the entrance and they'll receive a gift.
Buy flowers at the flower shop in the cottage garden. Note: You most likely won't be able to take any flowers back home to your home country. This includes the USA, UK, Canada or Australia.
Ride the Whisper Boat on the waters around the tulip fields, and enjoy a 45-minute audio tour. You'll learn about the flower bulb region, and get to enjoy the beauitful sights. The Whisper Boat costs 10 euros (about $11 USD/£9) per adult and 5 euros (about $5.50 USD/£4.50) for children age 4-11 years old. Get tickets here.
Accessibility at Keukenhof
Keukenhof does have wheelchair access, and electric wheelchairs + small mobility scooters can be used during the visit. Keukenhof does not have dedicated parking for disabled visitors but there are spaces reserved for those needing o be closer to the entrance. Just ask the parking attendant when you arrive, and they'll direct you to those spots.
If needed, you can hire a manual whelechair for 5 euros per wheelchair, which can be booked online. I really recommend doing this as soon as you k now the dates you want to visit. There's only a limited amount available so if you're an ambulatory wheelchair user like myself and find that your condition varies daily, I still recommend hiring one to be safe as you don't want to be having a bad day, arrive and find they're all booked up. You can always let them know you don't need it anymore when you arrive if you feel you're having a good day.
Alternatively, you can hire a wheelchair from AmsterdaMobile for part/the entireity of your vacation. AmsterdaMobile also offer mobility scooters, rollators, hoists, adjustable beds and more equipment that you could hire to make your vacation easier if needed.
If you are traveling with a guide/service dog these are allowed throughout Keukenhof including the pavillion and restaurant. Non-guide/service dogs are also allowed to walk around the gardens (but not in the pavillion/restauarnts) so just be aware, there may be other people with untrained pet dogs in the area.
If you are unable to get up stairs on a coach, I'd recommend using the Keukenhof Express to travel to Keukenhof. The Keukenhof Express buses and the regular public buses in The Netherlands do have space for one wheelchair user. This is much easier than the coaches, which sometimes won't have a wheelchair-accessible entrance/lift. If you're unsure about using public transport, you could always contact AmsterdaMobile to arrange a day tour.
If you need more ideas on what to do in and around Amsterdam, check out my guide on free things to do in Amsterdam. If you'd like to escape the crowds, you could also choose to visit Utrecht.
Traveling from outside the EU? Read my guide on buying a sim card in Amsterdam & Schiphol Airport to avoid a high data roaming bill. Need assistance at the airport due to a disability, impairment or autism? Make sure to read my guide on booking special assistance at the airport.
More Travel Tips & Resources